"From phones to cars to medicine, technology touches every part of our lives. If you can create technology, you can change the world." — Susan Wojcicki, CEO, YouTube
Are you looking for a fun activity to engage your child after school or on weekends? Do you have a kid who doesn't love sports or arts which are the traditional extra curricular options? Is your kid obsessed with computers and video games? If you answered YES to any of these than you should check out Junior Coders Program located in Brampton.
Coding Classes for Kids in Brampton
Traditionally parents sign up their kids for sports or creative arts as an extra curricular option, however as the world is changing so are the amount of options of extra curricular activities for kids to become involved in. Today, students are learning all sorts of new skills to prepare them for the ever changing job market, and technological skills are probably the most important skills for the future. The Junior Coders Learning Centre teaches coding and computer science skills and teaches children to become independent learners who are goal setters. Students who are learning outside of traditional classroom learning and exploring their interests are often more successful and motivated to solve problems and learn new things. From both the perspective of a parent and a classroom teacher in the Ontario Education system I highly recommend investing in your child by enrolling them in programs such as Junior Coders. Today's job market is tough and competitive and allowing your children to progress their technological skills will put them ahead of the game in terms of employment.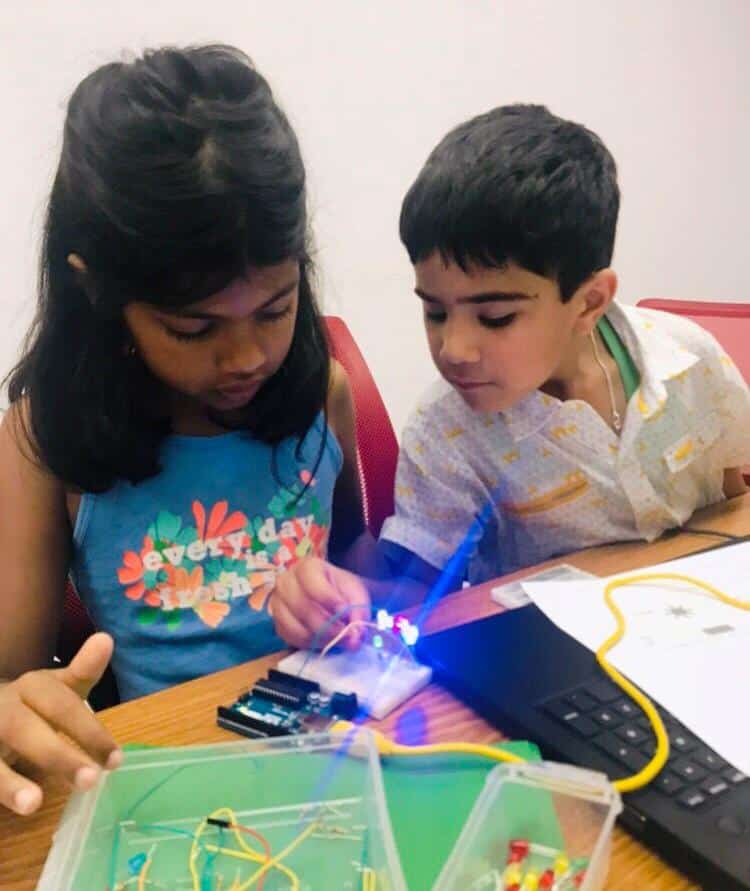 Learning to Code is so easy even Kids can do it!
Learning the secrets of CODING gives kids the POWER to create anything with computers from games, to virtual worlds, to creating programs to make the world a better place. Breaking coding down to the simplest form there are only seven different kinds of instructions (comments, declarations, conditionals, loops, value changes, input, output) and once kids have mastered these skills they have the ability to create many different kinds of programs.
The Exploring Family strives to provide parents of Peel Region with knowledge of activities and programs to support healthy child development which is why we strongly believe in supporting local businesses such as Junior Coders.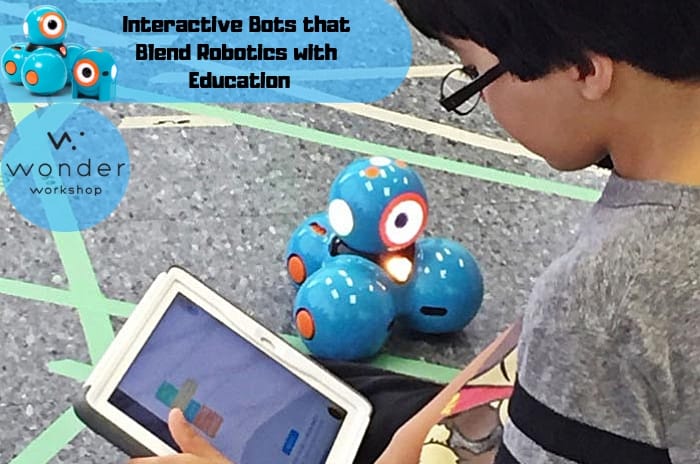 What is Junior Coders?
Junior Coders is a Computer Science Program that focuses on empowering young minds through engaging and hands on lessons in computing. Young children have a natural passion for technology so Junior Coders uses this natural curiosity and engagement to prepare students with skills for the future. Junior Coders Learning Centre provides a creative, inspiring and collaborative environment to learn Computer Science skills through customized lessons. Junior Coders aims to inspire students to create technology and not just use technology. Junior Coders has been operating in Brampton since 2016.
Junior Coders provides engaging hands on exploration of technology through cutting edge curriculum that is taught by technology graduates. The program encourages students to take risks, challenge assumptions, break rules and learn from mistakes which creates drive to complete projects even if it requires them to work harder and longer. Students of today's classrooms often lack persistence in problem solving tasks so I feel that encouraging these skills is important for overall skill development.
Students show their creativity and passion in their projects as are open ended and allow students to create their own interpretation of the project while still following basic guidelines. Students are often very proud of what they have completed from calculator programs to video games, students were more than happy to explain and boast about what they had created.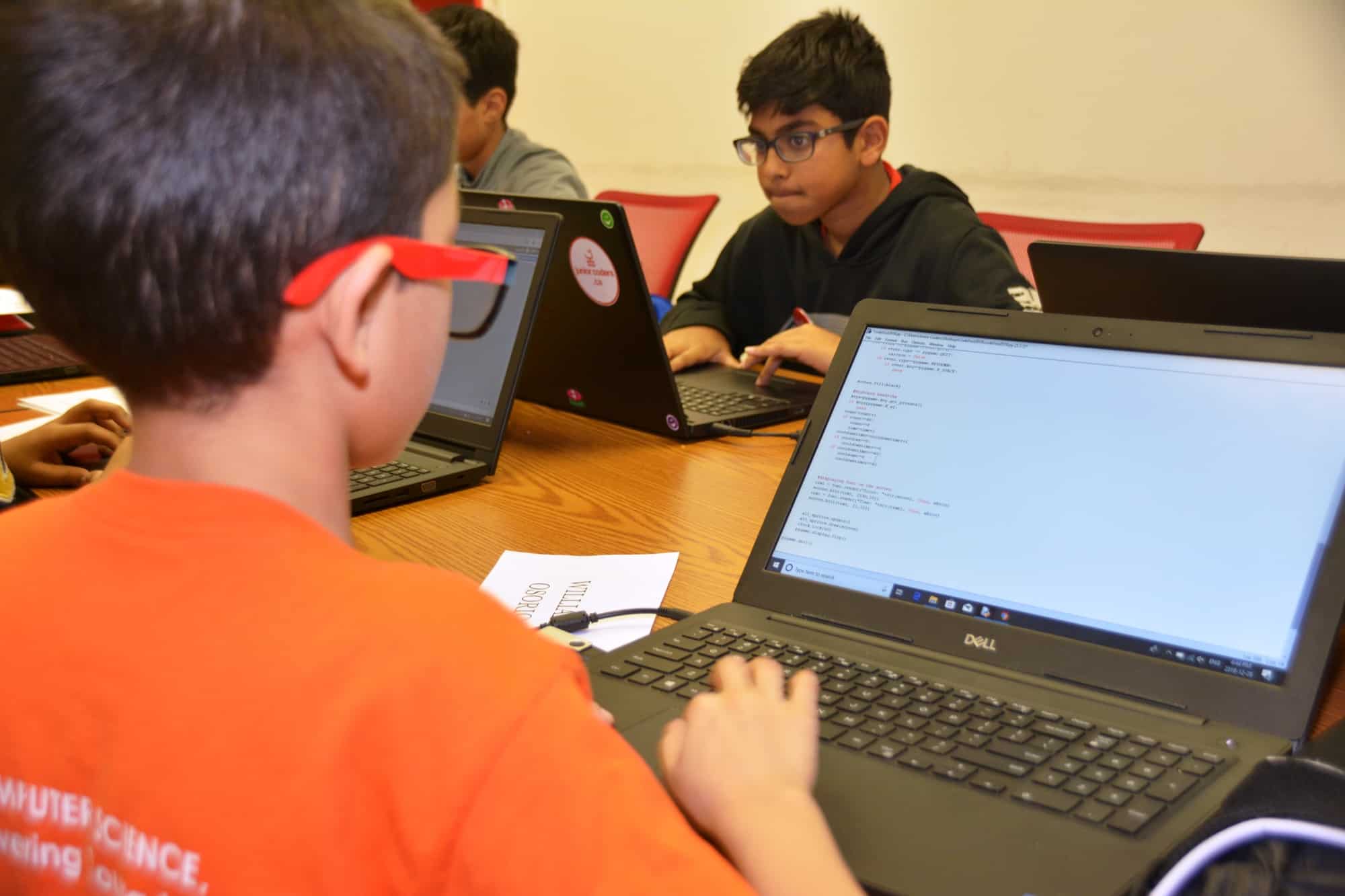 Why should I sign up for Junior Coders?
Junior Coders teaches children about the field of Computer Science and introduces students to foundational skills for future jobs in Computers and Technology. Canadian Schools no longer have a formal technology or computer curriculum and this is creating a gap in children's technological skills that are so important for the future. Kids of today have more access to technology such as computers, phones, tablets and many other electronic devices than ever before so its important to teach students to be tech savy. Junior Coders provides kids with hands on opportunities to use technology, design their own programs and applications and solve real world problems. Junior Coders strives to create enjoyment and awareness of computer technology and its role in today's society. Owner Benny is very knowledgeable in the field of technology as he still currently works in the field so he brings his knowledge and expertise of the current industry to his programs at Junior Coders.
Computer Science Technology Skills include:
Problem Solving

Critical Thinking

Logical Reasoning Skills

Abstract Math Concepts

Creativity

Design Skills

Communication Skills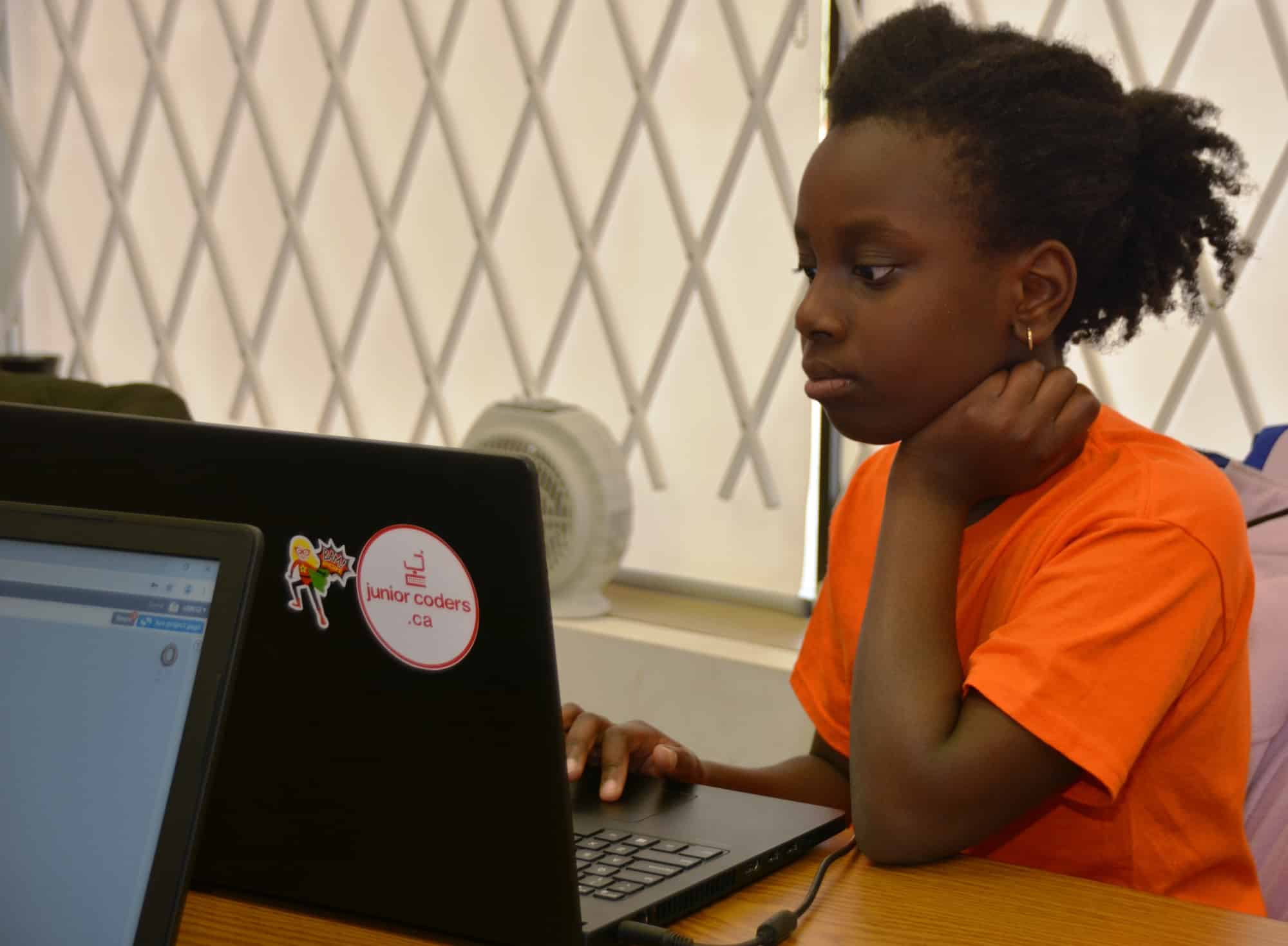 Types of Junior Coder Classes:
Grades 1-4: Students will work together as well as individually on designing projects and programming on modern visual tools such as Scratch, Python, & Java Greenfoot. By the end, students will complete innovative projects on programmable Robotics. Instructors scaffold student learning with individual guidance based on carefully chosen and sequenced topics in the age appropriate program while challenging them and engaging their imagination.
Grades 5-8: Coders will build skills using visual programming languages Scratch, Python and Java. Students will complete projects using a set of carefully sequenced instructions on Raspberry Pi, Arduino, Wonder Dash and Dot Robot. Robotics and programmable devices are used individually and in teams. Instructors help tweens become confident learners as they guide their learning.
Grades 9-12: Highly qualified instructors and fully equipped laboratory provide a learner-based, minimal interference environment that offers individual support. Teens build a deep understanding of subject areas and technology concepts of programming, and begin to learn project management and software implementation projects. At this level students and parents can choose of of 2 options: Python & Java or Web Development with HTML, HTML5, CSS, CSS3 and Java Script. Having two levels allows students to pick a program that aligns with their future goals in terms of technology.
After each session (4 months), students are provided with a report card that provides next steps, successful skills, and test results as well as assesses learning skills. The program also provides students with weekly homework and keeps track on how many homework assignments have been submitted to teach students about accountability. The following classroom learning behaviors are assessed on the report card on a scale of 1-10: cooperation with others, attentive listening, on time homework completion, persistence on challenges, asking questions for clarification, and interest in coding. The classroom learning behaviors assessment is similar to learning skills on the Ontario Education and allows parents to have a better understanding of their child's strengths and weakness in a learning environment.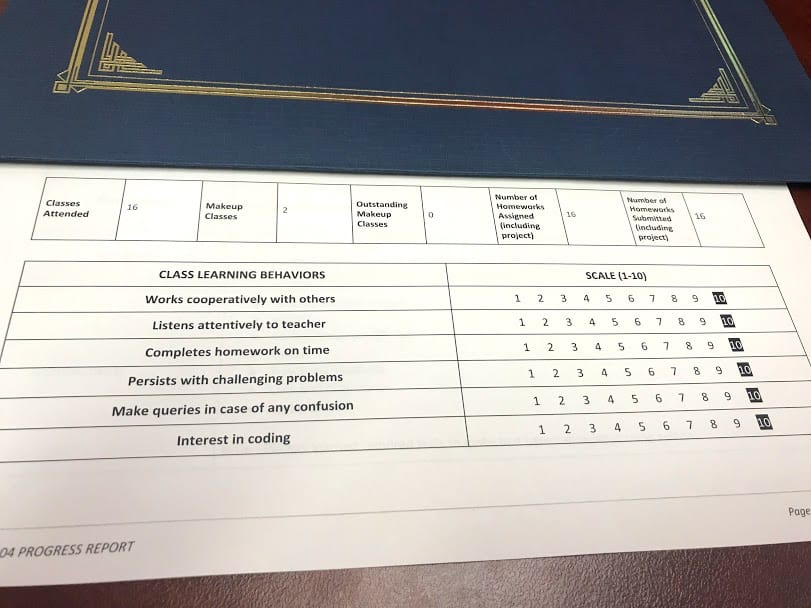 What Age Groups does Junior Coders have classes for?
Junior Coders Learning Center has extracurricular classes for students in Grades 1 to 12. Students lessons are individualized as they work through their own curriculum at their own pace. Instructor's scaffold students learning by guiding them to learn new skills in an inspiring collaborative environment that engages students in hands on coding practice. Students begin using programs such as Scratch and progress to more difficult programs. I really liked that when signing up they place your child in Level 1 to begin and assess for 2-3 weeks to determine what level they should be in based on age, skills and past experience. Just like in the Education system diagnostic assessment is a great tool to determine students strengths and next steps which allows instructors to challenge students appropriately with tasks that are the right fit.
Every level takes about 4 months to complete and students are accessed on a written test as well as their projects. After each level there is also a report card and meeting with parents to review progress. At the end of the year an event called CodeFest is also held to allow students to showcase their work. This year, Codefest had over 75 participants and they were given 2 hours to create a project and showcase their projects, and awards were given for best projects. Sonia Sidhu, Brampton South MP attended CodeFest and gave out awards and overall was impressed by the passion and talents of students.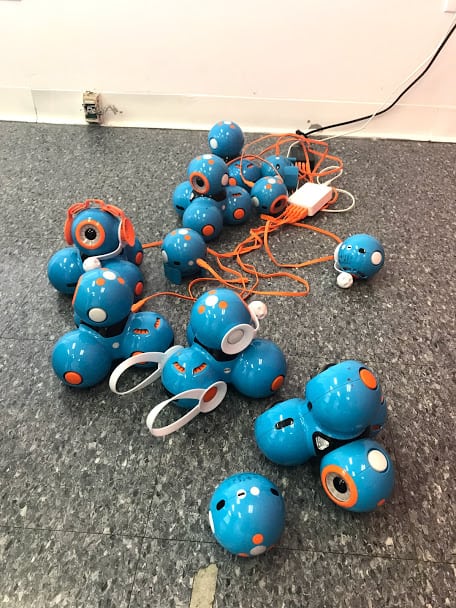 When do Junior Coders Classes Run?
Classes run After School Monday, Thursday and Friday with start times of 4:30 and 6:30pm. The program runs for 1.5 hours. Classes also run on Saturday at 10AM and Sunday at 1:30 & 3:30pm at the Brampton East Location. Web Development classes are Saturdays at 12pm and Sundays at 5:30pm.
What Programs are used at Junior Coders?
The following programs are used at different levels of Junior Coders:
Adruino

Scratch

Python

Raspberry Pi

Java Greenfoot

CSS

HTML & HTML 5

CSS & CSS3

Java Script
Where are Junior Coders Classes Located?
BRAMPTON EAST
1-2021 Williams Parkway
Brampton, L6S 5P4
Canada
BRAMPTON WEST –
108-5 Brisdale Drive
Brampton, L7A 0S9
What does a Junior Coders Class Look Like?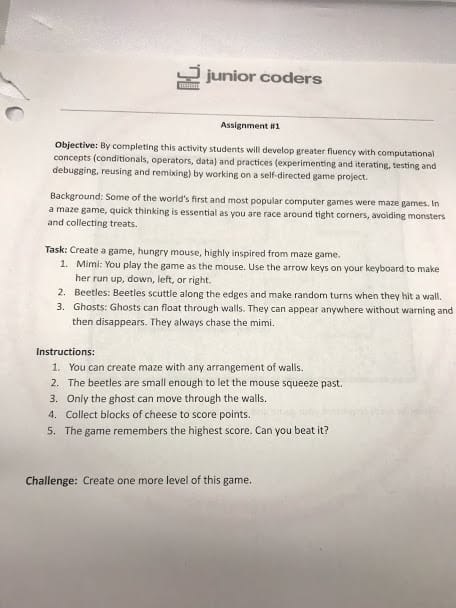 A Junior Coders class gives students a new Assignment each class that provides students with an objective such as creating a self-directed game project. Students had to create a game such as hungry mouse, the highly inspired maze game. Students are given basic directions but are allowed to use their own creativity in creating the project. Students are also provided with an additional challenge at the end of the assignment if they complete the original challenge.
When talking to students in the class they acknowledged that they really enjoyed learning more about coding and the cool projects they created. Students demonstrated confidence and knowledge when explaining their projects to me and were excited to highlight their progress. I asked students whats they wanted to be when older and they all answered video game designers, or doctors. One student in particular said he wanted to be a doctor and he felt learning computer skills would be important for the doctors of the future.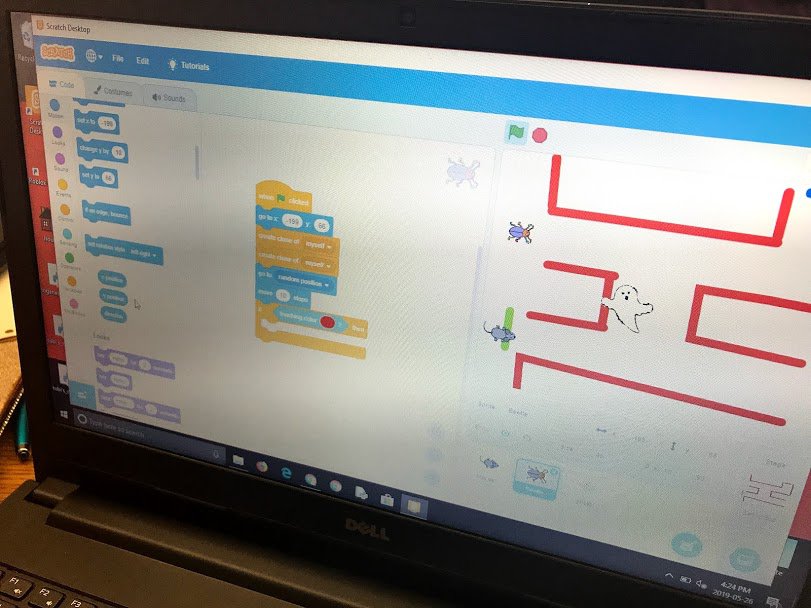 10 Reasons I feel Junior Coders is a Great Program:
1. From the moment you walk in the door of Junior Coders you feel welcome as you are immediately greeted by the front desk staff and welcomed into the center.
2. Provides individual assessment before students begin the program in order to place them in age appropriate classes that are based on their individual skill level.
3. Ongoing assessment is given through descriptive oral feedback as well as a sessional report card.
4. Learning to CODE is an excellent way to allow kids to enjoy and engage in screen time in a purposeful way.
5. Kids do not need any previous experience with coding or robot building as Junior Coders breaks it down to the basics and teaches students the skills they need to succeed.
6. Small student to instructor ratio of 1:8
7. Students were all engaged and demonstrated passion towards learning new skills and were enjoying the varying level of challenges.
8. Staff have all graduated from technology related post secondary programs, and are knowledgeable in their field. Highly qualified instructors, minimum BSc in Computer field (Computer Science, Computer Applications, Computer Programming etc)
9. Kids were having a blast and felt challenged and confident to demonstrate their new skills.
10. Prepares kids for future job market, giving them an advantage in terms of employment. Students complete a test after each level and receive a certificate of completion.
Ready to Sign up for Junior Coders?
Pin for Later: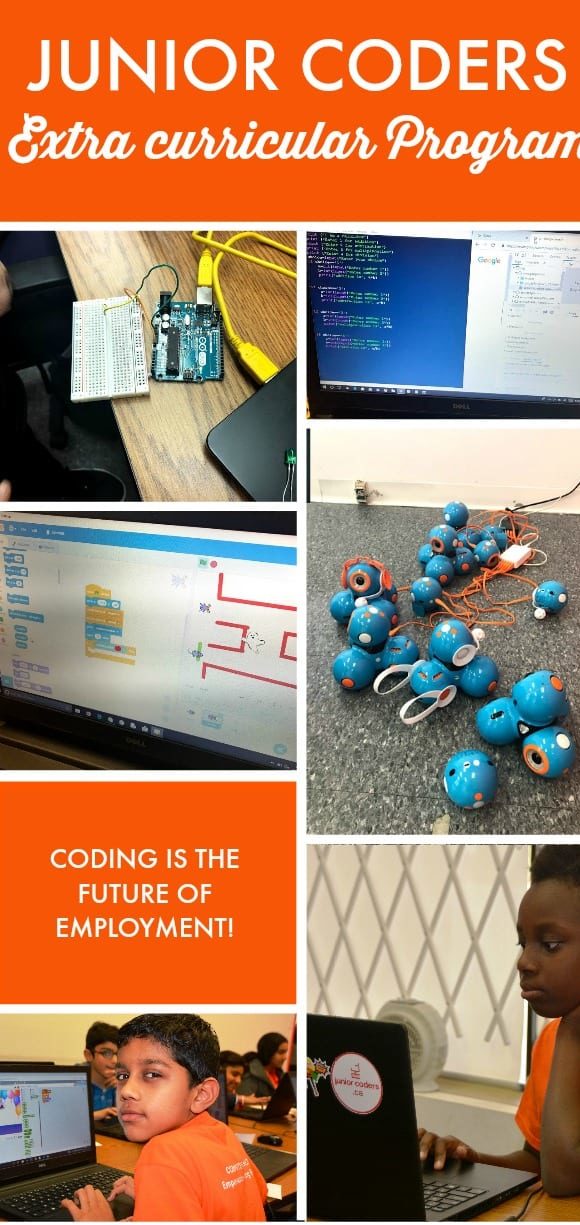 Can you help make this article better?
If you have noticed an error, have additional information or would like to share a comment you can:
E-mail us at info@thexploringfamily.com
Find us on Facebook: The Exploring Family
Find us on Instagram: @The.Exploring.Family