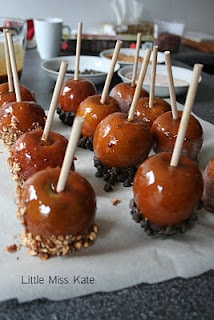 I have been making caramel apples just about every year for the past 10 or so years, if I'm remembering correctly. And to be clear, I usually make more than 3 dozen. I think 4 or 5 dozen is more the norm. Even last year, when I was pregnant and ready to pop! So, let's just say that I've learned a thing or to that I thought I should share. Here are some tips and tricks for making consistently reliable caramel and some super tasty caramel apples and my favorite recipe. I hope you find them helpful!
Some tips:
Make your own caramel – Many recipes recommend unwrapping the pre-made caramel squares and then melting them with a bit of milk or water. It takes so long to unwrap those things that you could have made a pot of caramel twice over. Yeah, seriously.

Use a candy thermometer – The old 'drop a ball of sugar in cold water' trick isn't as effective – by the time you test the sugar it will already have cooked past the stage. That said, if you happen to drop your entire thermometer in the caramel, or your MIL put a non-dishwasher safe one in the dishwasher, and now you can't read it and you're questioning its reliability right now, and your back-up one got dropped last week and smashed (I wish I was making this up) .. you can drop a bit of the hot caramel in cold water to test for softball stage. No one will die.

Focus on reaching the softball stage and then pouring the caramel into a new bowl immediately. Keeping the caramel from getting any firmer than softball stage means that the caramel will be chewy when eaten and will lengthen the time you have to work with it.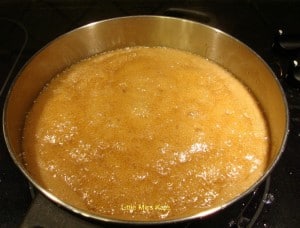 Even if you don't like the recipe that I've used stick with a brown sugar based recipe. White sugar makes an excellent candy but you just can't get the right flavour and colour without the molasses from the brown sugar.
Use a tart, almost sour apple for dipping. The contrast between the bold crisp apple and sweet, creamy caramel is what really makes the difference. I use Granny Smith, usually, but my Hubby prefers McIntoshes.
Wash the apples well and scrub them a bit when drying them. The wax that most farms coat the apples with these days will prevent the caramel from sticking. I've even taken to dipping a fresh apple in very hot water, just briefly, to melt the wax. I then rinse the apple in warm water and dry with a towel.
Craft-style popsicle sticks make the most sturdy support for the apples but for a decorative touch, I use cinnamon sticks. You need to sort of "pre-drill" a whole for the cinnamon sticks using a chopstick or something similar. I've been known to use a meat thermometer for this purpose.
Caramel Apple recipe (makes 24 – 30 apples)
Select your toppings (see below) and prepare them ahead of time, placing each in a cereal bowl for dipping apples after the caramel has been prepared.
Add the following to a heavy bottomed 4 quart saucepan:
• 1 lb of unsalted butter
• 1kg bag of dark brown sugar
• 2 cans of sweetened condensed milk
• 500 ml of golden corn syrup
• 1 tsp of vanilla
• 2 tsp of molasses
• ½ tsp of salt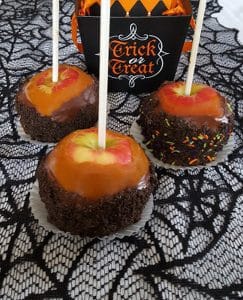 Heat it all very slowly over low heat until the butter and sugar are completely melted, stirring with a spoon. You can check to see if the sugar has melted by this by taking the warmed mixture and rubbing it between your fingers. If you feel absolutely no gritty-ness, then the sugar is dissolved. Taking the time and care to do this now will save you the headache of crystallized caramel later on.
Turn up the heat so that the ingredients reach a soft boil while stirring. Add the candy thermometer to the pot and continue stirring constantly yet slowly until the temperature of the sugar reaches the softball stage (236 C). I kept my caramel cooking just below a rolling boil. Some soft bubbles would be occaisonally break through the surface but no more than two at a time. This allows me to cook the sugar in a very controlled way, reducing my concern for developing crystals in the sugar or of burning. My best advice to you is to KEEP IT UNDER CONTROL. Otherwise, you'll never get repeatable foolproof caramel.
Immediately pour out the caramel into a clean glass or metal bowl. Allow the caramel to cool to 200 C or until the point where caramel dripping off of a spoon leaves some tracks. Meanwhile, prepare 2 – 3 cookie sheets with lightly buttered parchment.
Dip all 25 apples into the caramel, one at a time and get the caramel covering the apple right up to the tip of the stick. This won't take very long. Try to allow most of the caramel to drip off the apple before moving it to the buttered paper.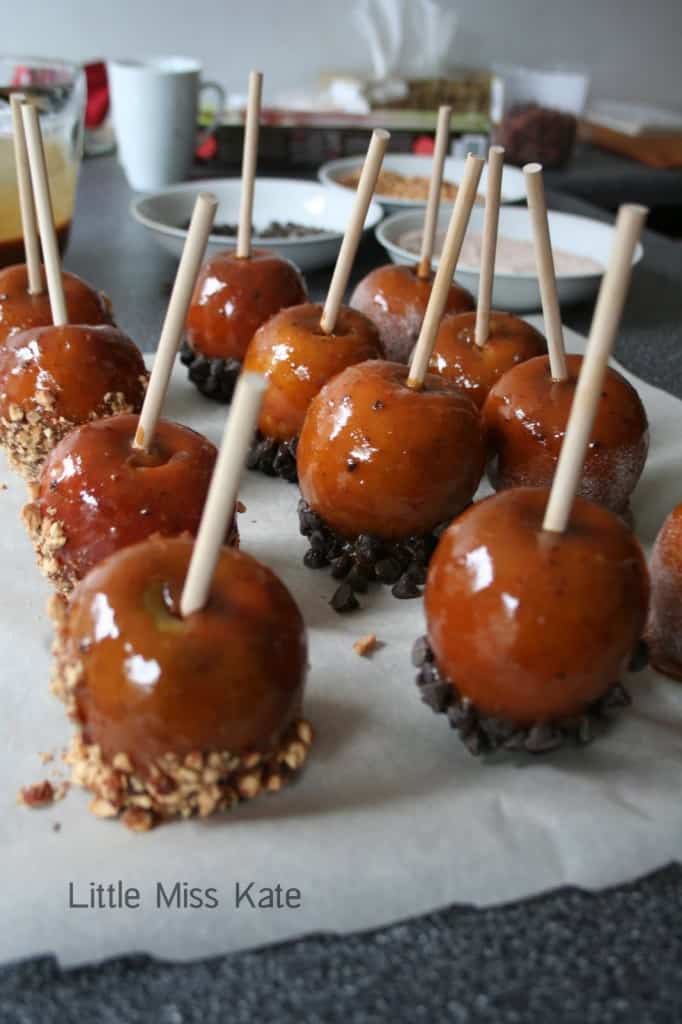 After about 15 minutes, in the order that they were dipped, pick up the first apple and reform the caramel around the bottom of the apple. It should be pliable. Quickly roll the soft caramel-coated apple into your favorite topping and return to the cookie sheet. Another good trick is to hold the apple in one hand and press the toppings into the caramel with the other. Repeat, working somewhat swiftly, for the remaining apples.
Some of the most successful toppings I've used are: buttered spiced almonds, s'mores (mini-chocolate chips, mini-marshmallows, and pieces of graham crackers), cinnamon sugar, mini-oreos, chocolate chips, toasted pecans, Halloween M&Ms, Skor bar pieces. This year I used roasted almonds, chocolate chips, and cinnamon sugar. Some toppings, like the mini oreos, may require you to press them individually into the caramel. Allow the caramel apples to cool completely to room temperature and then package.
Here are a few other notes:
About toppings – truly, the sky is the limit. Salty treats seem to go particularly well with the sweet caramel. Toppings may need to be coarsely chopped to make it easier to affix to the caramel apples. Pieces of larger items should be about the size of a dime or less.

If you'd like, you can also dip the cooled caramel apples into tempered dark or milk chocolate. If you want a very decadent apple, you can dip the caramel apples with toppings attached into tempered chocolate. Yummy!

Coordinating colour drizzle can be used to add a decorative touch to the apples. Temper some chocolate or reheat the leftover caramel to make it pourable, and using a spoon or knife tip, drizzle it over the apples.

The caramel that's leftover can be reused. It can be reheated for caramel sauce or used for dipping more apples the next day (if, say, you get tired dipping all 25 of these at once) by reheating slowly back up to 200 C.

½ litre gusseted candy bags are big enough to hold one apple. Tie them closed with a piece of ribbon around the stick.
Give 'em a try this Halloween, if you have about an hour to spare. They're too delicious not to!