Before going to Ottawa I heard from many people you must go to the Byward Market.  I had a look at the Byward Market website, but honestly just from browsing quickly it did not look like anything that special.  Restaurants, stores, museums… ok but what make this market special?  What makes this area any different from a mall or a downtown core of other cities?  And honestly, I think that it is not until you actually visit the Byward Market that you will understand the magic of the area and be captivated by community connection that you can feel while visiting.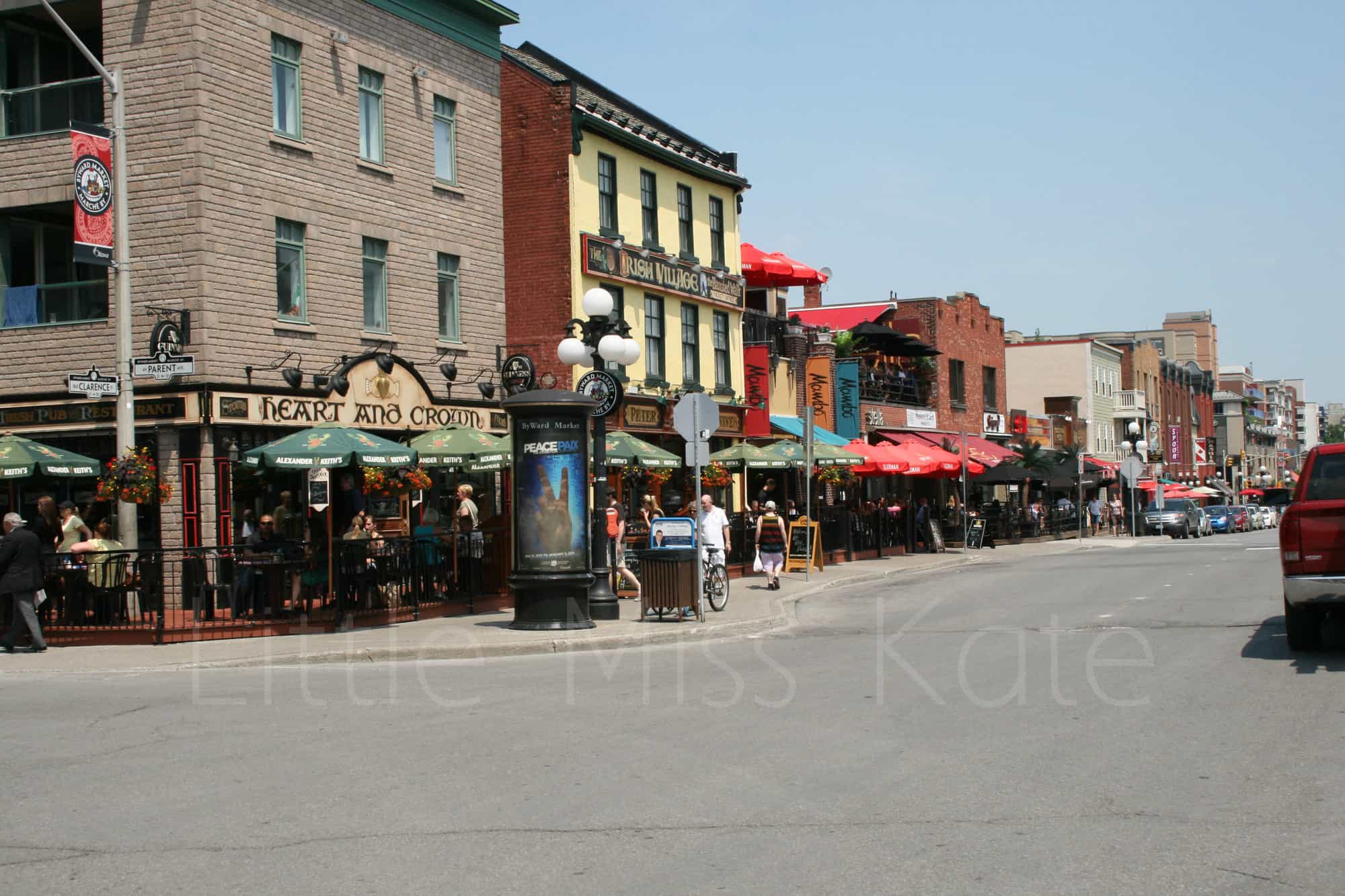 So what IS the Byward Market?  It is an area in the downtown core that was established in 1826 to be a public market and gathering place.  When I first thought of a market I figured it would a single building or street, however the Byward Market is approximately 4 blocks square and filled with welcoming cafes, boutiques, specialty food shops, restaurants, pubs, and more.  You could spend days visiting all of the shops & galleries and eating every meal at the market.  If you are planning a visit to the Market I would suggest walking to it if possible, there is street parking and a few parking garages, but they can be busy at times.
Every dinner that we had while in Ottawa was at a restaurant in the Byward Market and some lunches too, with the huge selections of restaurants you are sure to find something that you will love.  Here are the places we tried:
Lone Star Texas Grill – Right on the edge of the Byward Market area we enjoyed a dinner of fajitas to share
Khao Thai – the BEST Thai food I have had in a long time.  Every dish that we tried was amazing, from the to  Por Pia Pak (veggie spring rolls) to start and Pad Thai and Gaeng Dang (Red Curry Chicken) they left us wishing we had room for more.
The Cupcake Lounge – Simply the best cupcake shop I have ever seen.  Baked fresh daily it is a good thing the Cupcake Lounge is so far away or I would be there all the time trying out all of the flavours.  During our trip I had a chance to test out the Red Velvet and my personal favorite chocolate chocolate cupcakes.
Hard Rock Cafe – A Tradition for my Mom and her friend to visit the Hard Rock Cafe in every city they visit.  They enjoyed a lunch there.
Heart & Crown Pub – Stopping in for dinner during a torrential downpour, the only rain during our whole vacation, we were treated to true Irish hospitality and a tasty dinner of fish & chips.
Ok so enough about all of the great food available at the Byward Market, what about the shopping.  Admittedly I did not spend too much money while there, but our whole group had a wonderful time visiting the vast variety of shops and doing a little retail therapy.  One of my favorite shops to explore was Tickled Pink.  Don't be fooled by the name filled with costumes, toys and one of a kind gifts for girls and boys we had a blast browsing.  My little superhero Monkey picked out this mask to bring home.
Doesn't matter if you are local to the Ottawa area or visiting from out of town, make sure you stop into the Byward Market and enjoy all that this outdoor shopping area has to offer. Want to learn more about the Byward Market – you can connect with them on Facebook and Twitter.