Want a change of scenery but don't want to travel too far?  Then you might be thinking what are the best day trips near me that are fun but don't require driving for hours, hotels or planes.  We have the ultimate list of Best Day Trips from Mississauga for Families.  Looking for a fun family outing we have you covered from structured activities to picnics that are worth the drive.  Take a look at these day trip ideas near you:
Best Day Trips From Mississauga For Families
Day Trips Near Mississauga
Pickering Museum Village
365 6th Concession Road, Greenwood, ON – Be transported back in time at the Pickering Museum Village.  This living history museum features historic buildings from the 1800's including a chapel, barn, blacksmith shop and school house.  Currently the Pickering Museum Village is featuring Drive-Thru and small group outdoor programs that are sure to entertain the whole family.  Programs for summer 2021 include:
Roaring 1920's Drive Thru Tour – Available June 18-20 and 25-27 – a 50 minute tour that will transport you through each year of the 1920's. You are provided with a mp3 player that will provide music and lively commentary as you drive through a variety of stops as you learn about prohibition, world wars, and many other notable events during this memorable decade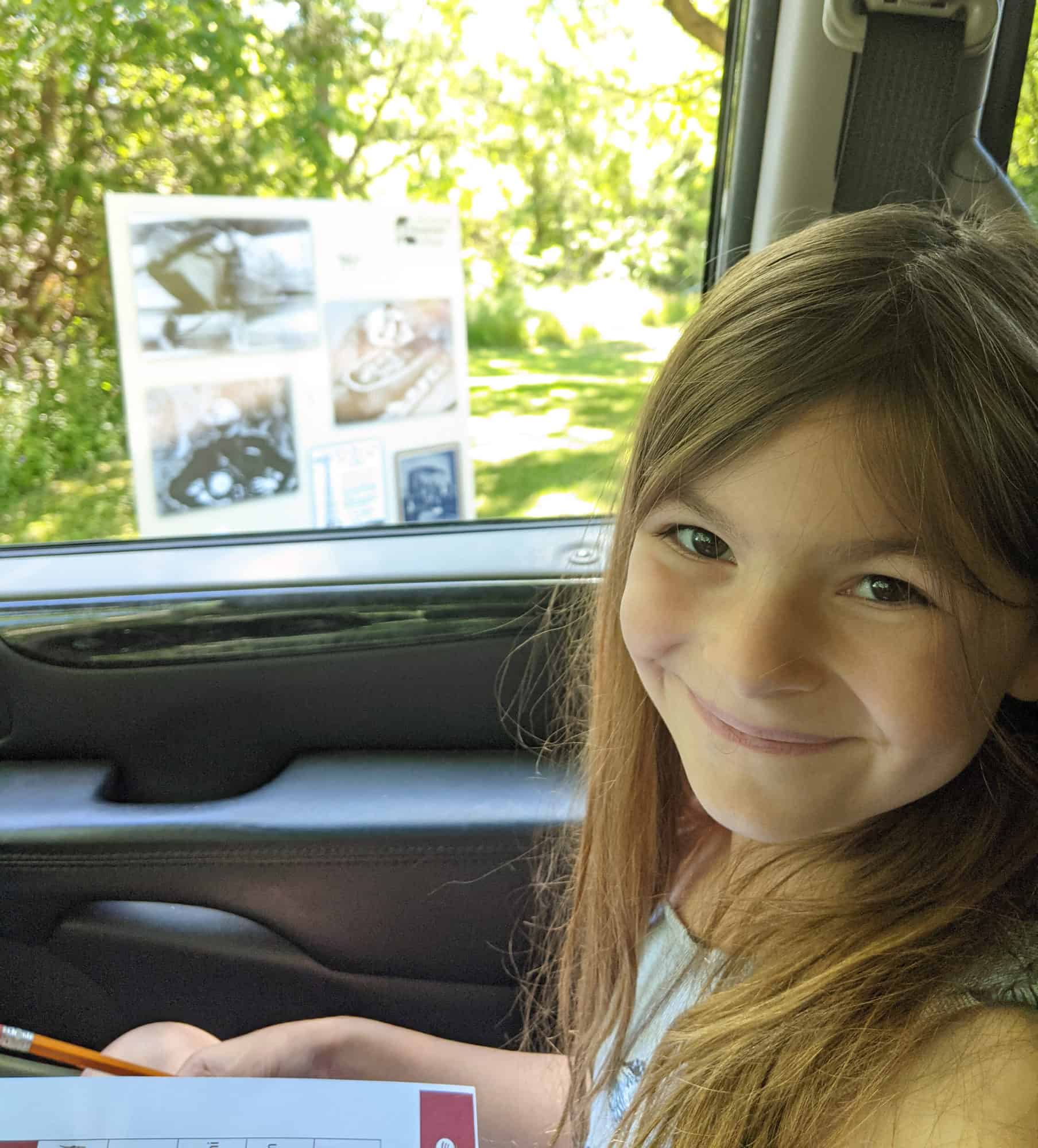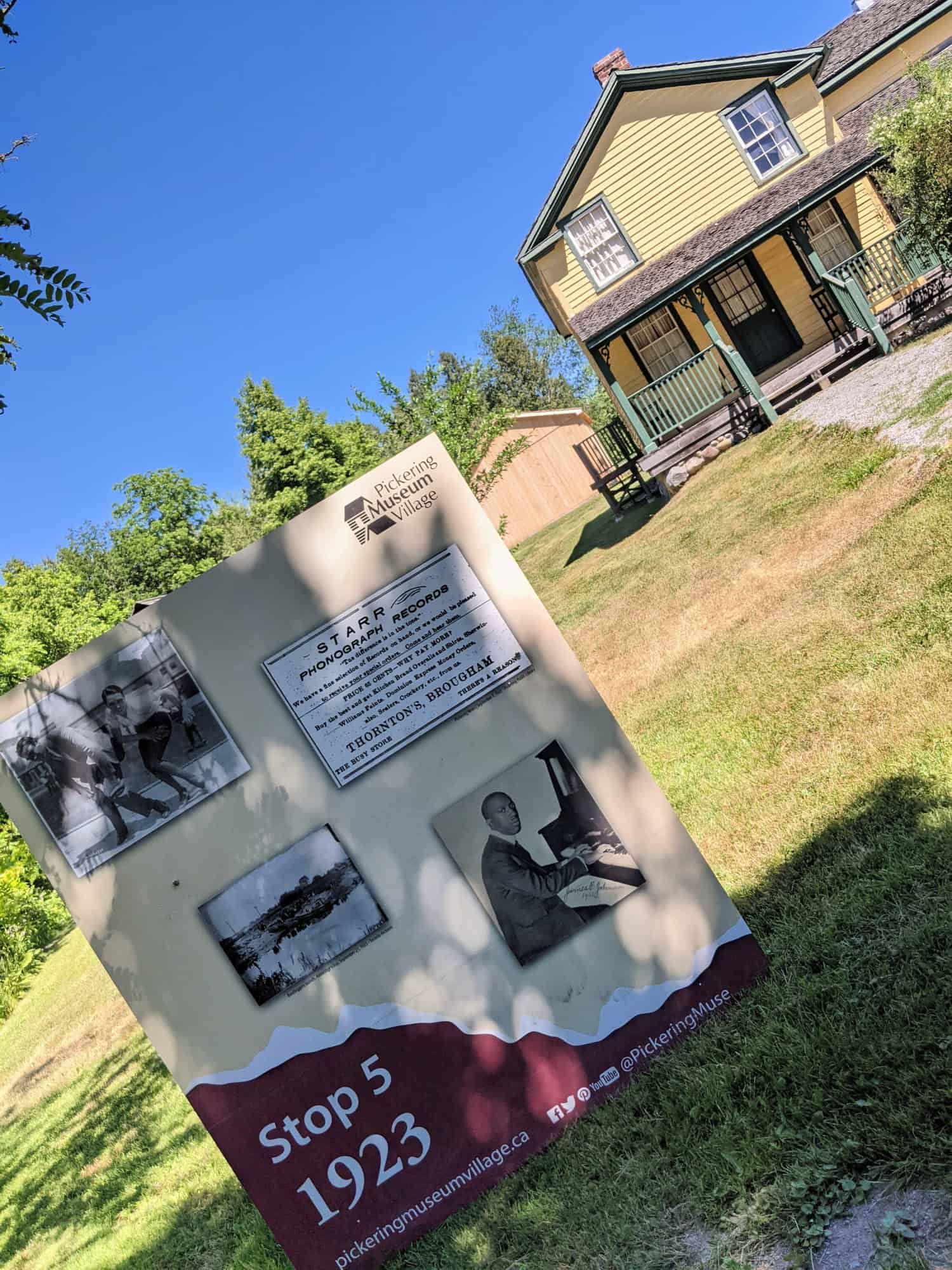 Izzy and the Mystery at the Mill Drive Thru Tour – June 23-30 – drive-thru mystery experience is specifically for children..  From your car, work together to help Izzy find clues to solve the mystery. Mr. Peak's freshly ground grain has gone missing at the local mill.  It needs to be loaded on the next ship leaving the harbour!  Can you help Izzy solve the mystery in time?

1920 Prohibition Escape Room – July 28-Aug 27 – Bring your detective team to see if you can uncover the whiskey runners and find the moonshine before time runs out. This 45 minute escape room experience is designed for groups of 2-6 people.

Barn & Butter – July 4 – Sept 26 – Come learn how to turn cream into butter and make your own batch of butter to take home to enjoy.

The Anne Experience – July 3 – Sept 12 – Explore the world of Anne of Green Gables in a behind-the-camera tour of Pickering Museum Village, the set of various 'Anne' productions for almost forty years.  Enjoy a picnic lunch, while learning about how the village was transformed into Anne's world. 

Friday Evening Ice Cream Making

Haunted Ghost walk

Pickering Fairy Tour
With so many different programs you will be sure to find one for a fun day (or evening) out.  Before your visit you can also check out the virtual experiences from the Pickering Museum Village.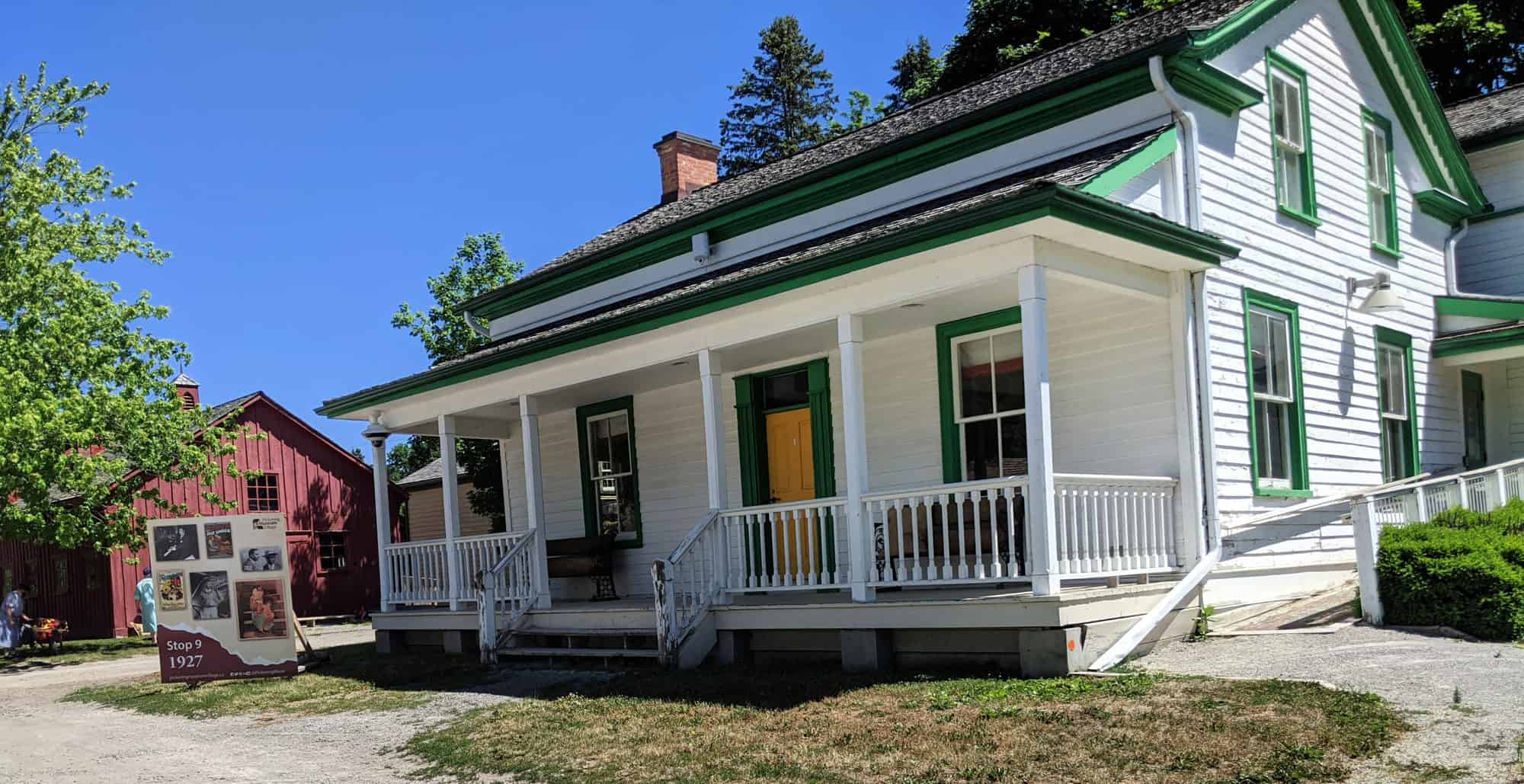 African Lion Safari
1386 Cooper Road, Hamilton, Ontario – Get wild at African Lion Safari and get closer to some of the most majestic animals on earth including elephants, lions, giraffes, rhinos and more.  During COVID-19 restrictions the bus tours through the reserve is not open currently, but you can drive through in your vehicle and an audio tour has been provided.  In addition to the reserve you can also visit the Pets' Corner area, Birds of Prey Conservation Area and the Asian Elephants.  The kids will love seeing all the animals and parents will appreciate that you can bring your own food for a picnic at the park.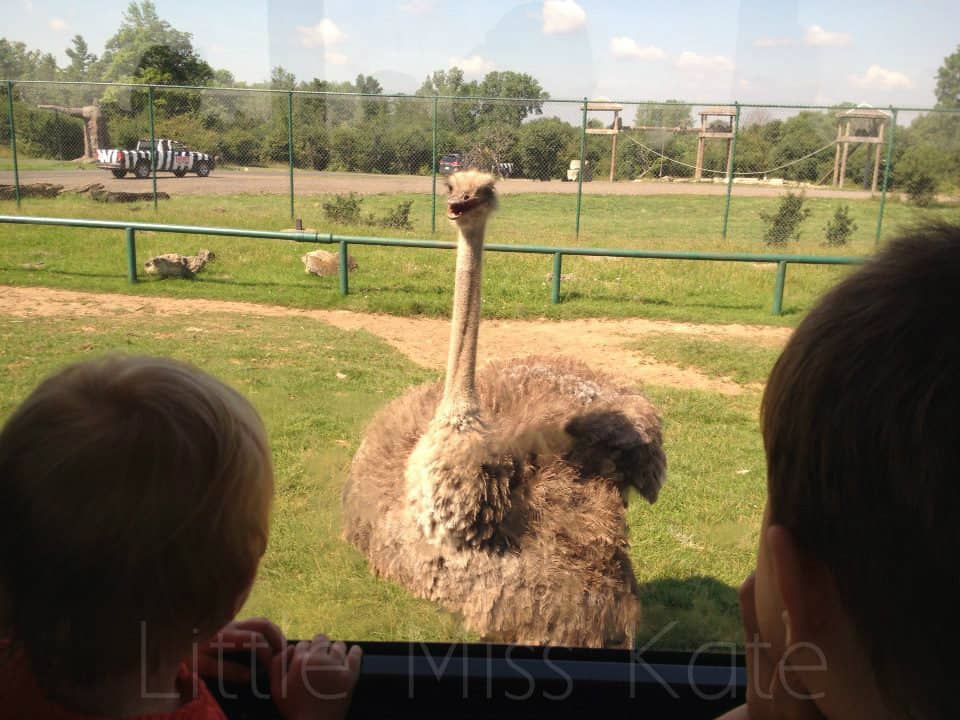 Balsam Lake Provincial Park
2238 Kawartha Lakes County Rd 48, Kirkfield, ON  – If you are willing to drive a little farther for your day trip then Balsam Lake Provincial Park is an great place to explore.  Located about 2 hours from Mississauga this Ontario Park offers hiking, fishing, swimming and canoeing. Checkout our full list of Beaches around the Greater Toronto Area.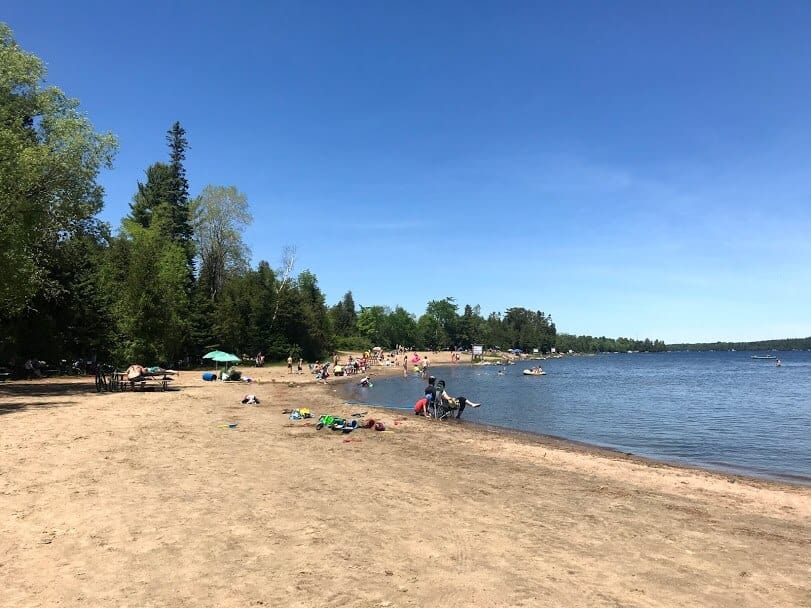 There are lots of things to do at Balsam Lake as it features a large sandy beach marked with bouys and lots of space to enjoy canoe, kayak and paddle boat rentals. Balsam Lake has many different options of accommodations, and a variety of different camping site options. So if your up for an adventure then check out their traditional camping options: car camping, group camping, radio free camping, or walk in camping to enjoy the natural beauty of the park. If you like having the same comforts as home but still enjoying nature than check out the roofed accomodation: cottage.
Balsam Lake has lots of backroads that you can enjoy a leisurely bike ride without worrying about cars. Balsam Lake Provincial Park offers the option of a family jaunt, nature walk or more difficult hike, as there are two different trails to choose from depending on your needs. Both trails allow you to expand your outdoor experience and learn about the history and ecology of the park while enjoying panoramic views.
Find more camping content here.
Tree Top Trekking
Locations:
1. Hamilton: 5050 Harrison Rd, Binbrook, ON L0R 1C0 (Zipline, Aerial Game Trek, Treewalk Village, Discovery Kids Course, Night Trek, GPS Rally)
2. Stouffville: 3291 Stouffville Rd, Whitchurch-Stouffville, ON L4A 7X5 (Zipline, Aerial Game Trek, Treewalk Village, Discovery Kids Course, Night Trek, GPS Rally)
3. Brampton: 10818 Heart Lake Road Brampton, ON L6Z 0B3 (Zipline, Aerial Game Trek, Night Trek, GPS Rally, Observation Course)
Enjoy the outdoors and get up close with nature while you explore the forest during one of these unforgettable adventures. Treetop Trekking offers different adventures depending on your age and abilities. Each location offers different adventures so be sure to check out the descriptions when booking:
Aerial Trek and Zipline Courses

are geared to kids aged 9 and older and a minimum height of

4'7″, adults are encouraged to join in the fun. This is a 3 hour activity. Each park has unique aerial courses with different levels from beginner to advanced. Aerial courses include the following challenging obstacles: wooden bridges, balance cables, net walkways, ziplines and more. Throughout your adventures in the trees you are accompanied by a guide for safety reasons as well as to offer tips along the way. This is a fun family experience that will challenge your athletic abilities.

Treewalk Village is geared towards children aged 3-7 years old. This is a 2 hour activity. Children can run wild and explore from treehouse to treehouse that are 8ft from the ground. Each treehouse is connected by nets, hammocks and wood bridges that challenge children's abilities in a fun way. Overcome the obstacles and enjoy a slide ride to the ground.


Discovery Kids Course is ideal for children aged 5 and up and a minimum height of 45 inches. Adults are welcome to cheer from the ground as kids explore an aerial course but at a much lower height than the traditional courses. Kids will wear helmets and harness as they encounter wood bridges, balance logs, net walkways, and mini ziplines 3-5ft of the ground.
Night Trek is ideal for ages 12 and up and takes 3.5 hours as it includes 30 minutes of safety training. Enjoy the traditional aerial course but in the dark under the starry night sky while wearing a headlamp – sure to add excitement.
GPS Rally is ideal for children ages 5 and up and takes about 2 hours to complete. Through the use of the GPS, you will discover nature while solving riddles and finding locations in the forest during this forest treasure hunt.
Observation Course is ideal for 9 and up and takes 1 hour and can be added with the Great Blue Heron Zipline Experience for a 2 hour adventure or with the Aerial Game Trek for a 3 hour adventure. Walk from one platform to the next through a forest canopy and enjoy the spectacular views 60ft in the air.

 Petting Zoos and Farms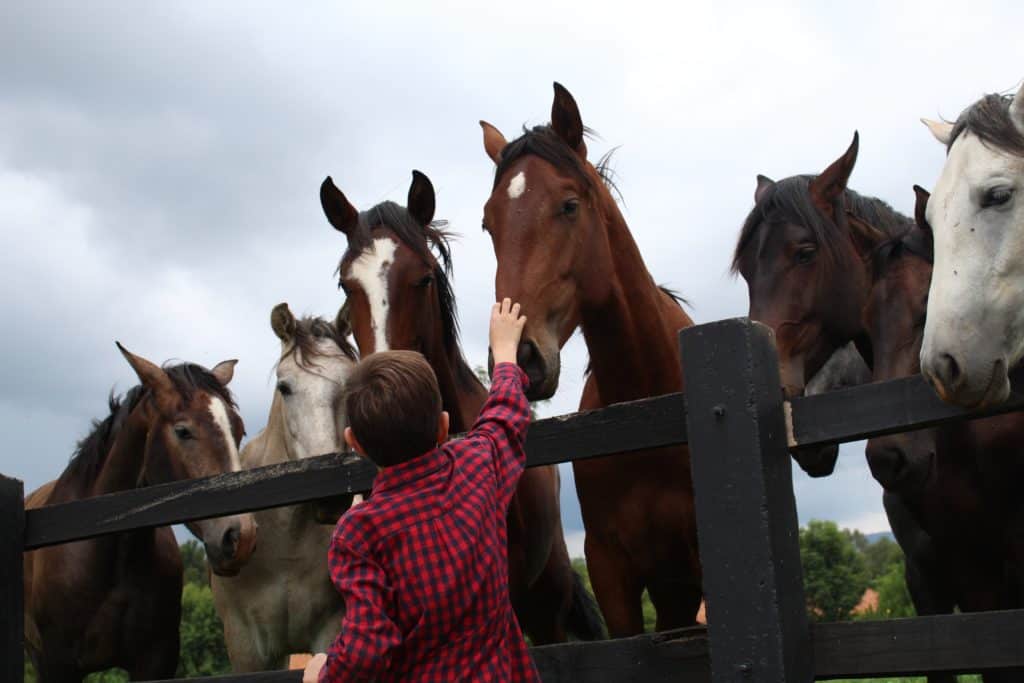 There are multiple petting zoos and farms within a short drive from Mississauga which allow kids to get up close to animals without going to a zoo. Checkout our full list of the Best Petting Zoos and Farms in the GTA. Pigs, Chickens, Goats, Dogs, and Ponies are just some of the animals you will find in Petting Zoos located across the Greater Toronto Area. The GTA offers many different unique places to view animals including farms and petting zoos.
Andrew Scenic Acres
Andrew Scenic Acres Farm and Winery
9365 10 Side Rd, Milton, ON L9T 2X9 – Come visit this welcoming farm environment for an awesome day trip with the family especially little kids. Andrew's Scenic Acres is located on 165 acres of beautiful countryside.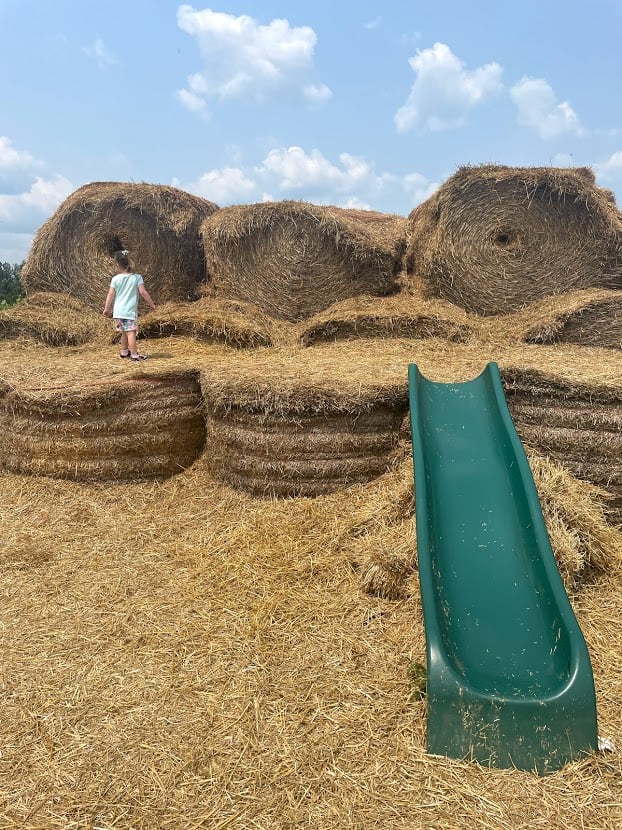 Activities include: walking trails, wagon-rides, natural playground, animal corral, straw mountain climb, beautiful photo spots, pick your own fruits (strawberry, blueberries, raspberries, pumpkins, and apples. Finish the day off with a BBQ lunch, ice cream or a awesome cookie or pie to take home from the Farm Store.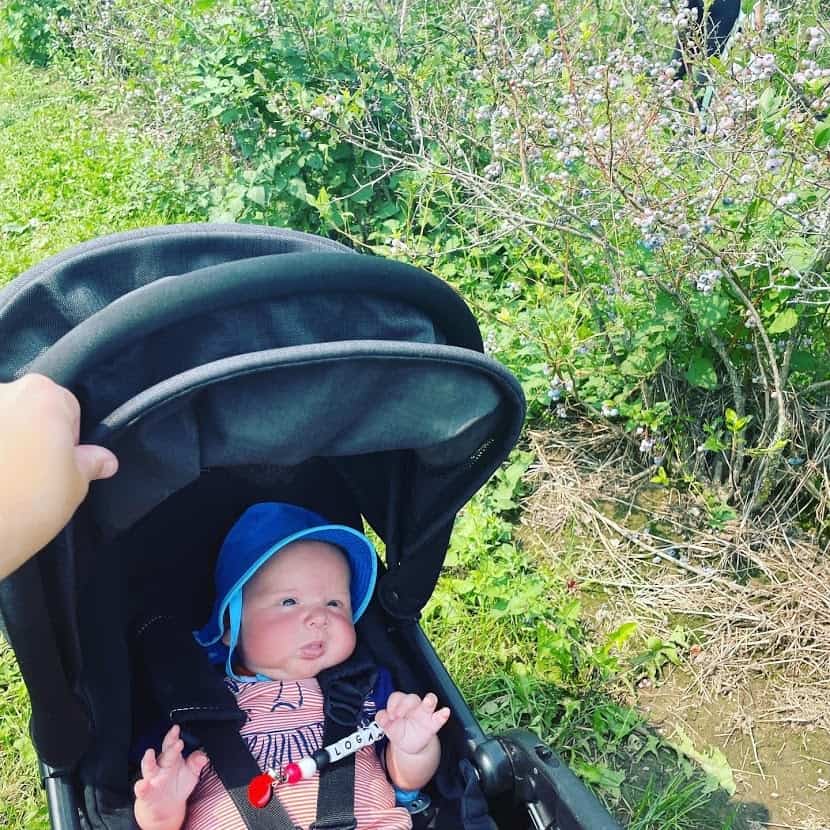 Tip for parents with littles: for strawberry picking I suggest using a baby/toddler carrier as the rows are very tight, for raspberry or blueberry picking the rows are wider so you can use a stroller.
Toronto Zoo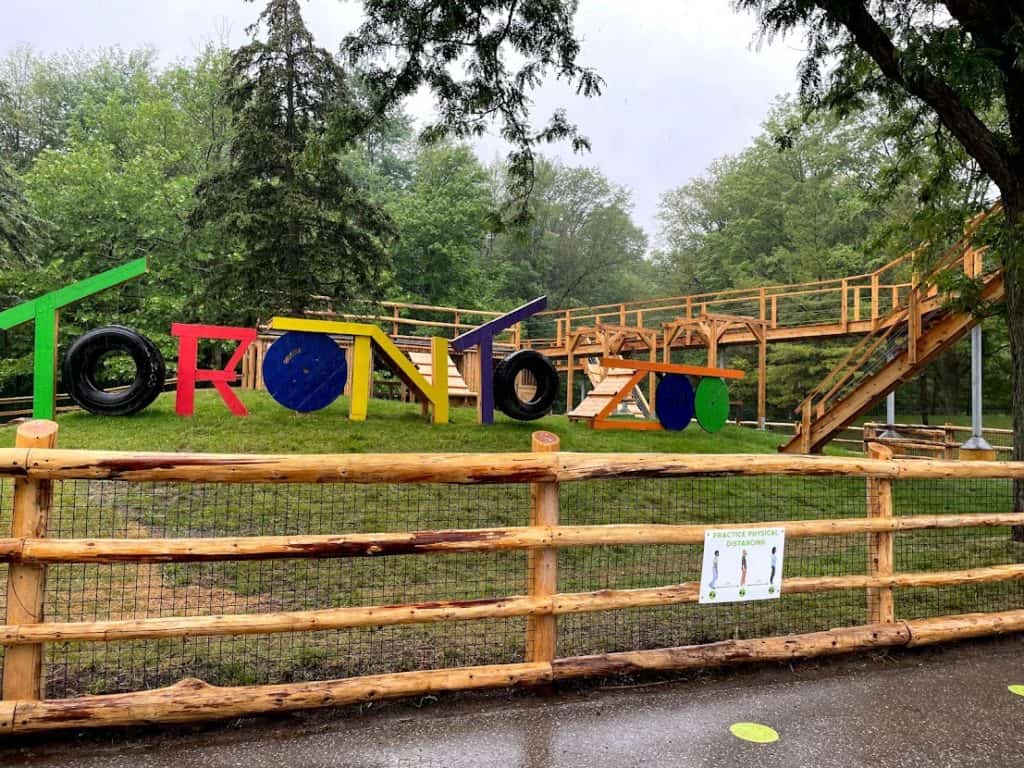 Toronto Zoo –  2000 Meadowvale Rd, Toronto, ON M1B 5K7 – Explore all there is to see and do at the Toronto Zoo, visit the animals, ride the carousel and get around the whole zoo on the zoomobile, or even splash around in the Discovery Zone Splash Pad.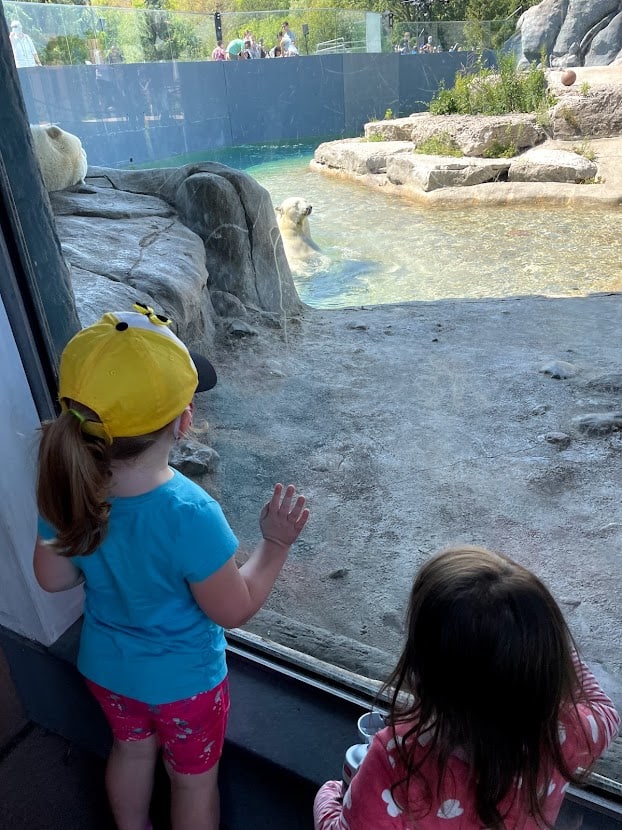 I have been to the Toronto Zoo, four times so far this year ( we have a family membership) under Covid Protocols and feel very safe and have enjoyed all four days despite some rainy weather on two occasions. The Toronto Zoo requires masks to be worn in any indoor buildings and underground viewing enclosures… I would say you wear a mask 5% of the day and when walking around a mask is not required. Due to timed entry the entry lines are short and dont take too long, the park capacity is limited so it is queiter than usual years.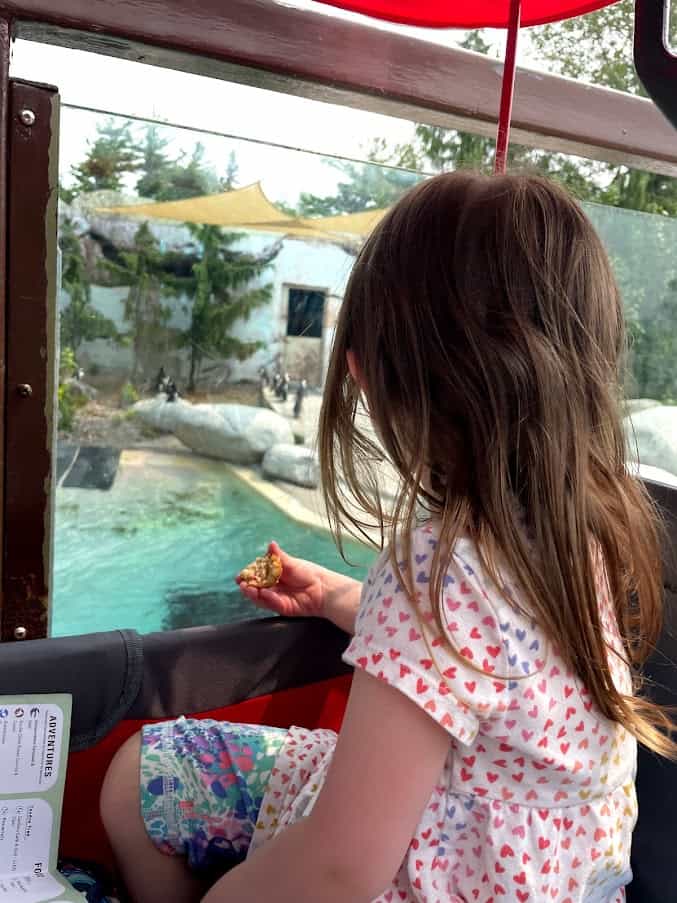 There are so many great Day trips from Mississauga the hardest part will be deciding which one to try first! Have more suggestions for the Best Day Trips from Mississauga let us know!

Water Parks – Various Locations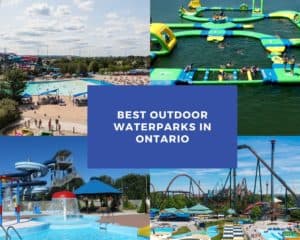 We are lucky in the Greater Toronto Area to have a variety of Outdoor Waterparks including slides, splash pads, and inflatables. Checkout our full guide of Best Outdoor Waterparks in Ontario.
Beaches – Various Locations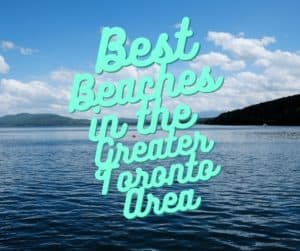 Many beaches are located in Southwest Ontario, so why not escape the city and enjoy a day with your toes in the sand. Beaches make for a perfect day trip in the summer, and are a great way to get outdoors and enjoy a fun and cheap day with the kids. Families will enjoy swimming, sun tanning and sand castle building. Many locations also have boating options like kayaking, paddleboards, and canoes. Checkout our Full Guide to the Best Beaches near Mississauga.
Crawford Lake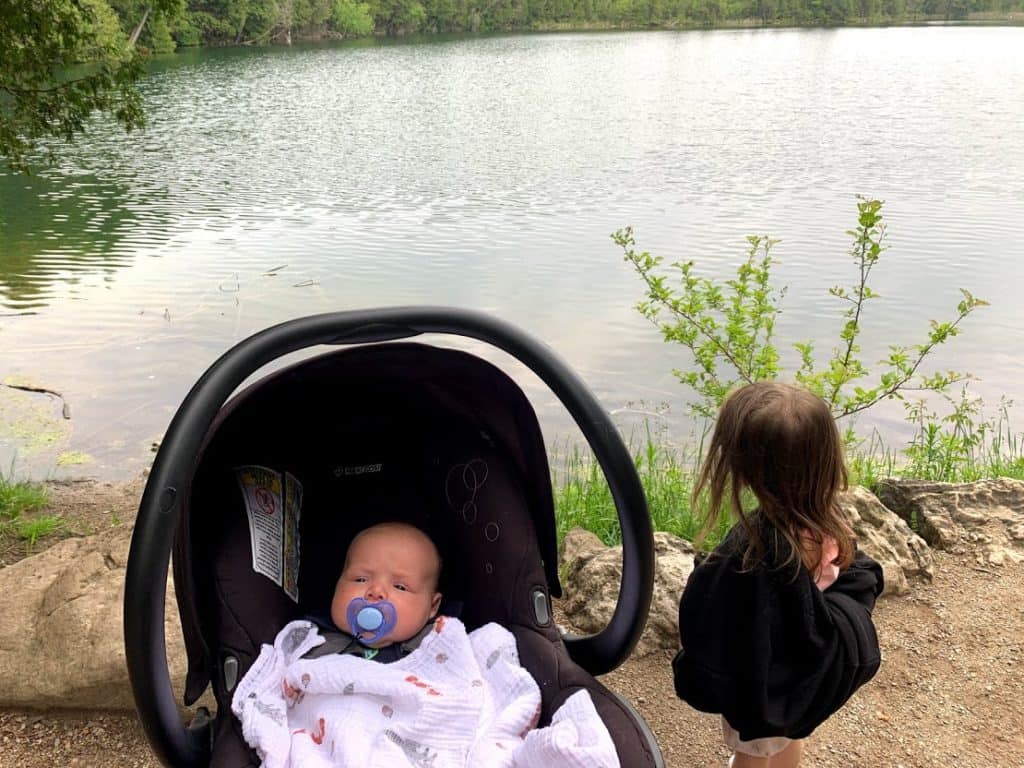 3115 Conservation Road Milton, ON L9T 2X3 – Home to cuture, history, hiking and the great outdoors. Crawford Lake features an entire Longhouse Village and rare meromictic lake where you can learn more about the rich cultural past of the 15th century Iroquoian village, and explore local history. Wander through the Longhouse village and learn about daily life and Indigenous art and culture.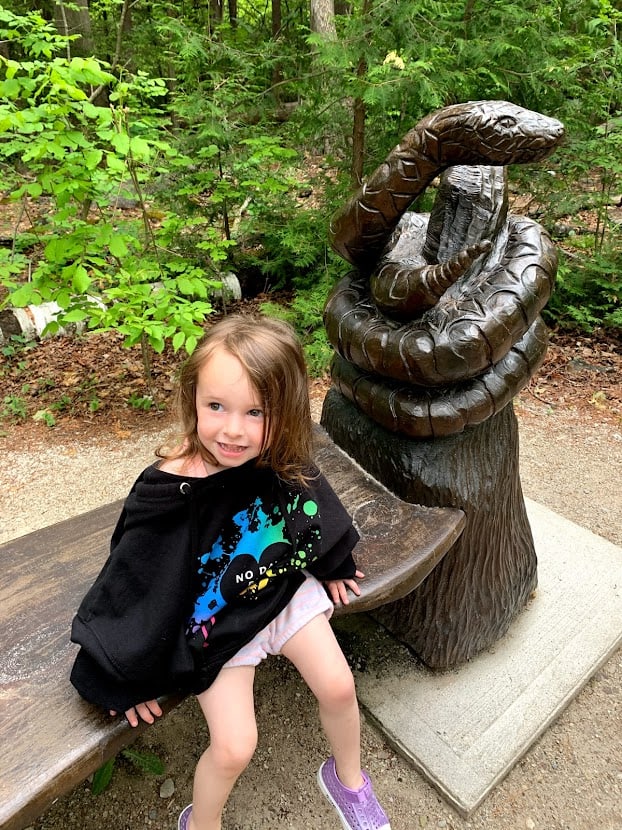 Enjoy some time outdoors on one of the many hiking trails featured in the park. On our last visit we checked out the Stroller Friendly Hide and Seek Trail that my daughter especially loved as she got up close with larger than life wood carvings. Enjoy watching the turtles paddling in the Meromictic lake as you walk around the boardwalk around the Lake. Check out more Stroller Friendly Trails near Milton, Georgetown and Brampton.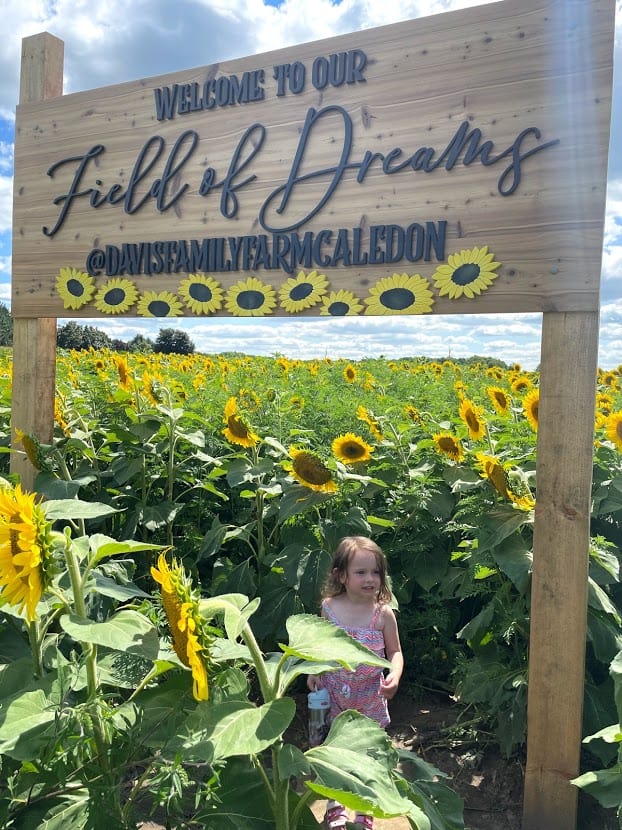 15770 Mountainview Rd. Caledon East, Ontario L7C 2V2 – From July 24 to August 08, Davis Family Farms opens its door to host the Sunflower Festival. Enjoy a 2KM walk through a Sunflower field of dreams – as the Davis Family Farm is home to 45 acres of bright sunflowers. Throughout the walk there are instagram worth photo stops including vintage couches, a swing, a baby grand piano, and a old school truck. For every admission the farm donates $1 to the Canadian Celiac Association. Davis Farm also has Creature Quest on site allowing visitors to view exotic animals including owls and a peregin falcon.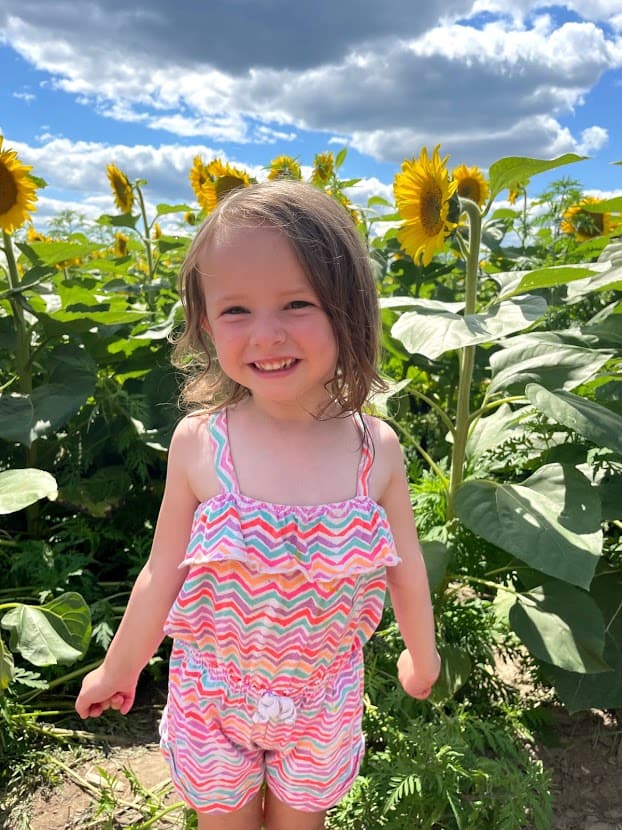 Make sure you don't miss any of the best Events, Activities and Places in the Peel Region by joining Peel Parents Resource on Facebook!
Can you help make this article better?
If you have noticed an error, have additional information or would like to share a comment you can:
E-mail us at info@thexploringfamily.com
Find us on Facebook: The Exploring Family
Find us on Instagram: @The.Exploring.Family