For my family, summer is all about the OUTDOORS and trying new activities. Playing mini putt is a great family activity that offer exercise in a fun way and ensure you are making the most of your summer and spending it outdoors. Mini putt is known for its fun themes and props that are sure to engage the kids and is great day trip idea in the summer.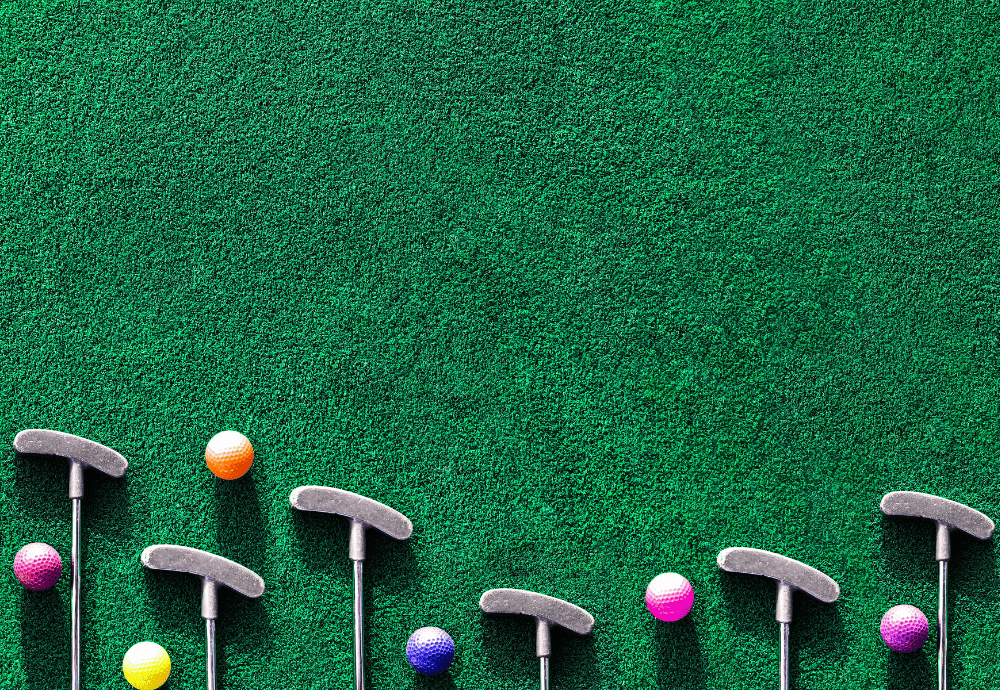 While there is Mini Golf in Mississauga, we decided to include the surrounding area as well to give you a wider variety of options. We have made a list, (and checked it twice) to create a complete guide to Mini Golf near Mississauga. If you want to go mini golfing or mini putting and find yourself wondering: "where are the best places to play mini putt in Mississauga?" Just come back here and reference this list. From Outdoor Mini Golf to Indoor Mini putt, there is a fun experience for everyone to practice before they hit the course for a full golf game.

Mini putt is a great family activity and is a little less competitive and much shorter than a full length game of golf. Mini putt offers players of various skill levels to enjoy the game, so get ready to sharpen your game and your pencil as you keep score through 18 holes of Outdoor Mini golf in Mississauga and Surrounding Areas. Outdoor Mini Golf are one of my favourite activities in the summer time, and when I travel to warm locations like Florida I love playing the themed outdoor courses. Indoor Mini Golf courses offer the opportunity to enjoy mini golf with your family year round.

If your looking for other fun day trip ideas, checkout Daytrips from Mississauga or Golf Courses in Mississauga.

So enjoy some Mini Golf this year!
Outdoor Mini Golf Courses in Toronto:
Cenntennial Park Golf Centre
Outdoor Mini Golf Courses in Brampton and Mississauga:
Ninth Line Golf Academy
Downey's Farm
Outdoor Mini Golf Courses in Oakville:
Vic Hadfield Golf and Learning Centre
Indoor Mini Golf Courses in Toronto:
Indoor Mini Golf Courses in Mississauga and Brampton:
Glow Zone Mississauga
Glow Zone Brampton
Indoor Mini Golf Courses in Oakville:
Map of Mini Golf Courses near Mississauga
Mini Golf Courses in the Greater Toronto Area
Outdoor Mini Golf Courses near Misissauga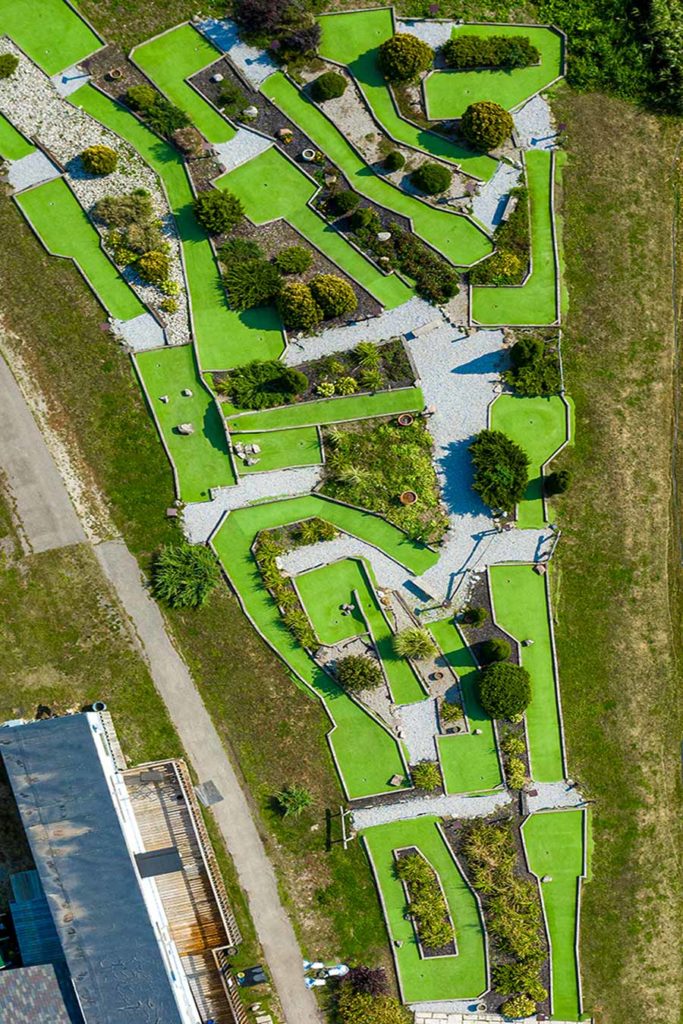 This 18 hole course is outdoors, challenging and fun! The twists, short and long holes, straight and curved fairways along with hidden breaks around the cup will challenge any player. Perfect for a family day out!

Address: 7705 Ninth Line, Mississauga, ON L5N 0C1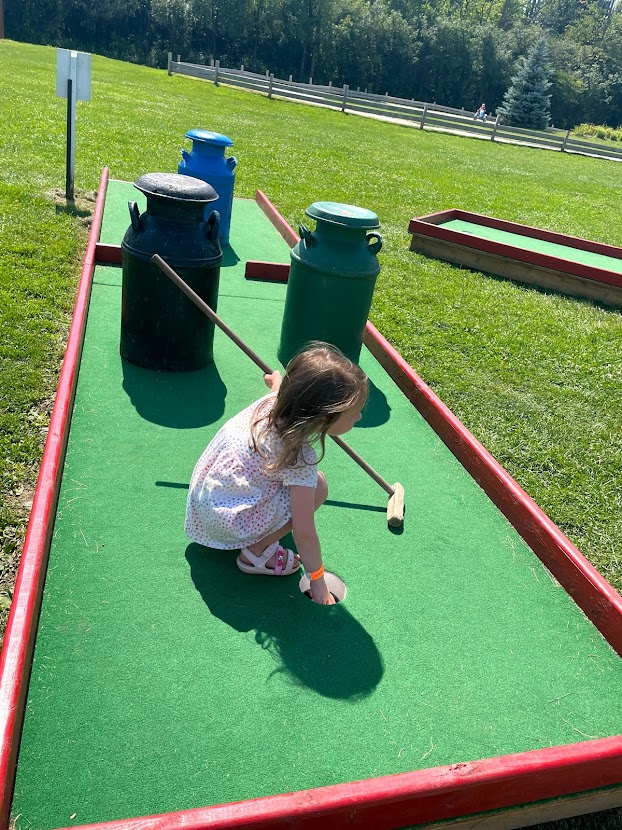 Part of the Barnyard playground features a small 9 hole course that is great for beginners. This is not an official mini golf as it uses wood clubs and golf balls instead of traditional clubs but it is a fun activity especially for preschoolers.

Address: 13682 Heart Lake Rd, Inglewood, ON L7C 2J5
This hockey themed course is one of a kind and sure to be a hit with the little hockey players in your home.

Address: 340 Burnhamthorpe Rd E, Oakville, ON L6H 7B2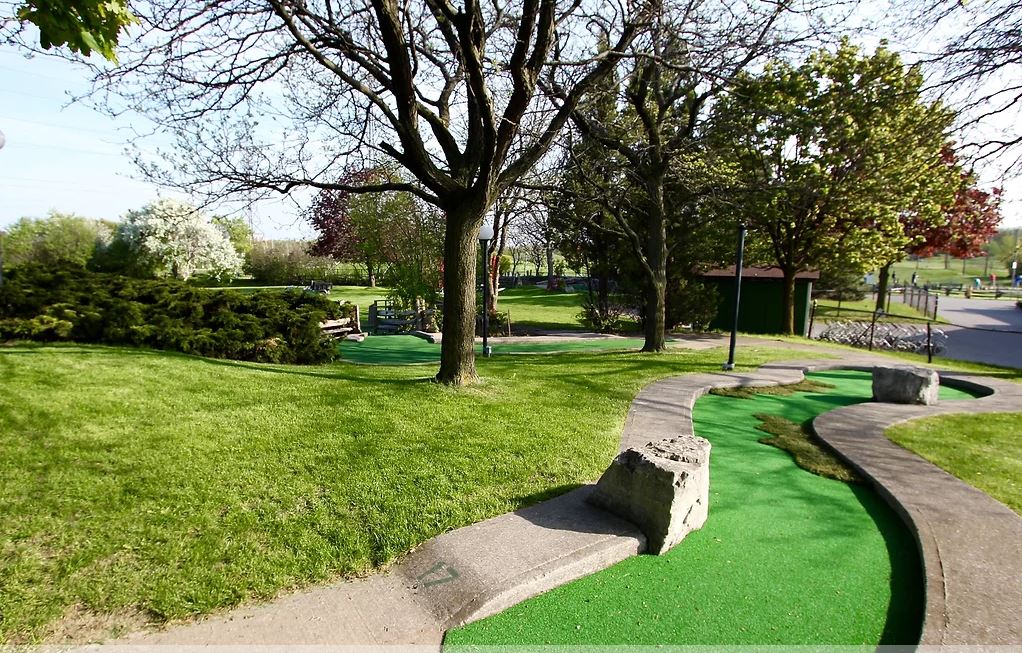 This fully landscaped outdoor course offers a competitive yet fun mini putt course for the family to enjoy.

Address: 550 Centennial Park Blvd.Toronto, ON, M9C 5R5
Indoor Mini Golf Courses near Mississauga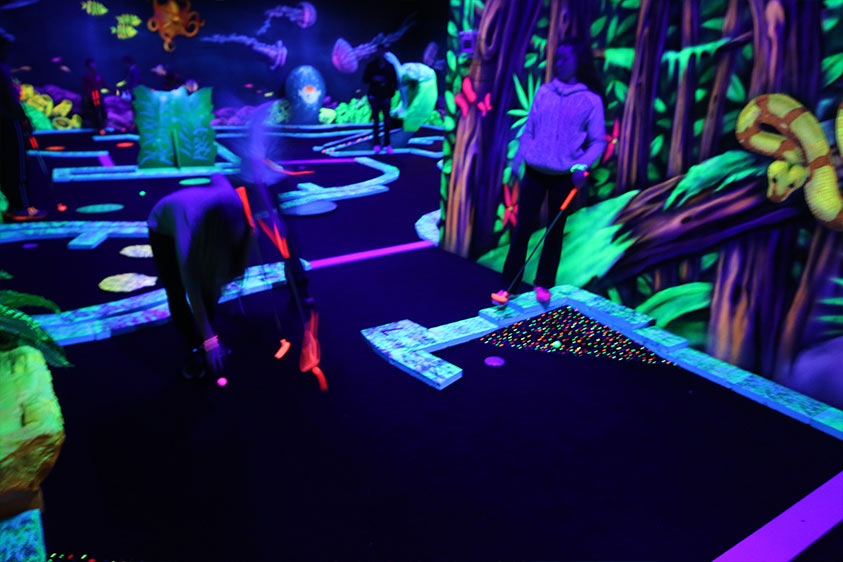 Challenge your family to 18 holes of glow in the dark indoor mini golf in Mississauga, as you wind through the course, the courses in Brampton and Mississauga are completely different so why not try them both out!

Address: 4800 Dixie Road, Mississauga, ON, L4W 2R1
Enjoy the themed 18 hole glow in the dark mini golf where you can explore space and be under the sea all in one round. The courses in Brampton and Mississauga are completely different so why not try them both out!

Address: 9446 McLaughlin Rd N, Unit #7 Brampton, ON L6X 4H9
Reservations required to play this awesome 18 hole glow mini golf course that is sure to fun for the whole family.

Address: 2085 Winston Park Drive, Oakville, Ontario L6H 6P5
This indoor mini putt is one of a kind and brings back the nostalgia of the 90's as it features popular items from the 90s in its 27 themed holes. These holes are very short in length but were super fun and brought back so many memories of my childhood. They also serve some of the best pizza around! Offering a great date night option for parents or all ages fun before 8PM.

Address: 26 Duncan St, Toronto, ON, M5V 2B8
We do our best to ensure the information on The Exploring Family is accurate, however information and events are subject to change.
Want to stay in the know with all things local? Don't forget to join our locally focus Facebook group: Peel Parents Resource – Open to any parents in Peel and Halton Region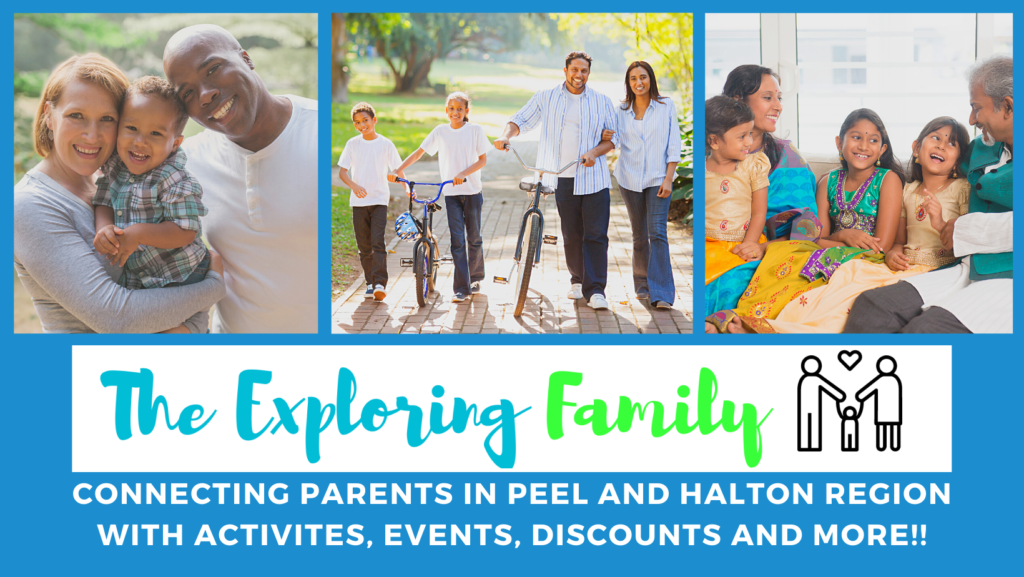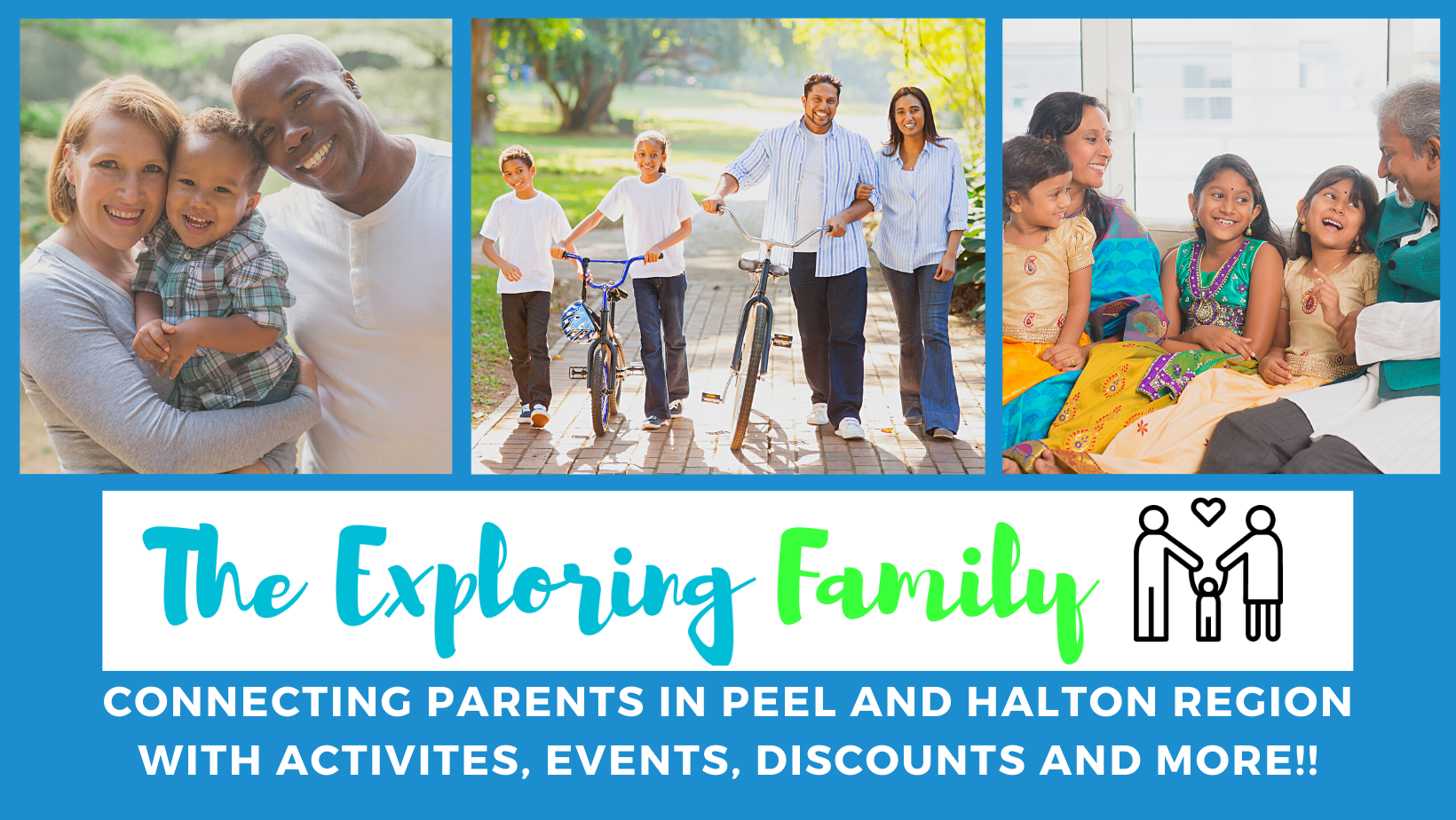 Can you help make this article better?
If you have noticed an error, have additional information or would like to share a comment you can:
E-mail us at info@thexploringfamily.com
Find us on Facebook: The Exploring Family
Find us on Instagram: @The.Exploring.Family