We spent most of 2021 looking for Outdoor Activities such as TreeWalk Village, as I felt that outdoor fun was a little safer for my kids with the ongoing pandemic and restrictions. With Outdoor Activities in mind, I filled the Spring and Summer with daytrips that focused on being outside and enjoying nature. The great thing about the outdoors is it offers exercise, nature, experiential education and so much more!
Now we visited TreeWalk Village twice in 2021, one in June in Binbrook and then again in July at the Stouffville location, and I must say that my 3 year old loved both Treewalk Village Locations. We also visited the Binbrook location in Feb for Thumper's 4th Birthday Celebration with a friend. I have heard that Treewalk has been updated in Summer of 2022 so its on our list for Summer of 2023!
You may also be interested in Zipling in Ontario or White Water Tubing!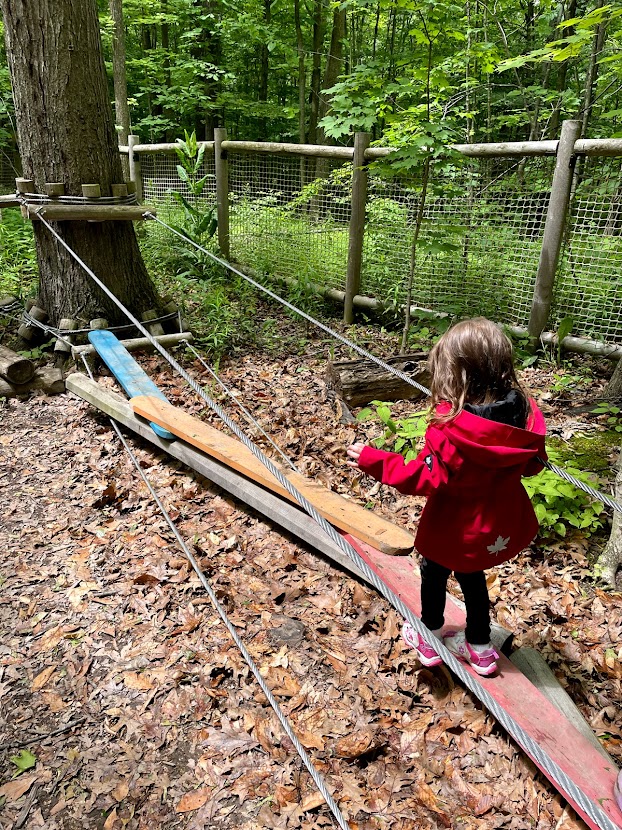 What is TreeWalk Village?
Treewalk Village is geared towards children aged 3-7 years old, however on both visits I saw 2 year olds enjoying the activity with parental support. This activity is available to all ages. If you have older kids 8+ they would enjoy the full treetop trekking. This is a 2 hour activity, and timeslots must currently be prebooked.
Children can run wild and explore from treehouse to treehouse that are 8ft from the ground. Each treehouse is connected by nets, hammocks and wood bridges that challenge children's abilities in a fun way. Overcome the obstacles and enjoy a slide ride to the ground.
Enjoy being outdoors in the winter, checkout nearby Tubing Hills. If your visiting in the summer time, check out nearby beaches.
Where is TreeWalk Village Located?

TreeWalk Village is part of the Tree Top Trekking, however TreeWalk Village has two different locations in Ontario: Binbrook Conservation Area in Hamilton and Bruce Mill Conservation Area in Stouffville.

*NEW FOR 2023 -> New Location located in the 1000 Islands.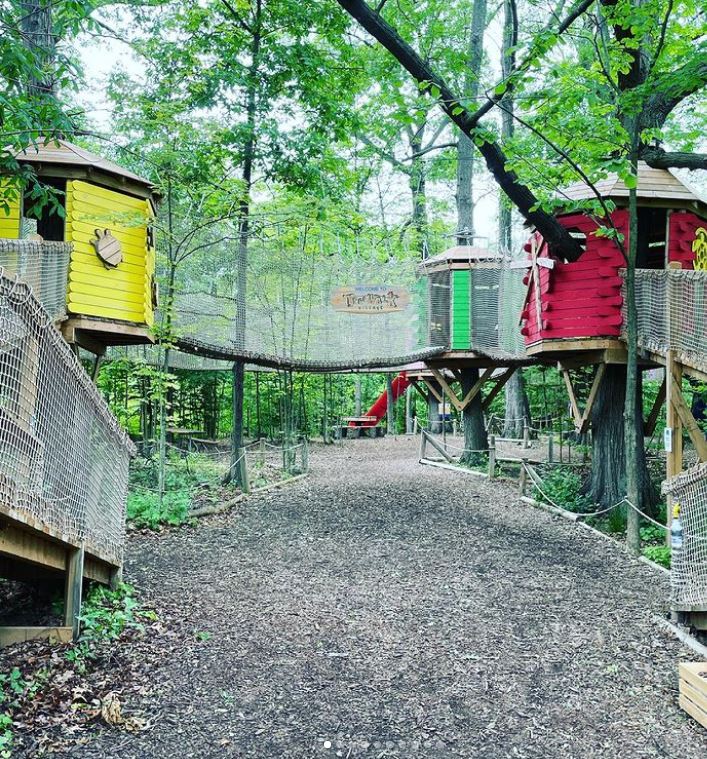 Does TreeWalk Village Run All Year Round?
Yes, TreeWalk Village offers an active outdoor playspace for children all year round. Treewalk village operates through the Winter on Thursday-Sundays offering a safe outdoor playspace for kids this winter (check website for times). Timeslots for the winter are 10am, 12pm, and 2pm. During the summer, TreeWalk Village operates daily with timeslots throughout the day.

RESERVATIONS ARE REQUIRED!
Our Review of TreeWalk Village:
TreeWalk Village Hamilton: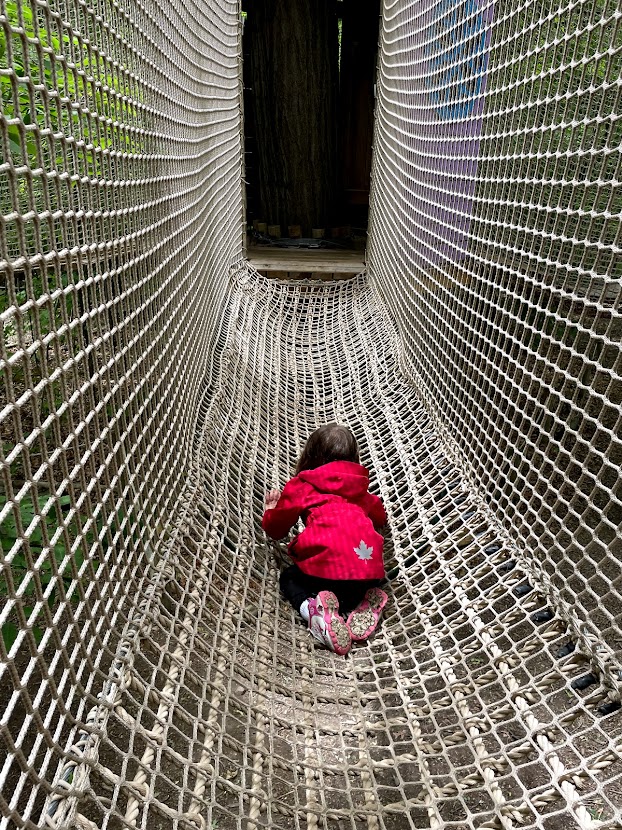 We have enjoyed the safe, socially distanced family activity of tree top trekking in past and this summer we exposed our daughter Thumper, to the mini version of the full treetop experience called Tree Walk Village.
She got to climb, run, jump among the trees as she explored the multiple treehouses and bridges at Treewalk Village. Treewalk Village allowed her to lead the way and explore the magical treehouse village located in the forest at about 8ft off the ground. I followed behind for the first few rounds but then she became confident enough and had enough courage to walk the wobbly bridges and pathways on her own.
On our second visit to Treewalk village later in the summer, she was super excited to show her friend A how it was done and I just followed them from the ground. I liked that the whole Treewalk Village is a gated area so it would be hard for younger kids to leave the area unnoticed. I also enjoyed the time in the fresh air, and that it was easy to watch the girls from the ground.

Thumper moved from treehouse to treehouse using hammock netting bridges, nets and wood bridges. She was able to get back to the ground by using one of the multiple slide options.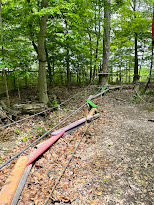 She also enjoyed the mini forest obstacle course that has the same obstacles as full tree trekking but is only a few cm off the ground.
TreeWalk Village Stouffville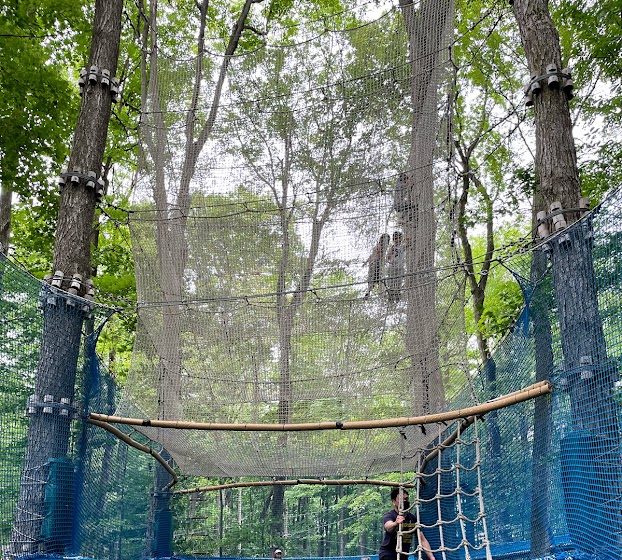 One major difference to the Stouffville Tree Walk Village is they have a huge climbing section with blue netting, as well as a mini rock climbing wall. Otherwise the two courses are very similar.
Overall both visits were a great experience, and we are already looking at booking a visit this winter!
We do our best to ensure the information on The Exploring Family is accurate, however information and events are subject to change.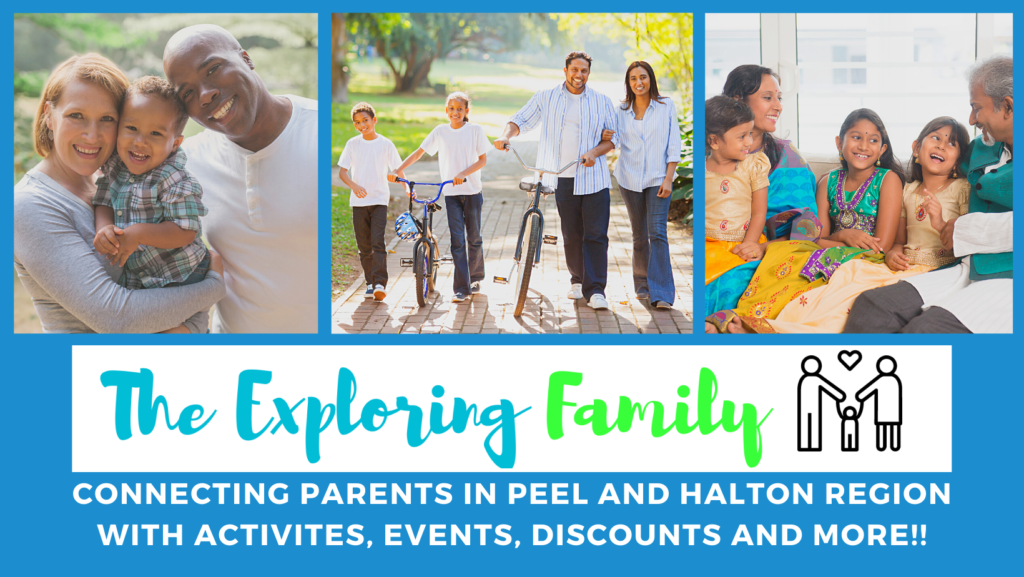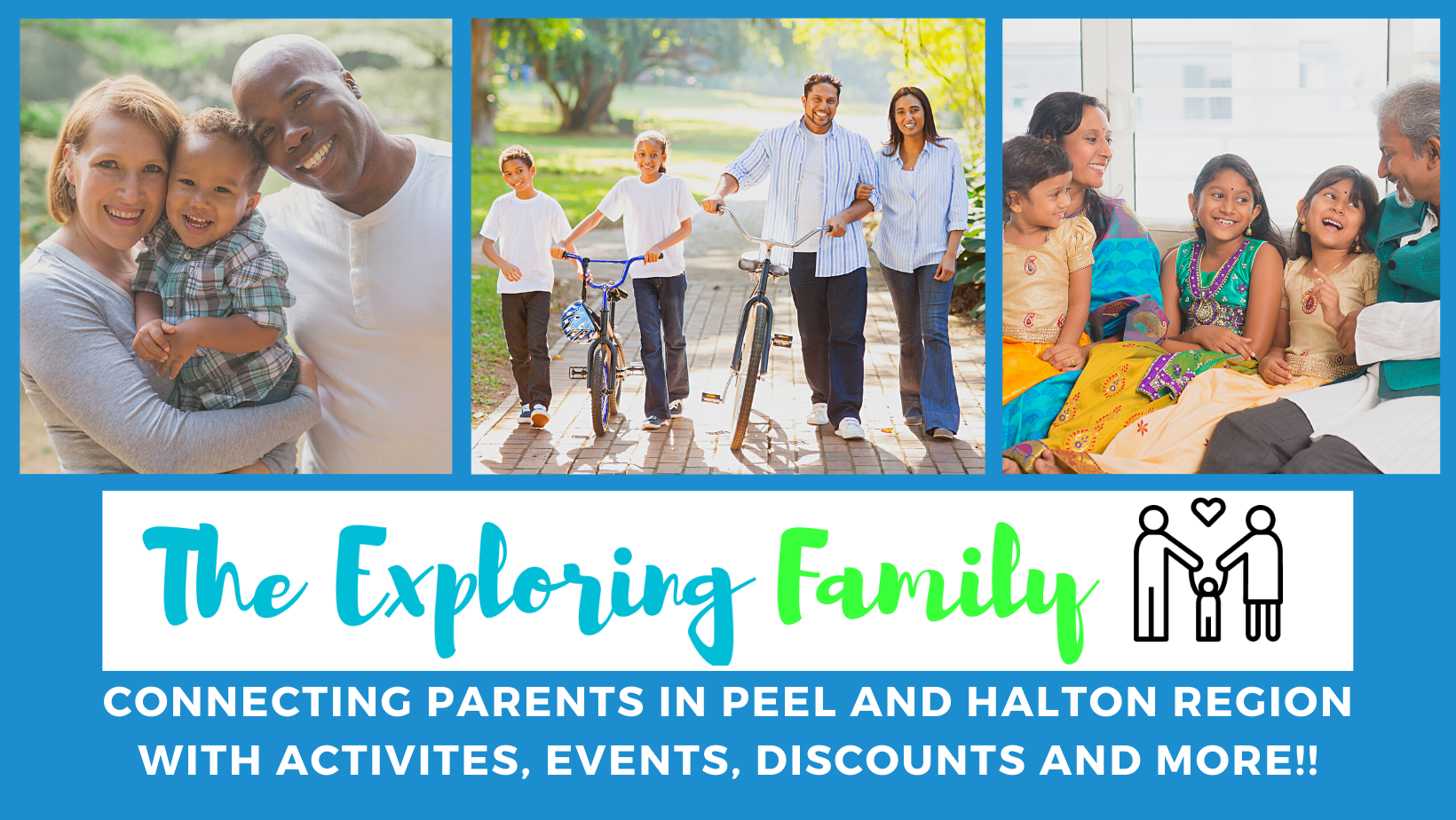 Can you help make this article better?
If you have noticed an error, have additional information or would like to share a comment you can:
E-mail us at info@thexploringfamily.com
Find us on Facebook: The Exploring Family
Find us on Instagram: @The.Exploring.Family