Summer weather is officially here and people are heading to beaches in southern Ontario to enjoy the nice weather. Beaches make for a perfect day trip in the summer, and are a great way to get outdoors and enjoy a fun and cheap day with the kids. Not only will this blog outline The Best Beaches in Hamilton, Oakville, Milton, Burlington, Brampton, Georgetown and Mississauga to visit but I have also included Tips for taking kids to the beach and what to pack in your beach bag including recommendations of my favourite products.
When deciding on beaches in Southern Ontario, I choose to pick beaches in locations that are all under an hour and a half drive from either Peel or Halton Region. Before visiting any of these beaches you can check out the water quality at The Swim Guide.
Not interested in the Beach then checkout our Guide to Outdoor Water Parks in Ontario, Splash Pads in Brampton and Mississauga Area, Guide to Milton Splash Pads or Guide to Outdoor Pools in Brampton and Mississauga Area to keep you cool!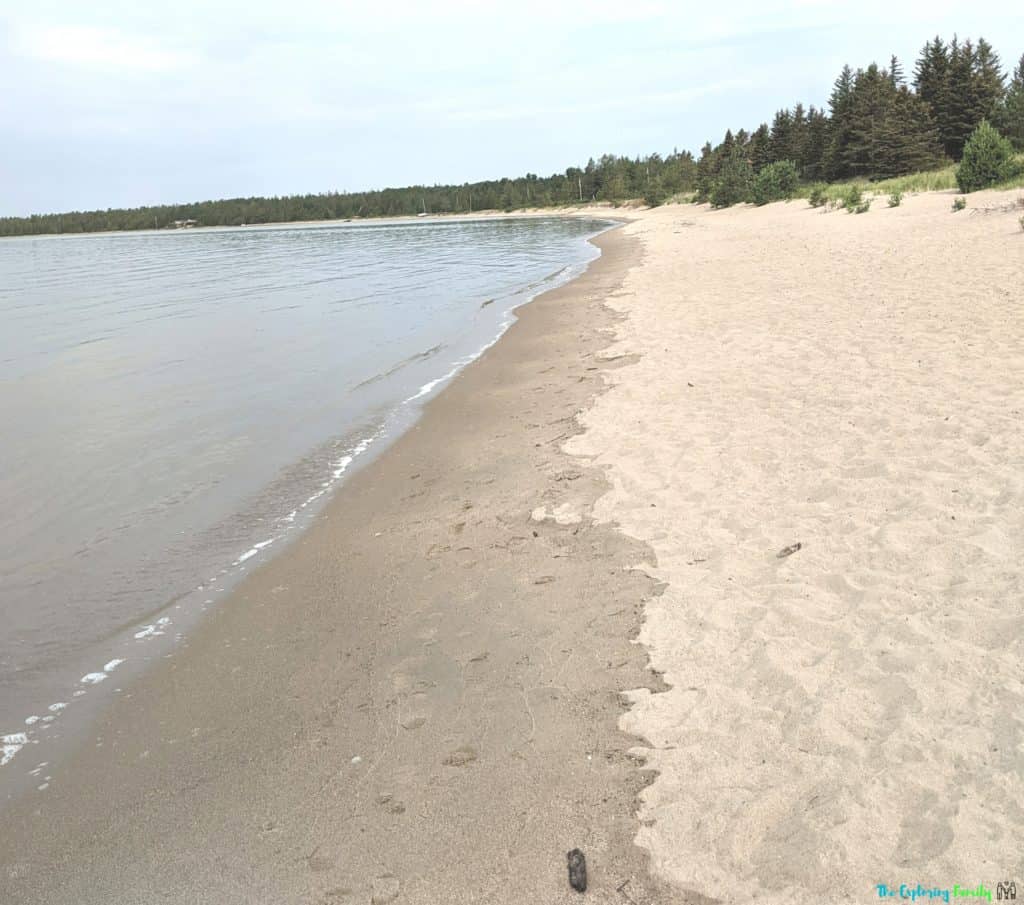 Road Tripping to Sand and Surf: Summer Fun at GTA Beaches
Many beaches are located in Southwest Ontario, so why not escape the city and enjoy a day with your toes in the sand or take a day trip to Beautiful Beaches located in Ontario. If your family has a dog then check out our Guide to Dog Beaches in Ontario.
Here is a great list of Beaches near me in the Brampton area, that will allow me to soak up the sun and enjoy the water with my kids. I have included cool beaches to daytrip from Halton or Peel Region as many beaches are just a short drive of an hour and a half or less from Brampton, Mississauga or Georgetown.
Beaches in Southern Ontario
Beaches in Brampton: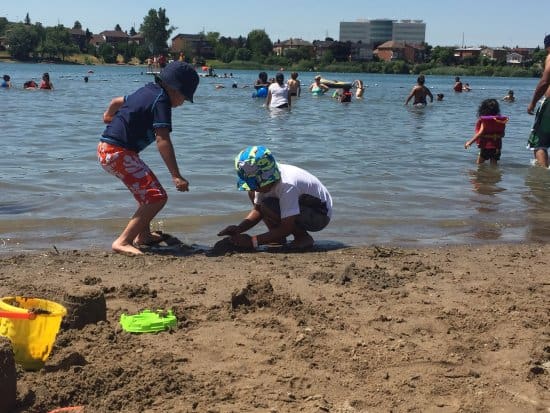 Professors Lake (1660 N Park Dr): Located in the heart of Brampton is Professor's Lake. The beach is a spring fed lake that offers a swimming area, water slide, beach volleyball courts, boat house and snack bar. You can also rent paddleboats, canoes, kayaks and stand-up paddle boats if you're looking for more a bit more excitement than playing in the sand.
Reservations for Professor's Lake Beach can be made daily by calling 905-874-2350 between 8:30 am and 6:30 pm. Reservations are accepted up to three days in advance.
All water crafts are available for rental, prices are as follows;
Paddleboat

Canoe

Kayak

Stand up paddleboard
Beaches in Mississauga and Etobicoke: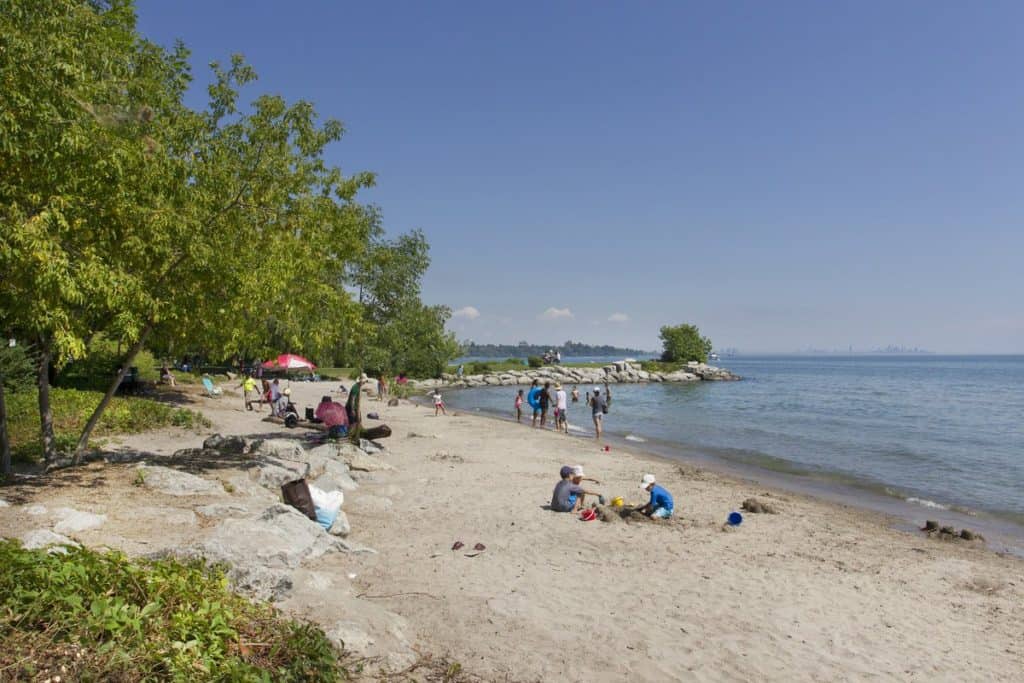 Lakefront Promenade Park
Lakefront Promenade Park (800 Lakefront Promenade, Mississauga): The beach is the largest waterfront park in the Peel Region and is an inlet off Lake Ontario. This expansive park is home to several boating centres including Lakefront Promenade Marina. Enjoy Lakefront Promenade's waterfront pathway, sand beach and beach volleyball courts.
Nearby you will find a splash pad and playground, if the kids get tired of swimming at the beach that is warm as it offer shallow waters. Free Entrance and no reservations are required. There is just so much to choose from when it comes to beaches in Southern Ontario.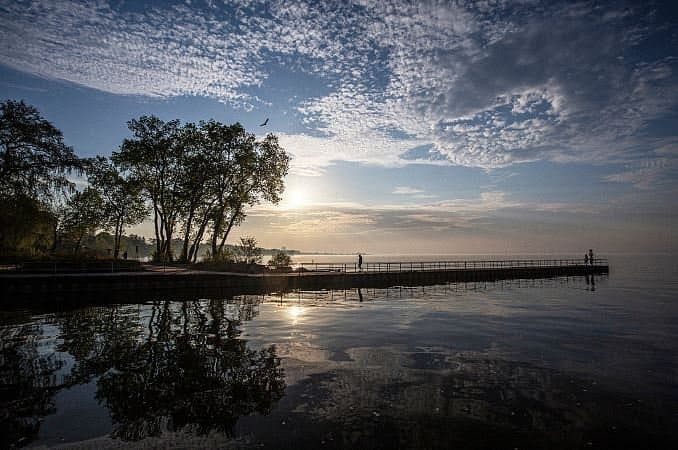 Marie Curtis Park
Marie Curtis Park (2 Forty Second St, Etobicoke): The beach is located on the east bank of the Etobicoke Creek. Marie Curtis Park Beach is the perfect beach and park for walking, hiking, biking, relaxing on the beach, fishing and great photo opportunities as well. From Downtown Toronto it can be reached by public transit on the Queen streetcar line. The park offers beautiful nature trails with bridges and wooded paths – perfect to explore with kids.
Jack Darling Park (1180 Lakeshore Rd W, Mississauga): This sandy beach is a great place to spend the day making sand castles and swimming while viewing the CN tower. There is a shallow area located between two rock formations that most families were using as a swimming area. There are no lifeguards or buoys to mark a swimming area so you are swimming at your own risk.
Beaches in Oakville: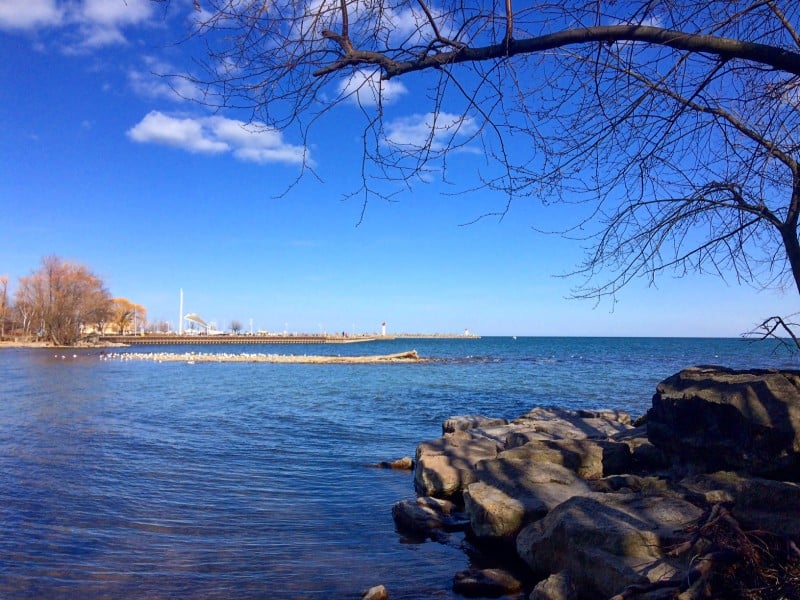 Bronte Beach
Bronte Beach (45 West River Street Bronte, Oakville): The beach is nestled among the habour and marina. Bronte beach offers a sandy beach with clear water, and normally an enjoyable water temperature in the summer months. It is a smooth entry into the lake as it is sandy with not very many rocks.
There are some large rocks just off the shoreline for the kids to climb and explore if they need a break from the water. If you turn left into the parking lot near the beach (just off W River St.) you will get to a small parking lot, however if this is busy, park in the little 'park' area just south of Lakeshore Rd W. When you turn left onto River St. it will be on your left.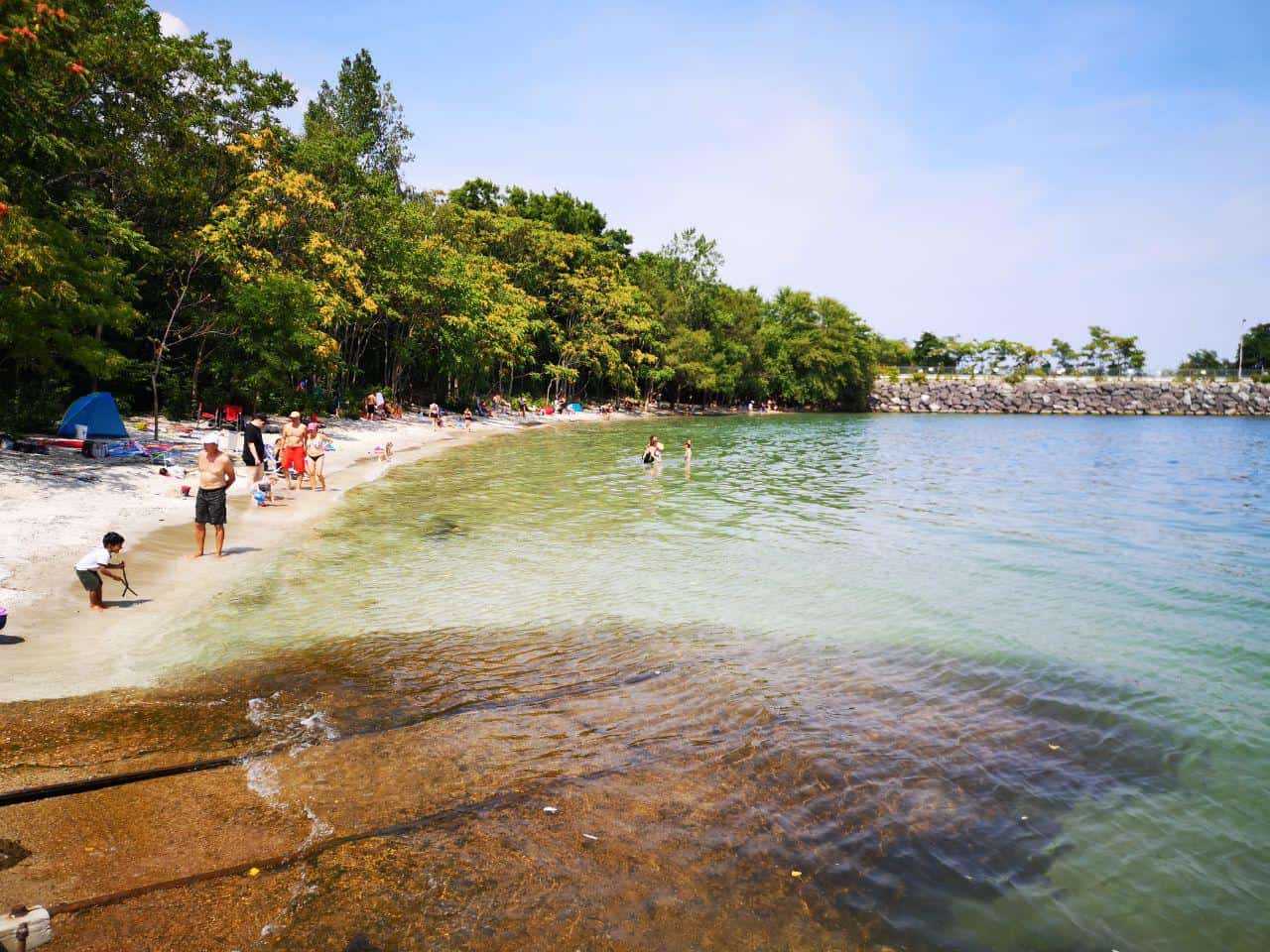 South Shell Park

South Shell Park (3376 Lakeshore Rd W, Oakville): It feels like a tropical beach with clear waters and is the ideal spot for a picnic with the family. The beach offers scenic views as on a clear day you can see the CN tower if looking to the East, and offers a beautiful sunset in the evening. What other beaches in Southern Ontario offer these views? Guests can now enjoy a new lookout area and benches, along with formal beach access, pathways and stairs, paved trails, a washroom facility, covered shade structure, and playground.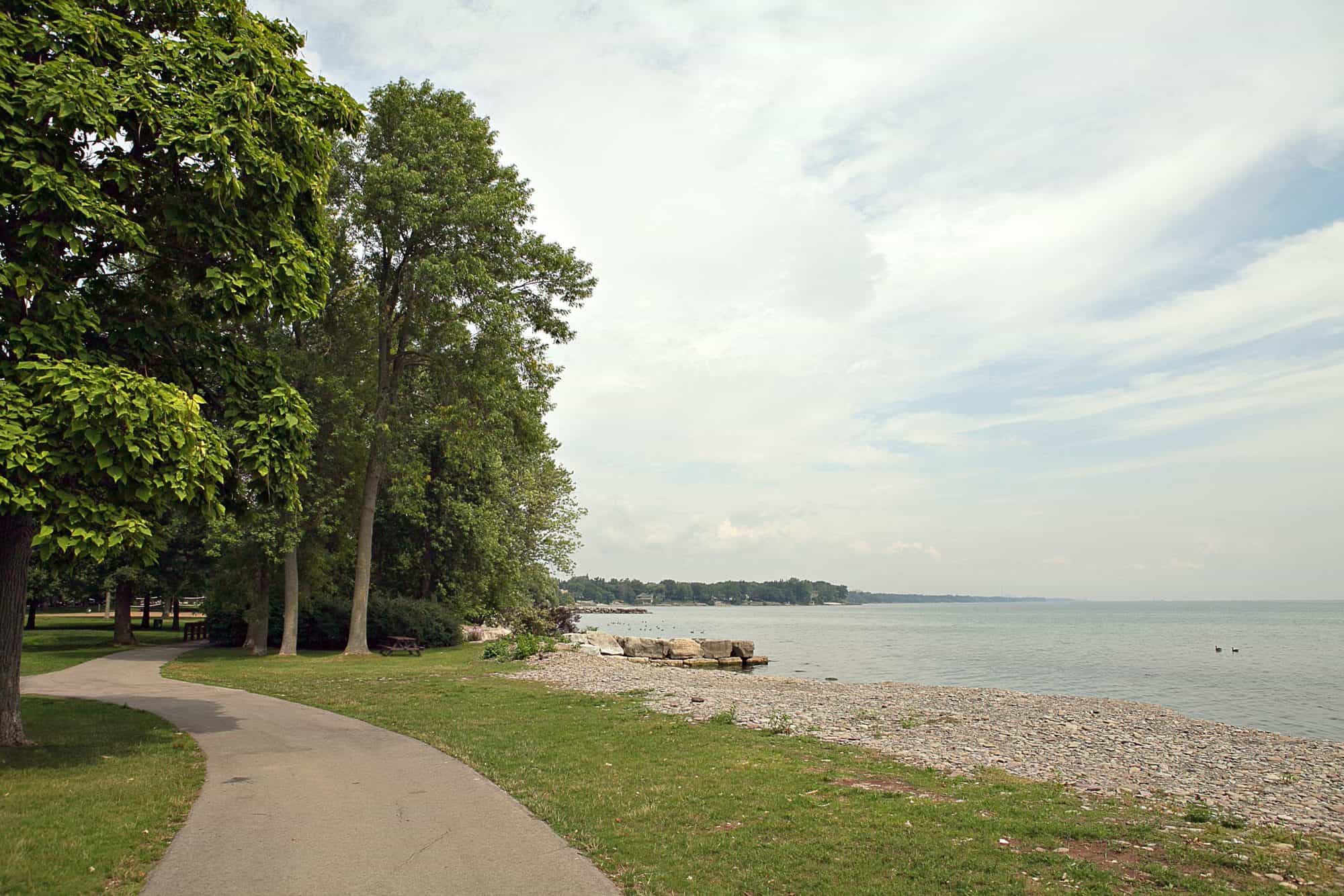 Coronation Park
Coronation Park (1426 Lakeshore Road West, Oakville): Located along the shorelines of Lake Ontario, this park features five picnic areas including covered sheltered areas with picnic tables, as well as BBQ pits making this beach perfect for a daytrip as you can have a picnic lunch. Other amenities include: splashpad, volleyball courts, playground, washrooms. Has lots of green grass, big shady trees to sit under on a hot summer day and is a great place to take a walk and stroll by the water.
Beaches in Burlington: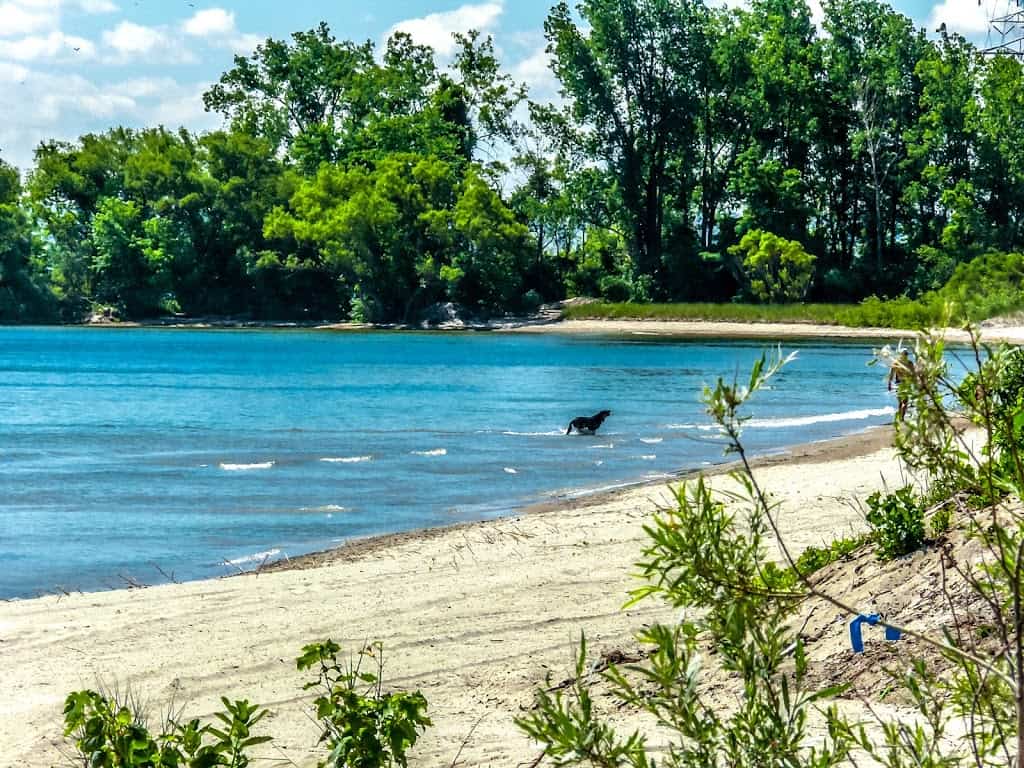 Beachway Park
Beachway Park (1100 Lakeshore Road) : Offers a shallow and sandy shoreline, which is perfect for young kids as you can walk out quite a bit before it gets too deep. Burlington Beach Rentals offers Beach Spots (Beach spot package includes the Sportbrella and 2 Adult resin Muskoka chairs, you can add on footstools and tables), paddleboards, kayaks and large floaties for rent.
Looking for more fun on beaches in Southern Ontario? Burlington beach offers the following amenities: washrooms, outdoor showers, and a playground. Offering the perfect beach day with a picturesque shoreline perfect for sand castle building. With 6.8 acres of park space and two kilometers of lakeside trails, an outdoor pavilion, playground and seasonal concession, there is plenty to do and see at The Beachway. The Dofasco Waterjet Park and Playground is right around the corner and Rotary Centennial Pond is a great place to sail your model boat!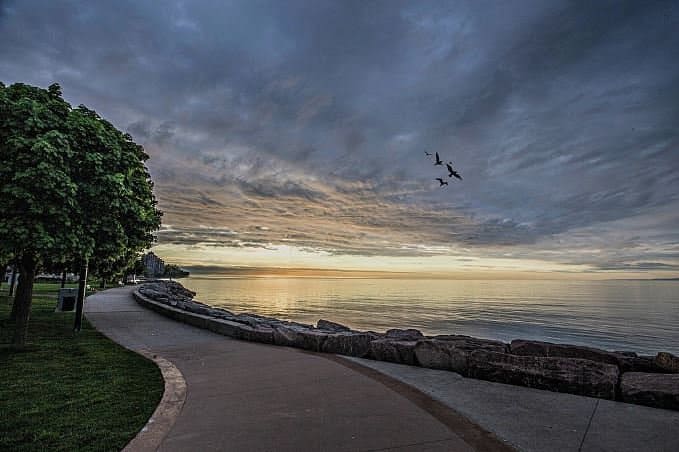 Brant Street Beach:
Brant Street Beach (1400 Lakeshore Rd, Burlington): This beautiful beach offers a great place to spend the day an enjoy the sun with your kids. There is lots of fun to keep the kids busy as their is a fantastic pier, playground and lots of shops along the waterfront. There are lots of trees to provide shade from the strong afternoon sun. Be prepared there are no washrooms on-site.
Brant Street Pier:
Brant Street Pier is located in Spencer Smith Park at the Waterfront in Downtown Burlington. The beautiful pier extends over Lake Ontario is a perfect for photo opportunities (Erin actually got married at Spencers on the Waterfront and took pictures) along this s shaped rock walkway).
Beaches in Milton: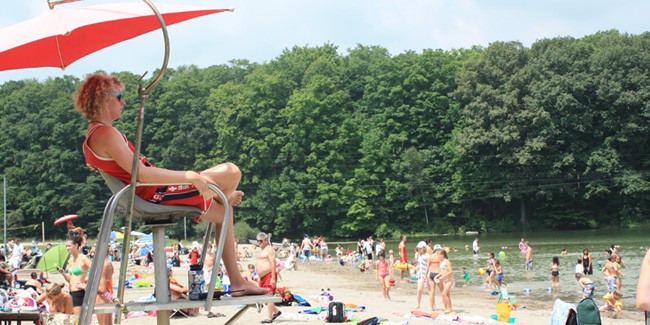 Kelso
Kelso Lake: Kelso Conservation area is beautiful to visit (you should see how the escarpment changes in each season), but there is also so much to do: picnicking, mountain biking, stand-up paddle boards, swimming, and even movies under the stars! Reservations are required for beach access until September 7 – book at parkvisit.ca.
Book under Kelso Main Entrance. The beach at Kelso is supervised by a lifeguard, and offers a 35 hectare lake so there is lots of room to swim, play in the sand, sunbathe or play a game of volleyball. Need a break from swimming? Take a stroll along the boardwalk, try a boat rental or go fishing.
Beaches in Guelph and Elora:

Rockwood Conservation
Rockwood Conservation Area (161 Fall St. S., Guelph): Escape the heat and take at the beautiful sandy beach with clear water. The beach is a great place for a picnic or you can find a picnic table nearby. The Eramosa River is home to fish such as carp, bullhead, largemouth bass and smallmouth bass – so the small reservoir makes for a fun fishing destination, too.
Rockwood conservation offers much more than just swimming, as you can canoe or kayak, explore the scenic caves, take a hike or play a round of mini golf.

Guelph Lake:
Guelph Lake (7743 Conservation Rd., RR 4, Guelph): The reservoir has two large, sandy beaches great for all ages. Picnic tables and washrooms are nearby. The Main Beach has a change house and kayak rentals. Natural bodies of water are great places to play, swim and cool off on a hot sunny day. There are no lifeguards at these beaches in Southern Ontario.
This large park (1,600 hectares) surrounds a reservoir that was created with the construction of Guelph Dam in 1974. The park has two beaches: main beach and island beach, picnic areas, great fishing and plenty of space for sailing, canoeing and kayaking. Open for day use from 8 a.m. to 6 p.m.
Elora Quary
Elora Quary (319 Wellington County Rd. 18, Box 356 Elora, ON): The (two acre) former limestone quarry has a large sandy beach which offers offers easy access to the water and a sandy area for children and sunbathers. The park has washrooms and a small change room. Sheer cliffs up to 12 meter's (40 feet) high surround the quarry – no jumping from the cliffs.
Natural bodies of water are great places to play, swim and cool off on a hot sunny day. There are no lifeguards at the beaches, however loaner lifejackets are available (pending covid protocols). The park also offers a one kilometer loop hiking trail that meanders through cedar forests and, in spots, overlooks the Grand River. There are shaded areas for picnics and BBQs available for day use customers.
Beaches in St.Catharines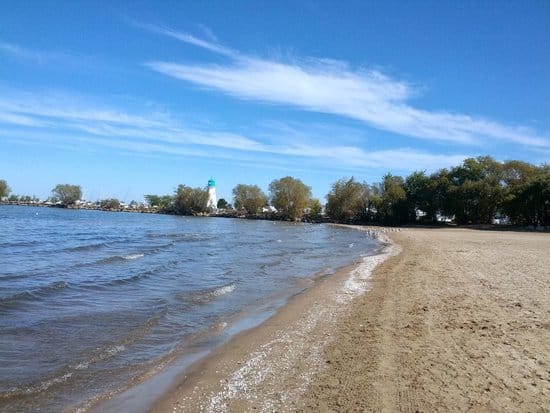 Lakeside Park Beach:
Lakeside Park Beach (1 Lakeport Rd., St.Catharines): A picturesque beach on the south shore of Lake Ontario situated in historic Port Dalhousie. Stunning views of the Port Dalhousie harbour, lighthouse and the north shore of Lake Ontario. Beach Amenities include: Playground, Carousel, Washrooms, Snack bar, Picnic area, Volleyball courts, and Walking trails.
*I loved taking my day campers to this beach for field trip Fridays when I worked for YMCA of Niagara in University – so I can personally recommend this is a great beach for young children.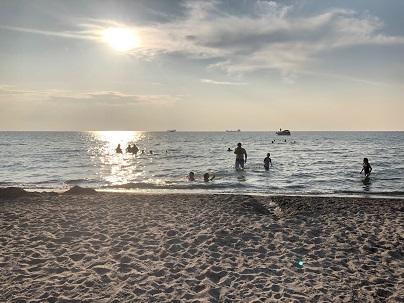 Sunset Beach:
Sunset Beach (1 Lombardy Ave, St.Catharines): Located along the shore of Lake Ontario on the Waterfront Trail and is in close proximity to the Welland Canals Parkway Trail. This park has 365 metres (1,200 feet) of sandy beach to enjoy. Beach Amenities include playground, picnic area, public boat launch ramp for small boats, and washroom facilities.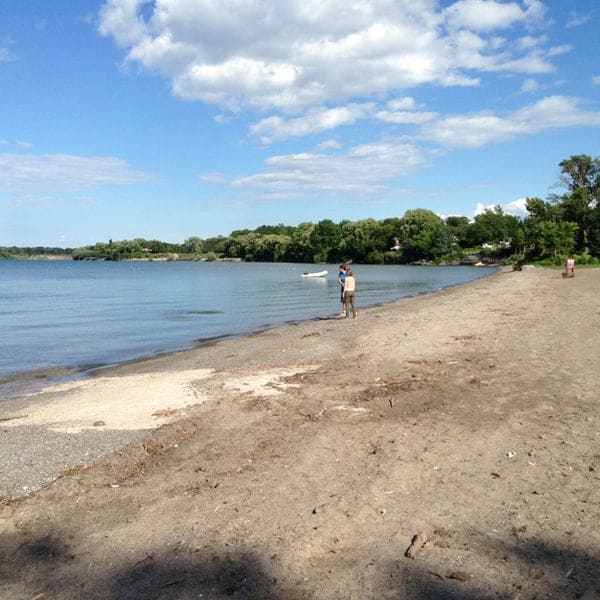 Jones Beach

Jones Beach (142 Broadway Dr, St.Catharines): This quiet beach is located in a protected bay on Lake Ontario, with a picturesque view to the lake and small lighthouse beacon. This park is connected to the Lake Ontario Waterfront Trail and the George Nicholson Trail. It is worth the drive to some beaches in Southern Ontario like this one!
Beaches in Southern Ontario – Hamilton and Nearby Area
(All of the following are part of Conservation Halton – For Fees visit Conservation Halton)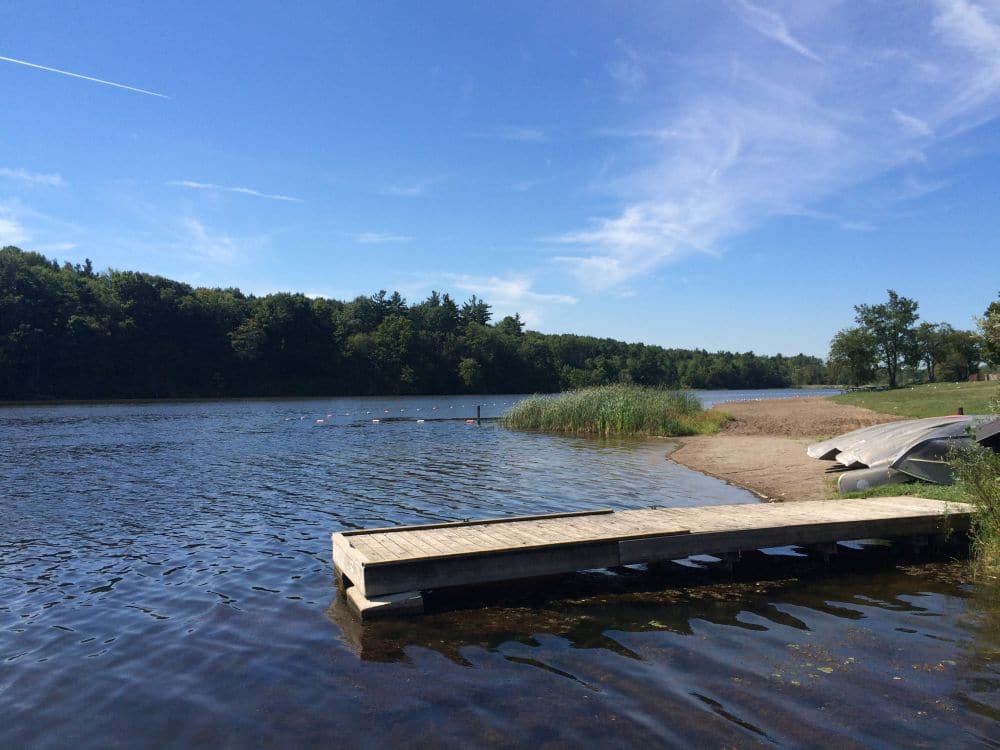 Christie Lake:
Christie Lake (1000 Highway 5 West, Dundas): Looking for a place to do enjoy it all? Christie Lake Conservation has your whole day filled from hiking, swimming, boating and fishing to biking, picnicking and even disc golf! One of the most beautiful lake settings on the Niagara Escarpment, Christie Lake is where you'll want to spend the day with your family and friends. Christie Lake's 360-metre sandy beach is a great place to enjoy the summer sun! Build a sandcastle, while you enjoy views of forested area across the lake. There are also many picnic tables located right beside the beach, to have a picnic during your visit.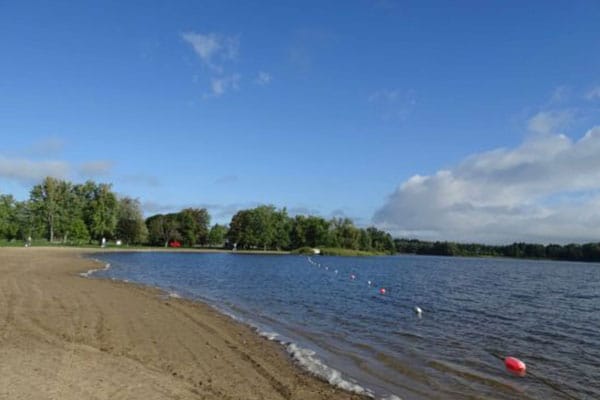 Valens Conservation Area:
Valens Conservation Area (1691 Regional Road 97, Flamborough): The Valens Lake beach is the perfect spot to enjoy the summer sun by swimming, playing in the sand or simply relaxing in the sun enjoying the view. Don't worry if you forget anything at home as the Beach Store offers beach toys, snacks and picnic supplies to help make your beach day even more enjoyable!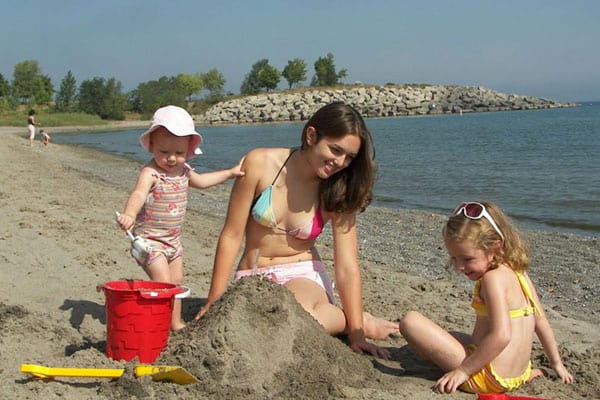 Fifty Point Conservation:
Fifty Point Conservation Area (1479 Baseline Road, Winona): Fifty Point is known to be one of the warmest and cleanest beaches on Lake Ontario. Enjoy views of boats in the Fifty Point Marina as you build your sandcastle. At the Marina, you'll also be able to grab a cold drink or ice cream cone for those hot summer days.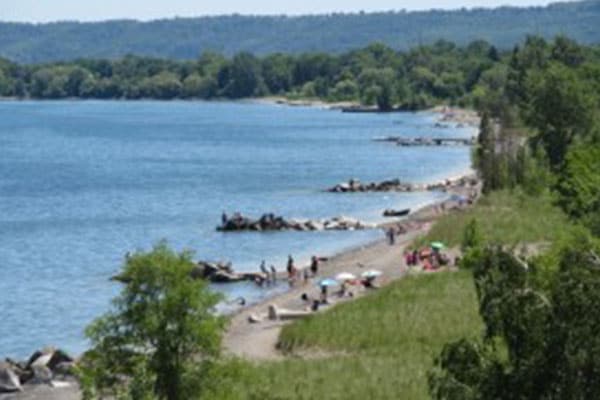 Confederation Park:

Confederation Beach Park (680 Van Wagners Beach Road, Hamilton): This sandy beach is perfect to lay out a towel and enjoy the sunshine and take a dip to cool down from the hot sun. Enjoy a restaurant as you walk down the Waterfront Trail. There are also many picnic tables throughout the area to enjoy lunch with your family and friends while you visit.
Ontario Park Beaches within 1.5 Hours from Brampton, Mississauga and Georgetown:
A daily vehicle permit is a great way to explore the beaches in Southern Ontario provincial parks for the day. Bike, hike, swim, picnic and make some magical outdoor memories. Includes entry at any operating provincial park for one vehicle and its passengers from 8:00 am to 10:00 pm, but can vary by park.
Nearby Parks include:
Earl Rowe Provincial Park

Sibbald Point

Darlington Provincial Park
Tips for a Day at the Beach with Kids:
Remember the simple days without kids where all you needed for the beach was a bathing suit and a towel… well going to the beach with kids takes some advance planning so I have created list of tips and tricks for a successful day at the beach with kids. The beach may have used to be relaxing as you could read a book, tan, or even take a nap in the sun however the beach may not be as relaxing with kids but can be a blast with some extra planning.
It's finally that time of year where we can get our bathing suits on and go to the beach! Sometimes, this can sound more delightful then it is…especially when you're taking tiny humans with you. To make sure your day remains a great one, here are some tips for a Family Beach Day that is Meltdown FREE!
Pack in advance: You don't want to be rushing around minutes (or hours) before the trip or believe me, you will start the day off with frustration. Not to mention your more likely to forget something in the rush to get ready. Instead, make a list of items several days before and begin packing a day or two in advance.

Probably best to pack the night before once the kids are in bed, because if they see you packing for the beach…they will think they are going…NOW. Taking 10 minutes to pack for a beach day the night before will save you frustration and atleast 30 minutes in the morning when you are trying to organize the family and get on the road to the beach.

Go early, or find a quieter beach: Easier said then done. But, try get to the beach early to find a great spot, as warm days and the weekends will be the busiest, and you don't want to be stuck near the back, as most kids cannot decide if they want to play in the water or the sand. Or, if possible drive an extra 10-20 min to an area that is not as busy, it will be worth it as you can relax more knowing your kids have more space to run without accidentally falling over someone else's towel.


Dress your Kids in Sun Protective Clothing:

The suns rays are super strong so its so important to protect your kids skin from sunburns and protect your kids from heat stroke. I like to put my kids in sun protective clothing as it is easier than worrying about reapplying sunscreen all day and more of their skin is covered and protected.

Long sleeves are super important to protect their skin from the sun, but having shorts helps them from getting too hot. With UV shirts you don't have to worry about the sunscreen washing off, as the sun's UV rays don't stand a chance against long sleeve 50+ UPF swim sets, also they have a low water absorption so they dry quickly and keep the kids comfortable all day long.

Apply Sunscreen before you get to the Beach: Kids are impatient and won't want to wait to put on sunscreen once you get to the beach so its best to put on the sunscreen before you leave the house. This also gives the sunscreen time to absorb into the skin so its not going to wash right off.

Pack lightly: This is a difficult one. If you succeed in doing this please let me know, my husband would really appreciate it! Try not to bring extras, or leave your extras in the car. Just remember, what ever you want to bring to the beach must be carried there, as most strollers and wagons don't do well in sand. Not to mention you will have your hands full of excited kids who want to rush into the water.

Bring water and snacks: Playing at the beach is serious business and you will find that the little's will get thirsty and hungry, fast. Be prepared and bring several small, easy to eat snacks and tons of water to keep the kids hydrated to avoid heat stroke.

Take/Schedule time for a break. Some toddlers still nap in the afternoon so try to arrange your beach visit accordingly. You don't want to be stuck with an over stimulated, hot, cranky toddler because they missed nap time. Most toddlers can only take 1.5-2hrs at the beach, they tire easily and will need a break, preferably indoors out of the sun. All kids can overheat quickly so its also a good idea to schedule breaks and find some shade.

Relax and enjoy. In the end, it's a day at the beach! The kids are going to love it and you will too. Memories are going to be made and it's the best feeling ever!



What to Pack in Your Beach Bag:
Are you thinking about those bright warm sunny days just around the corner? Yearning for the sand beneath your toes and the excited cries of children running wild, splashing in the water? Me too! While I'm dreaming about swapping the down jackets for t shirts and kicking off the winter boots for flip flops I've decided to come up with ideas on how to pack for the beach. First things first, the essentials;
Sunscreen – Best applied before getting to the beach. The question these days is whether to go natural or use the tried, tested and true big brands. Do you research if using a natural sunscreen as they are not all created equal. Some need to be applied more often and typically aren't water resistant. For natural options I have tried Badger
, Original Sprout
and liked both of them.
For children under the age of 2, I prefer to use Think Baby sunscreen T offers a safer alternative for protecting your baby from harmful UVA/UVB rays, free radicals, irritants and biologically harmful chemicals found in many "natural" baby sunscreens on the market. Spray on sunscreen seems to be the most convenient for wiggly children but inhaling all that excess aerosol is definitely a deterrent. Figure out what works best for you and your family but don't forget to pack it along and apply liberally.
Hats – Some kids don't like to wear hats but it's necessary at the beach especially during the hottest part of the afternoon. Their little bodies are more susceptible to over heating then ours. Let them pick out their own hat or reward them with a treat if they keep it on all day.
Blankets and towels – Some very smart person out there came up with the idea of the hooded towel that works perfectly for the beach, easy for the kids to carry and the perfect size for the littles. In addition, my rule of thumb for towels is one large towel for every 2 people to save space or take those cute hooded kid towels and just throw one over each kid as you leave.

Sand toys – For us it's buckets and diggers and a blow up ball for space saving rather than a soccer ball. Encourage the kids to explore their environment and use found objects to decorate their castle or draw in the sand with a stick. I throw our sand toys in a separate reusable bag for easy carrying and storage at home.
Shade – Bring a small pop up tent or large umbrella especially if your child is less than 2 years old or will likely have a short nap at the beach (or if daddy needs a snooze!). Providing a bit of shade equals less stress about sunscreen and heat stroke. I personally love the California Beach Co tent as its my newest favourite Baby Gear product that all parents with young children should have… the The California Beach Co. tent.
The California Beach Co tent is compact, portable, and super lightweight play yard that takes seconds to assemble and disassemble. This tent can be popped up with only one hand and is big enough to fit myself, my toddler and newborn inside… we have tried multiple times. I love the shade it provides for my son as he's too little for sunscreen and it acts as a safe play pen area as well. I like that instead of having to use a pack and play that he will outgrow I can use this tent that folds up to the size of a camping chair on all our summer adventures.
Use code EXPLORINGFAM10 to save 10% on the California Beach Co Tent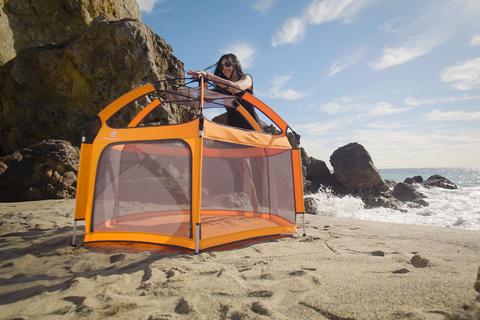 Water and snacks – Depending on how long you plan to be at the beach it's always wise to pack more water and snacks than you think you will need. Cut up vegetables and fruit work nicely along with trail mix and juice boxes.
Final tips for packing for a day at the beach:
Try to pack everything into a big Rubbermaid bin or wagon you can pull for easy transport. A wagon also doubles as kid transport if tiny feet are too tired at the end of the day to hike back to the car. Wear swimsuits to the beach and have a change of clothes in the car. It's easier to change in the parking lot rather than on the beach and a lot less sand ends up inside the car.
Hopefully some of these tips will be useful for your next trip to a the beaches in southern Ontario with kids. We hope that our list of locations helps you plan the Best Beach day and helps you create priceless family memories!!
Make sure you don't miss any of the best Events, Activities and Places in the Peel Region by joining Peel Parents Resource on Facebook!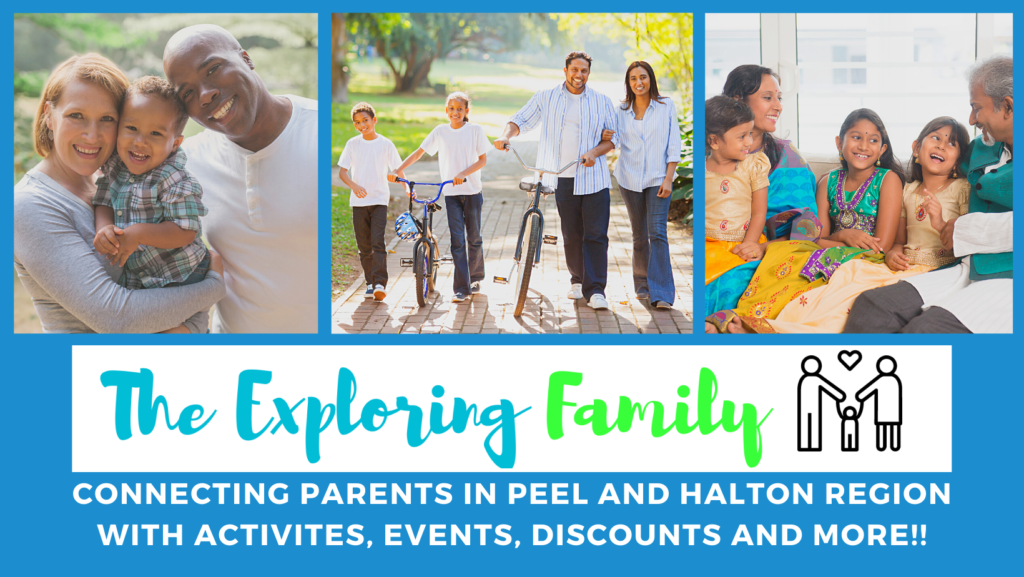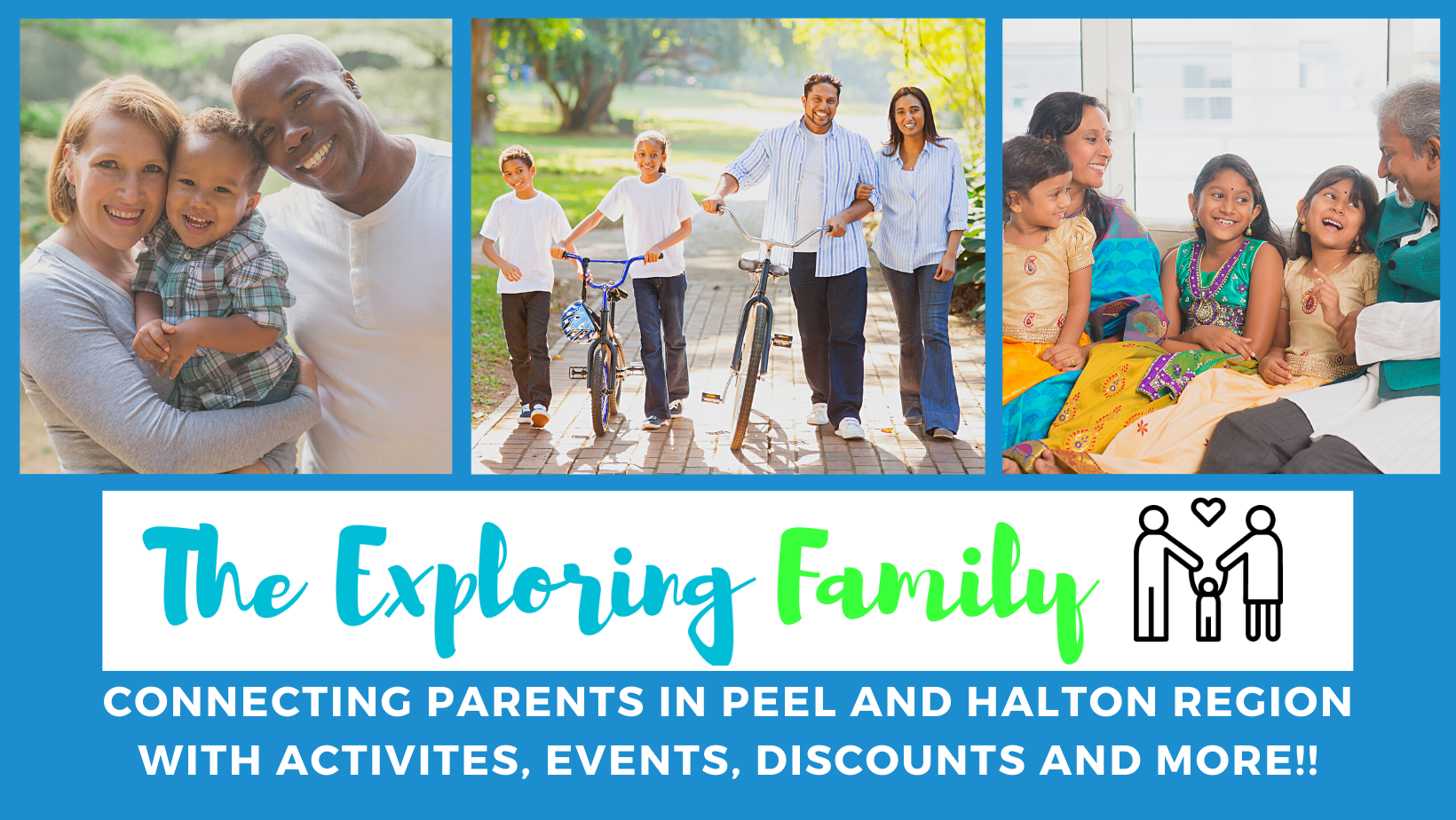 Can you help make this article better?
If you have noticed an error, have additional information or would like to share a comment you can:
E-mail us at info@thexploringfamily.com
Find us on Facebook: The Exploring Family
Find us on Instagram: @The.Exploring.Family