Looking to send some time by the water but don't want to travel out of the city? Then Professor's Lake is the place to be! Professor's Lake Brampton offers a variety of activities for everyone to enjoy including a Beach right inside of the Brampton city limits. You can also enjoy the water from non-motorized water crafts (kayaks, canoes, stand up paddle boards etc) that you bring or rent from the facility. A paved walking trail surrounds the perimeter of the lake and you can also enjoy fishing and beach volleyball! If you are willing to travel a little farther, then check out other Beaches in the Greater Toronto Area.
Things To Do At Professor's Lake Brampton including:
Professor's Lake Recreation Centre and Address

Professor's Lake Beach Brampton

Professor's Lake Inflatable Waterpark

Professor's Lake Walking Trail

Professor's Lake Fishing

Professor's Lake Rentals – Kayaks, Paddle Boats, Stand-Up Paddle boards

Professor's Lake Beach Volley Ball Brampton
Scroll down for all the details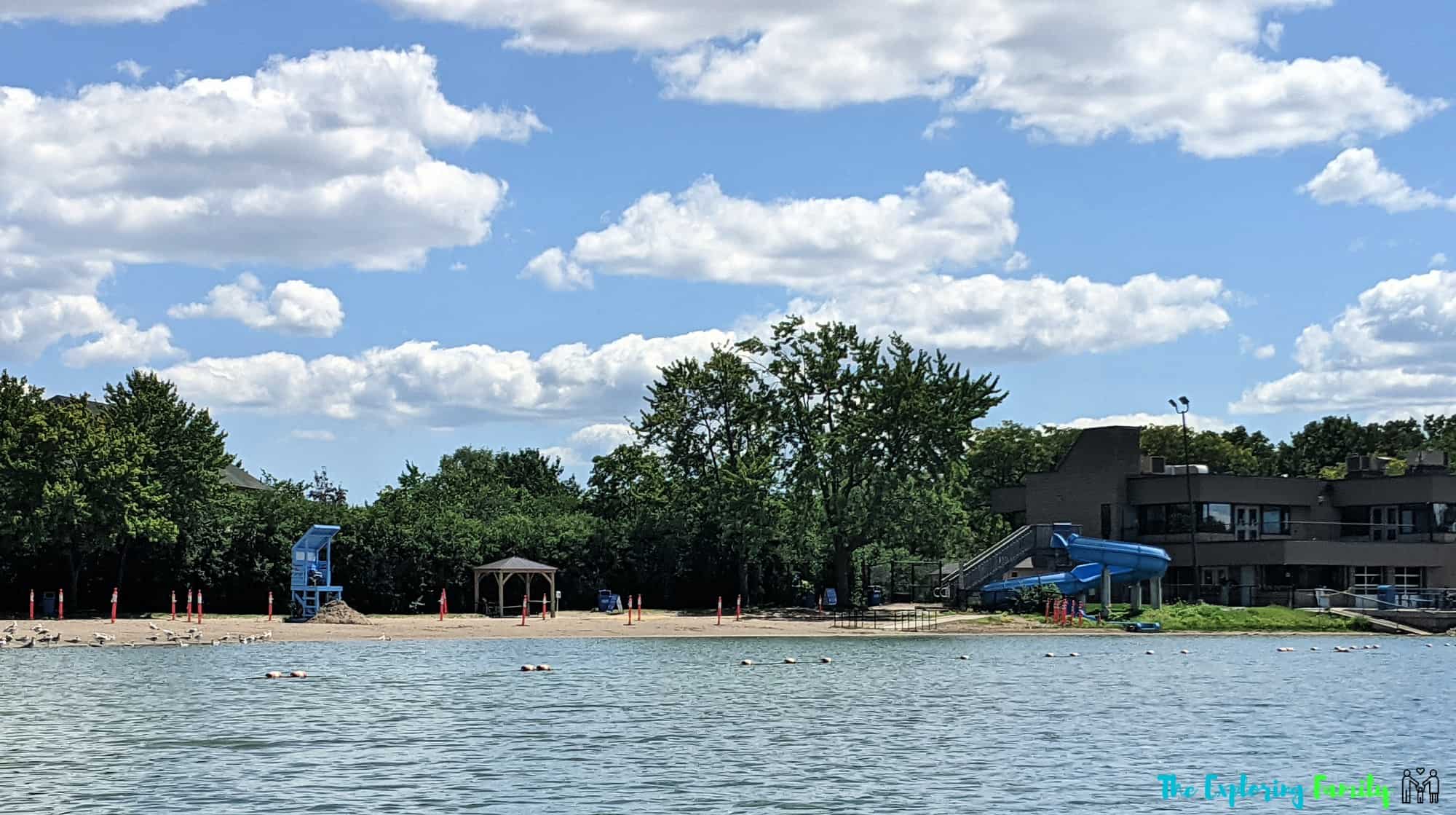 Professors Lake Recreation Centre and Address
First thing is first – where is Professor's Lake in Brampton? It is located just south of the Brampton Civic Hospital in Brampton between Bramalea & Torbram Road and North Park & Bovaird Road. The address for the recreation centre is 1660 North Park Drive, Brampton. The recreation centre has 2 parking lots, a smaller one that is right next to the recreation centre and a larger lot that is closer to the road. Parking is free.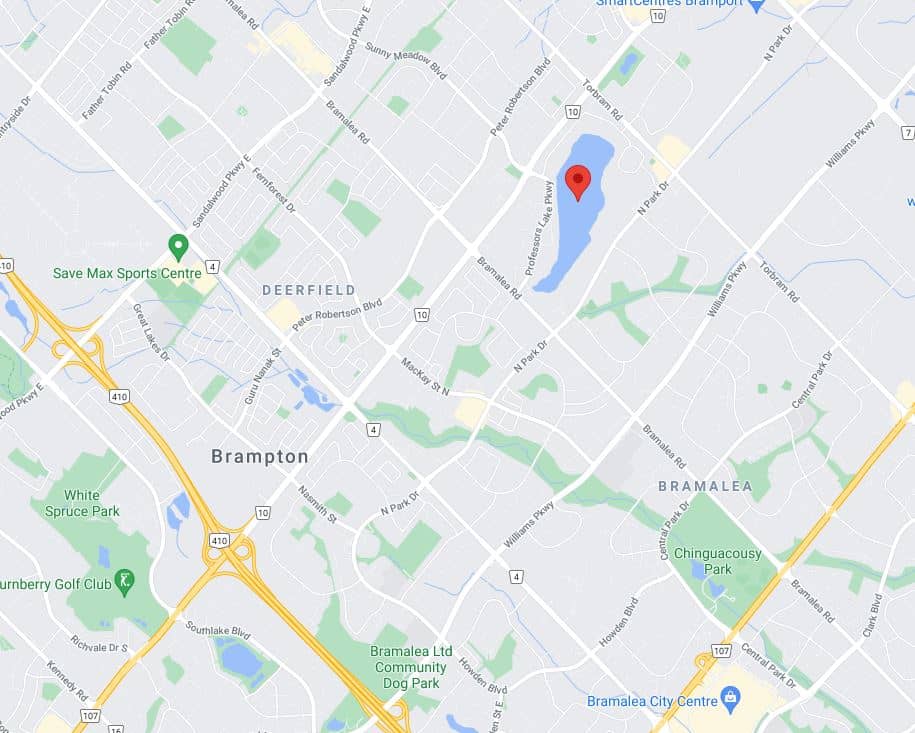 Does Brampton Have a Beach? Yes – Professor's Lake Beach
There are several beaches around Brampton, however you don't need to go far to enjoy a day at the Beach. This sandy beach is sure to be fun to enjoying a fun day of making sand castles and swimming. There is a shallow area roped off to mark the safe swimming area, and then a deeper area that is also roped off that goes out to a floating dock. There is also an outdoor water slide for even more beach fun.
Can you Swim at Professor's Lake?
The water quality is tested regularly at Professors Lake so make sure you check to make sure the beach has the all clear before heading out. You can make reservations for beach times online or on the phone. There is a small fee for use of the beach that is based on the size of your group.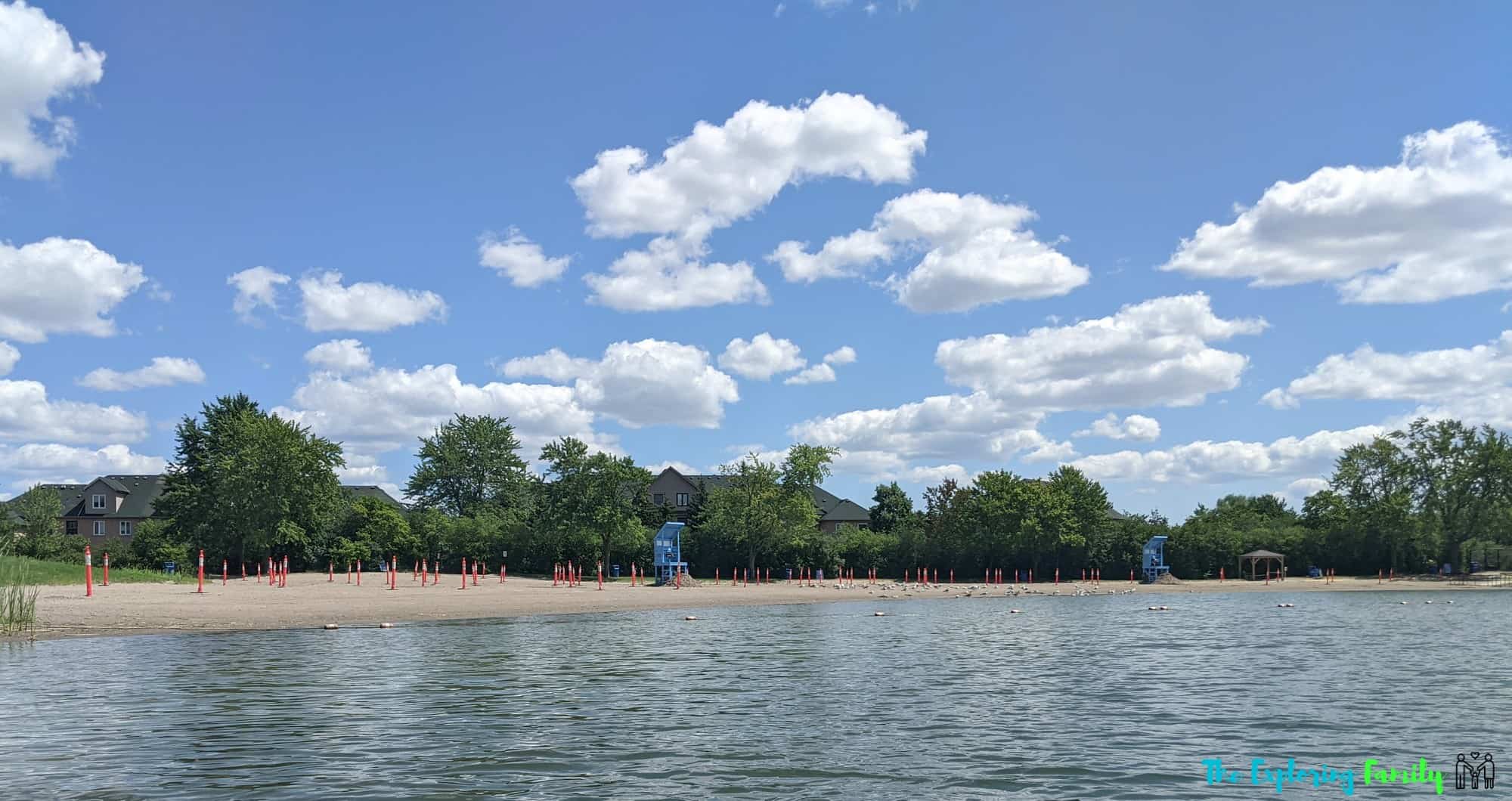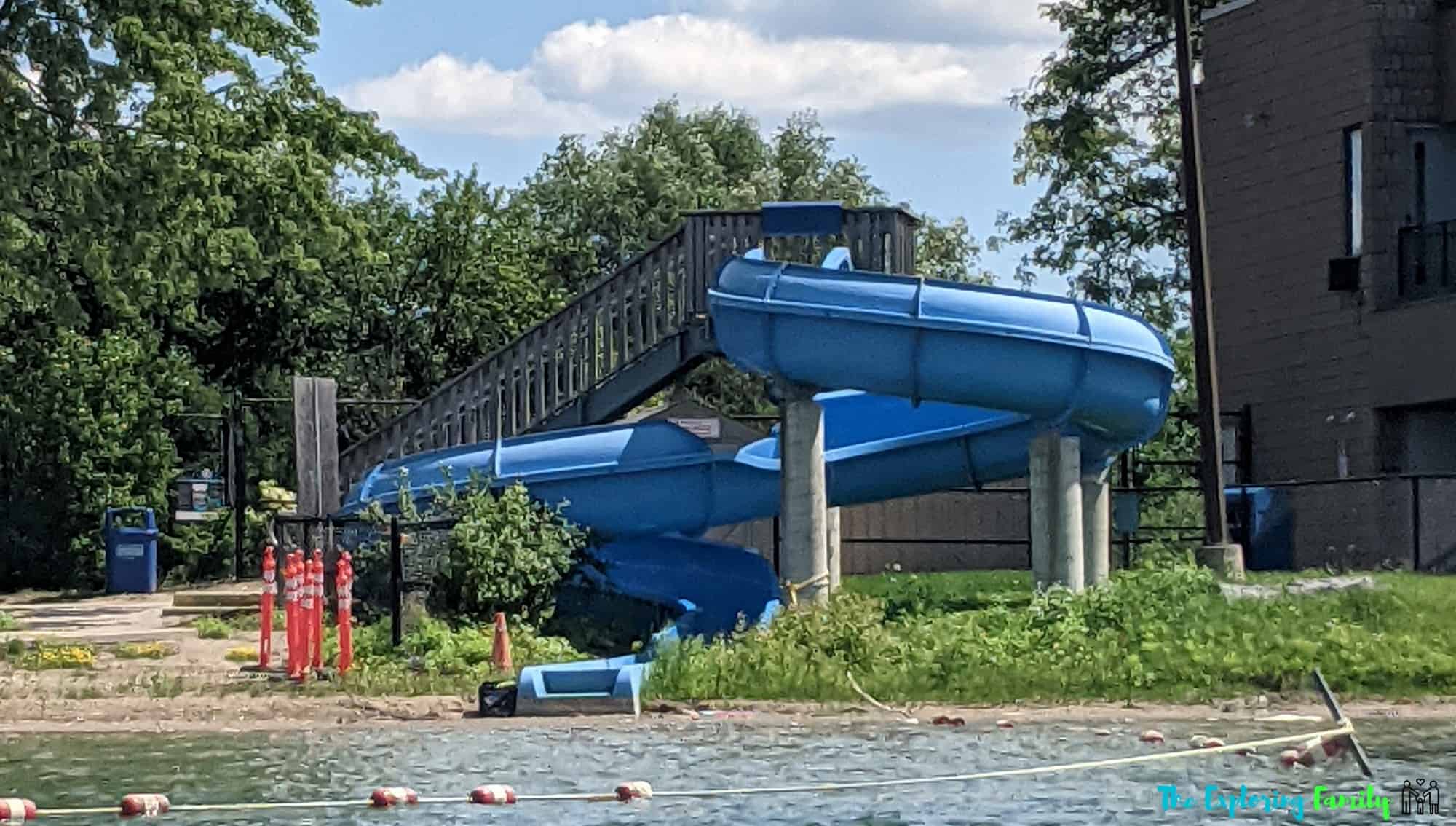 COVID Restrictions – reservations are for 3 hour blocks of time, and you are assigned a space on the beach for your group.  Masks during entry and while using the washrooms.  Change rooms are closed you need to arrive ready for the beach.
Professor's Lake Inflatable Waterpark
Opening Date is June 29,2023
Experience the exhilaration of Brampton's brand-new outdoor water park, an inflatable wonderland designed to delight families and provide endless hours of outdoor excitement. Dive into a world of thrilling challenges and exciting obstacles, catering to individuals of all ages and ensuring non-stop entertainment for everyone involved. Tickets will be sold for a two hour time slot.
It is important to note that a swim test must be completed before using the inflatable water equipment. All participants must be 6 years old and must wear a lifejacket at all times.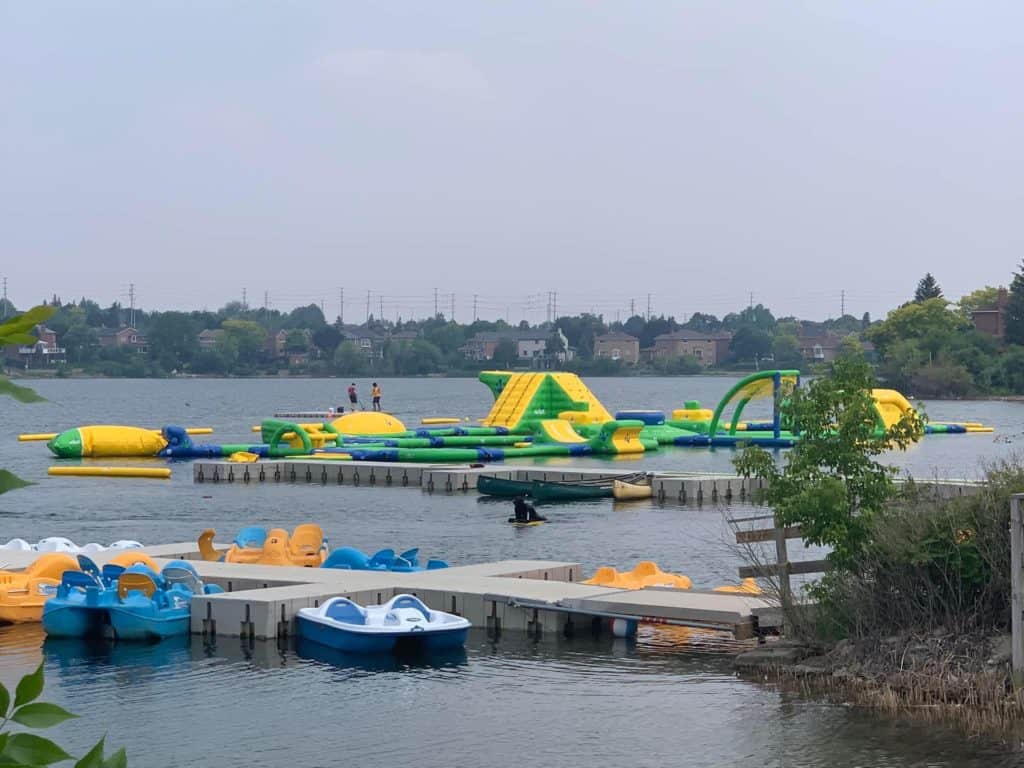 Professor's Lake Walking Trail
You have several nice options for enjoying the Professors Lake Walking Trails. Right at Professors lake there is a a trail that encircles the lake that is great for a nice leisurely stroll around the lake. It is paved, and will take you around the lake. You can access the walking trail from the recreation centre or from several streets around the lake. The green line around the park shows the paved trail, and the red dotted line shows the path your will follow along the residential streets to complete the loop around the lake.
There is also a longer 11km Professors Lake Walking Trail that will take you all the way from Victoria Park and Arena (Avondale Blvd) all the way to Professors Lake. The paved multi-use trails will take you past several parks if you continue the whole length of the trail. For the full route visit the Professor's Lake Trail Map.
Professor's Lake Fishing
Can you fish in Professor's Lake Brampton? Yes you can. While we were out paddling on the lake in our Kayak we saw 2 groups fishing from shore, and 1 person fishing from a canoe. What can you catch? People report being able to catch small and large mouth bass, pike, and more. You cannot fish at the beach. All the people we saw fishing were along other green spaces around the Lake.

Professors Lake Rentals – Paddle Boats, Stand-Up Paddle boards, and more
Professor's Lake offers rentals for paddle boats (2 or 4 person), Stand-up paddle boards, canoes, kayaks, and corcls. Rentals are done in 30 minutes increments. You can make reservations online for the type of vessel you would like to rent. There are rental fees associated with rentals and life jackets are provided.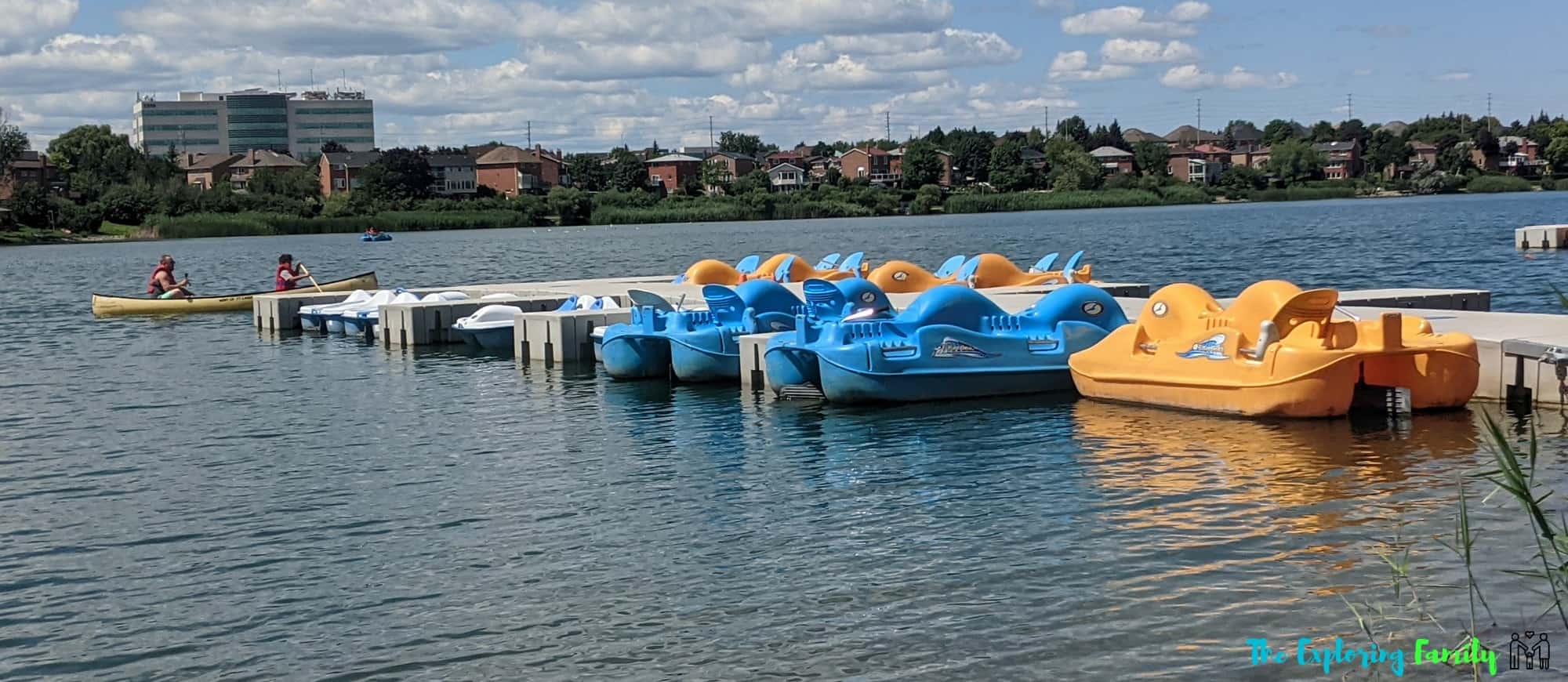 Can you Kayak at Professor's Lake?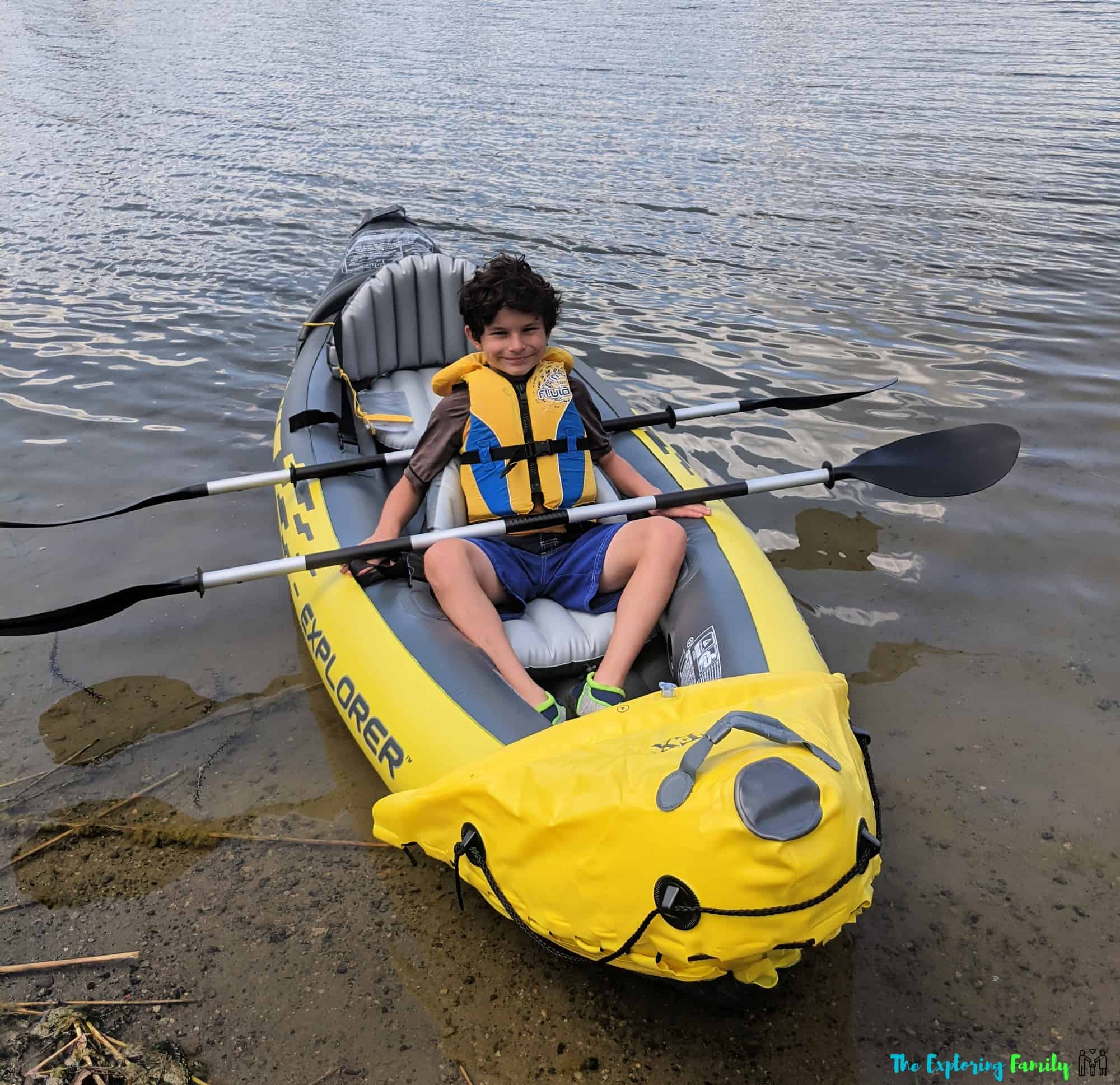 Yes you can! You can rent a kayak or bring your own. I purchased an 2-Person Inflatable Kayak on Amazon to take the kids out on the water and it was perfect for Professor's Lake.. You can bring your own Kayak, canoe or stand up paddle board to professors lake. There is a small fee of $5.70 per craft (for 2021) for heading out on the water. You park and pay the fee at the recreation centre, then grab your water craft and head into the boat launch area. There is a sandy area off to the left-hand side of the docks where you can launch from. I would recommend you have your water shoes on as you may need to walk a few steps out into the lake to launch. And if you don't have your own kayak you can rent one from the recreation centre.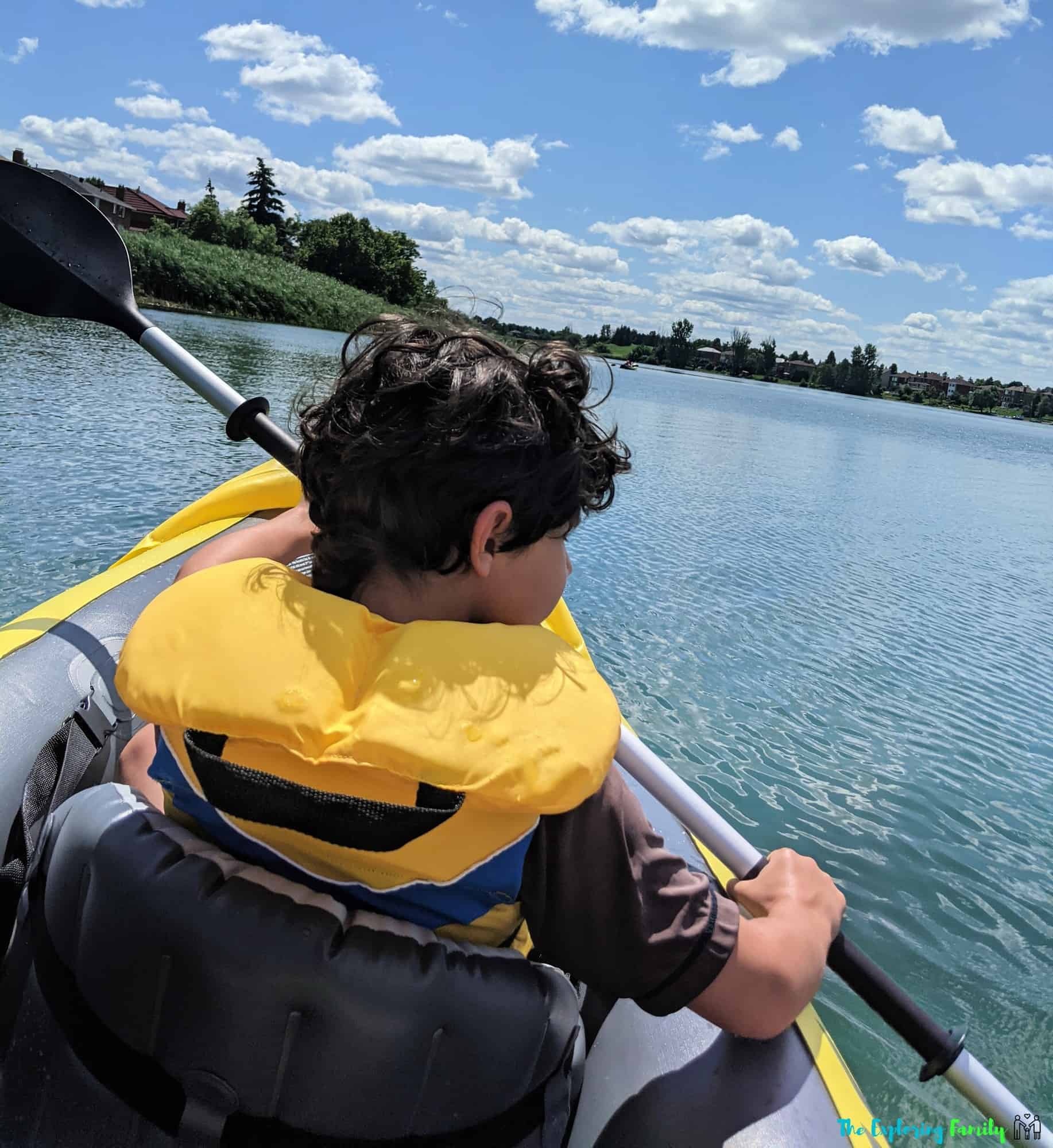 Professor's Lake Beach Volleyball
Professor's Lake has Beach Volleyball court available behind the main beach at the recreation centre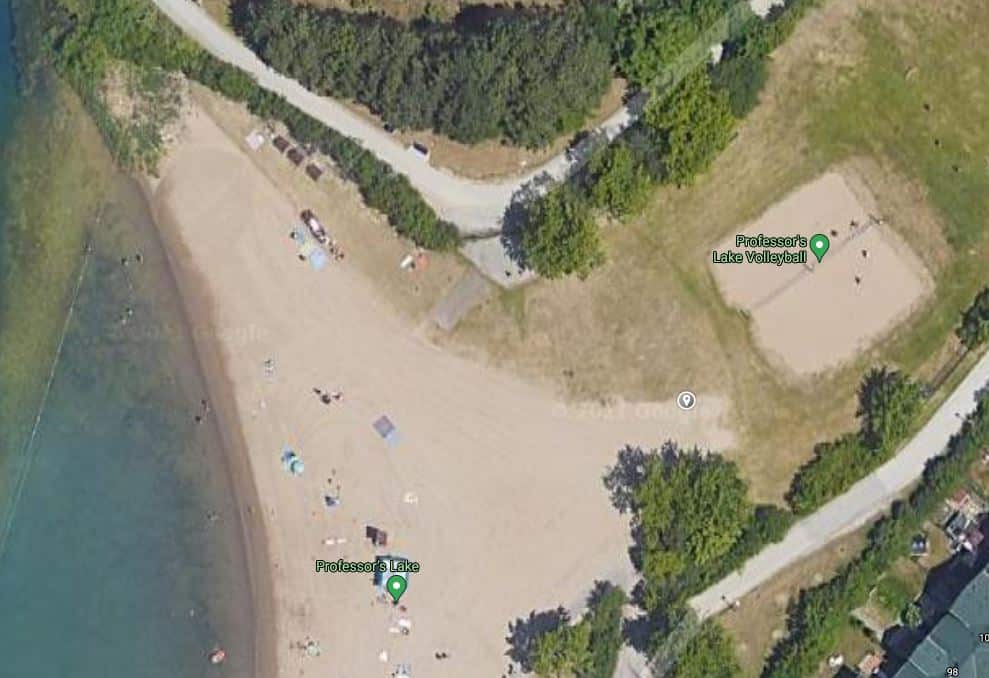 Want to stay in the know with all things local? Don't forget to join our locally focus Facebook group:

Peel Parents Resource

Can you help make this article better?
If you have noticed an error, have additional information or would like to share a comment you can:
E-mail us at info@thexploringfamily.com
Find us on Facebook: The Exploring Family Page or Peel Parents Resource Group
Find us on Instagram: @The.Exploring.Family
You may also be interested in:
Beaches in the Greater Toronto Area