Ontario offers incredible outdoor waterparks that can be used all summer long as a family. Outdoor Waterparks are a great option for local daytrips this year due to all of the current travel restrictions. We have created a list of the Best Outdoor Ontario Water Parks for Kids to enjoy! Don't forget to check our Guide to Indoor Water Parks.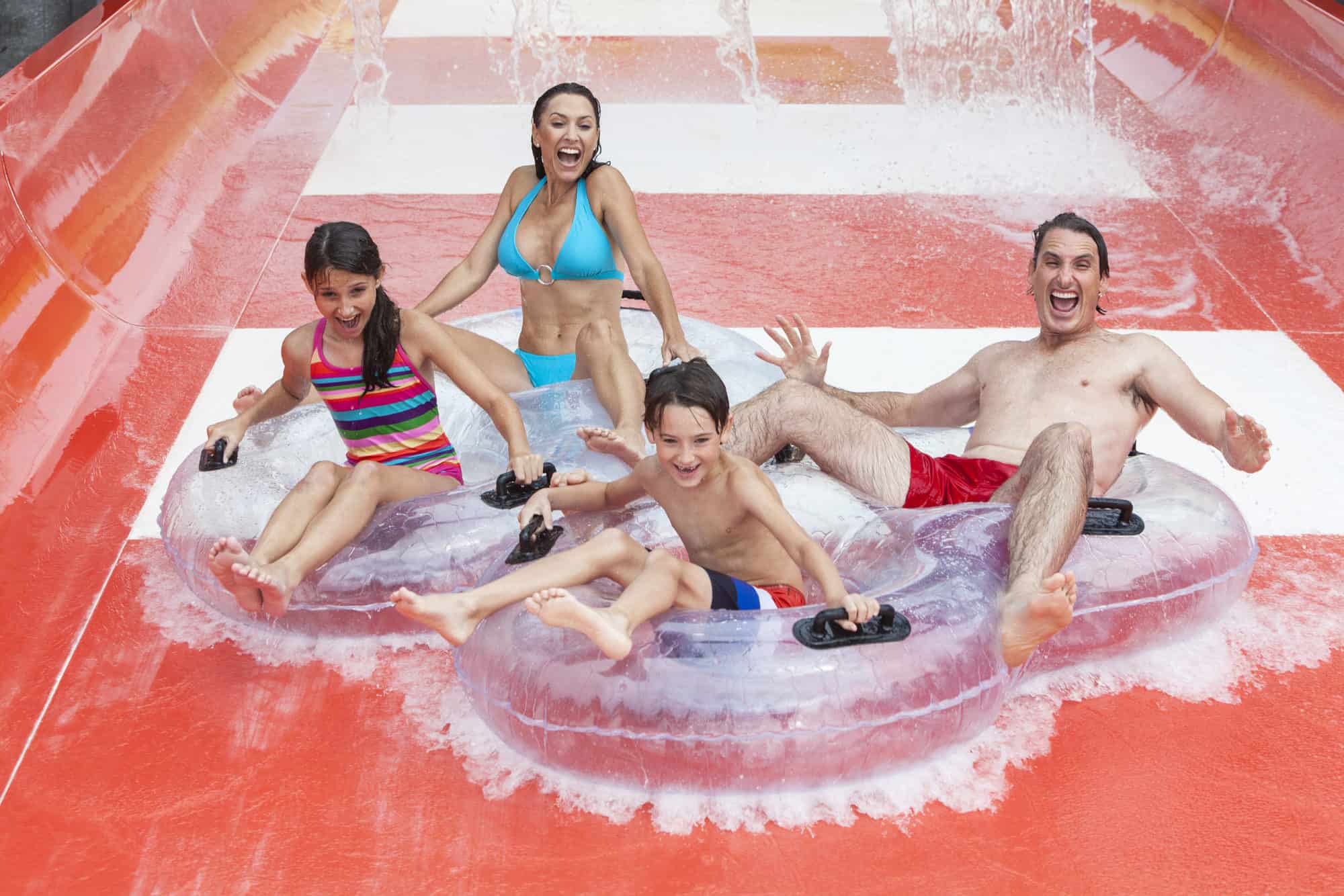 We know families want to spend time together enjoying fun activities like family fun waterparks, however we tried to focus on Ontario waterparks for families to enjoy that are within a 2 hour drive of the Peel and Halton Region as we know you don't want to spend the whole day in the car driving to your destination.

Kid friendly water parks are a great way to beat the heat in the summer and have some fun! When visiting water parks you can be sure to enjoy wave pools, lazy rivers, towering waterslides and children's water fun zones perfect for babies and young children.
Outdoor water parks in Ontario have a limited season, as the weather is only warm enough for a few months in the summer, however Indoor water parks in Ontario, operate year round in climate-controlled environments ensuring you can enjoy water activities all year long despite the ever changing weather.
Relevant: If you are looking for family fun but want to stay dry checkout The Best Amusement Parks in Ontario.
Best Outdoor Ontario Water Parks for Families near Toronto
Bingemans Big Splash Waterpark – Kitchener (50 Minutes)

Wet'n'Wild – Brampton (30 Minutes)

Wild Waterworks – Hamilton (45 Minutes)

Cedar Park Resort – Bowmanville ( 1 hour and 15 Minutes)

Canada's Wonderland – Vaughan (40 minutes)

Sherkston Shores – Sherkston (1 hour and 35 Minutes)

Emerald Lake – Puslinch (40 Minutes)

Splash ON Water Parks – Barrie (1 hour 15 minutes)

Fun Splash Hamilton (45 Minutes)
Misumu Bay Splash Park at African Lion Safari (45 Minutes)
Professors Lake Brampton (45 minutes)
Map of Outdoor Water Parks in the Greater Toronto Area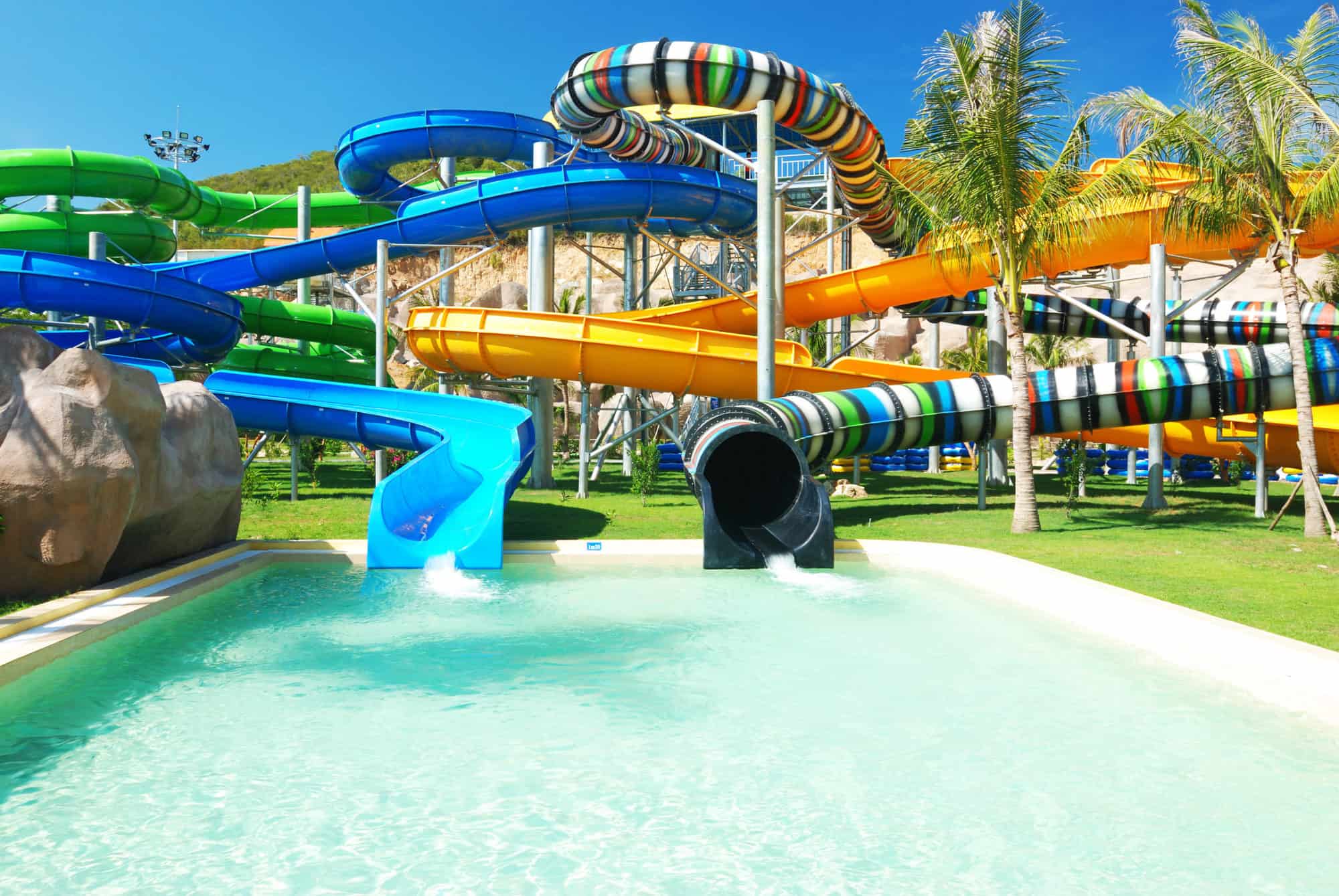 The Best Outdoor Water Parks In Ontario
Searching for a great family day trip to beat the heat this summer? Water Parks are a great way to enjoy the outdoors after being stuck at home for so long over the last year. Not interested in a full day trip but still want to enjoy water then check out our other guides: Splash Pads in Mississauga, Splash Pads in Brampton, Outdoor Pools in Brampton and Mississauga, and The Best Beaches in the GTA.
Bingemans Big Splash Waterpark – Kitchener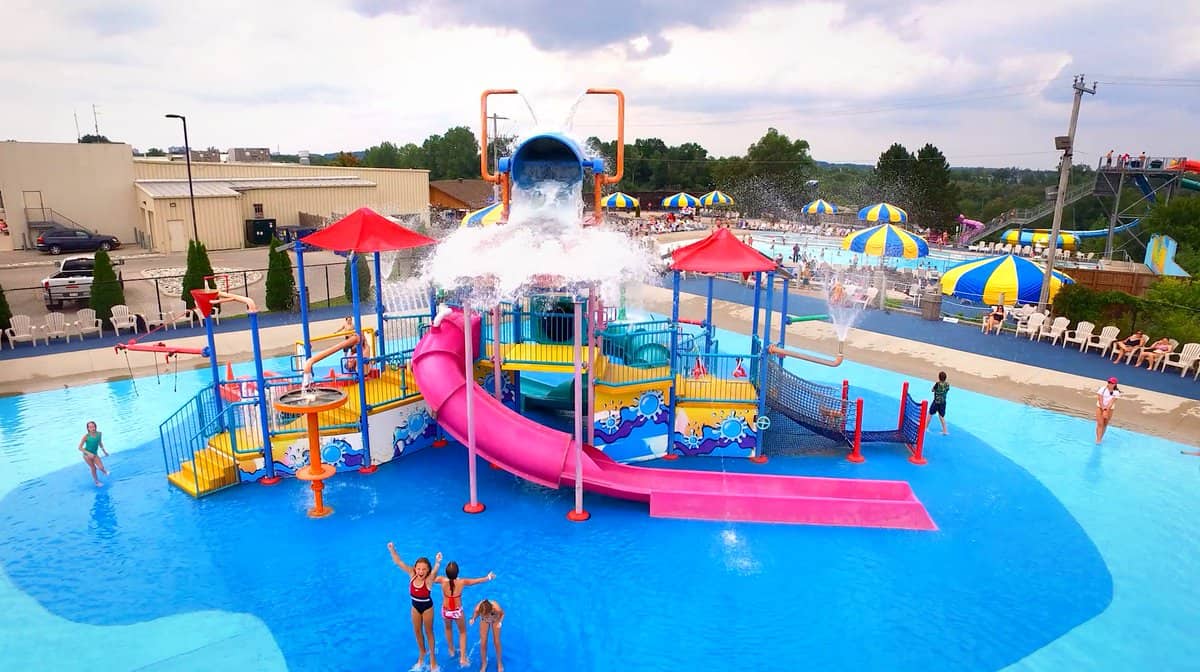 Opens June 24th 2023
Bingemans Big Splash Waterpark is the largest Waterpark in the Waterloo Area and features 11 waters slides and a Spray and Play Splash Pad for younger kids, in addition to the awesome wave pool.
The wavepool is fun for all ages and features a variety of alternating wave patterns, and complimentary lifejackets are located nearby Tidal Treats. The Spray and Play Splash Pad features geysers jets, water flows, three small slides, net walk, a water umbrella and a huge 1200 gallon tipping bucket that is ready to spill at any moment.
Big Splash features multiple slides: Full Throttle which allows four firends to race each other in seperate lanes, Boomerango has two riders enjoy a fast thrilling raft ride together as you drop down a huge hill to sprint to the finish line, The Cyclone is a body slide that has the riders circle the bowl before dropping into the splashdown pool, Torpedo Bay allows three friends to race against each other through curves and sprials in Aquatube slides.
Bingemans is an entertainment complex offering: mini golf, drive in, biking, canoeing, kayaking and tubing on the Grand River, beach volleyball, an escape room, on site camping, restaurants and much more!
For more information about Bingeman's Waterpark.
Wet'n'Wild – Brampton (Formerly Wild Water Kingdom)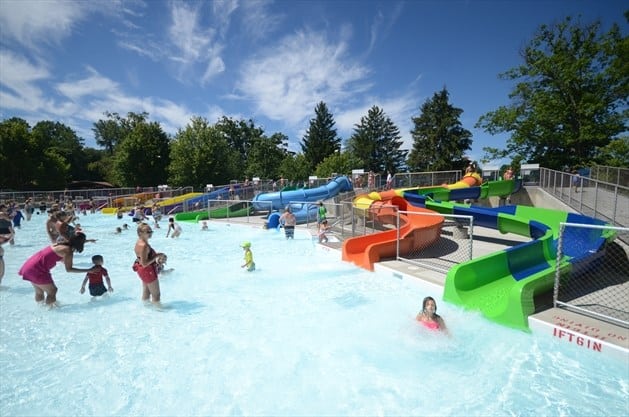 Opens June 10, 2023
Located in Brampton, Wet N Wild Toronto is a newly renovated world class waterpark and is one of the largest outdoor water parks in Ontario. It offers 45 acres of water park fun with a tropical paradise setting. Wet'n'Wild is one of the largest attractions in Brampton featuring a family friendly environment full of attractions to entertain the whole family. Relax in style and enjoy a private cabana with your family and friends.
Wet N Wild features body slides, a variety of tube slides, mat slides, raft rides, a free fall vertical chute, and even a family tube slide that can hold 5 people at a time as you rush through curves, drops and loops. Wet'n'Wild Jr.! is a waterpark for young kids that offers the ultimate family oasis for young kids as it has mini slides, spray toys, and a tipping bucket. The waterpark also features a aquatic play structure with interactive features like sprayers, slides, and a giant tipping bucket for the toddlers. Big Surf is a huge wave pool offering hours of entertainment. Don't forget to take some time to relax in the lazy river. This is one of the Best Outdoor Waterparks in Ontario.
Wet N Wild also offers a state of the art sports facility including a full size turf field that can be rented out hourly.
You can find more information about Wet N Wild here.
Wild Waterworks – Hamilton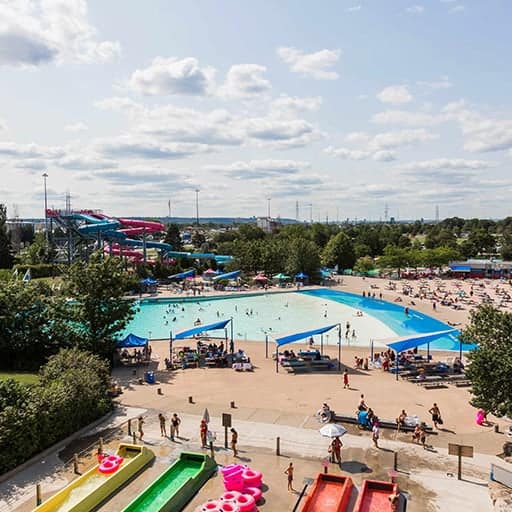 Opening Day: Mid June 2023
Imagine the perfect summer day… riding the surf in the one of Canada's largest outdoor wave pools at Wild Waterworks with 5 million litres of heated water, adrealine pumping crazy waterslides, relaxing lazy river ride called Eazy River as you float around the park. Squirt works is a baby friendly water park area as it features a wading pool, mini slides, mists, sprays and fountains perfect for babies and young toddlers. Relax poolside with some delicious food, drinks and frozen treats or spend the day in your own private cabana!
Wild Waterworks features 6 exciting slides for older kids:
Night Rider and Blue Demon tube rides: Get lost in the dark while sliding down 5.5 stories!
Vertigo and Sidewinder: Barrel down the unexpected twists and drops of these two exhilarating tube slides!
Corkscrew and Kamikaze: Six-story high body slides that will have your heart pounding
Cedar Park Resort – Bowmanville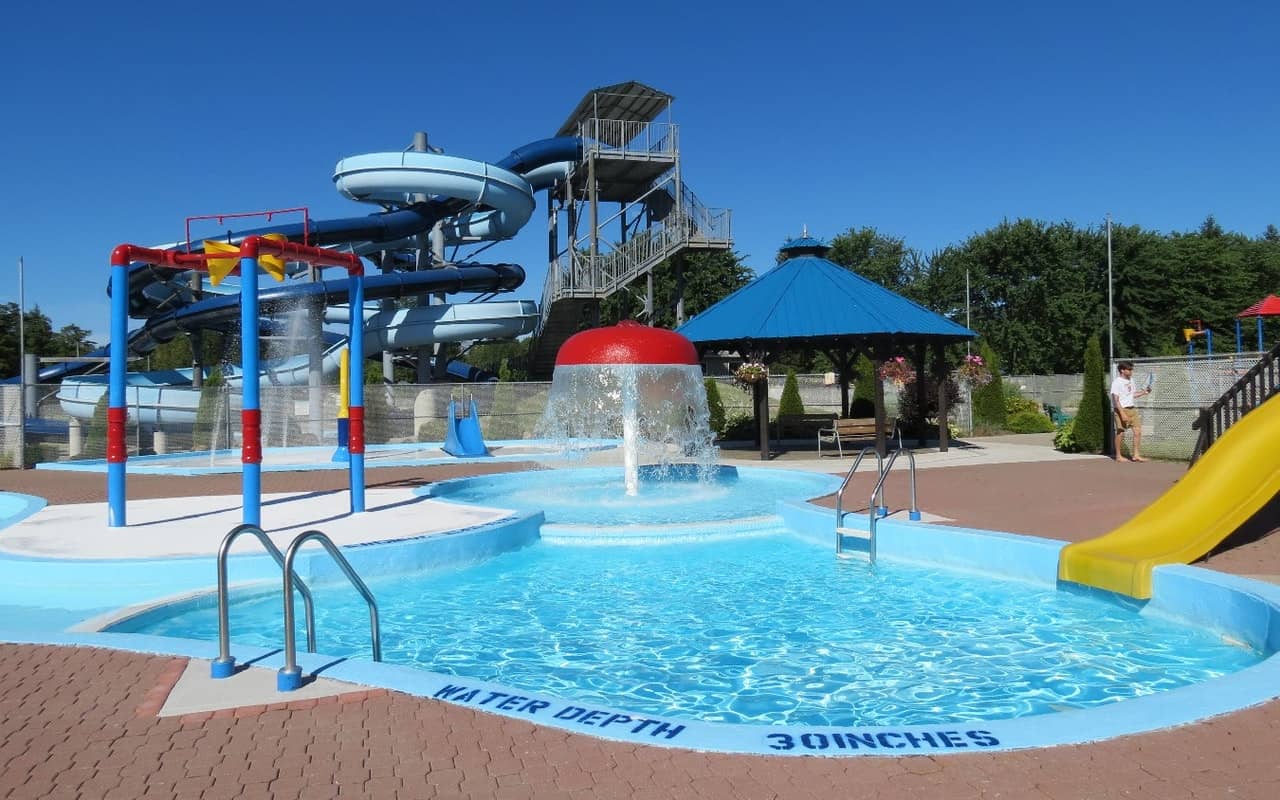 Opening Day: June 17th, 2023
Cedar Park Resort is a family campground Water Park in Ontario just north of the town of Bowmanville. Cedar Park Resort offers family fun with water slides, splash pads, pools and water playground. This is one of the Best Outdoor Waterparks in Ontario.
Cedar Park Resort offers small pads for young kids, a wading pool for babies and their parents and a full size swimming pool that the whole family can spend the afternoon swimming. Enjoy water play but don't like slides, then check out the aquztic playground that will keep you cool using features like: water jets, water falls and a giant bucket to soak everyone. The park also features an exhilirating triple slide complex for kids 48″ and taller.
Looking to stay dry while the weather warms up but still enjoy some family fun, then I suggest you check out the 18 hole mini golf, or tennis courts. Cedar Park Resort is an awesome family vacation in Ontario option that offers 30 acres of entertainment including playgrounds, picnic areas and the waterpark.
You can find more information about Cedar Park Resort here.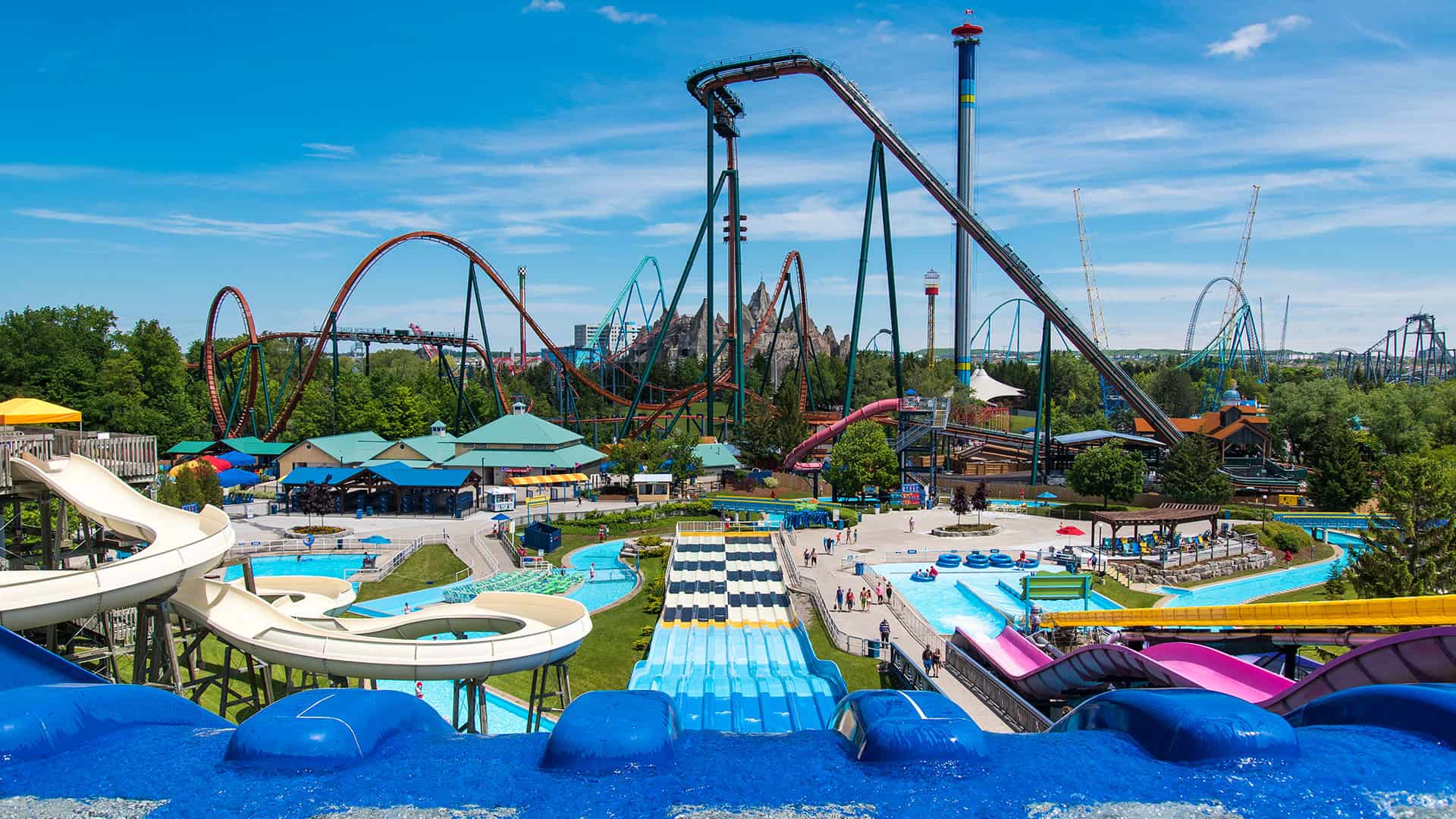 Openind Day May 27, 2023
Canada's Wonderland is a must visit every summer for families, but sometimes families are so busy in the amusement park that they forget about the awesome Splashworks area. Splashworks is a great alternative option for those looking for other options if they don't love rollercoasters, checkout our full list of Rides to enjoy when you don't like Rollercoasters or the Best Rides for Toddlers.
Splashworks is a 20-acre premier water park featureing 17 different water slides and water attractions that are sure to please thrillseekers big and small, including a lazy river, wave pool, splash pads areas, tube slides, body slides, cliff jumping and much more!
You can find more information about Splashworks here.
Sherkston Shores – Sherkston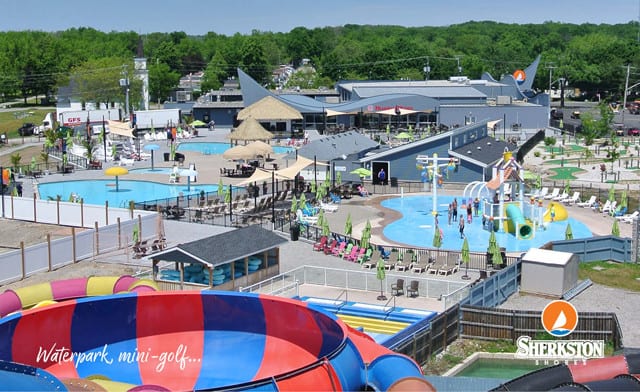 Open for the 2023 Season
The Family Funplex at Sherkston is home to two heated pools, a kiddie pool, a splash pad, three high-speed waterslides, poolside lounges, a Pool Patio Bar for the adults, and so much more! This is the perfect summer getaway location!
Sherkston Shores has an amazing water activities that are sure to make kids of all ages happy, and keep the kids cool from the summer heat. Comfortable lounge chairs are also available for parents to keep a watchful eye on their kids right nearby. This is one of the Best Outdoor Waterparks in Ontario.
The Mach3 Super Slides are the ultimate way to cool off on a hot summer day and avoid the heat!. Water Slide Height Restrictions, 42″ to ride with a parent, 48″ to ride the 'Space Bowl', 48″ to ride any slide alone.
Sherkston offers much more than a water park as there is a full line up of entertainment including skate park, beach access, basketball, arcade, restaurants, Rock Climbing, and Aerial Challenge.
You can find more information about Sherkston Shores here.
Emerald Lake – Puslinch

Opening Day: June 22, 2023
Now this is a different kind of waterpark than your typical water slides as it features inflatable water toys, on a spring fed quary lake. The stunning lake boasts a 15 to 40 feet depth. Life jackets are required for the safety and enjoyment of our huge floating water toys (*Life jackets are mandatory for all persons using water toys and in water toys area.)
Emerald Lake features a 200 Foot Water Slide, which empties into its own 4 foot pool, a splash pad with rubber top for safety, water-guns, sprinklers, & a large pink mushroom, large kiddie pool. In the spring fed quary inflatables include: trampolines, rock-climbing wall, saturn, teeter totter, jungle joe and an obstacle course.
Emerald Lake also offers a kids playground, sandy beach and lots of picnic areas to keep the kids happy all day long!
You can find more information about Emerald Lake here.
Splash ON Water Parks – Barrie and Orillia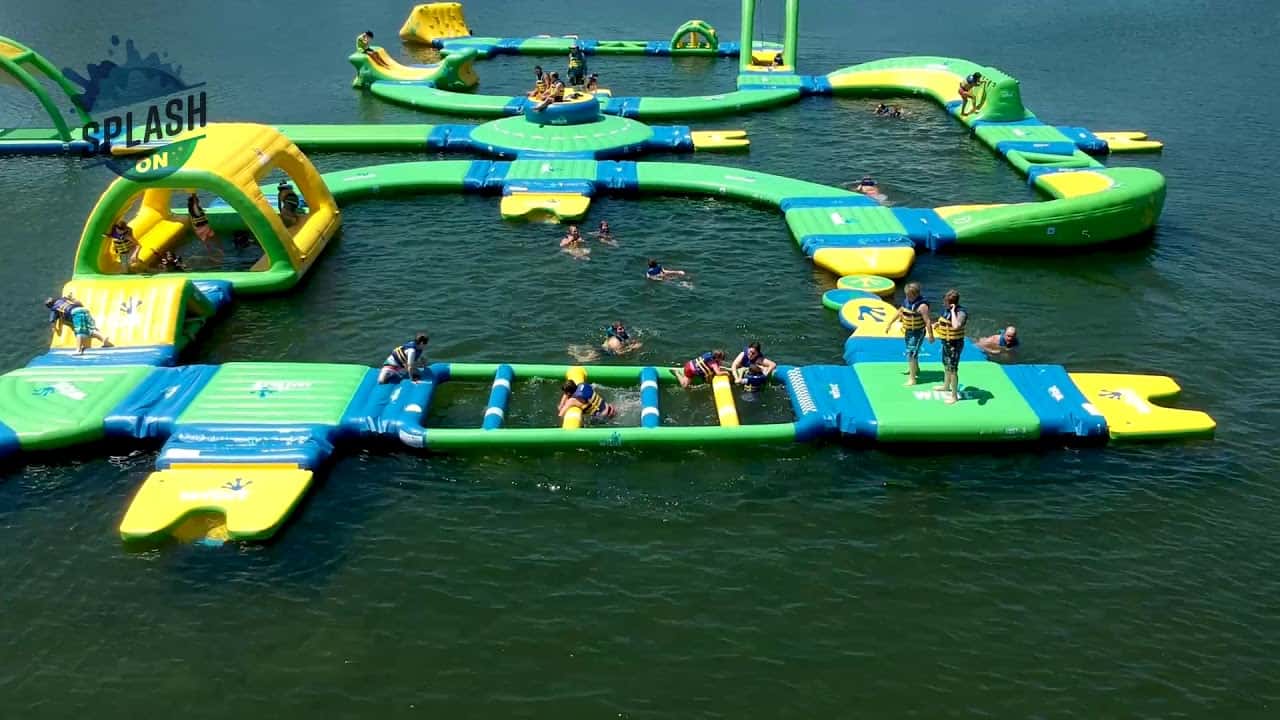 Opening Day: June 30, 2023
Splash ON challenges families to try something new as they explore this giant floating playground and create memories of fun and laughter as a family. Splash ON offers two locations: Barrie and Orillia to help you beat the heat and enjoy the water this summer. This is one of the Best Outdoor Waterparks in Ontario.
Splash ON is a giant floating playground, boasting climbing walls, monkey bars, slides, trampolines and more!
Splash ON are unique water parks that offer an additional way families can enjoy water recreation in an original, exciting way that is healthy, affordable and fun!
You can find more information about Splash ON here.
Fun Splash Hamilton

Opening Day: June 24, 2023
Enjoy this super fun floating obstacle course at Fun Splash Hamilton with over 25 different challenges to conquer. Jump 14ft into the Lake and make the biggest splash or flip onto a big water pillow – the choice is up to you!

Don't worry they thought of the little ones too as there is Happy Splash Kids Zone which is a smaller obstacle course located in shallower water. It's ideal for children ages 4-6 years. Parents and guardians are required to join their little ones around the Happy Splash at no extra charge, as this part of the park is not directly supervised by lifeguards.
Located at Binbrook Conservation Area – Make a day of it and check out Treewalk Village in the morning!
Misumu Bay Splash Park at African Lion Safari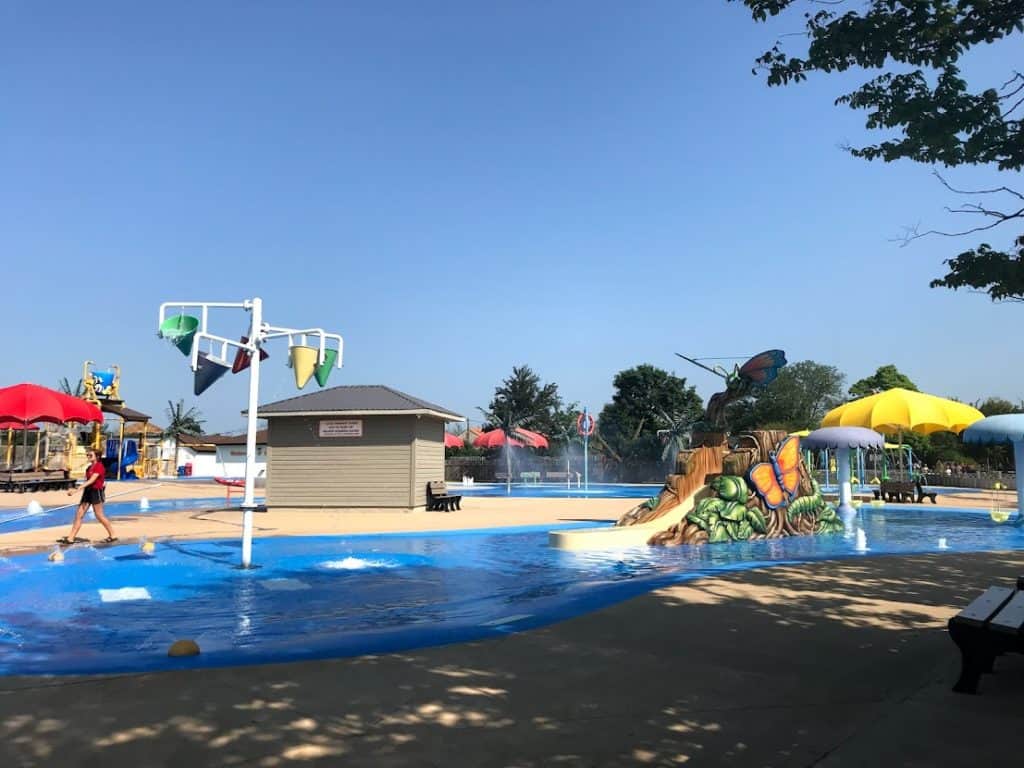 Opening Day May 20,2023
Cool off after a hot day on Safari in Misumu Bay at African Lion Safari! Stroll through Sprinklers, Spouts, Spray Buckets and Stream Jets in the interactive waterplay area. Trek under Rain Trees and Tumble Buckets in the main waterplayground, or enjoy one of the many slides.

To enjoy the slides and Tumble buckets you must be 38 inches tall. For toddlers they have a bouncy swing and a small toddler slide as well as a shallow splash pool.
This expansive water park has areas for older and younger children.  Little Bear had so much fun in the bouncy seats in the toddler area while Monkey played on the slide close by. When Erin visited in 2019, Thumper loved the slide in the toddler area and it was the perfect size that at about 18 months old she could climb the stairs and slide on her own while Erin waited at the bottom.
Professors Lake Brampton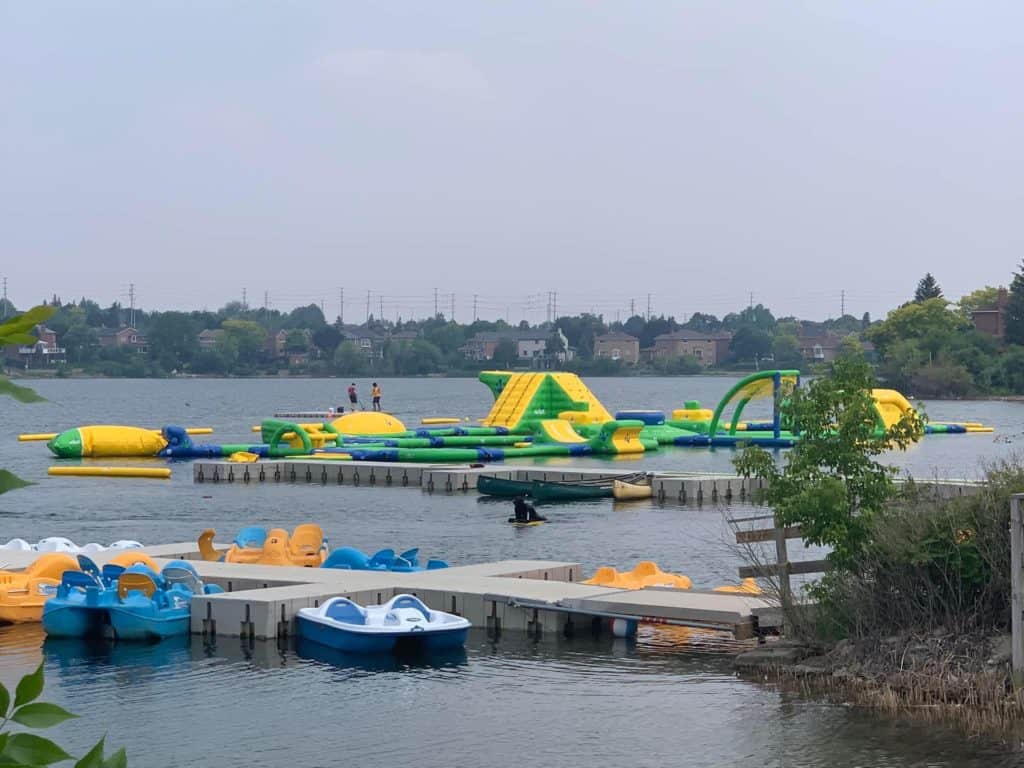 Opening Date is June 29,2023
Experience the exhilaration of Brampton's brand-new outdoor water park, an inflatable wonderland designed to delight families and provide endless hours of outdoor excitement. Dive into a world of thrilling challenges and exciting obstacles, catering to individuals of all ages and ensuring non-stop entertainment for everyone involved. Tickets will be sold for a two hour time slot.
It is important to note that a swim test must be completed before using the inflatable water equipment. All participants must be 6 years old and must wear a lifejacket at all times.
Check out one of these AMAZING Water Park Options, some featuring traditional water slides and some featuring floating playgrounds – lots of great options for all families to enjoy!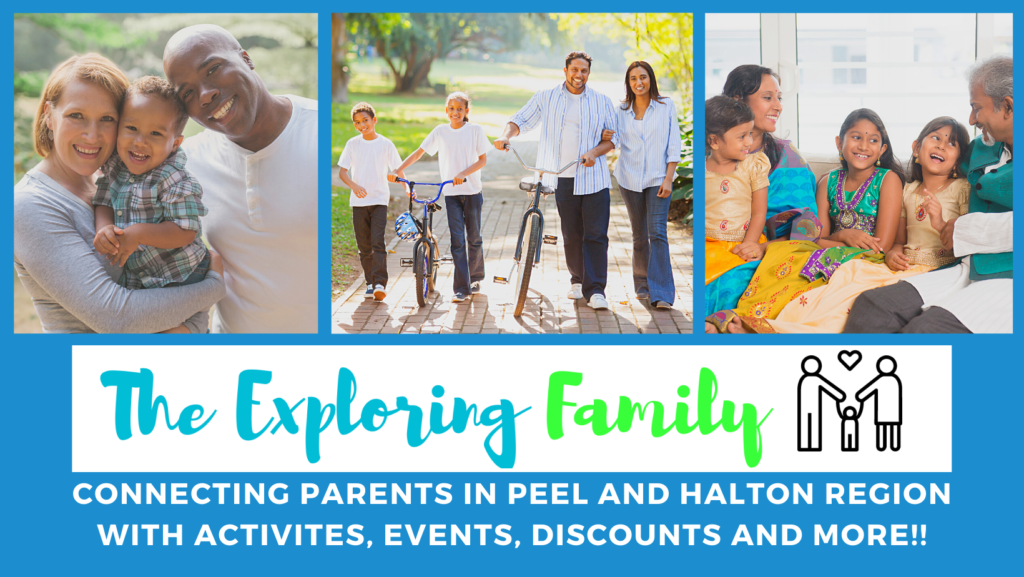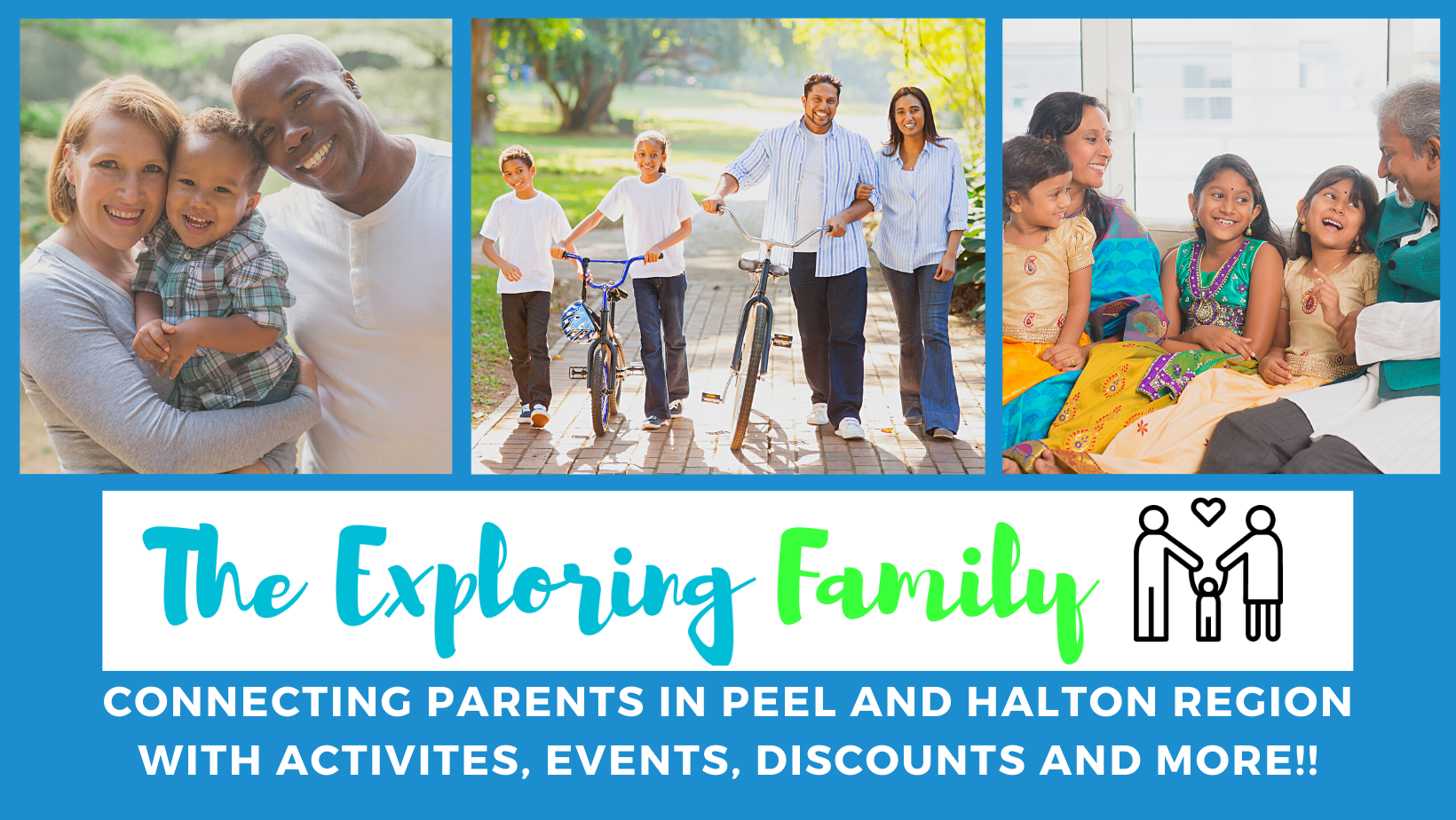 Can you help make this article better?
If you have noticed an error, have additional information or would like to share a comment you can:
E-mail us at info@thexploringfamily.com
Find us on Facebook: The Exploring Family
Find us on Instagram: @The.Exploring.Family