Deciding where to go on a family day trip is no simple task, especially when you have more than one child.  There are many factors that come into play including location, cost and the range of activities available that will keep the whole family happy.  I am happy to say that we have taken our kids to Canada's Wonderland several times now and have had an amazing visit every time.  And if you can believe it we have still not seen and visited all of the attractions that are on our "To Do" list for Wonderland!  There are lots of things to go at Canada's wonderland if you don't love roller coasters (or in this case are not tall enough yet to enjoy them!)   Many people have asked me if it is worth going to Wonderland with a toddler and my answer is YES!  Here is my list of the best rides for toddlers at Canada's Wonderland:
Everything You Need to Know About Visiting Canada's Wonderland with a Baby or Toddler
Children under age 3 are FREE so this is a great daytrip options for families as it keeps the costs low. Children under three do not have to pay for park admission, so why not have them tag along with the siblings and enjoy the toddler friendly rides.
Baby Care: All restrooms in the park offer change pads, and most restaurants could use hot water to heat a baby bottle for you. There are also lots of family washrooms making it easy for either parent to accompany their baby or toddler. Baby Care Centres are located in KidZville and Medieval Faire.
Stroller Rentals: Canada's Wonderland offers many accessible routes through the park that are stroller friendly. The park offers both single and double stroller rentals, unfortunately they are first come first serve and cannot be reserved in advance. Single strollers are $15.99 plus tax (+$5 refundable deposit) and for a double stroller is $25.99 plus tax (+$5 refundable deposit). The deposit is refunded upon the satisfactory return of the stroller. 
Parent Swap: The park also offer a Parent Swap policy at the rides. This allows one parent to ride while another parent waits with the child. When the ride is complete, the parents swap child responsibilities at the exit. 
Packing List for Toddlers: Diapers, Wipes, Snacks, Water, Swim Suit, Swim Diapers, towel, sunscreen, hat, change of clothes
Canada's Wonderland Rides for Toddlers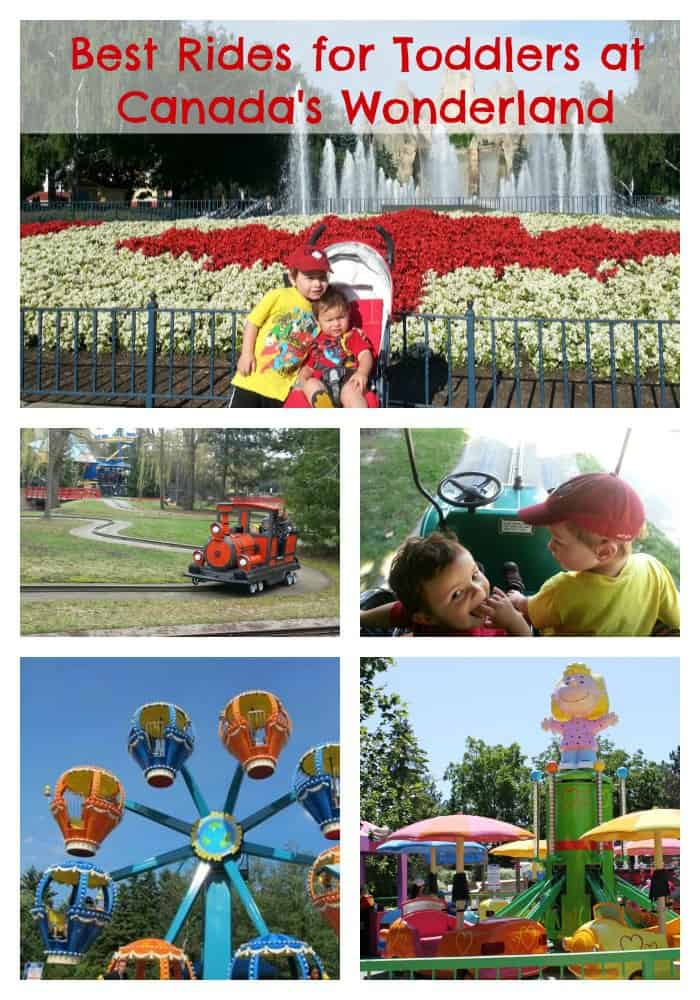 Canada's Wonderland has two family-friendly areas within the park, KidZville and Planet Snoopy. These areas offer over a variety of rides for young kids or little kids that don't meet the heigh requirements of other rides.
KidZville Station
All aboard!  Hop on a train for a leisurely ride around the railroad.  Each train car can sit up to 4 people, which is perfect for parents going on the ride with children, and the train cards are large enough to give you leg room so you don't feel squished inside.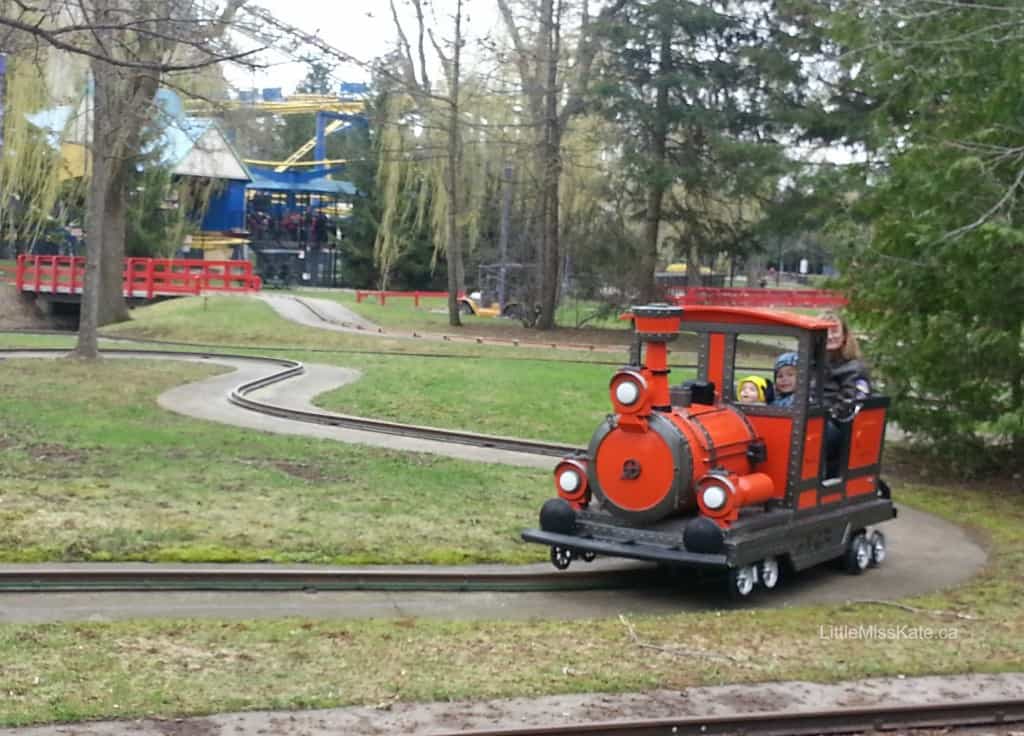 Snoopy's Revolution
A Ferris wheel that will take you to new heights in Planet Snoopy.  Watch carefully as you may be able to spot a dino or two while you are on this ride!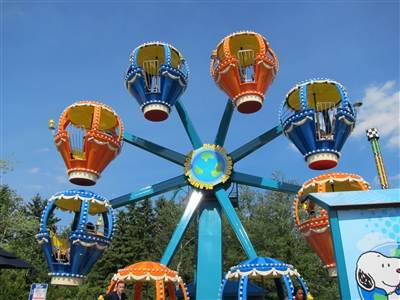 Chopper Chase
Up, Up and Away!  Get an aerial view  of Canada's Wonderland along the Chopper Chase track while riding in your private helicopter.  Maximum of 3 people per helicopter, so keep that in mind if you are going with multiple children.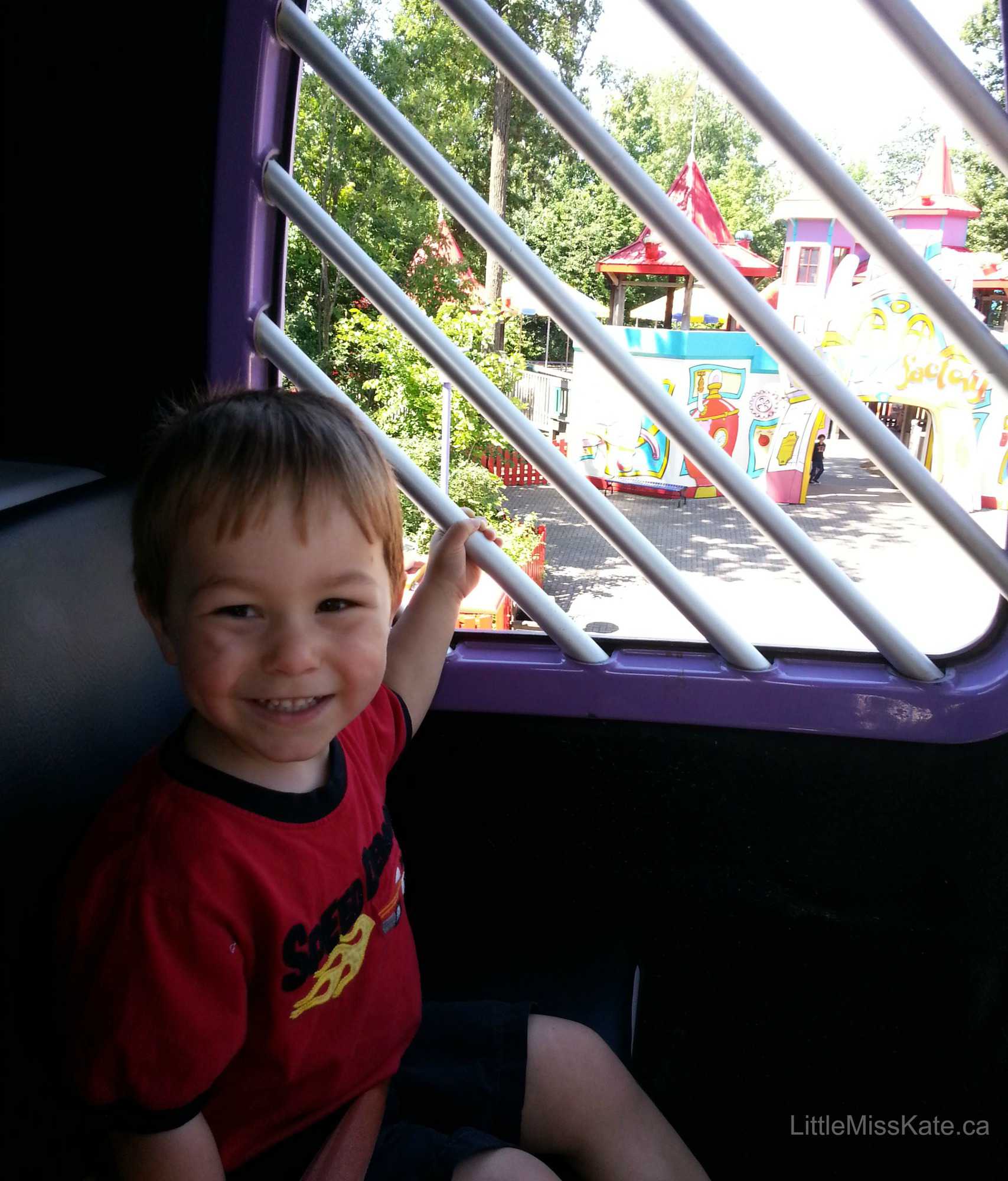 Jokey's Jalopies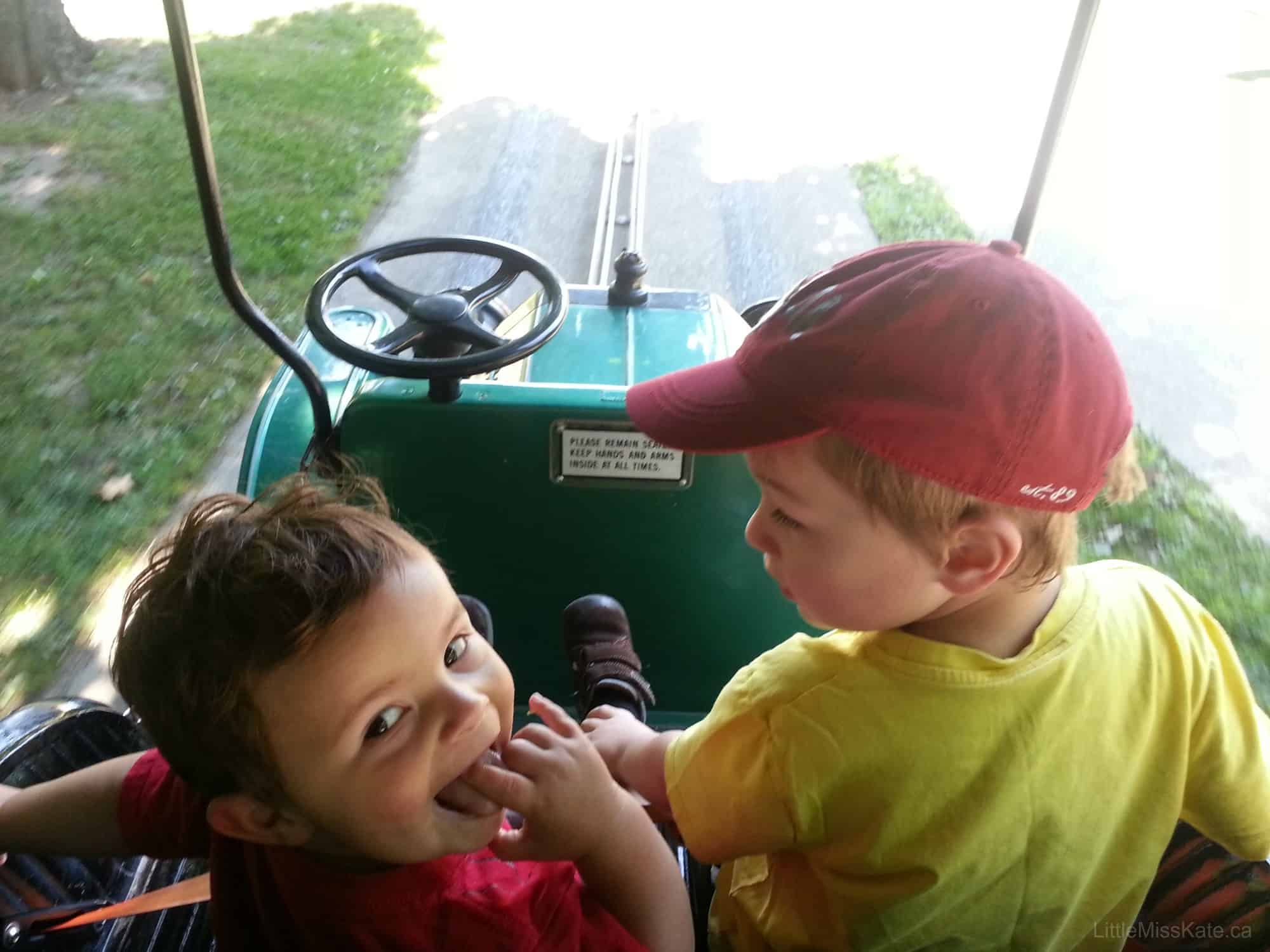 Vroom vroom, you don't have to worry about going too fast while taking a tour around in Jokey's Jalopies.  The boys love taking turns "driving" around Wonderland in these antique cars. Each car sits four people and guests must be 46″ tall to ride alone or be accompanied by a parent or guardian. 
Sally's Love Buggies
Another ride that will have you all flying high.  Climb aboard for an exciting driving adventure, pump the handles on your car to see who can light up their lights the fastest!
Swan Lake
Climb aboard your whimsical swan and take a leisurely boat ride around the lake, all while being surrounded by the Park's magically themed scenery. You could be riding on the back of a white swan, a blue swan, or even a pink swan!
Canada's Wonderland's Splash Works with a Baby or Toddler:
The day can get long and hot with babies and toddlers so why not head to Splashworks and check out all the awesome water activities that Canada's Wonderland has to offer for young kids.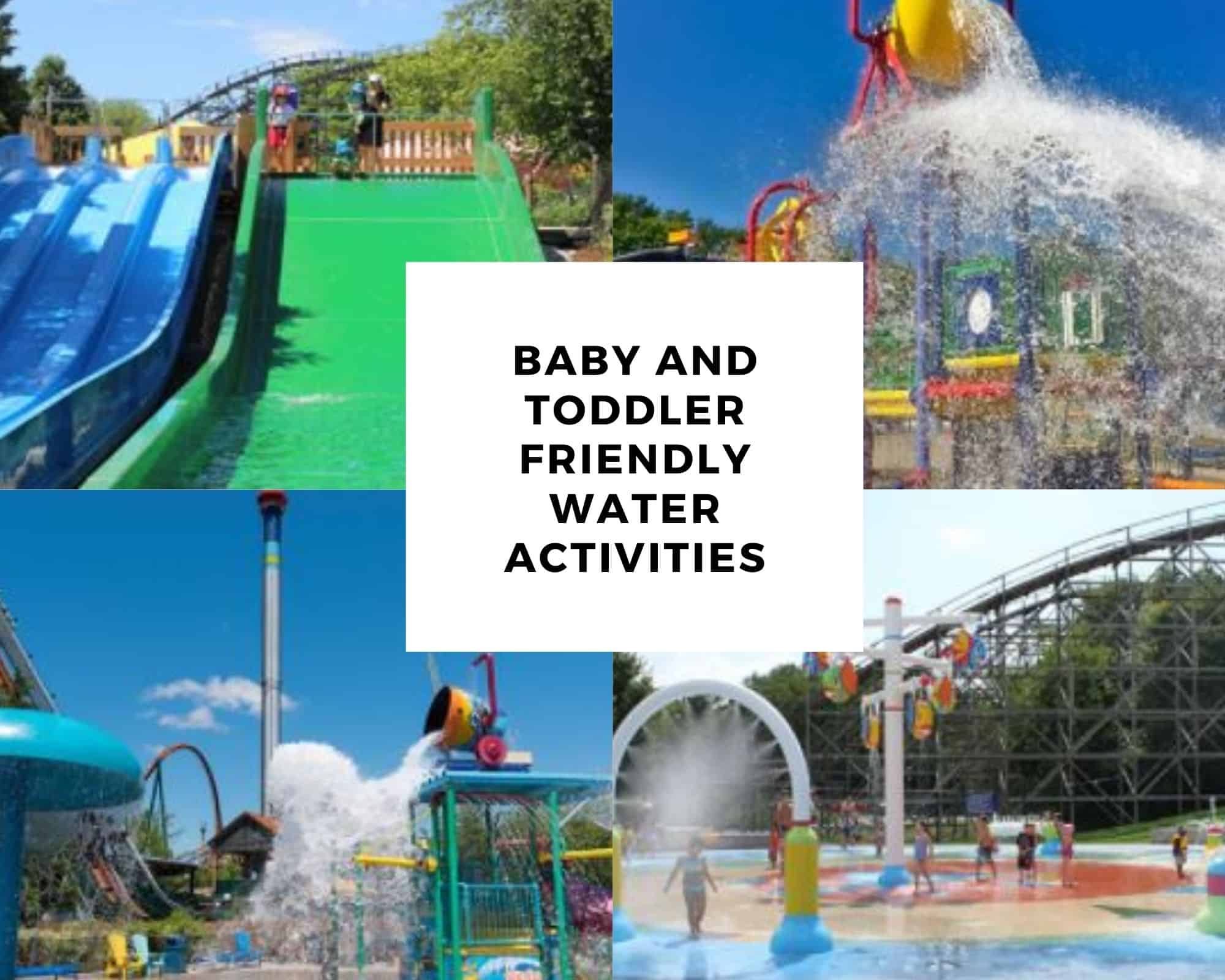 Lakeside Lagoon Slides: Two different children's body slides where riders can either choose to ride down a gentle slope on their own racing two other riders, or ride down a wider slide on their own or together with one adult or two other children both finishing in a shallow pool runout.
Pumphouse: Pumphouse is a wacky aquatic playground that has a zero depth play structure with a host of  interactive activities including waterfalls, rotating water jets, and a giant tipping bucket.
Splash Station: A set of two children's body slides where riders gently twist and turn in an enclosed flume while riding on their back, before finishing in a runout.
Sprayground: A zero depth interactive water playground.
*Descriptions taken from Canada's Wonderland website.
Best Rides for Babies at Canada's Wonderland
Only a few rides allow infants (babies who do not walk) which include: Antique Carousel, Character Carousel, and the ground level of the Maple Park Treehouse.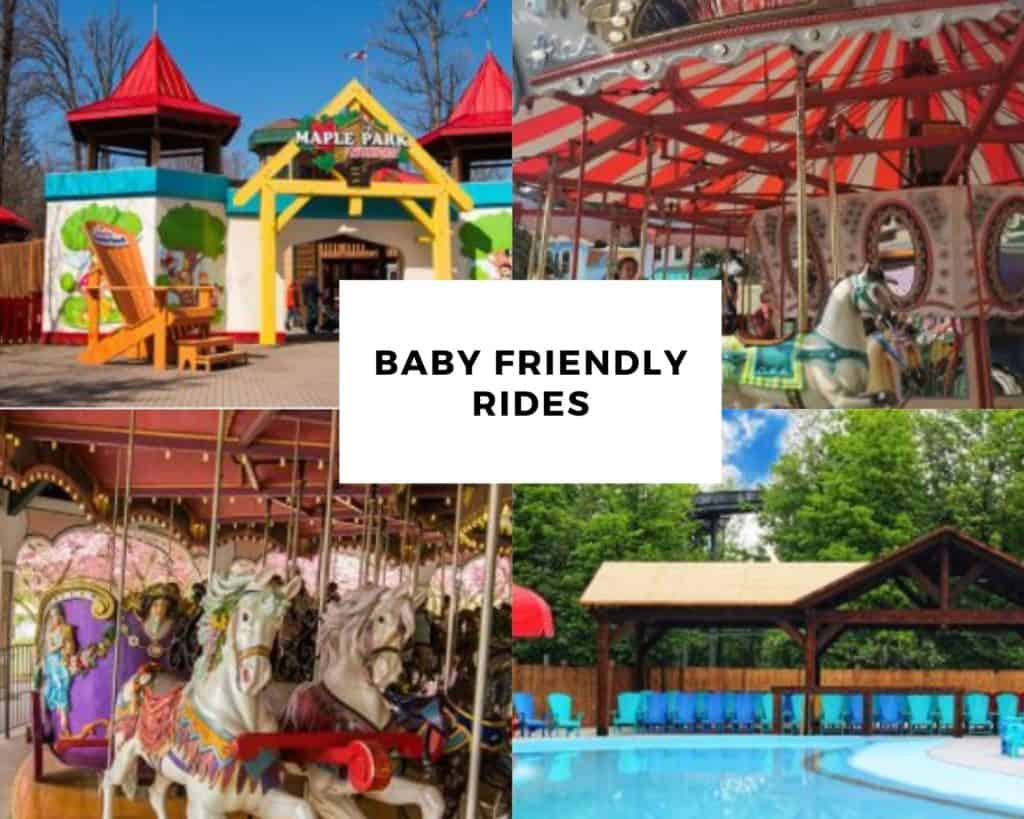 Antique Carousel: The Antique Carousel features 64 original hand-carved horses, 24 stationary horses, 42 jumpers, and two chariots. Infants are allowed with supervision in chariot seating options. 
Character Carousel: On this special carousel (a child-sized version of the traditional Antique Carrousel), Charlie Brown, Snoopy, Lucy, Linus and all of the Peanuts characters whirl around showcasing 20 beautifully crafted horses and two chariots. Infants are allowed with supervision in chariot seating options. 
Maple Park Treehouse (Ground Level): The Treehouse is a large active play area for children with bridges, slides, and climbing structures. Infants must be supervised and stay on the ground level.
Lakeside Lagoon Pool: A kiddie splash pool designed for little water lovers with fun interactive spray features they are sure to enjoy, with a maximum water depth of 19″ (48 cm).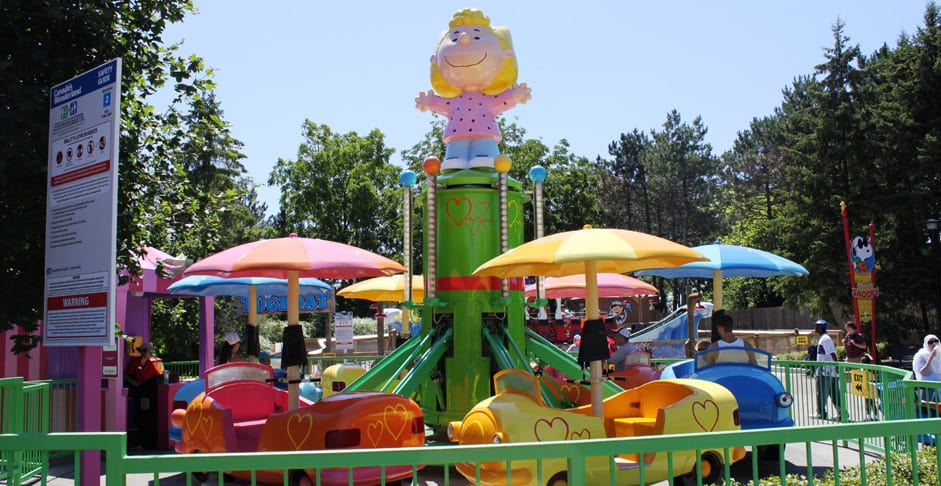 This list could go on as there are many other fun rides for toddlers at Canada's Wonderland, however these are  our top picks for best rides for toddlers at Canada's Wonderland.  To find out all the details on height and companion requirements for rides click here.  You can check out a full list of the Kids rides available a Canada's Wonderland online, or better yet make a day of it and head to Wonderland for a day full of adventure!
More Canada's Wonderland fun!
What to do at Canada's Wonderland when you don't love Roller Coasters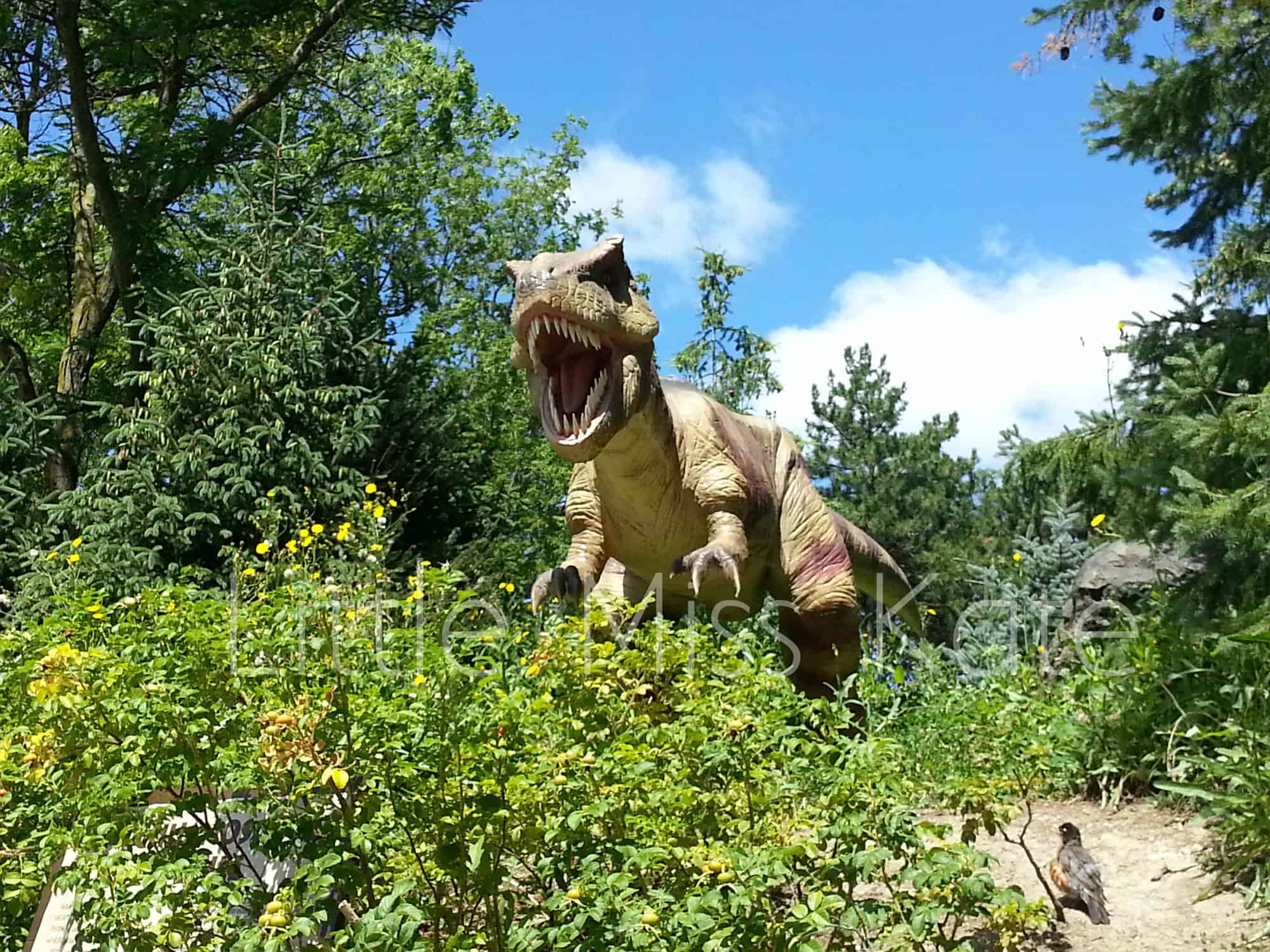 5 Things you need to know about Camp Spooky Halloween at Wonderland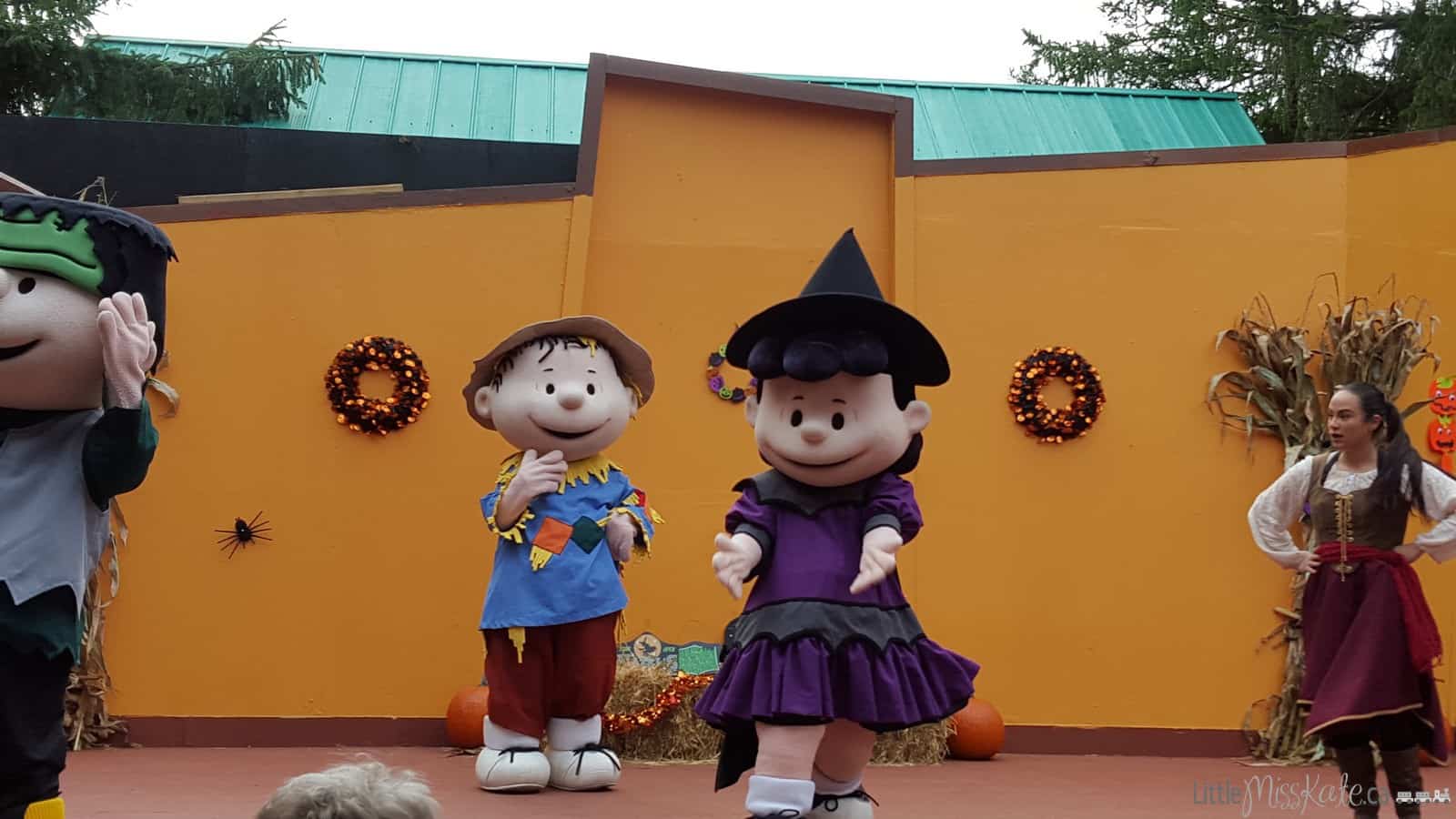 Disclosure:  I was provided with complimentary tickets to Wonderland.  However all opinions are strictly my own.
Originally Posted August 2014 Updated 2021