Indoor waterparks are an exciting type of amusement park. They are typically located indoors and feature water-based attractions such as water slides, wave pools, lazy rivers, and other water activities. It isn't difficult to find an awesome Indoor Water park Ontario has to offer.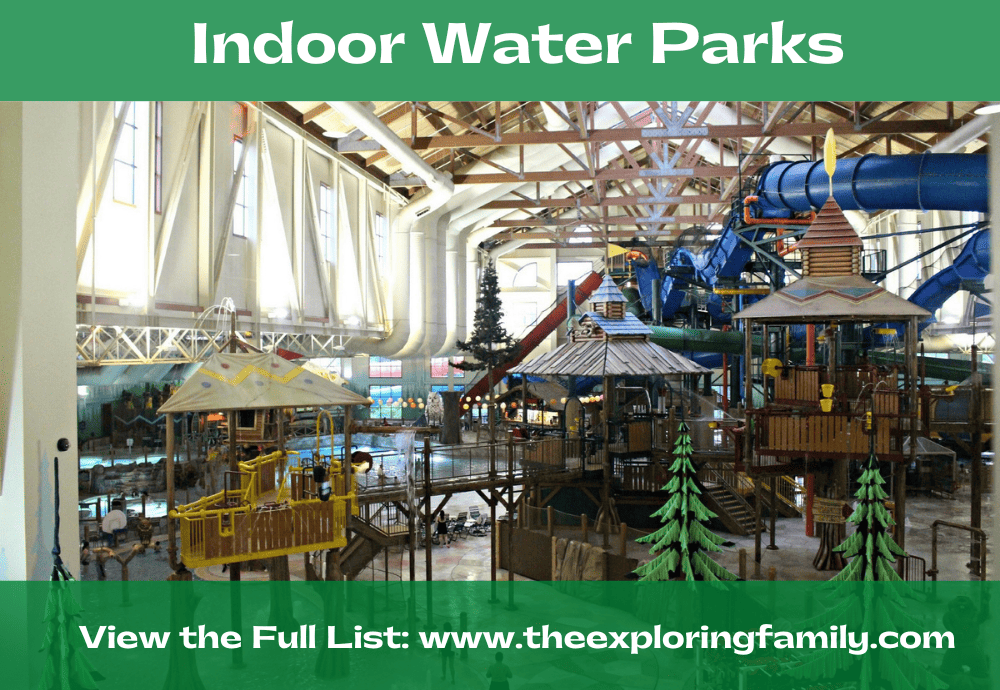 Spending a day at an indoor water park with your family is a fantastic way to make memories. If your family loves water-based activities, no matter the reason or the season an indoor water park is a fantastic choice. Thankfully, there are several great indoor water parks in Ontario to choose from. Simply choose the one that has the amenities you are looking for and get ready to make a splash with your family without having to visit a sandy beach. 
You may also be interested in: Outdoor waterparks in Ontario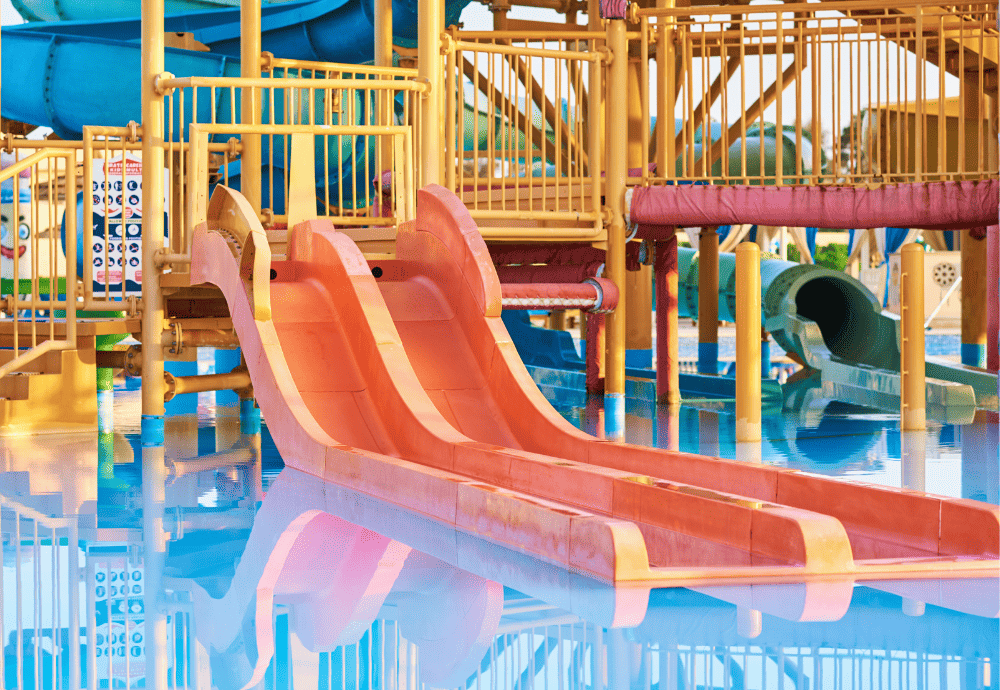 Indoor Waterparks in Ontario
Click to scroll through the list of Indoor Waterparks Ontario has to offer.
Map of Indoor Waterparks in Ontario
What are Indoor Waterparks?
Indoor Waterparks are designed to provide a fun and safe environment for families and individuals to enjoy aquatic adventures year-round. The best part? They are designed to operate regardless of weather conditions outside. These water-based amusement parks are a blast for the entire family.
These waterparks are often housed within larger entertainment complexes, such as hotels or resorts. Many offer additional amenities such as restaurants, arcades, a hot spa, and fitness centers. They have become increasingly popular in recent years as a way to combine a vacation getaway with the excitement of water-based activities.
Indoor water parks come in many different sizes and themes. From small facilities with a few attractions to large complexes with multiple water slides, wave pools, and other features, a day at a waterpark is a great way to spend some time together. You can find waterparks all over the world, and many offer special events and packages for groups, parties, and corporate events.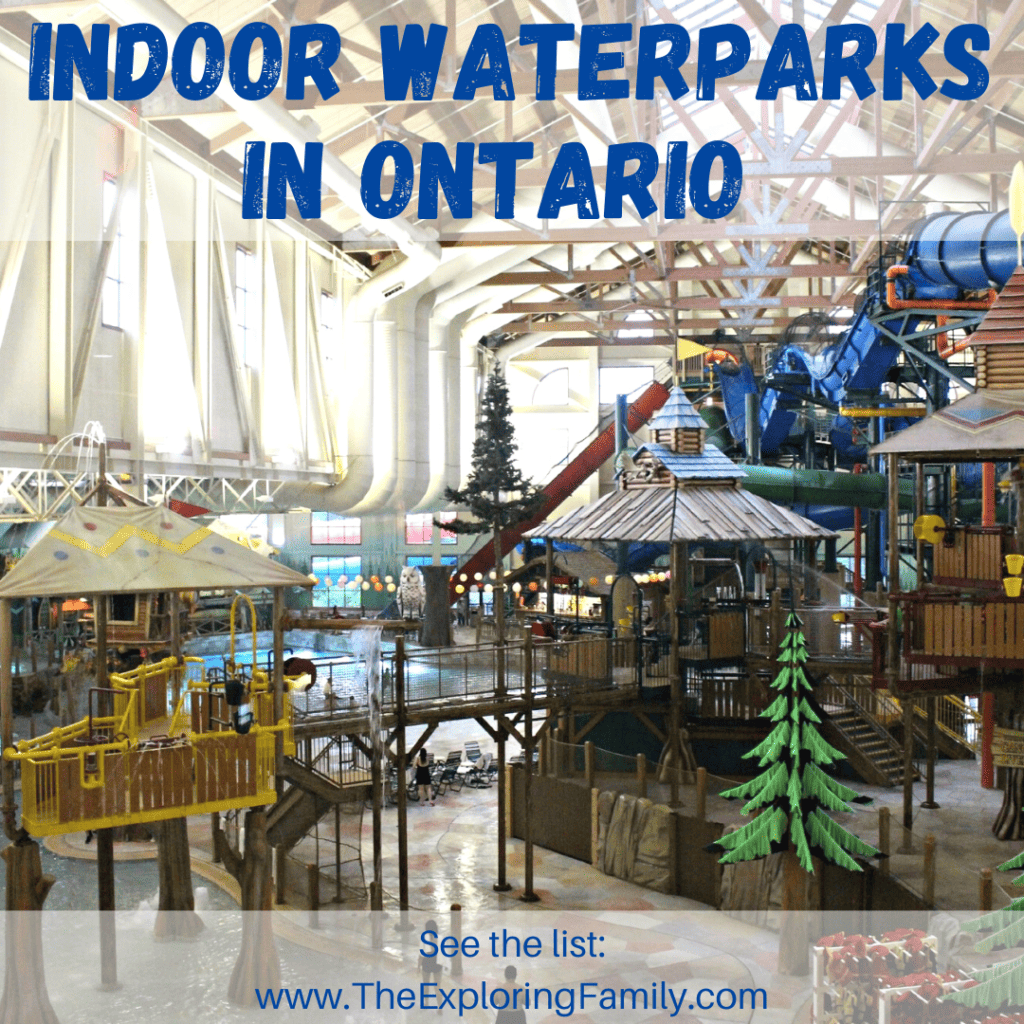 Ontario Indoor Water Parks
There are quite a few indoor waterparks in Ontario to choose from. Whether you want to go and spend a day, a week or an entire weekend is entirely up to you. Just don't forget to bring your bathing suits.
Waves
8444 Lundy's Ln, Niagara Falls, ON L2H 1H4 -The Americana Conference Resort Spa & Waterpark is home to the indoor waterpark Waves. You can visit for the day with a waterpark day pass which includes an entire day of excitement with a pool, water slides, a toddler splash area, a water play centre and so much more.
If you aren't staying at the resort and need somewhere to put your belongings and take comfortable breaks, Waves also offers Private Cabanas to rent. These cabanas offer a great view of the indoor waterpark, tvs, mini fridges a cabana hostess and more. There is also an on-site restaurant and snack bar if you get hungry.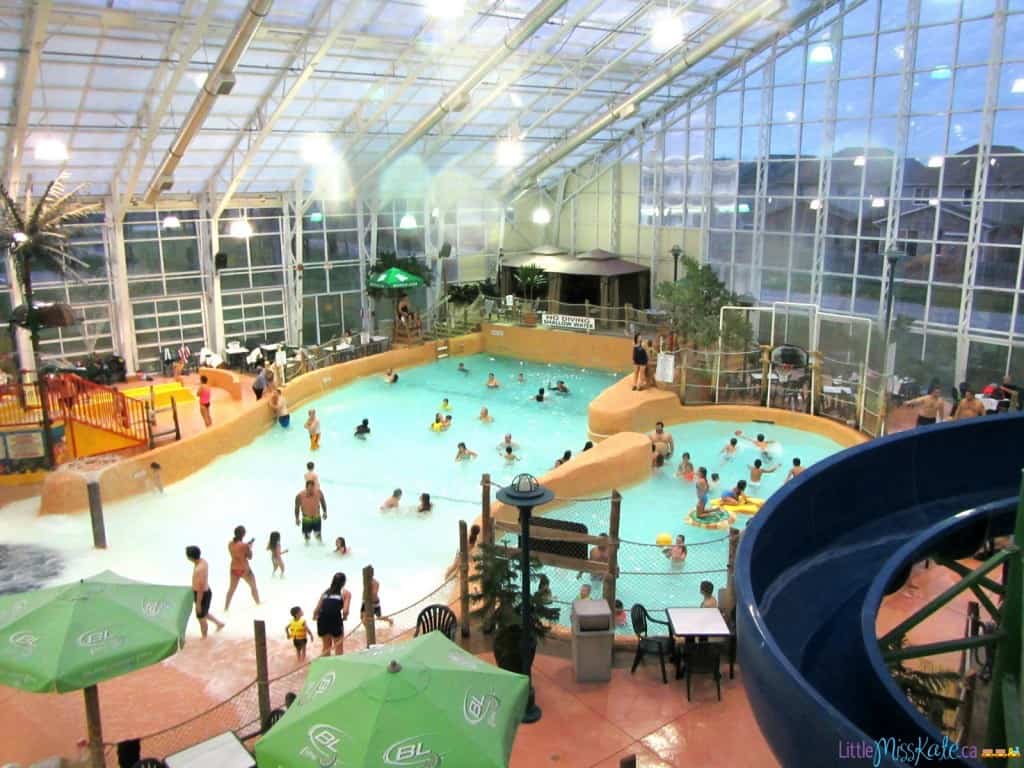 With over 25,000 square feet of water fun, this Indoor Waterpark in Ontario is a fantastic choice. Enjoy a Family Fun Day Trip to Americana Waterpark Resort!
Great Wolf Lodge
3950 Victoria Ave, Niagara Falls, ON L2E 7M8 – Great Wolf Lodge Niagara Falls hosts families from all over the province to play and stay. Being that it is considered the largest Indoor waterpark in Canada, this place is a fantastic choice. It is important to note, however, that you must be an overnight hotel guest to access the waterpark, unfortunately at this time, they do not offer the option of day passes. You can bring your own food, and we have lots of Great Wolf Lodge Meal Ideas. Or if you prefer to eat out there are many restaurants near Great Wolf Lodge Niagara.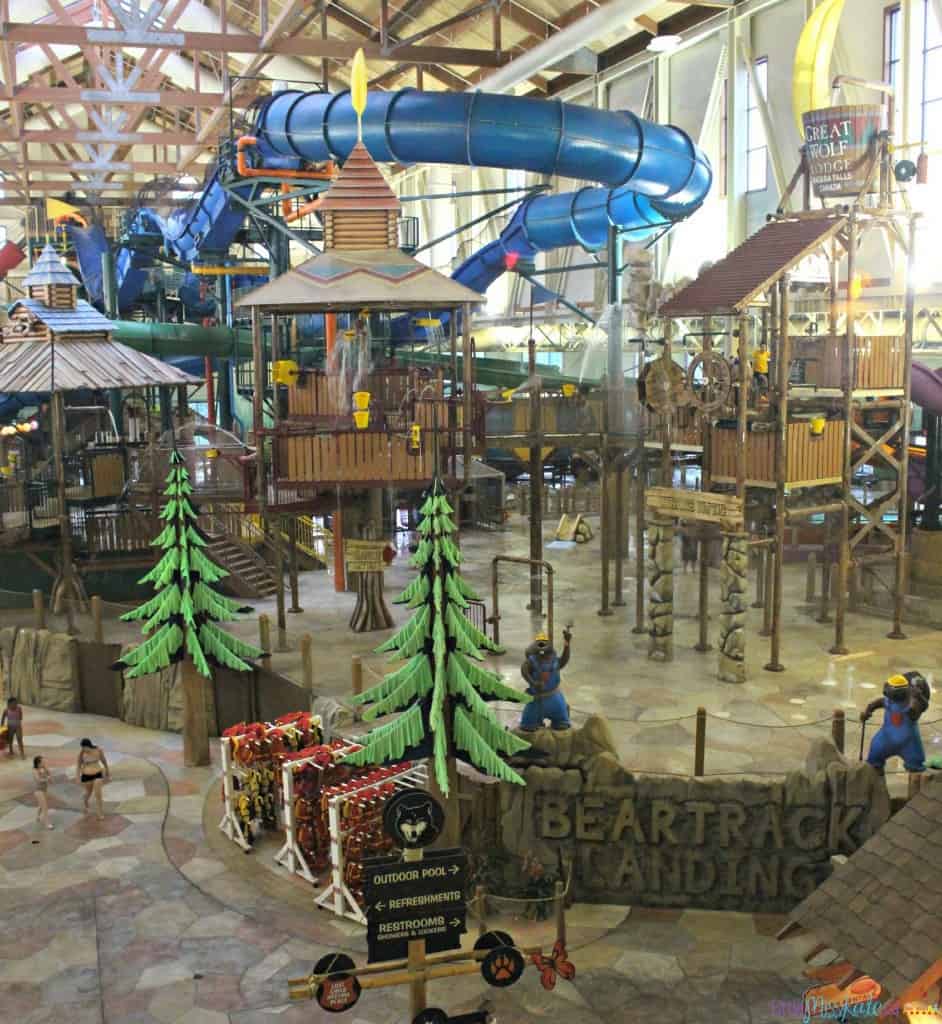 If you plan to visit the Niagara region, this massive waterpark includes water slides of various sizes, a 4 story interactive tree fort that has toys, slides, and a plethora of other items for kids of all ages and more. If it is high speed water play you are looking for, head to the Wolf Tail. The thrill of speeding down the thrilling waterslides is perfect for teens and thrill seekers. The frog pond is also quite inviting and contains tube slides and more for water fun for all ages.
This 100,000-square-foot water park is a must-visit. Planning a visit to Great Wolf Lodge? Check out our Great Wolf Lodge Tips and Tricks to make your visit go smoothly. Don't forget they also have special activities for Halloween and Christmas at Great Wolf Lodge too!
Fallsview Indoor Water Park
5685 Falls Ave, Niagara Falls, ON L2E 6W7 – Fallsview Indoor Waterpark features a gigantic play area and over 125,000 square feet of waterpark fun. Check out the huge 1,000-gallon tipping bucket, the full-sized wave pool, enormous waterslides that are six stories high, a children's play area and more.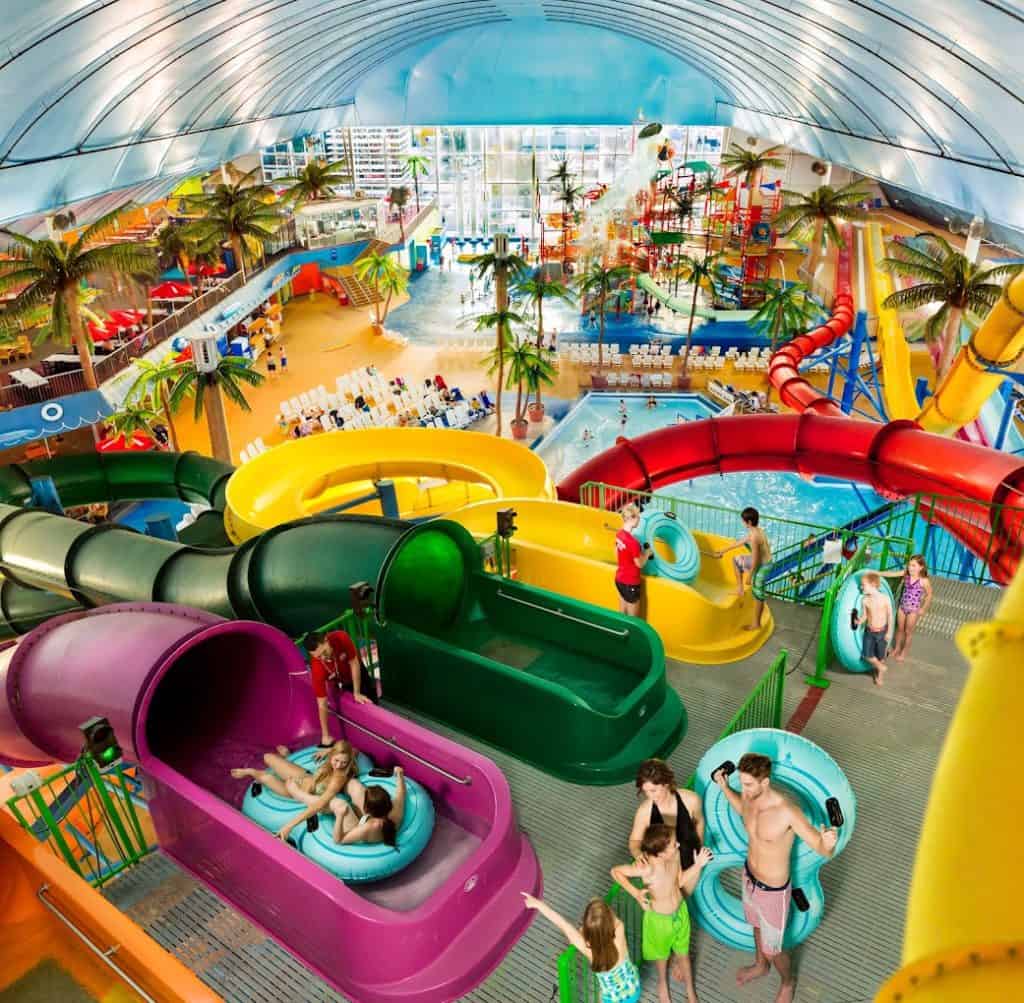 The Fallsview Indoor Waterpark is a fantastic place to visit for people of all ages. They do offer day admission, and free life jacket rentals. There are no towels on site though, so it is a good idea to ensure that you bring some from home. There is also an on-site restaurant and snack bar where you can get some yummy beverages and food if you are feeling peckish.
Don't forget to visit the plunge bowl, the open year-round outdoor activity pool and outdoor sundeck and the adult-only jacuzzis. This Indoor Waterpark Ontario has to offer is a fabulous choice if you are looking to enjoy year-round water fun on a weatherproof family vacation.
Adventure Bay Family Water Park
401 Pitt St W, Windsor, ON N9A 0B2 – Adventure Bay is the best indoor waterpark to escape the cold weather and beat the winter blues, or enjoy a waterpark adventure in the summer. This family waterpark in Ontario offers amazing water adventures to people of all ages with over 35,000 square feet of action-packed water fun.

Get a day pass and check out their awesome waterslides, there are 5 of them to choose from, each with varying levels of thrills. There is also a surf simulator, activity pool, tot kids zone, lazy river, flowrider, and a splash zone with a giant water bucket that tips as well as waterslides. There are also several options for interactive waterplay with the tipping cones and more.
This Indoor Waterpark in Ontario is the perfect place for those looking to enjoy some exciting water play. Just don't forget to bring some towels as they do not have any on-site.
Plunge!
Unit AY1, 220 Gord Canning Dr, The Blue Mountains, ON L9Y 0V9 – Plunge! Aquatic Centre is on the smaller end of the Indoor Waterparks in Ontario however it is still a lot of fun. Head to Blue Mountain to check out the outdoor and indoor pools, the indoor splash pad, the rope swing, the waterslide, or basketball nets. This is a great place to visit when you want to relax with some water play no matter what the season.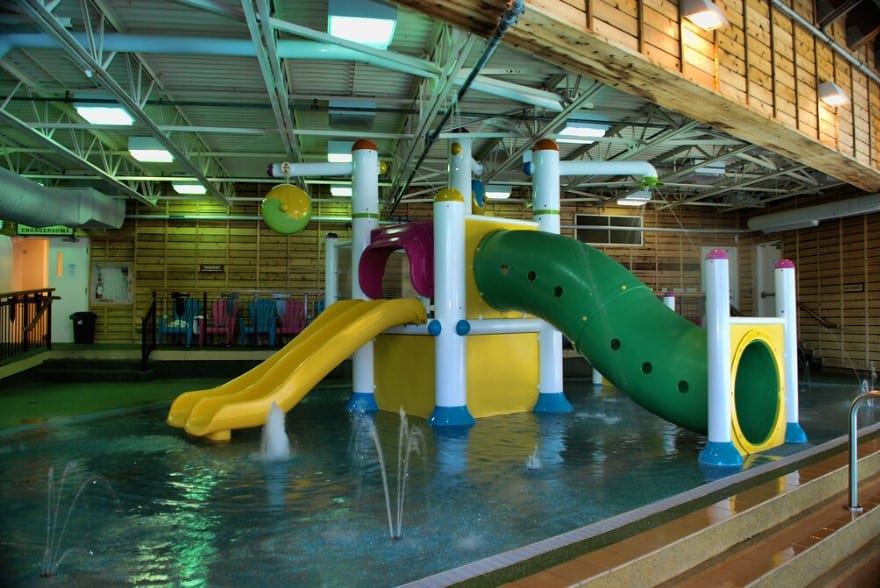 Plunge! Does not have towels so make sure to bring your own. They also do not permit any outside food or beverage.
The Wave Pool
5 Hopkins Street Richmond Hill, ON L4C 0C1 – The Vaughan Indoor Wave Pool while not considered an indoor waterpark in Ontario, is still a fantastic choice if you want to have some water fun indoors. This massive indoor wave pool has a beach-style entry, on-deck sauna, 100ft interactive waterslide and so much more. Check out this beach-entry wave pool today. You won't regret it.

This is a great place to go in Vaughan for some indoor water fun.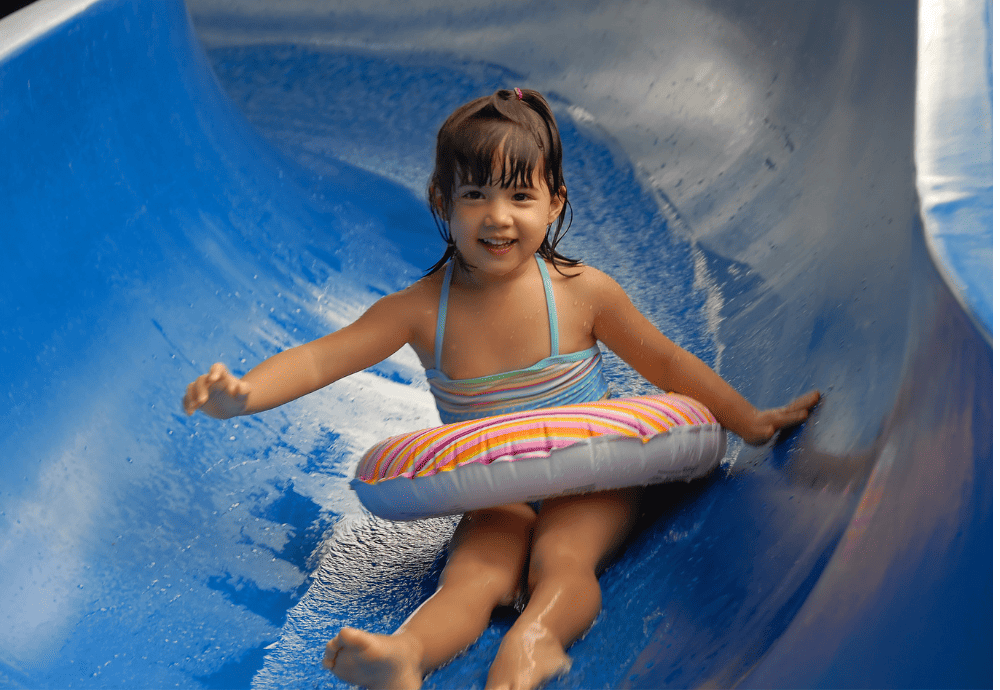 Hotels with Awesome Waterslides
While not technically considered indoor waterparks, these hotels have some pretty cool waterslides to enjoy. If you are looking for some water fun, check out these hotel locations.
Chelsea Hotel Toronto
Mississauga Meadowvale
Lamplighter Inn
Best Western Leamington
Holiday Inn Express Hotel & Suites – Woodstock, an IHG Hotel
Living Water Resort & Spa – Collingwood
TownePlace Suites by Marriott Sudbury
Four Points by Sheraton Vaughan
Hilton Garden Inn Toronto/Vaughan
Victoria Inn Hotel and Convention Centre Thunder Bay
Ramada by Wyndham Belleville Harbourview Conference Center
Ambassador Hotel & Conference Resort *Features large and toddler slide
Super 8 by Wyndham Ambassador Bridge Windsor ON
Days Inn by Wyndham Kenora
There are several amazing places to visit in North America that offer exciting water play for the whole family. If you are looking for an Ontario Water Park with high waterslides, acres of indoor family fun, a giant wave pool, and more, you are sure to find one that works for you.
If its a massive indoor waterpark you seek, Ontario has a few with some exciting key features. Just make sure to check out other fun activities in the area, especially if you are planning on escaping the summer heat.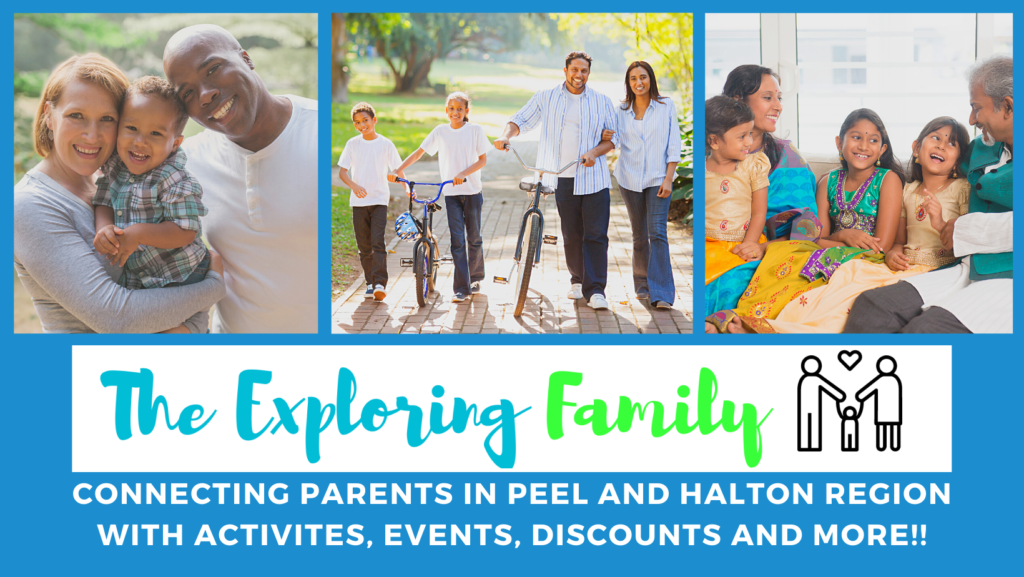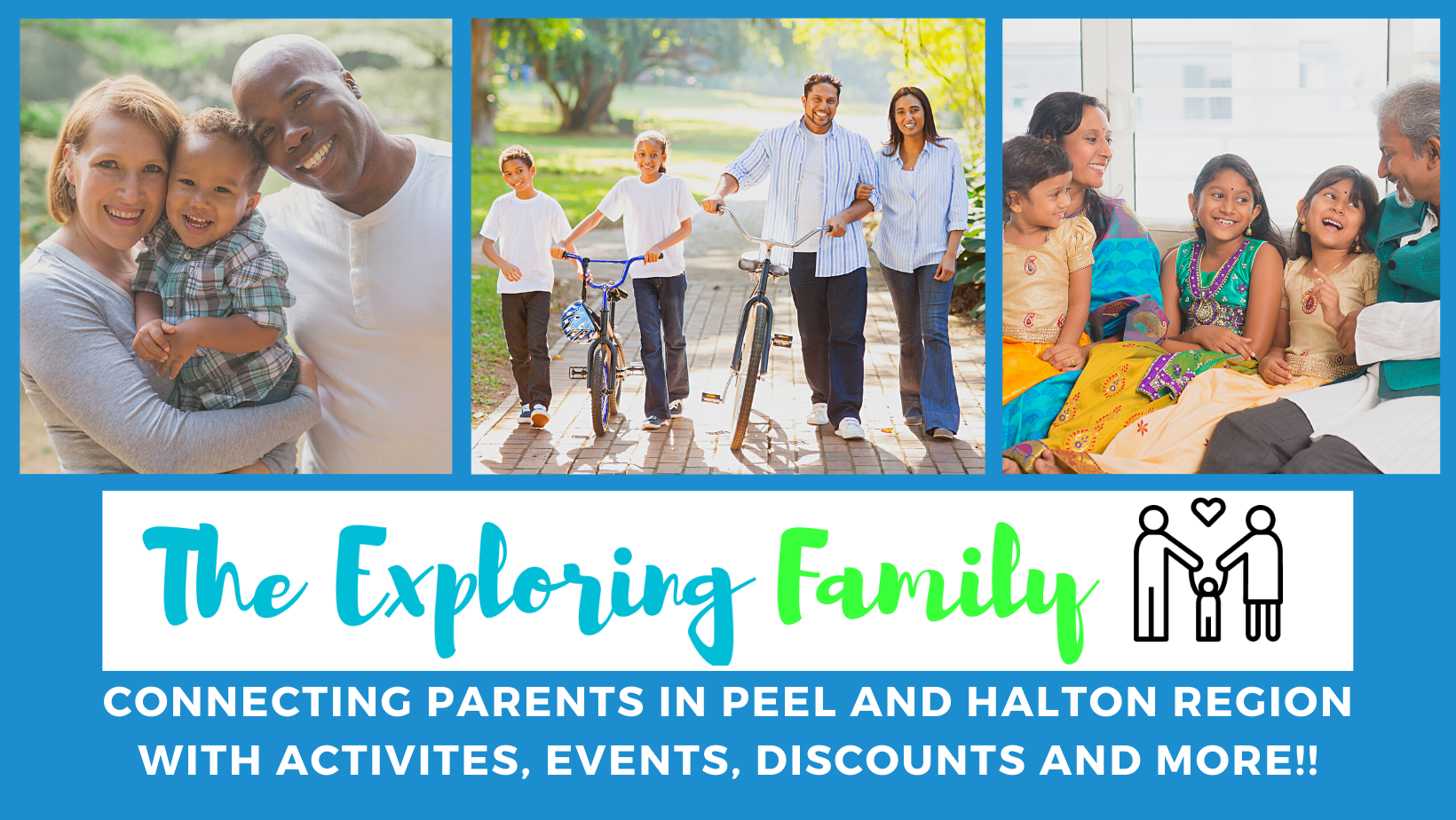 Can you help make this article better?
If you have noticed an error, have additional information or would like to share a comment you can:
E-mail us at info@thexploringfamily.com
Find us on Facebook: The Exploring Family
Find us on Instagram: @The.Exploring.Family
More Family Water Fun