An indoor water park might not be the first thing you think of when it comes to Christmas. But one visit to Great Wolf Lodge at the end of November or December will have you in the holiday mood. Christmas is a special time at Great Wolf Lodge with the lodge being transformed onto Snowland.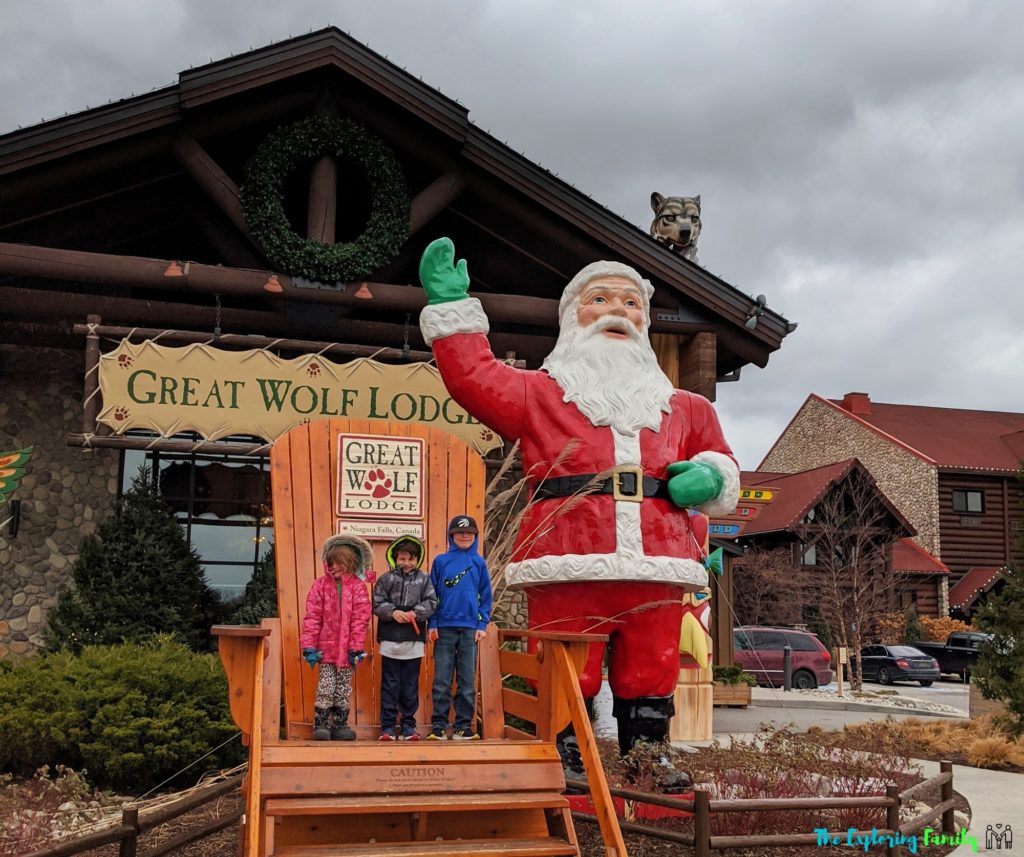 What makes Christmas time at Great Wolf Lodge so special? The magic of Christmas can be found in snowing indoors, eating in a life-sized gingerbread house, larger then life Christmas tress and of course a visit with Santa Claus. Each location will have their own events and activities but here is the lowdown on the fun to be had a Great Wolf Lodge Niagara Falls, Ontario.
Christmas Time at Great Wolf Lodge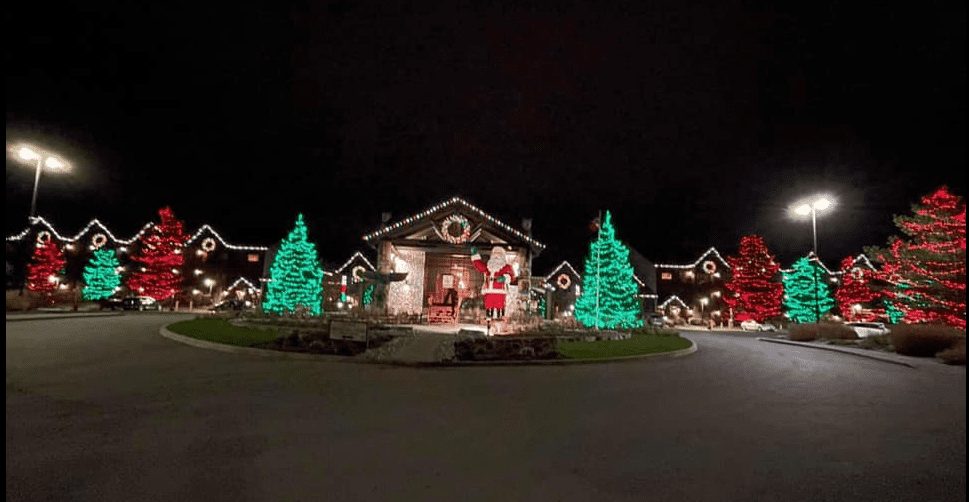 1 – Winter Wonderland
From the giant Santa who will greet you in the parking lot to the fully decorated and festive lobby you will enter a winter wonderland at Great Wolf Lodge when Snowland arrives. There are many photo ops with the multiple Christmas trees, gingerbread house and dazzling Christmas lights outside.

When do Christmas Decorations Go Up at Great Wolf Lodge?
The Christmas decorations go up after American Thanksgiving ans stay up until the New Year.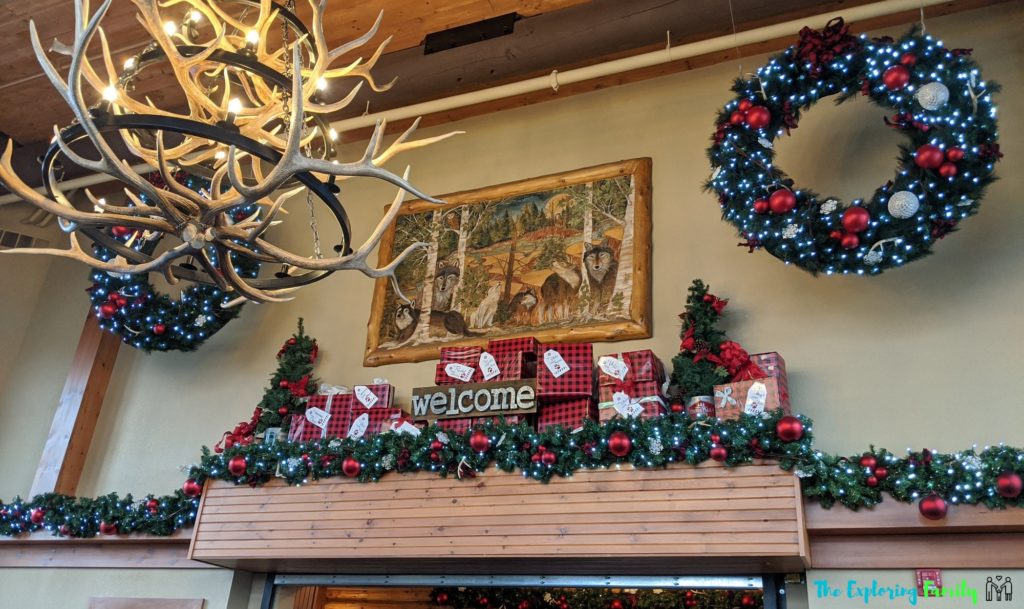 2 – Life-Sized Gingerbread House
You heard me right – a full LIFE SIZE Gingerbread house that you can enjoy a meal inside. Feel like you are stepping into of a fairy tale inside the Great Wolf Lodge Snowland Gingerbread house that is constructed in the lobby of the lodge using 50lbs of butter, 330 eggs, 165 flour, 250 lbs icing sugar and more! Reservations are required and there is a $25 fee to dine in the Gingerbread House that directly benefits a charity partner.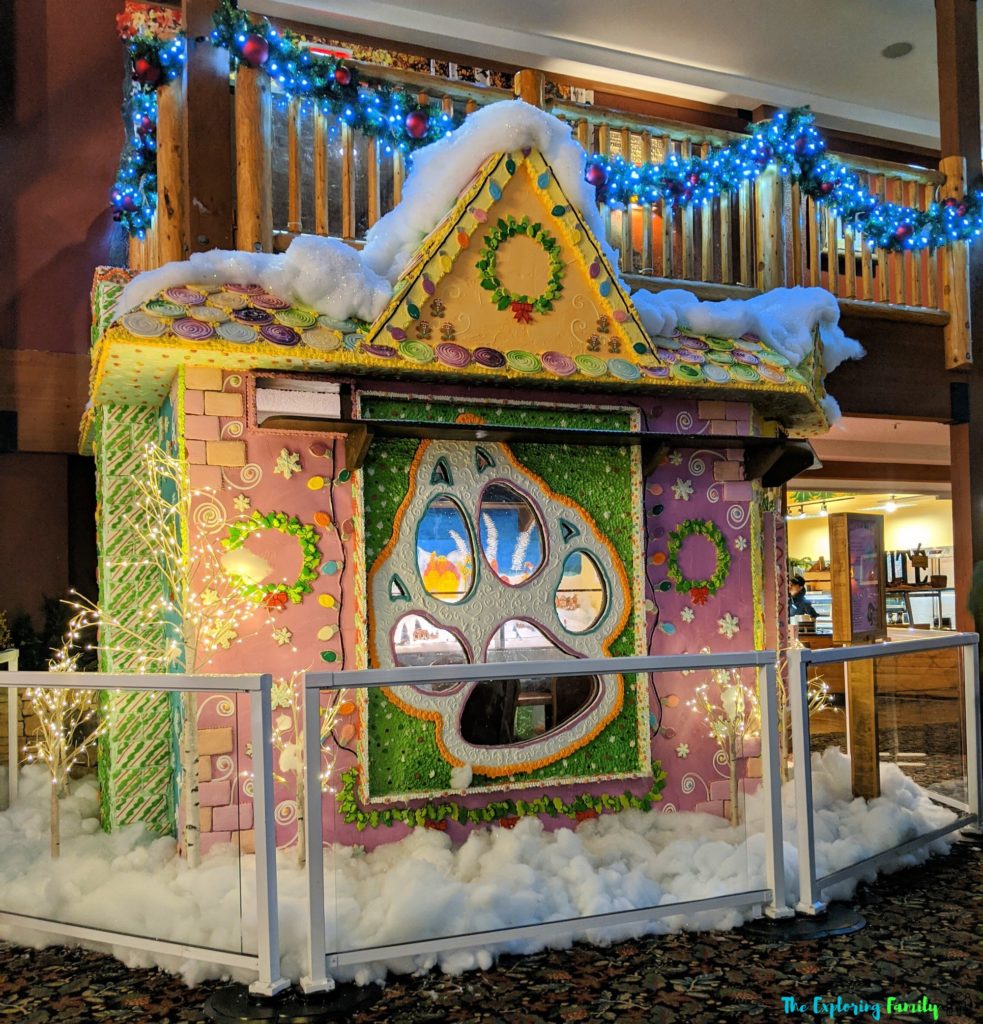 How Do You Make Reservations at the Great Wolf Lodge Gingerbread House?
To make reservations at the Great Wolf Lodge Gingerbread House you reserve a slot via YELP. You will receive an email confirmation with your date and time. If you can't make to your reserved time slot, make sure you cancel in YELP, this reservation is not linked to your hotel reservation. Free up the slot for another family to enjoy. If you can't find a booking time, keep checking back, cancellations do pop up. Reservations open up in October or November
>>CLICK HERE<< BOOK for the 2022 Gingerbread House at Great Wolf Lodge Niagara Falls HERE on Yelp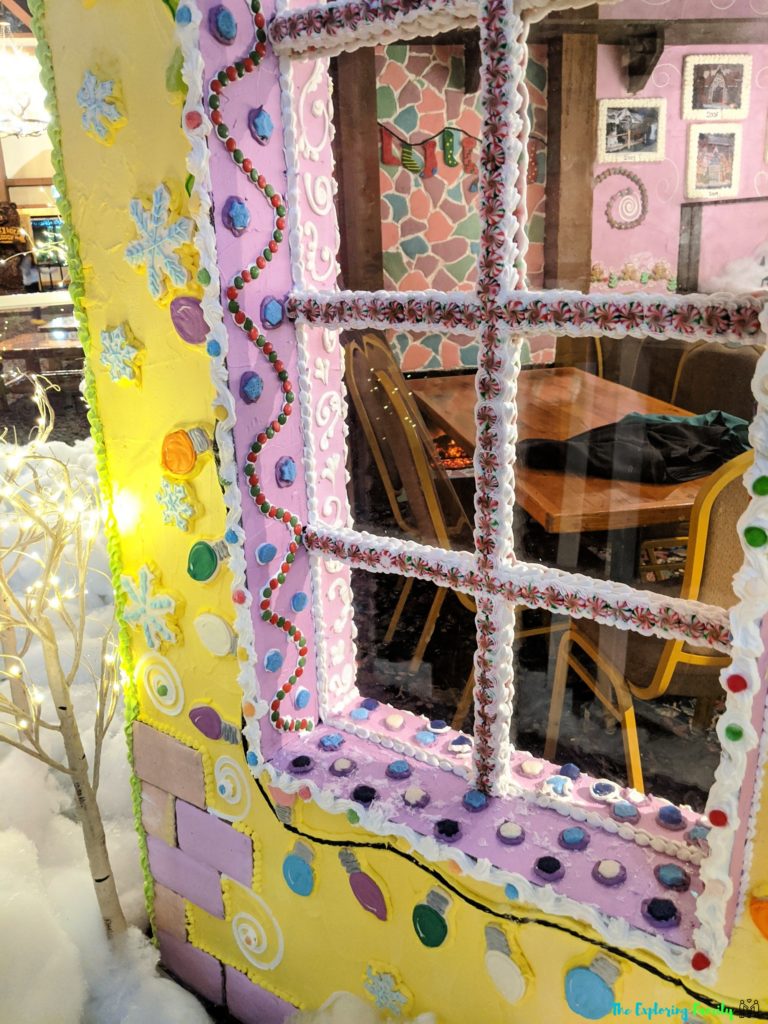 How Much Does the Gingerbread House at Great Wolf Lodge Niagara Falls Cost?
It costs $25 fee to dine in the Gingerbread House at Great Wolf Lodge Niagara Falls that directly benefits a charity partner, plus the cost of food. The charity partner can change from year to year. Past partners include SickKids and AutismOntario.
What Meals are available in the Great Wolf Lodge Gingerbread House? Can I use the Meal Plan?
Reservations are available at the Great Wolf Lodge Gingerbread house for Breakfast, lunch and dinner. If you have the meal plan you can, yes you can use it at the Gingerbread house. For Breakfast and dinner the buffet is available just outside the gingerbread house. You either pay for the buffet or use your meal plan coupon, and pick up your food at the buffet and bring it back to enjoy in the Gingerbread House.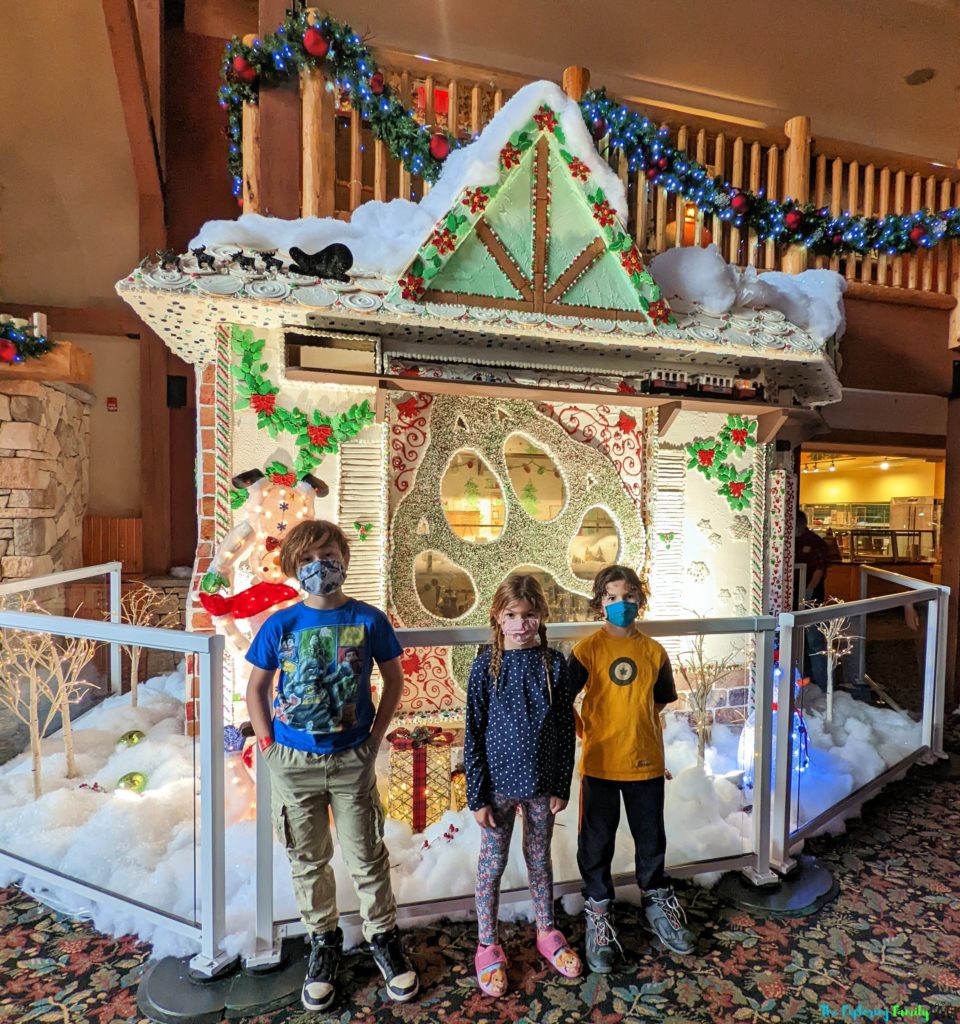 For Lunch, if you have the meal plan you can pick up your food and bring it to the Gingerbread house to enjoy. Or if not using the meal plan you can order of the lunch menu for Antler Shanty – which we have done twice now and it was delicious.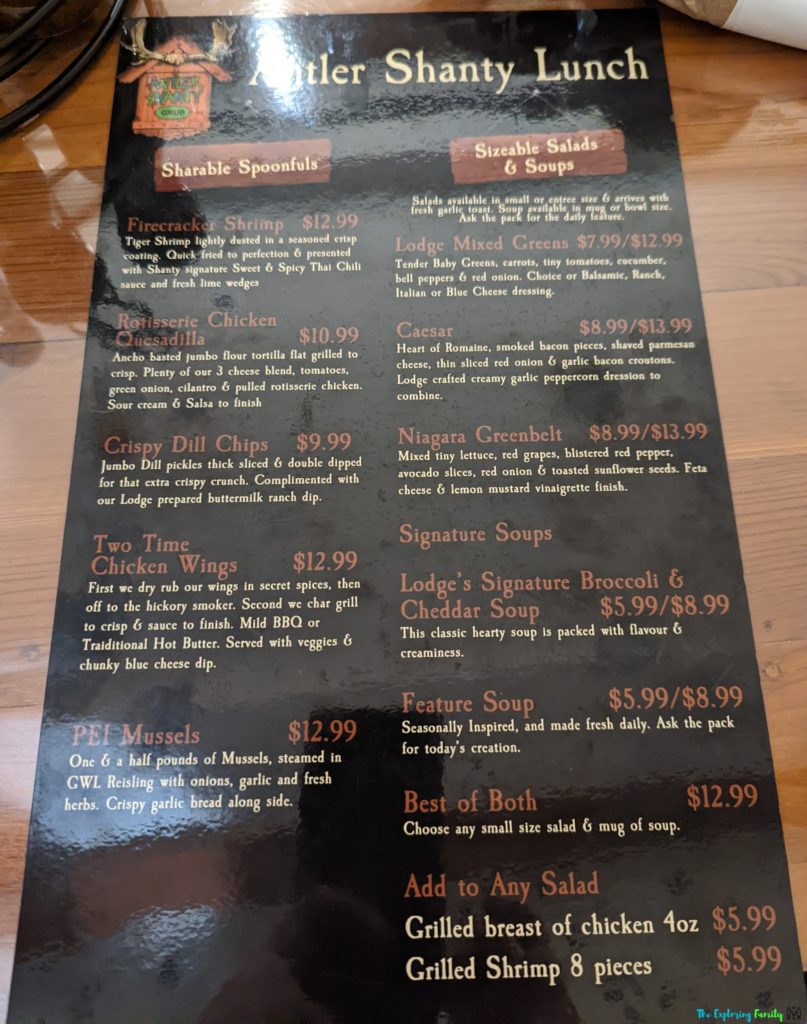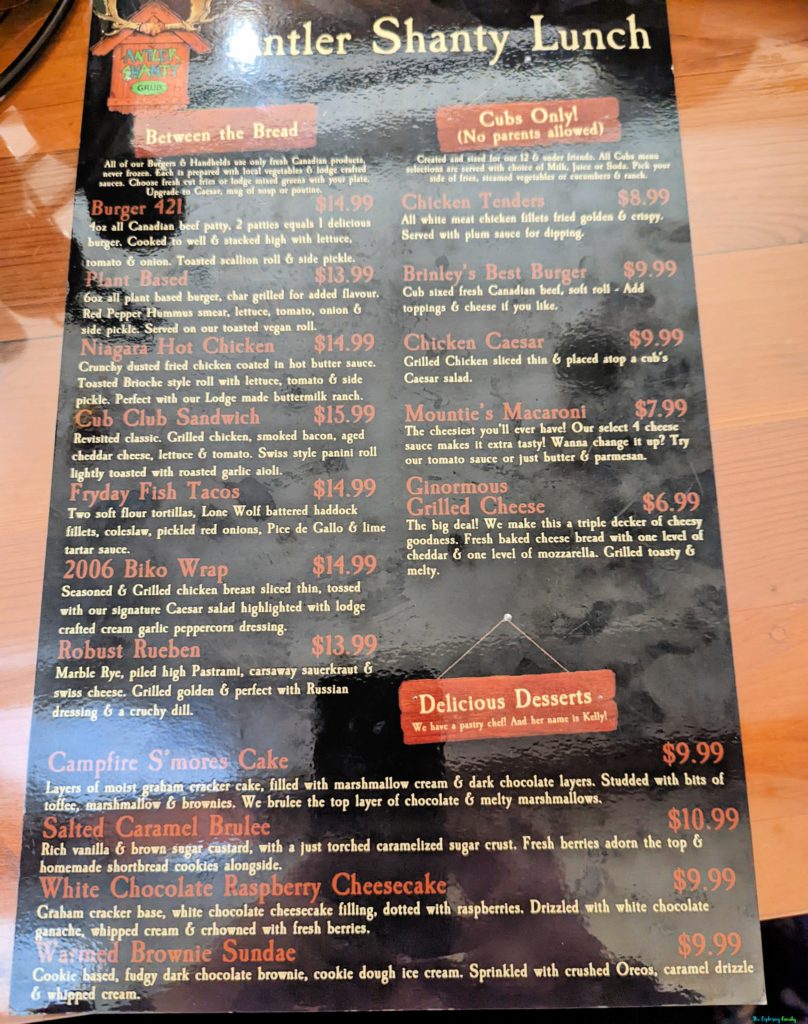 How Many People Can Eat In the Great Wolf Lodge Gingerbread House?
The Gingerbread House at Great Wolf Lodge seats 6 people comfortably. No, there is not extra room to add another table for a big group. This is a special cozy experience for groups of 6-8 or less.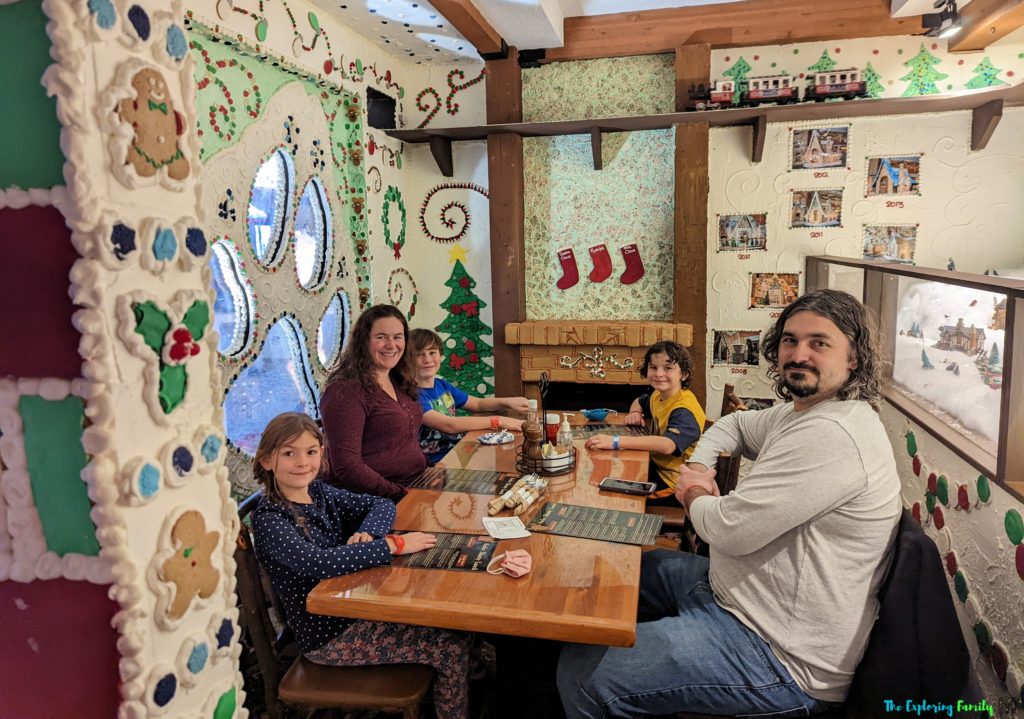 How long are the time slots at the Great Wolf Lodge Gingerbread House?
The time slots for the Great Wolf Lodge Gingerbread House are 1 hour long. Make sure you are on time for your reservation. A 1 hour time slot is enough time to enjoy your meal, but if you are late they you are going to have to leave at the end of your designated time as there are more people after you.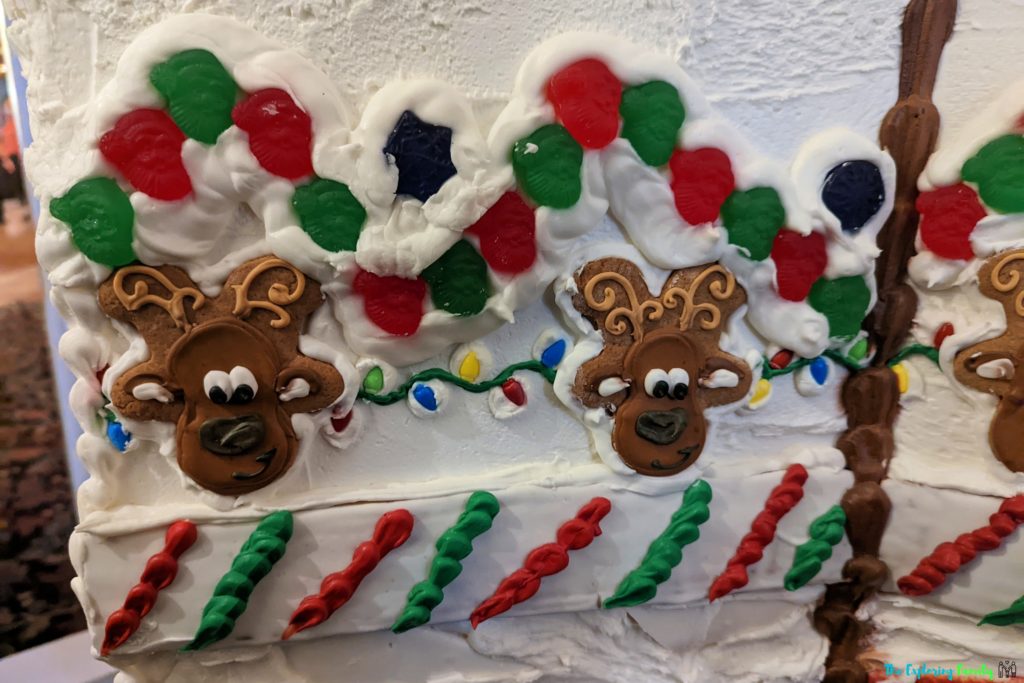 3 – Visit with Santa Claus & Mrs Claus at Great Wolf Lodge
That's right, you can get your photo with the big man himself right at Great Wolf Lodge. Photos with Santa and Mrs. Claus are set up in the lobby with a cute backdrop. There is no cost to visit with Santa, and have your photo taken. You can snap some photos on your camera and Great Wolf Lodge also takes photos with their Camera.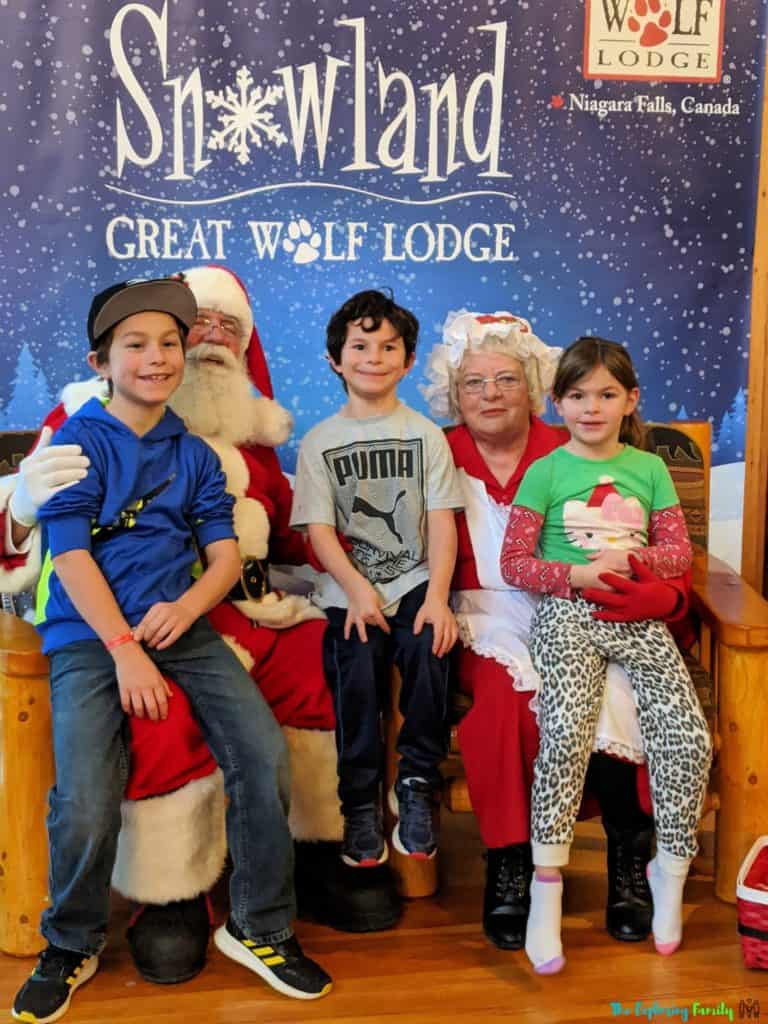 If you would like to purchase a your Santa photos you can do so and have them printed in the arcade. You are able to use your paw pass photo towards the Santa photo and upgrade for a small fee. Our visits with Santa and Mrs Claus never felt rushed and both were very friendly.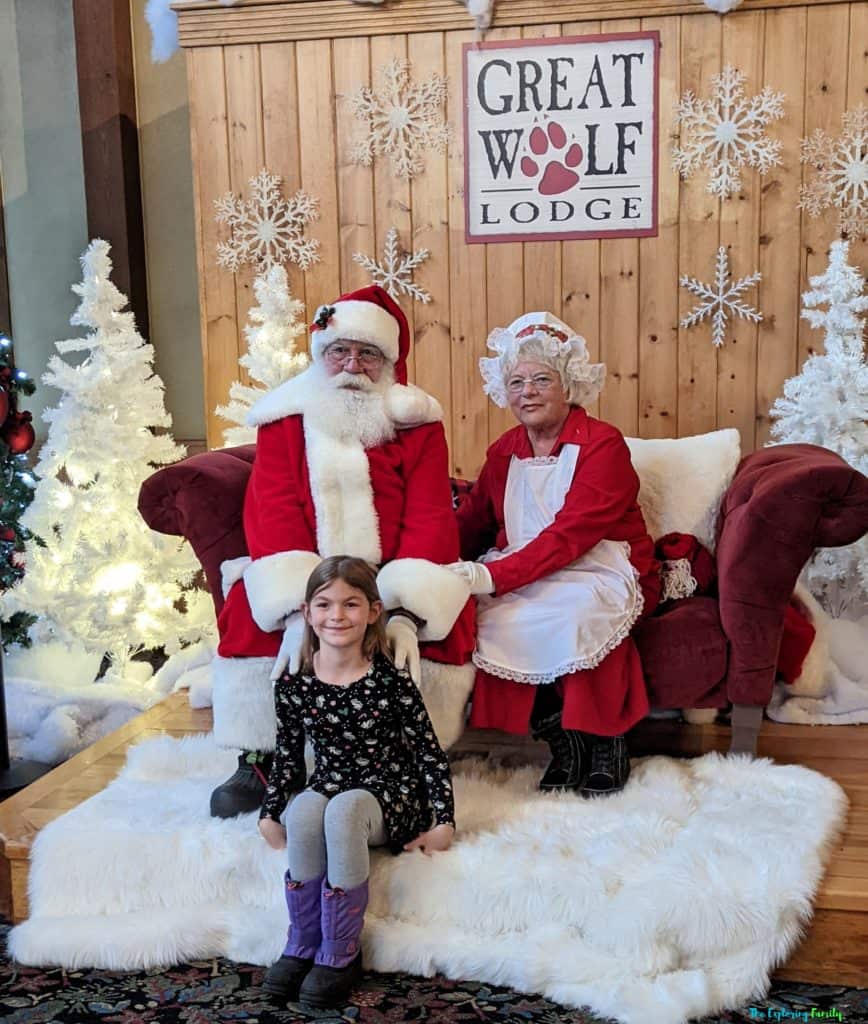 4 – Indoor Snow Showers
At Great Wolf Lodge is the only place you will be excited to see it snowing INSIDE. Join in the lobby at designated times daily for a magical indoor snow shower. Watch as the area in front of the talking tree turns into a winter wonderland for a few moments with snow falling inside. Don't worry, you won't need your boots for this snow fall.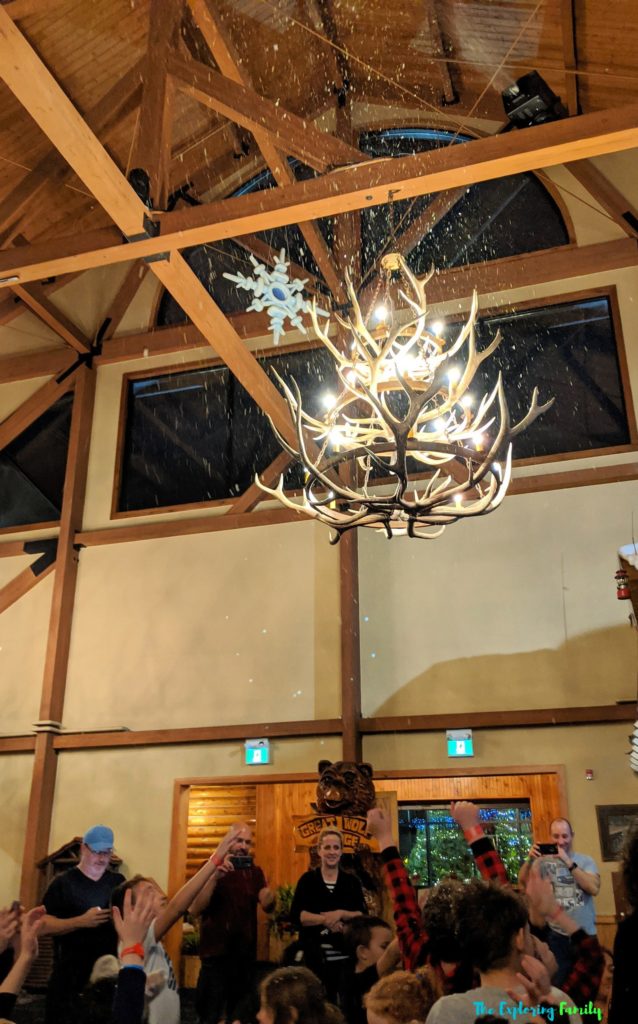 5 – Water Park Fun
In Canada the last thing you may be thinking about around the holidays is warm water park fun! I would challenge that there is no better way to beat the winter blahs then enjoying some water slides and playing in the wave pool. Access to the water park is included in the cost of you stay, and you can access it from 1pm on the day of arrival to the time of water park close on day of departure.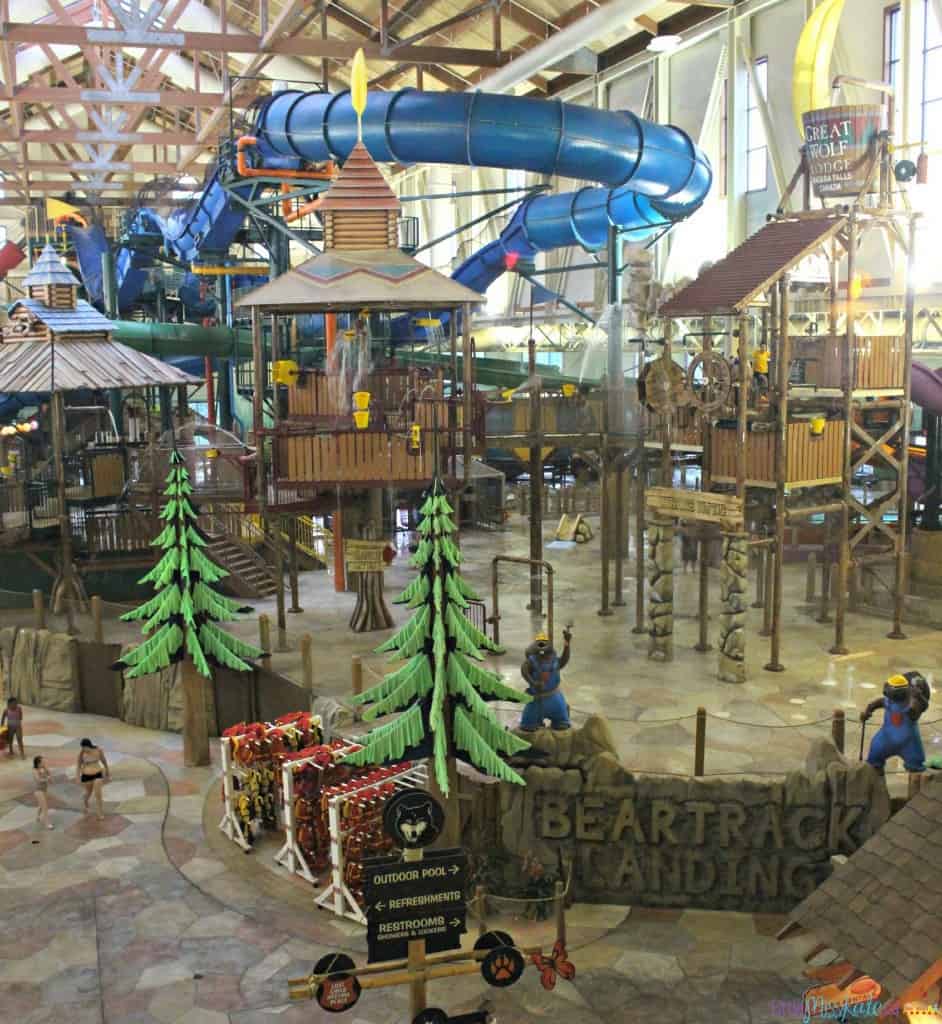 6 – MagiQuest Magic
MagiQuest is an interactive game that will have you exploring multiple floors of the resort to solve clues and riddles. If you have a wand from a previous visit don't forget to bring it with you as you can activate it to use it again. Children of all ages enjoy the "magic" of waving the wand to get treasure chests to open and lights to activate. However I found for kids to really understand and be able to complete the tasks independently they needed to be around 7 years old.
If you are staying multiple nights MagiQuest is a great way to fill in some of the "downtime" when you are not in the water park.
7 – Story Time, Dance Parties, Holiday Trivia
Be sure to check the daily schedule to see what events and activities are happening during your stay. Story time is a daily activity in the lobby that is great for toddlers, and preschoolers. Dance parties are a great way to get everyone in the whole family moving.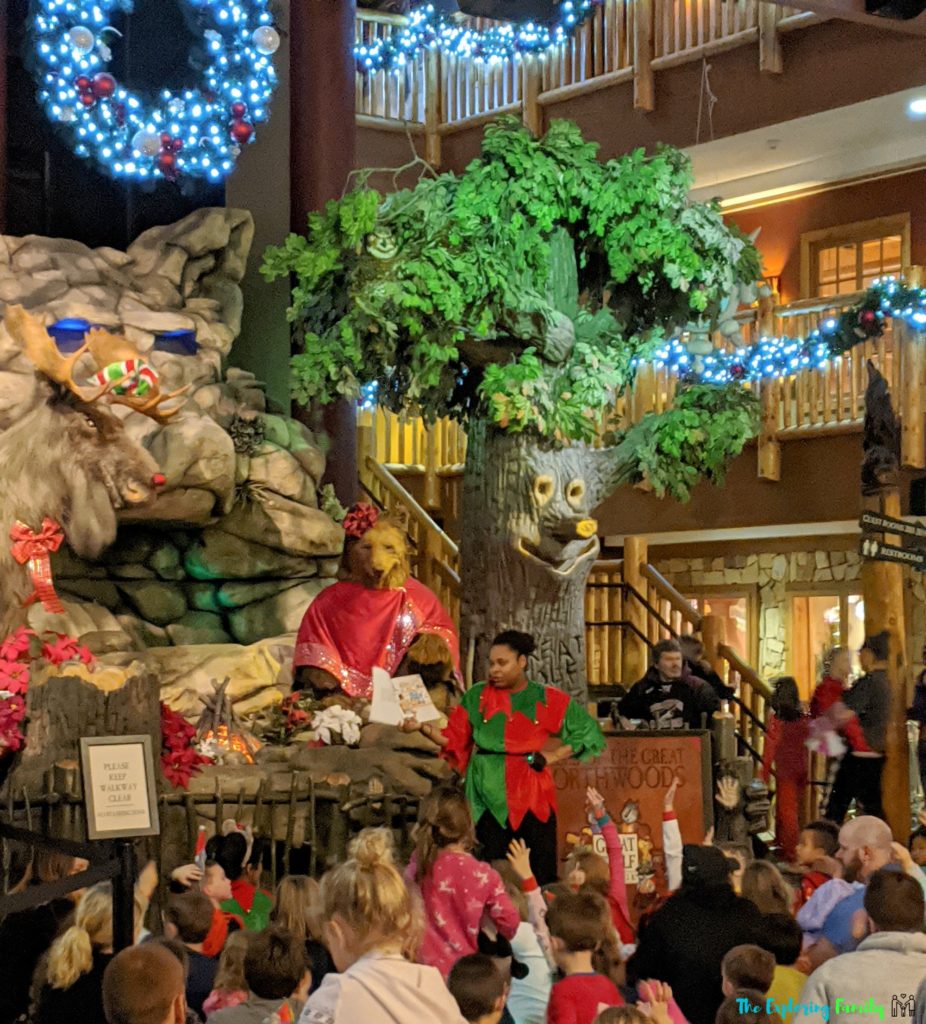 During the holidays they also sometimes have special events and activities like holiday trivia, with some fun prizes.
8 – Paw Pass Keeps the Kids Entertained
Great Wolf Lodge is a great place to visit during the holidays as it is a "one-stop" shop for kids entertainment. No having to drive between different locations when you not only have a water park, but also bowling, crafts, MagiQuest adventure and more all in one place. The Paw Pass is a great option if you are wanting to take part in multiple activities at Great Wolf Lodge outside of the water park.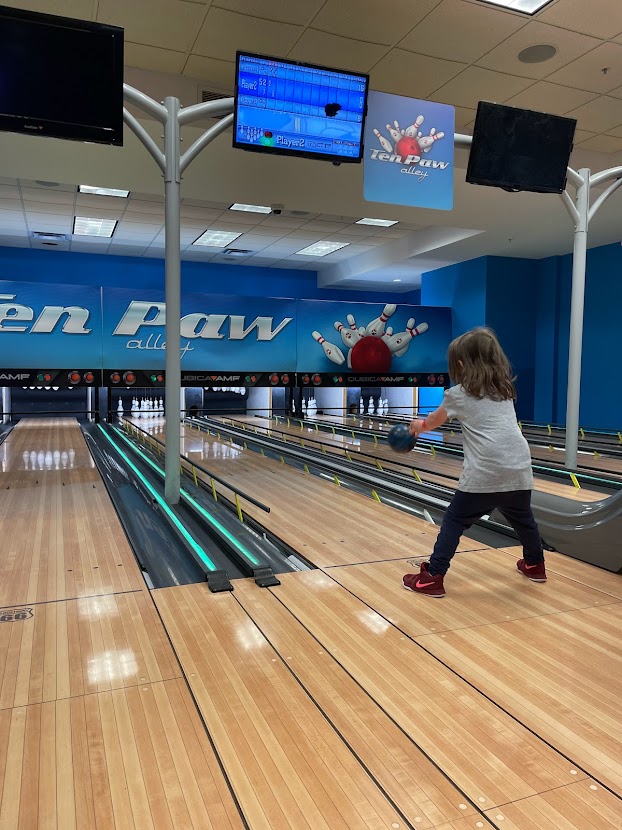 You can find out about everything that is included in the paw pass, but if you think it is a good fit for your family it is also a great gift idea. You can let grandparents or family know and they can gift your children Great Wolf Lodge gift cards to go towards the paw pass.
9 – Great Wolf Lodge Christmas Packages
Keep an eye out for unique Great Wolf Lodge Christmas Packages. Christmas time is a very busy season at the lodge so book early to avoid disappointment of them being completely booked up.
10 – Free Printable "Ticket" to Great Wolf Lodge
A free printable "ticket" is a fun way to to gift a Great Wolf Lodge Trip to someone. Print it out at home, for FREE, write in your details and give the gift of making memories at Great Wolf Lodge during the Holiday season. Gift giving made easy with a Free Great Wolf Lodge Christmas Printable Ticket. You are welcome!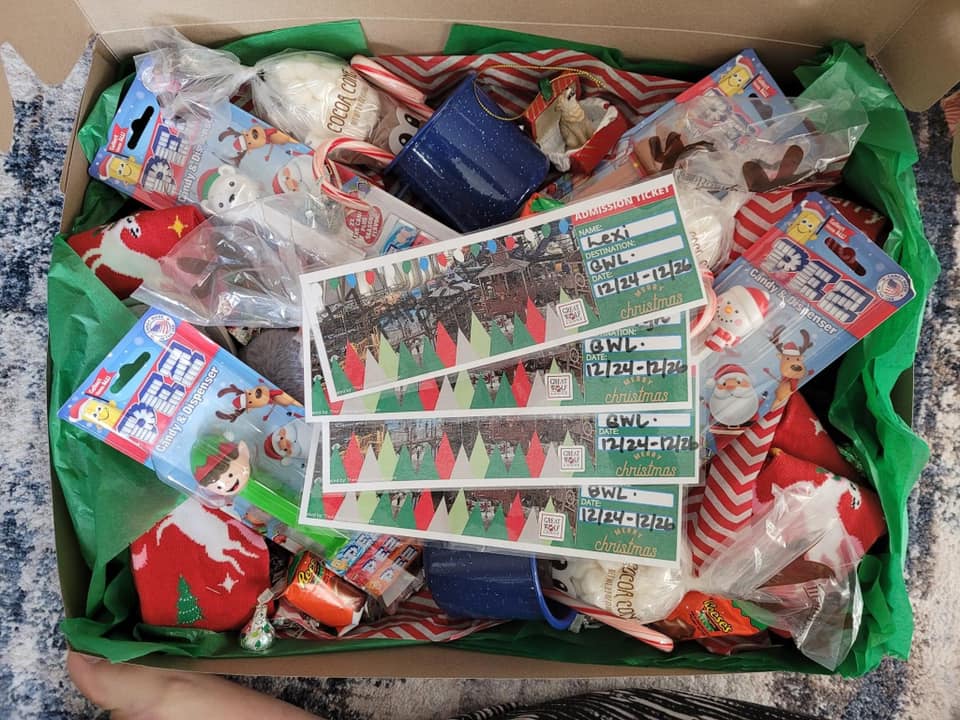 A Trip to Snowland at Great Wolf Lodge Makes a Perfect Gift
As parents the last thing we want in our house is more "stuff". Encouraging family to buy a Great Wolf Lodge Gift Card (which are available online, just make sure you allow a couple of days for delivery) helps with the cost of the trip and supports making memories rather then filling shelves with more items that will collect dust. Great Wolf Lodge at Christmas Time is a great place to celebrate all holiday season long.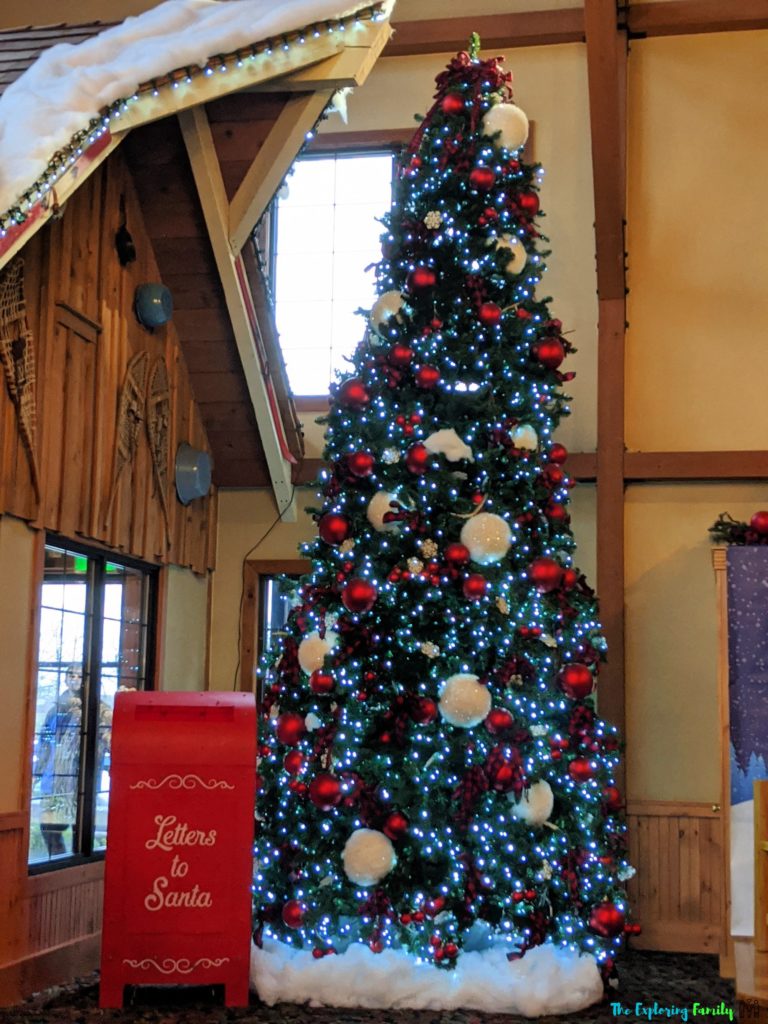 Everything You Need to Know about Great Wolf Lodge Niagara Falls