It is safe to say that we love Great Wolf Lodge!  From our first trip in 2016 to our most recent (8th!!!) stay at the lodge each trip has offered a fun and interactive family vacation with the kids.  However when travelling as a family of 5 meals can get expensive.  Luckily Great Wolf Lodge makes it easy to bring your own food, and save money along the way. 

When we go for a one night stay we normally bring dinner and breakfast to enjoy in our room and then buy lunch at one of the restaurants at the lodge.  Need some inspiration we have a huge list of Great Wolf Lodge bring your own meal ideas below.
We also have loads of other tips to make your Great Wolf Lodge Trip a success including Is the Paw Pass Worth it, How to save Money at Great Wolf Lodge, and What to Pack for your tip. Also if you need a fun way to announce your upcoming adventure, check out the Free Printable Great Wolf Lodge Tickets and Certificates.

Can I take food to Great Wolf Lodge
YES you can bring your own food and drinks to Great Wolf Lodge!  And this is my #1 tip if you want to save money on your trip to Great Wold Lodge.   You are provided with a mini fridge and microwave right in your room. Bringing your own food to GWL doesn't need to be boring. 
We have a huge list of tasty ideas that will have you enjoying your meals.  However you should note that you are allowed your own food in your room, or snacks in the lobby, but outside food is NOT allowed in the waterpark area.  That just means a quick trip back to the room for meals and then back exploring the lodge for more family fun time.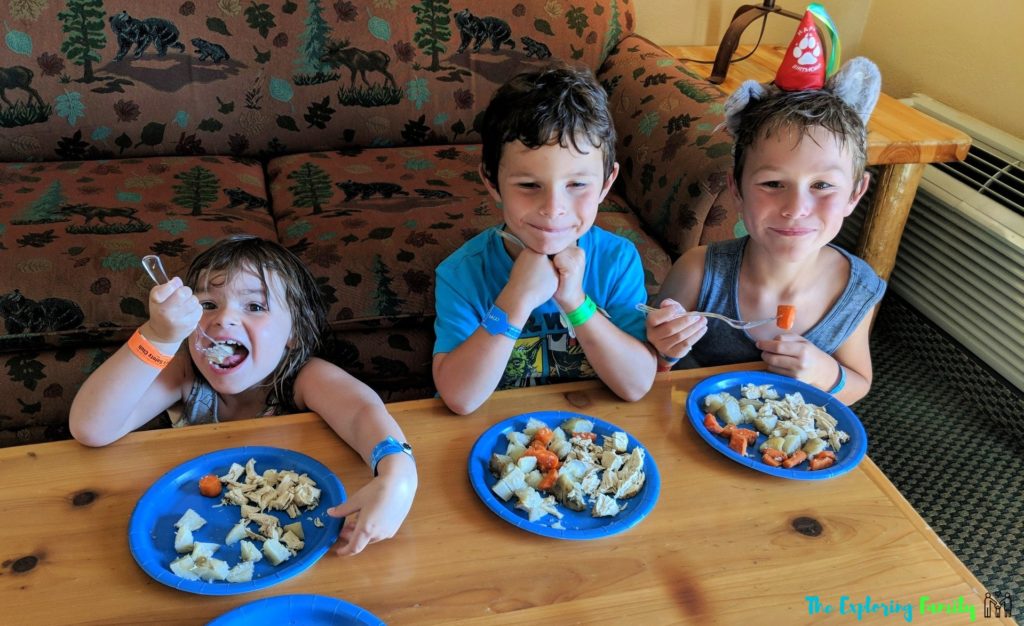 Great Wolf Lodge Bring Your Own Meal Ideas
Breakfast Ideas for Great Wolf Lodge
Pancakes
Overnight Oats
French Toast
Peameal bacon (pre-cooked)
Pre cooked Bacon
Home Fries
Omelettes
Breakfast sausages
Muffins
French Toast bake
Breakfast Casserole
Fruit Tray
Bagels and cream cheese
Baked Apples
Yogurt
Danishes
Hard boiled eggs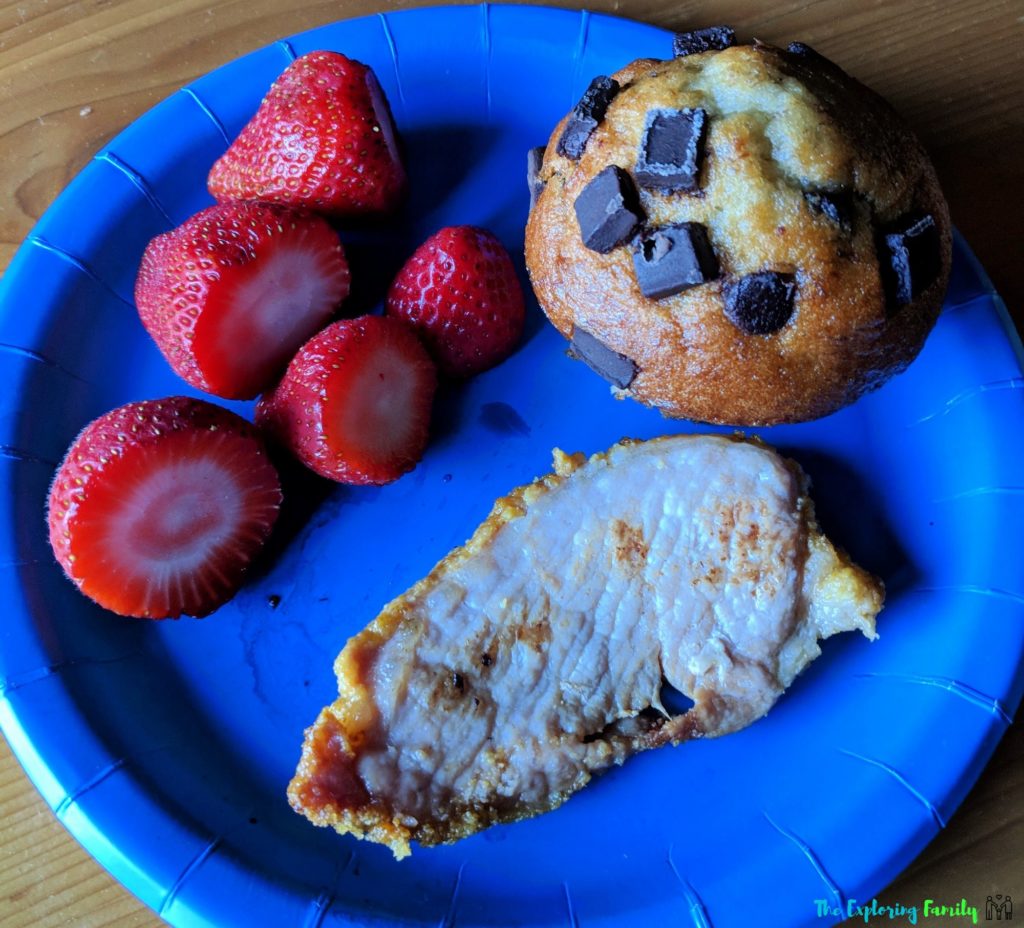 Lunch and Dinner Ideas for Great Wolf Lodge
Tacos – Pre-cook the meat and then bring your favourite toppings
Mac & Cheese cups – Microwave and enjoy
Peanut Butter & Jam Sandwiches
Peanut Butter & Honey Sandwiches
Egg salad Sandwiches
Tuna Sandwiches
Soup and crackers – Butternut Squash Soup
Spaghetti – pre-made and ready to reheat
Beef Roast, potatoes, carrots
Shepherd's Pie
Stew
Chili topped with grated cheese and buns
Chicken Salad
Ravioli
Shepards Pie
Loaded Baked Potatoes
Cold cuts and buns to make sandwiches
Lasagna and salad
Chicken and Rice
Pre-cooked Ham and Rice
Pulled Pork on buns with Coleslaw
Bagged salad
Chicken Ceasar Wraps
Hot Dogs
Mr Noodles
Cold cut Subs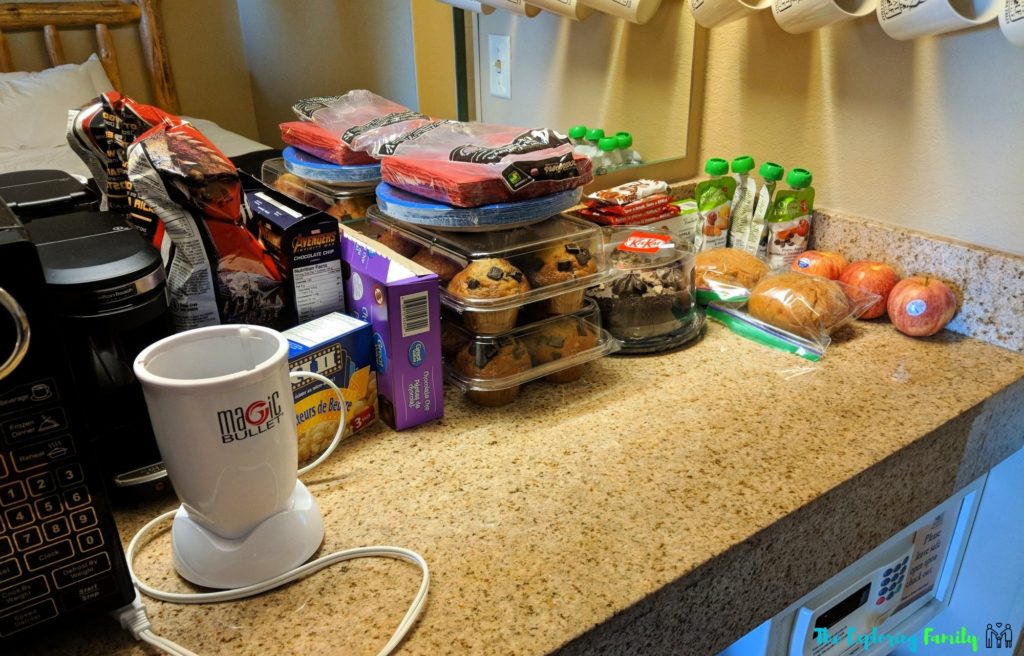 Snacks and Treats
Fruit Tray
Apples
Oranges
Carrots
Cucumbers
Veggies & Dip
Cheese & crackers
Kielbasa
Nachos and Salsa
Chips and dip
Pre-popped popcorn
Granola Bars
Brownies
Chocolate Bars
Cupcakes
Pretzels
Cookies
Drinks
Juice boxes
KoolAid Jammers
Water bottles
Hot chocolate mix
Iced Tea
Pop
Tips from Fellow Moms
Melissa Jean – "We are here right now and I brought a roaster chicken, I made rice in a microwave thing (pampered chef), and veggies in a (also pampered chef lol) veggie steamer thing. Tonight's dinner was tacos .. the meat was from the freezer, so it was just making sure I grabbed everything and I grabbed us fries from the water park.
Lunch today was chicken salads with left over chicken from the chicken last night, or the option was sandwiches. If you know how to camp it's super easy. I packed two baisons to do the washing in the kitchenette. We have a set of dishes that actually live in my vehicle for "just in case" that we used bc sometimes you need plastic wear i bought at dollarama. Other than the fries I won't have bought a single meal of our 2 night stay. Cost us less than $40 for our nearly 7 meals worth of stay."
Can I Bring a Cooler to Great Wolf Lodge
YES! If you want to bring a cooler for in your room with some ice packs you can. In the wintertime if it is cold enough you can also store a cooler on the balcony of your room if you are not on the ground floor. A cooler may be handy if you are bringing food for multiple night stays. For a single night stay we have found the large size mini fridge to have enough room for our dinner and breakfast foods for a family of 5 as well as drinks. You can keep the cooler in your room, but will not be able to bring it into the waterpark as there is no outside food allowed in that area.
Is there a Fridge at Great Wolf Lodge Niagara Falls
YES! All rooms come with a "bigger" size mini fridge in the rooms. We have found it to be a good size for meals for 1-2 days. There is a small freezer section at the top, but I would not use it as a true freezer.
The door of the fridge has lots of storage space for beverages or small tupperware. Bring your food in stackable containers, or ziploc bags and you will be all set. The kitchens in the Timber Wolf Cottages come with a full size fridge.
Is there a Microwave at Great Wolf Lodge Niagara Falls
YES! Every room comes with a microwave for reheating food, making it perfect if you bring your own food or if you are reheating leftovers. It is a standard size microwave that you and put a plate or tupperware containers into. One note is that microwave Popcorn is NOT allowed to be made at Great Wolf Lodge, so if you want popcorn, bring it pre-popped.