Having three children under the age of five can make it difficult to prepare a meal or even to get daily tasks like brushing your hair completed!  As a busy mom, I am constantly struggling to get everything done.  Tasks such as laundry, picking up the toys that are laying on the floor for the second time, packing lunches, and attempting to have dinner on the table at a decent time are a never ending battle.  It can be a little crazy so so planning ahead is essential and having freezer meals ready to go takes the stress out of getting dinner on the table.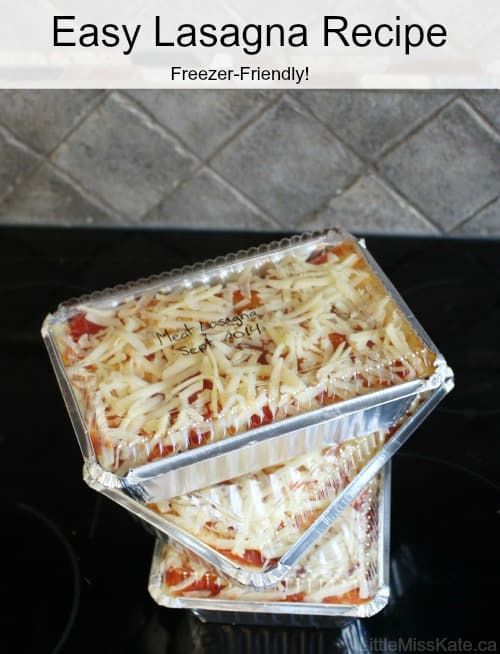 I always try to have a few freezer meals stocked away for when we might need them.   It is great to have a variety of meals in the freezer ready to pulled out and heat on a moments notice. Some of the meals that freeze really well are lasagnas and chili. Have you checked out our other freezer meal we made – easy chili recipe? It's so good, just like this one!
lasagna recipe
Ingredients
1

lb

Ground Beef

1

Onion

chopped

2

Cloves

of Garlic

chopped

1

Pepper

chopped

1

cup

Ricotta Cheese

1

egg

3

cups

Old Cheddar Cheese Grated

1

large jar of chunky pasta sauce

1

pkg of Olivieri Lasagna Sheets
Instructions
Brown ground beef, onion and garlic together in a frying pan. Drain excess fat

In a small bowl mix together Ricotta cheese and egg, this will allow for easy spreading of the cheese

Place a think layer of pasta sauce in the bottom of your baking dish. In my case I used 3 foil pans (7"x5"x2"). Cut a lasagna sheet to fit the bottom and place on top

Layer on meat, ricotta cheese, peppers, and pasta sauce

Add another layer of noodles, cut the sheets to fit the pan. You can also use the "trimmings" of sheets to make a layer of noodles

Once again layer on meat, ricotta cheese, peppers, and pasta sauce. You can also add in some old cheddar for extra cheesy goodness

Top with final layer of noodles and a thin layer of pasta sauce. Sprinkle with cheddar cheese

You can cover and freeze the lasagna at this stage, or bake at 375oF for 45 min covered with foil (remove for the last 10 minutes of baking)

If baking from frozen increase baking time to 1hr 15 minutes

With freezer meals, you really want to make sure the meal has completely cooled to prevent freezer burn and from raising the temperature of the freezer when you put the meals in. Once they are cooled completely, you can divide them into freezer safe containers, like the ones pictured. We love using single serving size aluminum containers with clear lids.  They are easy to label and stack making freezer organization a breeze.
For heating the lasagna freezer meal, you can bake from frozen and store any leftovers in the fridge for lunches the next day.  Change up the recipe by adding different ingredients to your lasagna including mushrooms, zucchini or basil.  Enjoy!