Between October 1 and February 1, in our family we celebrate 6 birthdays: all four of us plus my Mum and my sister-in-law. And when someone in our family celebrates a birthday, there are 3 traditions that seem to hold: 1. Birthday cake, 2. The birthday boy/girl chooses what we eat for dinner that night and gets it cooked (or ordered) for them, 3 A truly spectacular breakfast. These waffles most certainly fall in the category of truly spectacular breakfast and you should really consider making a batch for the next birthday at your house. Luckily, they are easier to make than they look, easy enough that you might not even have to wait for a special occasion.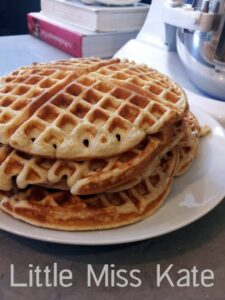 Easy Brown Sugar Waffles
I found this recipe on Joy Wilson's blog and I knew I was going to have to make it someday. Shockingly, I didn't change a thing – and I'm the sort to tinker. I've copied the recipe in its entirety without a single change and I recommend you give it a word-for-word shot before you make any changes either. Ok, wait, I suggest one change – make a double batch! The waffles freeze well and can be reheated in the toaster for an easy weekday breakfast. Then you can, as I did, torment your coworkers with wafts of vanilla and bacon from the lunchroom toaster oven. Mmmm.. ok.. just thinking about them has me reaching for my waffle iron…
(feeds 4 easily. Or double and put some in the freezer for a quick weeknight breakfast)
For the Bacon
10 slices of bacon
1/4 cup brown sugar
Preheat oven to 375 degrees F. Spray a baking sheet with non stick cooking spray and line with foil. Arrange bacon in a single layer on the baking sheet. Sprinkle generously with brown sugar. Place in the upper third of the oven and bake until sugar is caramelized and bacon is brown and crispy, about 10 to 15 minutes. Remove from oven. Immediately remove bacon slices using a pair of tongs. Place them on a cutting board (not paper towels, they'll stick!) to cool before chopping. Once cool, chop the bacon into bite size bits and set aside.
For the Waffles
3 cups all-purpose flour
1 Tablespoon baking powder
1 teaspoon baking soda
1 teaspoon salt
1/4 cup brown sugar
2/3 cups canola oil
4 large eggs
2 teaspoons vanilla extract
2 1/2 cups buttermilk
Set up your waffle iron on a level, clean surface and turn on to preheat.
In a large bowl combine flour, baking powder, baking soda, salt and brown sugar. Whisk to blend. In a medium bowl, whisk together eggs, oil, buttermilk and vanilla extract. Add the wet ingredients to the dry ingredients and fold. Once almost fully incorporated, add the bacon bites. Stir. Try not to over mix the batter or the waffles will become tough. It's ok if a few lumps remain in the batter.
Cook according to your waffle machine instructions.