A visit to Chudleigh's Apple Farm is a fantastic way to spend the day with your family. Whether you are going to visit for their amazing apple picking, the bakery, or to enjoy one of Chudleigh's farm birthday parties, you are sure to enjoy the day. Chudleigh's Entertainment Farm offers outdoor fun and adventure and is just one idea of Things to do in Milton with Kids.
Chudleigh's Apple Farm is a fantastic place for people of all ages and stages in life. Not only do you get to spend a day out in nature, but all the features of this gorgeous farm make for an intriguing experience.
When does Chudleigh's Farm Open for the Season?
Opening Day will be Thursday June 1st,2023.
Where is Chudleigh's Apple Farm Located?
9528 Regional Rd 25, Milton, ON L9T 2X7 – Chudleigh's Apple Farm is located in Milton Ontario in the Halton Hills region. Visiting this farm is a fantastic way to help support your local farmers.
Chudleigh's Apple Picking and Chudleigh's Apple Orchard
During the fall season, Chudleigh's Apple Picking is in full swing. There is nothing quite like a freshly picked apple as a snack.
Apple season at Chudleigh's begins mid to late August. Check their website to ensure that the apples are ready for picking prior to your visit.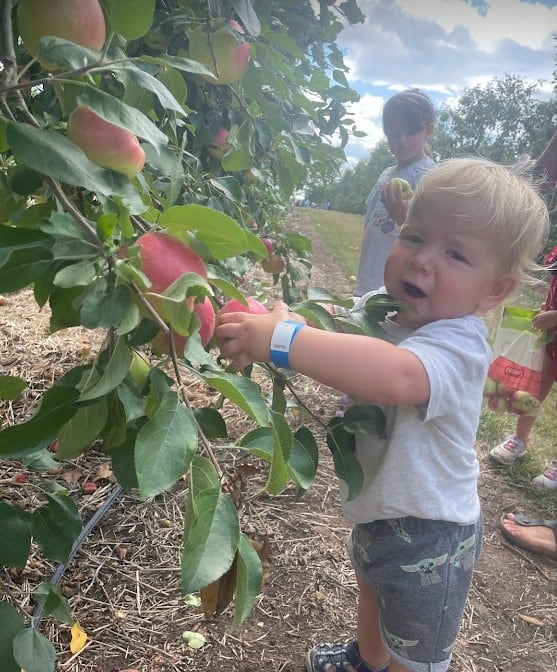 What You Need to Know About Apple Picking at Chudleigh's
The Peak Picking Season is in September and October. Early Apples are ready to pick somewhere around mid to late August.
Hours: There are varying timeslots available to book your appointment to visit Chudleigh's farm. Tickets must be pre-purchased in advance before arrival. The Farm itself is open every day however, you MUST purchase your tickets in advance online.
Payment Methods: Chudleigh's Apple Farm is a cash-free environment. They do however accept Apple Pay, Interac, Visa, Mastercard, or Android Pay.
Apple Varieties:
There are several varieties of Apples available for picking throughout the season at Chudleigh's. There is also an opportunity to sample different varieties of apples prior to picking them.
Tydeman Red
Sunrise
Ginger Gold
Wealthy
Silken
Mcintosh
Gala
Honeycrisp
Cortland
Kerr Mini
Empire
Red Delicious
Northern Spy
Golden Russet
Golden Delicious
Creston
Ambrosia
Mutsu
Fiji
Make sure to check the Apple Picking List to see what varieties are currently available.
Chudleigh's Food
Chudleigh's has a wide variety of food options to choose from. From a delicious Bakery to the wood shed BBQ and everything in between, the Chudleigh's Menu is sure to impress.
Blossom Cafe
8501 Chudleigh Way, Milton, ON L9T 0L9 – The Blossom Cafe is a delicious place to get a treat. Chudleigh's Bakery Milton not only makes sure to deliver delicious foods but an amazing attitude.
Every Chudleigh's treat is baked with the utmost care, and from scratch. From pies to Chudleigh's Apple blossoms and everything in between, you are sure to find a sweet treat that pleases your palate. Trust me, you are going to want to try a Chudleigh's Apple Blossom.
Chudleigh's 110,000 square-foot bakery located 5 minutes down the road from the farm, doesn't just sell delicious sweet treats. They also have cider, pantry items, gifts, and more.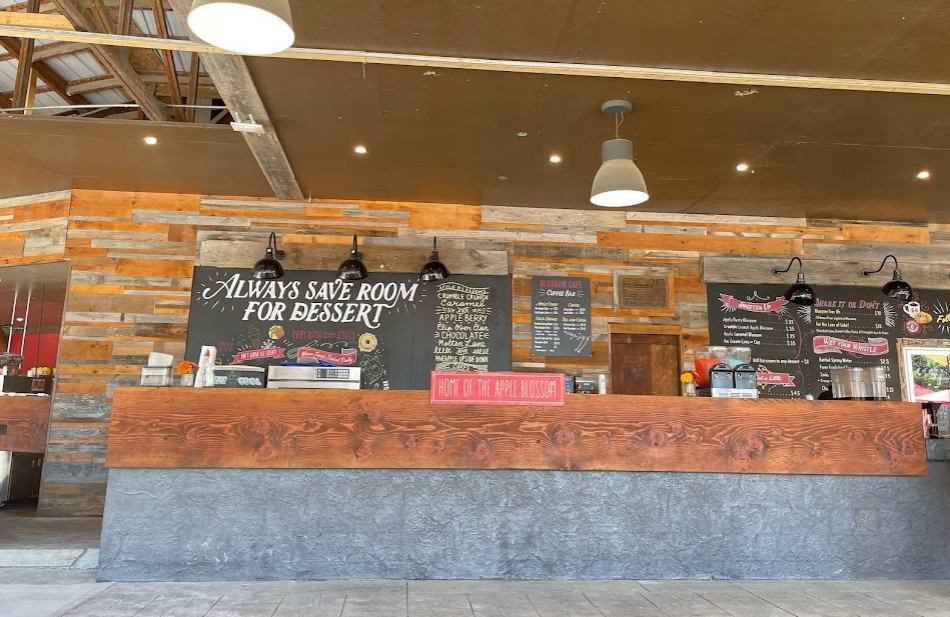 Farm Kitchen
Located on the Farm, the Farm Kitchen is a great place to get a bite to eat. Offering up delicious comfort foods like barnboard pizzas and Chudleigh's signature apple blossoms, you are sure to leave satisfied.
The Silo Bar
Want to take a break and refresh after a day of apple picking? The Silo Bar is located on-site and offers up some delicious beverages. Choose from Wine, Beer, or hard Cider and take a seat on the patio.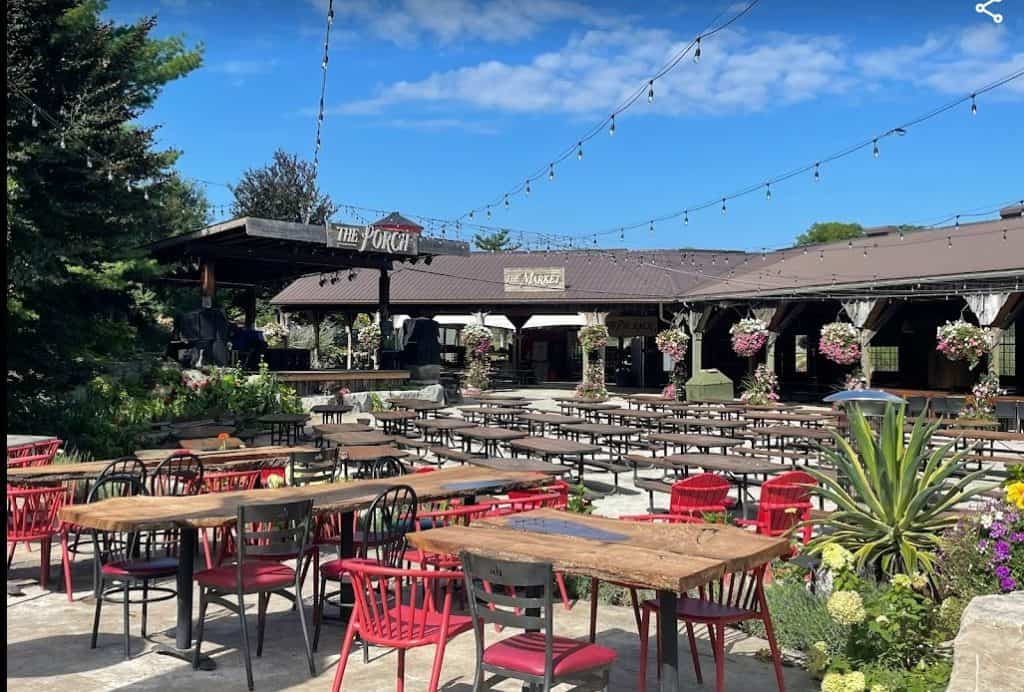 The Wood Shed BBQ
If you are looking for something fresh off the grill the Wood Shed BBQ is the place to go. Try their fresh off-the-grill corn on the cob, it is a game changer. From Hamburgers, hot dogs, sausages and more you are sure to find something that makes you swoon.
Check out the Menus to see all the delicious options to choose from.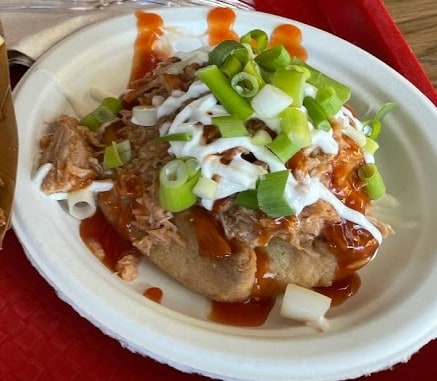 Fun Activities at Chudleigh's Entertainment Farm
There are several fun activities to take part in at Chudleigh's Apple Farm in Milton. Create memories with your family and make it a tradition to visit every year.
Activities to Enjoy at Chudleighs Entertainment Farm:
Apple Picking
Tractor Rides
Playground
Farm Animals
Pumpkin Patch
Slides
Nature Trail
Hay Maze
Sand Pit
Amazing Food: Chudleighs is famous for its blossoms!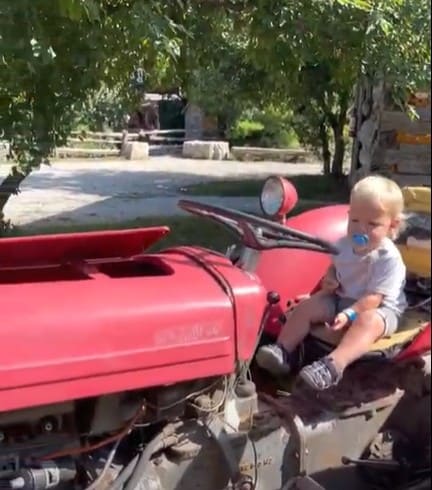 Tractor Rides
The tractor rides are beautiful and take you around the beautiful escarpment and orchard. Lasting about 10 minutes, this fun experience is a great way to go for a scenic tour. You can even be dropped off in the orchard to pick your apples and then get a ride back when you are done.
Play Area
The Chudleigh's play area is a great place for your little ones to let loose. With a tower, four large slides, hay bale jumps, and more, this area is a great place to have fun and make memories.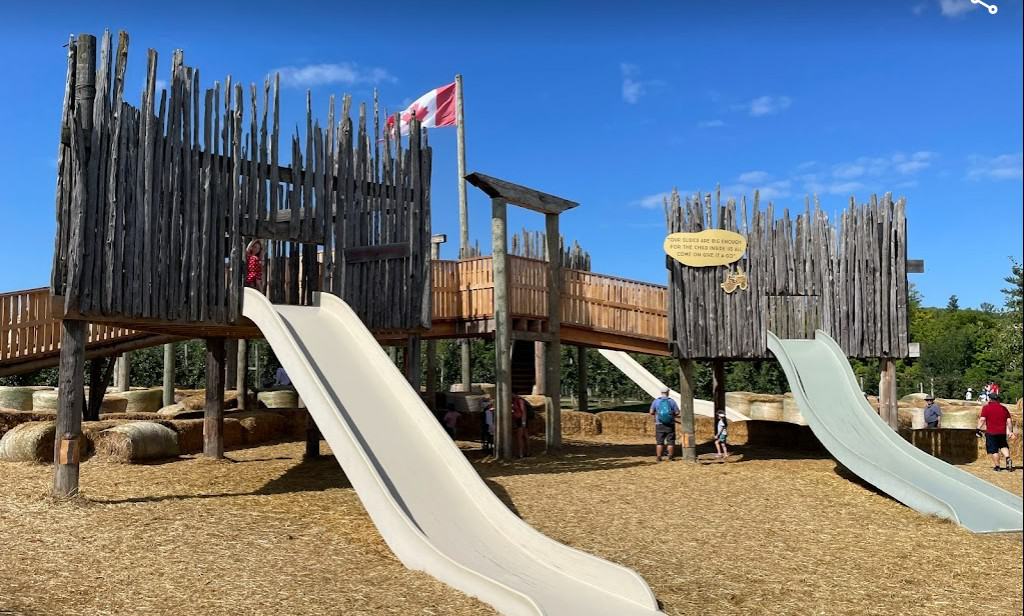 Nature Trail
Take a walk and explore the beauty of nature at Chudleigh's. The nature trail here is gorgeous and scenic. Check out the gorgeous fall colours and get some exercise.
Events
Chudleigh's hosts a variety of events throughout the season. Whether they are hosting live music, backyard bonfires or anything in between you are going to want to attend. Check out their live events schedule to purchase tickets.
Chudleigh's doesn't just have apples. They also have a large pumpkin patch allowing you to choose your own Pumpkin to take home. Just make sure that the patch is open and ready before you go.
Does Chudleigh's Have Animals?
Yes. Take in life at the farm by visiting their variety of farm animals. There are many farm friends you can meet along the way.
Chudleigh's has chickens, pigs, goats, sheep, donkeys, alpacas, peacocks, deer, ducks, and more!
Visiting the animals is a fantastic way to learn more about farm life and the animals.
Is Chudleigh's Stroller Friendly?
Yes. Chudleigh's is stroller friendly. They have a large family washroom area with stalls large enough to fit the stroller.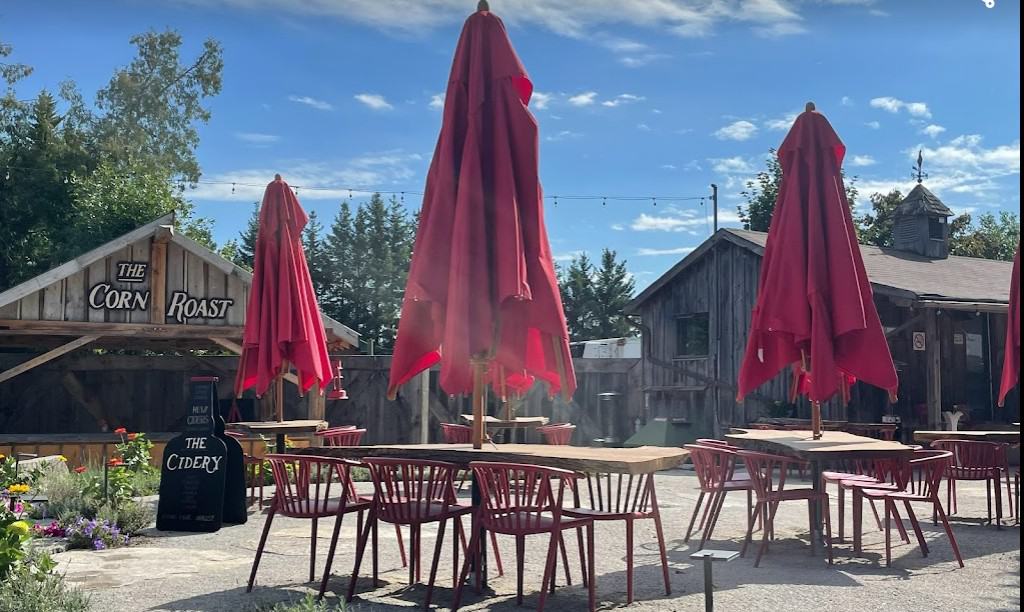 Chudleigh's Farm Birthday Parties & Celebrations
Chudleigh's Farm is an amazing place to throw a birthday party or celebration. Whether you are throwing a family reunion, team event, corporate party, and more, this is a great place to do it. Just make sure you check for availability due to changing restrictions.
Chudleigh's Apple Farm is a fantastic place to visit, enjoy nature, pick some apples, indulge in some comfort food, and more. If you are planning a fall activity to do with your family, Chudleigh's makes for a great experience that will have you wanting to visit again and again.
Tips for Visiting Chudleighs Entertainment Farm:
Bring cash to buy food to feed the animals
No refunds due to weather
Free Parking
No Outside food or Drinks – They are very strict on this one – I had to get rid of a tea before entering
Pets are welcome but cannot visit the other animals or ride the wagon
Reservations are required