Fall means back to school, sweater weather, changing of the leaves and APPLES!  Apple picking is a fun outdoor activity that the whole family can enjoy.  Heading out to pick your own apples is an annual fall tradition for many families.  There are many great Apple Farms and farm markets in Brampton and Mississauga where you can pick your own apples, or pick up fresh baked goodies that are just too good to pass up.  Apple picking doesn't requiring driving long distances as we have many orchards close to home, and no special equipment needed.  Here is a list of the best Apple Picking Near Brampton and Mississauga and some tips for an enjoyable pick your own apples experience. Don't forget to Check out Apple Picking Farms in Milton and Halton Hills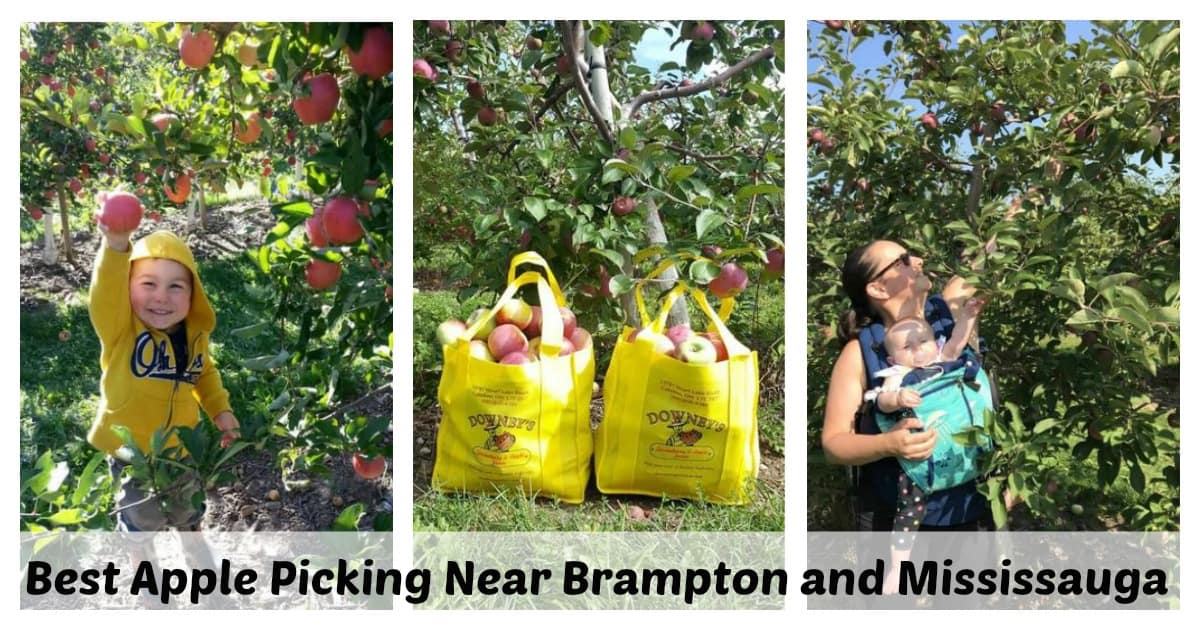 Best Apple Picking Near Brampton and Mississauga
Make sure you don't miss any of the best Events, Activities and Places in the Peel Region by joining Peel Parents Resource on Facebook!
Apple picking is a great opportunity to enjoy some of the last nice Fall days before the cold weather of winter sets in.  When choosing which orchard to visit make sure you visit their website for hours, or any changes due to COVID protocols.  Different varieties of apples have different picking times, so if you are looking for one specific variety make sure you check with the orchard for when it is in season for picking.  Varieties available in Ontario include McIntosh, Gala, Honey Crisp, Empire, Ambrosia, Spy, Red Delicious, Red Fuji and more.  Remember DO NOT climb on the trees, and only pick what you are going to buy.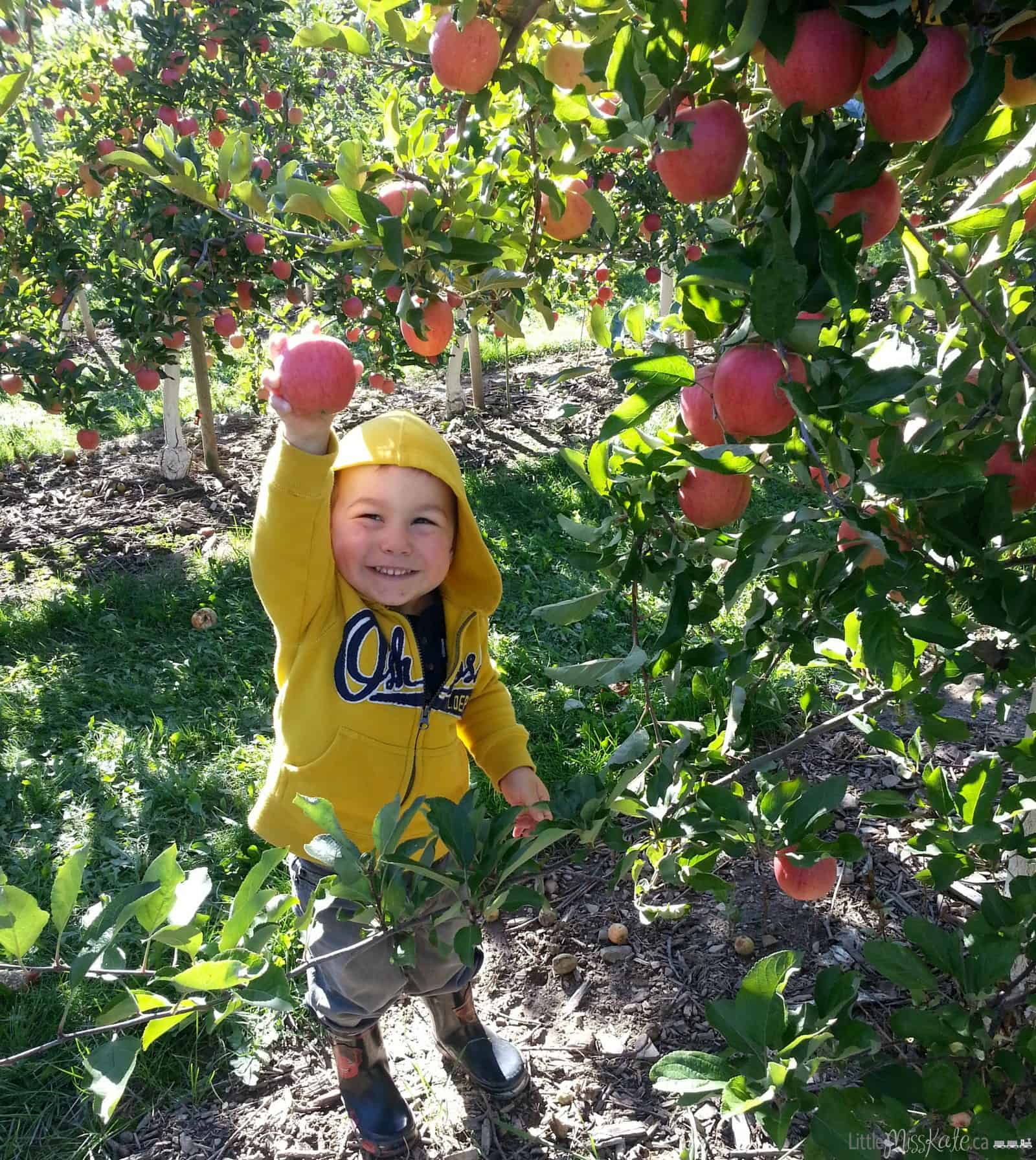 Apple Picking Orchards in Brampton
1 – Downey's Farm – 13707 Heart Lake Road, Caledon, ON

Downey's Farm is a popular Brampton attraction which offers pick your own fruits including strawberries, raspberries and apples.  For Apple Picking there are no reservations required.  All fruite is paid for at the time of entrance and complimentary bags are provided.  There is no entrance fee, however they do request that a minimum of $5 of apples is picked per person.  The pick your own apple prices are 10lb bag for $20 (max 4 people per bag) or 20lb bag for $35 (max 7 people per bag).  You can find all the other activities that Downey's Farm has to offer in the Ultimate Guide to Downey's Farm.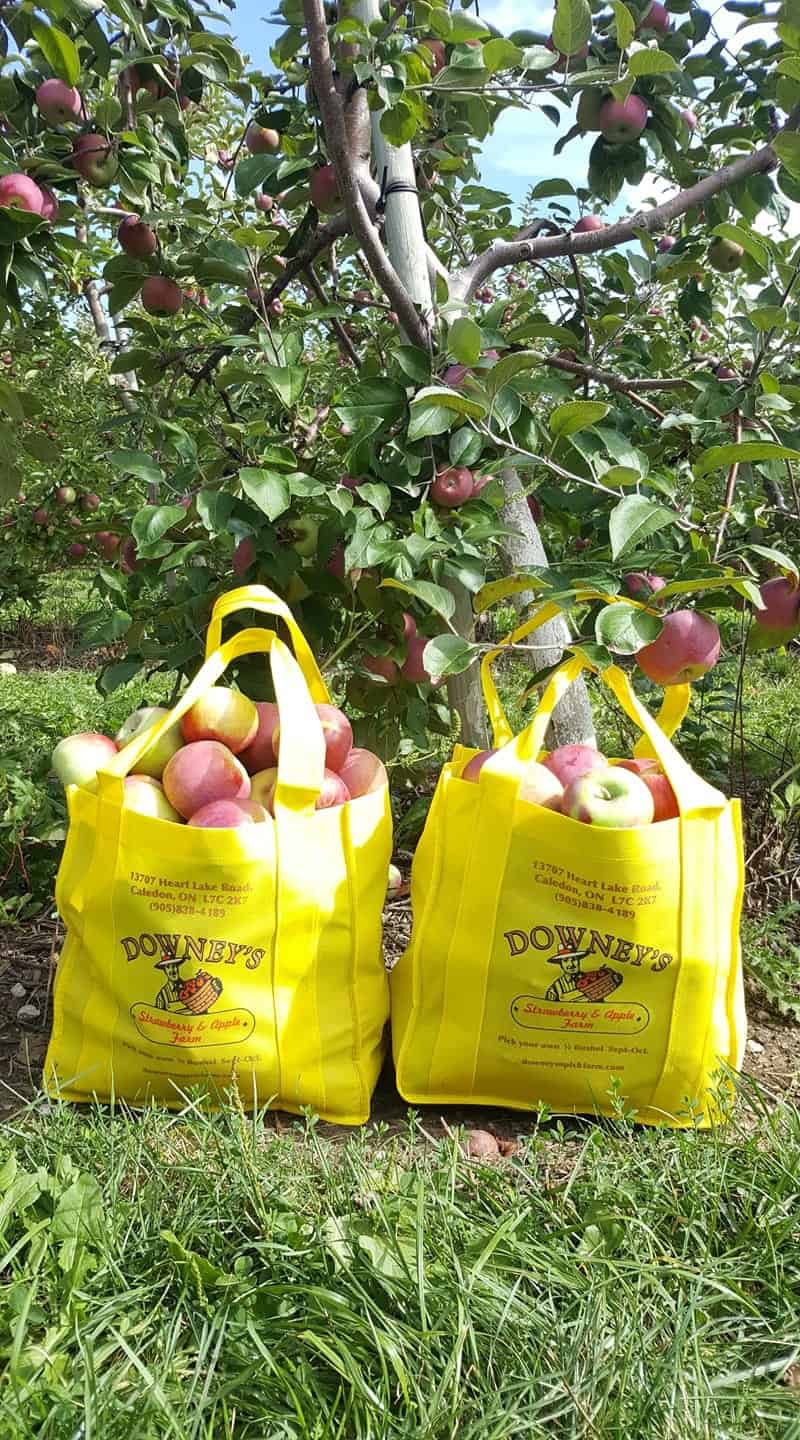 2 – Albion Orchards – 14800 Innis Lake Road, Caledon, ON

Check the Albion website to see which of the 12 varieties they grow are ready to pick.  The close of pick your own apples at Albion Orchards is $18 for a 10lb bag (max 2 people) and $28 for 20 lbs bag (max 4 people).  No dogs allowed.
3 – Dixie Orchards- 14309 Dixie Road, Caledon, ON

Dixie Orchards offer apple picking in Brampton with 20 varieties of apples that ripen at different times during the Fall.  Dixie Orchards also has a corn maze (extra cost), and offers wagon rides through the orchard (Masks are required for wagon rides). Admission to pick apples is $3+tx per person, and then pick your own apple bags are available for 10lb bag for $20 and 5lb bag for $10.
4 – Carl Laidlaw Orchards – 9496 Heritage Road, Brampton, ON

Carl Laidlaw Orchards is open Friday, Saturday and Sundays for pick your own apples in Brampton.   Admission fees for children 2-17 $5.75+tx, and adults 18+ are $7.75+tx.  Dogs on leash are welcome.
5 – Spirit Tree Estates – 1137 Boston Mills Road, Caledon, ON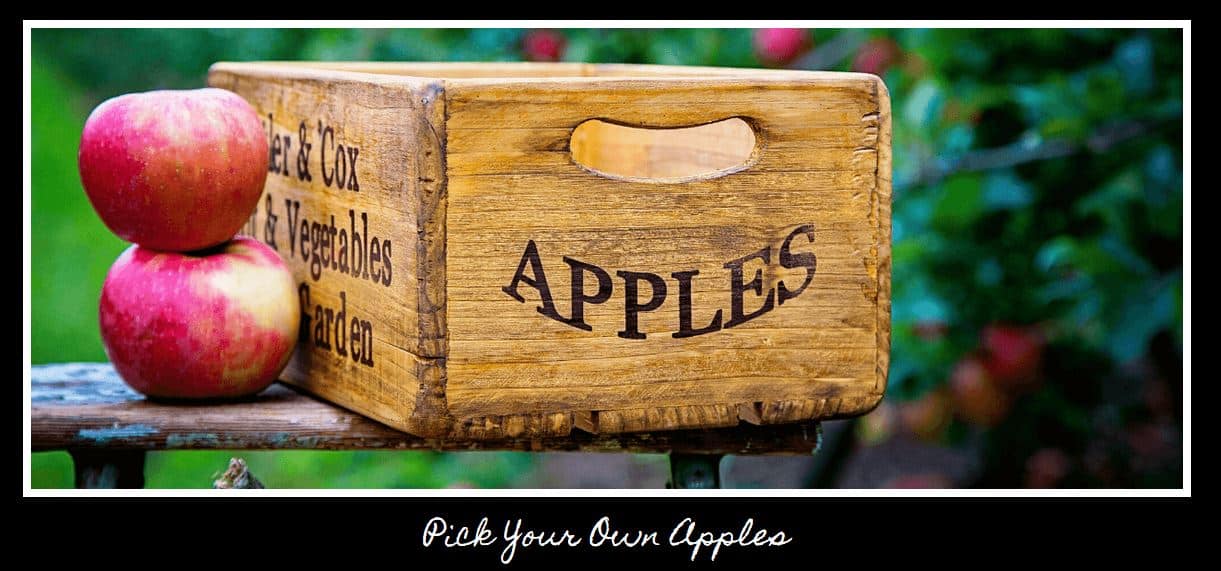 Open Saturday and Sunday Only.  Payment by Cash only, ATM on site.  Admission is $5 per person over the age of 5.  10lb Bags are $25, 20lb bags are $45.  Pick from 9 different varieties of apples at Spirit Tree Estate Cidery and then stick around for dinner at their tasty restaurant.  Enjoy a pizza and a pint of cider after all your hard work.  Or stop into the Farm Shop to pick up freshly baked bread, pastries, and a wide selection of locally sourced food products.
6 – Big R' Apple Farm – 8674 Heritage Road, Brampton, ON
The Big R' Apple Farm has been operating in Brampton for over 40 years.  Open on Saturday and Sunday only.
On Maternity leave this fall? You gotta do these Free and Cheap things to do with a Baby in Fall!
Can you help make this article better? If you have noticed an error, have additional information or would like to share a comment you can: E-mail us at info@thexploringfamily.com Find us on Facebook: The Exploring Family Find us on Instagram: @The.Exploring.Family