Now pumpkin spice everything has been in Starbucks and Tim Hortons for weeks already but fall only just recently officially started. With Fall comes the cooler weather, which this year I am actually happy for as the summer was sweltering hot so I am ready for a change of pace. Fall brings gorgeous views as the leaves changes colors, and the sense of comfort that comes with a warm beverage and a nice fall sweater. I like to keep busy with Thumper and now that the summer pool season is done, I wanted to find some Fall Activities for Babies and Toddlers. Now I have seen many lists on what to do with toddlers in the fall but nothing that really focused on fall fun for those under one. If talking pumpkin spice has you thinking what can I eat with pumpkin spice, check out Kate's Pumpkin Spice Cookies. Checkout other fun activities for babies!
Toddler Activities for Fall
1. Exploration of Books:
A great toddler fall activity is to take a trip to the public library or the store and find some Fall Books to explore as this is a great . Exploration of books is essential at a young age as even just exposure to books can help with later literacy development. Talk, Sing, Read, Write, and Play helps build a reader everyday! My favourite books for under one are books that are textured and have things to touch, or have flaps to pull open as they engage babies more then just a regular picture. Read a book together and enjoy the moment without distractions. It is important to develop oral language, and reading books is just one way!
2. Apple Picking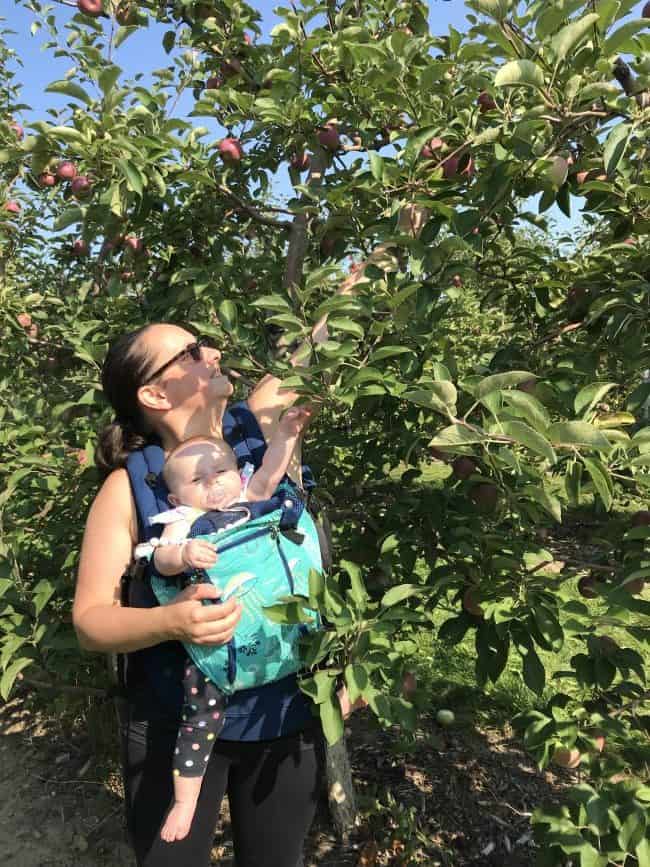 Autumn activities for toddlers can include taking a trip to a local farm and enjoy the day apple picking. Put baby into a carrier and enjoy the hands free experience and let baby enjoy the fresh air and new sights and sounds that you experience. I took Thumper Apple picking at Downey's farm in Brampton and it was super fun, and she loved to touch all the apples and the leaves and just explore everything with her hands. A favourite part for me was the pumpkin spice donuts that I bought in the market afterwards. I can't wait to also make her some more fresh apple sauce with the apples we picked.
I love using my LILLEbaby Baby Carrier as baby can face either in or out and it was a mesh panel so they don't get to hot!
If you have older kids then check out our fall activities for kids, including our Guide to the Best Apple Picking near Brampton and Mississauga. Also Best Apple Picking in Milton and Halton Hills.
3. Sensory Play Ideas


This list contains some affiliates. All this means is that I get a little bit of money for recommending the products – but it costs you the same amount.
Why is Sensory Play Important
The foundation of growth, development and learning begins with sensory development which can be encouraged by exploration of different environments. With the change in season comes many opportunities to offer baby chances to engage in sensory exploration. Any activity that use their five senses: taste, touch, smell, hear, and see engages in sensory development and helps babies grow and meet milestones.  
Pumpkin Guts Sensory Exploration
Kids activities for fall can include many different sensory play ideas but pumpkin guts exploration is my favourite.

Now you can do this in two ways: the brave and not so brave way. If you are brave you can simply carve the insides of the pumpkin and place them on the high chair tray and let baby explore the guts and seeds. However most babies under one try to eat everything, as my daughter tries to put everything in her mouth at this stage so be very aware of this if you choose to do this way, and be prepared for a mess. If you want a cleaner and safer way, you can simply put the guts and seeds of the pumpkin into a ziploc bag and tape the bag to the floor and let baby explore which also encourages tummy time. Checkout our Full list of Halloween Ideas for Kids under Five!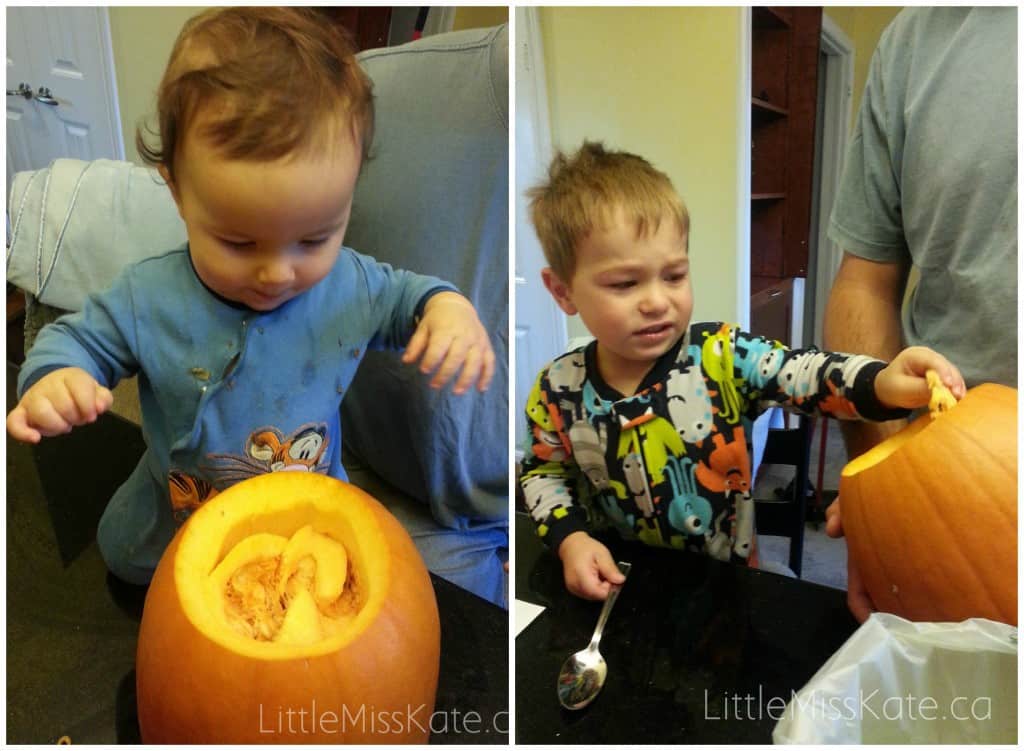 4. Take a hike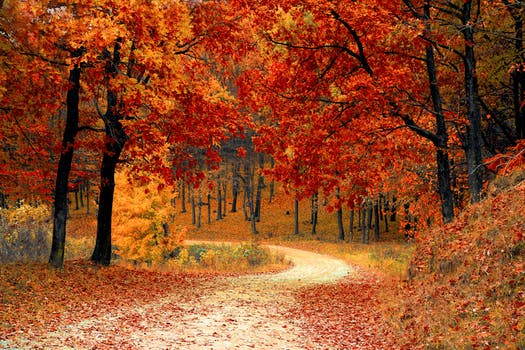 Now we love to hike year round with our dog Nala, but I especially love it in the fall. The fall is much cooler and its always neat to view the changing of the leaves as its very picturesque. Now you can hike just about anywhere but if your in the Brampton area I have a few suggestions. Babies love the fresh air and the movement of stroller or carrier often puts them to sleep. Check out our Guide to 13 Best Hiking Trails Near Brampton.
Stroller friendly:
Terra Cotta Lane at Terra Cotta Conservation Area: While this trail is not paved it is packed gravel which is easy to use a stroller on, and its is an easy trail for all ages as it is only a 3.2km loop. The trail loops around the pond to offer some nice views of nature.
Hungry Hallow Trail Georgetown: This board walk trail runs along the Silver Creek Branch on the Credit River, located in South Georgetown. This 5.4 km long trail is stroller friendly and has views of beautiful marshes, ponds, meadows, bridges and board walks. The trail continues all the way to Cedarvale Park in Georgetown and to the east towards Norval.
Checkout our Full Guide to Stroller Friendly Trails Nearby!
Easy Hike with a Carrier:
Heart Lake Esker Trail – This trail had some elevation but not very much, making it easy to hike with baby in the carrier, and is only just over 3km long and wraps around the lake, with a couple lookout docks that you can stop at and take in the view.
Limehouse – Limehouse is part of the Bruce Trail and has many historic features such as the Hole in the Wall, which is a cool cave in the escarpment rock that you can take a ladder into explore. There is also a bridge over the Black Creek to allow you to access the powder house and kilns. 
Interesting Tourism:
Cheltenham Badlands – The Badlands are now open after a 3 year closure, however now you will not be able to walk on the red clay hills but instead enjoy them from a boardwalk thus preserving this unique landscape that is protected by Credit Valley Conservation. 
5. Salt Dough Pumpkin Craft
Now Salt dough can be made very simply and used for many different crafts to keep imprints of babies hands and feets and is natural ingredients so it is safe to use with babies.
Ingredients:
1 cup of salt

2 cups of flour

4 cup of water
Mix all the dry ingredients together in a bowl: salt and flour

Slowly add water in until you get the consistency that you would like – should be a sticky ball of dough

Knead the ball with your hands just like when you playing with playdough

Use a pumpkin cookie cutter and cut out multiple different pumpkins – or create the shape of a pumpkin on your own

Place babies foot or hand in the pumpkin and imprint the hand or foot

Place the salt dough pumpkin on a cookie tray and place in the oven at 300F – cook time is based on thickness of your salt dough (I would check every 10 minutes)

Let the pumpkin shaped salt dough cool and then you can decorate.
6. Create a fall themed feast for baby
Now if your baby is over 6 months like mine you are just in the beginning stages of trying new foods so why not fall a fall themed menu for babies to try. We plan to give the following menu to Thumper for Thanksgiving dinner so that she can taste all the great foods that come with the holidays but just in a puree form. 
Turkey – for this one I will be using store bought turkey as so far I have not pureed my own meats.
Fruit and Veggie Medley – Apple carrot and butternut squash simply mix all the ingredients together 
Pumpkin pie – simply add cooked pumpkin, banana and a little bit of pumpkin spice and then puree
7. Play in the leaves
Simply rake all the leaves into a big pile and let baby sit in the leaves and just explore what they feel like, but make sure you are watching as if they are like Thumper they will try to eat the leaves.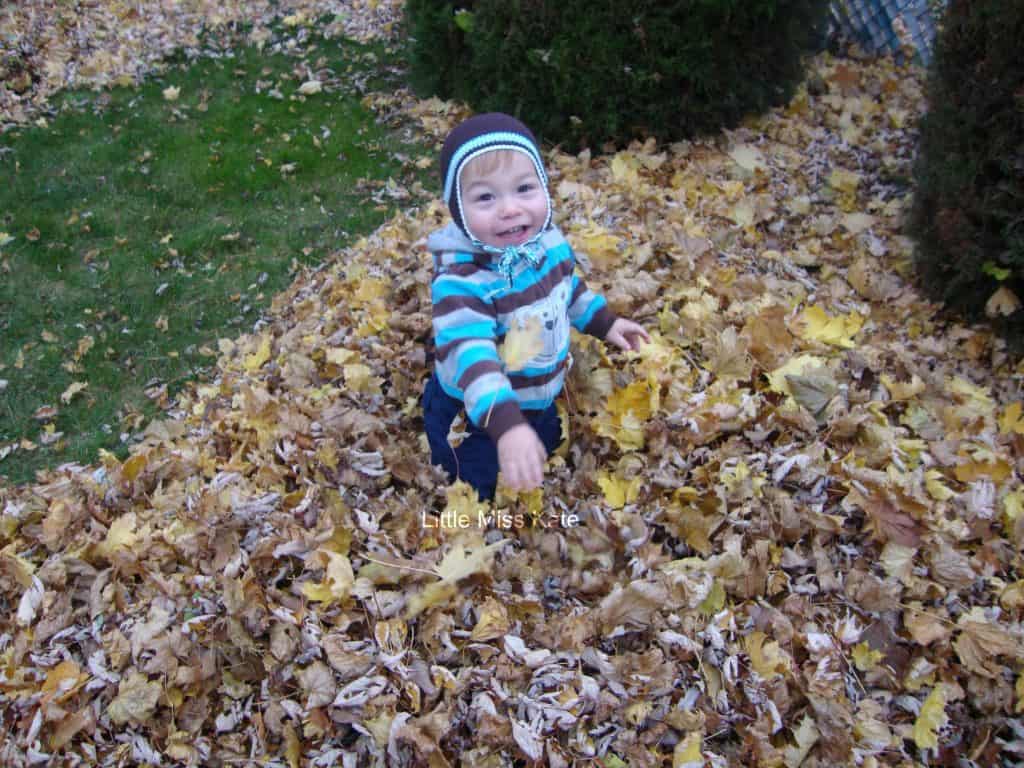 8. Have a fall photo shoot – pumpkin patch or apple orchard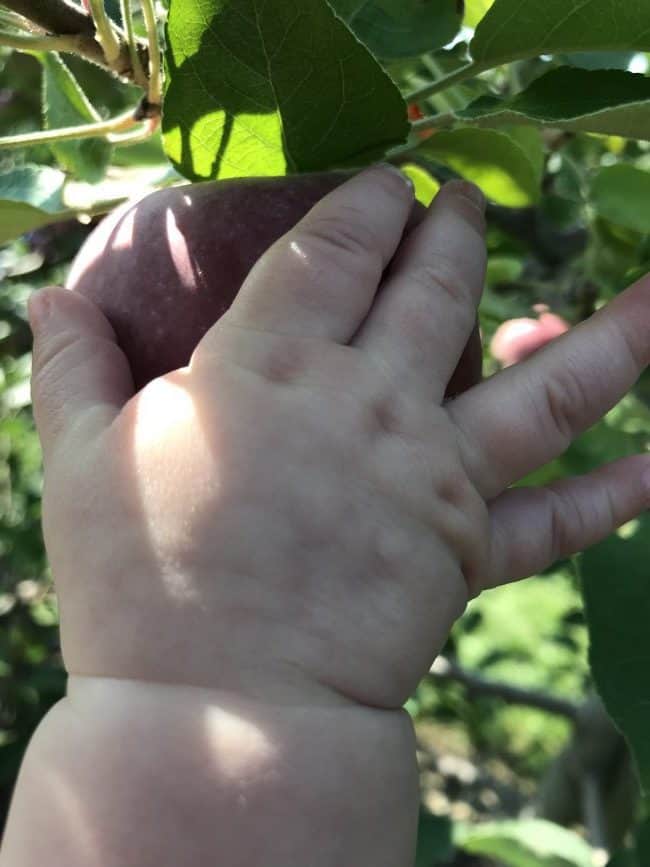 Everyone loves to take seasonal pictures of their babies and kids, however the costs add up and it can be quite simple to take your own photos. Now don't expect that quality to be the same as professional photos but you will save a lot of money. Head to a local pumpkin farm or apple orchard and you can take some amazing photos. I have even seen some pictures on pinterest of baby in a pumpkin – which was super cute.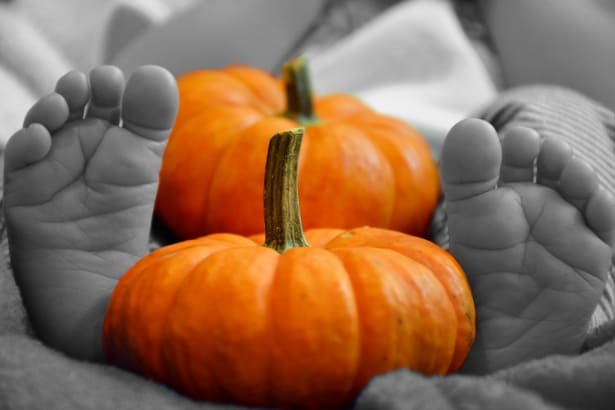 9. Exploration of fall items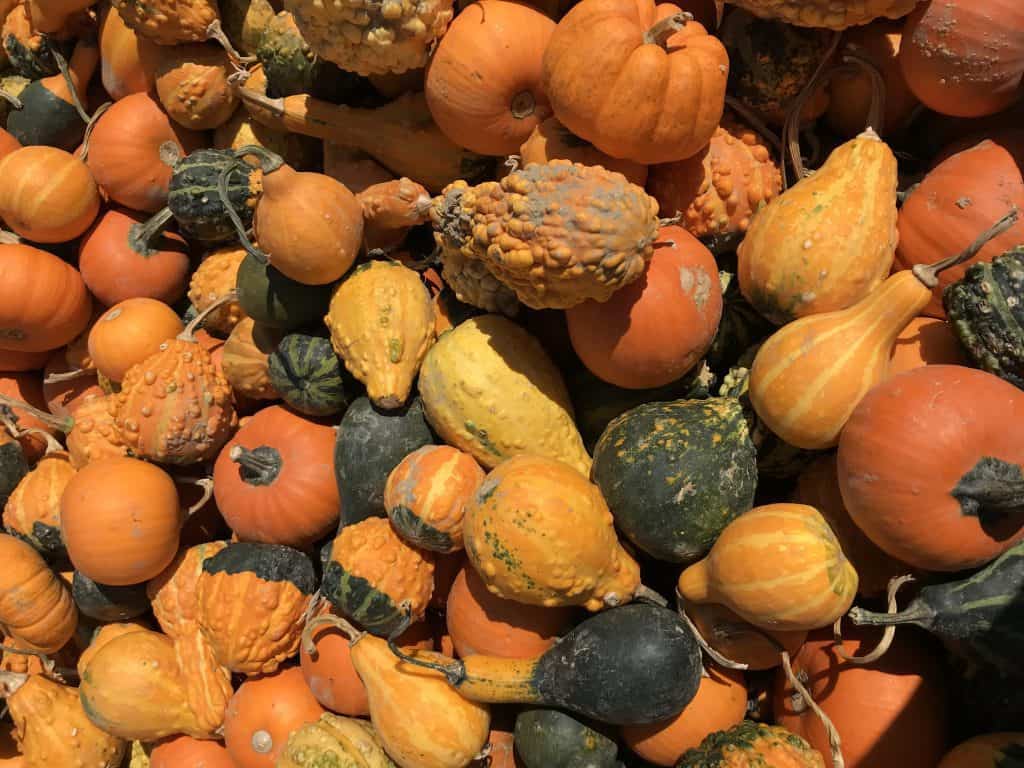 Babies love to touch anything and everything so why not encourage the exploration with their hands. Place mini pumpkin, apple, leaves, and gourds in front of baby and let them explore the different textures and enjoy the different colors. This activity encourages tummy time, visual and touch exploration. The best place to get gourds and pumpkins at pumpkin patches, checkout our list of The Best Pumpkin Patches.
10. Puppets and sing a song – apple and pumpkin puppets
Now through Facebook marketplace I found this awesome local website called Preschool Props who creates paper puppets and includes a poem with it for a very reasonable cost. I got the Old Macdonald set, the Apple set and the Pumpkin set – so now I can sing the little rhymes to Thumper and visually stimulate her at the same time with the puppets. Sometimes she likes to even try and hold the puppets which is great as it works on her fine motor skills.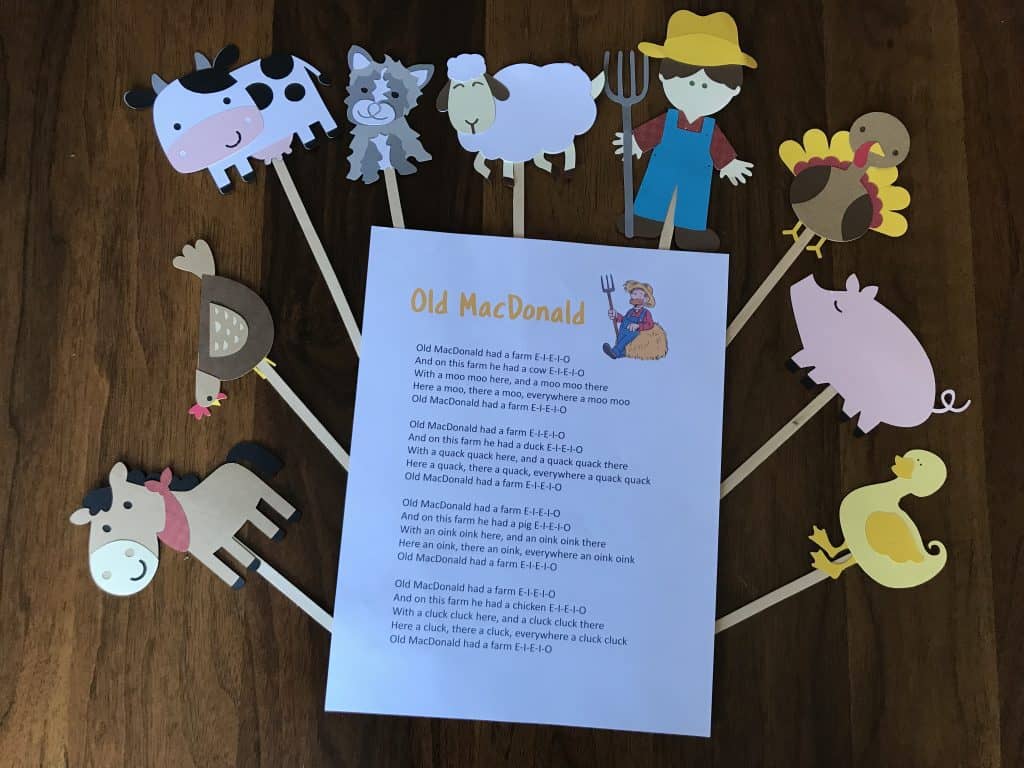 With the Old Macdonald set I make the different noises for each animal as well to engage her auditory senses. Thumper also enjoys the visual stimulation of each handmade animal puppet.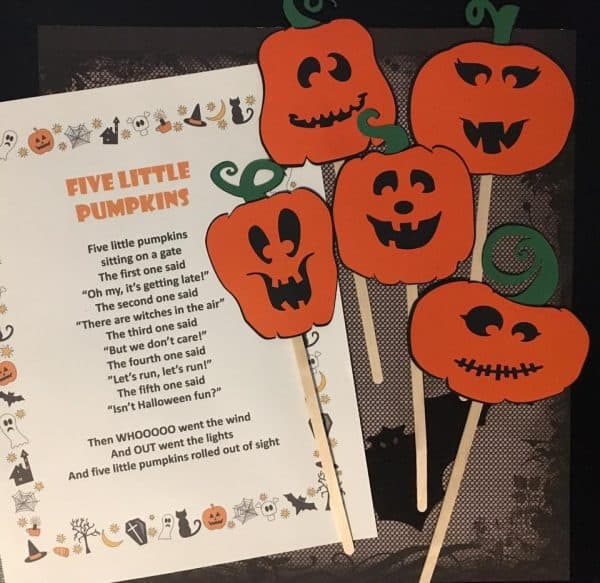 The pumpkin set comes with the poem "5 Little Pumpkins" and I love it as I can start to teach Thumper some basic numeracy skills by counting with the puppets.The puppets are about 5″tall and they are made out of sturdy card stock making them durable… you could even laminate them too! She also offers the option of velcro dots instead of a stick so you can use them on a felt board.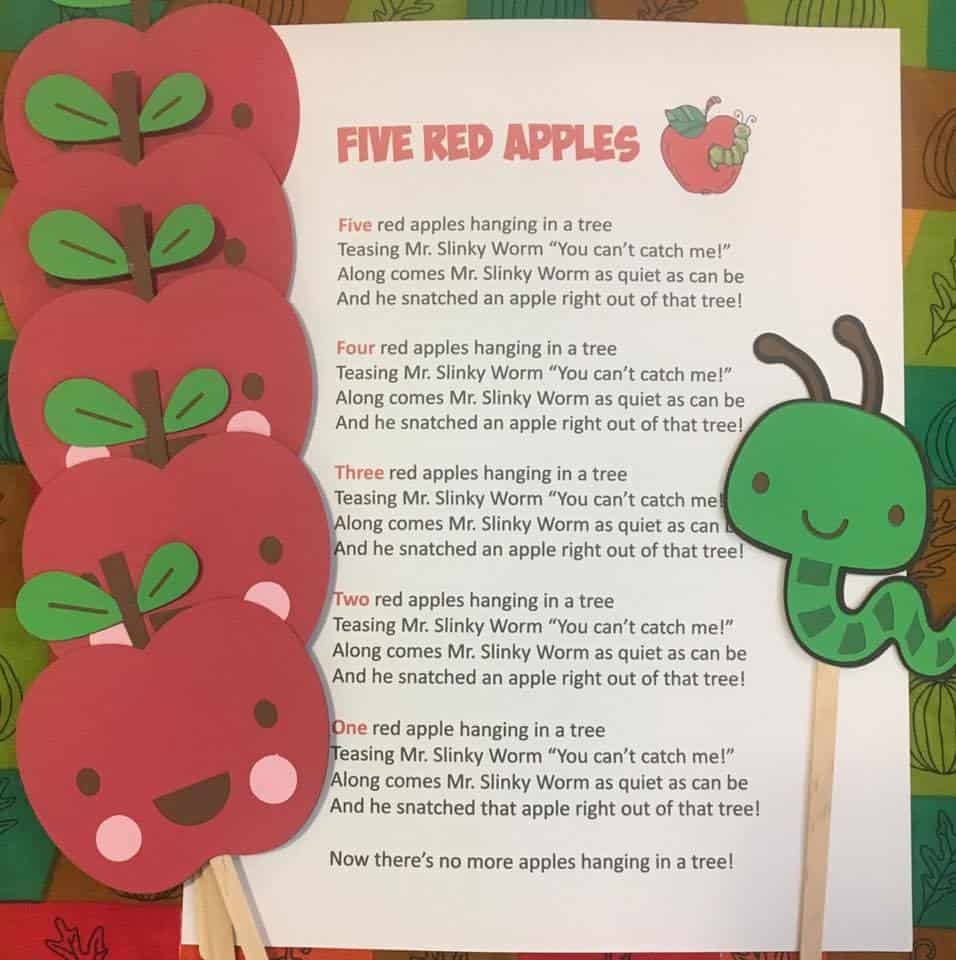 I can also demonstrate the same concept of counting with some variety by using the apple set. Now one of my favourite things about these puppets are that they can be used for so many educational purposes but also can grow with Thumper and be used for imaginary play as she grows into a toddler.