One of our favourite things to do lately has been to get OUTSIDE. It seems like we are spending so much time at home and in front of screens that we are making a really good effort to get out and enjoy the outdoors.
Just because we live in a city like Brampton doesn't mean there are not great hiking trails near me. There are lots of awesome places to hike near Toronto and you don't need to drive for hours to find fun and challenging outdoor hikes. Looking to explore a little further, Checkout the Best Hikes in Mississauga.
The Best Places To Hike With Kids In Brampton and Surrounding Area
The wide variety of hiking trails available in and near Brampton offer a wide range of fun for people of all ages. As you will see from the pictures below our hikes are often a family affair with multiple children joining helping us carve out new outdoor adventures and explore the beauty that Ontario Hiking Trails have to offer.
Here are some of our favourites, and as always we will update this post as we keep exploring. Here are some great places to hike in and near Brampton (scroll down for full details and pictures from each place):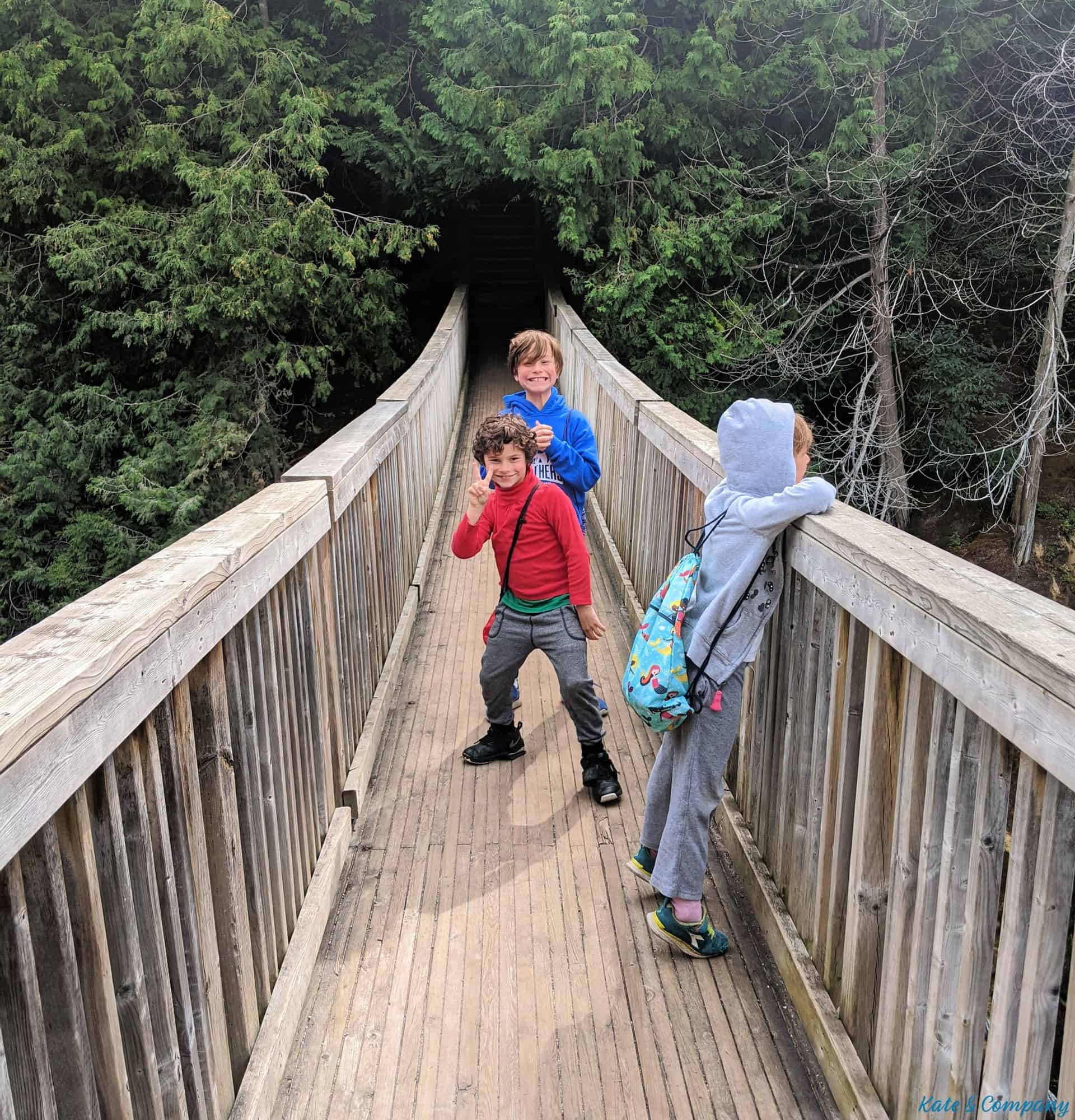 Places to Hike in and near Brampton
Forks of the Credit Provincial Park
Belfountain Conservation Area
Heart Lake Conservation Area
Cheltenham Badlands
Albion Hills Conservation
Caledon Trailway
Limehouse
Chinguacousy Trail
Mono Cliffs Provinicial Park
Etobicoke Creek Trail
Now that you have seen the short list lets dive in to each of these places to hike in and near Brampton and see what they have to offer. Each one is unique and you will find everything from paved trails to challenging climbs.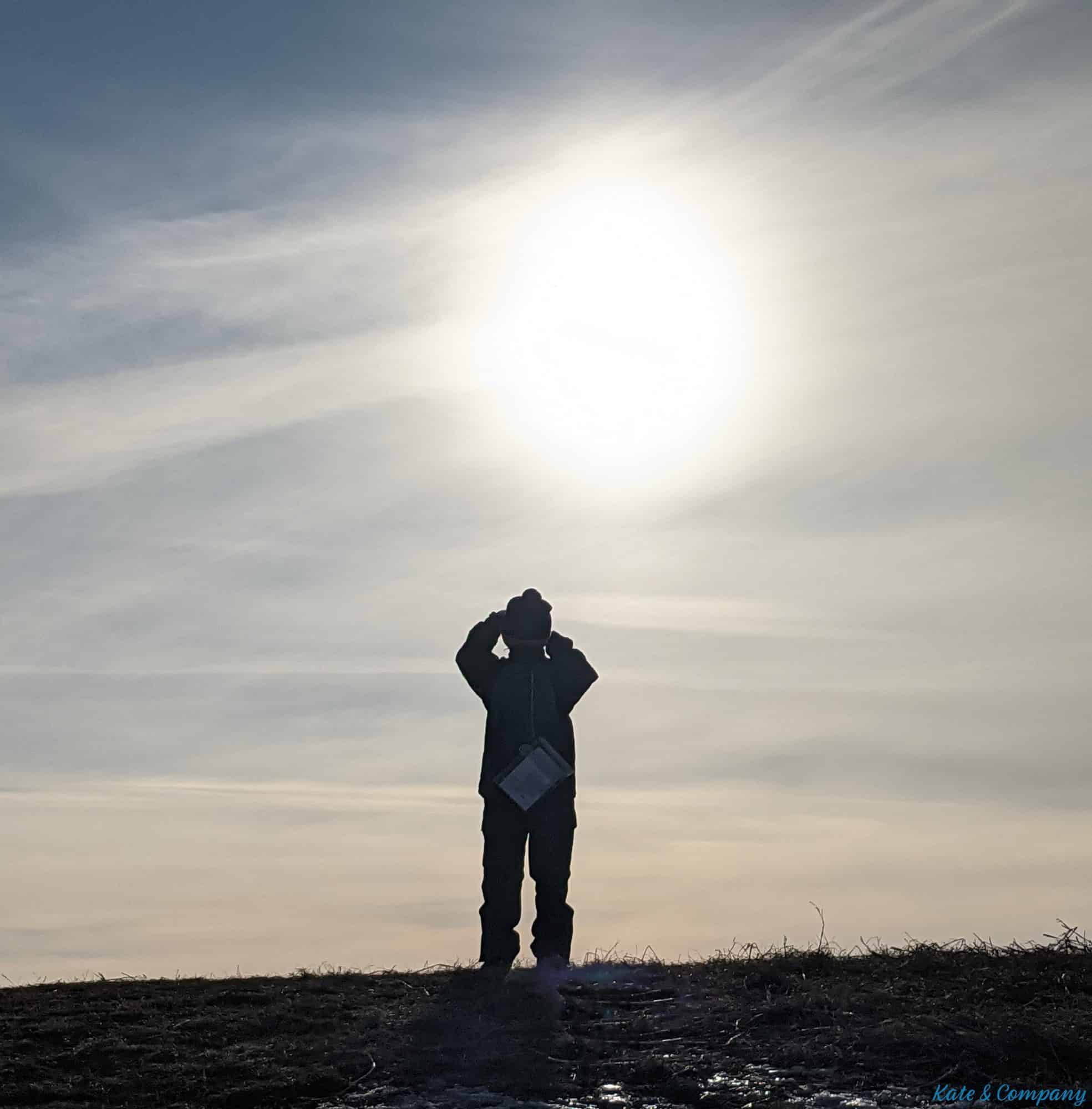 Forks of the Credit Provincial Park
Forks of the Credit Provincial Park
17760 McLaren Rd, Caledon, ON L7K 2H8 – The Forks of the Credit Provincial Park offers a wide variety of landscapes and trail options. From waterfalls and ponds, to forest and fishing the Forks of the Credit Provincial Park offers something for everyone.
You can find everything you want to know about this park in the Ultimate Guide to Forks of the Credit Provincial Park. This park is open year round for day use all year long, and this park is stunning is all seasons. You can enjoy a summer picnic in the park, and there are washroom facilities in 2 locations in the park which is helpful if hiking with little ones (washrooms by the river are open seasonally).
The fall colours at Forks of the Credit Provincial Park are stunning, and this is a great park to check out if you want to see the bright Fall colours in the Brampton area.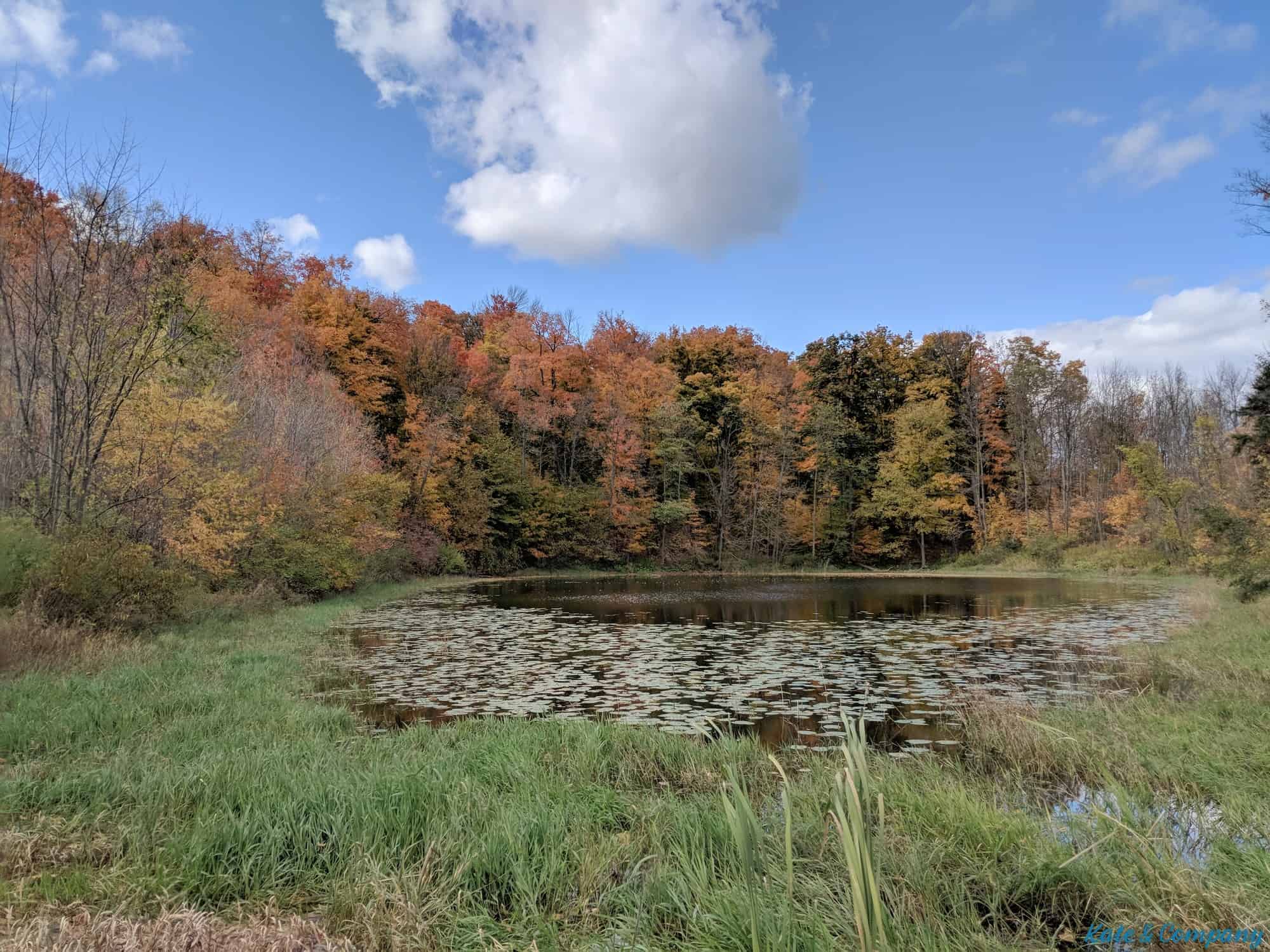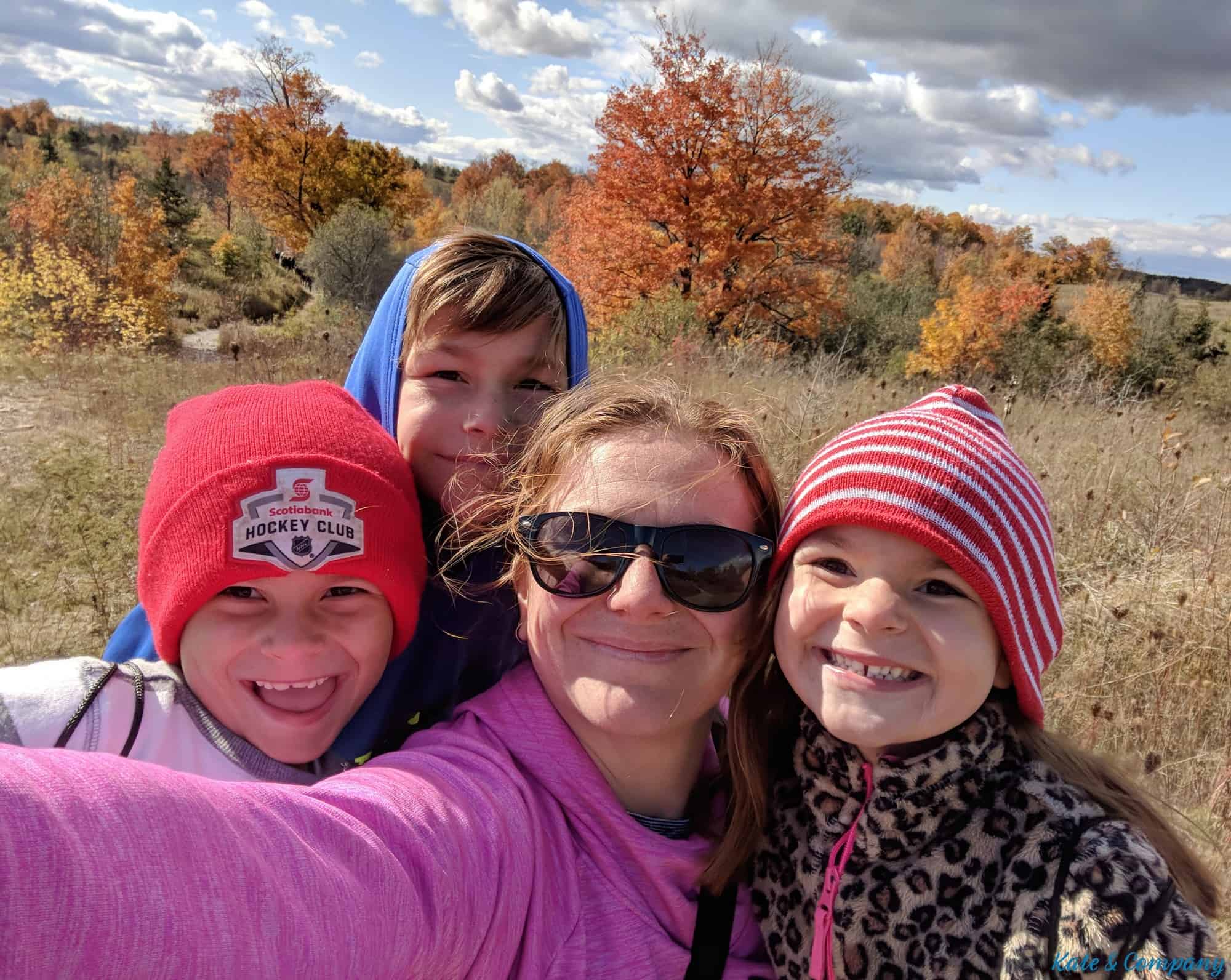 During the winter months the park can transform into a beautiful snow covered landscape. However it should be noted that there are many hills in the park and it can become slippery. I would recommend ice cleats to help with traction.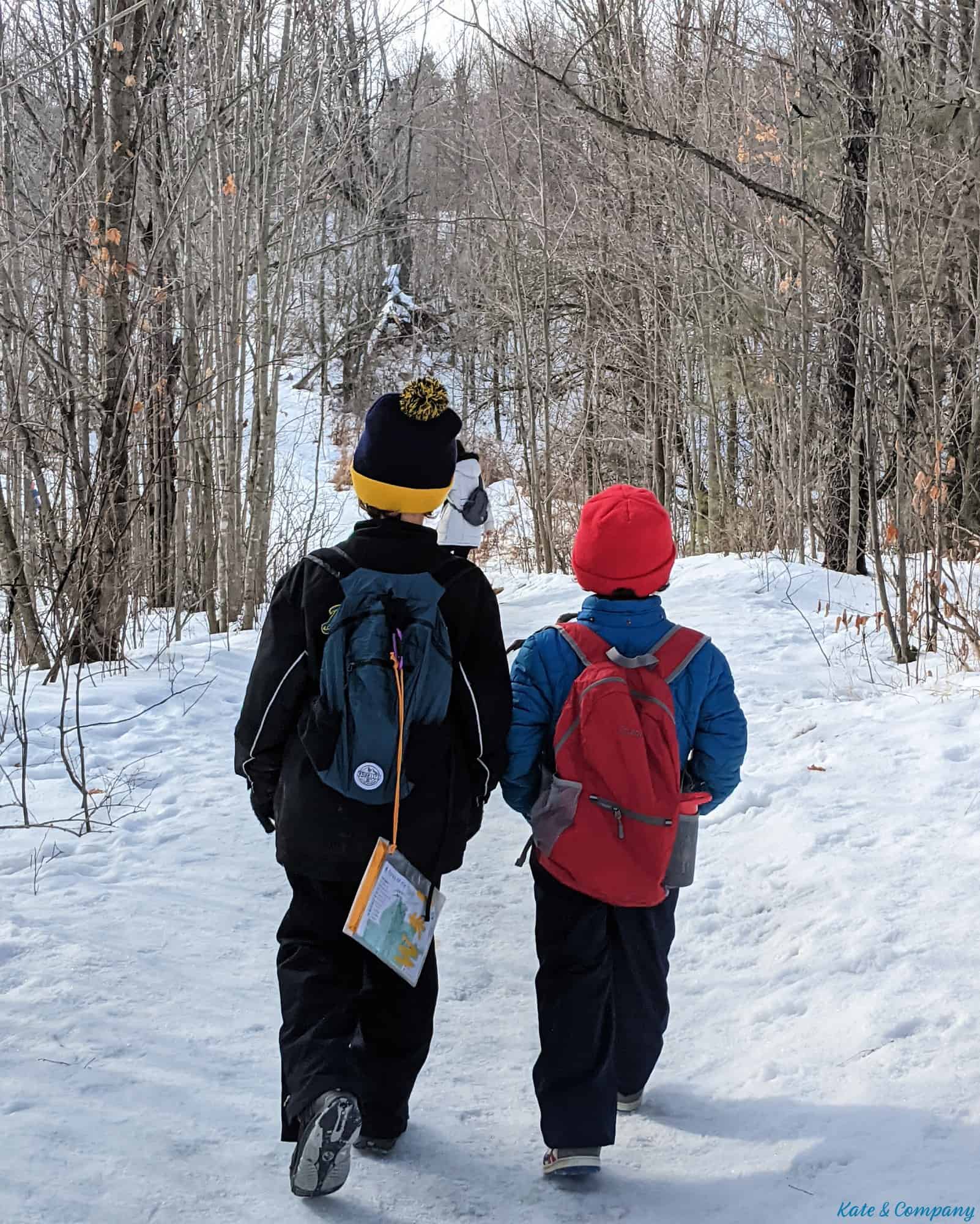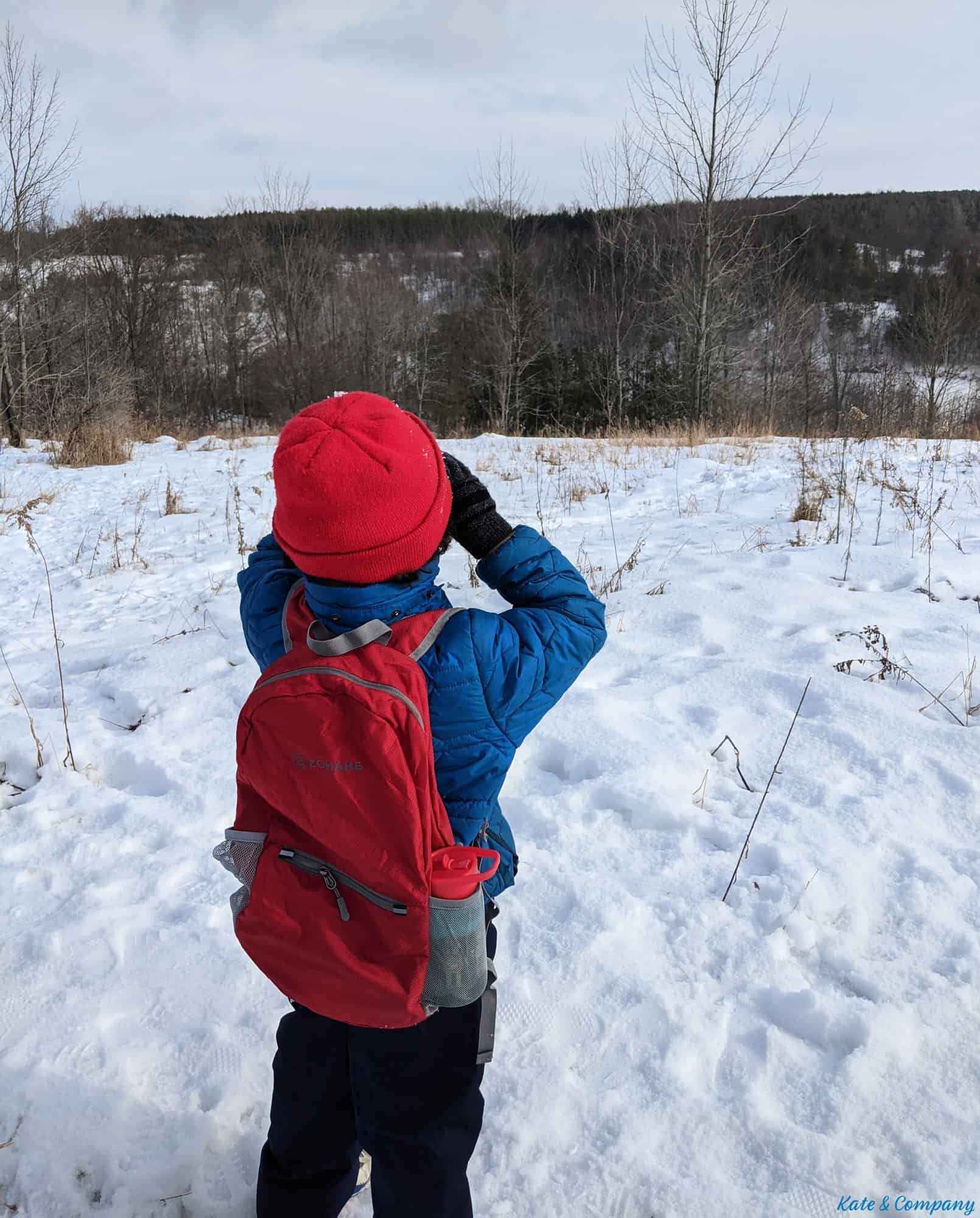 If you are heading to the waterfall at Forks of the Credit Provincial Park there is a steep hill that could be challenging for those with a low fitness level. However my 3 children tackled it with no issues.
This park can be very popular, especially during the Fall and there may be limits on entry. Check the Forks Of the Credit Provincial Park Twitter for updates on park capacity.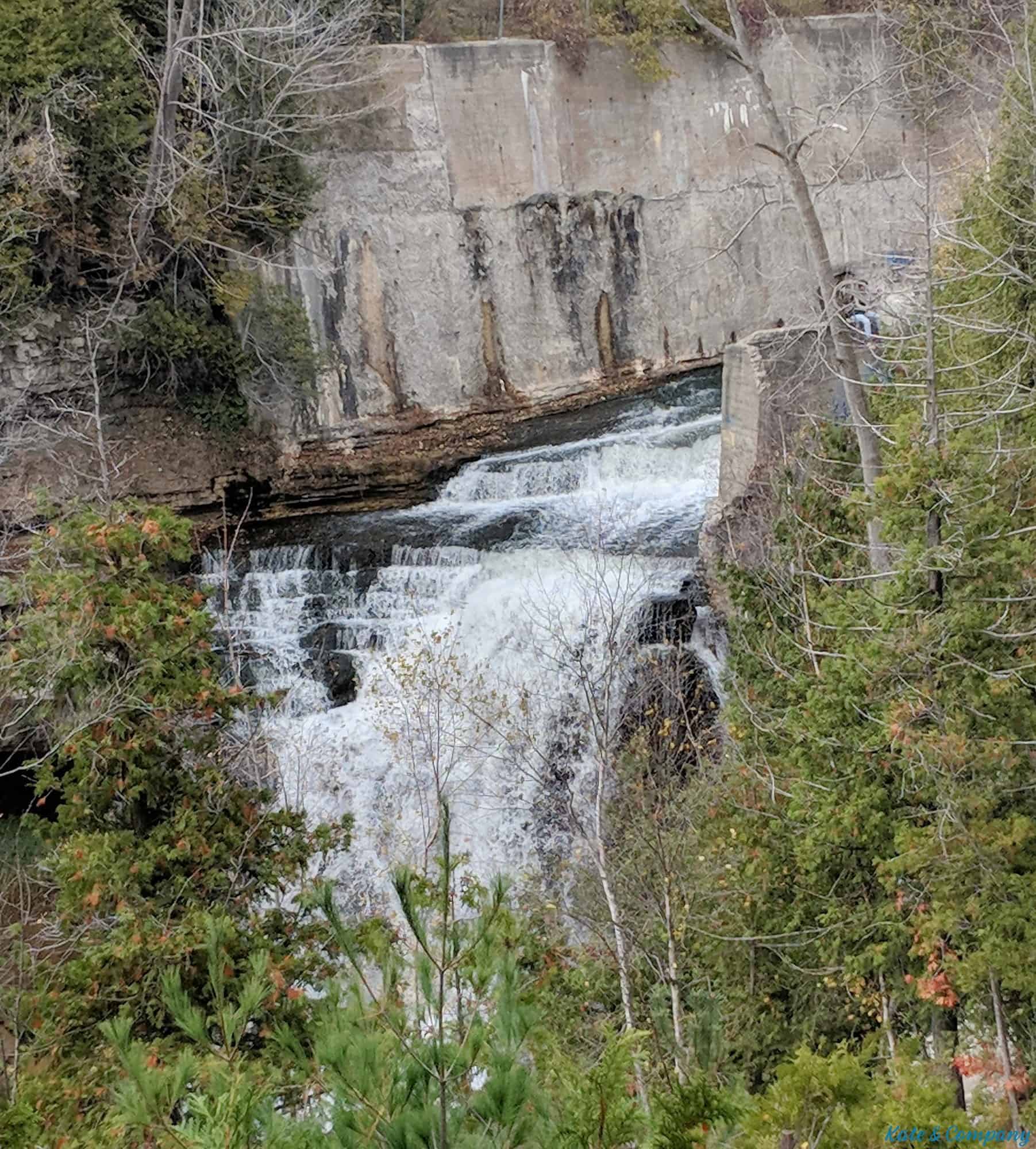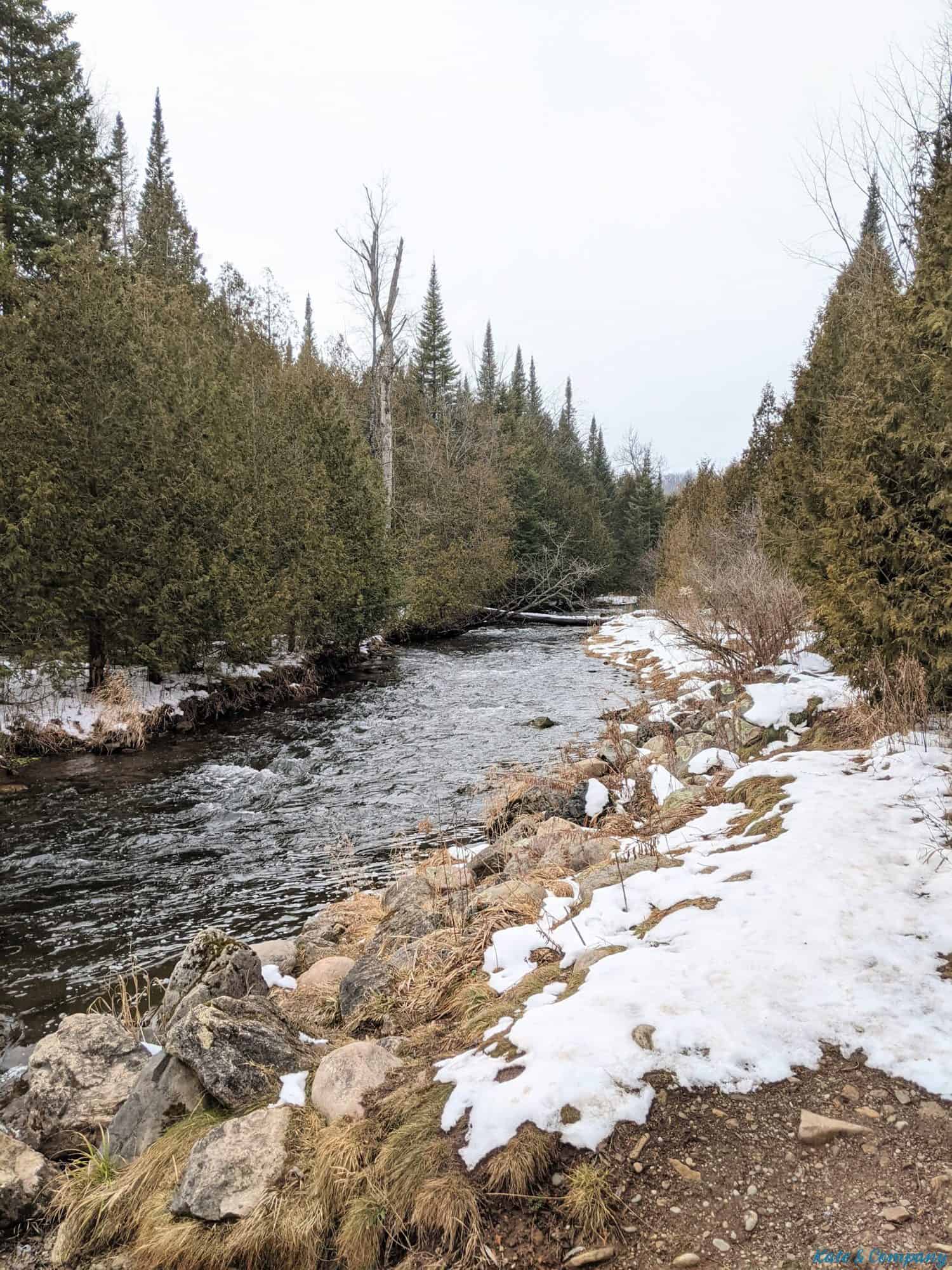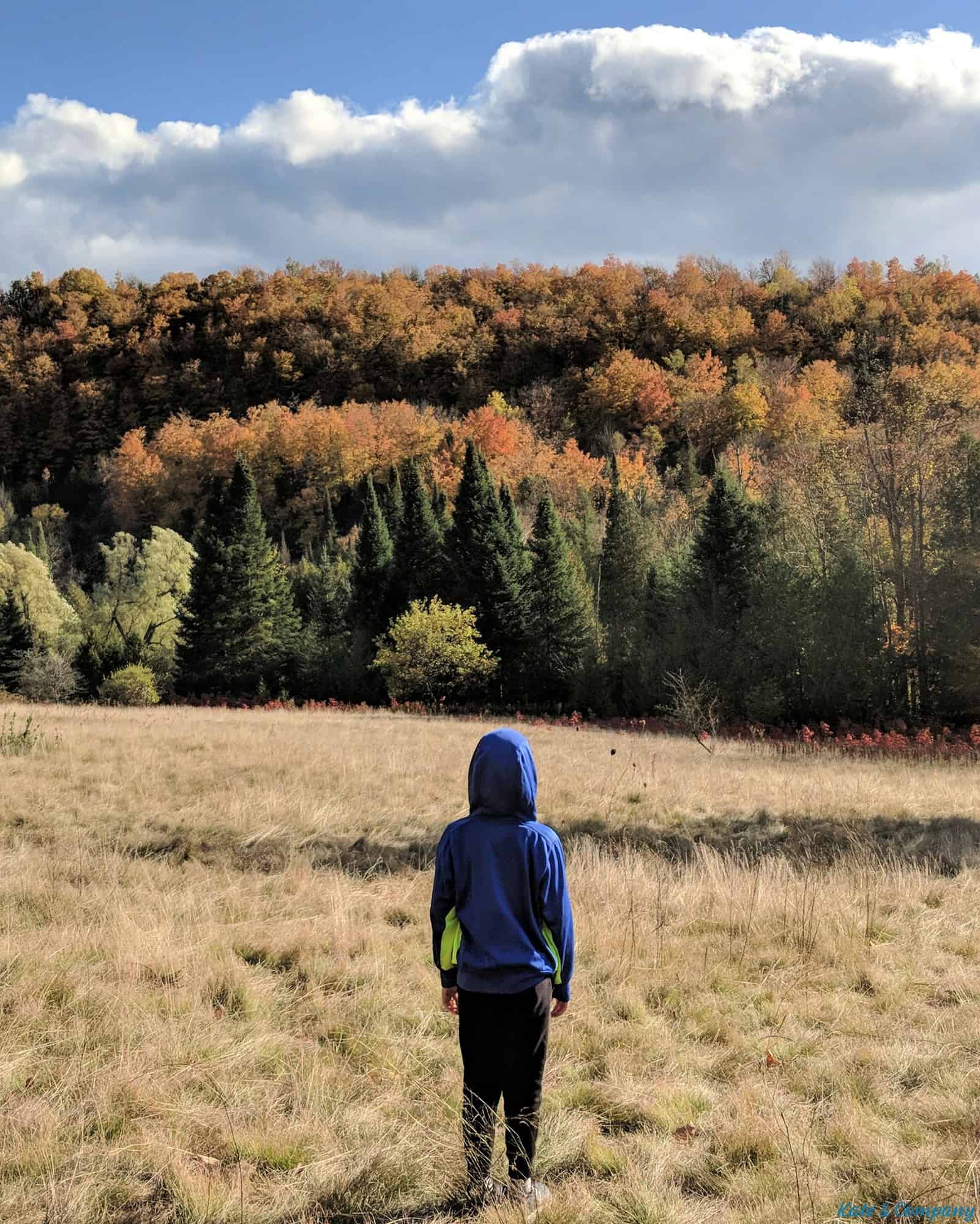 Belfountain Conservation Area
10 Credit Park St, Belfountain, ON L7K 0E5 – This picturesque park offers unique hiking trails, waterfalls, a suspension bridge, spots for a picnic and more. The Belfountain Conservation Area hiking trails are not long, but offer challenges in elevation.
When hiking with the kids we were able to do the Pond Loop to the Gorge Loop back to the waterfall in about an hour. While you can get from the parking to the picnic area nearby and the bridge and waterfall with a stroller, the Gorge Loop would be for hiking on foot only.
This is Park is open for Spring, Summer and Fall and closes in the Winter. There are washroom facilities near the parking area. We loved this park and are looking forward to getting back for a picnic soon.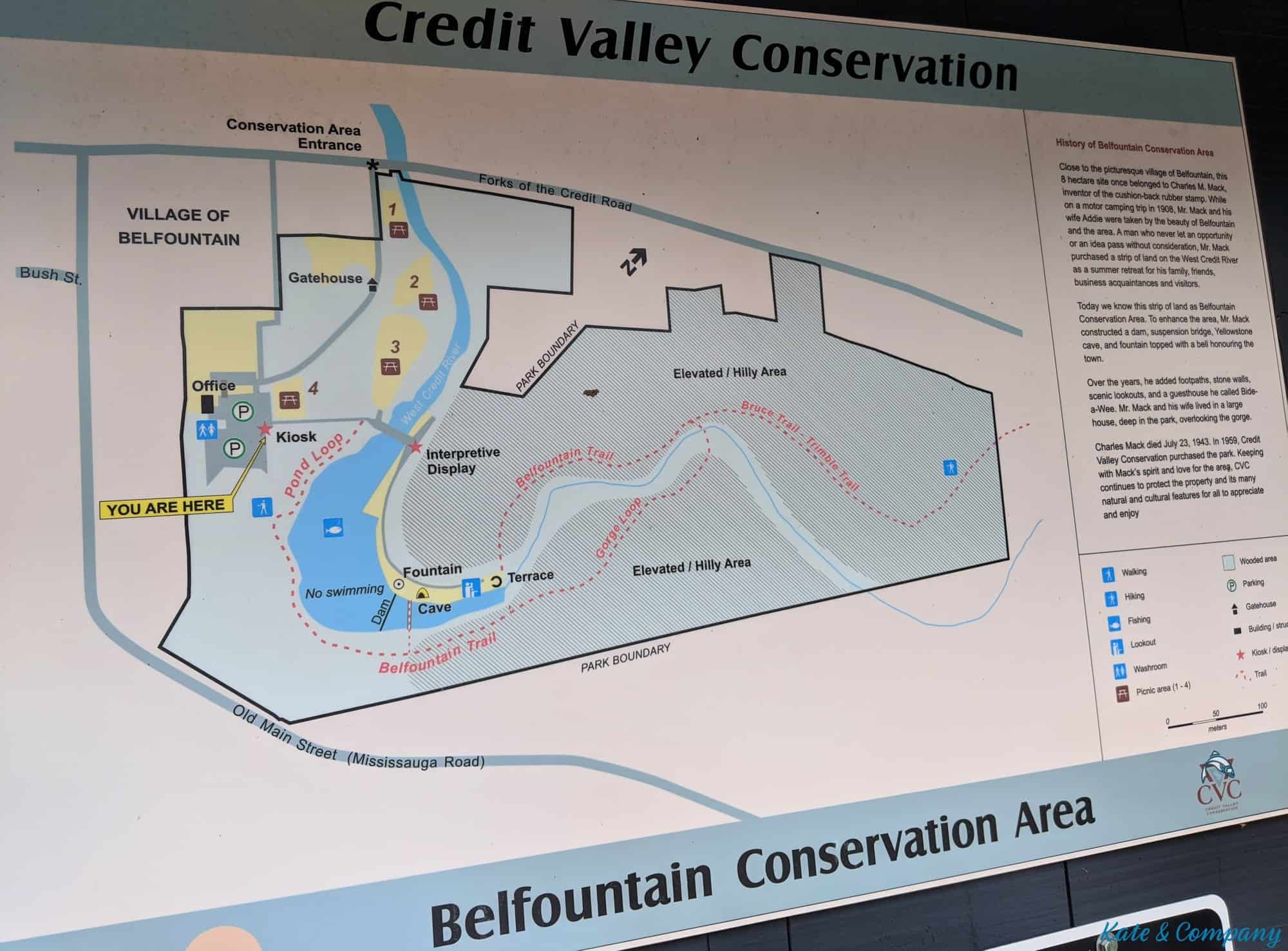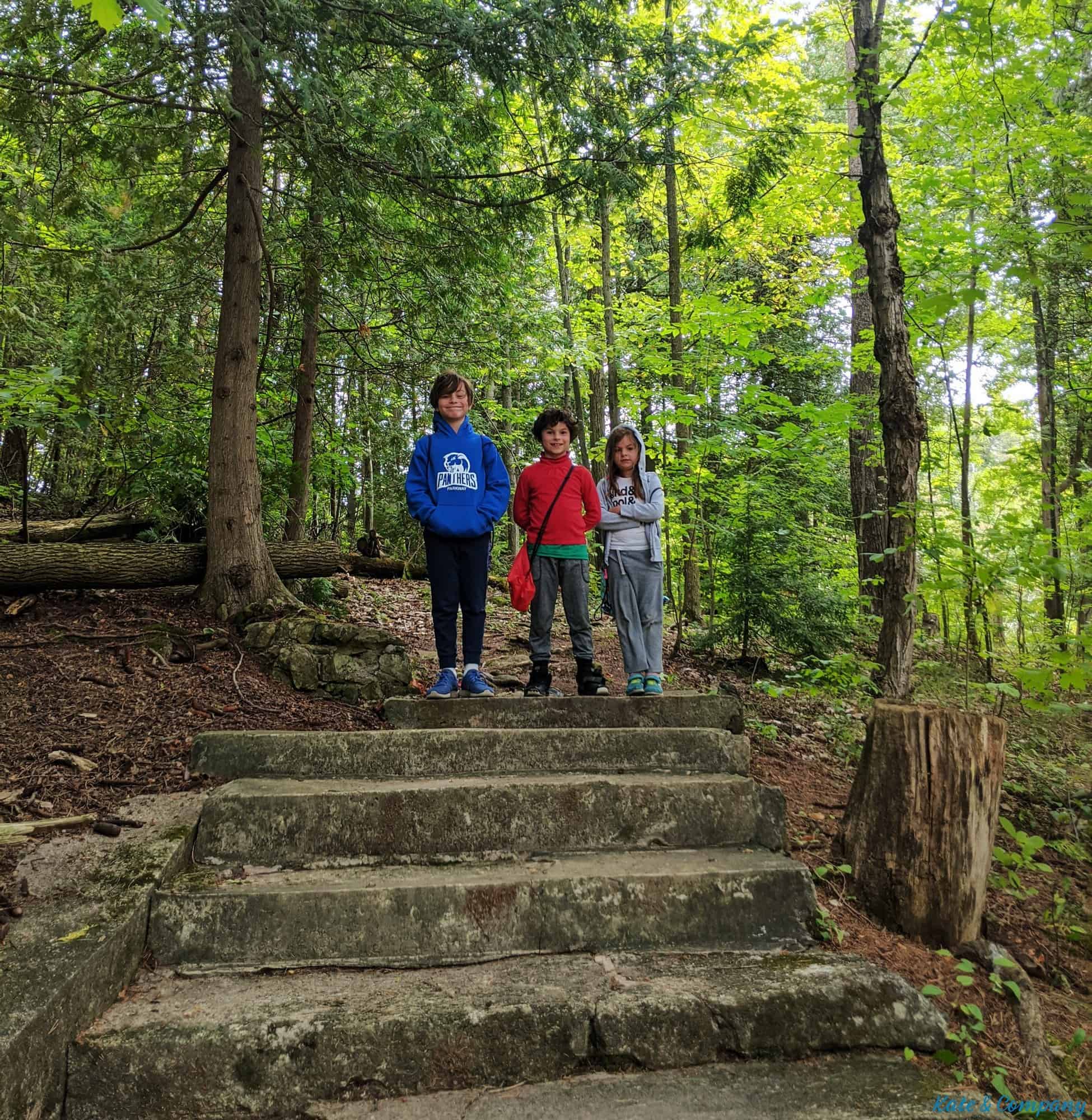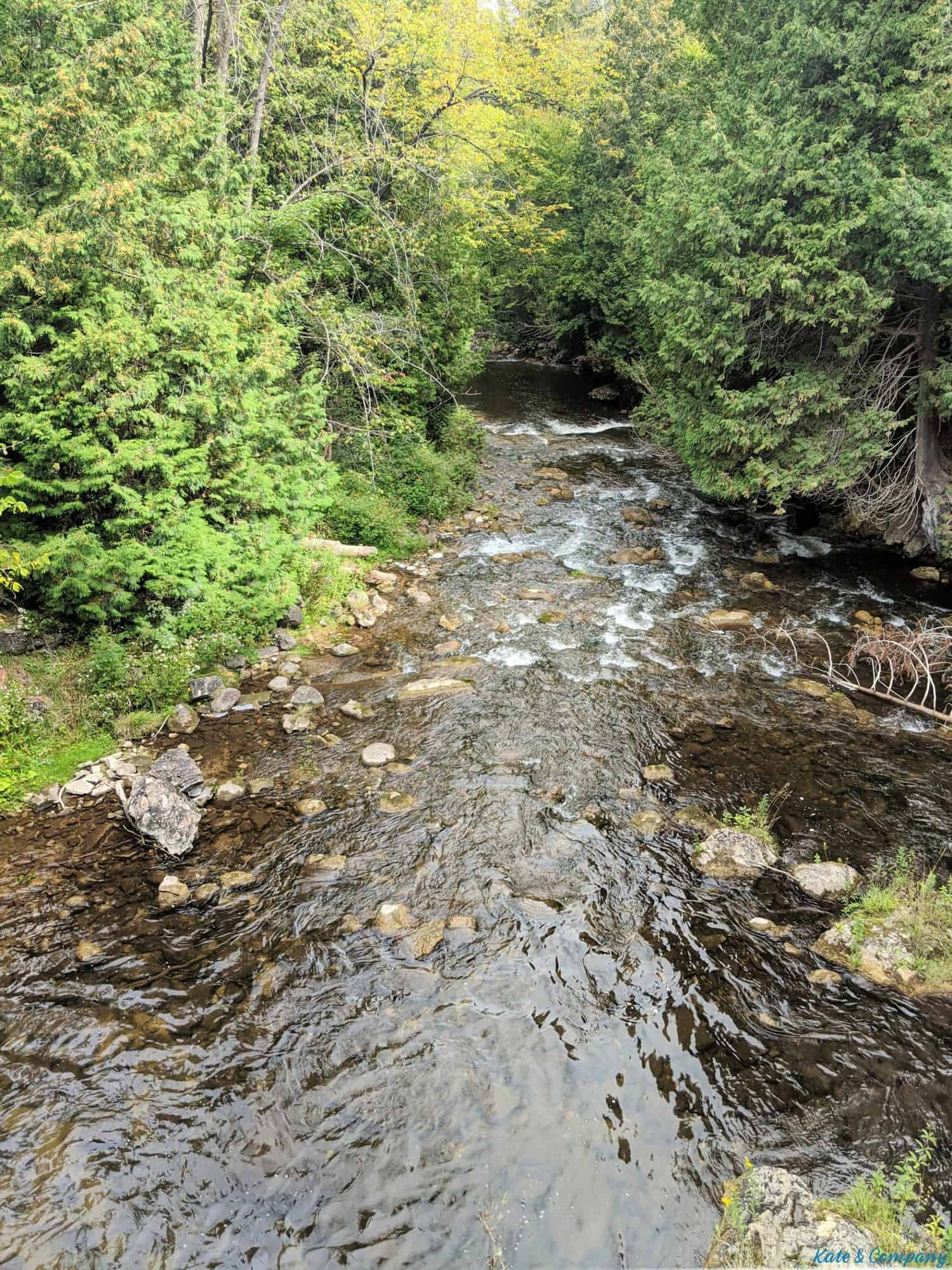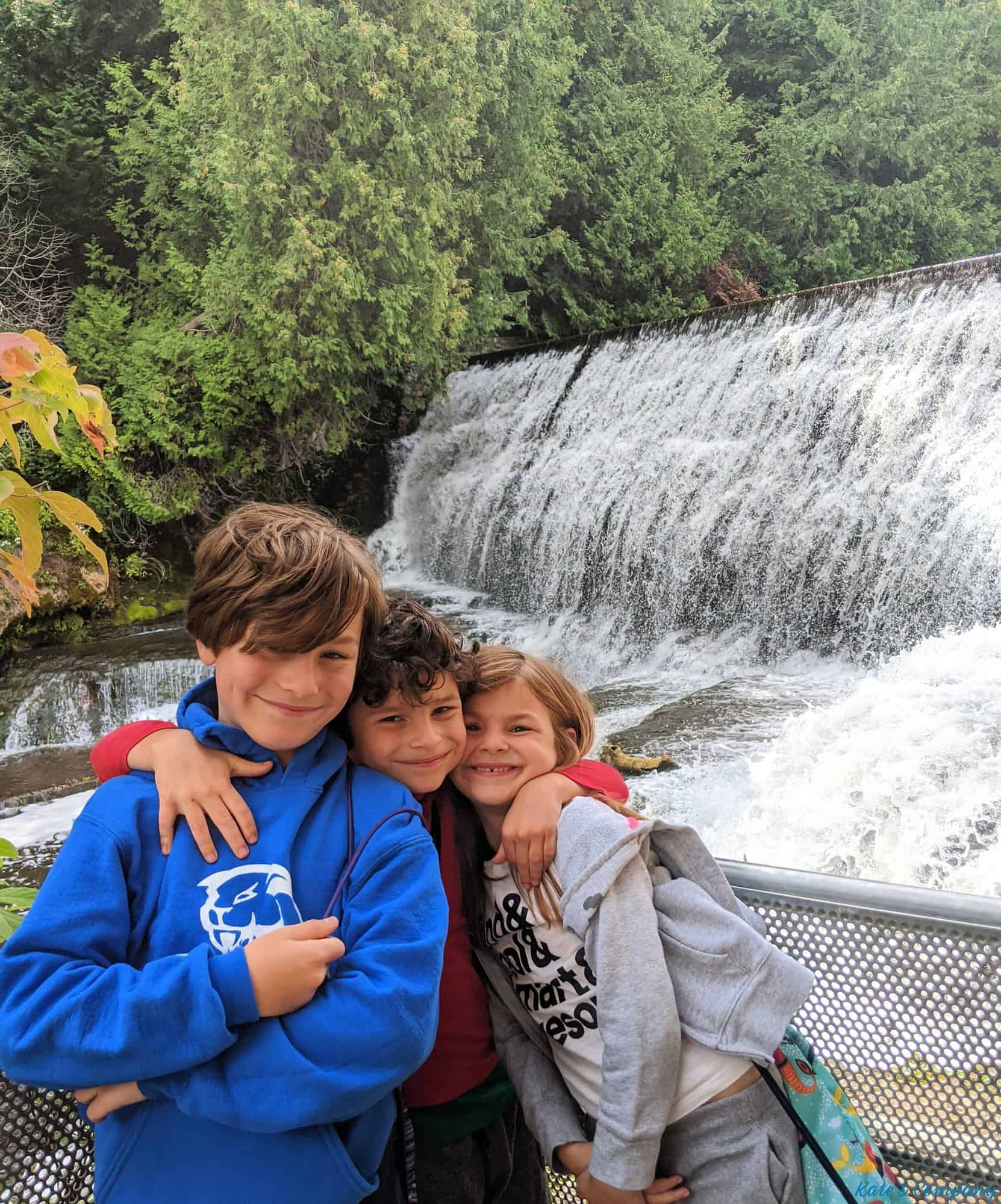 Heart Lake Conservation Area
10818 Heart Lake Rd Brampton, ON L6Z 0B3 – Heart Lake Conservation Area this popular park is located in Brampton. Heart Lake Conservation area offers over 8km of trails of beautiful nature to explore. Heartlake has three longer trails: Peel trail (green) is 3.8km, Terry Fox trail (yellow) is 3.2 km, and Heart Lake – Esker Trail (pink) which is 2.8km. Followed by two shorter trails Rayner trail (orange), and Connector Trail (purple) which are both less than a km. The Black star represent Trail Head information kiosks which can provide more information on the trails.
I personally have hiked the Heart Lake Esker trail which wraps around the lake offering beautiful views of the water and wildlife living nearby. The trail is mainly flat and has very slight changes in elevation making it very easy to hike with baby. Checkout our Full Guide on Heartlake Conservation Area.
Hiking Trails Caledon
Cheltenham Badlands
1739 Olde Base Line Road, Caledon, ON L7C 0K6 – The Cheltnham Badlands recent underwent an upgrade and are open to the public again.
Albion Hills Conservation
16500 Peel Regional Rd 50, Caledon, ON L7E 3E7 – Albion Hills Conservation Area is a 4 season park that offers something for everyone.
Caledon Trailway
The Caledon Trailway is not just one "park" it is a multi-use trail connecting the villages of Terra Cotta, Cheltenham, Inglewood, Caledon East and Palgrave, ending at Hwy. #9. There are many smalll parking areas are located at many of the trail road crossings.
Larger parking areas can be found at: Ken Whillans Resource Management Area, 16026 Hurontario Street (Hwy. 10), Caledon East Community Complex, 6215 Old Church Road, Caledon Equestrian Park, 200 Pine Avenue, Palgrave, South Simcoe Railway, 28 Mill Street West, Tottenham (North/East End of Trail) and Lloyd Wilson Arena, 15551 McLaughlin Road, Inglewood
Limehouse Conservation Area
12169 5th Line, Limehouse, ON L0P 1H0 – Limehouse Conservation Area is a great park to explore as a family.
Chinguacousy Trail
The Chinguacousy Trail is more then just a path in Chinguacousy Park, it offers 9km of multi-use trails to allow you to explore Brampton.
Mono Cliffs Provincial Park
795122 3rd Line E, Orangeville, ON L9W 2Y8 – Mono Cliffs Provincial Park is located 40 minutes North of Brampton and offers numerous hiking trails throughout the park. The park is open year-round for day use visits (no overnight camping), in the winter you can cross country ski or snowshoe on several of the trails.
There are many trails of different lengths for you to enjoy including: Walter Tovell Trail – 4.8 km, McCarston's Trail – 3.6 km, Carriage Trail – 1.3 km, Spillway Trail – 1.3 km, Cliff-Top Side Trail – 2.8 km, South Outlier Trail – 3.5 km, Lookout Trail – 600 m and Link Trail – 600 m. The Bruce Trail also connects through Mono Cliffs Provincial Park. You can find full park details and a trail map on the Ontario parks website.
Places To Hike Brampton
Etobicoke Creek Trail
The Etobicoke Creek Trail is a 14.5k, trail that runs from Steeles Ave area in the south of Brampton to above Mayfield Ave in the North.
You may also be interested in Stroller and Baby Carrier Friendly Trails!
The Best Places to Winter Hike in Peel and Halton Region
Peel Region and Halton Region has tons of winter trails to enjoy a scenic hike.
Brampton:
Heartlake Conservation Area – 10818 Heart Lake Rd, Brampton, ON L6Z 0B3
Clairville Conservation Area – 8180 Hwy 50, Brampton, ON L6T 0A6
El Dorado Park – 8520 Creditview Rd, Brampton, ON L6Y 0G4
Professor's Lake – 1660 North Park Drive – Enjoy a snowy walk around the lake, you will often spot wildlife among the snowy background
Mississauga:
Riverwood Conservation Area – 4300 Riverwood Park Ln, Mississauga – I would recommend Culham trail which is a scenic route that extends approximately nine miles and breaks away into three different sections. This pathway allows you to connect with the sights and sounds of the forest in the winter.

Rattray Marsh Conservation Area – 180 Lakeshore Rd W, Mississauga – Enjoy a walk along the boardwalk while enjoying the nature of the winter lakefront bog.
Please Note:
We do our best to ensure the information on The Exploring Family is accurate, however information and events are subject to change.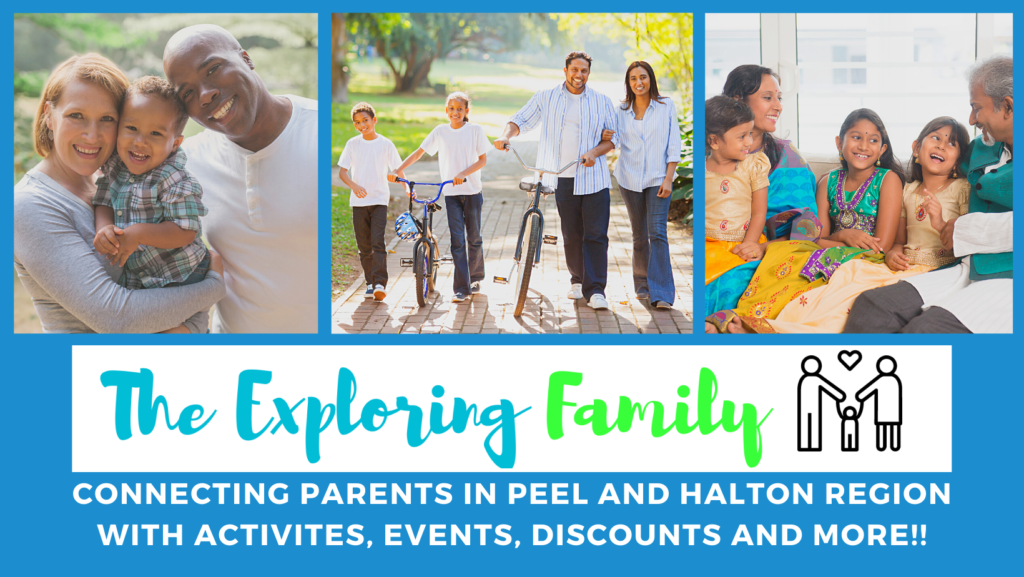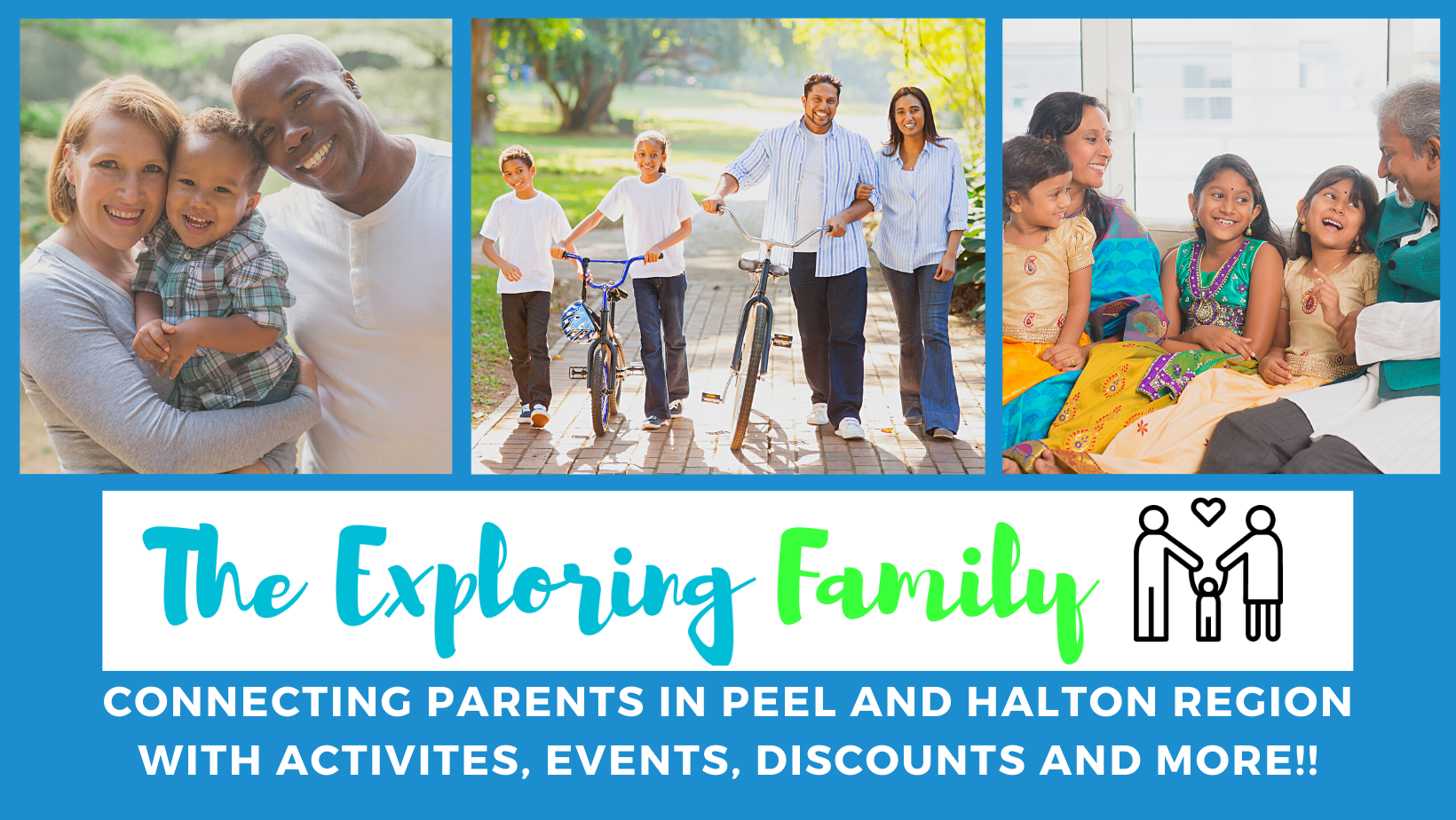 Can you help make this article better?
If you have noticed an error, have additional information or would like to share a comment you can:
E-mail us at info@thexploringfamily.com
Find us on Facebook: The Exploring Family
Find us on Instagram: The.Exploring.Family