The months leading up to the delivery of baby, new moms and repeat parents spend all their time thinking about and preparing for baby and what they might need and often forget about themselves. This pregnancy I am making sure I focus on myself and what self care items I need to help myself during recovery after birth and the transition of becoming a parent to two kids. The fourth trimester which is often not talked about is called the postpartum period and thus I have created a guide of Postpartum Essentials for Mom and Baby. During the first three to four months after birth known as the postpartum period, moms go through tons of physical healing, learning, emotional periods and many sleepless nights which can be difficult to adjust too which is why its important to have these postpartum essentials for mom. 
Now since we are also in the middle of a pandemic I thought it was important to continue one of the Exploring Family goals of supporting local. So while not all of these products are made in Canada, all of the following are Canadian businesses and either make their goods in Canada or run local businesses within Canada and offer products that make great gifts for pregnant moms.
Gift ideas for a Pregnant Friend to enjoy before and After Baby is Born:
This list is prefect for friends looking to make the newborn stage easier and looking to celebrate their mom friends for all the hard work.  All of these items will allow mom to be more comfortable during delievery and after birth, and will make life with a new baby around just a little bit easier. Pregnant moms deserve to be spoiled rotten by their friends too, not just baby! Whether your friend is a first time mom, or a repeat mom, pregnancy and delivery take a physical and mental toll on women. 
Many moms to be spend time creating a gift registry of essentils for the baby, however they forget to buy the essentials for new moms for themselves. I think many pregnant women would love to be surprised with a gift for herself if friends decide to go off registry and buy something unique or special to help mom out in that first stage of parenting. For example, the year I was pregnant with my daughter my sister in law bought me a great pair of maternity pyjamas and they were amazing while pregnant, after baby was born and now during my second pregnancy (not going to lie I am wearing them midafternoon as I write this post… because they are so comfy). 
Best Gifts for a Pregnant Wife
If you are shopping for the best gifts for a pregnant wife, you may realize that most people focused on gifts for baby at the baby shower and often forget about the mommy, however remember the mom has just spent nine months carrying this little bundle of joy and deserves some love and presents too 🙂 Dads this is where your job comes in to pamper and spoil your wife with these helpful Gifts for Pregnant Women Who Deserve a Little Pampering. 
The best gifts for pregnant women are things that are functional, cute, comfy and convient. Consider items such as ultra-comfy nursing bras or nursing tops, lactation cookies, breastfeeding tanks, delivery gown for childbirth, or mommy care products like stretch mark creams, nursing balm, and after birth products to help keep your wife comfortable during recovery. Appropriate gifts can be pampering gifts like self care products to relieve the discomfort of pregnancy and delivery, items to keep her comfortable or busy during labour or even jewlerry to mark the occasion of the new bundle of joy. Checkout Unique Baby Shower Gift Ideas – Canadian Edition to support local businesses.
To thank our readers, many of the companies below have agreed to provide our readers with either a giveaway or a discount code so you can experience these great products for yourself.
Essentials for New Moms for Pregnancy, Labour and Delivery:
Taking care of yourself is the first step to a healthy and happy baby. All of the following products support moms from pregnancy through to delievery day and even afterwards during post partum recovery known as the fourth trimester. 
Essentials for Labour and Delivery:
You want to be prepared at the hospital and most importantly you want to be comfortable. Now in my first experience with labour and delievery I hated wearing a hospital gown, and even more so this time with Covid happening I feel so much better about bringing my own gown to labour in. The following two products are from Canadian Company Dressed to Deliever who have reinvented the hospital gown with your needs in mind, your babies needs as well as the needs of medical professionals. The birthing gown has the functionality of a standard hospital gown but is much more comfortable and convenient for moms and allows them to feel covered up. Years ago when Kate delievered Little Bear she also used a Dressed to Deliever Birthing gown, check out her full review here.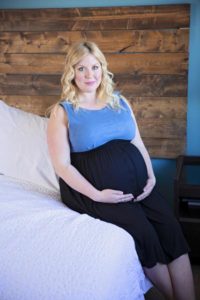 Dressed to Deliever 3-in-1 Labor and Delivery Gowns:   The 3-in-1 Labor, Delivery and Nursing Gown, offers an alternative to moms instead of wearing a horrible hospital gown that makes you feel uncomfortable and uncovered. These labour and delivery gowns are approved in Canada as nurses, doctors, or midwives have easy and full accessibility to monitor moms and babies. Some key features are:
Full 360 coverage (I am excited about this as I am very modest and hate the feeling of being too exposed)

Luxurious,  quality, breathable, moisture wicking and thermoregulating fabric (It feels super soft and was super gentle on my skin when I tried it on)

Immediate Skin-to-Skin and Breastfeeding Access.

Fetal monitoring access

Doctors, nurses, and midwives have complete medical access for:
Fetal Monitors

Epidural and IV administration

Ultrasounds Access

C-Section Incision Inspection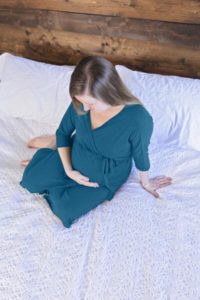 Dressed to Deliever – Maternity Robes: This Maternity and Nursing Robe set is perfect for both moms and moms to be to wear. I recieved mine when I was 29 weeks and tried it on right away and loved it. I like the feel of the material, it is a good length, I felt covered but yet it would be easy to use for nursing. My favourite part was that it was super comfortable just to lounge in and watching Tv as I am getting to the point where anything around my stomach feels uncomfortable and restrictring especially in the evenings. Pack this maternity robe in your hospital bag as it will be perfect to wear when nursing, or you could even wear at home afterwards when you don't feel like getting dressed! Perfect addition to my maternity and post partum wardrobe. 
Checkout our Full Review of the Dressed to Deliever Birthing Gown: I loved mine! It was the perfect choice for labour instead of a hospital provided gown. It was light weight, comfortable, soft and easy access for breast feeding, and epidural. 
Postpartum Essentials for

After Delivery:
After Delivery you want to be comfortable, warm and wear layers as it makes it much easier to breastfed or pump…. however this doesn't mean style has to be thrown aside. Let Snugabye help keep you stylish and yet comfortable.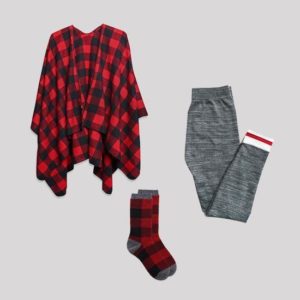 Snugabye – The Mom Bundle: This set is a perfect winter wardrobe staple and fits me comfortably while 31 weeks pregnant, so although it is not maternity wear it works perfectly on these cold days. The mom bundle is going to be a winter wardrobe staple to get me through the last 9 weeks of pregnancy and Im sure will be perfect as my going home outfit after delivery. Shop their Buffalo plaid collection and you can find onesies, sleepers and pyjamas for your kids to match. The leggings are warm for winter, comfortable and fit perfectly over or below the bump depending how I feel like wearing them. The Poncho is perfect to through over top of a maternity top to keep me warm and is not fitted so will continue to fit as I grow these last few weeks – my sweater collection is pretty slim at this point in the pregnancy.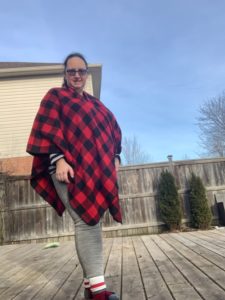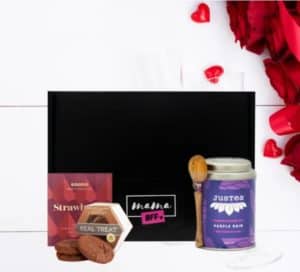 Mama BFF – Subscription Box – All moms deserved to be pampered and treated special after labour and delievery… this is where MamaBFF saves the day. MamaBFF curates wellness subscription boxes or one time purchase boxes that help Mamas recover as well as make them feel important and make their lives easier with these essential products. The box that they gifted to me was created with all Canadian products as after talking to Sara and Krys they knew how important it is to Little Miss Kate and Company to support local. They also create great seasonal boxes as gifts for friends, or you can even check out their baby box for as a unique baby shower gift.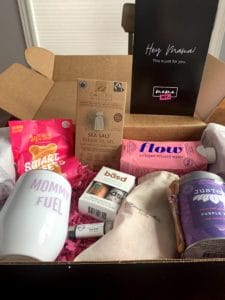 This tumbler keeps your choice of Mama Fuel (tea, coffee and even wine!) just the way you love it – hot, cold and everything in between.
These custom MamaBFF stickers are waterproof, heatproof, scratch-resistant and are even microwave and dishwasher safe. Personalize your Mama Tumbler, laptop, phone … anything you want!
JustTea is created to give you a delicious and loving cup of nourishment from the jade green leaves of the tea tree… grown organically and provide antioxidants and little caffine. 
Treat yo'self! From Helsinki with love, Goodio gourmet chocolate is handmade with care and is the best treat with natural ingredients that are vegan and gluten-free.
This plant-based body wash and lotion will leave your skin feeling soft, smooth and sexy. You'll be ready to take on the world!
Flow Hydration Alkaline Spring Water
The water you drink matters! Feel like you're at the spa with Flow Collagen-Infused Spring Water. It's a delicious and easy way to get a collagen boost while you hydrate.
A fruity gummy bear snack with only 3g of sugar, high in fibre and created with natural ingredients… these are going straight into my hospital bag.
Indulgent Sea Salt Dark Chocolate created with the highest quality and best ingredients, locally made in Quebec.
A cute bright coloured scrunchy to throw that messy mom hair into a bun 🙂
Postpartum Essentials for

Breastfeeding Moms:
The first few days can feel overwhelming as a new beastfeeding mama, especially since you spend so much time feeding baby. Nursing tanks, nursing tops, nursing bras, lacatation cookies and nursing balm are all great products to make the breastfeeding journey easier. Nursing friendly attire such as nursing tanks, tops and bras make the breast so much more accessible and makes nursing comfortable and simple. These all great gifts for breastfeeding moms.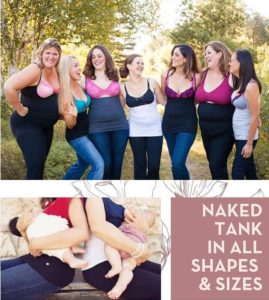 Naked Tank – Breastfeeding Tanks: While I didn't have the best first experience with nursing the one thing I did find during my short nursing experience was how uncomfortable and exposed I felt while trying to nurse my daughter. I know that everyone says breastfeeding is such a natural experience but for myself it was stressful and uncomfortable especially since I was struggling to get her to latch. Now the Naked Tank solves this problem as it allows you to wear your own clothes over top of the nursing tank but still have much needed access to the breast without having to wear a nursing shirt. The Naked Tank offers the most coverage while maintaining easy access to nursing which is super important. My favourite part of this product is that any women with any size breast can wear it, because if you are blessed with a heavy chest like myself you will know that it is difficult if not impossible to find nursing clothing that fits properly without feeling super exposed. Naked Tank offers two different versions: classic cotton and luxury bamboo, and both are at an afforable price point. The Naked Tank is a breastfeeding must have!
Use code LILMISSKATE15 TO SAVE 15% on the Naked Tank Website. Valid on Single Tanks not Bundles!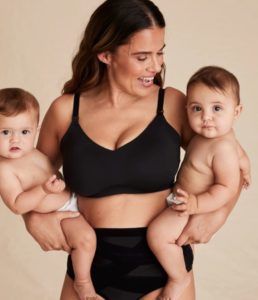 Knix  – Nursing Bras: You want to feel comfortable in your own skin and clothing while breastfeeding which is why Knix Nursing bras are the perfect gifts for nursing moms. Knix allows you to skip the nursing pads as with their leakproof technology they have created the perfect bra for a nursing mom as it offers wireless comfort, and the fabric stretches to adapt to every change in size. The easy clip clasps allow one handed freedom and making these bras the best gifts for a new mom.
Use our link here to get $15 OFF your First Purchase!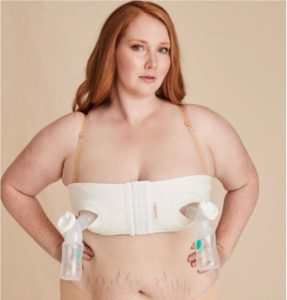 Knix – Pumping Bras: The PumpEase Pumping Bra is a great gift for any new mom as it holds the breast pumps in place allowing you to have two free hands, so you can text, relax or manage other kids all at the same time. This bra is super easy to use and works great with the Leakproof Nursing Bra. PumpEase fits moms wearing bra sizes from 32AA to 48H and beyond. While I havent personally tried this one yet it is on my order list, as I know from my 3 month of pumping experience how important it is to have free hands, that way you can pump and bottle feed at the same time…. leaving more time for sleep 🙂
Use our link here to get $15 OFF your First Purchase!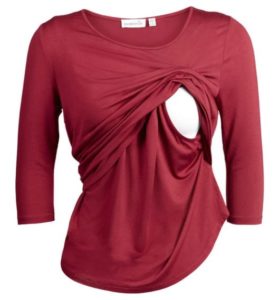 Momzelle – Breastfeeding Shirts: Now using nursing bras at home and lifting your shirt exposing your new postpartum tummy may feel comfortable around family and friends during a feeding session, however nursing in public feels a whole lot different from my experience. A nursing tops allows you to breastfeed much easier while keeping your postpartum tummy and stretch lines covered up and keeps you warmer than siting in public half naked.
My Review: When purchasing a nursing top I think about a couple key elements: comfort (I live in comfy cloths so this one is a no brainer to me), durability (I want my nursing tops to work for multiple pregnancies as I dont want to have to keep buying new due to stretching, breatheability (I don't want to sweat to death while trying to nurse), and some may consider style (I am not so picky about this one as I like simple and practical things). However in terms of style the Momzelle tops that I choose to try are looser fitting as I dont love clothing tight to my body. The existing Momzelle shirt I have from my last pregnancy is the cowl neck and super comfortable and loose in all the right places so I can't wait to try on the two I just got: The Britt and the Vanessa. Why not support this local Canadian boutique located in Montreal, Quebec when purchasing nursing clothing.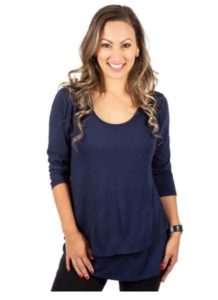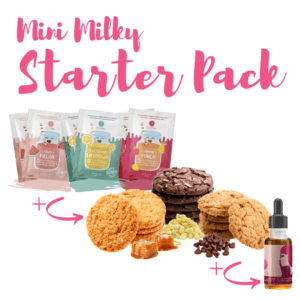 Milky Mama –  Lacation Products: Milky Mama has created an outstanding line of Lacatation products to help moms produce more breastmilk. There products are delicious, natural and created by a registered nurse. They use galactagogues ingredients such as flax seed, brewers yeast, oats, and nutritional yeast to help kick start the body into prodaucing more breastmilk. They offer products such as lactation cookies, brownies (coming soon), lactation drinks, and herbal supplements. The best way to try out the full line is through the Mini Milky Starter Kit which includes the following for $77, and while you may think that is expensive I can personally tell you from my last experience how easy it is to spend WAY MORE on formula.
Use code LILMISSKATE10 TO SAVE 10% on the Milky Mama Website. 
The Mini Milky Starter Pack is simply the easiest way to try our Lactation Products and includes all our best-sellers:
1x Sampler Pack Lactation Cookies

Try all our super yummy flavours: (4) Emergency Cookies – chocolate based oatmeal cookies with white chocolate chips, (4) Oatmeal Chocolate Chip Lactation Cookies – a total classic, & (4) Salted Caramel Lactation Cookies – a fan favourite!

1x Drink Mix Sampler

Try 1 drink powder mix for each of our perfectly potent flavours: (1) Lactation LeMOOnade®, (1) Pumpin' Punch®, & (1) Milky Melon®.

1x Lady Leche Herbal Supplement
Reviews from Past Users: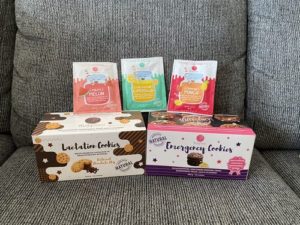 Use code LILMISSKATE10 TO SAVE 10% on the Milky Mama Website.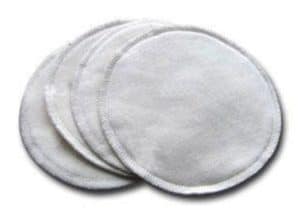 Dressed to Deliever  – Bamboo Nursing Pads: These breast milk pads made of bamboo are reuseable and can easily be snuck into your bras to provide leakage support as the breast milk stays in the pad keeping away from clothing and avoiding wet spots. Soft, hypoallergenic bamboo fabric to place against tender nipples, perfect for use with nipple balm. This is a much more environmentally friendly option as they can be washed and used over and over again rather than using disposable nursing pads. Comes with 2 pairs (4 in total).
Momzelle – Nursing Scarves: Infinity Scarves are a trendy savy style accesory that provides ample coverage when nursing. Infinity style scarves transform from fashion to privacy seamlessly. Wear it as a scarf to keep you warm but use it as a cover up to be discreet when nursing and still allow eye contact with baby and good airflow underneath the lightweight material.
Use code LITTLEMISSKATE20 TO SAVE 20% on the Momzelle Website. Valid until December 31st 2021!
Postpartum Care Kit Ideas:
Now I was lucky and had a pretty easy recovery from birth with my daughter, however after hearing about some of my friends experinces I figured it wouldn't hurt to create a postpartum kit for myself. Preparing for postpartum recovery can catch new moms off guard as they don't know what to expect or what they really need. Some post partum recovery essentials include: nursing balm, stretch mark cream, fem wipes, fem wash, postpartum underwear, tea for new moms and much more! Each pregnancy journey and after birth recovery is so very different, however these items are all great ideas to create a postpartum care package and support moms in incredible ways.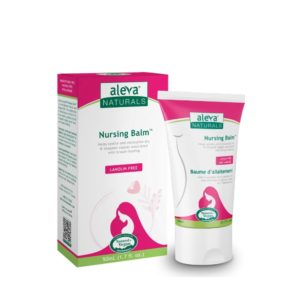 Aleva Naturals Nursing Balm: A plant-based alternative formula for dry and cracked nipples. The combination of Organic Shea Butter, Aloe Vera and Olive Oil helps to soothe and protect sore, dry and cracked nipples associated with breast-feeding. Due to breastfeeding your nipples can become cracked and dry… this product is a perfect formula that absorbs right into the skin leaving no residue behind and helps soothe and protect your nipples.

Use code LMK20 TO SAVE 20% on the Aleva Naturals Website. (Limit 1 per person)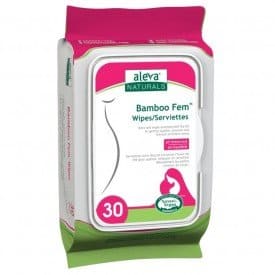 Aleva Naturals Fem Wipes: Ultra-soft, unbleached wipes that gently soothe, cleanse and refresh intimate areas. pH balanced and perfect for on the go!  This unique formulation is ideal for use during pregnancy, pre & post natal and when you are prone to utmost sensitivity & irritation. These are perfect to use after birth when your are healing and everything is sensitive.
Use code LMK20 TO SAVE 20% on the Aleva Naturals Website. (Limit 1 per person)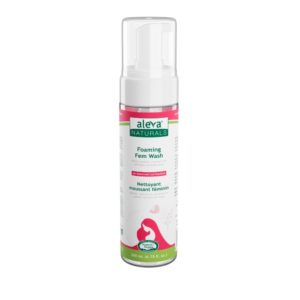 Aleva Naturals Fem Wash: A unique self-foaming gentle wash with a blend of Organic Witch Hazel & Natural Tea Tree Oil that gently soothes, cleanses & refreshes your intimate areas.  It is safe and pH balanced for daily hygiene routine.
Use code LMK20 TO SAVE 20% on the Aleva Naturals Website. (Limit 1 per person)
Knix – Postpartum Underwear: These underwear are designed with pregnancy and post partum in mind as they stretch as your body changes. They are made out of a smooth, anti chafing material to ensure your as comfortable as possible.
My Review: I am in love with these underwear – they are an absolute must have for post partum moms as they definetly help with the pelvic floor changes that lead to peeing a little when sneezing or coughing. With these underwear you can feel dry and comfortable and know that your little accidents wont show through… I ordered a set of 3 and plan to replace my whole underwear collection with these.
Use our link here to get $15 OFF your First Purchase!
This post was sponsored by Naked Tank, Snugabye, Mama BFF Momzelle, Milky Mama, Dressed to Deliever and Aleva Naturals. However, my opinions about the products remain true and honest. I want to personally thank all of these great Canadian based companies for agreeing to work with Little Miss Kate, as I think its clear to say we have some great Canadian Businesses offering products for Moms.
You May also be interested in: