I don't know anyone who actually likes a hospital gown.  The suboptimal coverage, worry about the ties coming undone, and one size does not fit all.  I knew that a hospital gown was not something I wanted to labour and deliver in, I wanted to feel comfortable not self conscious.  There had to be a better option out there.  I started to look into alternatives to hospital gowns for labour and birth and found a wonderful Canadian company called Dressed to Deliever. Designed specifically for expectant mothers the Dressed to Deliver Birthing Gown offer fashion and functionality for the day of your baby's birth and beyond. Labour and Delivery Gowns are stylish, comfortable, affordable and practical for any standard delivery and are a great addition to your wardrobe for the first few days of postpartum. Learn more about the Dressed to Deliver Maternity Hospital Gowns and consider packing one into your hospital bag or adding it to your registry as a gift for mama. Check out these amazing Gifts for a Pregnant Women – Canadian Edition.
You will find the opinions of both Kate and Erin in this review. Kate wore the gown when delievering in 2013, and 2015. Erin will be wearing the labour gown in April 2021 or sooner depending on Baby Boy's arrival timeline.
Dressed to Deliver Labour Gown Review
The first thing that caught my eye was the variety of prints the birthing gown came in, there is one to fit every style.  And the gowns are sized (small – XXL), no more shapeless loose fitting hospital gowns.  You can feel pretty and comfortable while in labour. This is one of the best birthing gown options in Canada. Most pregnant moms in labour don't feel comfortable wearing the traditional hospital gown, and just thinking about how many other people wore them grosses me out so I would much rather bring my own to my delivery. Dressed to Deliver Gowns are amazing as they allow easy access so you won't even need to remove it for fetal monitoring.
Here are some of the other highlights of the Dressed to Deliever Labour and Delivery Gowns:
Made of soft jersey knit fabric

Buttoned straps for easy breast feeding and skin to skin contact

Snap closures that run the entire length of the back of the dress – allows for easy removal of the dress and access for epidurals

Front access via snap closures from the empire waist down – allows for discrete monitoring

Two different styles: One that is higher cut and rounded providing more breast coverage in the fronta, nother that is more of a v neck cut and has a little less coverage

All of the Dressed to Deliver Gowns are Hospital Approved




The style Kate wore years ago in 2013, is definetly lower cut in the front which shows more clevage, compared to Erin's in 2021 that is higher cut as has more coverage in the front.
So when it came time for Little Bears arrival my Dressed to Deliver Birthing Gown was packed and ready to go.  As soon as we arrived at the hospital I got changed into the gown so I would be ready for my IV (I needed to get antibiotics).  Since my labour hadn't really started yet, my midwife suggested we do some walking.  Instead of staying in the labour and delivery area we ventured out to do laps of the whole hospital.  The birthing gown looks and feels like a dress, so I was completely comfortable to pace the hospital for over 2 hours to get my labour going and even venture down to the Tim Hortons at the hospital.
My midwives loved the easy access of the birthing hospital gown for fetal monitoring.  I was able to have my monitoring done without having to hike up the dress or feel exposed.  If you needed continuous monitoring or wanted an epidural that is no problem for this birthing gown, just open the snaps in the required areas and leave the rest closed for complete coverage.  When it came time to deliver Little Bear I was able to open up the snaps on the front of the gown to allow for skin to skin contact.  The gown washed up perfectly and could easily be worn postpartum as it give easy access for nursing.  I know I will be wearing this dress again *IF* we decide to have another baby (way in the future, don't get excited just yet).  (Update to add: I DID wear the gown again when I had baby Roo 2 years later in 2015)
Need one of these Dressed To Deliver birthing gowns for your delivery?  Shop directly on their website.  Dressed to Deliver has also expanded their line of products to include Nursing Essentials, Maternity Robes, Newborn Swaddles and hats, and reusable nursing pads.
Purchase it here: DRESSED TO DELIEVER
LIMITED TIME OFFER: – Purchase a Maternity Robe and get a FREE swaddle and hat set
Add 1 robe to your cart, add 1 swaddle to your cart. Continue to checkout and use code FREESWAD at checkout!
GET YOUR HOSPITAL BAG ESSENTIALS AND SAVE 
STEP 1 – Choose your 3-in-1 Labor and Delivery Gown & Add to Cart
STEP 2- Choose Your Maternity & Nursing Robe & Add to Cart
STEP 3 – Choose Your Newborn Swaddle + Hat Set & Add to Cart
STEP 4-  Choose Either a  Maternity Nursing Bra , Nursing Babe Cover OR Reusable Bamboo Nursing Pads 
At checkout USE promocode: "HOSPITALBUNDLE"
My midwives were very impressed with the Dressed to Deliver Birthing Gown, they had never seen anything like it before.  One of my midwives commented that she loved the functionality of the birthing gown so much that she was going to buy one as a gift for her daughter that is expecting, a true testament to the design of this dress.  Get rid of those yucky hospital gowns on your baby's birth day, feel comfortable and covered in a Dressed to Deliver Birthing Gown.  
Check out Erin's Review Video on Youtube – Jan 2021 (found below)
Much More than just a Birthing Gown
The gown is super comfortable and has all the features of a hospital gown and more it is a great alternative to the uncomfortable hospital gown and offers versatility as it can be worn in multiple ways:
BEFORE DELIVERY – As a maternity dress towards the end of pregnancy, it even works in the winter if you add some leggings. 
DURING DELIVERY – It opens it quite well so no need to worry about a mess, and the fabric does wash really well so it definitely can be used for multiple deliveries.
AFTER DELIVERY – After you have a baby the first couple weeks you just want to be comfortable and have easy access to nurse and this dress definitely helped.
Doing some research into birthing gowns?  PIN it for later so you don't forget!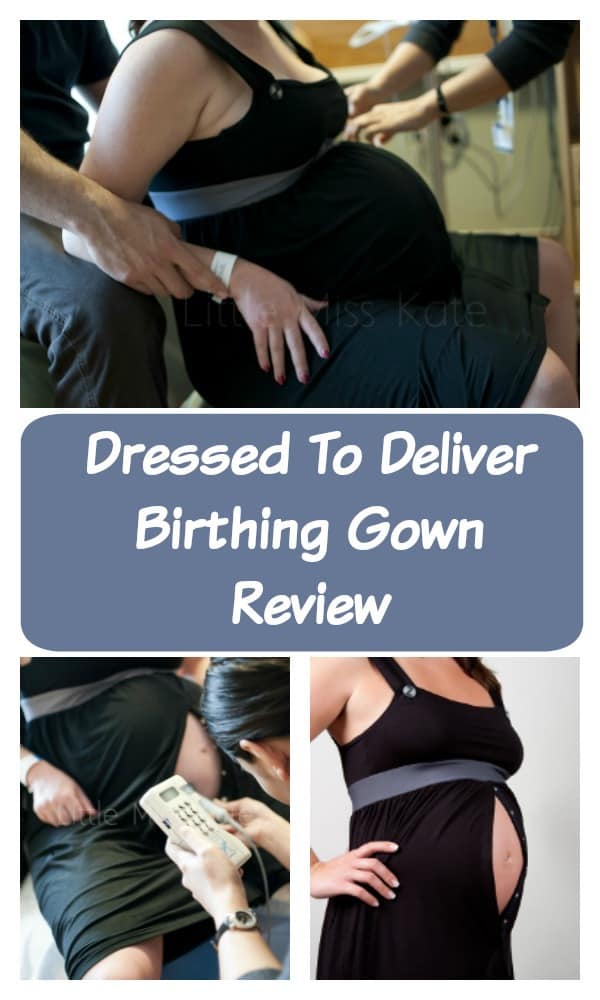 All about Pregnancy and Birth
What is the difference between a Midwife and a Doula?
Disclosure:  I received a sample of this product for review purposes.  All opinions are strictly my own.
Originally posed Jan 2013. Updated in 2021.