Now my husband and I love to be outdoors, and on weekends we are often found camping, hiking with our dog Nala, or just simply playing lawn games and enjoying the fresh air of outside. So a couple months after Thumper was born we decided we wanted to go for a hike, now this was a new adventure for us as a family of three. I began researching stroller friendly hikes in Brampton area and found Terra Cotta Conservation Area just a short 20 minute drive away. It was important for us to find a stroller friendly hike as Thumper was not a huge fan of the baby carrier yet, and it was still chilly so it was much easier to keep her warm in the stroller.  We found out very quickly that Thumper loves the outdoors as she slept through most of the adventure and was kept cozy warm in her stroller. 
I have complied a list and will continue to add to Stroller Friendly Hikes near Brampton, and also Carrier Friendly Hikes near Brampton. So far most of the list is Stroller and Carrier Friendly Hikes in Georgetown but it is only a short drive away from Brampton and allows you to feel like you have escaped the city. After your hike I highly suggest you check out the Best Ice Cream Places in Georgetown for a sweet treat. On your way to Georgetown don't forget to stop at the Apple Factory and pick up some fresh produce or baked goods. We are lucky to have so many Halton Hills Trails. 
Here at The Exploring Family we strive to provide parents with content about Playgrounds and Local Activities in Peel and Halton Region!
Stroller Friendly Trails in Peel, Halton and Hamilton
Chinguacousy Trail – Brampton

TerraCotta Conservation – Georgetown

Scottsdale Farm – Georgetown

Hungry Hollow – Georgetown

Gellert Trail – Georgetown

Jack Darling Memorial Park (Waterfront Trail) – Mississauga


Rattray Marsh – Mississauga

Lake Aquitaine – Mississauga

Crawford Lake Trail – Milton

Robert Edmonson Park – Milton

Chedoke Radial Trail – Hamilton

Urquhart Butterfly Garden – Dundas
Stroller Friendly Trails Map
Stroller Friendly Trails in Brampton
Chinguacousy Trail – Starting at Victoria Arena at 20 Victoria Crescent, Brampton
Located in Chinguacousy Park in Brampton, this trail runs 15km. Chinguacousy Trail was named after Chinguacousy Park, the largest park along the trail route. This paved trail is easy to navigate with a stroller as most of the route is paved and runs north/south following a creek and linking to multiple parks. The halfway mark is Chinguacousy Park which has ponds, gardens, a petting zoo and much more to explore.
Stroller Friendly Trails in Mississauga
Jack Darling Memorial Park: 1180 Lakeshore Rd W, Mississauga, ON L5H 1A1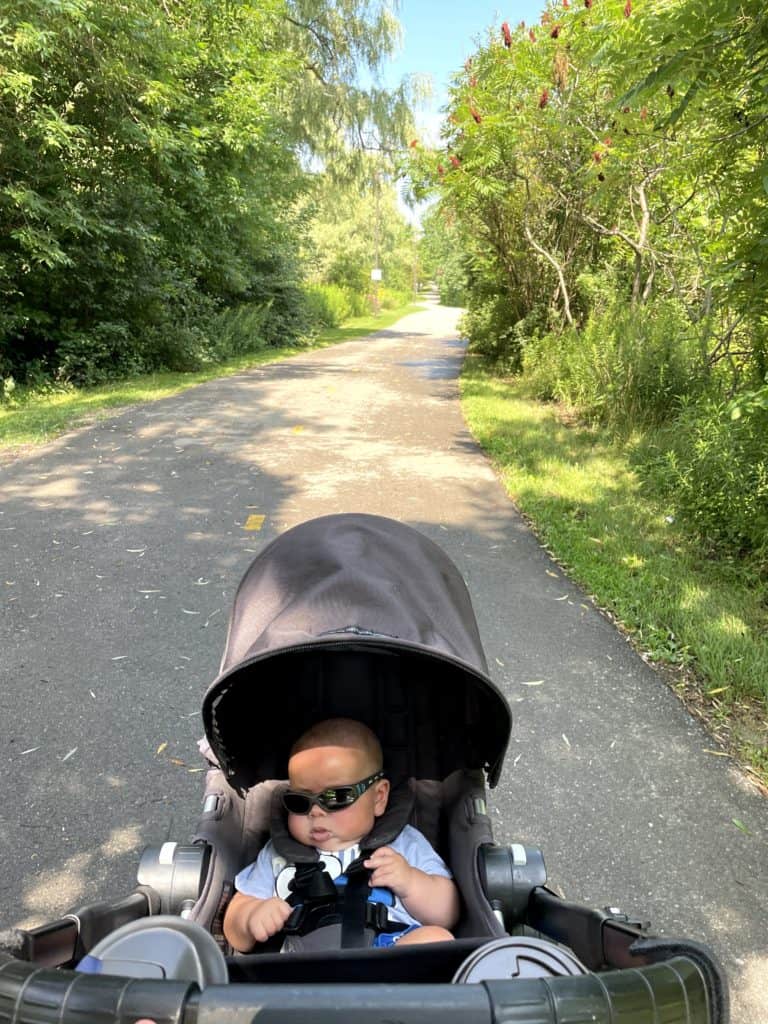 Located along the Lakeshore in Missisauga, this gorgeous park boasts views of Toronto while enjoying views of Lake Ontario. I visited on one of the hottest days of summer and it was so pleasant to be by the water as the breeze of the lake kept us cool. This scenic Waterfront trail is paved offering a place for walkers, strollers, and bicycles to enjoy the waterfront trail. Don't forget to checkout the playground and splash pad nearby. There is also a footpath that connects to Rattray Marsh trail. The trail is 3.9km of beautiful paved pathway that makes you forget your in the city.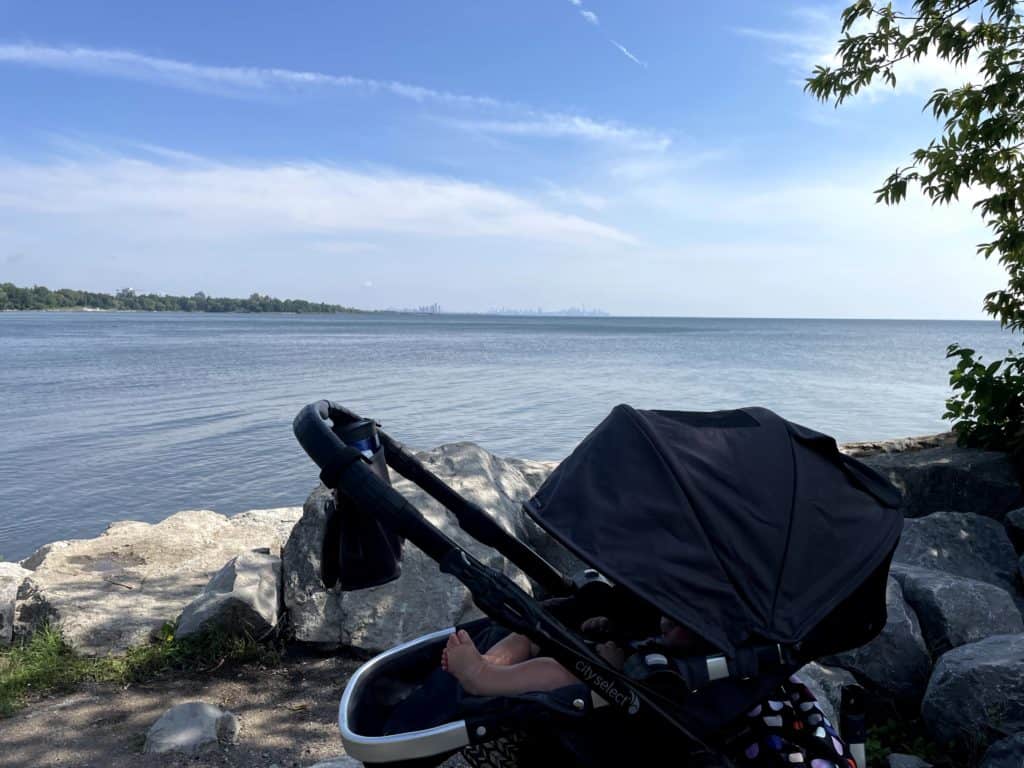 Lake Aquitaine Park –
Aquitane Ave, Mississauga, ON
This stroller friendly trail is located in the heart of Meadowvale community of Mississauga. This is a personal favourite trail for me as I walked in daily with our puppy as we lived in an apartment complex right attached to the lake trail. The trail is 1.6km and is entirely paved and has a nearby splashpad and playground connected to the trail. The trail takes you around the small man made lake – often home to geese. The best place to park to access this park is Meadowvale Community Centre, as if you walk to the back of the complex where the basketball courts are you can connect to the pathway. Lake Aquitaine Park trail is also home to an outdoor fitness circuit as well as a fishing dock.
Rattray Marsh Trail –

 

1180 Lakeshore Rd W, Mississauga, ON L5H 3L1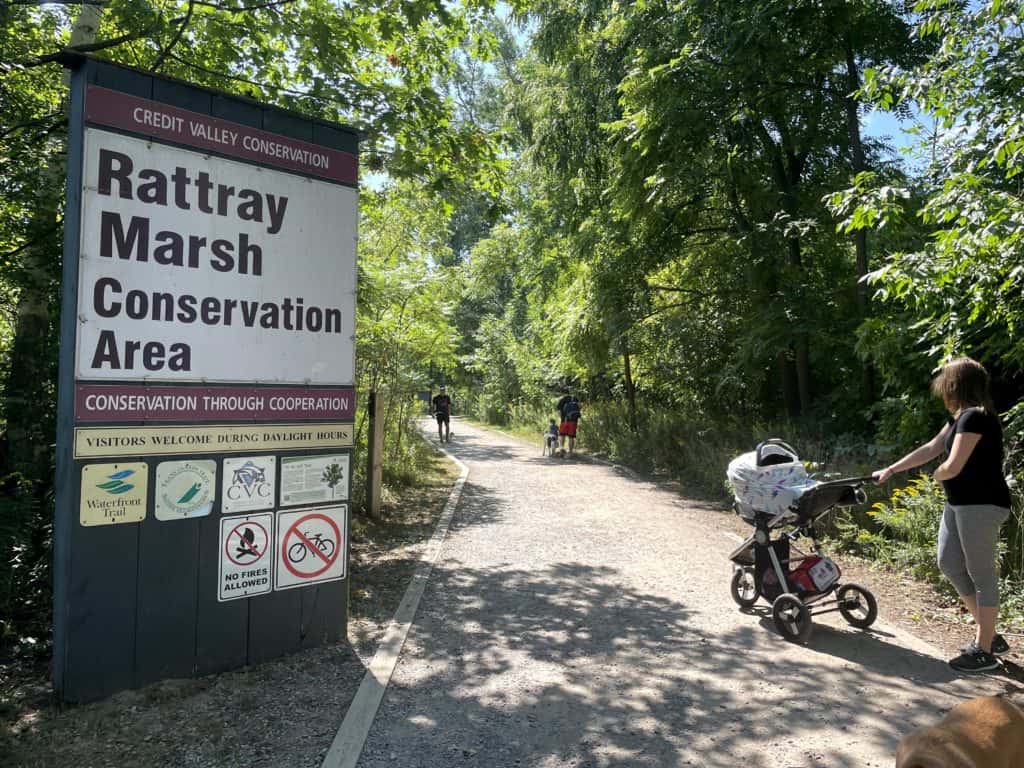 Rattray Marsh Trail is part of Jack Darling Memorial Park and is connected to the Waterfront trail. There are 5 trails with Rattray Marsh: Waterfront trail, White Pine trail, Silver Maple trail, Sheridan Creek trail and Knoll trail. All of these trails are listed as easy to moderate meaning they are flat and minimal to no stairs making them fairly stroller friendly.
We completed the Waterfront trail which was 1.1km of wooden boardwalk and completely stroller friendly. The Knoll trail is currently under construction (to be completed Oct 2021) to be more accessible. It was lovely trail to walk as a family – my sister in law used a stroller and I used a carrier (both worked well) and there was lots of plants and sights to engage my three year old along the route. The Waterfront trail starts out as crushed gravel for a few metres but the rest of the trail is boardwalk.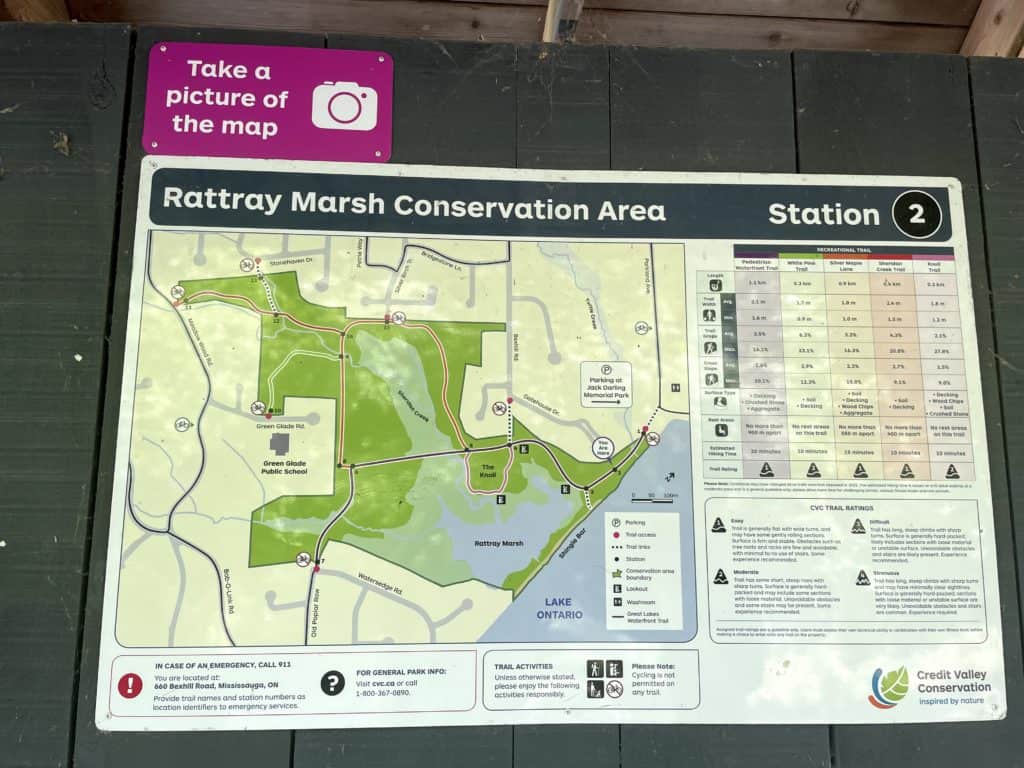 Stroller Friendly Trails in Georgetown – Halton Hills Hiking
You can view many of these trails on the Halton Hills Trail Map!
Terra Cotta Conservation Area: Terra Cotta Lane Trail – 14452 Winston Churchill Blvd in Halton Hills

TRCA Toronto Region Conservation Authority Pass – What does it include?
So while at a Brampton Library program or Georgetown Library program it was promoted that you can checkout a TRCA Conservation pass for free. TRCA is a parks pass that gets (up to 6 people in the same car) entrance and parking for free. So one Friday after attending a library program I decided to take out a pass for the weekend. The pass is good at the following places: Albion Hills, Petticoat Creek. Bruce's Mill, Heart Lake, Glen Haffy, Boyd, Kortright Centre, Black Creek Pioneer Village, Belfountain, Island Lake, Terra Cotta, Ken Whilans. 
We decided to visit Terra Cotta Conservation Area with the TRCA pass that I borrowed from the Brampton Public Library. Now general admission is $5.31 a person to a max of $22 per car, so since we went with 5 of us it was just over $25.00 in savings!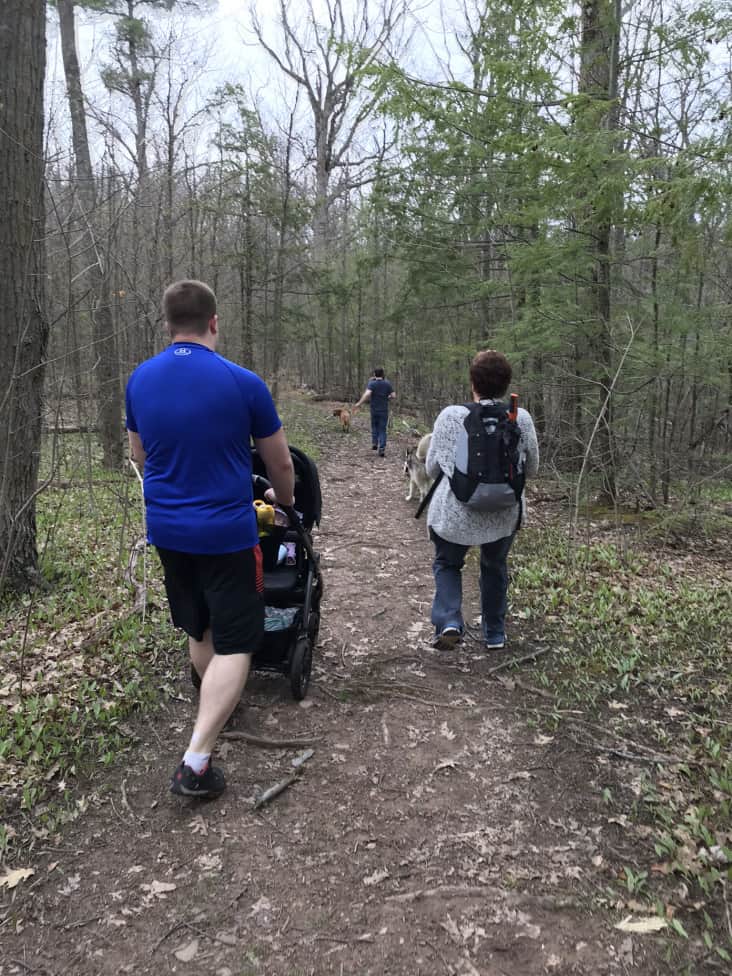 So we decided on Terra Cotta Lane trail which was 2.4km and was hard packed gravel making it easy to roll on with our Peg Perego stroller. It was a lovely trail and there was lots of wilderness to see, and the dogs loved the smells on the trail! If you are looking for stroller friendly than I highly recommend Terra Cotta as it is a short trail and the terrain is smooth and the path is wide making it easy to maneuver  the stroller. The trails are well marked making it very easy to follow the trail.
Scotsdale Heritage Farm – 13807 Trafalgar Road North
Located just at the edge of Georgetown (Scotsdale farm is located at 13807 Trafalgar Road North), this awesome trail in the forest was well kept and had no mosquitos despite the nearby pond. Scotsdale Farm is part of the Niagara Escarpment and is a heritage farm. There is FREE parking and no enterance fee. The small trails right near the main parking lot are definetly stroller friendy and offer a small loop that allows you to see heritage buildings, barns, rolling hay fields, ecologically sensitive forests, and unique wetlands. The trails located near the buildings are stroller friendly as I tested them out a few weekends ago myself – however if you want to explore further I suggest bringing a carrier.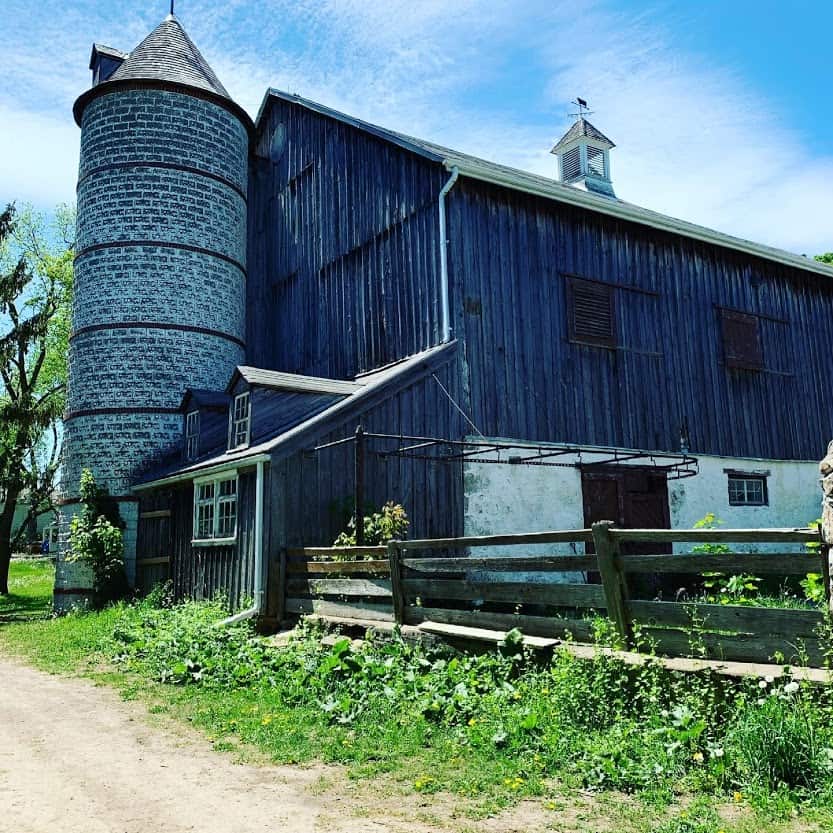 Hungry Hollow Trail – Across from 252 Eaton Street in Georgetown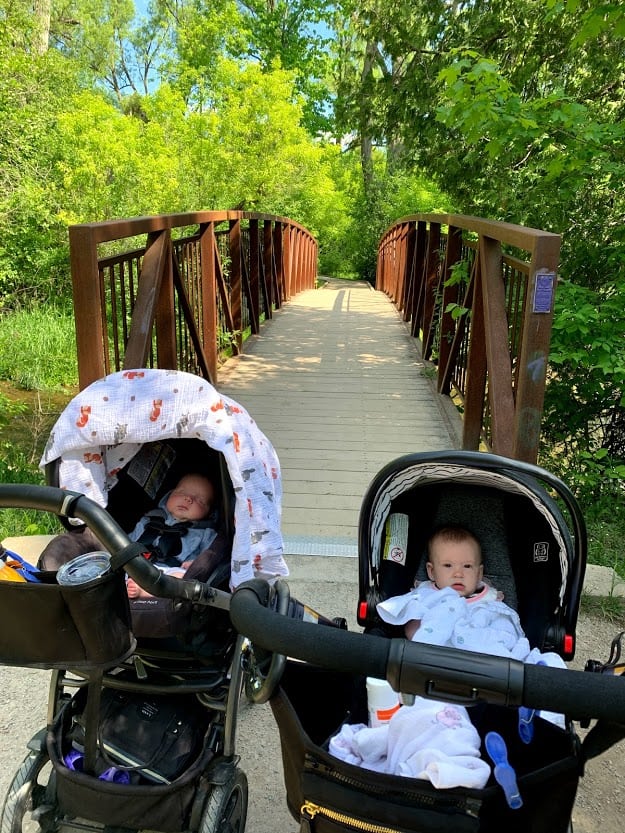 Hungry Hollow is a 5.5 kilometer lightly trafficked loop trail located near Halton Hills, Ontario, Canada that features a river and is stroller friendly. The trail is both hard packed gravel, dirt and boardwalk but is easy to manuever even with a 4 wheel stroller like mine. There are many entry points however I like to enter off Eaton street… I park across from 252 Eaton street and take the path into the trail – it is a bit of a downhill to start but is a super fun trail. If you are looking for a beautiful view and walk through the forest then this is a great trail to choose. If you go to the left once you go down the big hill the trail will take you out to Miller Park Playground. You can also enter off of Metcalfe Ct – this way is a little more paved then the first route I described.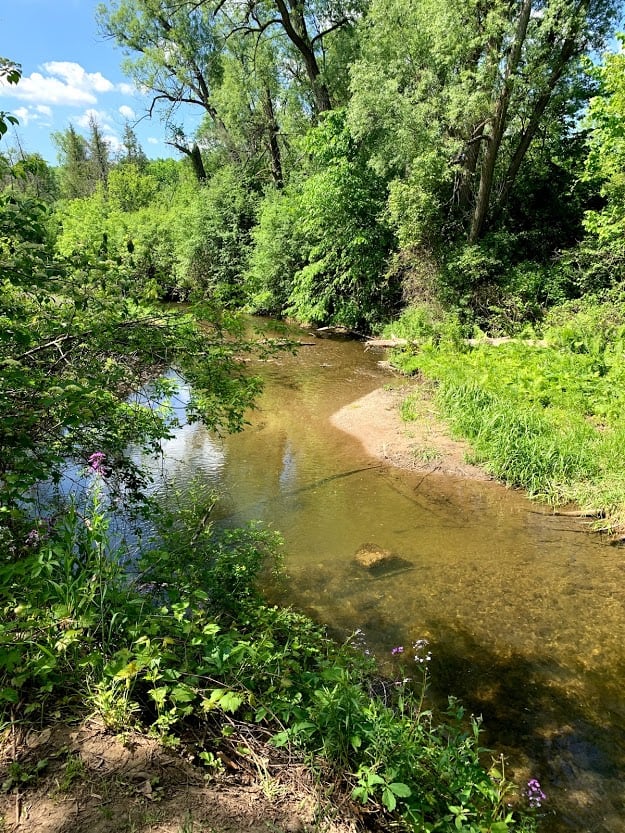 Gellert Trail – 10241 Eighth Line, Georgtown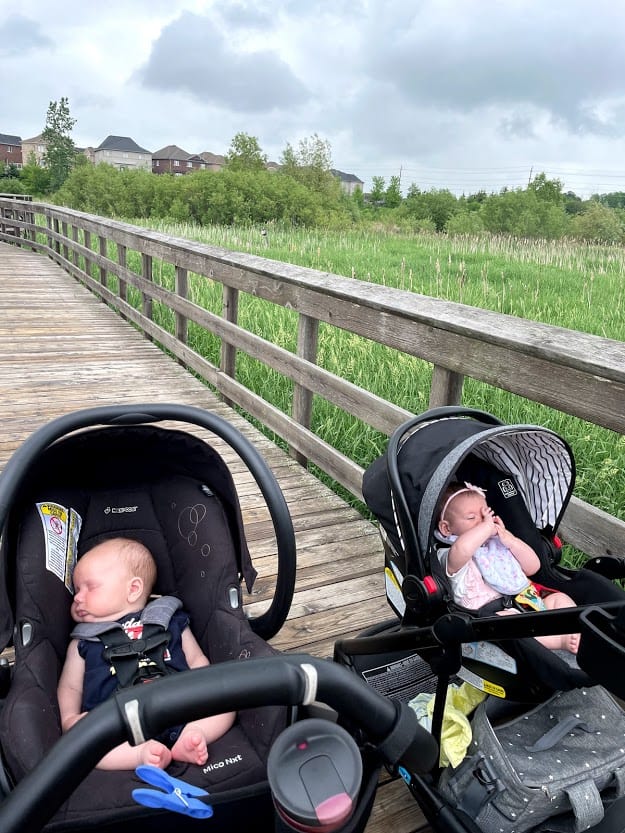 Gellert Trail is a 3.5 kilometer lightly trafficked loop trail located near Halton Hills, Ontario, Canada that features marshland, and ponds and is stroller friendly. The trail is both paved, and boardwalk and is easy to manuever. You can begin the Gellert Trail at the Gellert Centre Community Centre, walk towards the back of the property and go right and follow the trail – you will have to cross Danby road to continue on the trail (there is an option to go under the bridge). 
Stroller Friendly Trails in Milton
Conservation Halton Pass – What does it include?
The Georgetown Library allows users to borrow the Conservation Halton Pass for free. Conservation Halton is a parks pass that gets (up to 6 people in the same car) entrance and parking for free. The pass is good at the following places: Rattlesnake Point, Mount Nemo, Crawford Lake, Hilton Falls, Robert Edmonson, Mountsberg, Kelso, and Glen Eden. 
This pass can offer alot of savings as a family of 4 would cost $20!
Crawford Lake Conservation Area: Boardwalk Trail – 3115 Conservation Road in Milton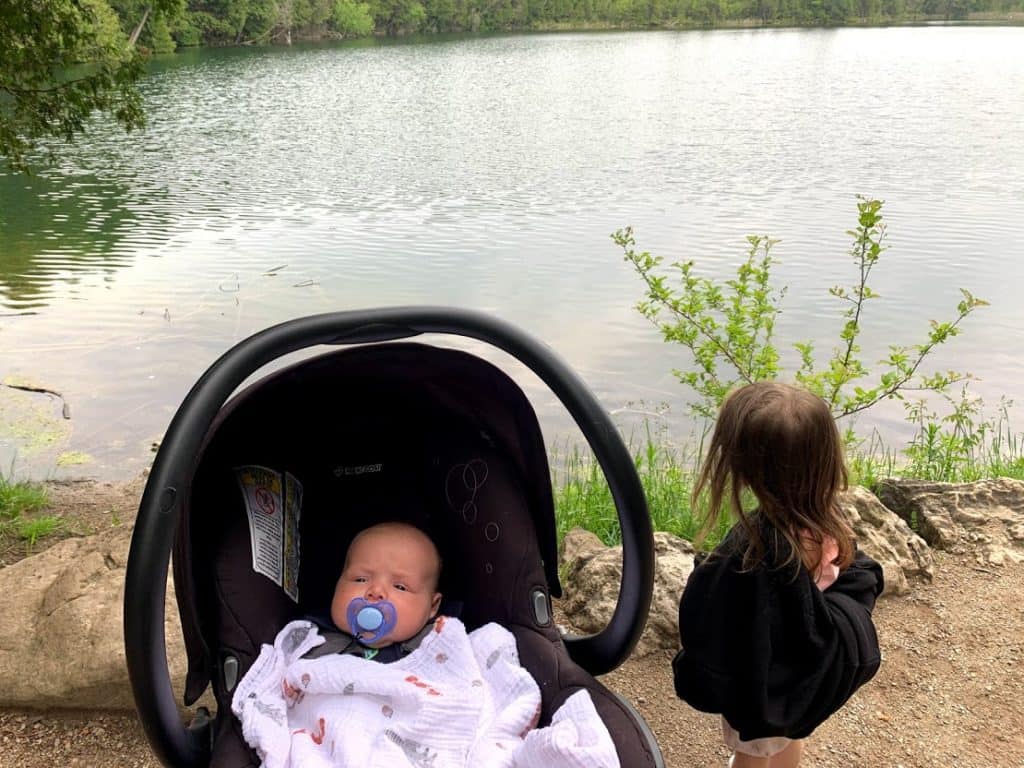 Park at the parking lot near the visitor centre and follow the pathed path down to the forest. Once you enter the forest you will be greeted by beautiful wood animal sculptures while you walk your way to the boardwalk around the lake. Although this area is forest floor, it was still easy to navigate with my stroller, and once we reached the boardwalk section it was even easier. First Nations groups settled in this area over six hundred years ago so the trail has a long historical past and there are multiple signs you can read to learn about it as you enjoy the trail. Enjoy a stroll around the lake on the boardwalk and enjoy the animals and scenic lake view. The whole trail took about an hour to complete and was just over a 1km.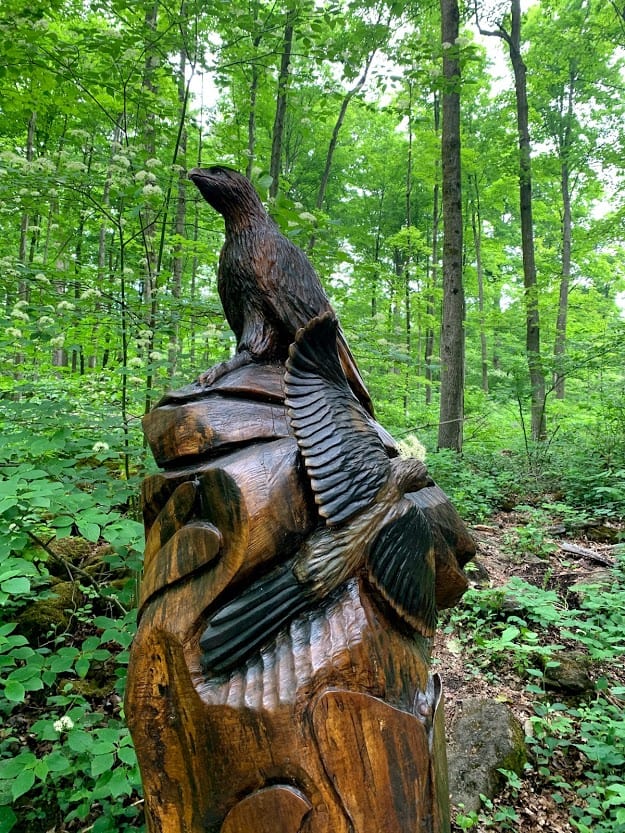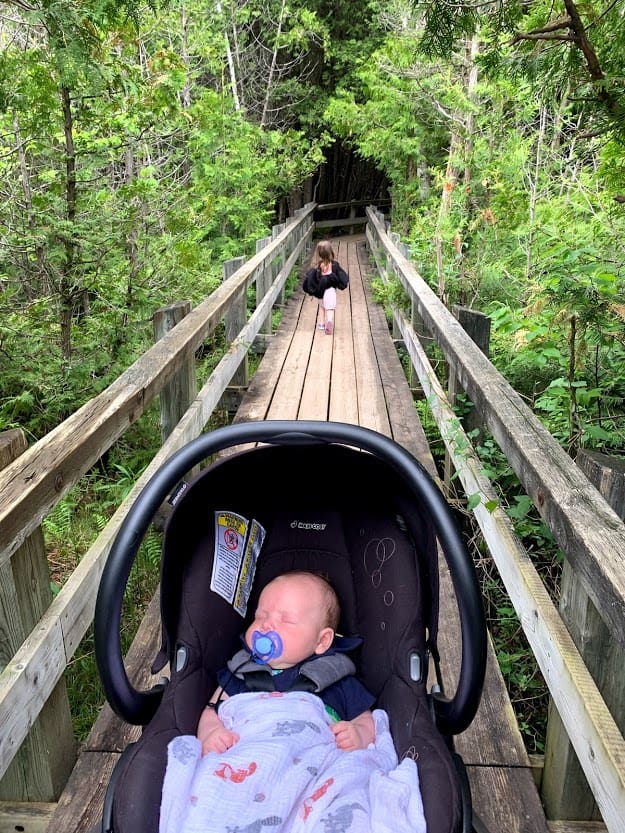 Robert Edmondson Park – 10025 First Line Nassagaweya, Milton, ON L0P 1J0
This is a hidden gem in Halton Region as it is the smallest of the Halton Parks and is a great hideaway from the crowds, we visited on a Saturday morning and there were only about 5 cars in the parking lot. Enjoy some peaceful reflection by the lake and enjoy the nearby forest trail. This 2.3km loop is an easy trail that goes through forest and around the lake by boardwalk. Be sure to bring bug spray as we did encounter alot of bugs on our visit. We also got to see a snapping turtle in the pond which was pretty cool.
Stroller Friendly Trails in Hamilton/Dundas
While Hamilton and Dundas are normally not areas we tend to explore as they are over an hour drive away, however we completed a Guess Where Trip that took us to Hamilton Area so I thought I would share some of the places we visited that were Stroller Friendly in Hamilton and Dundas.
Chedoke Radial Trail: 1180 Scenic Drive, Hamilton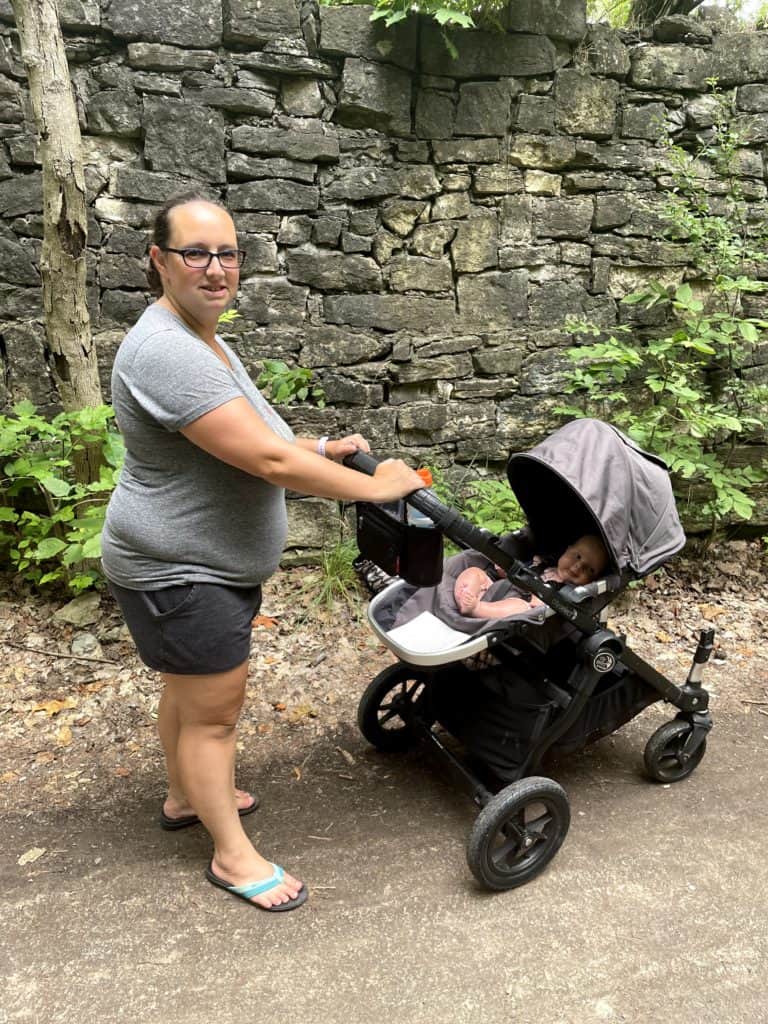 This trail is 9.5 kilometer hard packed gravel trail that offers beautiful views, waterfalls and rock formations. We completed a short version of this trail and saw two waterfalls, rock walls and the scenic views overlooking the city of Hamilton. We turned to the right at the trail head and walked about 1.5km and were able to view Princess Falls, and Mountainview Falls. You will notice a man made deconstructructed wall on your left and this is about the halfway point, just after the metal bridge is Mountainview Falls and this is where we turned around but there was lots more trail to explore. One thing to note is this trail is downhill on the way to the waterfalls so be prepared to push the stroller uphill on the way back. It was beautifully shaded trail on a hot day. My husband said this is one of his favourite trails we have completed.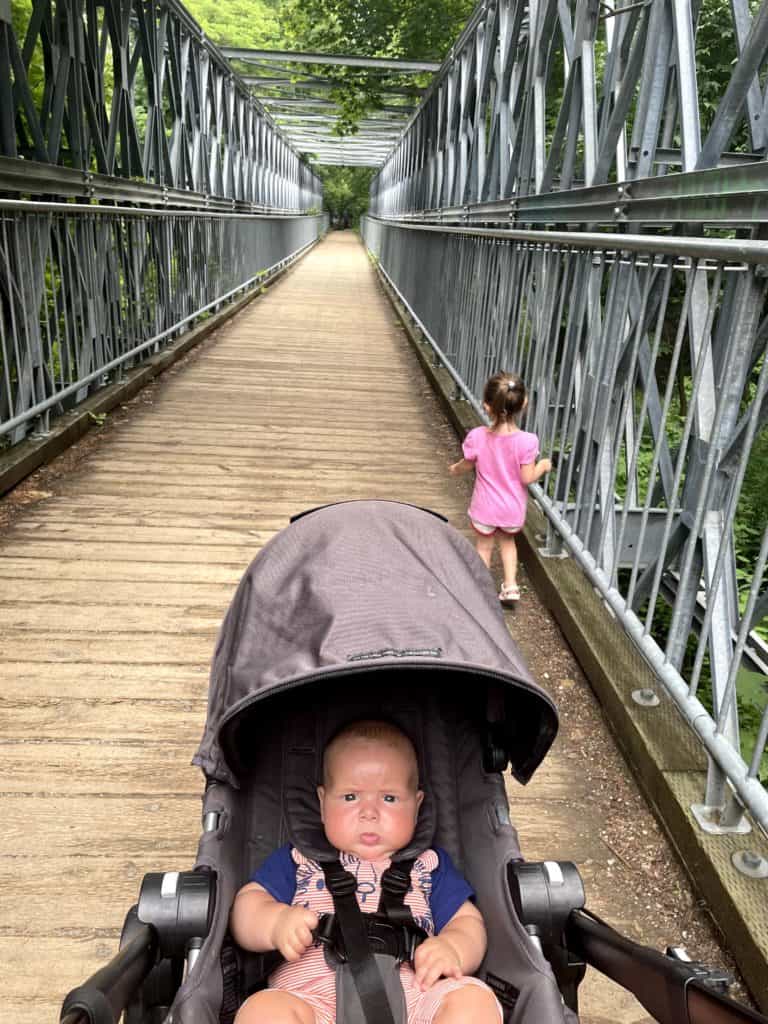 Urquhart Butterfly Garden: 128 King St. E in Dundas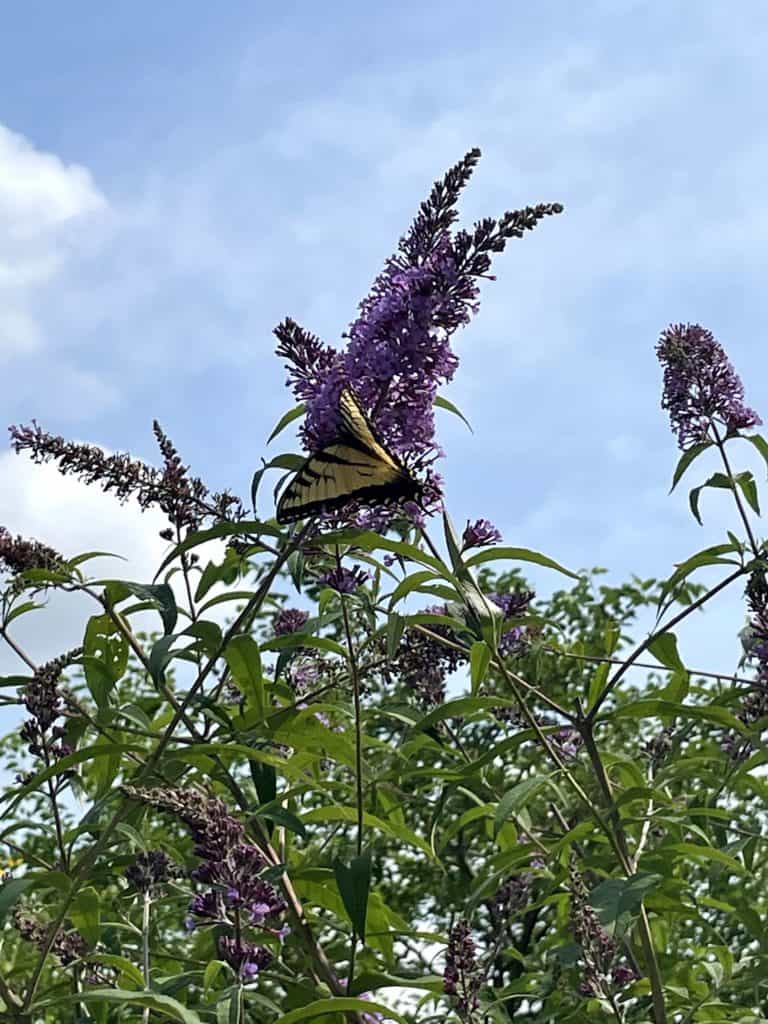 Located in Centennial Park on the banks of the Desjardins Canal, this walk offered beautiful views of foliage plants, butterflies, birds and much more. Be sure to visit the chimey that is home to chimney sweep birds and the large pavilion where you can sit and watch ducks in the water. This was a short walk in terms of distance but you could easily spend 45 minutes to an hour if not more viewing birds, plants, and butterflies while enjoying the peace and quiet of the area.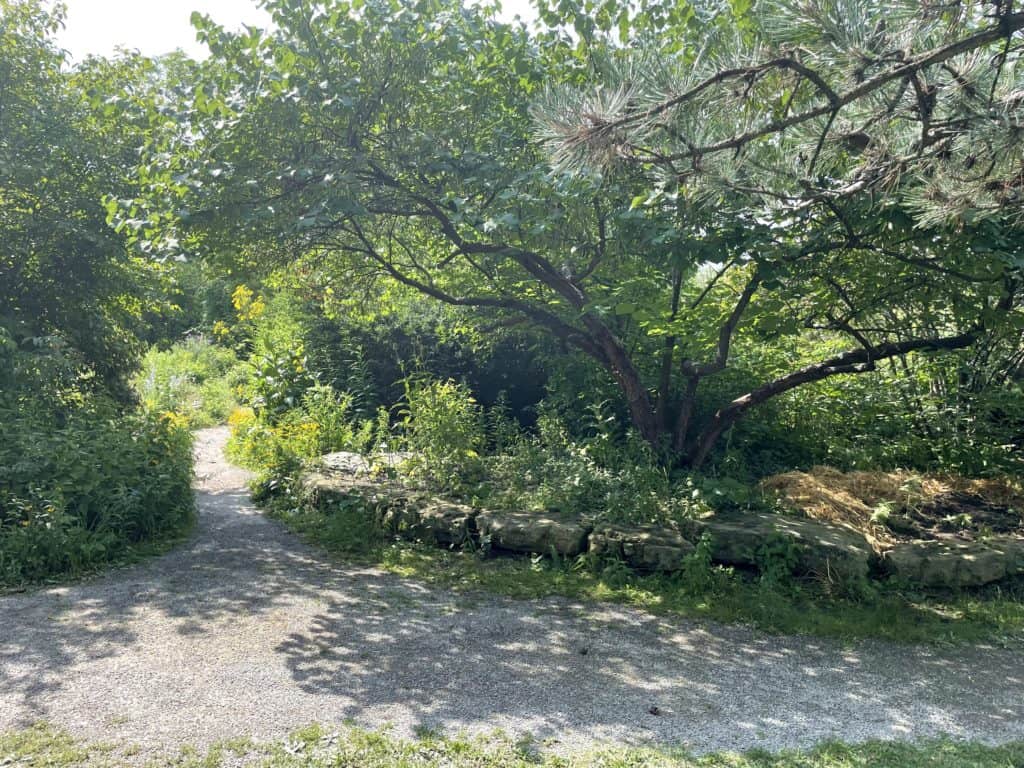 Baby Carrier Friendly Hike
We spent a sunny Saturday afternoon exploring Limehouse Conservation area and all the cool historic features. Thumper was bigger this time so we used our Lillebaby Complete for the hike. Now I love this carrier as even though it was a hot day out, we were able to unzip the flap and have just mesh to keep her and daddy cooler as it allows maximum ventilation and temperature control. Even though I have a back issue this carrier is comfortable and has great lumbar support and shoulder padding and is easy to wash. This carrier also has 6 positions: front inward (fetal,infant, and toddler settings), front outward, hip or back carry so it grows with the child and can work from 7-45lbs.
Terra Cotta Conservation Area
Now after walking the first trail with a stroller we decided that we want to do another trail, so we choose AF Coventry trail as it was only 1.2km long so we figured lets just do another quick trail. Now this is where our first parenting lesson begins! We started to hike and the trail got a little difficulty was roots in the way, so I said to my husband 5 minutes into the trail "do we want to grab the carrier", and he said "No, it's a challenge, we will be fine". Man did my husband eat his words as we found out this trail was not only covered in roots, had thick mud, and lots of elevation changes up and down but it also started to rain. Luckily my brother was with us, so for I would say 80% of the trail Thumper was carried in the stroller like a Queen.  So lesson learned – READ THE TRAIL DESCRIPTIONS FIRST,NOT JUST THE DISTANCES! As we finally completed the trail and were covered in mud, we stopped at the trail map sign which read AF Conventry trail – difficult and many changes in elevation…. oops!
Overall though we had a fantastic afternoon of hiking, learned some great parenting lessons, and made family memories. Later on this summer we decided we would check out Limehouse Conservation area as we always saw the entrance to the trail when we parked our car for softball at Limehouse baseball diamond. It was a beautiful summer day and we were ready to explore the outdoors!
Limehouse Conservation Area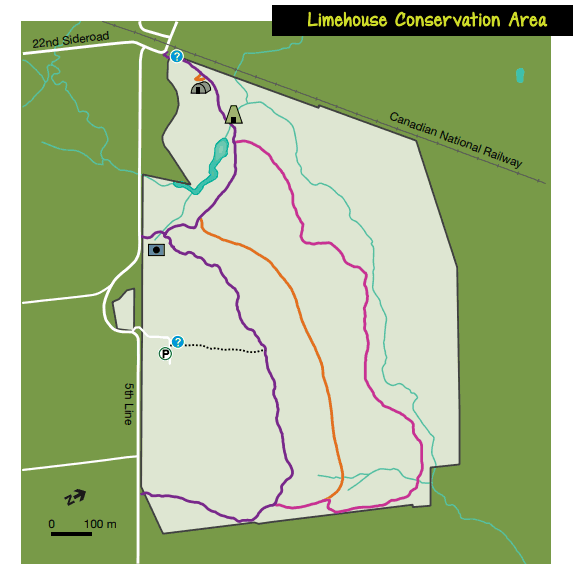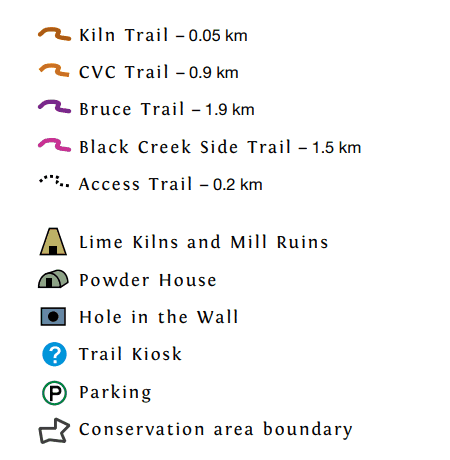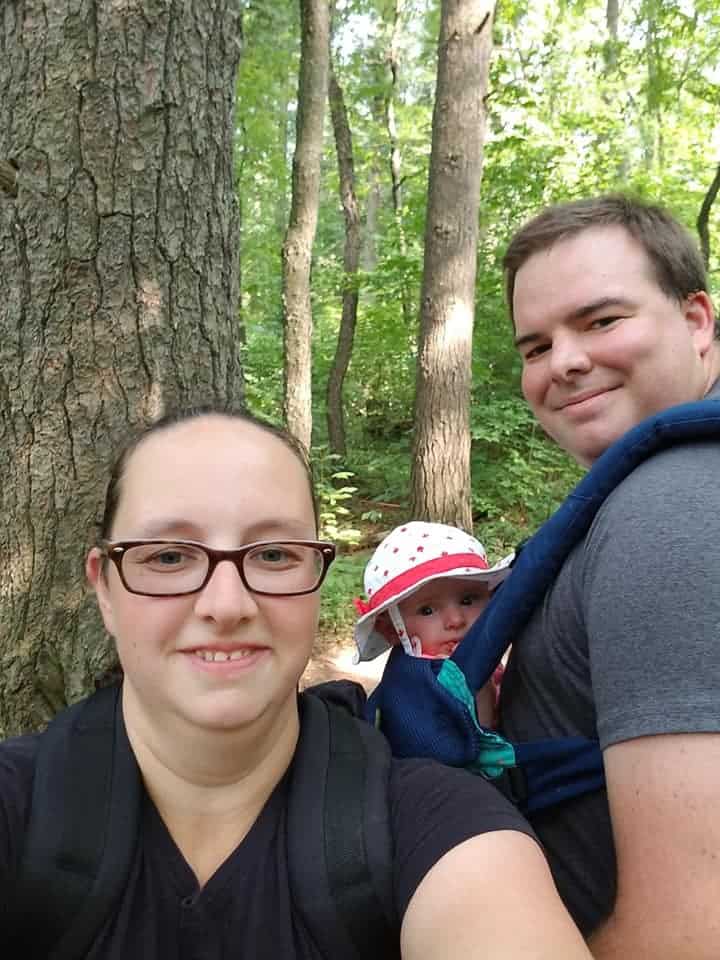 Limehouse is part of the Bruce Trail and has many historic features such as the Hole in the Wall, which is a cool cave in the escarpment rock that you can take a ladder into explore. There is also a bridge over the Black Creek to allow you to access the powder house and kilns. These natural and cultural features are part of the past Lime industry which was an important part of Ontario's past use of the Niagara Escarpment resources. Not only were these hikes very easy terrain to hike when baby carrying, but they are also very short which allows you to do a combination of different trails while there. We saw most of the conservation area after our 2.5 hours of hiking. Most of the trails were very well shaded which was ideal as Thumper was still to young for sunscreen at the time. There was also very little change in elevation throughout the hike. 
Now if you want to check out another cool TRCA trail then checkout Heart Lake Conservation area located right in Brampton.

Scotsdale Heritage Farm 
Scotsdale farm is located at 13807 Trafalgar Road North and  is part of the Niagara Escarpment and is a heritage farm. There is FREE parking and no enterance fee. The small trails right near the main parking lot are definetly stroller friendy and offer a small loop that allows you to see heritage buildings, barns, rolling hay fields, ecologically sensitive forests, and unique wetlands. The property is home to the Bruce Trail and has clearly marked hiking trails that are part of Canada's longest marked foot path. You may recognize this site as it was used to film multiple scenes of Handmaids Tail, The Recruit, Farenheit 451, Taken. Reign, and many more films and shows. Scotsdale farm is also home to lots of wildlife including red wing blackbirds, grackles, and turkey vultures.
Hiker? Nature lover? Check out this interactive Peel Region Trails Map or Halton Hills Trails to find your next adventure! 
You may also be interested in:

Fresh Air Fun with Baby – Beyond the Backyard Fence 


Can you help make this article better?
If you have noticed an error, have additional information or would like to share a comment you can:
E-mail us at info@thexploringfamily.com
Find us on Facebook: The Exploring Family
Find us on Instagram: @The.Exploring.Family