Nickelodeon Punta Cana Resort is a one-of-a-kind destination that promises an unforgettable family vacation experience and is part of the karisma hotels. The resort is located in the Dominican Republic and features a range of fun activities, exciting entertainment, and delicious dining options. The Nickelodeon Punta Cana Resort offers a variety of fun and exciting experiences for families looking for a unique vacation. And what better way to complement your stay than with a delicious culinary experience at one of the many restaurants at the resort or checking out one of many food events or gourmet dining options throughout the week at this inclusive resort.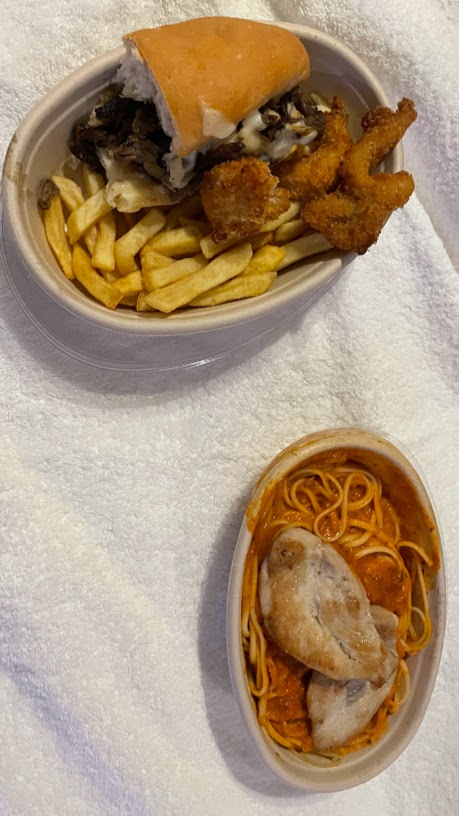 Nickelodeon Resort offers 24 hour room service that is delivered by staff on bike and in our experience was always warm an delicious and we ordered almost daily. All restaurants also had a kids menu that featured quesadillas, chicken fingers, and some sort of pasta so you can be ensured your kids will never go hungry! My favorite's room service options were the Philly Cheesesteak Sandwich and Chicken Fingers – I may have ordered them more than once during the week! Room service is the perfect food display option if you don't want to leave your swim-up suites.
In this blog post, we will take a closer look at the Restaurants at Nickelodeon Punta Cana Resort. No matter what your culinary preferences are, the restaurants at the Nickelodeon Punta Cana Resort have something for everyone. So why not treat yourself to a delicious meal (or two, or three!) during your stay?
Gourmet Plaza is the main area in the center of the resort that is home to five different restaurants: Sugarcane, Verdello, BRGRS PH, Space Walker, and Wok Wok. Doppio also offers small snacks and coffee and tea.
Let's take a look at some of the standout restaurants at the Nickelodeon Punta Cana Resort:
Sugarcane:
First up, we have sugarcane restaurant, which is the resort's main restaurant. Sugarcane offers a wide variety of international cuisine, including Dominican specialties, American favorites, and even vegetarian options. The restaurant is open for breakfast, lunch, and dinner, and features both indoor and outdoor seating options.

This restaurant serves restaurant serves up mouthwatering Caribbean and Latin American cuisine, featuring fresh seafood, grilled meats, and colorful cocktails. The relaxed atmosphere and stunning views of the main plaza make Sugarcane the perfect spot for a leisurely lunch or romantic dinner. If you sit outside you can see the main outdoor stage from your table so you can enjoy live music while you dine and checkout the nightly events in Gourmet Plaza.

At breakfast they offered an omelet bar where you could customize your omelet and they would cook to order. In the evening they offered a similar service with a Make Your Own Pasta Bar which I enjoyed and was a great option for the kids. Each night they also had chicken and steak that you could have grilled to order.
Sugarcane had a large section each meal for kids that would feature more kid friendly items and then even had a section that offered yogurt and baby food for those under 1 not yet eating solid foods.
Foods you have to try: Specialty pancakes, omelet bar, pasta bar, gelato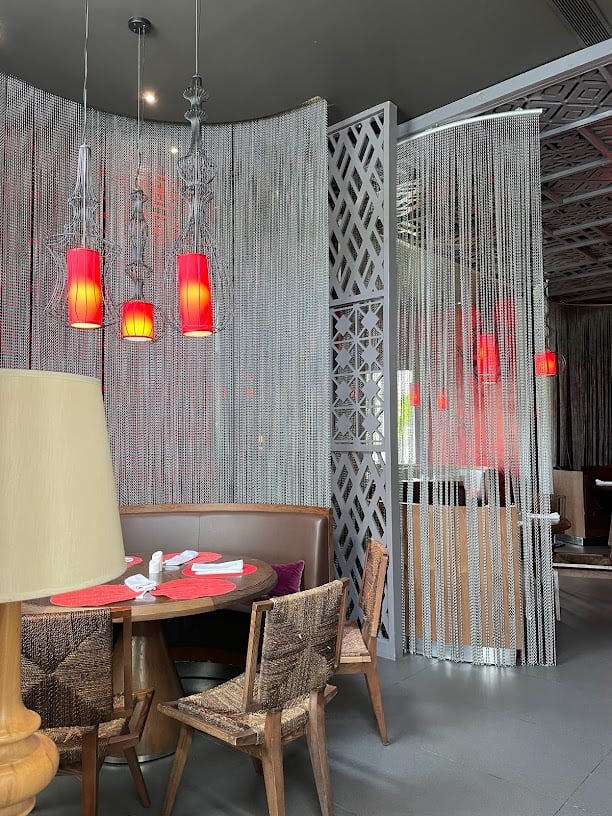 Wok Wok:
Wok Wok is the resort's Asian-inspired restaurant, serving a range of dishes from across the continent, including sushi, noodles, and stir-fries. The restaurant's decor is elegant and modern, and guests can choose between indoor or outdoor seating. Wok Wok is only open for dinner and is open six days a week.
Enjoy the Asian themed atmosphere of this restaurant with the red lantern lighting that gives off a soft glow, and many other Asian inspired interior decor choices. Guests will enjoy tantalizing Eastern classics like Sushi and Poke Bowls, Noodle Bowls, Miso Soup and many other delicious meals. It is neither Japanese or Chinese food but instead is a fusion known as Wok Cuisine. Guests will enjoy ingredients from the Far East and will enjoy the open kitchen concept where you can watch the chefs cook.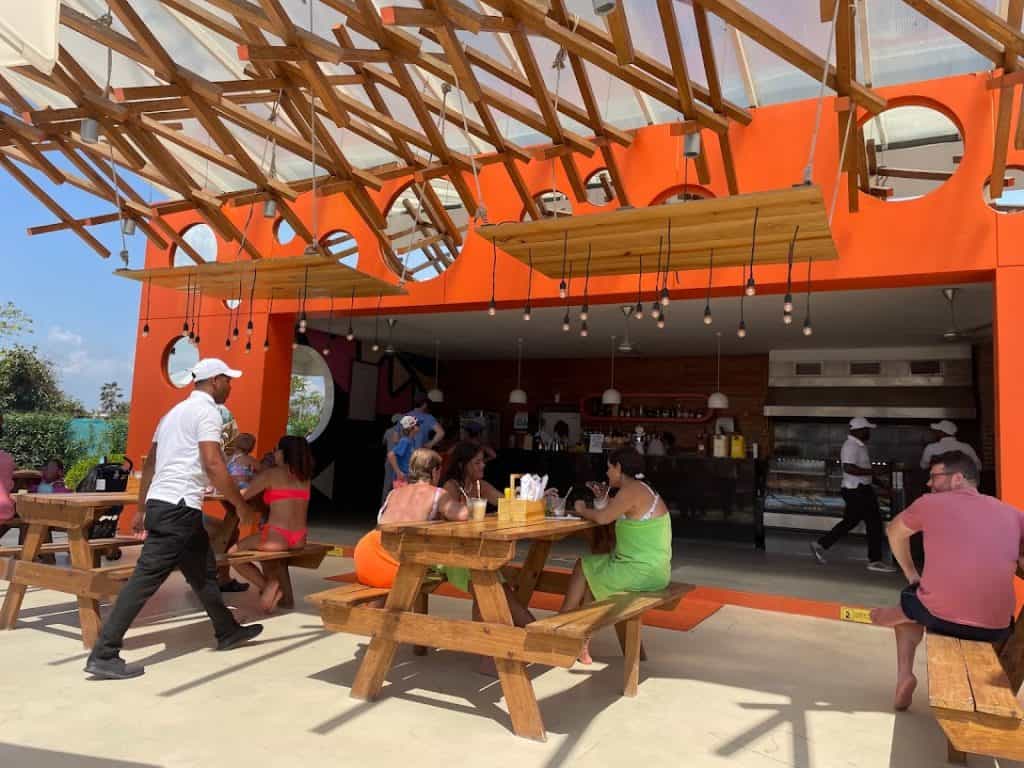 Aqua Bite:
Aqua Bite: If you're in the mood for something quick and casual, Aqua Bite is the place to be. This poolside eatery serves up classic comfort foods like burgers, hot dogs, and nachos, as well as refreshing smoothies and frozen cocktails. Aqua Bite is only open for lunch.
Aqua Bite, which is the resort's beach themed restaurant is located in Aqua Nick and is the perfect location for lunch. Located steps from the aqua nick water park, Aqua Bite offers kid friendly meals and adult approved drinks. Aqua Bite offers a range of casual dishes, including burgers, hot dogs, flat breads, sandwiches, and salads. The restaurant is open for lunch and is the perfect spot to grab a bite while enjoying the beautiful Caribbean scenery.
Aqua bite also serves ice cream if you are looking for a cool treat after a hot day in the sun at the waterpark. The seating at this restaurant is all outside on a patio and picnic tables. Keep your eyes open as you never know when as Nickelodeon character will pop up such as Dora and Boots.
Foods to try: Ninja Turtle Themed Flatbreads, Passion Fruit BBQ Chicken Wings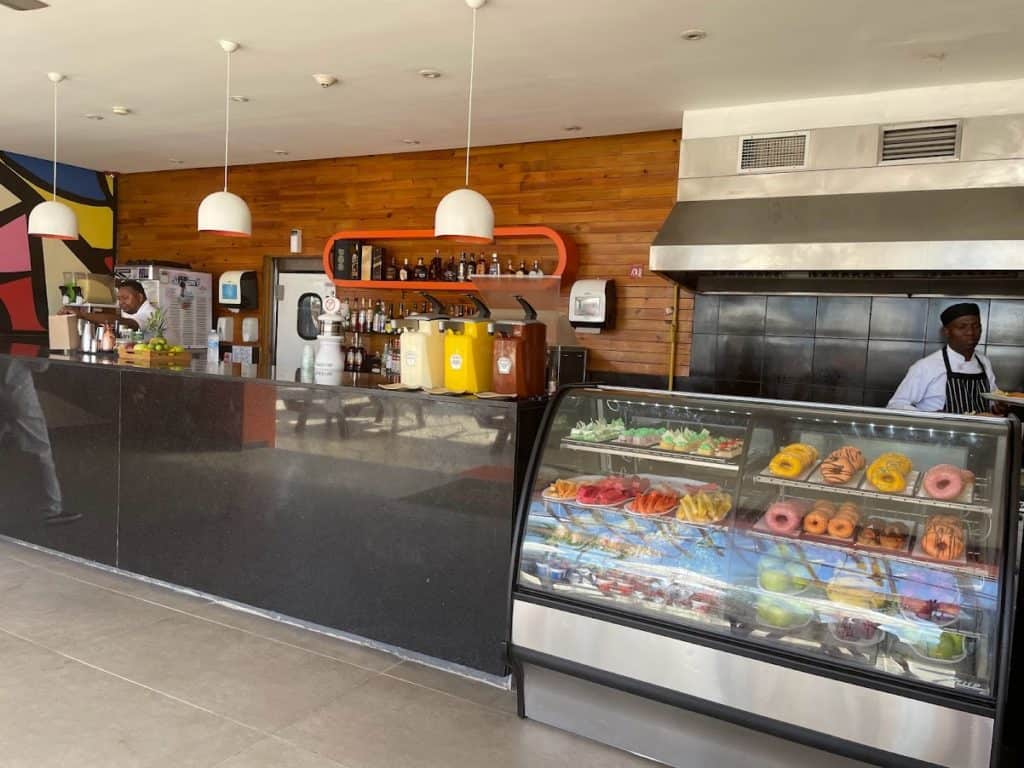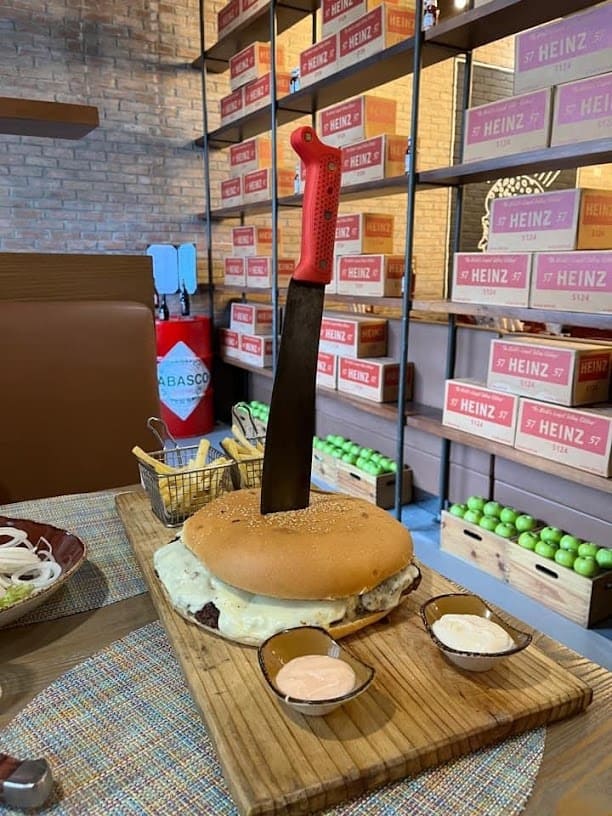 BRGRS PH:
BRGRS.PH: As you may have guessed from the name, this restaurant specializes in delicious, gourmet burgers. But BRGRS.PH takes things to the next level with unique toppings like truffle mayo, jalapeno jelly, and mac and cheese. Vegetarians will also appreciate the plant-based burger options. BRGRS PH is only open for dinner and is open six days a week.
BRGRS.PH offers a selection of classic burgers, as well as some unique creations, like the "Nacho Burger" and the "Veggie Burger." The restaurant also offers a range of sides and appetizers, including onion rings, fries, and chicken wings. You won't want to miss out on trying the machete burger that is big enough for the whole family.
Foods to try: Machete Burger, Onion Rings, Chicken Wings, Chocolate Cake Shake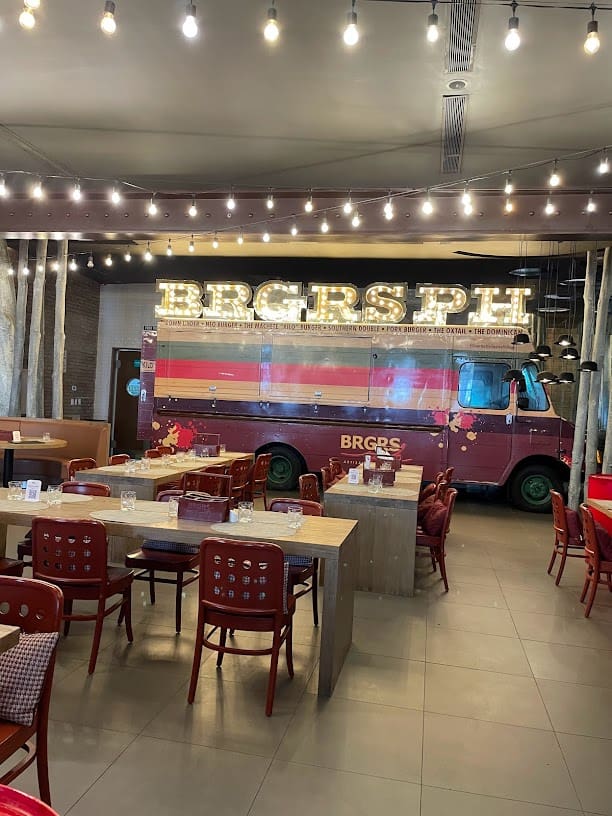 Spacewalker:
This Space themed restaurant makes you feel like an astronaut in space, and the food is out of this world. All the items on the menu are space themed, and the whole restaurant makes you feel like you are inside a space ship from the seating to the dry ice mist. Space Walker is only open for dinner and is open six days a week and has seating's at 5:30PM, 7:30PM, and 9:00PM.
Spacewalker features two immersive virtual reality (VR) experience chairs which allows visitors to put on a VR headset and step into a futuristic world were they can explore, play games, and interact with their surroundings. The experience takes place in a specially designed arena, which is outfitted with cutting-edge technology to create a fully immersive VR environment. Players are equipped with all the necessary equipment, including a VR headset and hand controllers, to fully engage with the experience.
The adults really enjoyed the food, the kids loved the atmosphere and the cool melting dessert ball called the Inner Core which is quite the show. Don't forget to stop at the Astronaut cut out photo spot outside.
Foods to try: Milky Way, Solar Magma, The Inner Core, Steak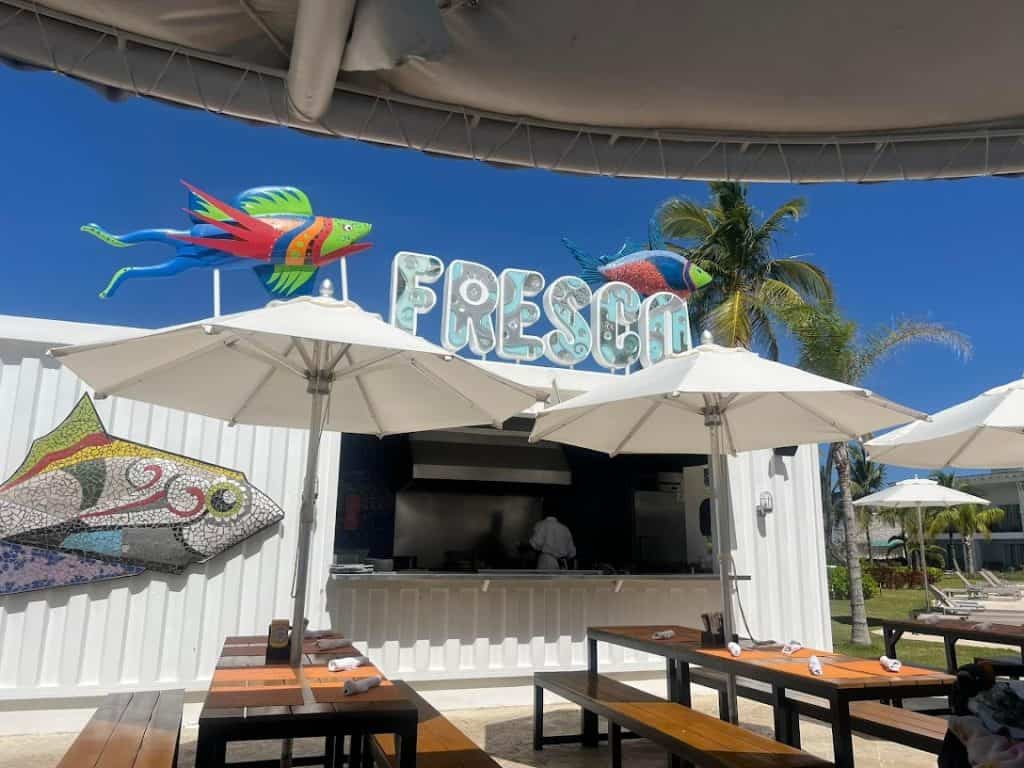 Fresco:
Located right by the Swim Up Pool Bar, this is the perfect location to have a patio lunch and enjoy a quick bite! This restaurant is all about creative, and fresh ingredients while enjoying open air dinning. There is a playground being built right by Fresco which will be great to entertain the kids. Fresco is also one of the shuttle bus stops which makes it convenient to stop by for lunch on your way to or from the waterpark. If you ask nicely they will allow you to take a small plate to go!

Foods to try: Slime Green Smoothie, Yuca Fritters, Fish Tacos, Mikey's Mac and Cheese Bites, Chicken Fingers
Zest:
Looking for a more formal dining experience? Look no further than Zest, the resort's Mediterranean-inspired restaurant. From handmade pasta to grilled veggies, the menu at Zest is sure to delight your taste buds. Don't forget to save room for dessert! Open for lunch from 12-4PM and open in the mornings for Zest Character Dining experiences, which are an additional charge. At lunch, Zest offers a buffet style lunch featuring pasta, grilled veggies, hot dogs, hamburgers, tacos and much more!
Foods to try: Desserts!! They had a large selection of desserts to enjoy including cake, fresh fruits, and many other baked goods.
Verdello:
Verdello: This rustic Italian eatery serves up classic dishes like pizza, pasta, and antipasti, as well as a variety of wines from Italy and beyond. The cozy atmosphere and friendly staff make Verdello a great choice for a family dinner or date night. Start your meal off with fresh baked Focaccia bread and oil to dip and the order a Sicilian appetizer. I enjoyed the booth seating in this restaurant as it was more comfortable than other seats and it was easier for younger kids to sit at the table.
Foods to Try: Chicken Parmesan, Lasagna, Pepperoni and Meatball Calzone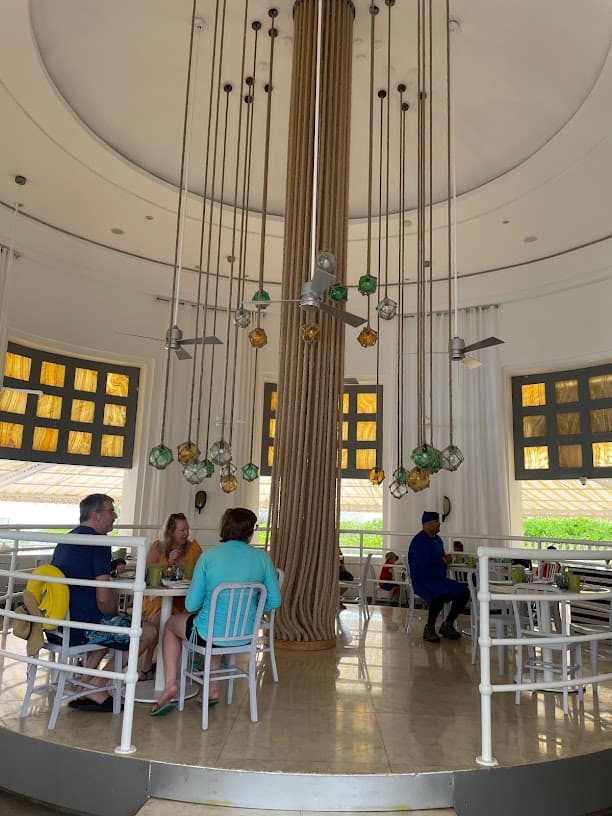 Lighthouse:
Last but not least, we have Lighthouse, which is the resort's second buffet option for breakfast. We found this hidden gem mid week and enjoyed the rest of our breakfasts here as it offered shaded patio dining but was located near the infinity pool so you could see the pool and views of the ocean from your seat which was a nice ambience. We found it much cooler to eat here as the Sugarcane buffet was very warm inside.

Lighthouse offered a mimosa station, Caesar station, smoothie bar, and similar food options to Sugarcane including a variety of pancake and french toast options, a kids section, baked goods including muffins and pastries, fresh fruit options and an extensive meat and cheese selection and a large selection of hot items including eggs, hashbrowns and bacon.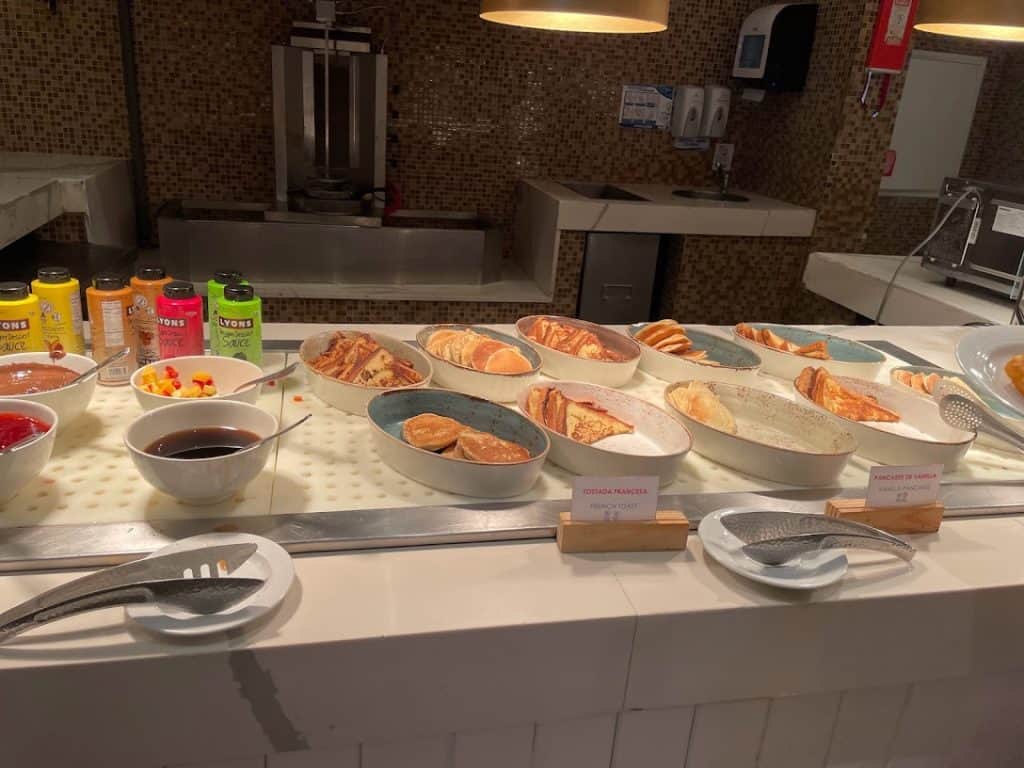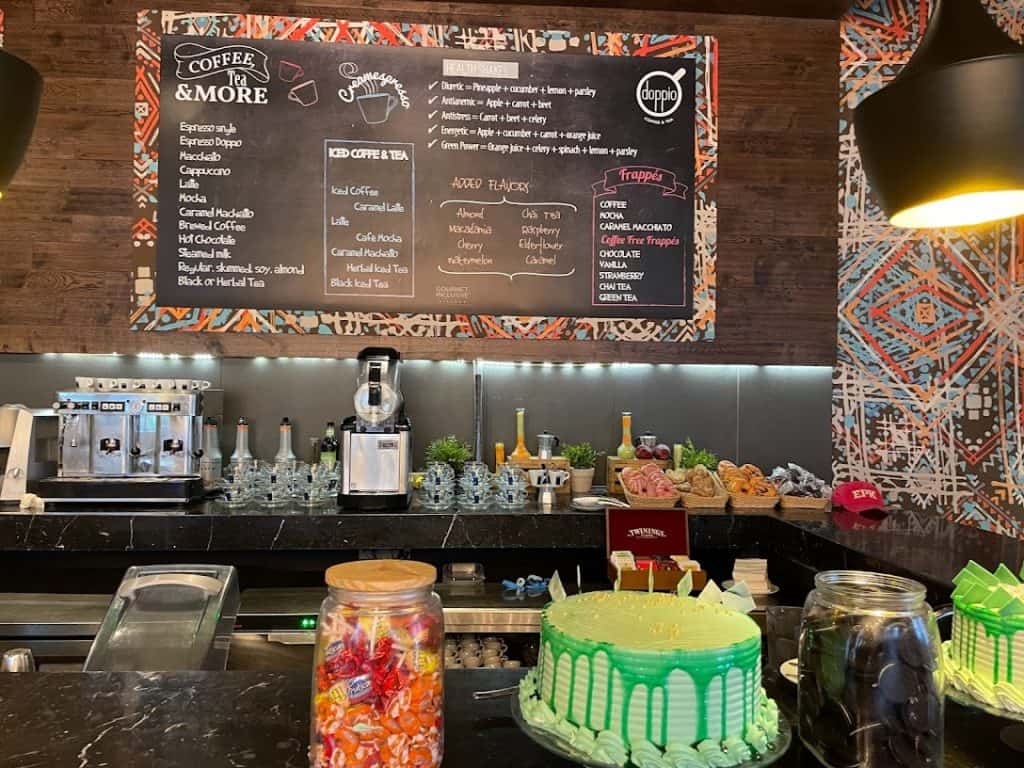 Doppio:
Doppio is a cute little coffee shop that is perfect spot to take a break from the sun. Doppio serves both hot and cold caffeine beverages including Espresso, Mocha, Lattes, Hot Chocolate, Coffee, Tea, Health Shakes, Frappes, as well as Iced Coffee and Tea.
In the morning you can find ready to go breakfast sandwiches to grab and go, and at lunch you can find yummy desserts, as well as wraps. Doppio was a great place to stop for dessert as they had a variety of desserts including cake, cupcake, brownies, cheesecakes, donuts and ice cream.
In addition to these restaurants, there are also several bars and lounges located throughout the resort, offering a range of cocktails and other drinks. Whether you're looking for a casual poolside drink or a sophisticated evening cocktail, there's a bar or lounge to suit your needs. Vino Vino offers bar service in the late night hours for adults.
Checkout the Pool and Swim-up Bar: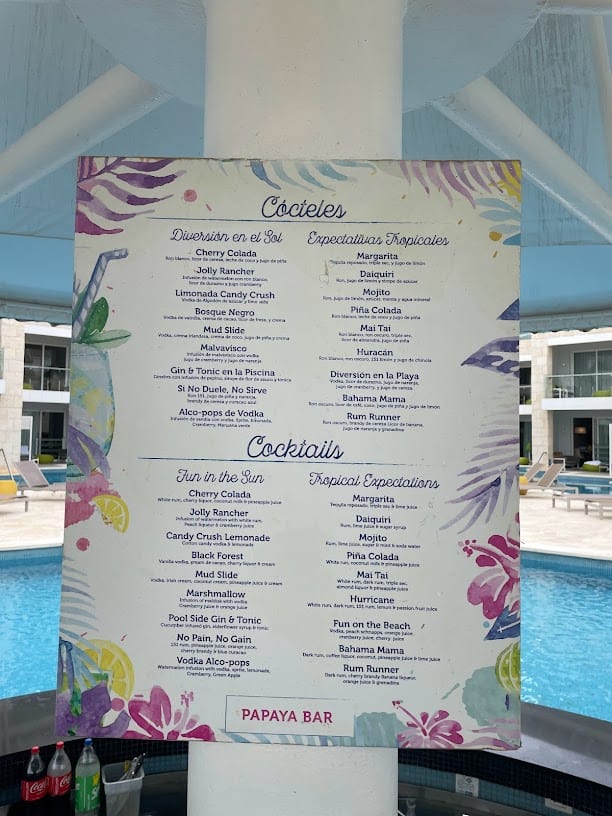 Food Themed Events You don't Want to Miss: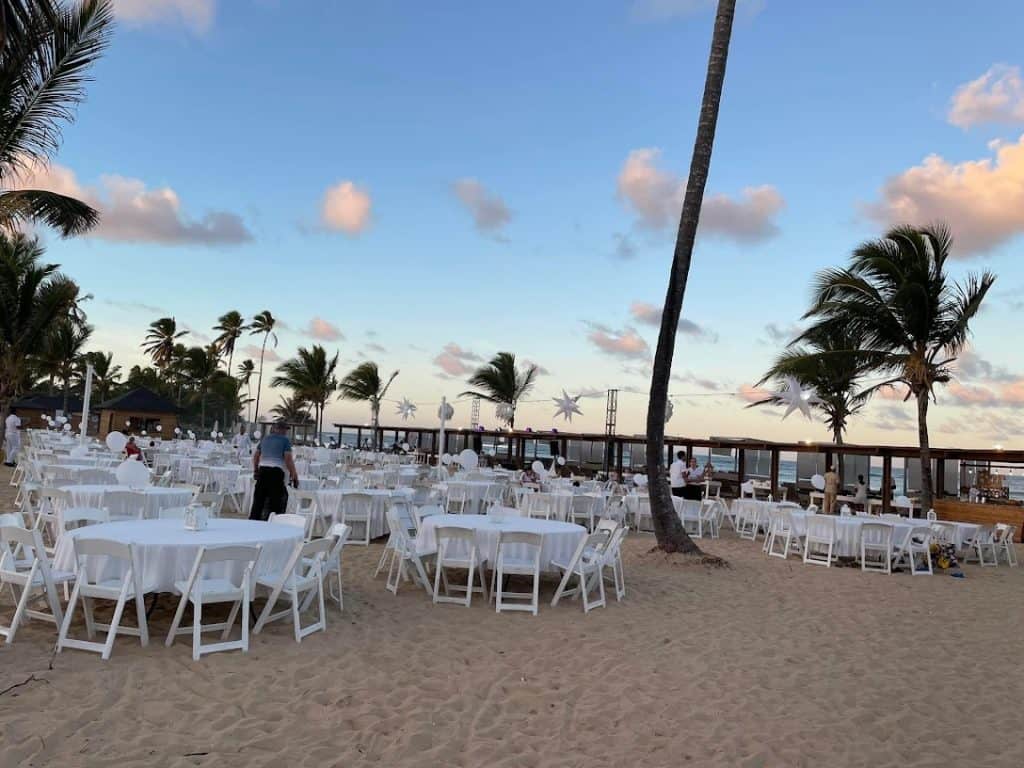 White Party at the Beach: This event runs on Fridays and is located on the beach right beside the infinity pool. Guests will enjoy a party on the beach with a DJ, and buffet food. They decorate the beach with some tables and white and green balloons and guests are encouraged to wear white to the party. Once the sun sets guests will enjoy many glow in the dark lighting and live music.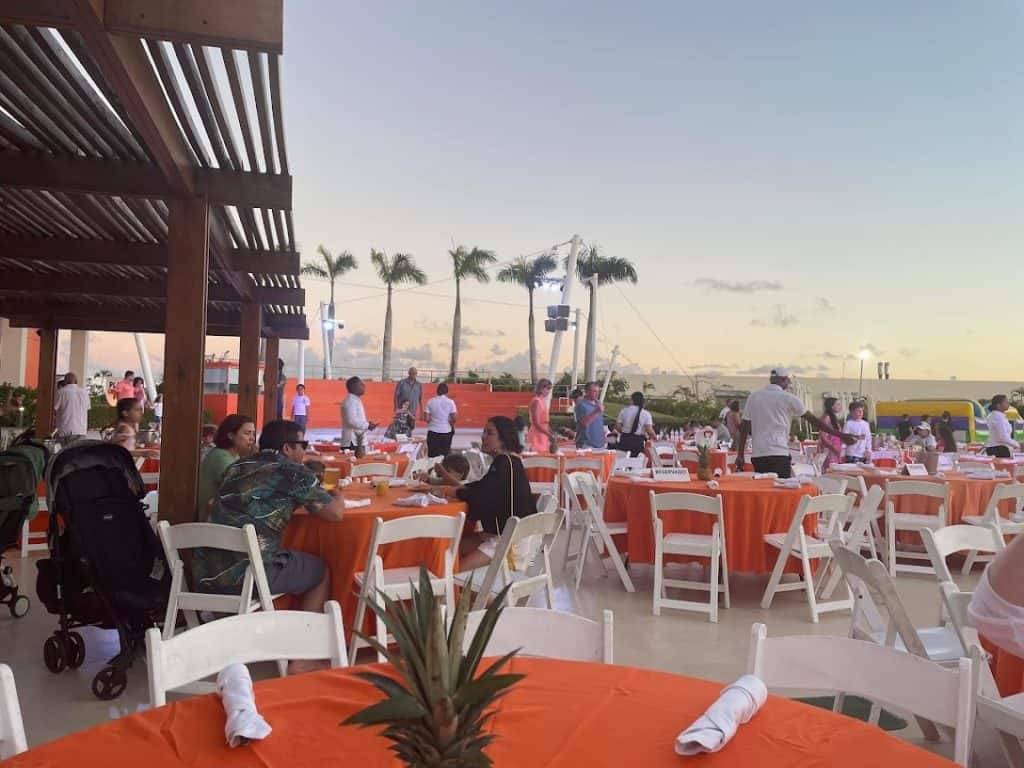 Orange Party at Nickelodeon: This event runs on Saturdays and is located in the Nickelodeon Plaza in Plaza Orange. The event starts at 6PM, and you line up to first walk the orange carpet and take photos and are served a delicious green slime drink that my son loved. They set up tables for guests and have visits from your favorite nickelodeon characters as well as a short show while you enjoy a buffet style dinner just outside of Character Central. The great news for parents is that the kids club re opens from 7-9PM, so you could drop the kids after the party and go enjoy gourmet dining experiences such as dinner on the beach which is an extra cost.
Taste of the World: This event runs on Tuesdays and is located in Gourmet Plaza. Each restaurant in the plaza sets up a small sampling of their foods and guests can rotate around the plaza sampling each restaurant while enjoying open air seating in the plaza.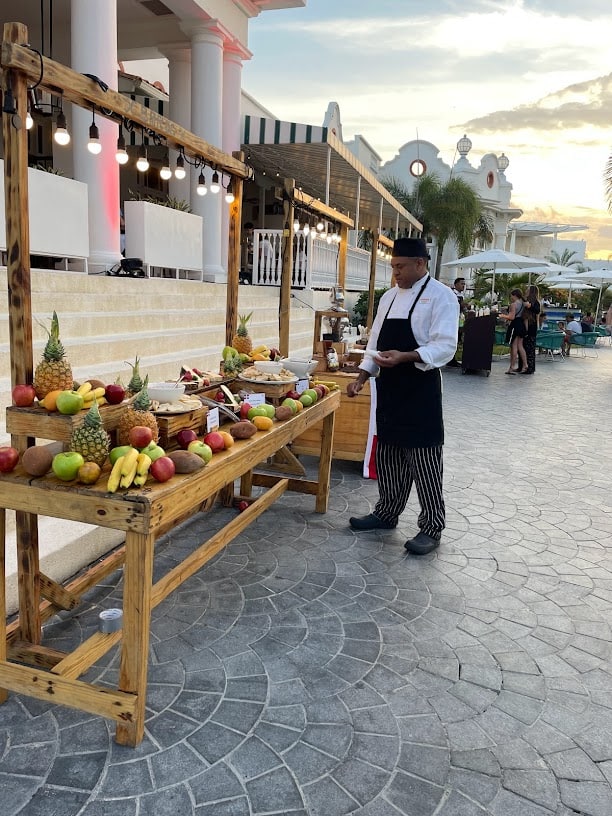 Dominican Night: This event runs weekly on Wednesdays and features Dominican food and traditional drinks. Located in gourmet village, their are food, drinks and local product vendors set up. You can enjoy tasting some local food and drinks and purchase souvenirs to go home such as local rum, or hand crafted items. Stop and enjoy some local music at the main stage while you wander Gourmet Palace.
Overall, the restaurants at the Nickelodeon Punta Cana Resort offer a diverse range of dining options to suit every taste and preference. From casual to upscale, Caribbean to Italian, there's something for everyone to enjoy. So, whether you're traveling with family or friends, be sure to take advantage of the resort's amazing dining options during your stay.
What is the Dress Code at the Restaurants?
The Dress Code was very casual at all restaurants which was perfect because we were travelling with kids. As long as you had shoes, and clothing on including cover ups you would be allowed to sit down and enjoy a meal.
Do I need reservations for the Restaurants?
We were told we only needed reservations for Spacewalker, which we did before we arrived by contacting the Nick Concierge at: nickconcierge@karismadiminicana.com and they were able to confirm our reservation before we even arrived.

However as they week went on and we arrived at restaurants we were always asked if we had a reservation and when we answered no, we would have about a 30-45 minute wait however most restaurants had a buzzer system so you could go wait in Gourmet Plaza and enjoy the local music, drinks, and kids activities such as bouncy castle, balloon creations and face painting while you wait. So I would suggest making reservations!