Choosing a Unique Baby Shower gift for a friend can be tough, especially if you are not a parent yourself or even if it has been many years since being a parent as the baby product market has changed so much. A simple thing is to choose a gift of the mom's baby registry as these are items the parents to be believe the need and want. I however hate buying off lists and prefer to buy something unique and great which is why I spent time searching for the best Canadian Baby Companies. I have created a list of the Best Unique Baby Shower Gifts focusing on Canadian offerings.
Baby Showers are the perfect time to celebrate the mom to be, even if the baby shower has to be virtual in these current times. I have included a variety of baby products that are at different price points and will wow and excite the mommy of honor. Here are the best baby shower gifts on the Canadian Market:
What is an appropriate amount to spend for a Baby Shower?
The majority of Baby showers you will attend will be for friends, family and coworkers. I often suggest if for a friend the $30-50 range is appropriate, family you may spend a little more, and for coworkers I often find people like to pool money together to purchase a bigger gift for the new mom. 
Here are my Top Unique Baby Shower Gifts and Baby Registry Favorites for 2021:
Baby Shower Gifts for the Sports Fan: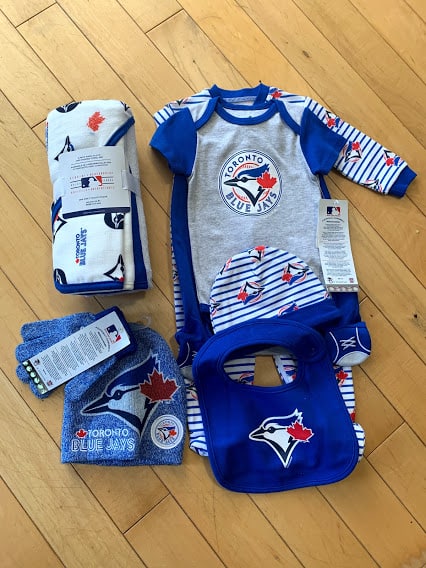 Snugabye – Blue Jays Baby Products – A Toronto Blue Jays™ collection of superior quality sleepers, pajama sets, bath towels, Muslin quilts bodysuits & bibs. Snugabye has been around since 1947 and continues to only use the finest materials for breathability and comfort, while their rigorous manufacturing standards ensure that every Snugabye product is easy to clean and durable enough to handle even the most active playtime adventures. So when buying your sports gear, support this amazing local company!!
Baby Shower Gifts for Teething and Chewing:
Teething can be an exciting milestone to watch as those little white lines pop up through the gums however teething can be very uncomfortable and painful for babies especially if they get a lot of teeth at the same time like my daughter did. Teething is when the gums are sore and in need to relief which is where teething toys come to the rescue.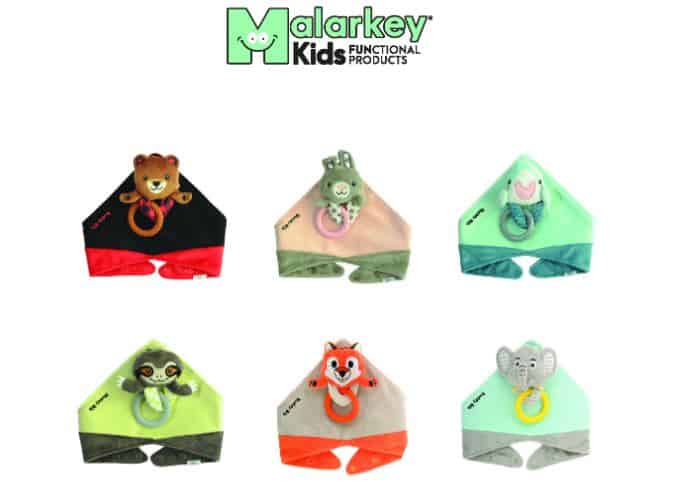 Malarkey Kids: These teething products were designed by moms for babies and are made of 100% food grade silicone and are BPA, latex and phthalate-free making them safe for babies to chew.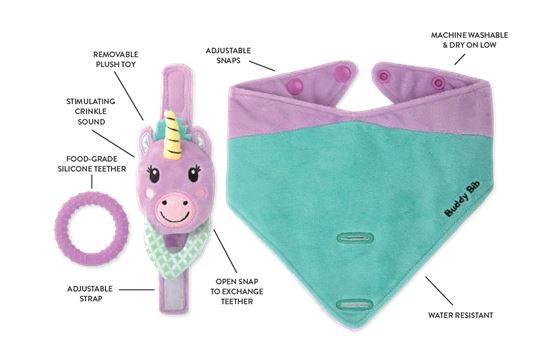 Buddy Bib: The mom-created Buddy Bib is a detachable, 3-in-1 sensory teething toy and bib! This is the perfect toy for babies who are teething as the bib will collect all that extra drool keeping baby dry, and the sensory toy will provide hours of teething relief and sensory stimulation for baby.

Chew Cube: A combination of a rattle and teether that is made of soft textured silicone which is comforting to baby gums. The rattle comes in a cool 3d geometric shape and is made of bright colours to engage baby. The small cube inside includes black and white patterns to stimulate babies eye sight and the rattle engages hearing. The perfect sensory toy to provide hours of entertainment.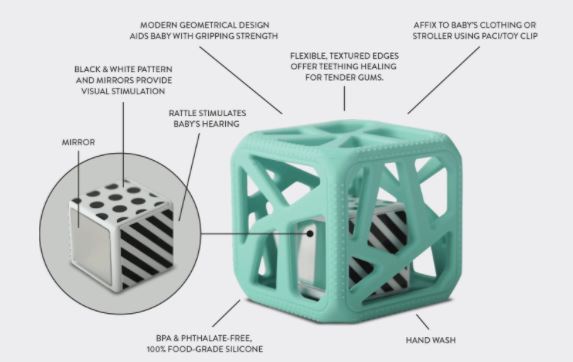 Munch it Blanket:  is a convenient teether and cozy blanket for baby. Designed with fun, yet functional shapes to target baby's emerging front & eye teeth as well as early molars.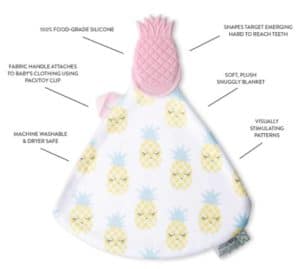 [box] Use code MKLOVE20 TO SAVE 20% on the Malarkey Kids Website![/box]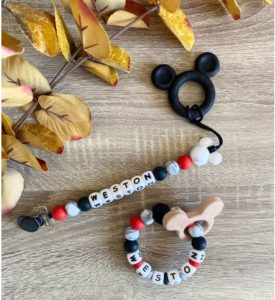 Giggly Years: Personalized Teethers – Anything you imagine they can create by personalizing with any name, word or initial in a variety of colour combinations. ALL products are: Made from 100% food grade silicone beads and/or a combination of natural wood products, safe & soft to provide relief for babies due to teething pains.
Giggly Years carries so many amazing products from teethers, pacifier clips, personalized blankets, personalized teethers, silicone products, personalized family clothing t-shorts, crochet and embroidery and much More!
This amazing Canadian small business offers many personalized and customization options on so many needed baby products. The owner was amazing to deal with and was open to meeting any of my requests in terms of design while providing amazing customer service.  We had a teether and pacifier clip created for Baby Boy Robinson.
Baby Shower Gifts for Feeding: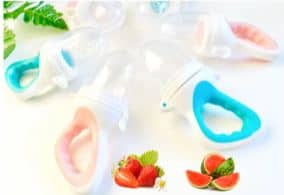 Giggly Years Fruit Feeders –  The vibrant colours assist in stimulating your little one's appetite for consumption of natural nutrients from fruits and vegetables. It is also a safe way to introduce our little ones to solid food while they go through weaning and teething phase. This ALL IN ONE feeder can also soothe baby's teething discomfort by massaging the gums through chewing and provide baby the opportunity to eat a variety of foods such as bananas, oranges, berries and much more! When my daughter started eating I was always hesitant about baby led weaning and leaned towards purees however the fruit feeder also infants to explore more foods in a natural way and provide comfort to mommies as the food is contained in the feeder so no choking can occur.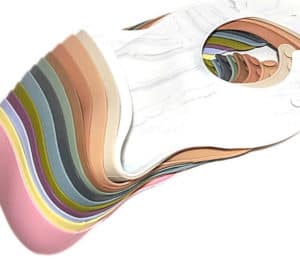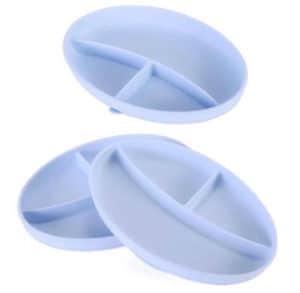 Beba Canada – Focuses on offering the most earth friendly products possible to moms, allowing them to use great products and care about the environment all at the same time. Beba Canada is expanding their line monthly and focuses on providing plant based diapers, organic fabrics and eco friendly dinnerware for babies and toddlers.
Review: I decided to check out their eco friendly dinner ware for my toddler daughter. I love how durable it feels and the bright colours… my favourite part was how it is a great size to travel with as it folds up so small so I can throw it in my diaper bag. Lastly it's environmentally friendly compared to the plastic dishes I currently have that will take hundreds of years to dispose of.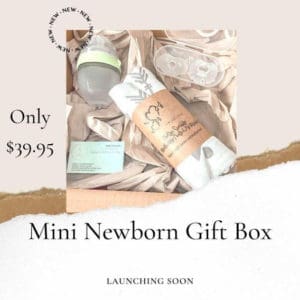 Stay tuned for their Mini Newborn Gift Box that will include a Muslin Swaddle, The Squeezie Bottle (Mimics breast shape, is made of Food grade silicone and helps little one transition from breast to bottle and vice versa), and a 2pk of naturally shaped pacifier that mimics shape of mothers' breast, preventing nipple confusion. The bottle and soothers were created to avoid nipple confusion which can become a huge issue in breastfeeding.
Baby Shower Gifts for Baby Wearing: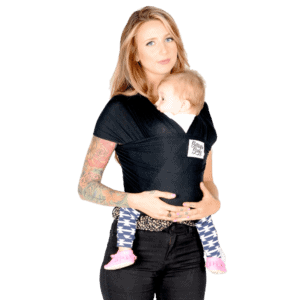 Baby Beluga – Baby Wrap – This wrap helps parents stay close to their babies while being hands free and research has found it even reduces baby crying by up to 40% as it helps soothe gas and colic, helps create a bond between baby and parent, combats postpartum depression and brings increased ability to adventure with a baby. Now the Beluga Baby Wrap is different than other wraps on the market as it is created locally in Canada as is made of a blend of mostly bamboo with a touch of cotton for support and a tiny bit of spandex for that unique four-way stretch. The wrap is insanely breathable and allows easy on-the-go nursing (without having to re-tie your wrap) which is a huge bonus!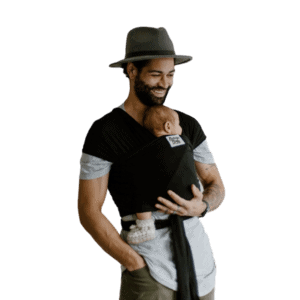 Beluga Baby offers amazing video tutorials on their website with simple steps to ensure you are using the wrap properly!
My Review: 7 Weeks into having a newborn this wrap is a lifesaver… I tuck Squeaker into the wrap and almost instantly he is asleep. The wrap had allowed me to pump hands free while keeping him comforted, it also let me play a couple hours of board games and he slept through the whole afternoon even though he wouldnt settle in the pack and play. A MUST HAVE FOR ALL PARENTS!!
Baby Shower Gifts for Bath Time: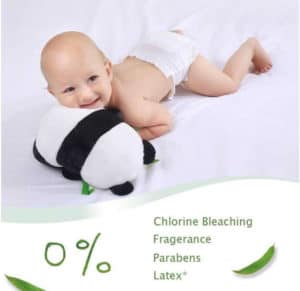 Beba Canada – Bamboo Diapers – These diapers are high-rate biodegradable, hypoallergenic, antibacterial, chemical-free, and are the next best thing for not only your baby but the planet. This natural choice diaper provides a safeguard for sensitive skin and is perfect for babies that struggle with eczema and diaper rash.
WHAT MAKES BAMBOO DIAPERS DIFFERENT?
The biggest difference is that Bamboo has a special component called "Bamboo quinone", which is naturally antibacterial, antifungal and odour resistant. Bamboo diapers have a higher absorption rate than normal diapers leaving them feeling much softer on babies skin. Natural aloe is added to the diapers to help nourish babies skin and add a layer of protection. While the price point may be higher on bamboo diapers, remember they are environmentally friendly, absorb better leading to less diapers changes, and overall LESS Diapers.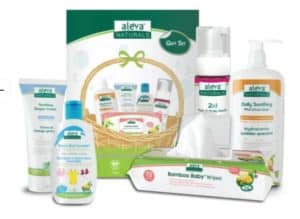 Aleva Baby Care Products – offers moms the option of a baby care line that is pure, natural, organic and vegan. These products soothe and relax baby while taking care of their sensitive gentle skin.
The perfect Baby Shower Gift featuring all the essentials for a newborn baby.
Included: Sleep Easy Hair & Body Wash (240ml), Sleep Easy Calming Lotion (240ml), Soothing Diaper Cream (100ml), Bamboo Baby Wipes (80ct) and BONUS! Travel size Bottle and Dish Liquid (100ml) or Gentle Baby Laundry (100ml)
[box] Use code LMK20 TO SAVE  20% on the Aleva Naturals Website. (Limit 1 per person)[/box]
This post was sponsored by Snugabye, Beba Canada, Beluga Baby, Giggly Years Teething, Malarkey Kids, and Aleva Naturals. However, my opinions about the products remain true and honest. I want to personally thank all of these great Canadian based companies for agreeing to work with The Exploring Family, as I think its clear to say we have some great Canadian Businesses offering products for babies.
You may also be interested in: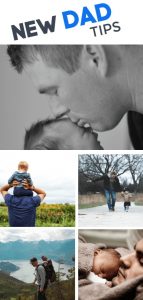 Postpartum Essentials for Moms – Gift Ideas for Pregnant Women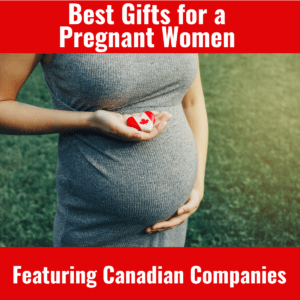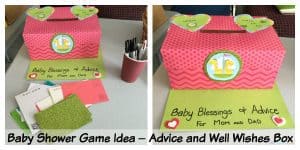 Baby Shower Fruit Salad Bowl Carriage