So I'm the busy body type that can't sit still and is definitely far from a home body, so when I was pregnant I started researching and looking for Brampton activities for kids, especially baby friendly activities. I decided early on that I wasn't going to be the stay at home mom that is content with staying at home all day, I wanted to get out of the house and get involved with activities in the community.
I realized quite quickly that there are lots of things to do in Brampton with kids and many activities, however when you search Baby Activities, Baby and Me Class, Mom and Baby Programs Brampton or Mommy and Me Classes Brampton it is very hard to find results. That's why after researching and going to programs, I decided to put together a list of Things to do in Brampton with a Baby.
All of the programs listed Thumper and I have personally tried out! Brampton offers activities for kids starting as young as babies all the way up to their teens. Brampton is one of the largest suburbs in Canada, so therefore has lots of entertainment opportunities for parents on parental leave and there are lots of fun places to go in Brampton.
There is nothing like the bond between mom and baby or dad and baby so I think its crucial to make the most out of the time off that I have by exploring Brampton activities. All of these classes and activities are fun and help promote early learning and development.

You may be interested in checking out our post on the TOP Baby Shows in the Greater Toronto Area.
Now that Thumper turned three I have shift my attention and started a list of great Toddler Programs in Brampton and Mississauga.
How to Survive Maternity Leave in Brampton
I remember the first couples of times I took Thumper out that it took me forever to pack the diaper bag as I had no idea what I would really need in the real world. Learning how to click the car seat in, what button to push to release it, how to connect the car seat to the stroller to click and go…. some days I felt like I needed a degree in baby gear.
The whole experience was nerve wracking as I kept staring back in the mirror to make sure she was still breathing, and trying to keep her entertained and not crying the entire trip. Maternity life is not always glamorous, to be honest most days you are covered in snot, puke or poop but you would want it no other way as you thrive on the chaos of motherhood. Being on maternity leave can be hard and that is why they say raising a child takes a village! #momlife
Baby Classes – Activities in Brampton with a Baby
There are many different baby activities to try in Brampton, so below are some ideas to help you survive maternity leave. Depending on where you live in the City of Brampton you will have access to many baby friendly and mom and baby activities.
So I am here to offer you some tips and share with you all the Activities you can do on Maternity Leave in Brampton. There are lots of fun places in Brampton that you can easily bring baby along and offers mothers things to do on maternity leave.
What is there to do in Brampton? What Baby Activities are offered in Brampton? What are some fun activities in Brampton with a baby?
Now my daughter was born in February 2018, but we have already gone on so many adventures most of which are local to us in Brampton, Ontario. So I made it our goal to try new activities or places – one for each week of maternity leave, while we didn't get to 52 activities we did try out many in Brampton, along with many others outside of Brampton.
There is lots of fun stuff to do in Brampton with a baby and most are cost effective, these programs allowed us to make some new mom and baby friends along the way! Check out these great mom and baby activities near me, and meet some friends of your own!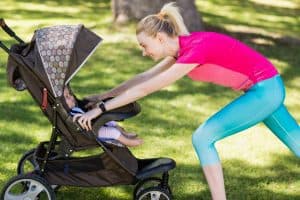 1. Get Fit and Back into Shape on Maternity Leave:
Moms all know the struggle of returning to your pre-pregnancy body, so use the time you have of to invest in "YOU". The best thing about babies is that they are very portable and can come along to the gym or many other exercise classes very easily. City of Brampton Parks and Recreation Centres offer active programs for moms such as Stroller fit, Mom and baby boot camps, Mom and baby yoga which can be found in Brampton Recreation Guide.
Getting back into shape can be a struggle, but being in a positive environment with moms in the same situation can be helpful and encouraging. Find an activity that you enjoy and encourages you to not only be active but get out and meet other moms. By being active and eating healthier I have been able to lose all 30 pounds of baby weight and actually be 2 pounds less than my pre-pregnancy weight by 8 months post partum, all because I invested time into myself. Mom maternity leave is about taking time to get to know your baby and care for them, but also it is important to care for yourself and not put yourself second all the time which is easier said than done.
Mommy Fitness – Ways to Shed that Baby Weight
Fun things to do with friends in Brampton
2. Enjoy the outdoors on Maternity Leave:
Babies love the outdoors as the fresh air helps them relax and sleep, and they especially love the rocking sensation that comes with being in a stroller or carrier. There are many outdoor activities to do in Brampton as you can do outside such as: taking a stroll around the neighbourhood, hiking with a mom friend, camping, and exploring local Brampton attractions like Heart Lake Conservation Area, Chinguacousy Park or Creditview Activity Hub.
Enjoy different activities as the seasons change, from splash pads to playing in the snow you can enjoy all new experiences with baby as they experience everything for the first time. There are many seasonal opportunities to enjoy outside depending on the weather and location where you live. If you live in Downtown Brampton you may consider simply going for a stroll at Gage Park, through Garden Square or taking in the sights by the Rose Theatre, there are lots of fun things in Brampton Downtown area to explore. Some amazing events that occur Downtown Brampton include the Taste of Brampton that offers deals on some great food options which would make the perfect location for a mom meet up!
Outdoor locations provide creative newborn photo ideas Brampton, and there are lots of amazing local photographers to cherish your memories of maternity leave. I was able to take photos at Loafers Lake as well as Downey's farm through the Mommy Connections program.
Fresh Air Fun with Baby – Beyond the Backyard Fence:
Fun activities in Brampton for young children, and cool things to do in Brampton include: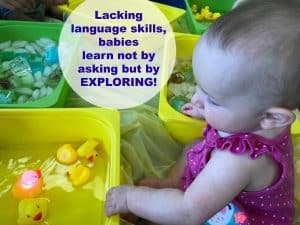 3. Get Creative and Explore Sensory Opportunities with Baby while on Maternity Leave:
Babies explore the world not by asking questions by exploring with their 5 senses: sight, touch, hearing, smell, and tasting. There are many ways to encourage sensory development and the exposure to new environments, and materials. Check out a free nursery rhyme program such as Mother Goose or explore creative activities such puppets and see how baby reacts to the different sounds during puppet play at Tales and Tunes.
Babies who experience more sensory activities are shown to have better language development in future years, so encourage babies brain to grow and develop. You can even do activities at home such as sensory bins or messy high chair play. There are lots of fun things to do in Brampton with a baby, you just have to get out and try them!

4.

Great Places to Make new Mom Friends
These mom and baby classes also help make mom friends…. want to know how then check out Five Simple Steps to Make Mom Friends. The mom and baby classes near me are great as they allow you to connect with other parents that live nearby which is especially important in a large city like Brampton.
If you aren't feeling like a structured program or are visiting the area, that are lots of things to do in Brampton Ontario such as simply walk Bramalea City Centre during the days and you will find lots of other moms, or take in a Stars and Strollers movie at Cineplex. These are all great things to do in Brampton on a rainy day with a baby, or fun things to do in Brampton in winter with baby once it becomes to cold to enjoy the outdoors!
Mom Meet Ups –
5. Language Development for Babies
Babies hearing, speech and language skills begin from the moment they are born, as children begin communicating by crying, then progressing to babbles, then finally onto words. Language development occurs from birth to about 30 months making this the window for optimal exposure to language development activities for babies such as Read Alouds. The literacy programs are things to do in Brampton for free.
Talk, Sing, Read, Write and Play –
Brampton things to do with babies include:
6. Physical Movement for Baby
Babies should be provided lots of opportunities for free movement during their first year of life. By providing a safe environment such as swimming, Wee Wiggles class, or Early Years movement programs Babies on the Move, or gym programs babies are able to further develop their skills. Physical movement environments encourages babies to practice rolling, crawling, sitting, pulling up, swimming and walking which is essential for brain growth and development.
Wiggle, Swim, Crawl, and Jump – Keeping those Little Movers Busy

7. Relaxation Activities
Relaxing activities are important for babies to help them learn to self-regulate and calm their own bodies, which also helps improve sleep. Infant Massage has many benefits including digestive issue relief, relaxation and stimulation of muscles.
Wellness for Baby
Want to do for fun near me? Check out these other Amazing Programs located in the Greater Toronto Area
For things to do in GTA: Toronto, Mississauga and Brampton checkout the Local Activities Page. The Exploring Family focuses on highlighting our great community of Peel and Halton Region and all the activities to do in Brampton and Mississauga.
Interested in things to do with kids in Brampton? Come join our community of Parents: Peel Parents Resource
Pin for Later: