Dear Moms and Dads,
Developing all these new skills like sitting, rolling and trying to crawl is exhausting. For 9 months on the inside all I did is float around and relax and now there are all these expectations for growth and development. So today, I convinced mom to take me to the Baby Spa for a break, and you should take your little one too! You get to have a massage and go play in the huge bath tub! Any hey, it wont cost much if mommy or daddy has insurance benefits as its covered under Massage therapy! Baby Spas offer neonatal massage and infant hydrotherapy.
Love Thumper and Little Squeaker
Now when I was on maternity leave back in 2018, Baby Spas were a brand new upcoming concept and now there are multiple different companies and locations offering the amazing benefits of hydrotherapy and infant massage to young infants starting at just 4 months old. I have decided to update this post and create a list of Baby Spas in the Greater Toronto Area. You may be interested in other Awesome Baby Activities in Brampton or Stroller Friendly Trails near Brampton.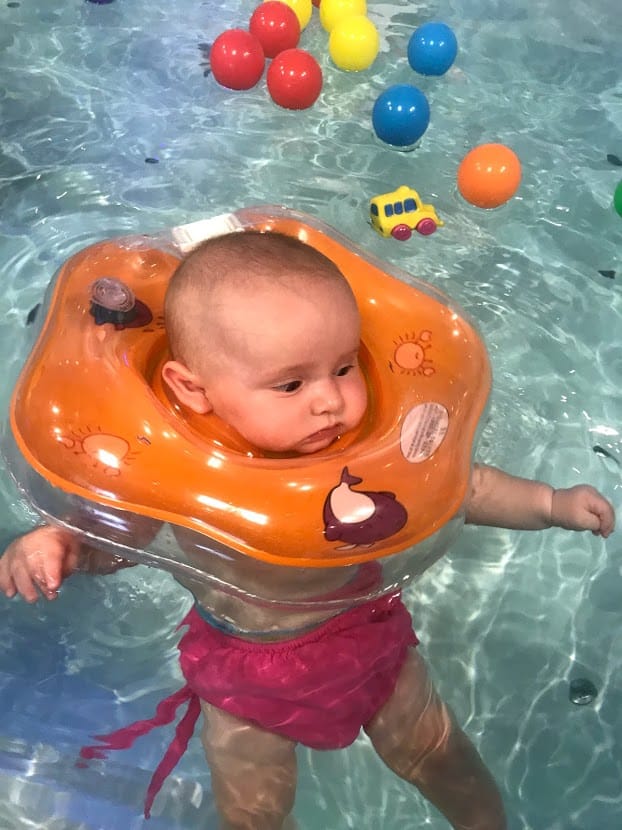 Baby Spas in the Greater Toronto Area:
Baby Spa Brampton
Happy Baby Spa:
Address: 8325 Financial Dr Unit 4, Brampton, L6Y 1M1
This wellness centre offers unique hydrotherapy and massage services for babies from 4 weeks up to young children. Their goal is to ensure babies thrive and moms are relaxed. Happy Baby Spa offers massage, and hydrotherapy for babies. For moms and dads they offer Indian head and scalp relaxation (popular for parents who spend long hours carrying for their babies, breastfeeding), sunrise massages, candle light evening hydrothreapy and massages and aroma therapy.
IcBubbles Family Spa:
Address: 4 Sky Harbour Drive in Brampton
This intimate spa provides therapeutic spa experiences for the whole family including adults and children of all ages. IcBubbles offers baby spa (as young as 2 months), junior spa and adult spa experiences. IcBubbles offers a boutique experience as it offers a private setting for each spa session and encourages bonding between parents and their littles. IcBubbles offers a variety of wellness activities including: massage, hydrotherapy, reiki, and meditation. IcBubbles uses a variety of flotation devices depending on your childs age and ability in order to ensure they are safe but still have the ability to move around freely.
Baby Spa Mississauga
Itsy Bitsy Baby Spa
Address: 2555 Dixie Road Mississauga, L5W1X3
Parents can relax and enjoy the large hydrotherapy tub with their children while the children relax and get a full workout floating. The large tub accomodates children of all ages starting as early as one month while the small tubs are for children 4-6 months old who can discover a range of movements through floatation. Isty Bitsy Baby Spa also offers massage and chiropractic care for the whole family. Fun activities at the spa include: Kids play zone, Canvas painting, Sensory toys, Colouring zone, Reading nook, and Mini manicure (all closed temporarily due to Covid-19).
Giggly Panda Baby Spa:
Address: 1855 Dundas Street E Unit 8, Mississauga, L4X 1M1
Was the first Baby Spa in Ontario. Giggly Panda Baby Spa offers massage, hydrotherapy and chiropractic treatments for the healthy development for your little one. Babies must be 1 month old for massage and 4 months old for hydrotherapy. Giggly Panda offers both a small sized tub for babies under 6 months and a large tub for babies over 6 month where multiple babies could float together (pre-covid). Hydrotherapy may between 10 to 30 minutes which consists of floating in water between 33- 36.6 c for optimum comfort of the baby.
Baby Spas in Georgetown
Calming Cove Baby Spa
Address: https://www.calmingcove.ca/
Below I have created a list of the most commonly asked questions about Baby Spas based on my research and experience.
What is a Baby Spa?
A typical baby spa consists of two parts: neonatal massage and hydrotherapy (babies floating in a little pool – using a donut shaped floatation device that allows them to explore the water independently and keep their heads above water).
How much do Baby Spas cost? You said Insurance covered it?
Prices range from $90 for both massage and hydrotherapy to $110 depending on which company you visit and which location you visit.

However many locations offer different options for packages that you can buy to bring down the cost. This covers the cost of flotation therapy and a massage by a registered RMT.

Since the massage is done by Register Massage Therapist you can submit the whole cost to insurance and the Baby Spa will provide you with a receipt to submit to insurance.
Why should I take my child to a Baby Spa?
Hydrotherapy (flotation and exercise in water) and the neonatal massage are groundbreaking developmental techniques. They offer several mental, emotional and physical benefits for neonates and young babies.

Innate swimming reflexes are stimulated and co-ordination is developed as they learn to control their movements.

As the baby kicks around in the water, the small rocking waves she/he creates will help to improve their balance and coordination and, ultimately, support their ability to crawl, walk and swim. Even if the baby falls asleep in the water the rocking will continue with her/his rhythmic breathing.

Hydrotherapy is fun for babies, allows them to exercise their muscles and their brain all at the same time, as well as puts babies into a state of relaxation



What are the benefits of Hydrotherapy for Babies?
Baby hydrotherapy improves Socialization. It strengthens your baby's capacity to communicate and enhances feelings of trust and confidence. Our methods encourage the use of all senses, and support feelings of being loved, respected, and valued.

Massage Therapy and HydroTherapy Improves Brain Development, Enhances Baby Confidence and Security.

Early introduction to the water offers enhanced opportunities for learning skills that help transition young children into formal schooling. On average, the early introduction water infants were ahead of non-water peers in cognitive skills like learning, thinking, math and problem solving on preschool entrance testing five years later.

Massage Therapy and Floatation Therapy can aid in your baby's development from their brain to their muscular system. Massage Therapy and Floatation Therapy can help increase muscle mass. Research in Finland has shown that babies can increase their leg muscles through hydrotherapy which makes them stronger and helps them to learn how to walk at a younger age.

Babies are able to improve their sleeping patterns through the relaxation and gentle physical movement from the water resistance, as well as improve their appetite.
What are the benefits of Massage for Babies?
Massage can help babies relax and can aid in digestion if they are constipated or just have an upset tummy. Massage has also show to relax babies and can help combat teething pains.

The best time to start baby massages is under 4 months when babies are not mobile and are still young enough to get comfortable with being touched by RMT's during massage. Infant massage is very gentle and light touches to help relax baby… this also offers parents the ability to watch infant massage and try it out at home.

Swim Diapers Options
This blog post may contain affiliate links. What does that mean? I get a little commission if you purchase using my link, at no extra cost to you.

Swim diapers allow babies to go in water such as the Spa tubs and are specifically designed with babies and swimming in mind. Swim diapers prevent poop from leaking into the water. There are multiple options of swim diapers available including: single use or re-useable. Below are some suggestions:
My Review of Baby Spas
Now as I mentioned above when my daughter was a baby in 2018 only Giggly Panda Baby Spa existed so that is what my review is based upon, however Little Squeaker and I tested out Happy Baby Spa in 2021… below you will find pictures and a review of both places.
Happy Baby Spa Review
Now in 2021, I decided to check out Happy Baby Spa with Little Squeaker when he turned 3 months old and the experience was very different than mine n 2018 at Giggly Baby Spa. My friend and her daughter Bean joined us on this adventure.
From the moment I walked into Happy Baby I felt the tranquility, calm and relaxing atmosphere. We walked in and were greeted by owner Zuzana who immediatly offered a quiet place to feed the babies and a tea for the mommies. One of the main differences is that the treatment sessions are private and Squeaker and Bean had the whole place to themselves for their treatments and myself and my friend were able to chat and connect while the babies enjoyed their treatments. Zuzana ensures appointments have time in between them and do not rush clients but instead make sure they feel important and appreciated as her and her staff ensure you have their full attention.
After the babies were full we headed to the change tables and changed babies into the provided swim diaper and they headed into the tub for their 25 minutes of hydrotherapy. Both babies loved the experience as you can see from the video below. Packages for babies are covered by insurance under massage as the massage portion of the appointment is done by a registered massage therapist.
Happy Baby spa values safety during hydrotherapy and uses only foam floatie rings instead of air to ensure babies safety. Happy Baby also ensures that staff are present at the tub at all times when babies are in the water and all staff are first aid and CPR certified. The babies loved their 25 minutes in the tub and Squeaker was all smiles the entire time and loved floating near his girlfriend Bean, it was really fun to see them get exercise, relax and communicate with each other through touch.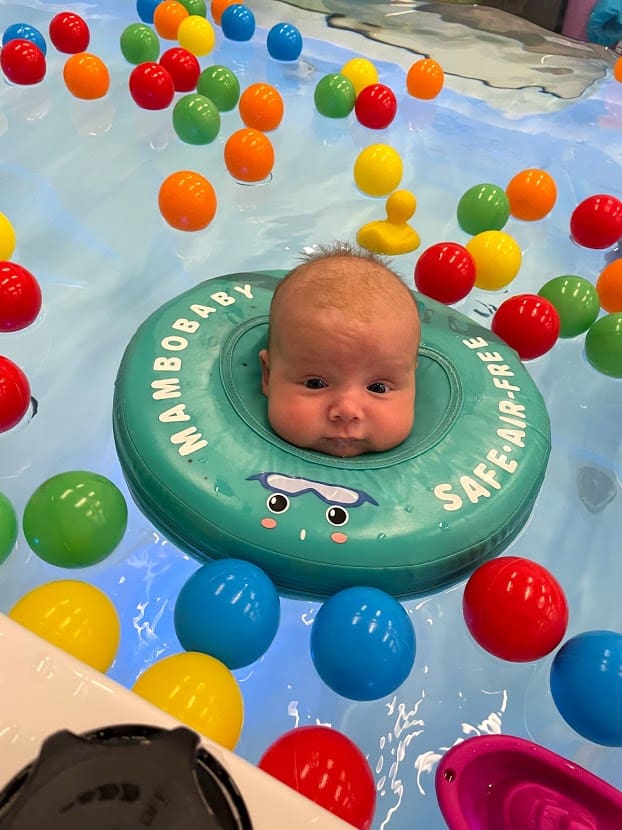 After both babies were relaxed they then recieved a full massage. Both babies fell asleep almost immediately after their appointments. Hydrotherapy and Massage can help babies get into a deeper sleep so Happy Baby also offer Bedtime session appointments to help your little one sleep. Overall I loved the experience and prefered Happy Baby Spa as they focus more on safety and the offer a more private experience and provide you with all of the essentials free of charge including diapers, towels, tea where as the spa I previously visited charged for diapers and had multiple appointments at the same time.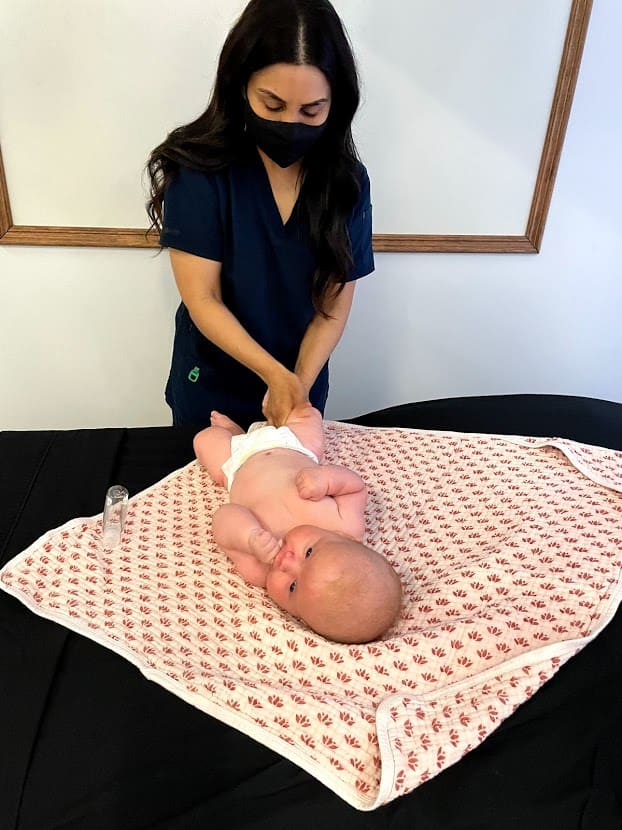 Giggly Panda Baby Spa Review
We had a lovely afternoon at the infant spa. Firstly, it was super fun as we met up with a friend and her son at the spa and while the babies relaxed, this allowed the moms to have some time for socialization.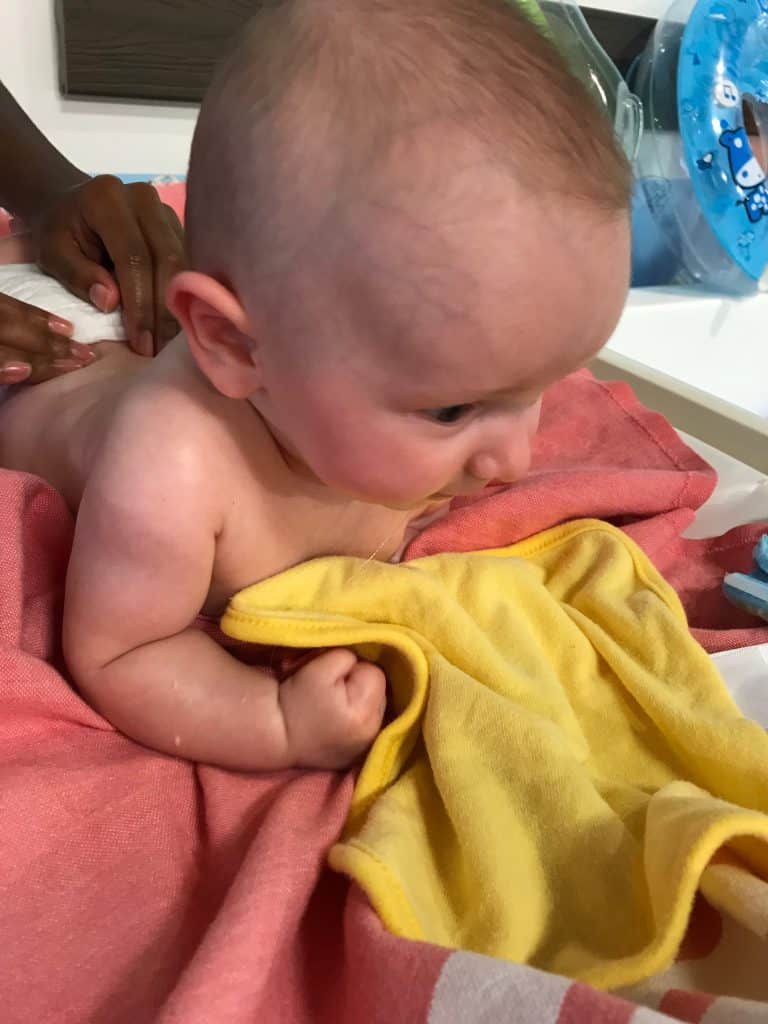 The afternoon started with a lovely 20 minute massage using Sophie organic products, which made her skin feel so good. Babies skin is five times more vulnerable so its really important what we put on our skin. That is why Giggly Baby Panda Spa uses Sophie organic products which is 99% all natural, and now her skin now felt so soft! Thumper laid on the change table and enjoyed as the RMT massaged her whole body… talk about relaxing!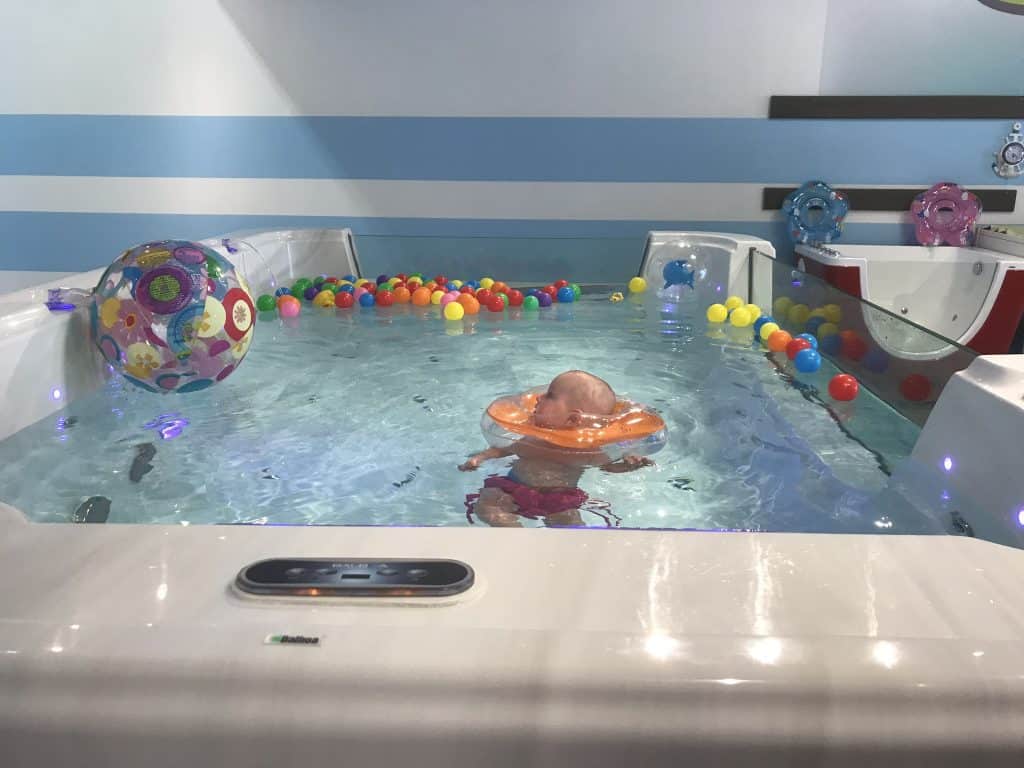 Then after the massage, I changed Thumper into a swim diaper and swim suit and she headed for the tub. Now the lady who worked there put a floatie around her neck, so when Thumper was in the pool she could swim around on her own while mommy watched from outside the pool. Now Thumper really liked the jets on, but her friend was not a big fan of the jets! She swam around kicking away and playing with the balls for about 30 minutes when she became exhausted and I rescued and changed her. We then stopped for a quick bottle and Thumper went for a lovely nap the whole ride home! She looked so relaxed.
Giggly Panda Baby Spa Video Review
If your skeptical then read the benefits behind Baby Spa time: Five Benefits of hydrotherapy