If you are looking for the best family ski resorts in the US, you are in luck. With so many to choose from, you are sure to find one that suits your needs. We asked families for their advice on the best ski hills for kids based on their own experiences.
If you are looking to go skiing in the US this year, there are several ski resorts in the US that are sure to impress. Spending a family getaway at one of these US ski resorts is a great way to get out and get some exercise and fresh air.
Or if you are looking to travel to a further destination check out the Best Ski Resorts in Canada and the Best Family Ski Resorts Around the World.
Ski Resorts in the US
Click through the links to scroll to places to go skiing in the United States.
Map of the Best Places to Ski with Kids in the US
Best Places to Ski in the US
There are many fantastic places to ski in the United States. In fact, the United States is a great place to take part in some great skiing. Get outdoors and enjoy the snow, fresh air and some physical activity this winter season.
Beaver Creek Resort
210 Beaver Creek Plaza, Beaver Creek, CO 81620, United States – Beaver Creek Resort is home to one of the best slopes for kids. It has a vertical rise of 3,340 feet and close to 150 trails.
There are different terrains for different ski abilities at this resort. Some are perfect for beginners and kids, and some are more advanced.
A gondola transports you within the resort and with a wide variety of accommodation options, you can choose one that suits your family.
Smuggler's Notch Resort
4323 VT-108, Jeffersonville, VT 05464, United States – Smuggler's Notch Resort is a great place to go skiing with your family.
When vacationing here, you can choose from a wide array of accommodation options. The property itself has 8 ski lifts that transport you between 3 different mountains. Each of the mountains has varying levels of difficulty.
This is a fantastic place to go skiing with your family this year.
Keystone Resort
100 Dercum Square, Keystone, CO 80435, United States – Keystone Resort covers three mountains with varying levels of difficulty. This works well for families with different skill levels.
Children under the age of 12 can ski and stay at Keystone for no additional cost, making it a cost-effective vacation for larger families.
If you need ski lessons, you can arrange some for the entire family. If you are looking to participate in other activities, Keystone has many fun ones to choose from. Check out their huge playground called Kidtopia.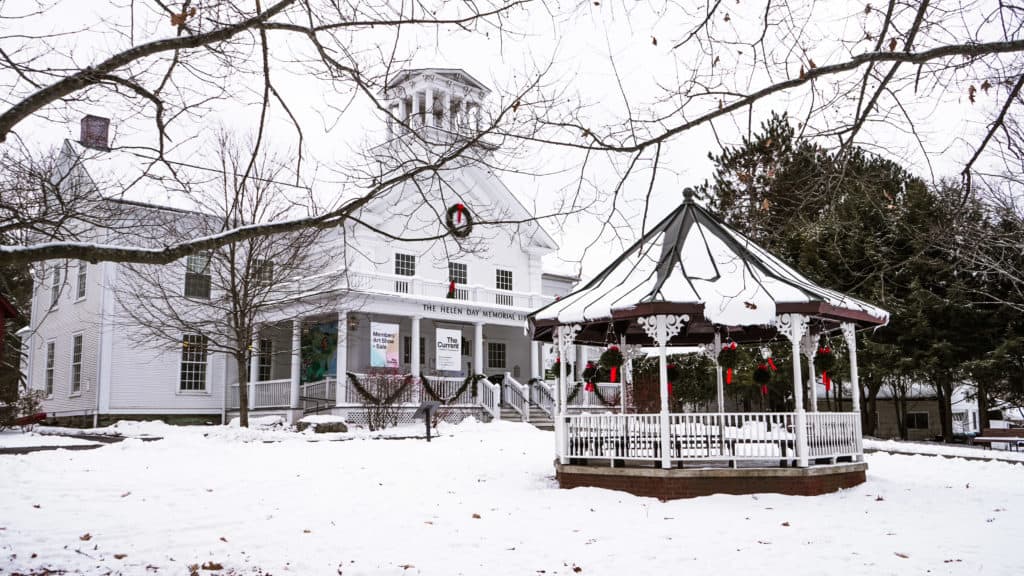 Stowe Mountain Resort
5781 Mountain Rd, Stowe, VT 05672, United States – Stowe Mountain Resort has around 116 trails as well as a vertical rise of 2,360 feet. There are 12 lifts available to transport you to your ski experience, making it easy to enjoy the slopes.
There are several luxury stay options, including large four-bedroom suites. These are perfect for long family vacations, allowing for room to relax.
Stowe Mountain also offers lessons and more to enjoy. No matter what you choose, a visit to this awesome US ski hill is a great choice.
If you are looking for the best places to go skiing in the USA for your next family vacation, you should add Stowe, Vermont to your bucket list. Stowe is considered of the best winter destinations in Vermont for a reason, as here is a paradise for any winter sports enthusiasts of all levels. With excellent power, and some of the best slopes in the country.
Stowe is the birthplace of alpine skiing in Vermont, offering both, cross country and downhill skiing with plenty of family-friendly activities to explore. One of the best ski resorts for the family is the Stowe Mountain Resort, offering incredible over 115 trails and 12 lifts it is considered the best ski resort in Vermont to visit with kids, which comprises two mountains: Mount Mansfield and Spruce Peak, and is recommended for families who have more advanced skiing experience, mainly because the trails are steeper than usual here. Now if you are a beginner, Mount Mansfield is categorized as a mid-level blue run.
Stowe is a quaint ski village that offers a combination of expert ski terrain, with indulgent hospitality. You will also find historical covered bridges, stunning mountainous landscapes, and plenty of outdoor activities. If you love winter sports, especially skiing and snowboarding, you must plan your next family vacation to Stowe, Vermont.
Photo Credit: Fox in the Forest
Northstar California Resort
5001 Northstar Dr, Truckee, CA 96161, United States – Northstar California Resort is a great place to go skiing in the North Lake Tahoe area.
"Looking for one of the best ski destinations for families? If so then you can't beat Lake Tahoe, California.
After all, this incredible ski spot is hidden away in the Sierra Nevada Mountains, right on the border of California and Nevada.
Therefore, it is home to over fourteen different ski resorts that cater to skiers of every ability.
So, if you're traveling as a family and looking for easier terrain then try Northstar Mountain. It sits near Truckee, California and is consistently ranked among one of the best family-friendly ski resorts in the nation.
They also have a great ski school that is ideal for anyone learning to ski and even have childcare on-site should you want to leave the little ones in the lodge.
However, they also have varied terrain should more advanced skiers want a bit of a challenge.
Plus, the actual ski village itself is epic and includes things like a fire pit with smores, ice skating, restaurants, and tubing spots too.
Although, another great alternative for families is Squaw Valley and Alpine Meadows. In fact, the terrain here is so varied and epic that the area actually played host to the 1960 Winter Olympics.
The terrains at this resort are relatively easier than those offered at other resorts. If it's an intense challenge you are looking for, this may not be the resort for you.
There are several different accommodation options to choose from. So if you are planning on spending an extended time here, you won't be disappointed.
And with an impressive beginner area, you'll have no problem introducing your kids to a classic Lake Tahoe ski experience at one of the best Lake Tahoe ski resorts."
Deer Valley Resort
2250 Deer Valley Dr S, Park City, UT 84060, United States – Deer Valley Resort has several different accommodation options for the entire family. They also offer great restaurants and shopping experiences for visitors.
This is a great resort to visit with your family. Especially if you have young children just learning to ski. They have 14 trails for kids that allow them to practice their skills.
There is a limit on ticket sales each day. Which keeps crowds to a minimum, making it a pleasant experience for all.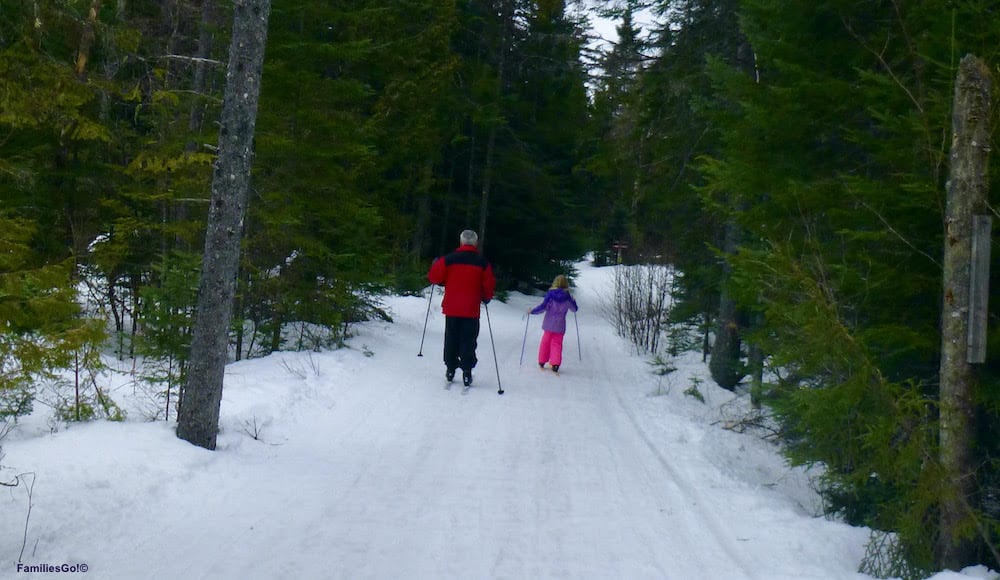 Whiteface
5021 NY-86, Wilmington, NY 12997, United States – Whiteface Mountain Ski Resort has one of the longest intermediate runs in the Northeast. At 2.1 miles long, you can spend lots of time on the mountain.
Lake Placid, NY hosted two Winter Olympic Games. So naturally it's an excellent destination for winter sports. Moreover, the town has really spiffed itself up ahead of its hosting the World University Games in 2023. Skiing happens at Whiteface Mountain, It's usually a good five to ten degrees colder on the mountain than in town.
But it's taller than many Northeast ski mountains and has a good variety of trails. Over by the ski school there is a long green run that's perfect for building confidence in new skiers. On the way back into town, stop at Mount Van Hoevenberg to cross-country ski on a course still used for competitions, or try your hand at bobsledding. If you're lucky athletes will be practicing luge and skeleton while you're there.
Take a gondola and elevator to the top of the ski jump and see just how daunting it is. Back in town, you can ice skate on the outdoor speed-skating oval or on the indoor rink where the "miracle on ice" happened at the 1980 Olympic games.
When the lake freezes it becomes the town's temporary main square, where people walk, play hockey, ice skate, cross-country ski, build snow forts and light warming fires on the shore. The town's actual Main Street has plenty of dining and shopping. Not surprisingly, the places with lake views are the hardest reservations to get.
Require lessons? Whiteface offers lessons each morning that lasts about two hours long. If you want to participate in something other than skiing, check out the bobsledding experience.
There are several places to stay around Whiteface, so if you want to make it a great long-lasting experience, you can.
Okemo Mountain Resort
77 Okemo Ridge Rd, Ludlow, VT 05149, United States – Okemo Mountain Resort is great for beginners and more experienced skiers. This makes it perfect for families looking for a great ski vacation in the United States.
There are several different terrains at Okemo for skiers and snowboarders alike. Here, you will have lots of fun with the entire family.
This ski resort in the United States also has great accommodations and amenities. You can go swimming, check out the fountains, enjoy water slides, and more.
Aspen Ski Resort
120 Lower, Carriage Way, Snowmass Village, CO 81615, United States – Aspen Ski Resort is one of the most well-known resorts in the United States. It offers up 4 different mountains with varying degrees of terrain.
Regardless of how much skiing experience you have, this resort is perfect for a day on the slopes. Especially for those visiting Buttermilk. This is one of the 4 mountains and is perfect for beginners and children.
With gorgeous accommodations and more, Aspen is a must-visit for all who want a gorgeous ski trip.
There are several amazing family-friendly ski resorts in the US. If you are planning a family ski trip in the United States, you are sure to find a great place everyone can enjoy.
Book your family ski vacation today and hit the slopes to create awesome memories.
Photo credit: Jeremy Swanson
Snowmass Resort
120 Lower, Carriage Way, Snowmass Village, CO 81615, United States – Colorado has no shortage of ski resorts and each offers a bit of a different Rocky Mountain flavor.
While Vail is known for the epic back bowls and Breckenridge for having one of the best mountain towns, Snowmass is widely regarded as the best resort for families.
Their VIK (Very Important Kid) program is designed for parents to be able to drop the kiddos off for the day so they can have some adult time on the slopes, while the children have a smorgasbord of outdoor activities to pick from, ensuring they have an epic day on the mountain and an even more memorable vacation.
The Treehouse Adventure Center is ground zero for family fun with daily activities like jeep tours, high ropes courses, snowshoeing, dog sledding, tubing, ice skating, and even an alpine coaster. And unlike some of the resorts closer to Denver that are overrun with tourists, Snowmass averages just two skiers per acre so there's plenty of room to fall – and get back up again – making it one of the best places to learn to pizza and French fry like a champ. And when you're worn out from practicing your turns, there are s'mores waiting for you back at basecamp.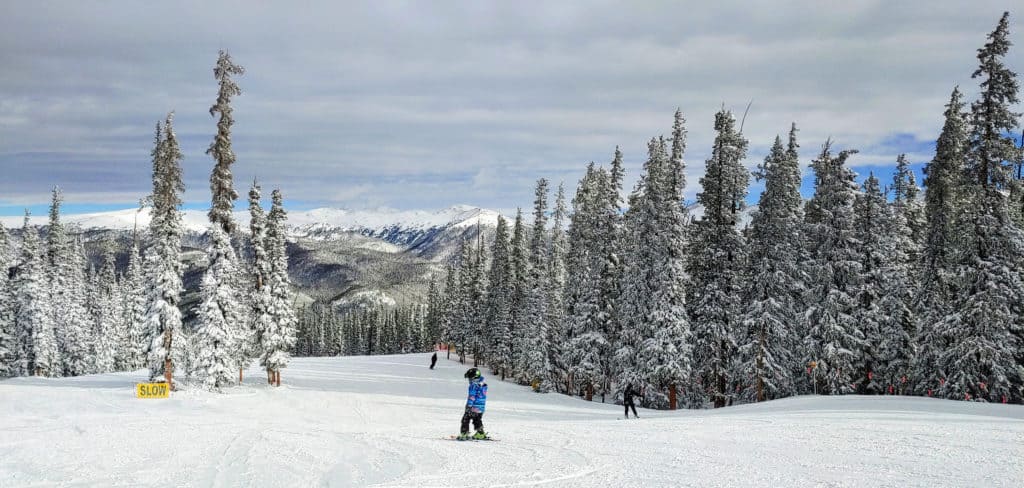 Keystone, Colorado
Located just sixty miles from Denver, Keystone ski resort is a great place for families to ski.
The beginner terrain at Keystone is extensive, offering a beginner run that is 3.5 miles long from top to bottom! There are also sections of the trail that are designated and clearly marked as family ski trails. These trails are ideal for young kids just learning to ski.
The ski school at Keystone resort is very organized and professional. There are options to book full-day or half-day lessons, as well as group or private lessons.
There are three different learning areas at Keystone complete with magic carpet lifts (the conveyor belt lifts that are great for beginners). Keystone also offers two kid-sized ski lifts perfect for small kids who need to be lifted onto the regular-height lifts.
Keystone also has amazing advanced terrain for families with older kids or kids who already know how to ski. Head to The North Peak or Outback mountains for great snow, steep terrain, and incredible views.
The skiing is amazing but there are also plenty of family-friendly things to do in Keystone besides skiing. Families can ride the gondola to the top of Keystone to play in the gigantic snow fort, go tubing, or rent ice skates and skate on the picturesque five-acre lake.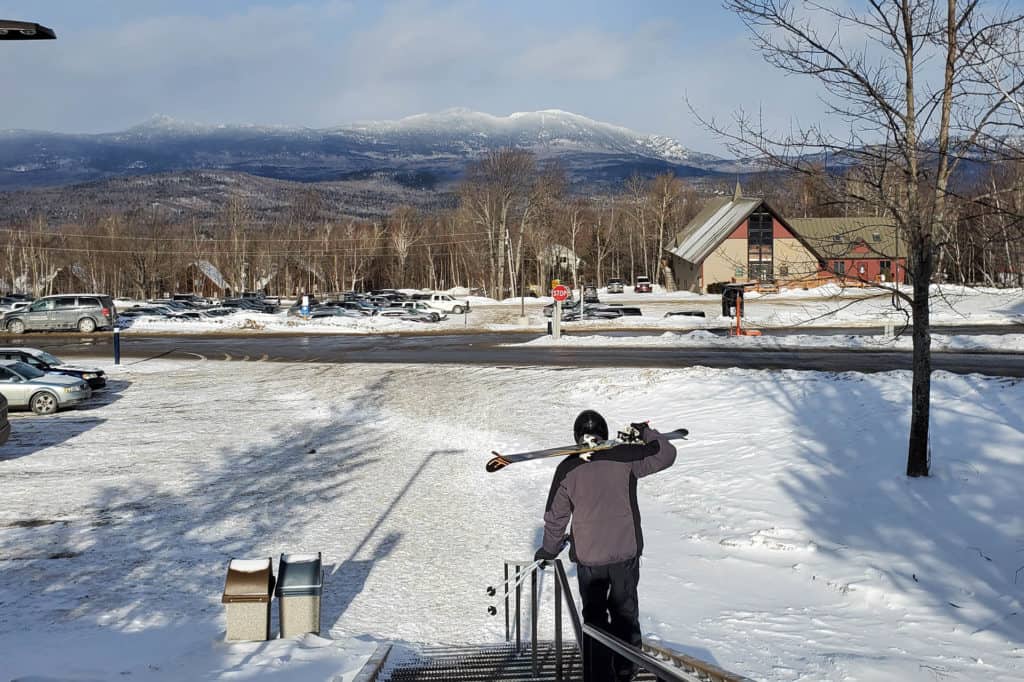 Sugarloaf Resort
5092 Sugarloaf Access Rd., Carrabassett Valley, Maine 04947 – Sugarloaf Resort is a world class ski resort for families.
If it wasn't obvious before this article, ski families are spoiled when it comes to Winter playgrounds, but one ski destination stands out from the rest and it's located right in the U.S.A. in New England's northernmost state, Maine, better known as, "Vacationland".
There are ski resorts and then there's Sugarloaf Mountain, a world class ski destination all its own. Talk about a ski getaway…
As the largest ski area east of the Rocky Mountains and the east coast's only ski lift that operates above-treeline, "The Loaf" pulls out all the stops for its visitors, offering families activities ranging from fat biking, ice skating, snow shoeing, cat and Nordic skiing as well as fun albeit untraditional ski alternatives for the less thrill seeking and inexperienced such as Sno-Go ski biking, which the resort offers lessons and rentals for.
Among the plentiful dining options, families will also be happy to find no shortage of lodging accommodations, most of which are conveniently located at the base of the mountain with trails that allow you to literally ski right up to your door. There's also a day care on property for parent's wanting some solo ski time.
For the adventurous ski bunny looking for the ultimate thrill, try Sugarloaf's newest offering, Burnt Mountain Cat Skiing where "snowcats" take you up 1.5 miles to the top of Burnt Mountain where you can ski through down 1,500 feet through 100 acres.
If you're the kind of ski family that likes to do some slope hopping, Sugarloaf is less than 5 hours away from New England's highest mountain, Killington in Vermont as well as Quebec City, a charming city with an unforgettable backdrop and all the Wintertime charm to complete your alpine vacation.
Photo credit: Victoria of Southern Trippers
Sugar Mountain
1009 Sugar Mountain Dr, Sugar Mountain, NC 28604, United States – "If you want one of the best places to ski for families then you will love Sugar Mountain in North Carolina.
After all, it's easily the biggest North Carolina ski resorts of them all and features 1200 feet of vertical drop across upwards of 21 different runs. It also has a great ski school and a variety of trails that are perfect for beginner and advanced skiers alike, making it an ideal destination for any snow loving families out there.
So, to get here, book a flight to Raleigh Durham International Airport and rent a car upon arrival. Then, drive four hours to the mountain and take your kids on introductory runs like the Lower Flying Mile.
However, if some of your family members are more experienced skiers, they can always try Oma's Meadow (intermediate), Tom Terrific(advanced), or even Boulder Dash (advanced).
Just be aware that anyone skiing for the first time should steer clear of the summit since only advanced runs are found there.
Additionally, newer skiers can sign up for the Snowsports School, which is designed for skiers of all ages and abilities. Alternatively, kids between the ages of 5 and 10n can sign up for lessons with the Sugar Bear Ski School."
Photo credit: Unsplash – Big Bear
Big Bear
Big Bear Mountain in California has great ski slopes for families with kids and beginner skiers! Big Bear is about a 2-to-3-hour drive from Los Angeles and has plenty of great cabins and places to stay that accommodate families. Plus, Big Bear is known for being a popular location to learn how to ski. 
If you have time then take a day trip to Los Angeles and checkout the Best Things to do in Los Angeles with kids.
For beginners and children, Snow Summit Ski Resort is the best place to start. About half of the area is designed for newer skiers and there are plenty of lessons being offered daily for both kids and adults. Ski lessons are highly recommended, and Snow Summit has some of the best instructors in southern California.
Big Bear Mountain offers plenty of additional activities to keep kids entertained during your ski trip. Check out the Snow Play area that features snow tubing. Or, take them to the Big Bear Bowling Barn to escape the cold for a bit.
Prices at Big Bear are reasonable for the location, which makes it a great option for families on a budget. Plus, this is one of the few places in the world where you can start your morning on one of the best winter beaches in California and end with skiing in the afternoon – a great bucket list item for any adventurous family!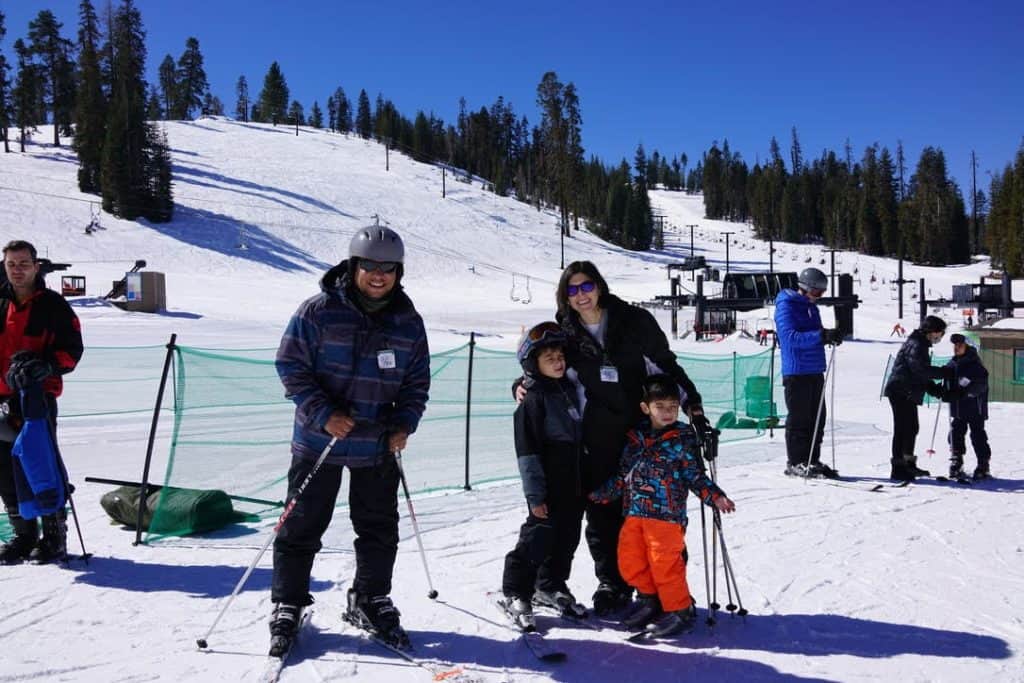 Badger Pass, Yosemite National Park
7082 Glacier Point Rd, Yosemite National Park, CA 95389 – If you're looking for a family-friendly place to ski in the Sierras without Tahoe crowds and prices, check out Badger Pass in Yosemite National Park.
Yosemite becomes a winter wonderland after the snow falls, with only a fraction of the crowds you'll encounter in the spring and summer. Located off Glacier Point Road, the Badger Pass Ski area offers winter fun for all ages and skill abilities. Whether you're interested in snowboarding, skiing, tubing, snow-shoeing, or exploring gorgeous cross-country trails, Badger Pass is an ideal spot for family-friendly winter adventures.
If your family is new to skiing, rentals and lessons are available. You can also choose to take your time figuring things out on "Turtle," a bunny slope with its own tow lift. Once you're warmed up, choose from any of the park's 10 ski runs, with 35% of runs considered to be beginner-level, 50% immediate, and 15% advanced.
When you're ready for a break, grab lunch in the cafe and relax on the sundeck while your kids play nearby in the snow. After you put your skis away, you're still in the middle of one of the most celebrated National Parks in the US. Snap photos at iconic Tunnel View, take a spin on the ice rink at Curry Village, or warm up with hot cocoa by the fire at the famous Ahwahnee Hotel.
Park City Mountain Resort, Utah
1345 Lowell Ave, Park City, UT 84060, United States – One of the best places to ski for families is Utah. Utah ski resorts are fabulous! Utah has the best snow on earth which is one of the reasons the Olympics have been held in this beautiful state!
If you are planning a family ski trip and are looking for a ski town that has it all: lodging, shopping, and dining, Park City is a great option. There are many ski-in and ski-out resorts located near the two biggest ski resorts in the area. Park City Mountain Resort and Deer Valley Resort are great areas to learn to ski.
Park City Mountain Resort has over 330 runs with a 3.5-mile home run that is great for beginners and families. 50% of the runs are beginner and intermediate. The Park City Ski School is a great place for your family to learn to ski. The instructors are awesome!
If you need a break from the slopes you can enjoy snow tubing, snowshoeing, dog sledding, and ice skating in Park City. Park City is a winter paradise!
There are a lot of amazing resorts in Park City but the Marriott Mountainside Resort is a fantastic lodging option for families.
Skiing in Utah is a great idea!
Photo Credit: Tami Neves
Tahoe Donner, California
Tahoe Donner, located near Truckee, California, in the Lake Tahoe region is a beautiful place to ski. With its gorgeous views of Donner Lake and the Sierras mountain range, it is truly spectacular.
But what makes Tahoe Donner stand out from other ski resorts in the area like Palisades and Northstar is that it's an excellent place for families. Whether your kids are beginners or more advanced skiers, there are plenty of options for them to explore on the slopes and the resort is quite small, which makes it easier for parents to keep track of their children.
Also, the resort has a really good ski school that offers lessons for both adults and kids. The resort has two conveyor belts, also known as magic carpets, which are perfect for young skiers who are just getting started.
Overall, whether you're looking for a place to simply have fun with the family, or to hone your skills on the slopes, Tahoe Donner is a great choice! Lake Tahoe is absolutely beautiful and should definitely be included in any winter vacation to California. If you have the time, I highly recommend going on a road trip from Lake Tahoe to Yosemite.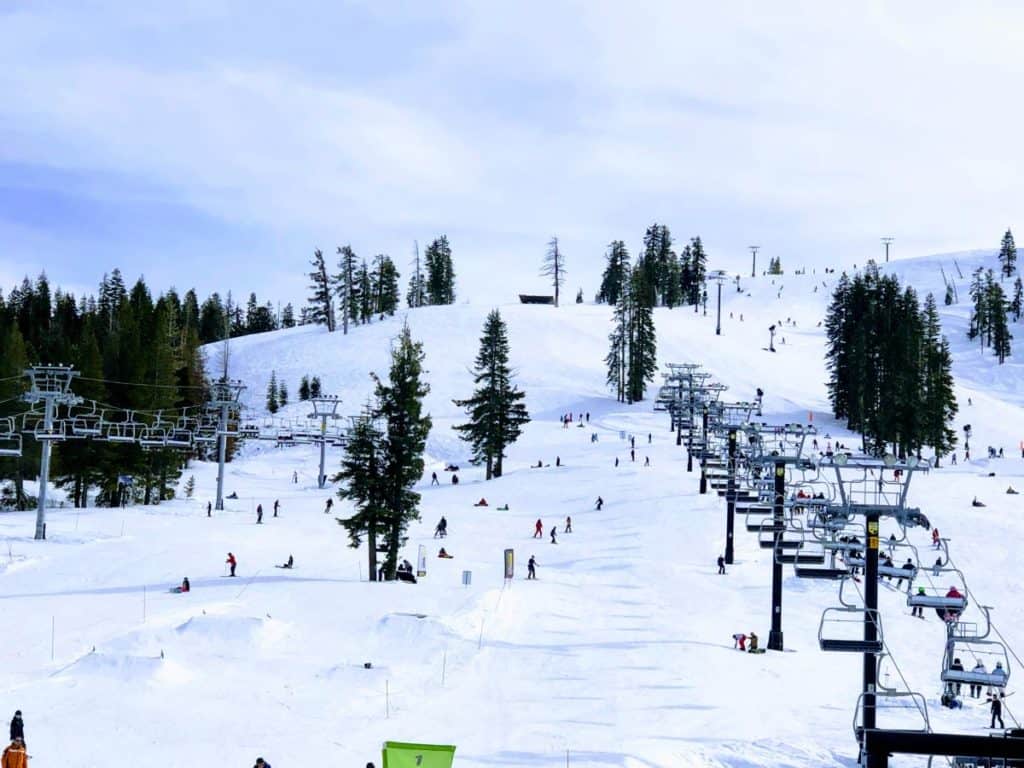 Boreal Mountain, California
Lake Tahoe is a world class skiing destination in Northern California and there are many great ski resorts here for all levels of skiing. Lake Tahoe is only 3 hours drive from San Francisco which makes it an ideal destination in any San Francisco itinerary. A ski family vacation is the perfect winter activity and Boreal Mountain Resort in Lake Tahoe is very popular with families.
Boreal Mountain Resort has several great beginner terrains for young kids who are just starting out, but also has several intermediate and advanced terrains for more practice and for mastering those skills.
The terrains here are suitable for adults in the family as well. The Boreal resort has a great ski lessons program offering group classes and private lessons for all levels and ages of skiers. They have 6 chair lifts, 8 beginner trails, 11 intermediate trails and around 15 advanced trails. There is night skiing offered here as well. Snow tubing is another popular activity here and loved by families. The cafe here offers delicious snacks and lunch to fuel up after some ski fun on the snow.
Lake Tahoe has a lot of restaurants and accommodation options for every budget. The Lake Tahoe downtown area near the Heavenly Gondola is very vibrant and full of souvenir shops and cafes for a leisurely stroll after a day of skiing. Visiting Lake Tahoe is a great family friendly experience and skiing is one of the best activities to do here in winter.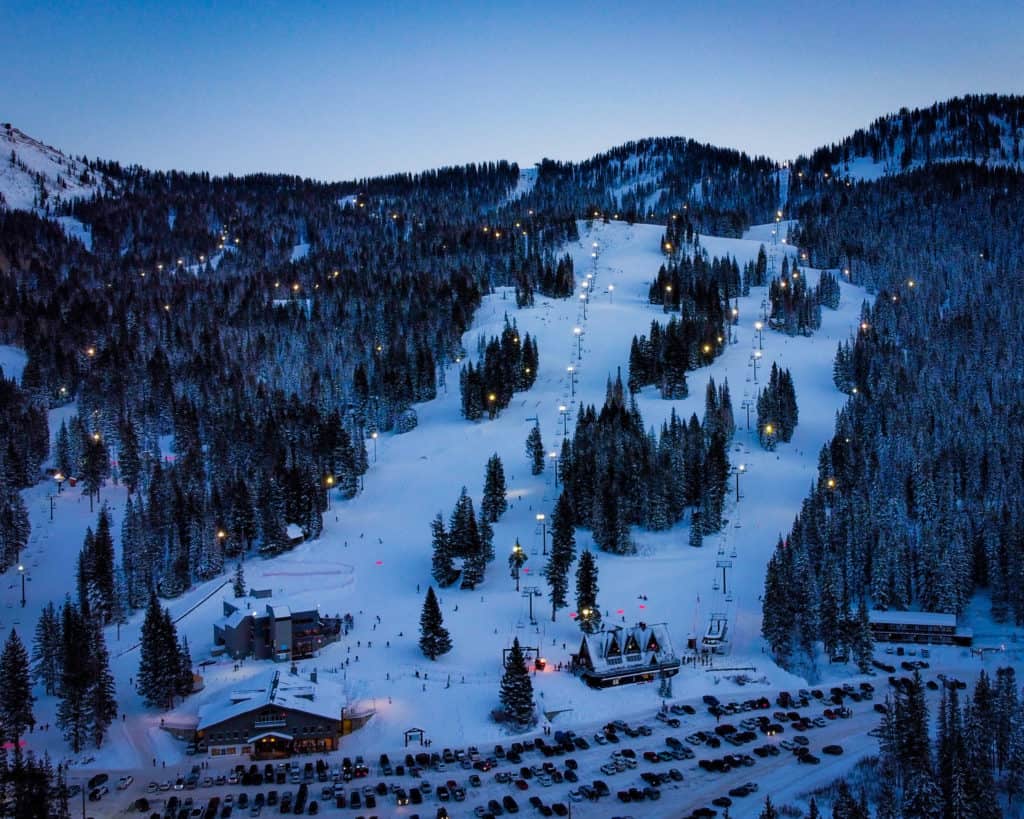 Brighton Resort, Utah
8302 S Brighton Loop Rd, Brighton, UT 84121, United States – Kids Ski for Free at Brighton Resort in Utah
While skiing in most places has gotten outrageously expensive, there is one holdout in Utah that remains an affordable option for families. Brighton Resort in Utah offers one of the best perks around – kids ages 10 and under ski for free! And this isn't some dinky mountain where you get what you pay for.
Not only is Utah home to the self-proclaimed "greatest snow on Earth" but Brighton is right in the heart of the state that gets the best of the fluffy white stuff. It's located in Big Cottonwood Canyon and features some of the best terrain you can ski in the state.
There's a good variety of easy greens for the kids to learn on, multiple terrain parks for different skill levels, and expert black diamonds for when the kids want to take a break at the lodge sipping hot chocolate while mom and dad go ski the good stuff. It's more of a local spot than the uppity Park City resorts that cater to tourists, so you won't find any fancy après-ski spots around Brighton.
But it is a quick drive down the canyon, where you can find plenty of restaurants and hotels, or even head to downtown Salt Lake City for some shopping and nightlife. But you may not even want to leave at night because they light the place up and you can ski to heart's content (until 9:00pm anyway).
Photo Credit: Eileen Gunn at FamiliesGo!
Steamboat Springs
2305 Mt Werner Cir, Steamboat Springs, CO 80487, United States – Steamboat Ski Resort offers everything you could possibly want from a family ski resort.
We are a family of skiers and no-skiers so we always look for ski destinations with additional things to do. Often this means staying in a ski town rather than a stand-alone ski resort. Steamboat Springs, CO is one of our favorite ski towns. The skiing is as excellent as you would expect in the Rocky Mountains.
This ski resort is not just a great place to ski. In fact, they also have a large mountain coaster that everyone can enjoy.
Check out their cozy accommodations. Visit the ski lodge, and choose from the vast array of dining options sure to please even the pickiest of eaters.
Trails are long but not necessarily difficult and the fresh powder provides a great and much easier ski experience than slopes that tend to ice up. The ski school instructors are adults and good at putting nervous kids at ease. Meanwhile the long runs allow new skiers to get a lot of practice instead of a lot of time on lift lines.
If you don't ski, you can still buy a ticket to ride the gondola up to Thunderhead Lodge. Grab a hot cocoa, or maybe a bloody Mary or a hot toddy depending on the time of day and sip while you take in the mountain views and watch the skiers below. If you want to get outside without skis Fiskcreek Falls offers winter hiking on well-maintained trails.
The 15-minute walk leads you to a scenic bridge and waterfalls. You'll also find cross-country skiing, tubing and horseback riding among the winter outdoor activities in the area. Regardless of how spend your days you can ease your sore muscles in the area's natural springs at Old Town Springs, a collection of outdoor thermal pools and whirlpools that are fun in any temperature for kids and adults alike.