There are several Ski Resorts Canada has to offer. If you are looking to go skiing in Canada, there isn't a shortage of fun places to enjoy the slopes.
Canadian Ski Resorts are a fantastic place to enjoy lessons, the snow, and some fantastic winter activities. Spending a day or even a weekend at one the best ski resorts in North America is a wonderful way to create family memories and get some fresh air during the winter months. You may also be interested in checking out our Guide to Ski Resorts and Ski Family Vacation Ideas in the United States and Ski Resorts Around the World.
Canadian Ski Resorts
Click through the links to scroll to places to go skiing in Canada.
Best Places to Ski in Canada
If you are seeking out the best places to ski in Canada, you are in luck. Canada has several ski resorts and fantastic places to get your ski on. Enjoy the fresh snow and the crisp air and get some physical activity this winter.
Ski Resorts Canada – British Columbia
There are several fantastic places in Western Canada to enjoy some skiing in British Columbia. With so many beautiful ski resorts, you are sure to find one that suits your needs.
Vancouver, British Columbia, is a world-class destination in both summer and winter. With three ski hills within a short drive of the city, those living or staying downtown can be on the slopes in under an hour.
Grouse Mountain
6400 Nancy Greene Way, North Vancouver, BC V7R 4K9 – Grouse Mountain – Located 13 km from the city, Grouse Mountain is the most accessible and offers the best views of Vancouver. It differs from the other two in that skiers reach the runs by way of a gondola from a lower parking area. At the top, families can choose from 33 daytime runs, as well as 15 illuminated runs for night skiing.
A great option is the slow zone near the lodge allows newcomers to practice on gentle hills and wee bumps. Families can also benefit from half-price tickets for children, while those under five skis for free making it a great location for family ski trips.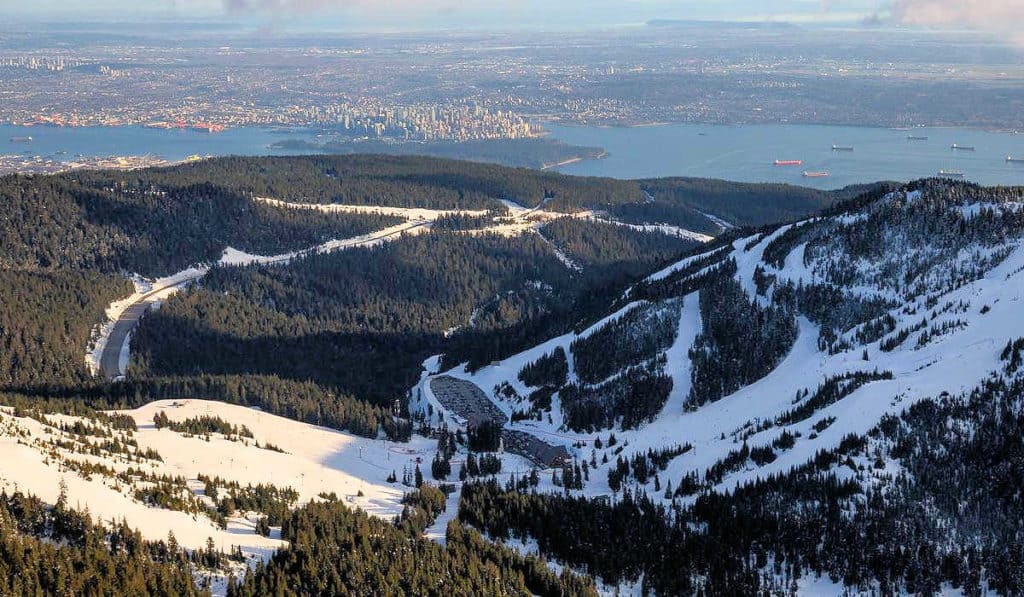 Cyprus Mountain
6000 Cypress Bowl Rd, West Vancouver, BC V7V 3N9 – Cypress Bowl Ski Resort on Cypress Mountain is the largest Vancouver ski destination. It features six chair lifts (some are easy riders) and 53 runs.
The ski resort is family-friendly and offers skiing classes and has a great ski school for children aged three and up. Its "Runway slope" is considered a bunny run.
Mount Seymour
1700 Mount Seymour Road, North Vancouver, BC Canada, V7G 1L3 – Mount Seymour is the better choice for beginners or families since 40% of its runs are rated as novice. Not only can you ski, but Mount Seymour Park offers tubing and snowshoeing too.
Unlike Grouse and Cypress Mountains, Seymour lacks snow-making equipment, so skiers may need to wait longer to hit the slopes.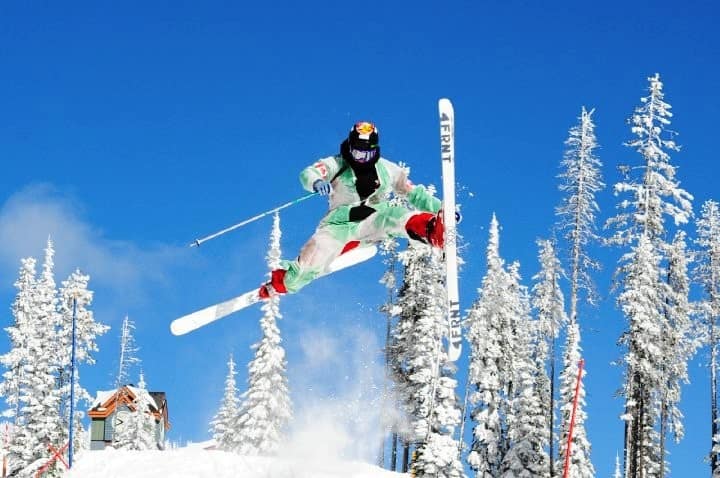 Big White Ski Resort
5315 Big White Rd, Kelowna, BC V1P 1P3 – Big White Ski Resort is a wonderful place to go skiing in Canada.
A ski trip in the Canadian highlands is the best way to spend the holidays with family. There are several ski resorts across the country to facilitate this experience. The Big White Ski Resort in the Okanagan Valley in British Columbia is the country's largest and best family ski resort.
Not only do they have over 15 restaurants located on the mountain, but there are also grocery stores and local fast food places that offer delivery to your door.
The closest airport to Big White is Kelowna International Airport. It's located at a distance of 1 hour from the resort. You can go ahead and book a rental car or airport shuttle available at the airport to reach your destination. The accommodation village is entirely skied in, ski out. Its favorable geographical location always makes it snow-filled during the operating season.
With a 7.2 km Around the World route and over 117 different trails, this ski resort in Canada is a must-visit. The mountain has 16 different lifts and a 777-meter drop.
Need ski lessons? No problem. There are lessons offered for all age ranges and skill levels.
Their ski school gives fantastic guides for kids and beginners. The ski tracks are also demarcated into beginners, intermediate and advanced zones. Night skiing is allowed as well.
The resort provides a wide array of activities to keep you and your family entertained. Apart from ski tracks, Big White also has a tube park, a skating rink, an ice climbing wall, etc.
If you prefer cross-country skiing there are several kilometers of trails for you to enjoy.
Experience Nordic skiing, Snowshoeing, horse-drawn carriage rides, dog sledding, and snowmobiling in the mountains. Enjoy leisure time after snow activities at some cutesy cafe in the village or by shopping for souvenirs from the numerous shops here.
Big White also has a daycare facility to keep small children entertained. Some family events like winter carnivals and fireworks shows are often arranged.
Whistler Blackcomb Ski Resort
4545 Blackcomb Way, Whistler, BC V0N 1B4 – Whistler Blackcomb Ski Resort is perfect for families who love an exciting experience.
This two mountain resort has an average combined snowfall of 11.70 meters each year. With over 200 marked trails, 37 lifts, and a peak-to-peak gondola, this Canadian Ski resort is one of the most popular.
There are several restaurants located in the mountains to choose from that offer great family meal options.
If you are planning a ski trip with your family this year, this resort should absolutely be considered.
Fernie Alpine Resort
5339 Fernie Ski Hill Rd, Fernie, BC V0B 1M6 – Fernie Alpine Resort is known for its mild temperatures and consistent powder, making it a fabulous ski resort to visit this year.
A third of the ski terrain is rated as "easy", so it's perfect for the entire family. There are also lessons available that you can participate in to advance your skills.
There are several places to grab a good meal on the mountain, as well as a grocery store.
Fernie Alpine Resort is a great place to stay, especially if you are looking for something a little less busy.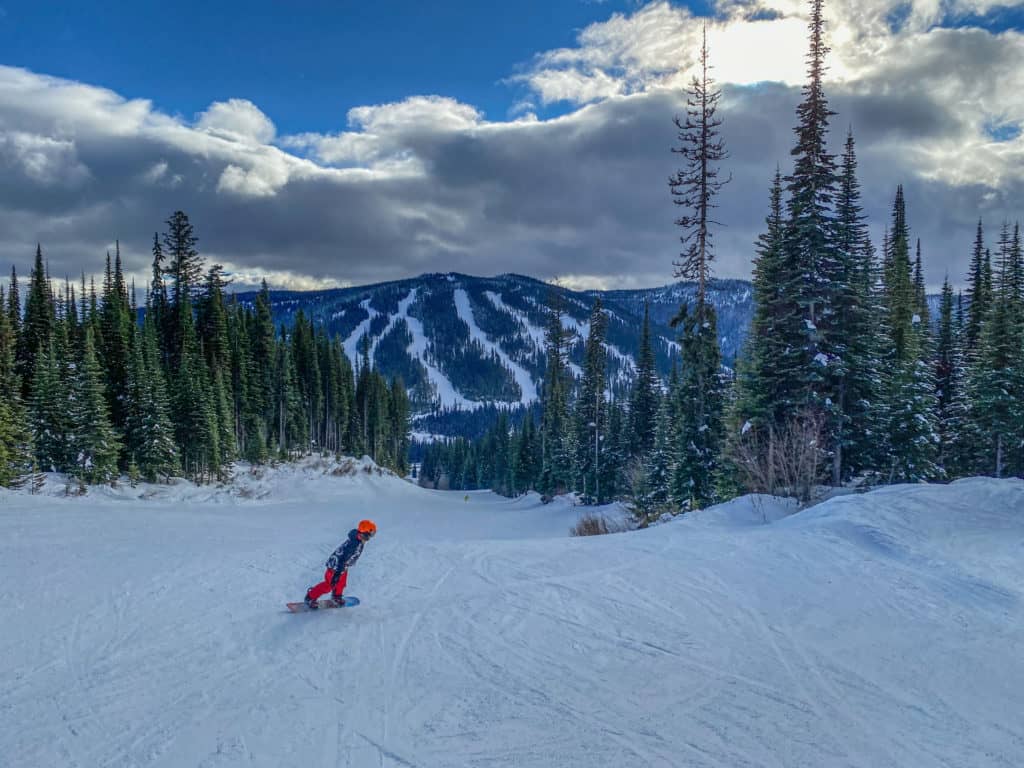 Sun Peaks, Kamloops
There is a reason why Sun Peaks changed the name of its ski resort from Tod Mountain to Sun Peaks Resort. Families can expect many beautiful bluebird days on the ski runs. Sun Peaks Resort is located 45 minutes from the city of Kamloops, and a shuttle service is available from the airport. From beginner runs to more advanced terrain, families can find something for every skill level. The resort offers children's ski and snowboard programs and daycare services for younger kids.
Sun Peaks boasts a cozy village full of restaurants and shops perfect for après-ski activities. The popular Sun Peaks Grand Hotel is located at the base of the mountain and offers guests an outdoor heated pool with three separate hot tubs to soothe aching muscles after a day on the slopes.
Families can also enjoy a variety of non-skiing activities, such as snowshoeing, dog sledding, and ice skating. The outdoor, open-air ice rink is located right across from the village and offers drop-in skating sessions with views of the mountains surrounding it.
With all of these amenities, Sun Peaks Resort is a top choice for families looking for a fun and enjoyable ski vacation.
Skiing Canada – Alberta
Want to go skiing in Alberta? You are in luck. There are some really beautiful ski resorts located in Alberta that the entire family can enjoy.
Lake Louise
1 Whitehorn Rd, Lake Louise, AB T0L 1E0 – Lake Louise Ski Resort has over 140 trails and 4,200 acres for you to enjoy. With a vertical drop of 991 metres, this resort is great for everyone.
If you are a beginner, there is an easy run you can access from every chairlift. This is great for families so they can stay together.
There are several chances to take part in ski lessons, just keep in mind that rentals are extra.
There are 5 restaurants that offer breakfast, lunch, or snacks for you to enjoy during the day. You certainly won't go hungry.
Banff Area
If you are looking for the best places to ski for families, look no further than Banff and the Canadian Rockies. In Banff National Park only, you can find three world-renowned ski resorts. Then, add one in Kananaskis County and one in Jasper National Park and many others a few hours away.
Your family will be up for a fun ski vacation.
Banff is the perfect place to ski for families for many reasons. First, there are 3 ski resorts all located within 30 minutes of downtown Banff:
Mt. Norquay
Banff Sunshine
Lake Louise Ski Resort
Finally, Banff and the Canadian Rockies have so much more to offer than a ski trip. So after a few days riding down the slopes, you and your family can enjoy other fun winter activities such as:
Winter hiking
Hot spring soaking
And so much more.
Mt. Norquay
2 Mt Norquay Rd, Banff, AB T1L 1B4 – Mt. Norquay really is perfect for families. It has many beginner slopes as well as a tubing section. Plus, it's open in the evening for wonderful evening skiing. It's also less crowded than the two other ski resorts.
Due to its location on the mountain, the ski season is one of the longest. It usually runs from November to May. It's thus perfect for an "out of season" ski trip away from the crowds.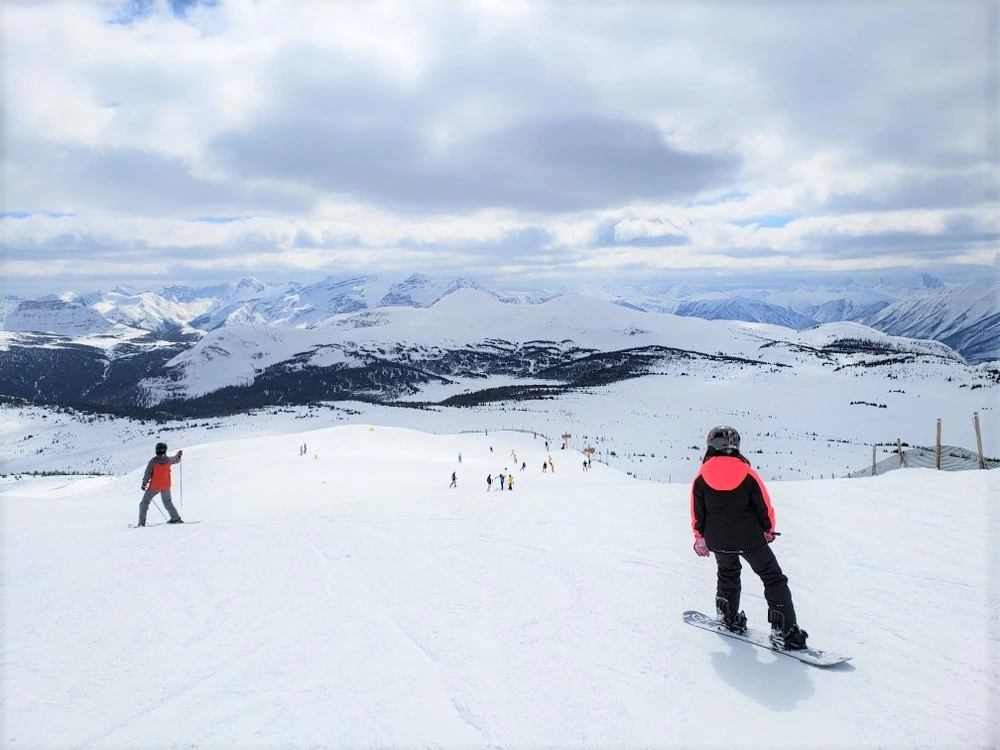 Banff Sunshine
1 Sunshine Access Rd, Banff, AB T1L 1J5 – Banff Sunshine is a massive place to ski with three different mountains. The Lookout, Goat's Eye and Standish are fantastic places to ski.
Sunshine Village Is the Place to Be for a Ski Vacation
Sunshine Village is a great place to take your family for a ski vacation. Located in Banff National Park in Alberta, Canada, it is truly a winter wonderland. With its beautiful scenery and close proximity to Banff townsite, it is no wonder why this resort is so popular.
Family-Friendly Activities
There is something for everyone at Sunshine Village. In addition to skiing and snowboarding, there are a variety of other activities that the whole family can enjoy. You can take a ride on the Banff Sunshine gondola for some incredible views of the mountains. There are also sledding hills and cross-country skiing trails nearby if you want to explore beyond the resort boundaries.
Amazing Accommodations
After a long day on the slopes, you'll want a comfortable place to relax. Sunshine Village has several hotels and lodges on-site that offer stunning mountain views and all the amenities you need for a comfortable stay.
Or, if you're looking for something more intimate, there are plenty of bed and breakfasts and Airbnbs in Banff town site that would make for a perfect home base for your ski vacation. This Banff National Park itinerary is the perfect way to plan your trip!
There is a ski school here that takes children as young as two for private skiing lessons. So if you want to go skiing as a family, this is a great place to ski.
The views at this resort are stupendous, so a stay at Sunshine Mountain Lodge, which is a ski in ski out facility, is a must.
Canadian Ski Resorts – Saskatchewan
Skiing in Saskatchewan is a fabulous experience. There are a few places that have the most ideal skiing conditions in the province and you are sure to love your visit.
Wapiti Valley Ski and Board Resort
Highway 6 N, Nipawin No. 487, SK S0E 1E0 – Wapiti Valley Ski and Board Resort located in Saskatchewan aims to give you an experience of a lifetime.
They have a quad chair lift that will take you up and down the mountain. On the lift you can take in gorgeous views of the Saskatchewan River which includes their gigantic terrain park.
This resort also offers night skiing and private lessons for children under 5. There are plenty of accommodations nearby to choose from if you want to spend the night.
Table Mountain Regional Park
SK-40, North Battleford, SK S9A 2Y3 – Table Mountain Regional Park has a 110-metre vertical drop and several trails that are rated as easy. With two quad chairlifts and two magic carpets, you are sure to get to the top of the hill easily.
This ski hill is a fantastic place for beginners to enjoy. In fact, children under 5 ski free here. You can bring your own skis or rent equipment.
This ski resort is a fabulous place to visit for families this winter.
Skiing in Canada – Manitoba
Going skiing in Manitoba this year? There are a couple of great resorts you must visit. Skiing in Manitoba is an exciting experience for all.
Asessippi Ski Area and Resort
Provincial Trunk Highway 83, Inglis, MB R0J 0X0 – Asessippi Ski Area and Resort is an amazing ski resort in Canada to visit with your family. With so many fun activities for everyone, you are sure to have a blast.
With 26 runs and two different terrain parks, skiing here is a great experience. If you aren't feeling skiing, you can check out their snowshoeing, dog sled rides, snow biking and more.
There is also a tubing park at this fun ski resort. It has 4-6 downhill runs and a magic carpet that takes you to the top.
If you are feeling hungry there is a great food court that has a variety of different options for all tastes. In addition, there are several fantastic places around the village to get drinks and some food.
There are lessons available at Asessippi that can help get your little ones started. They take place on Sundays and run in the month of January. While they are not full lessons, they do offer snow school as well.
Best Places to Ski in Canada – Ontario
Skiing in Ontario is a fantastic experience. There are many different resorts and locations that offer amazing adventures. Check out one of Ontario's Ski resorts today. You won't regret it.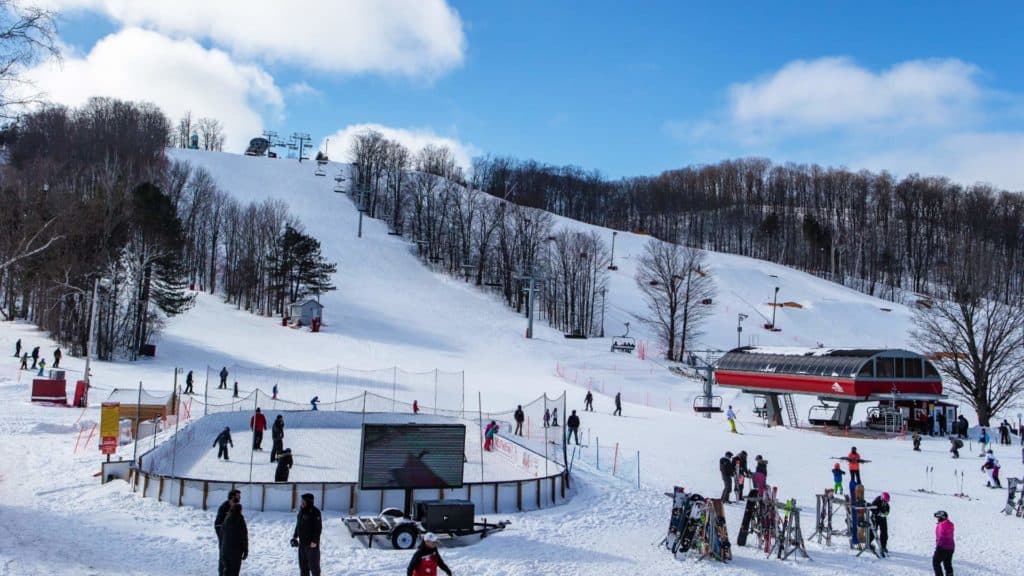 Horseshoe Resort
1101 Horseshoe Valley Road West, Barrie, Ontario, Canada L4M 4Y8 – Horseshoe Mountain Resort is located just a short drive from Toronto, making it very accessible for families who live in or near the city. It's about 1 hour north, midway between Muskoka and Toronto.
Horseshoe Mountain – If you grow up near Toronto, there's a 90% chance you'll visit Horseshoe Mountain on school trips or ski holidays with families. Even if you don't, it's still a great place to learn to ski or snowboard.
Horseshoe has a number of beginner-friendly and family-oriented features that make it one of the best places to ski for families in Ontario.
Horseshoe offers a comprehensive lesson program for both skiing and snowboarding, from beginner to advanced levels.
The resort also has a Kids' Snow School, where kids ages 4-12 can learn to ski or snowboard in a safe and controlled environment. There are more advanced black diamond hills for experienced skiers, so nobody will get bored. And most of the trails end at the same spot, so it's easy to round up the family.
Other popular activities include tubing down snow hills, dog sledding, and cross-country skiing.
Horseshoe is also very family-friendly in terms of its accommodation options. There are several hotels near the resort, as well as a number of condo and townhouse rentals. Many of the accommodations offer Ski & Stay packages, which can save you a lot of money on your ski trip.
It's epic to visit at New Year's, when they have light-up ski demonstrations amongst the midnight fireworks.
Blue Mountain
190 Gord Canning Dr, The Blue Mountains, ON L9Y 1C2 – Blue Mountain is home to 43 ski and snowboard runs and 11 lifts. And once you are done on the slopes, be sure to check out some of the other activities offered at Blue Mountain, like 5 snowshoe trails, an ice-skating rink, and even tubing.
Located just 90 minutes and 157 kilometres north of Toronto and nestled in the Muskoka region, Blue Mountain Resort is one of the most family-friendly places to ski in Ontario. With incredible facilities and gorgeous scenery, you are guaranteed to have an awesome experience.
If you are new to skiing, Blue Mountain offers 2 rental shops where you can find top-of-the-line equipment rentals, as well as knowledgeable staff who will help you get ready for your day on the slopes.
And for those who need some help learning to ski or snowboard, Blue Mountain has a comprehensive self-guided circuit that allows you to learn at your own pace.
Of course, for many families, the Après-Ski experience is almost as important as their time out on the slopes. Blue Mountain offers a wonderful base lodge for a quick warm-up, as well as an incredible ski village filled with shops, wonderful eateries, and places to grab a drink and snack.
The Village is also home to a wide range of comfortable and family-friendly accommodations. Depending on your preferences and budget, you can choose between quaint village suites, resort home rentals, a gorgeous inn, and of course, incredible boutique suites.
Blue Mountain Resort is not only an incredible place to ski for families but also a great place for a family to vacation and bring home some fabulous new memories.
Snow Valley
2632 Vespra Valley Rd, Minesing, ON L0L 1Y3 – Snow Valley was voted one of the Best Ontario Ski Hills for kids by Ski Canada Magazine. This makes it an amazing place to visit with your kids and enjoy a fun ski weekend.
This fun Canadian ski resort offers Ski n Play packages. With these packages, children 3 to 5 can enjoy a combination of ski lessons and indoor play in the resort's Kidz Village. There are lessons available for every age and skill level to choose from too. So if you are in need of some instruction, this is a great place to go.
The hill at Snow Valley has 21 trails, 8 lifts, and a 91-metre drop. If you need to rent equipment to enjoy your skiing experience, there are Family Rental Packs to make sure you have everything you need.
Want to go night skiing? You are in luck. Snow Valley has night skiing packages every night of the week excluding Mondays.
Mount St. Louis Moonstone
R.R.4, 24 Mt St Louis Rd W, Coldwater, ON L0K 1E0 – Mount St. Louis Moonstone has 36 slopes with over a third of them being great for beginners. This family-friendly ski resort in Ontario is a great place to visit for your next ski trip.
The vertical drop at Mount St. Louis is an unintimidating 168 meters and is serviced by 9 lifts, which also includes 3 different magic carpets suitable for beginners. The two terrain parks also host a beginner junkyard area for the little ones.
There are several different accommodations to choose from when visiting this gorgeous ski hill. Check out fantastic hotels in Barrie or Orilla to find one that is right for you.
Check out our Full Guide to the Best Skiing in Ontario!
Canadian Ski Resorts – Quebec
Skiing in Quebec is a fantastic experience. With a few great Canadian ski resorts to choose from, Quebec is a great place to visit for your next ski getaway.
Sommet Saint-Sauveur
350 Avenue St Denis, Saint-Sauveur, QC J0R 1R3 – Sommet Saint Sauveur is located in Quebec's beautiful Laurentian Mountains and is one of the largest night skiing areas in the entire world.
This resort caters to families. With its vertical drop of 213 metres, it is a great place for skiers of all skill levels. Sommet Saint-Sauveur Resort is on the smaller side, with a terrain park, 40 trails, and 8 lifts.
The good news? They offer lessons for the entire family, a children's playground, and more. In fact, they even have two different mountain coasters to enjoy.
If you are feeling hungry you can dine at T-Bar 70, located at the base of the mountain. If you head further into the village you can find several different restaurants and cafes to enjoy.
There are some beautiful accommodations available in the village if you plan to make a night of your trip.
Mont Sainte-Anne
2000 Bd du Beau Pré, Beaupré, QC G0A 1E0 – Mont Sainte-Anne is a large resort boasting several different amenities, accommodations, and more.
There are 8 different restaurants located on the mountain and hotels, motels, and chalets at the base. Mont Sainte-Anne has 71 trails, a 625-metre vertical drop, a terrain park, and more.
There are 19 trails that are lit up for night skiing so if you want to enjoy skiing under the stars, this resort is a fantastic choice.
Looking for lessons? There are many different choices for different ages and stages. Whether you take family lessons, private lessons or your kids participate in the Kidz clinic, you are sure to be impressed.
Mont Tremblant
1000 Chem. des Voyageurs, Mont-Tremblant, QC J8E 1T1 – Mont Tremblant is a great place to visit with your entire family. The hill sits at 875 metres and boasts several lifts, and 96 different trails.
There are tons of daycare options, camps, and lessons that your little ones can participate in. This is perfect for those that require a family-friendly environment.
Accommodations and restaurant choices are plentiful at Mont Tremblant, making it a great place to book a getaway. Don't want to ski? You can also enjoy tubing, skating, and dog sledding.
Skiing Canada – New Brunswick
New Brunswick is a great place to go skiing in Canada. There are several different resorts, and hills that are sure to impress even the most discerning skier.
Crabbe Mountain
50 Crabbe Mountain Rd, Central Hainesville, NB E6E 1E3 – Crabbe Mountain boasts the largest vertical drop in all of the Maritimes. Sitting at 260 metres, it has some of the most exciting terrains in Atlantic Canada.
Children from ages 4-5 can be named after cute little winter animals while they learn to ski with their seasonal programs. Older children can be split into groups based on their skill level. This is perfect for families learning to ski together.
On Thursday nights, this resort hosts a night racing event that includes prizes.
Crabbe Mountain is a great place to enjoy skiing in New Brunswick.
Mont Farlagne
360, Mont Farlagne Road Edmundston, NB E7B 2X1 – Mont Farlagne is a fabulous place to enjoy a skiing getaway. With many different options for family-friendly activities, you are going to want to visit this resort.
There are 22 runs, 83 metres of vertical hills, a terrain park, and 4 lifts at this resort. You can even enjoy some night skiing if you are feeling adventurous.
If you need lessons, there is a school that offers instructions for every age and skill level, making it a great place to go if you are just learning.
If you are hungry, the cafeteria has a great menu, suitable for even the pickiest eater.
Poley Mountain
69 Poley Mountain Rd, Waterford, NB E4E 5C5 – Poley Mountain offers several different accommodation options, childcare, and more.
Poley Mountain is also great for beginners as almost of their 33 different trails are rated easy. If you don't have the right gear, there are rentals available on-site.
Get some food at the New Mountain Cafe, the Slope Bar & Grill, or check out their self-serve options. With so many delicious choices, you are sure to be fed well.
Take a break from skiing and experience some live music or the winter carnival.
Skiing in Canada – Newfoundland
There are many options for skiing in Newfoundland. No matter which you choose you are sure to enjoy your experience.
Smokey Mountain Ski and Snowboard Club
Labrador City, NL A0R – Smokey Mountain Ski and Snowboard Club has fun activities planned for the entire family every year. There are several different fun events to participate in.
If you need gear, there are several different rental packages available. All of them start at a reasonable price and can include everything you need.
This resort offers over 80 acres of skiable terrain. You will be transported by two poma chairs or a double chair lift.
Smokey Mountain has 100% natural snow as well, making it a great place to enjoy a ski vacation.
Marble Mountain
2 Marble Dr, Steady Brook, NL A2H 2N2 – Marble Mountain is a great place to visit with your entire family. There are daycare and babysitting services as well as lessons and packages available for your little ones.
Rentals are available if you require equipment, so you can make sure that you have everything you need.
Check out the range of runs at Marble Mountain. They have varying skill levels through the 39 different runs. Whether you are a beginner, advanced or expert skiier, there is something for everyone. The peak of Marble Mountain reaches an elevation of 546 metres.
There is also night skiing available here on Fridays. Check out Marble Mountain for your next ski trip in Canada.
White Hills Resort
100 White Hills Rd, Clarenville, NL A5A 2B3 – White Hill Ski Resort is only open on the weekends, making it a great place to spend Friday to Sunday. It is a good idea to check their website though, because they are open during the week sometimes.
This Ski hill has a vertical drop of 227 meters and hosts night skiing on Friday nights. The good news? Children under 5 are free and they have bundle lift tickets for families of 3 or 4.
There are options for semi-private and private lessons. Just keep in mind that they have to be booked in advance.
Yukon
Skiing in the Yukon is a fantastic option. The Yukon was the host of 2007 winter games and has great skiing conditions for all ages.
Mt. Sima
770 Mount Sima Road, Whitehorse, YT Y1A 0A8 – Mt. Sima is a great ski resort in the Yukon to visit. There are two terrain parks, plus 10 trails to choose from.
Ranging from easy to extremely challenging, there are ski options for everyone. The bunny hill is perfect for your little ones just starting out. The hill itself offers a 318 metre drop.
Mt. Sima offers several snowboard and ski packages to choose from. They are led by certified instructors and include lift tickets and rentals.
Hungry? Warm up and have a meal at the Last Run Lounge or the cafeteria. If you want to stay overnight, check out of the beautiful bed and breakfasts or hotels in nearby Whitehorse.
If you are looking for great ski resorts in Canada, there are several to choose from. No matter what province you choose to ski in, you are sure to enjoy your family ski experience in Canada.