A winter holiday with kids might turn out to be one of the best experiences of your life. However, travelling with young ones means you have to come prepared. We've selected the best family ski resorts to help you decide where to go. All of these destinations have been visited by travelling parents and thus guarantee a stress-free vacation tailored to children. We hope you enjoy the Best Family Ski Resorts in the World.
You can find a couple of well-known destinations in this list, but – if you're up for it – broaden your horizon and discover a hidden gem. And instead of heading to a family ski vacation close-by, why not do it on another continent? This way you can interweave you family ski holidays with a new cultural experience.
Don't forget to checkout our Guides on the Best Family Ski Resorts in Canada and Family Ski Resorts in the United States.
OCEANIA
The Remarkables – Queenstown, New Zealand
The Remarkables Ski Field is the perfect place for families looking for a winter getaway. First of all, it is located only a short drive from New Zealand's top tourist town, Queenstown! Queenstown is a small town that offers endless amounts of things to do for families in winter. Besides skiing and snowboarding you could go jet boating, visit a farm with plenty of sheep, go to the Kiwi Bird Park, try ice skating, or even embark on one of the many scenic walks in the area.
If you plan on going skiing in Queenstown you will definitely want to check out The Remarkables. Not only is this mountain gorgeous and offers amazing views, but there are also tons of runs stretching over 220 hectares.
But one thing that sets The Remarkables apart is the terrain park offering jumps, rails, and boxes of all sizes. For kids that are a little more advanced at skiing or snowboarding, they can actually join the Kea Progression Program which is a class specifically for kids wanting to become more experienced. At the most experienced levels they will spend most of the lesson at the terrain park!
The Remarkables also offer the Kea Starter Program which is meant for children who are beginners. Classes run daily at 10:00am and 1:30pm and each lesson goes for 2.5 hours. If you book in for the full-day there is also a supervised lunch included.
While visiting Queenstown you aren't just limited to the Remarkables ski field though. There are actually two other ski fields nearby, Coronet Peak and Cardrona. Both are also fun places to check out (especially Coronet Peak that offers evening skiing twice per week!). Coronet Peak and The Remarkables are owned by the same company so you can get passes that allow you access to both ski fields at a discounted rate!
By Bailey from Destinationless Travel
Dinner Plain – Victoria, Australia
Dinner plain is located in the Alpine region of Gippsland, Victoria, Australia and is around three and a half hours drive from Melbourne.
With the multi-storey chalets and snow-covered roofs, it could easily be mistaken for a snow town in Europe rather than in Australia. There are not many places to snow ski in Australia so you will find the slopes packed to the rafters if a good day of snow is promised.
Mount Hotham is only around 20 minutes away but Dinner Plain is more of a family-friendly resort type town. With more mild slopes for beginners, it is the perfect place for Aussie skiers to go and test out their skis.
There are plenty of places to stay with most families that enjoy skiing buying into a share at a lodge. You will find family-friendly accommodation as well as a ski school for the kids so the parents can put their skills to the test while the young ones learn.
Plenty of people also are able to do day trips to Dinner Plain as there are tubing sections, toboggans and plenty of places to stop and make a snowman.
The drive up to Dinner Plain can be rough on some people as there are lots of twists and turns and at some point you will need to make sure you have the proper equipment if you plan on going all the way during the winter season.
If you are looking for a great family friendly snow holiday in Australia then Dinner Plain might be the perfect spot for you.
By Bec from Wyld Family Travel & Travels in Gippsland
ASIA
Myoko Kogen Ski Area – Nagano, Japan
Myoko Kogen with kids!
Japan is renowned for having some of the fluffiest, driest powder snow in the world. Which is one of the best reasons why it is a great destination for a family ski trip.
What also makes Japan such a great choice is that it combines two vacations into one – a ski trip plus a great cultural experience too.
The Myoko Kogen ski area is located to the west of Nagano on the main island of Japan and receives an average of 14 meters of snow each year.
The ski area is made up of four resorts including our favourite, Akakura Kanko. Akakura is one of our favourite ski destinations as it is much quieter and traditional than other popular resorts like Niseko in the north and it is not far from several other family-friendly resorts including Tangram Ski Circus, Kyukamura and Madarao.
Akakura Kanko is a great family ski trip destination as:
It is one of the few Japanese ski resorts that offer kids ski lessons in English.
The resort has predominately beginner and intermediate runs, so there is a wide range of runs available for kids new to skiing.
Food in town is great, with a range of choices the kids will love including pizza, a noodle bar and a pancake stall.
Childcare is offered onsite for the little ones.
Everything is walking distance – the lifts, accommodation, restaurants and onsens (Japanese hot spring).
By Rachel from Adventure and Sunshine
Club Med Tomamu – Hokkaido, Japan
You'll find some of the best snow in the world at this beautiful resort in Tomamu, Japan. Tomamu is on the island of Hokkaido, a 90-minute flight north of Tokyo with a season running from December to the end of March.
Club Med Tomamu is all-inclusive so once you're there just about everything is included like meals, snacks and drinks, entertainment, two ski lessons each day (ski and boot hire is extra) and lift passes.
Tomamu is on its own mountain so you will often wonder where all the people are as you ski straight onto the chairlift, and glide down the fresh soft snow, stopping at the cafes on the mountain for a warm fire and hot chocolate. If you're traveling with kids you simply drop them to Mini Club each morning and the team will take them out for their two lessons and lunch, leaving you to enjoy the slopes. If they're too young to ski they'll be looked after by qualified staff in the Petit Club. There are special kids meals in the restaurants, including an ice cream machine and sprinkles for dessert, and lots of kids games and entertainment like circus school and the weekly children's show.
Family entertainment starts each evening after dinner and drinks, with one night each week reserved for the kids' medal ceremony, where everyone is recognised for their skills on the mountain. Watch the fabulous shows performed by Clubb Med staff and join into the evening parties before getting up to ski all day again.
By Evie from Mumpack Travel
Khyber Himalayan Resort and Spa – Srinagar, India
Located in the Pir Pinjal range of Himalayas in Srinagar India, this luxurious resort is spread over 7 acres of coniferous forest, giving a majestic breathtaking view of the Himalayas.
This resort has been deemed as the 7th best Ski destination in Asia. It also has the highest ski limit in the Himalayas of 13,800 feet (4206m). Just minutes away from the Gulmarg gondola ride, this resort puts the ski into ski resort.
When it comes to accommodation they provide both rooms and cottages, if you have kids it's best to book a cottage. You get your private space and the kids can enjoy themselves. They also have skiing lessons for children. Your kids will be trained by professionals.
They also have table tennis and snooker along with Kashmiri and international cuisines. The place is an absolute delight in winter and the best place to ski. Many events and competitions for kids related to skiing are also conducted. While the kids are playing you can de-stress in the spa. They also have a sauna, a swimming pool, a library and their own golf course. Hiking and horse riding are also available.
This is the best place for a family vacation or people seeking to spend quality time with their loved ones away from the crowd of the busy city life.
By Shalini from Eager2Travel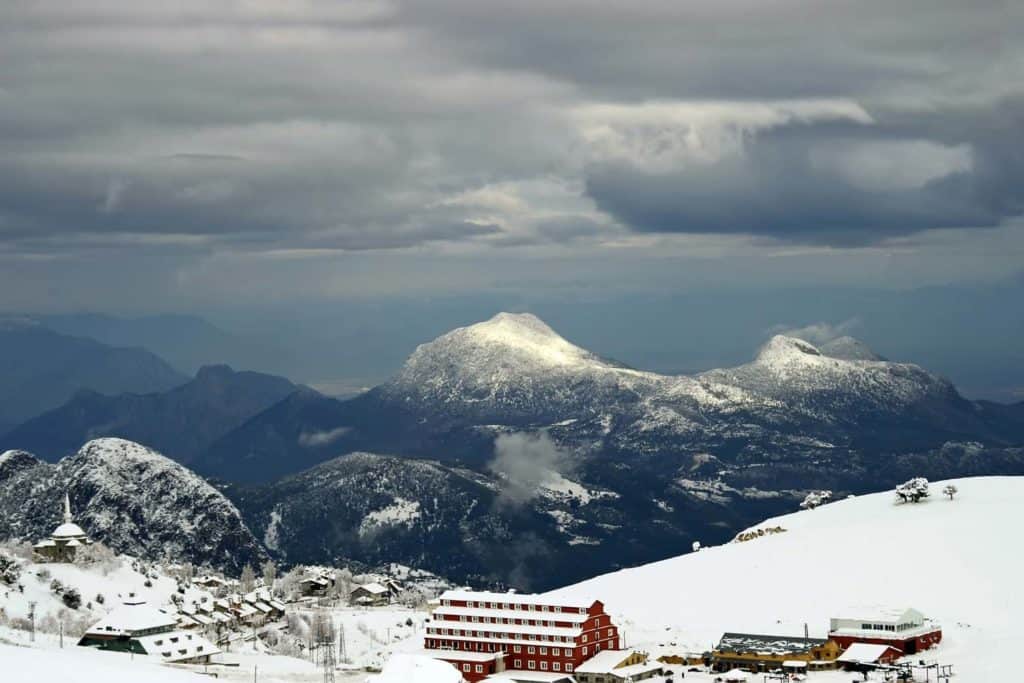 Saklikent – Korkuteli/Antalya, Turkey
If you are looking for a remote, affordable, and unique skiing opportunity for your family, then head to Saklikent in the Antalya Province of Turkey. The ski resort of Sakilkent is one of the best in the country, yet it is rather untouched.
Perhaps what makes Sakilikent such as desirable skiing destination is its location. It offers a unique cultural immersion as it is nestled in the Taurus Mountains near ancient villages and historical sites in Turkey. Visitors can get a glimpse of authentic Turkish culture and enjoy amazing slopes at the same time.
Located only 1 hour away from the city of Antalya, it is one of the few places in the world where you can go skiing and swimming in the Mediterranean Sea in one day!
This is perfect for families that don't want to spend hours reaching remote ski resorts. And because it isn't as secluded as some of the other places around the world, it isn't as commercialized. Its accessibility allows travelers to have a skiing holiday and explore other attractions in Turkey.
Sakilkent Ski Resort offers a variety of slopes for all levels of skiers, from beginner to advanced. There are 10 km worth of slopes and 3 lifts to transport the guests. Unfortunately, off-piste skiing is not allowed.
The best time to visit Saklikent is between mid-December and March when there is the most snowfall!
By Sean Lau (LivingoutLau)
EUROPE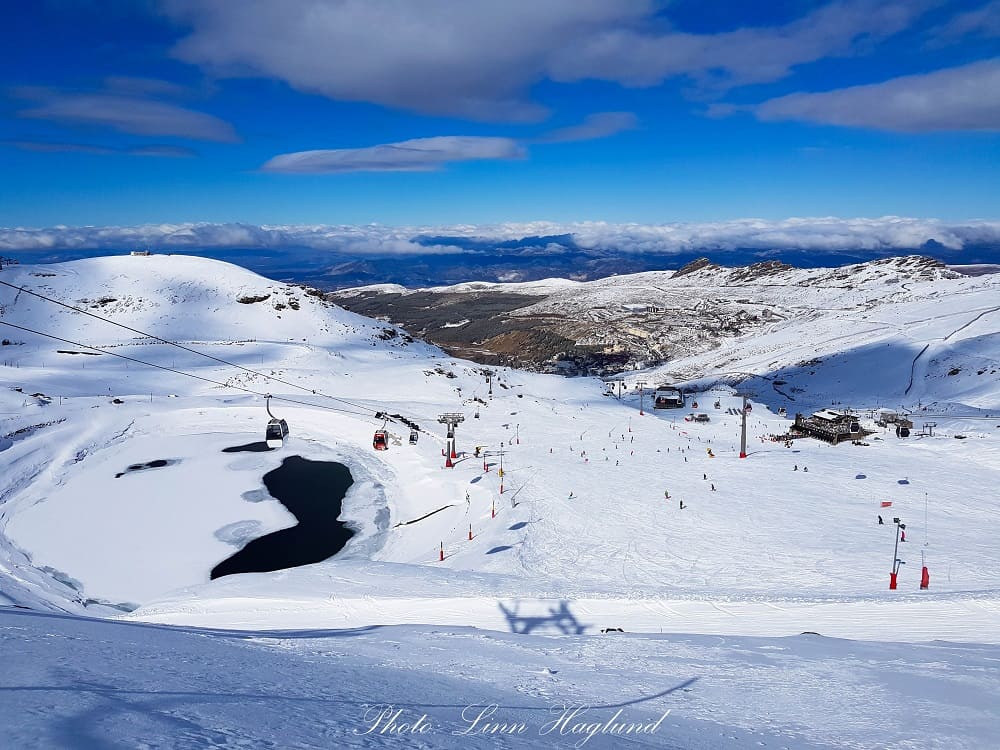 Sierra Nevada – Granada, Spain
One of the best family ski destinations for families is Sierra Nevada in southern Spain. It is actually the southernmost ski resort in Europe and has one of the longest seasons often lasting from November to April as long as the snow lasts.
There are easy children's slopes both by the village itself and up in the mountains where the ski lifts take you. The highest slopes for the bigger kids and parents slope down Sierra Nevada's second-highest peak, Veleta.
You can also book skiing classes for the whole family if you are new to skiing and rent all the necessary gear at any of the skiing schools. Skiing passes for children up to 5 years is free and a discounted rate for children from 6 to 15 years apply. For more information about the season's prices, check out the official website.
The village of Sierra Nevada is also a wonderful winter wonderland that has everything a ski resort needs, including charming bars for hot cocoa in the sun and cozy restaurants to cuddle up from the cold. To get a break from the skiing, Sierra Nevada is also perfectly situated for spending a day in Granada to explore the majestic Alhambra fortress, castle, and gardens, as well as other highlights in the city like the Albaicin district and the cathedral.
By Linn Haglund of Amused by Andalucia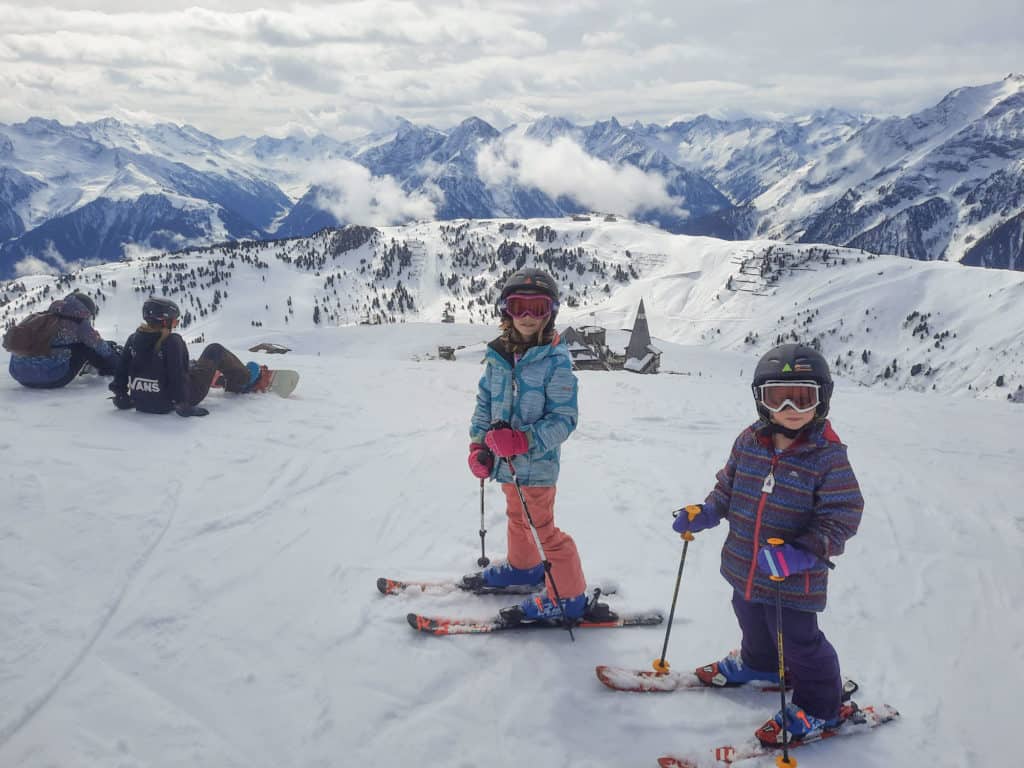 Mayrhofen, Tyrol Region of Austria
Mayrhofen sits in the Zillertal valley in the Tyrol region of Austria. The town has long been established as a European favourite for snowsports, and offers a total of 142km of pistes within its ski area. Boasting Europe's steepest ski piste in the 'Harakiri' (a crazy 78% slope!), as well as a large snow park for freestyle fans, advanced skiers are well catered for at the top of the main Penken lift. That doesn't mean that there isn't a lot to keep beginners entertained as well though, with a choice of lift systems providing a good variety of more gentle descents. The lift pass also covers the wider Zillertal area, giving access to other lift systems along the valley, including the Hintertux glacier that offers year-round snow.
Children are well provided for. The excellent SMT ski school in Mayrhofen has multilingual instructors offering both group and private lessons. The children's group lessons are finished off by a fun, end of week ski slalom race, followed by a prize giving ceremony complete with national anthems for the winners! More advanced children can enjoy other fun distractions spread across the mountain, such as timed slalom courses, a mini park to learn some freestyle tricks, and the 'fun ride', a twisting and turning racetrack to speed along with interactive obstacles on the way down.
For anyone not wanting to hit the slopes, both of the two steep cable car lifts that leave the town offer spectacular panoramic mountain views that are worth the trip alone. At the top of the Ahorn lift there is also a cute ice igloo bar to hang out in, as well as great sledges to hire, with a dedicated sledge track that links onto one of the chairlifts.
In the evenings, Mayrhofen town centre comes alive with both lively apres ski venues, as well as quieter lounge bars and cosy, traditional restaurants. There is something to suit all tastes and budgets.
By Rachel (Children of Wanderlust)
Bansko – Sofia, Bulgaria
Bansko in the stunning Pirin NP
Bansko is easy to get to, cost-effective and a great choice for family skiing. This small mountain town is Bulgaria's largest ski resort and is found just 2 hours from the capital of Bulgaria, Sofia. It's been the cheapest place to ski in Europe for several years in a row and is popular with visitors from England, Bulgaria, Romania, Greece and Russia.
You'll find 48 kilometres of ski runs here, with the ski gondola located at 990 metres, the top of the mountain is just 2,560metres, and 41% of the resort of Bansko is designated for beginners. All levels can use the ski road back to the village. There's a junior ski club for kids between 4 and 7 years old – and many English speaking locals and immigrants to the town are available to provide services for families while staying in Bansko.
Après-ski for families involves hot spring spa pools at various locations as well as ice skating and enjoying the wood fires in the local restaurants where all diets are catered for. The town is an outdoor mecca outside of the ski season too – making Bansko an all season location!
By Sarah from ASocialNomad
Wengen – Lauterbrunnen, Switserland
If you're looking for a great little ski resort village for the family who may not be overly experienced, I think the small village of Wengen in the Jungfrau region makes a great spot. Wengen is a car-free village, so families can walk around safely without being concerned about traffic.
Wengen itself doesn't have a lot of slopes, but it is a great place to learn as there a range of snow schools in Wengen as well as some smaller ski slopes which are perfect for both skiing and sledding. There are two different ski schools in the village and children can learn to ski safely in the beginners area – children as young as 3 can participate.
However, if you're skills are a little more advanced or once you get a little more confident there are 206 kilometres of ski slopes around Wengen in the nearby areas of Grindelwald-First, Kleine Scheidegg-Mannlichen and Murren-Schilthron. Combined these regions have over 200kms of ski slopes and 70kms of sled runs. All areas are easy to reach from Wengen via a combination of cog rail and cable cars.
You can hire everything you need including snow gear right from within the Wengen Village. Even if your kids aren't really into skiing, you can hire a sled as there are plenty of little hills around the place perfect for it.
Also when you've had enough of skiing there are plenty of great family activities and day trips in the surrounding area including going to the top of Schilthorn and Jungraujoch.
By Melissa from Thrifty Family Travels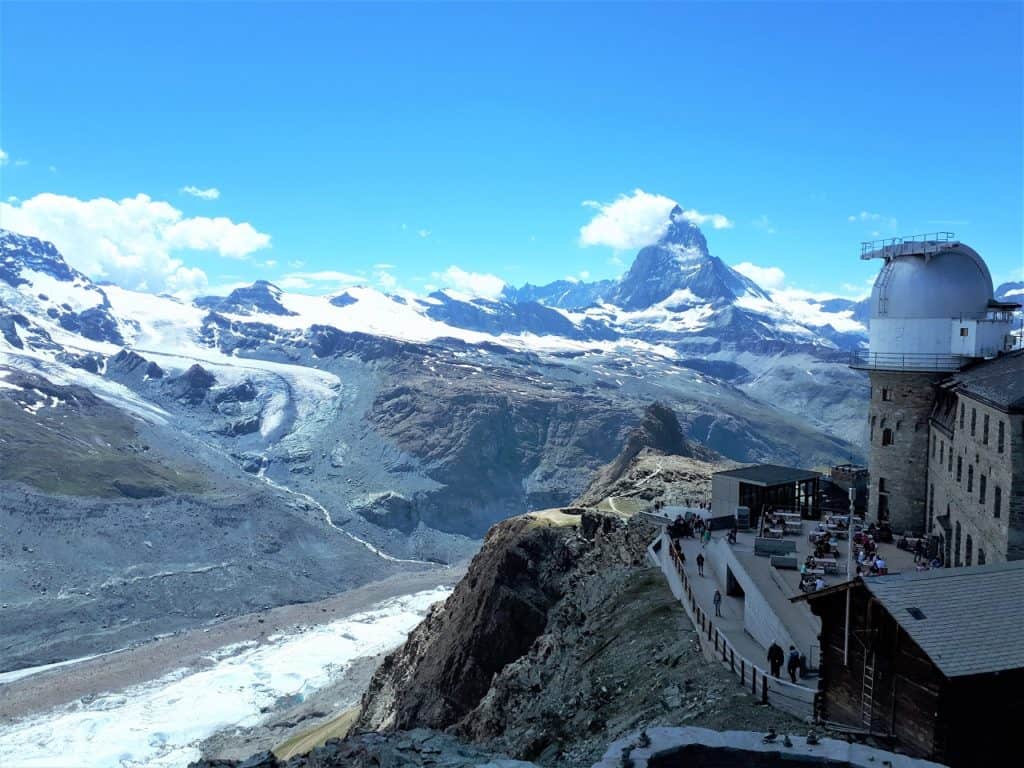 Zermatt, Switzerland
Zermatt is definitely one of the best places to ski for families.
The popular mountain village is located at over 1600m, in the south of Switzerland, at the foot of the world-famous Matterhorn. The highest ski resort in Europe offers 360, suitable for both professionals and beginners and children. As a car-free village, Zermatt is the perfect place for children to play and run around freely.
Families who spend at least one night in Zermatt and buy a 2-day ski pass receive, for their children less than 9 years, a benefit card, with many free offers. It includes, for example, free use of all mountain lifts and railroads and the local bus.
In addition to countless ski course offers for children, there is the free beginners park at the beautiful Leisee with easy slopes, conveyor belts and various play equipment for practice. Alternatively, there are easy slopes for sledding for children. If the kids don't want to go out in the snow, Zermatt has the high ropes course with the largest kids trail in Switzerland. For days with bad weather, rather rare with 300 days of sunshine a year, the multimedia adventure world "Zooom the Matterhorn" is a great family outing.
The exhibition is a great addition to a visit to the Gornergrat platform, a magnificent viewpoint at 3089m with fantastic views of the Matterhorn, 29 other peaks over 4000m and the Gorner glacier, the second-largest glacier in the Alps. The 30-minute ride alone on the old cog railroad from Zermatt to the Gornergrat, is absolutely popular with families and a vacation highlight. In summary, Zermatt offers everything you could wish for as a family for a perfect skiing vacation.
By Linda (Hiking the Alps)
San Martino di Castrozza – Dolomites, Italy
Our kids love exploring as much as they love skiing. The Dolomites in north eastern Italy are beautiful, and San Martino di Castrozza has it all.
San Martino is a lively little hill town surrounded by sharp pink rocks, dark forests and of course glistening snow. It offers fantastic food, and fairytale landscapes.
Three gondola lifts run from within minutes of the town centre to whisk you and your family up into one of three networks of pistes. These fast new lifts minimise queueing and maximise your time on the slopes. Together with the nearby Passo di Rolle, San Martino boasts 60km of pistes, about half of which are graded blue. You get a single ski pass for the whole resort, and there is a ski-bus service available to maximise your flexibility. There is no shortage of slopes for the whole family to enjoy a great variety of skiing.
If your idea of family fun is to split up so everyone can do their own thing, then enrol the kids in ski schools or the mountain top crèche. Each network of slopes has one or more restaurants accessible from the pistes, so you can all get together again for some delicious regional Italian food. The whole place is laid out and arranged to make family holidays a simple pleasure with minimal interruption to your time on the snow.
Our whole family also really enjoyed a half day out exploring the Violin Forest. We saw deer, found animal tracks, and enjoyed learning all about these wonderful woods.
By Ania from The Travelling Twins
Chamonix – Haute-Savoie, France
If you visit France in winter, you may be interested in discovering the capital of alpinism: Chamonix.
Located just an hour away from Geneva in Switzerland, Chamonix is in the heart of the French Alps and a go-to destination for those passionate about skiing and mountaineering.
The Chamonix Valley has a number of ski fields that offer stunning views over the Mont Blanc, the highest peak in Europe.
If you take a day off skiing, I strongly recommend visiting the top of the Aiguille du Midi. You reach the top of the mountain by cable car and visit a number of decks and terraces to take in the views. There is even a cafe, a restaurant and a gift shop. For children, this is the perfect adventure outside of learning how to ski or snowboard. The cable car journey is where the excitement builds up and once you are in the compound, you have to climb stairs and go through various corridors. As you reach the altitude of 3,842m, this is the closest you can get to the top of Europe: the Mont Blanc! Bear in mind that there is less oxygen up there, so take it easy and make sure the kids don't run around too much!
The views over the Mont Blanc and the Alps are so stunning that this excursion will make wonderful memories for young children, and adults! The highlight of a family trip to the Aiguille du Midi is the glass skywalk, where you "Step into the Void", a great opportunity for a family picture!
By Delphine from LesterLost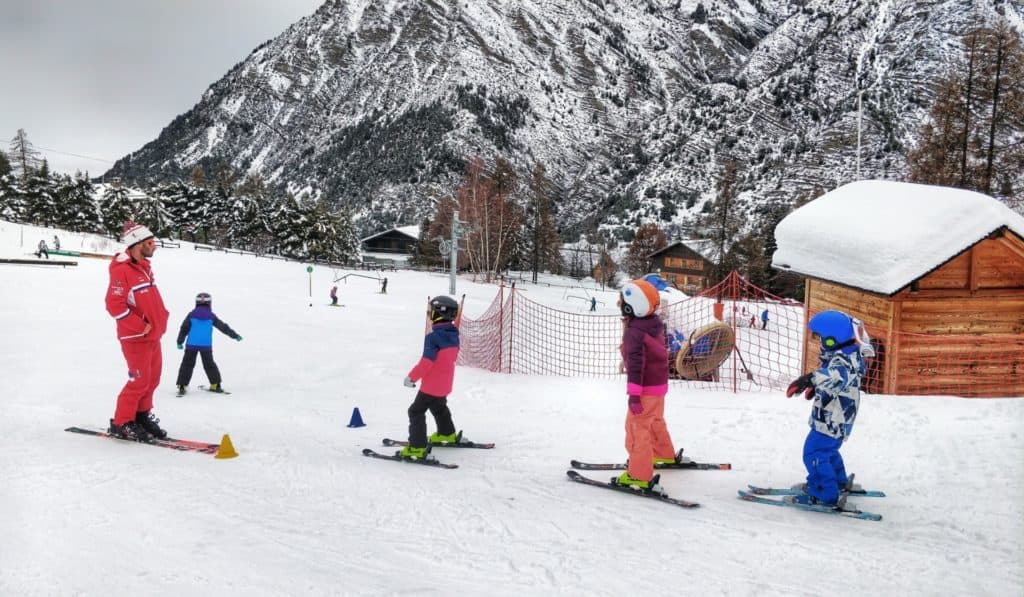 French Alps
One of the best places to ski for families is in the French Alps. One particular area that is especially great is in the Provence-Alpes-Côte d'Azur region of south-eastern France. The mountains around the town of Embrun are peppered with wonderful ski resorts for every budget and personality.
If you like big, luxurious and gregarious, the Les Orres ski resort is for you. This resort is like a small mountain town with everything you can think of. The highest point reaches 2720 m. The entire resort has over 100 kms of trails with 36 slopes and 17 ski lifts. It also has two tobogganing areas and two ski schools / daycares for the little ones. There are plenty of accommodations onsite and the après-ski culture is alive and well here. There are bars, restaurants, shops and even a bakery.
But there are ways to do the French Alps with kids on a budget. For those preferring a more authentic experience in a small mountain village, we recommend Crévoux. This resort is located at an altitude of 1600 m. It is perfect for beginners and families with small kids and those preferring a quiet skiing place. The prices here are also unusually affordable for France. There is a ski school for both kids and adults. There are a few restaurants and a grocery store. Keep in mind that the only way to get up the mountain here is on a series of T-bar lifts. And since this is a small village, you need to book your accommodations well in advance.
Other great ski resorts in the south-eastern French Alps, fitting somewhere between big and small, are: la Forêt Blanche, Montclar les 2 Vallées and Sainte-Anne la Condamine.
By Bea Cińska from (Pack Your Bags)
Stubai Glacier Ski Resort – Innsbruck, Austria
The Stubai Glacier ski resort in Tyrol, Austria is great for a fun family break surrounded by stunning winter landscapes. At the end of the 35 km long Stubai Valley near Innsbruck, the resort is often named as one of the top family-friendly ski resorts in Austria.
With 12 blue slopes totalling 24 kilometres, there is ample opportunity for families to enjoy a day on the slopes. It all starts around the Gamsgarten lift station and restaurant complex where magic carpets and a button practice lift are perfect for families to get into the swing of things.
Children can be left in the capable hands of ski instructors while their parents explore more of the glacier. There's even a kindergarten for those too small to ski.
Another reason why the Stubai Glacier ski resort attracts families with small children is that kids under ten don't pay for lift passes when in the company of their parents. Moreover, when everyone gets tired of skiing, there is an ice cave to explore or views to admire from the Top of Tyrol viewing point. Older kids will also love the Stubai Zoo fun park where they can practice their first freestyle ski moves.
The Stubai Glacier is only a 45-minute drive from Innsbruck, the capital of Tyrol. It's open for skiing roughly from the end of October until the end of May.
By Linda from Travel Tyrol
NORTH AMERICA
There are several Ski Resorts Canada has to offer. If you are looking to go skiing in Canada, there isn't a shortage of fun places to enjoy the slopes.
Canadian Ski Resorts are a fantastic place to enjoy lessons, the snow, and some fantastic winter activities. Spending a day or even a weekend at one the best ski resorts in North America is a wonderful way to create family memories and get some fresh air during the winter months.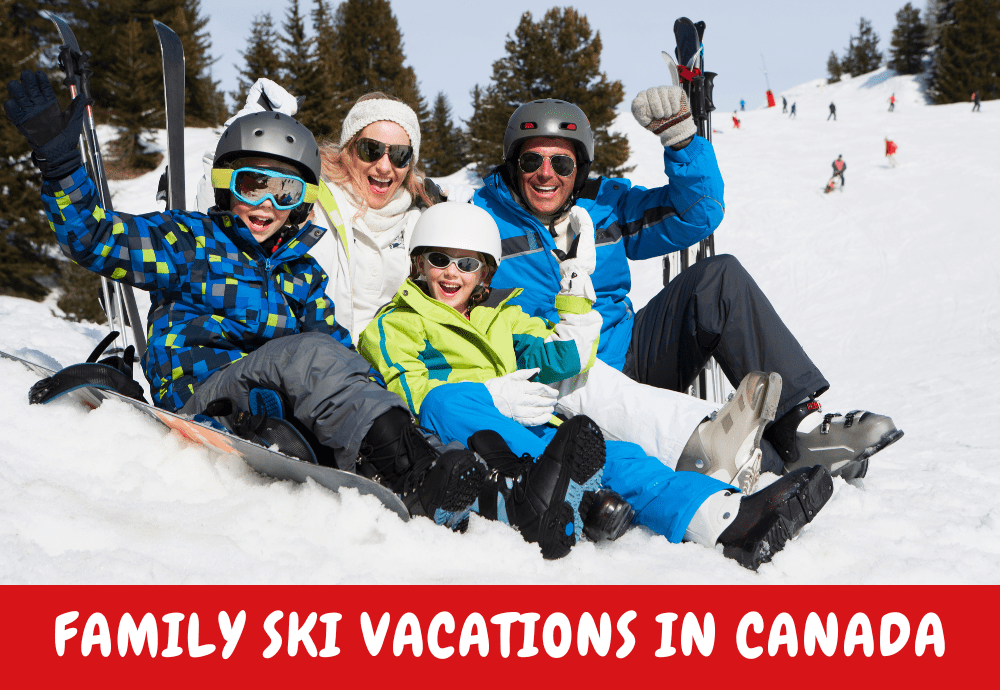 Checkout our Guides on The Best Ski Resorts in Canada and the Best Ski Resorts in the United States!