Best places to eat in Brampton featured in Taste of Brampton
The Downtown Brampton BIA is hosting a annual culinary event that is sure to delight your taste buds: Taste of Brampton.  Once again the Taste of Brampton has expanded to include the best places to eat in Brampton.  The event will take place next in Oct 2021 and highlights dishes from over 20+ local eateries, however in the meantime you can still try out these excellent restaurants. Taste of Brampton unites people who love food for amazing deals and delicious meals and treats.  You will be able to enjoy prix-fixe menus, and special offerings at some of best restaurants in Brampton. There really is something for everyone – from formal restaurants to Dessert Treats. Brampton has it all!  Sounds like a good reason to plan a date night or a family dinner out to me! There are many good Restaurants in Brampton and this event will allow you to discover new restaurants and enjoy some unique eats!
Checkout our Food Guides for Brampton: Best Pizza, Best Ice Cream, Best Doughnuts, and Best Breakfast Places.
Top Restaurants in Brampton Featured in Taste of Brampton
Follow the Taste of Brampton on Instagram @TasteOfBrampton for updates on all the amazing food available during this event and for some fun giveaways.  But before you do, call your baby sitter to find out when they are free so you can head out on a kid free date night!  Make sure you make reservations to avoid disappointment.  Date night not in the books?  Don't worry there are lots of Brampton Restaurants you can visit with the kids as well for the Taste of Brampton.  And with the event lasting 2 full weeks you will have time to do both!

Participating Restaurants In Brampton
There are over 20 Participating Restaurants in Brampton for this event.  Italian, Indian, Pizza, Burgers, Delicious Desserts and more – we got you covered! Click on the link to check out their Taste of Brampton Menus.  You will find links to all the participating eateries below, and our reviews from the Spring 2019 and Fall 2018 Taste of Brampton at the end of this post so you can see for yourself the delicious options you have to indulge in. Little Miss Kate only recommends places we have truly enjoyed with our own families, and each year we try a new location from the list. Erin and her family are planning on trying our 9 Queen this year!
Best Places To Eat In Brampton
Taste of Brampton Specials:
Dolcezza Cakes – Cupcakes, Cookies, Macarons, Brownies, Cake pops – YUM!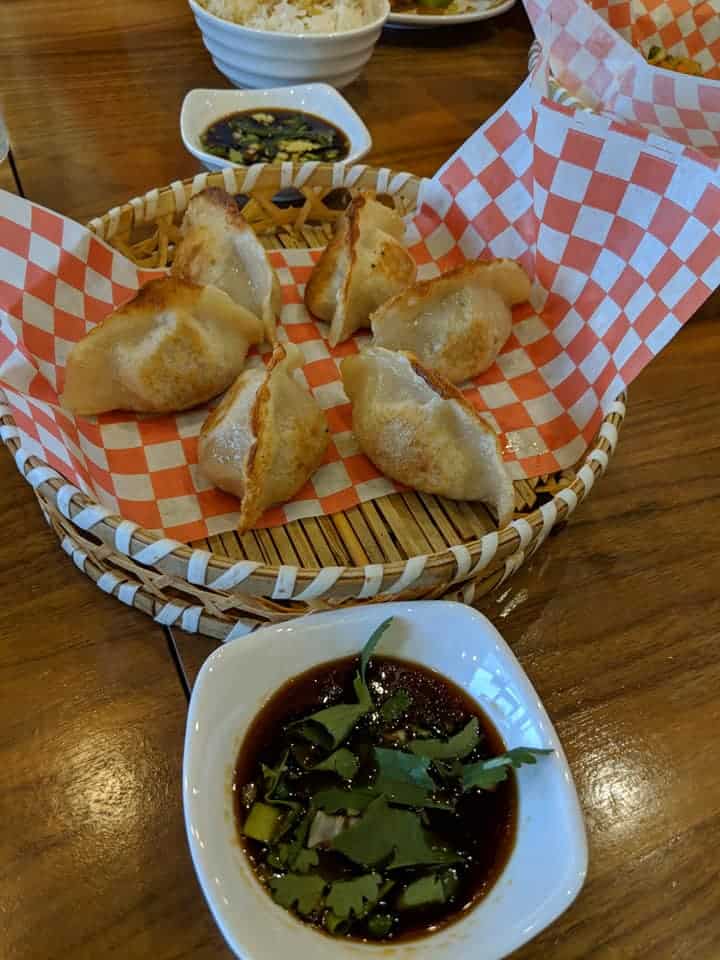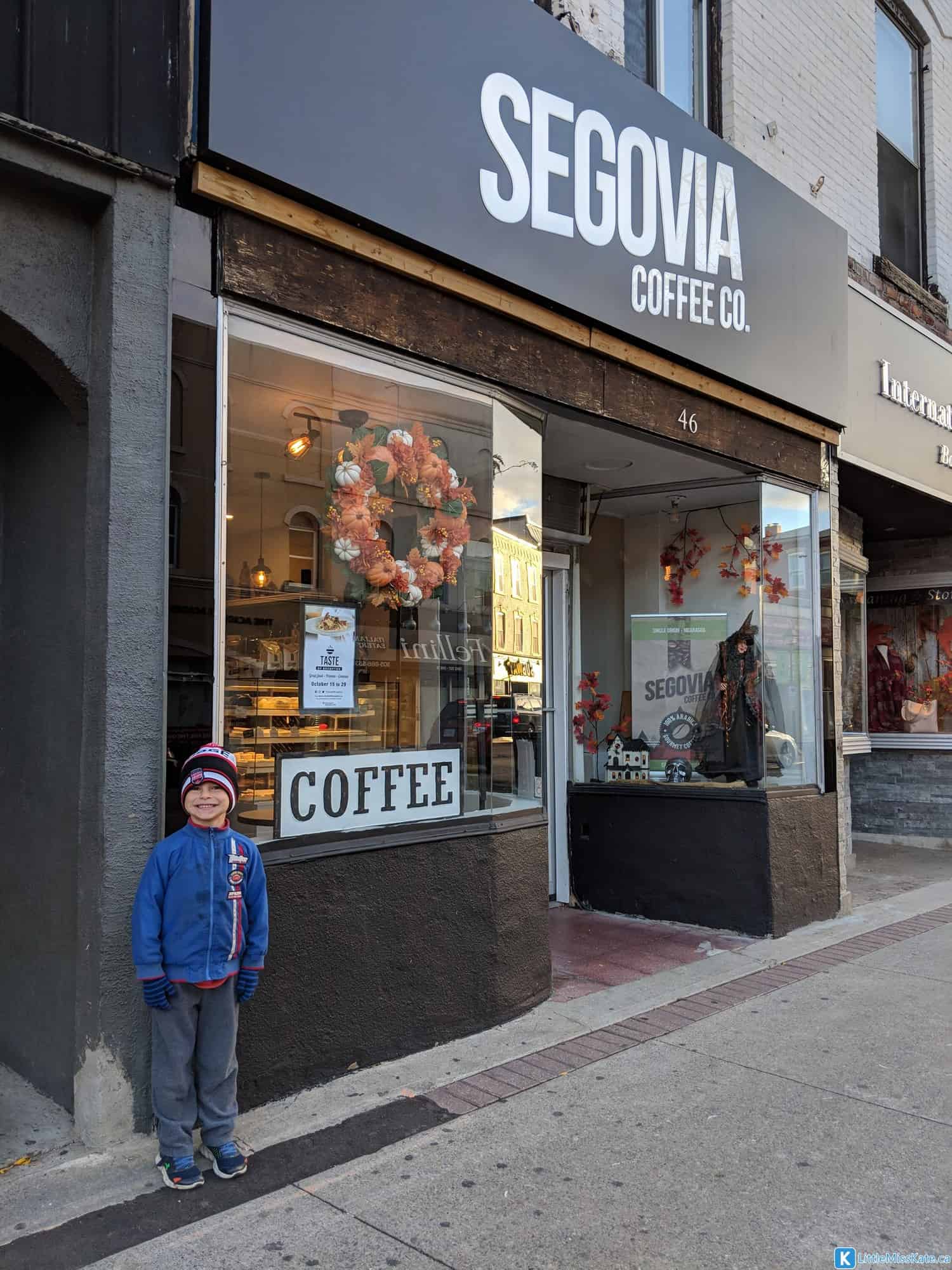 Trish Juice – Save on any wraps or salads on their menu
Burger Grill – Save 10% on all Burgers
Das Brezle Haus – Every knead, and every twist is strategic and important in creating a pretzel to remember, we want you to taste the difference!
Where can I park Downtown Brampton?
Many of the participating locations are located in the Downtown Brampton area, here is your guide to parking in Downtown Brampton. Parking is free in Downtown Brampton on evenings and weekends. During the day you can park at any of the parking garages or pay metres listed below.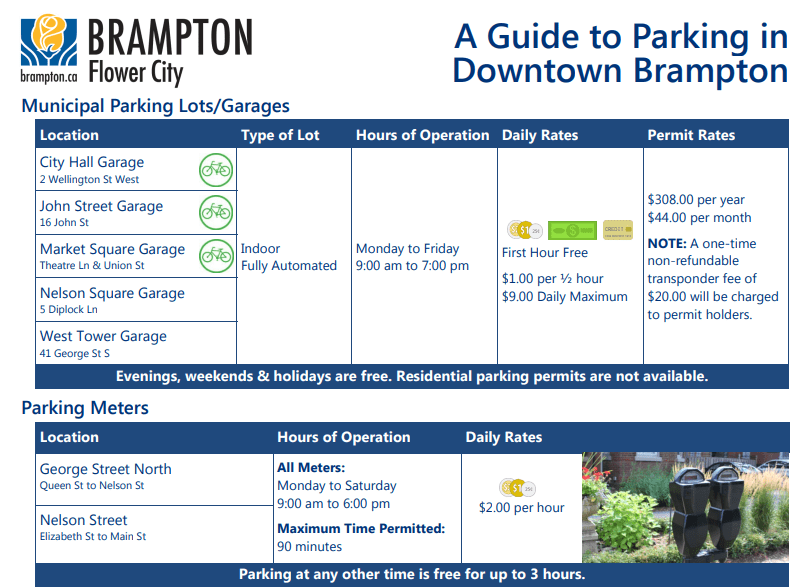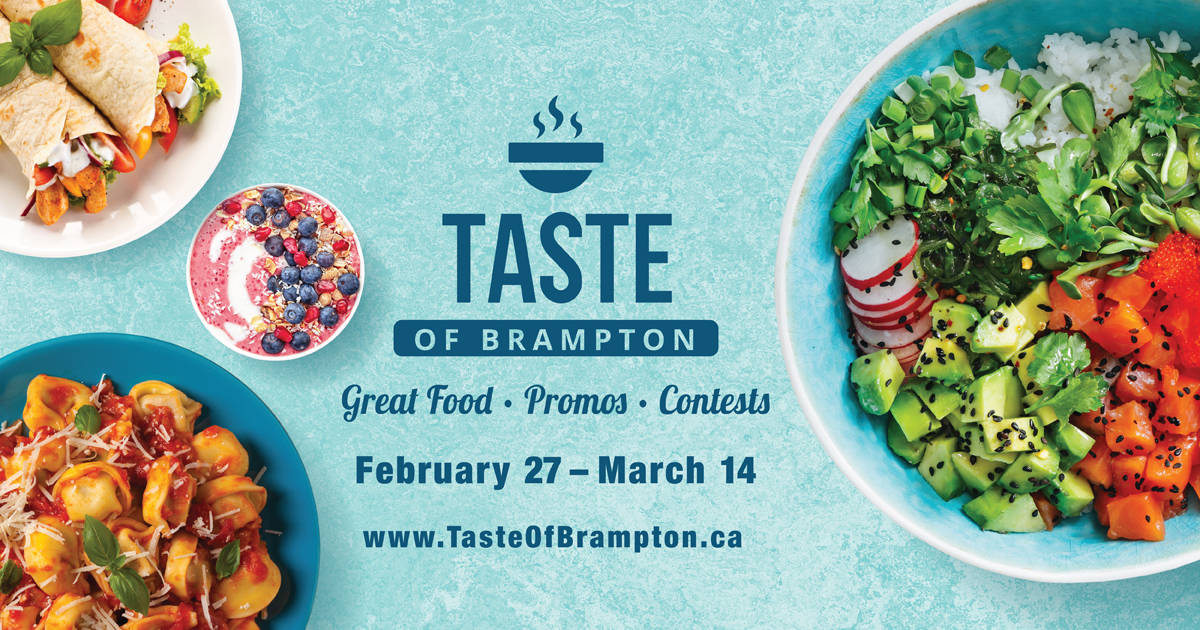 Best Restaurants In Brampton:
Reviews From Our Past Dinning Experiences and Why we Keep Coming Back!!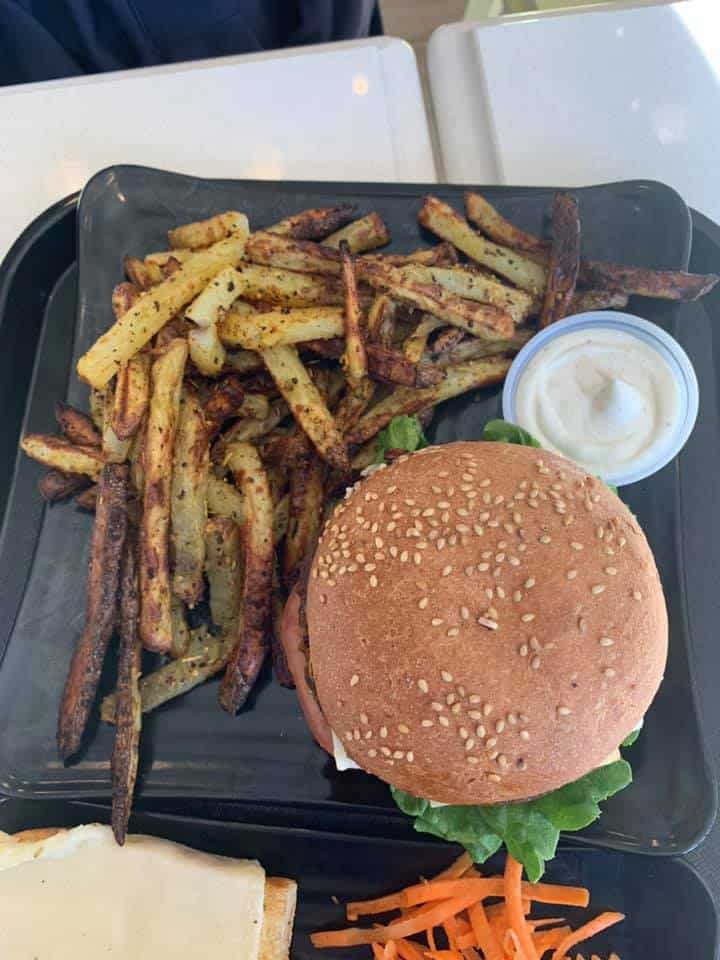 Copper Branch – Check out Copper Branch Brampton, located at Bramalea City Centre.
Copper Branch is 100% PLANT-BASED, has GLUTEN-FREE OPTIONS, and is ALL-NATURAL  using MANY ORGANIC & NON-GMO INGREDIENTS!
Our family has committed to a healthier lifestyle in 2020 and  decided to check them out for lunch. The food was tasty, nutritious and best of all healthy for you! We tasted the Black Bean Burger, Oven bakes nachos, oven baked fries, kids grilled cheese, and zuchini brownie. All were made fresh to order and had unique flavours!
I highly recommend a visit to Copper Branch Brampton…. best of all they are part of Taste of Brampton!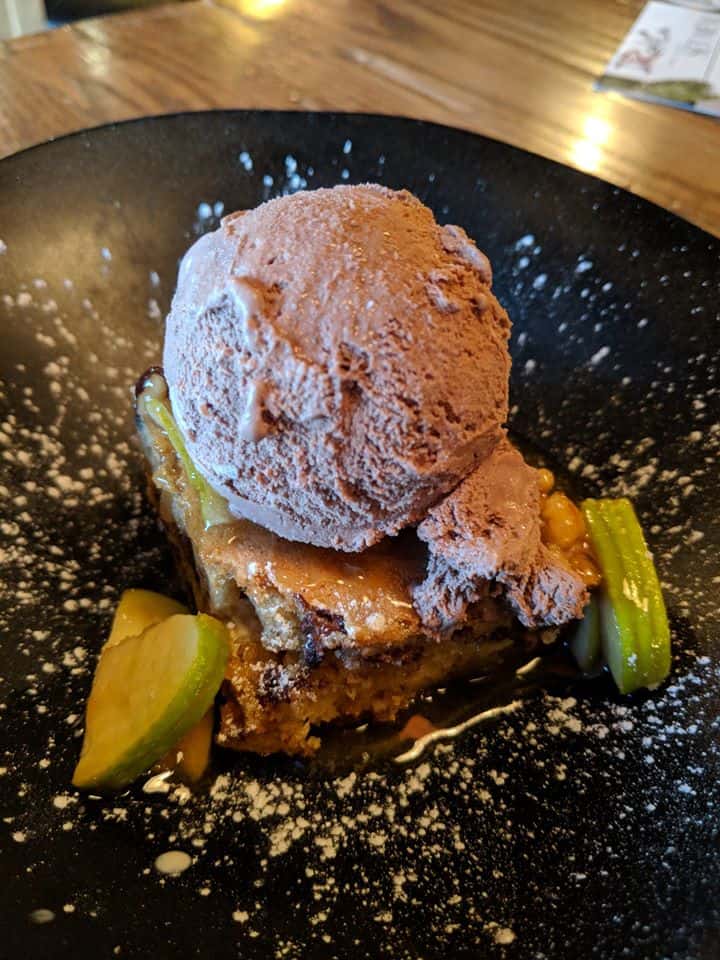 J Red and Co – Casual and Fun atmosphere that has a wood burning pizza oven and serves hand crafted burgers and classics with a twist!
Brampton had the Taste of Brampton going on and Hubby and I went to J Red and Co and the food was awesome… and the brownie dessert is something dreams are made of

?
We don't get out for date night often these days, but a 3 course dinner for 2 for $70 was a good reason to book a date night.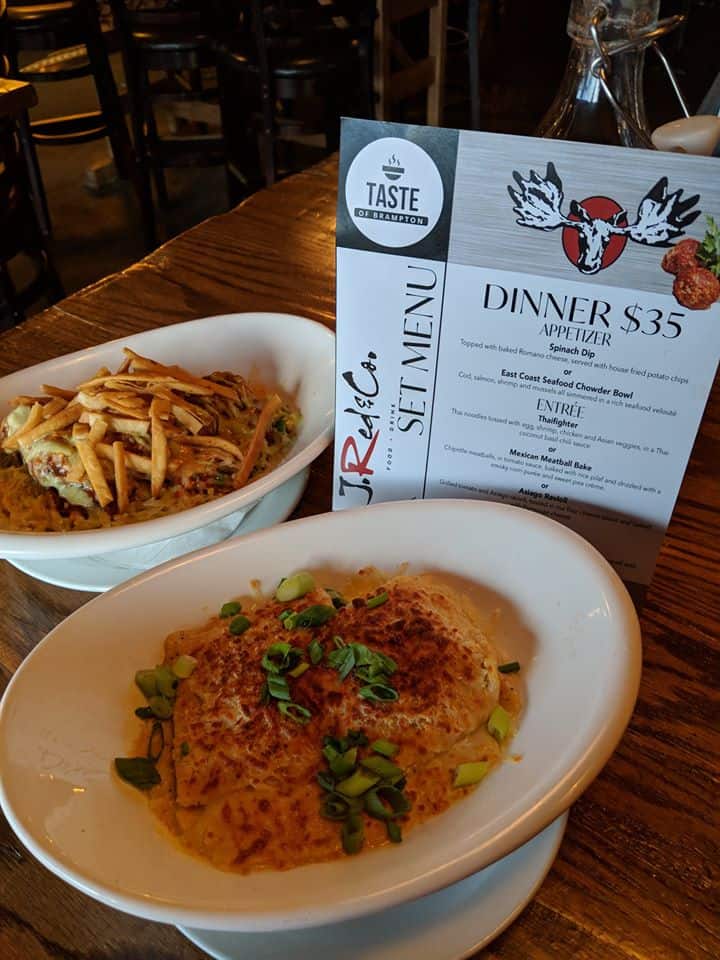 NINE18 – Whether you're looking for a quick bite, an evening out, or dessert and coffee by the fireplace, NINE18 is the perfect spot.
My husband and I decided to plan another date night as we enjoyed the experience so much during the Taste of Brampton 2018, and let's be honest sometimes you just need an adult night out especially when grandparents are local and love to babysit. When looking at all of the places to eat in Brampton we decided we would try NINE18 this time instead of a Downtown Brampton Restaurant, as we often drive by the restaurant but have never ate there before so this seemed like the perfect opportunity. NINE18 offered an excellent dinning atmosphere as they had a roaring fireplace, and a lovely winter view of the rolling hills of the golf course out the window, I bet the patio would be amazing in the summer! The restaurant slowly became busier after we arrived however the service was professional, attentive and excellent as they ensured that we had a great evening. Their Taste of Brampton menu had a variety of selections to choose from, we choose Caesar Salad and Duo bread as out appetizers, Blackened Salmon and Jumbo Cheese Ravioli as our entrees, and Assorted Mini Cakes and Chocolate Cake as our desserts. We both thoroughly enjoyed the taste of our meals, I will let the photos speak for themselves, and I found all dishes were a good portion size for their cost. I look forward to visiting again during warmer weather and trying out the Patio!
The Works – A Family Friendly Dinning Experience offering 70 Different Types of Gourmet Burgers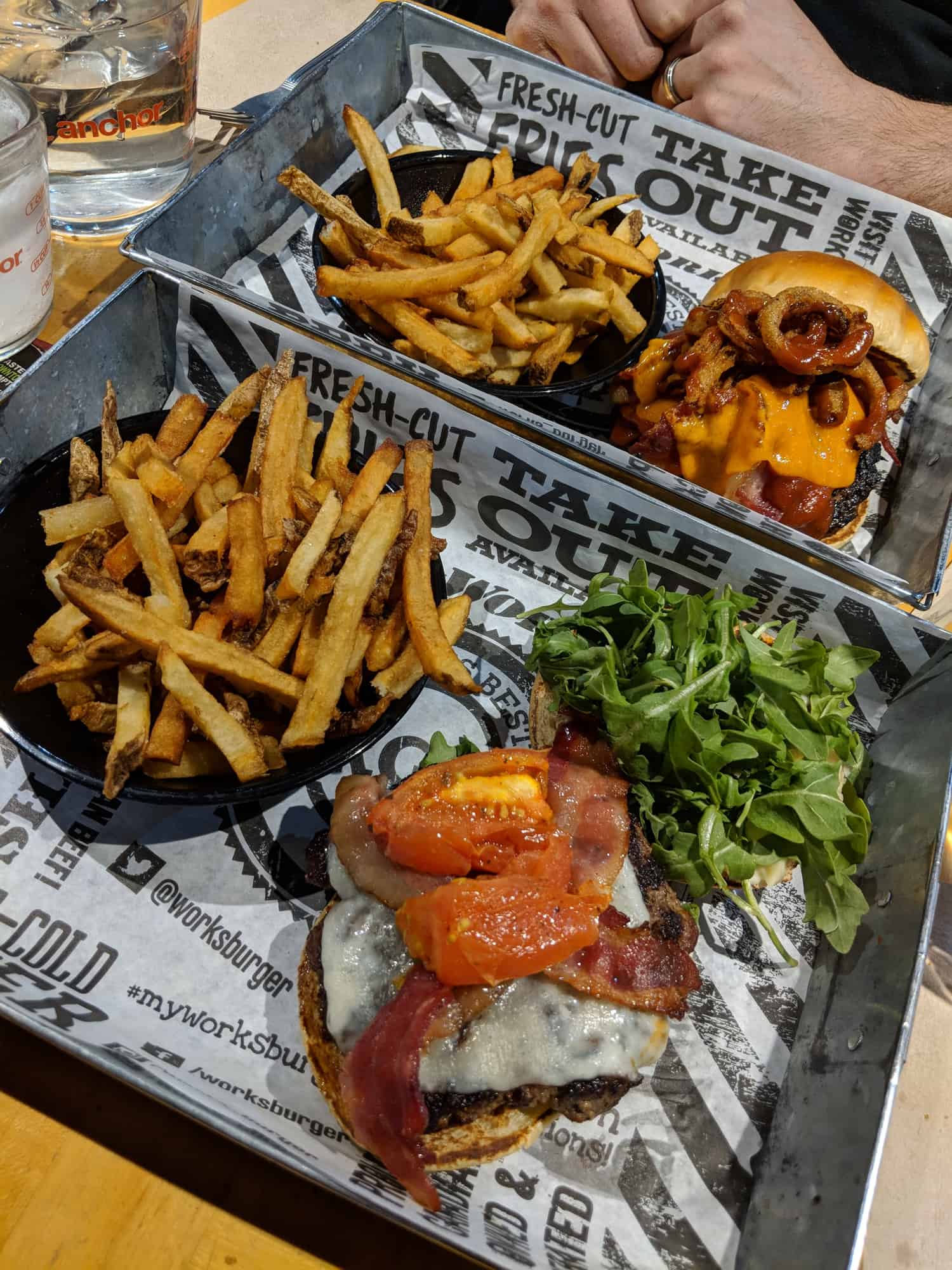 Dinner for 2 for $40 – Yes please!  Hubby and I enjoyed a dinner out at The Works as part of the Taste of Brampton.  The Works is the best burger restaurant in Brampton in my opinion.  We have been there several times and weren't going to miss an opportunity to go again.  Not only do you get your choice of delicious burger, you also get a starter (we picked the tower of onion rings because they are a.m.a.z.i.n.g.) and 2 milkshakes!  Hubs and I had a great night out and I was so full after the meal I brought 1/2 my burger home from lunch the next day.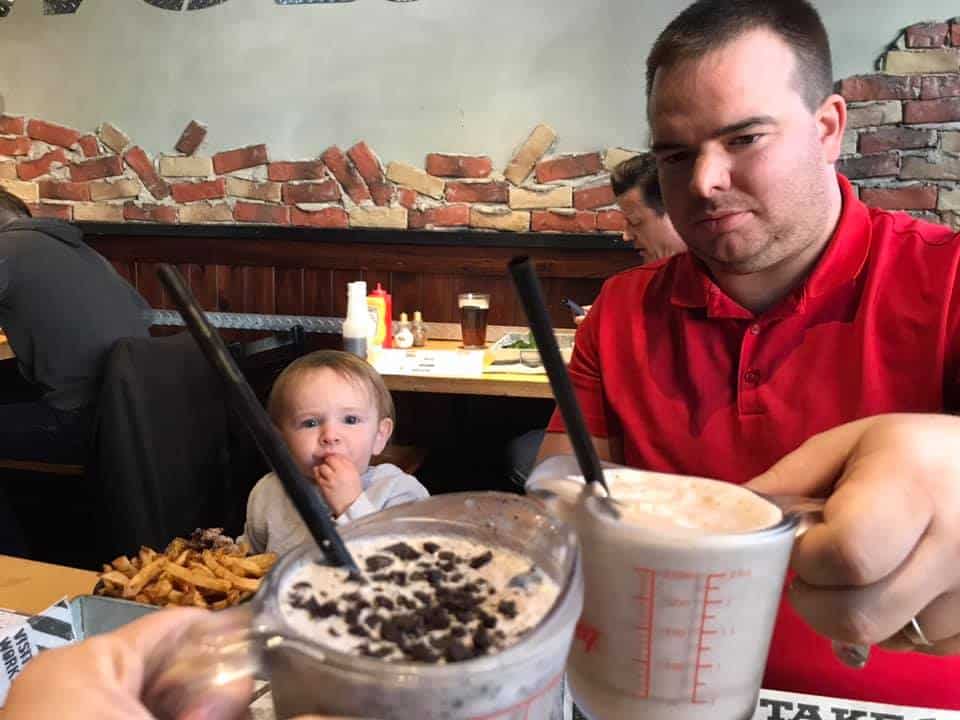 We had an awesome dinner at the Works! We ordered from the Taste of Brampton menu… it cost us $50 for all 3 of us and we had a starter, a meal and a milkshake each! The restaurant was clean, fast and family orientated as they had high chairs, a change table and a great kids menu. Food was tasty and large portion sizes… we brought home enough for a small lunch. I had the Chicken burger with bacon and mayo and argula and it was so delicious. I highly recommend the Oreo milkshake as well! Thumper discovered that Onion rings are a new favourite food! Family dinners can be affordable with the Taste of Brampton!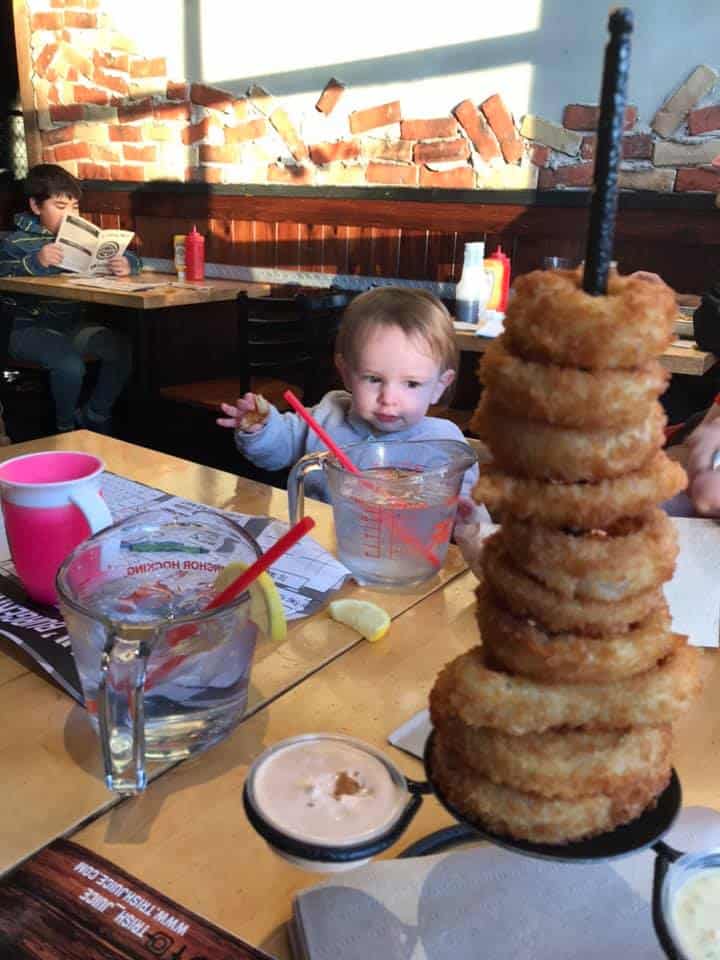 Places To Eat In Brampton
Macaronz – The Perfect Edible Gift Idea
I stopped in to pick up some Macarons as a gift for our school secretary.  She has been so busy with the start of the school year with lots of things being tossed on her plate I wanted to surprise her with a little treat.  As part of the Taste of Brampton Macaronz has the box of 6 Macarons on special, and with so many amazing varieties to choose from the hardest part will be picking out your flavours.  I *may* have also picked up a butter tart for myself too (Shhhh!)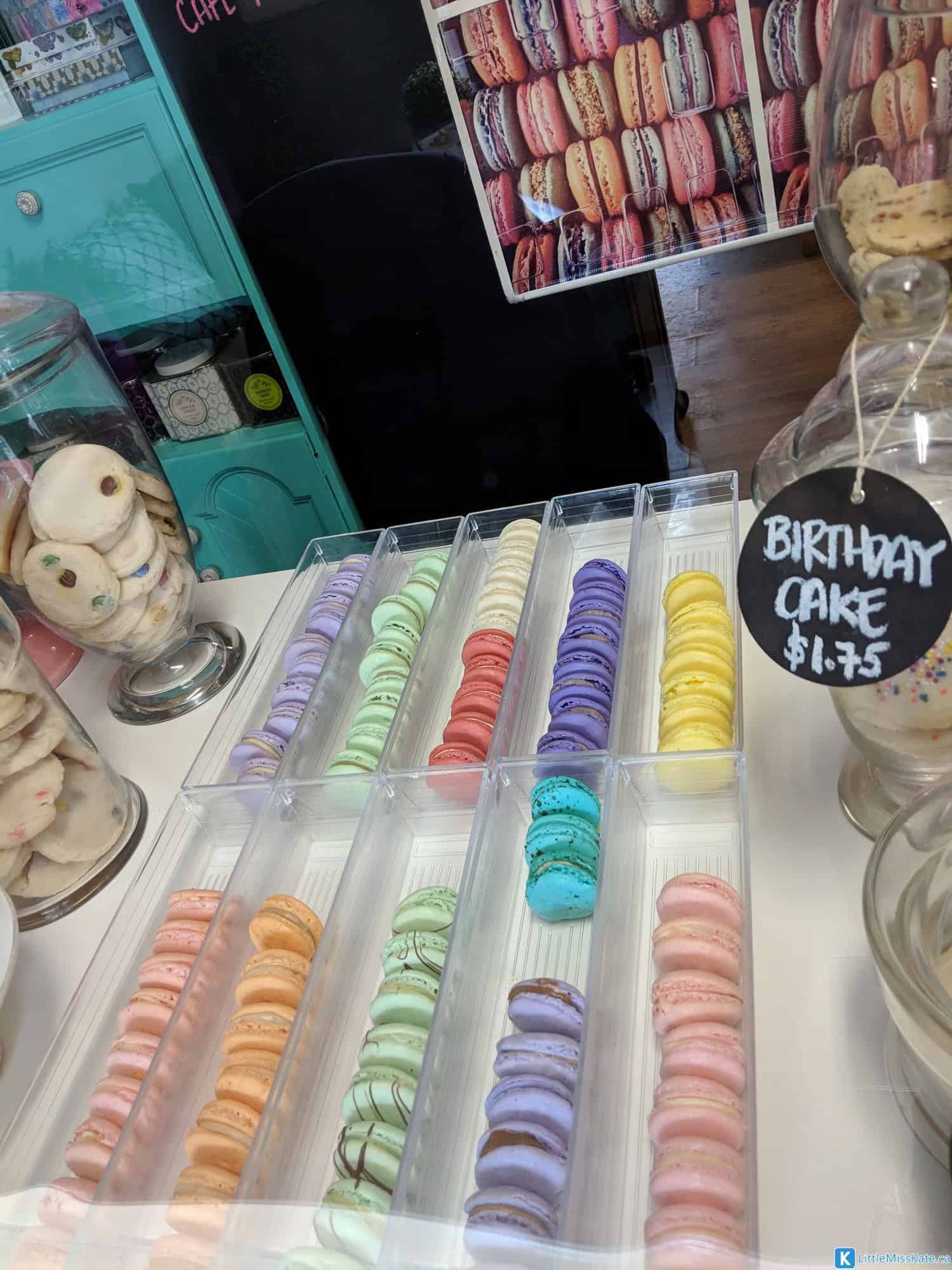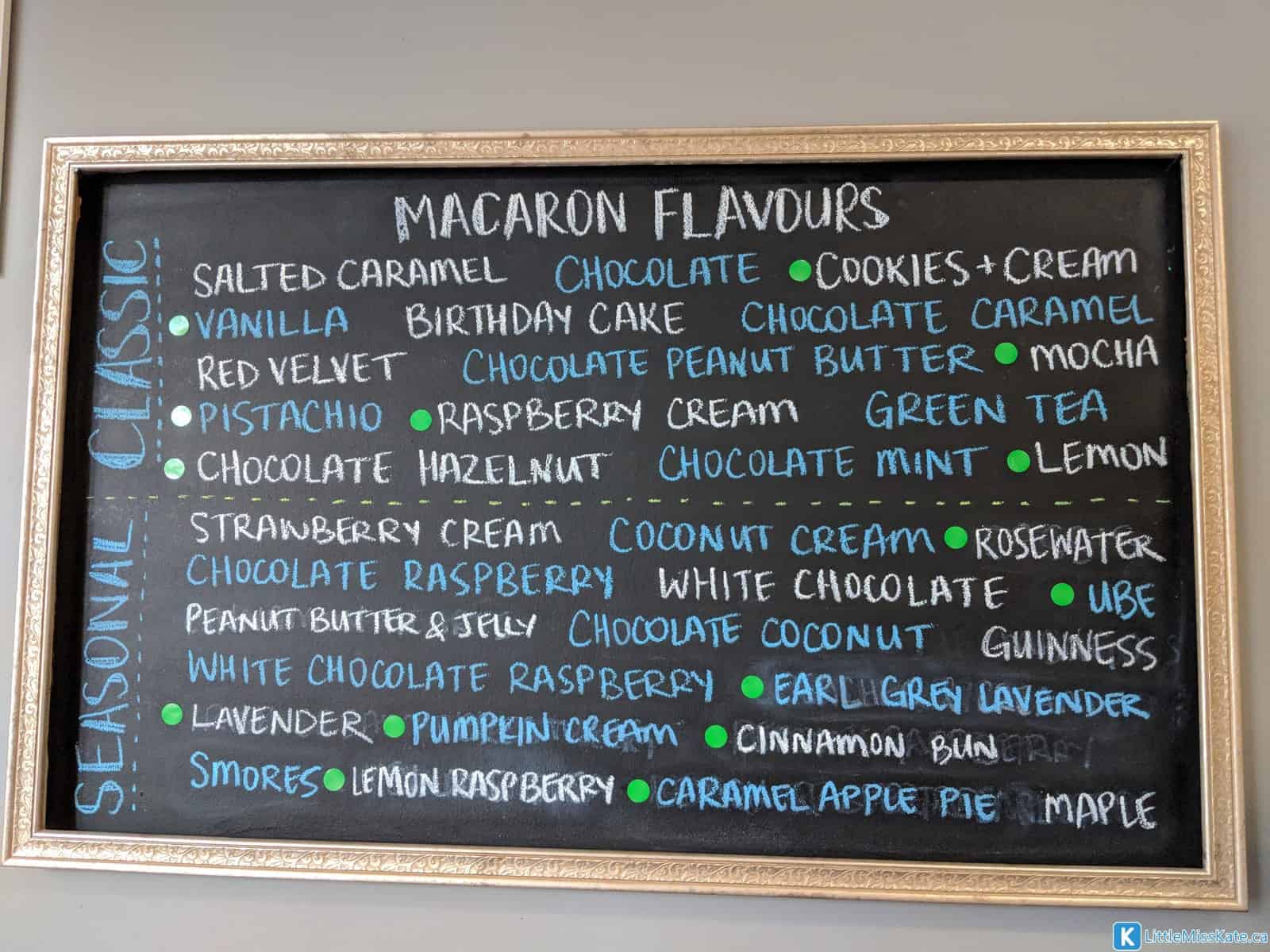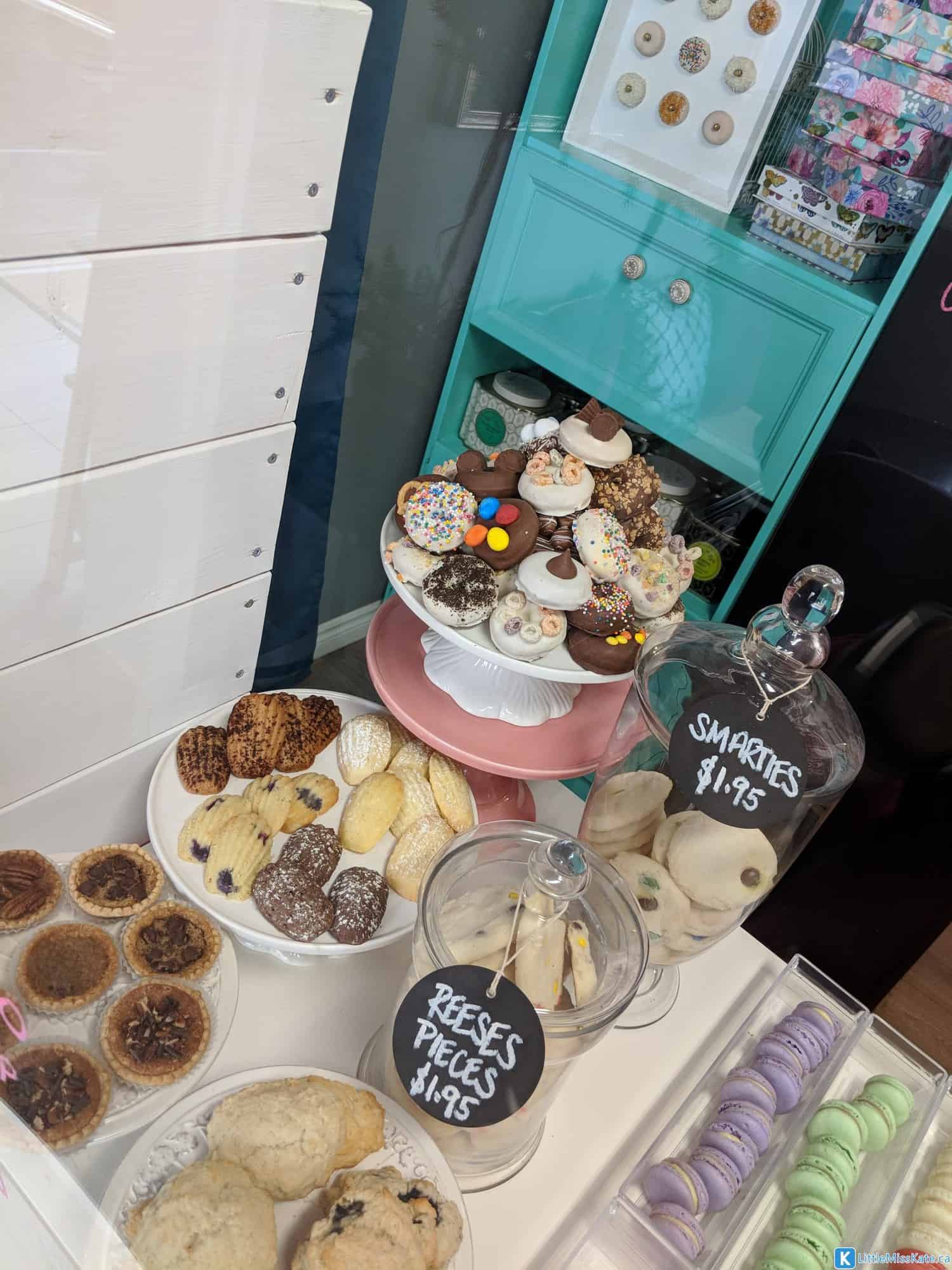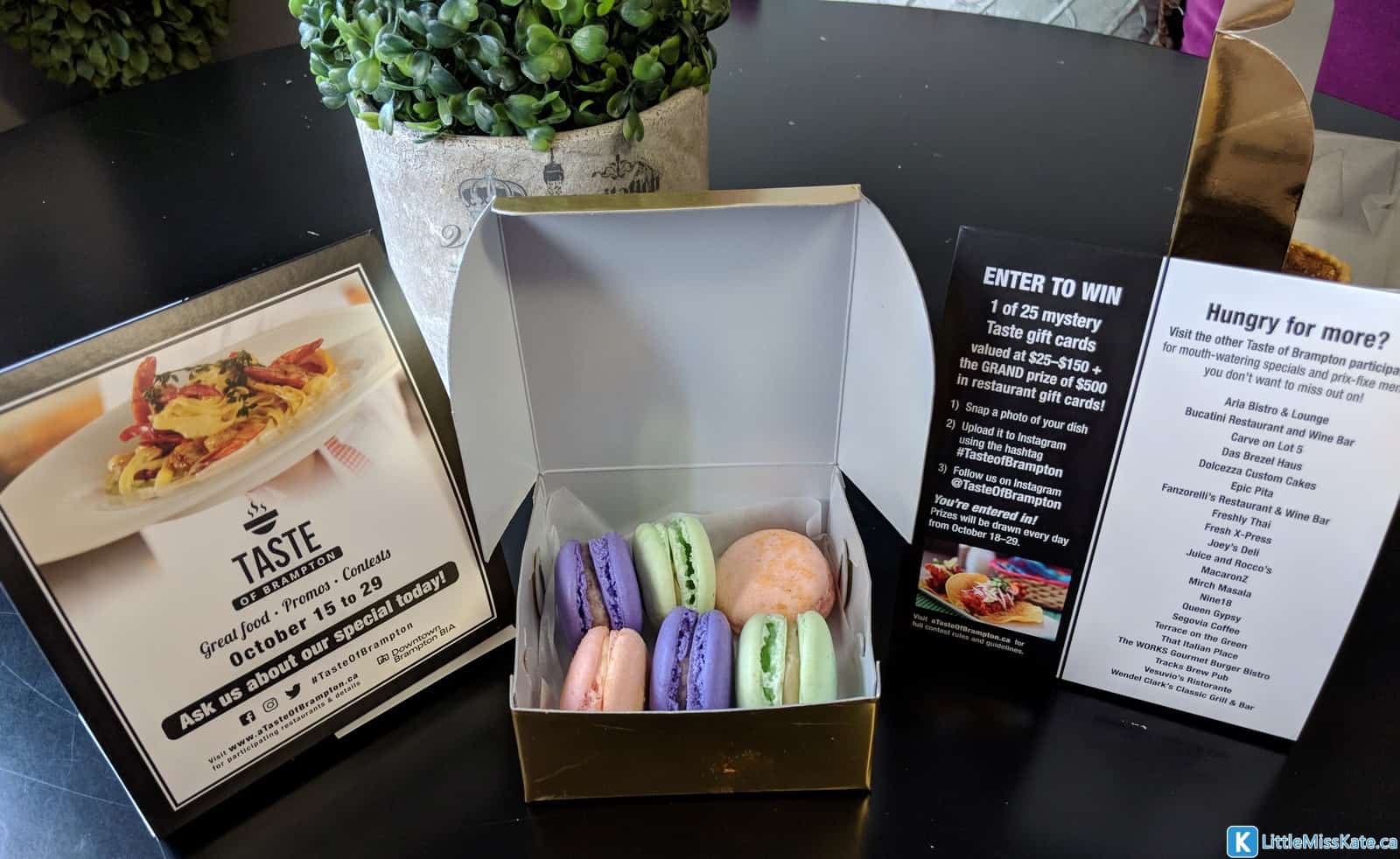 Segovia Coffee – Past Participant (Not Participating in 2020 – We Hope to See them Back in the Fall)
Calling all Waffle lovers, it is time to stop into Segovia Coffee during the Taste of Brampton to try their delicious waffles.  Bear's favourite food in the whole world is waffles and Segovia didn't disappoint. They have 3 options to choose from, and of course we went for the Nutella.  The waffle didn't last long and I manged to get a bite or 2 before Bear polished it off.  He has already decided we need to go back to try the Churro waffle next!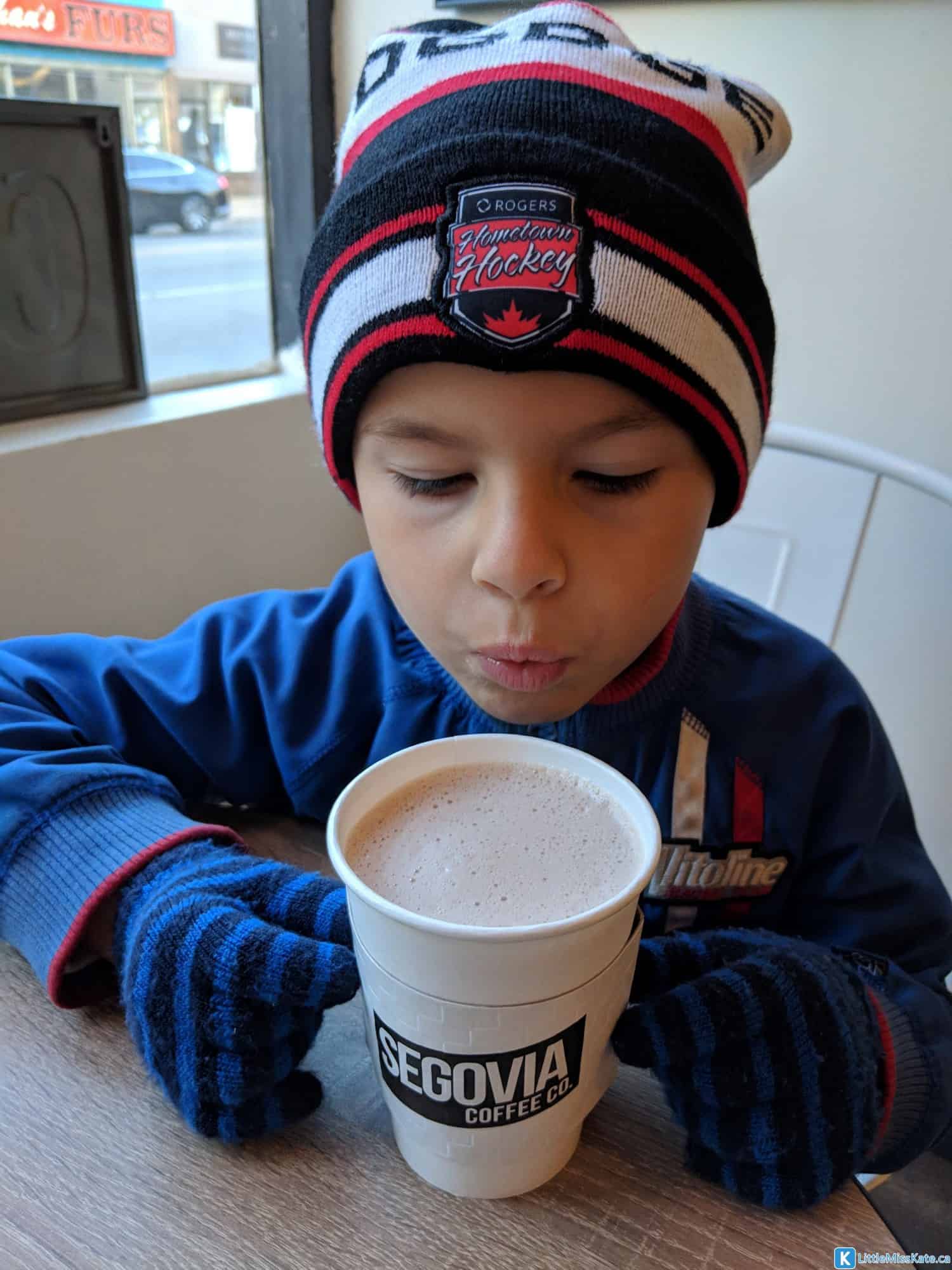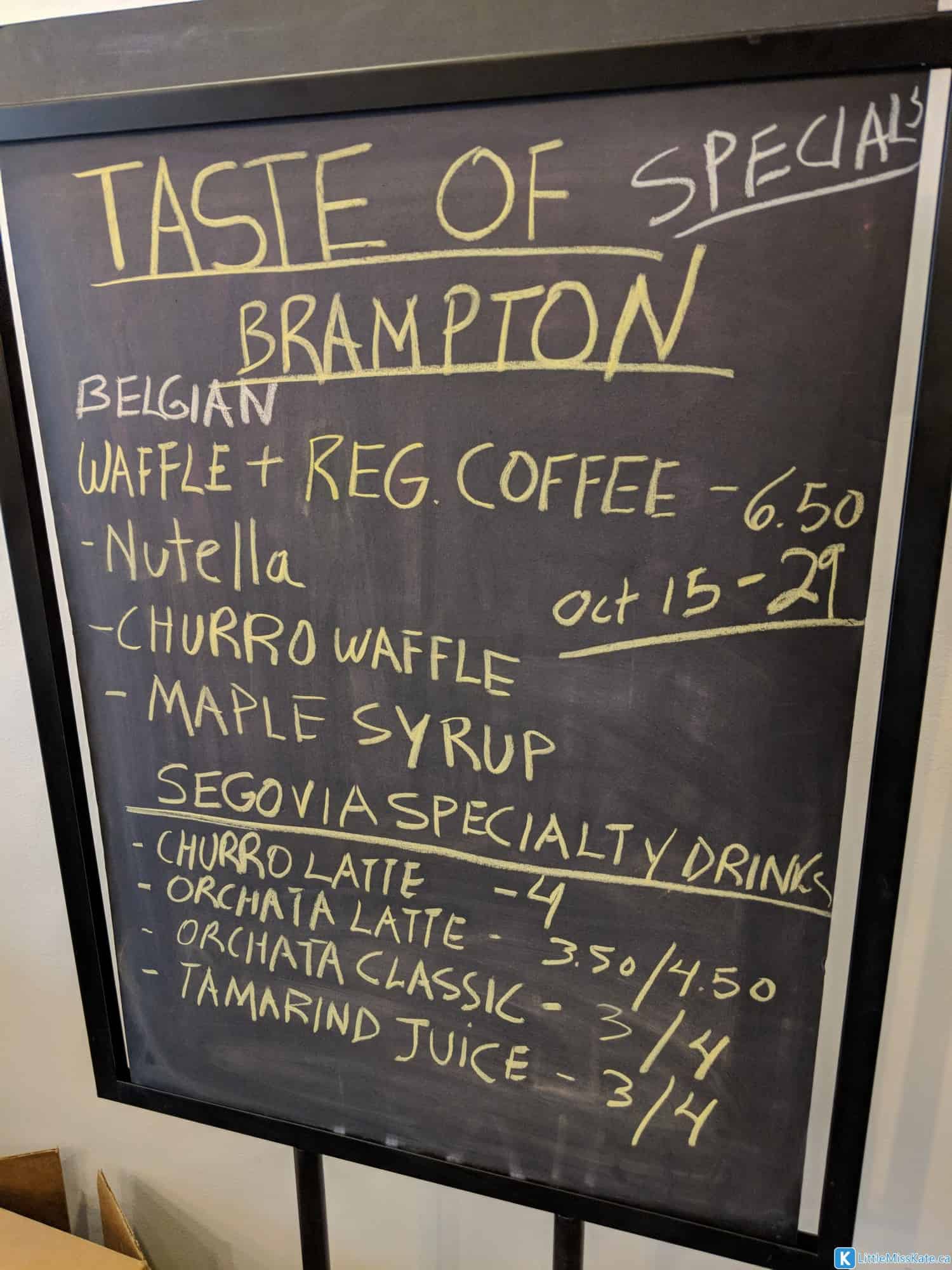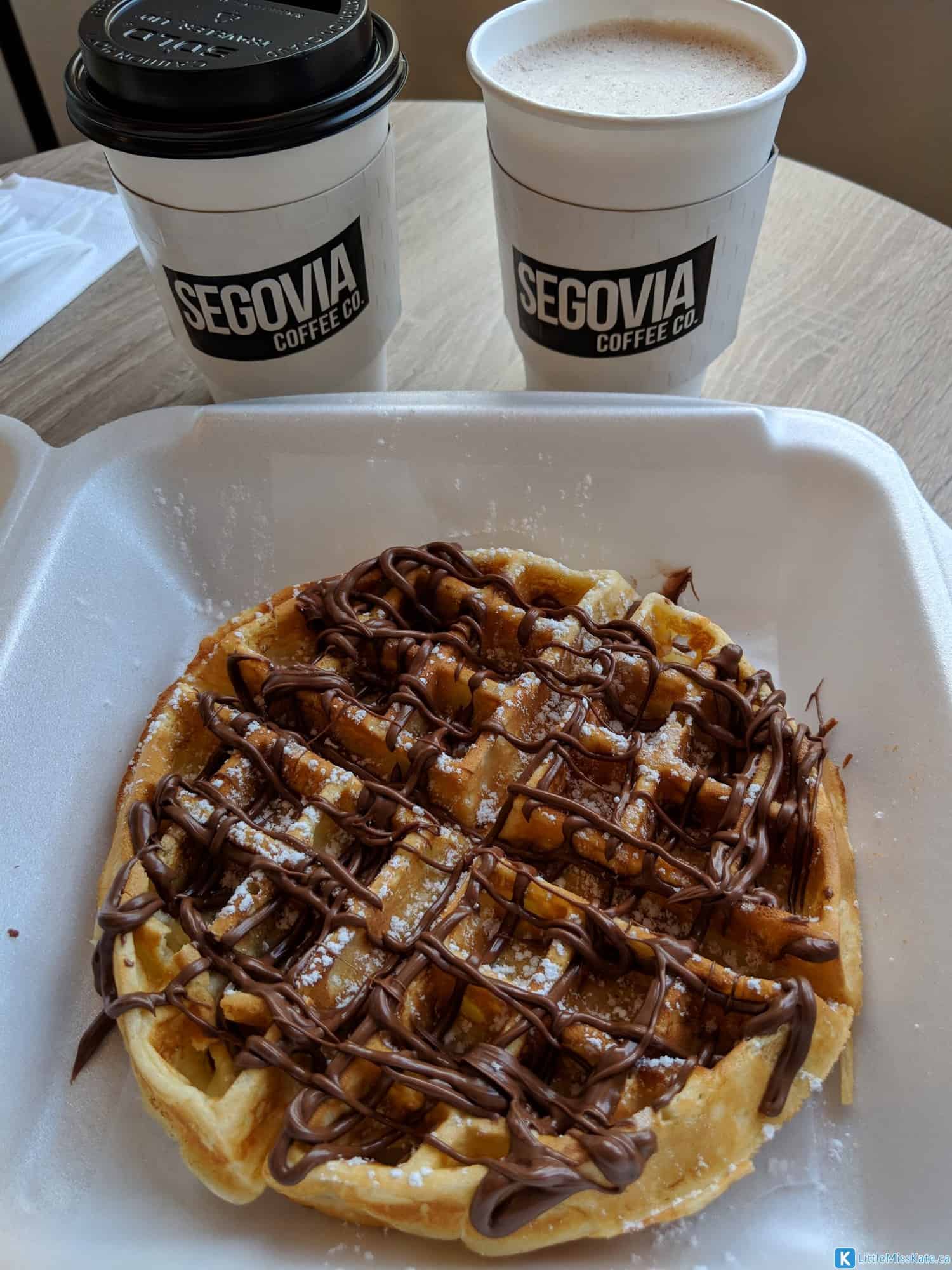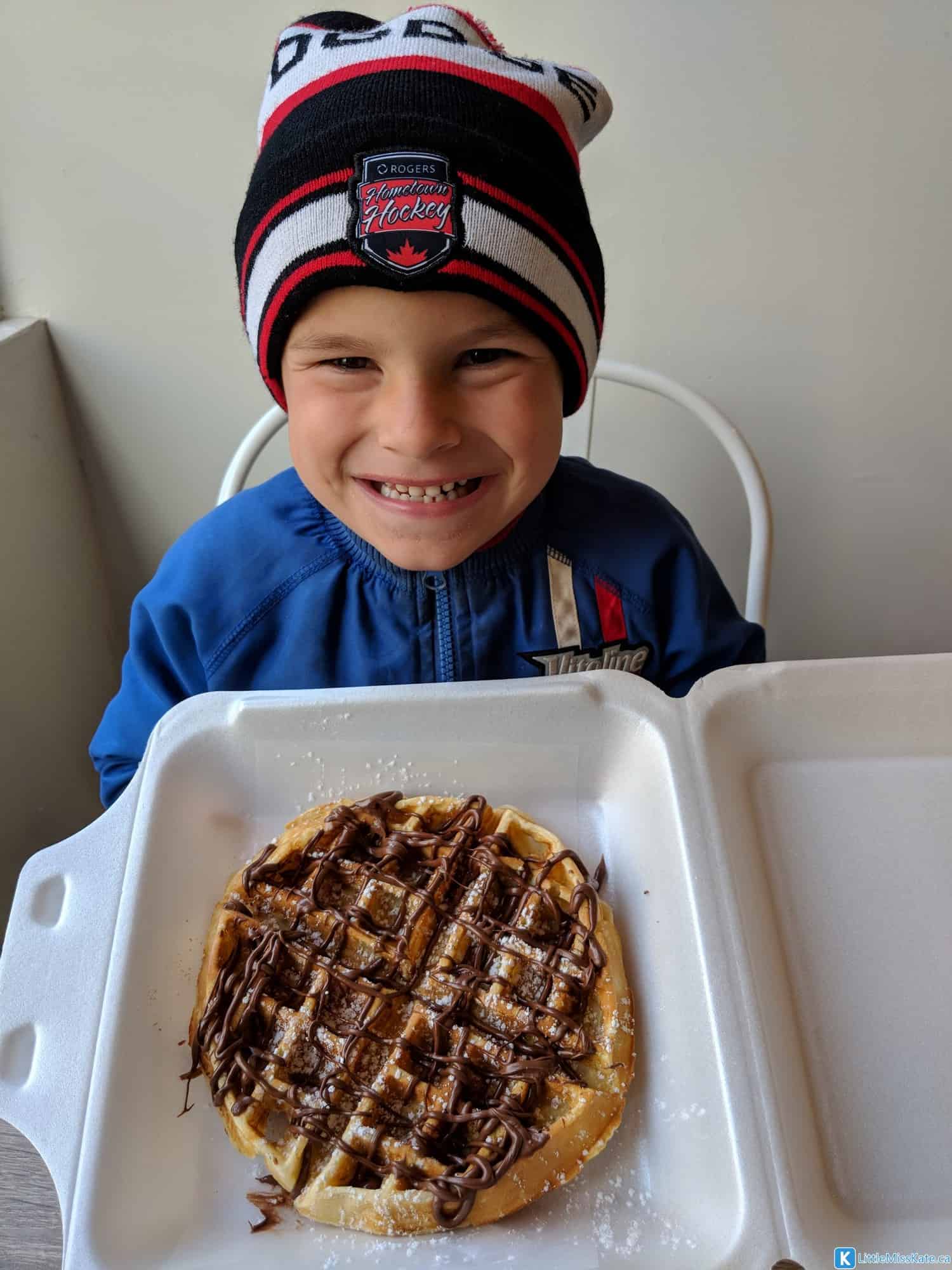 My husband and I also stopped into Segovia Coffee on Friday night around 8pm  to grab a tea to walk around Downtown Brampton. I must say it had quaint comfortable environment with some seating, and even a local painter displaying her work as she created it.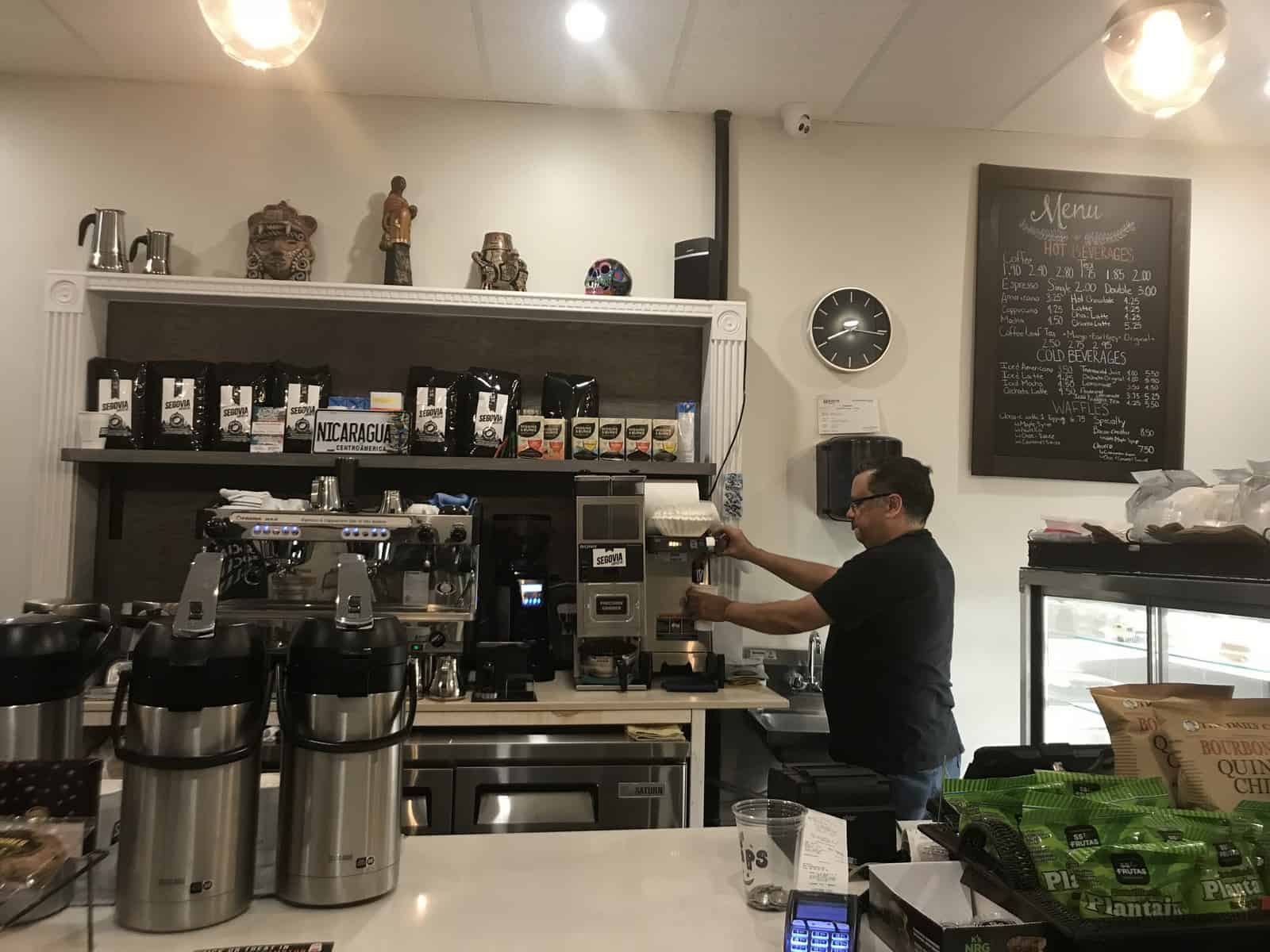 Fanzorelli's – A Romantic Italian Date Night Option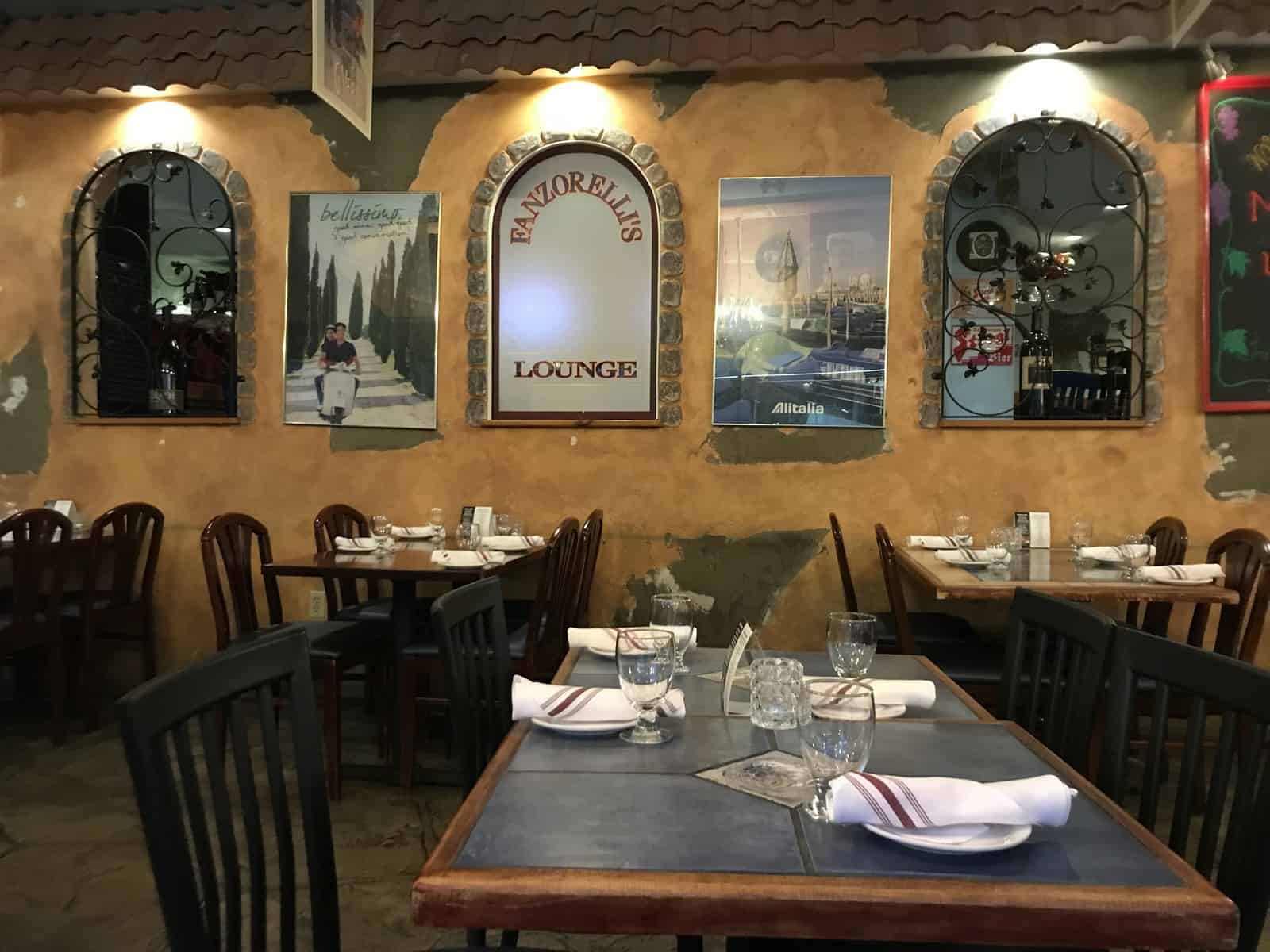 My husband and I decided that Taste of Brampton was a perfect excuse for Thumper to spend time with her grandma and for us to get out on a date night. We both love Italian food and haven't been eating pasta recently as we have been trying to lose some weight so this was a huge treat for us. Fanzorelli's was a lovely environment with comfortable seating, friendly servers and lovely soft music in the background. The food was amazing and we left stuffed. We decided to order the appetizer platter which comes which allows you to choose three appetizers, so we tried out the Calamari Fritti, Tuscan Fries, and Meatballs. My favourite was the Tuscan fries as I loved the taste of truffle oil and garlic mayo, while my husband enjoyed that the Meatball was a combination or pork and veal. We also each had a pasta sampler, which was so much food and so tasty! My husband's favourite was the pork and veal cannelloni, if you haven't caught the theme yet… feed my husband meat and he is in heaven! I loved the Grey Goose Penne especially since it had Rose sauce which is my favourite. Overall it was an amazing option for date night and really close to the grandparents house so I can definitely see trying it out again for the full menu.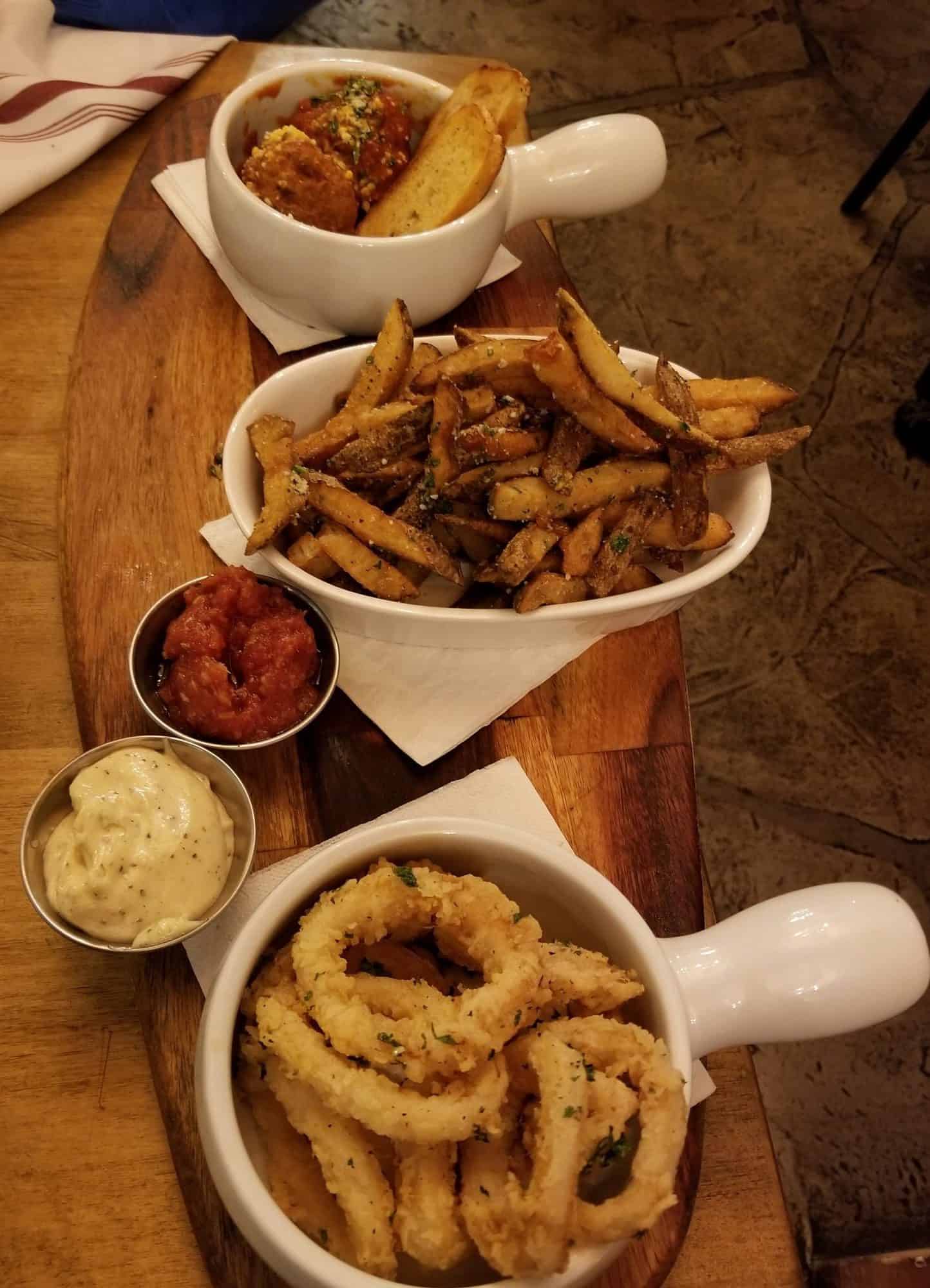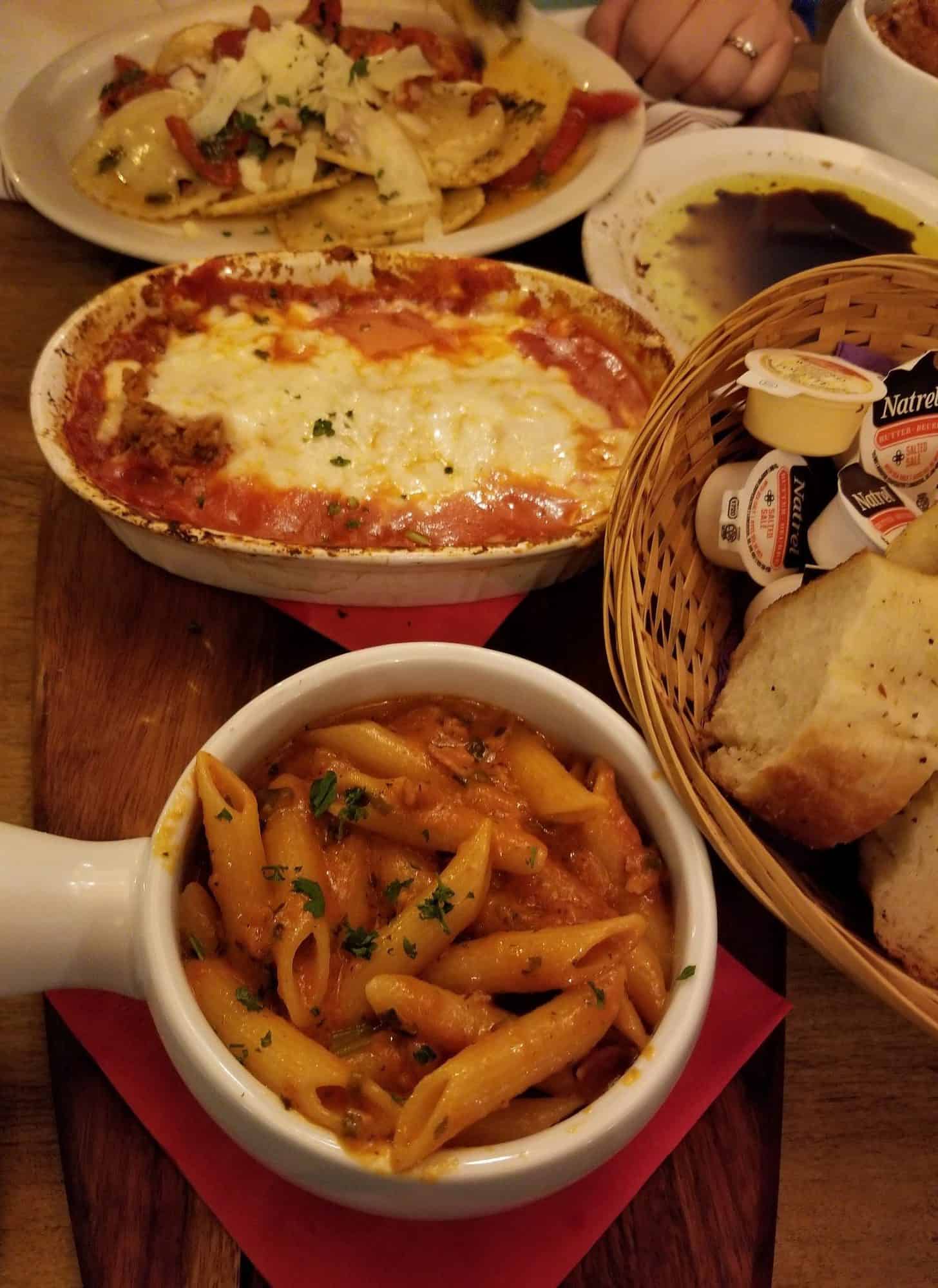 Dolcezza Custom Cakes – The Most Deliscious Bakery Treats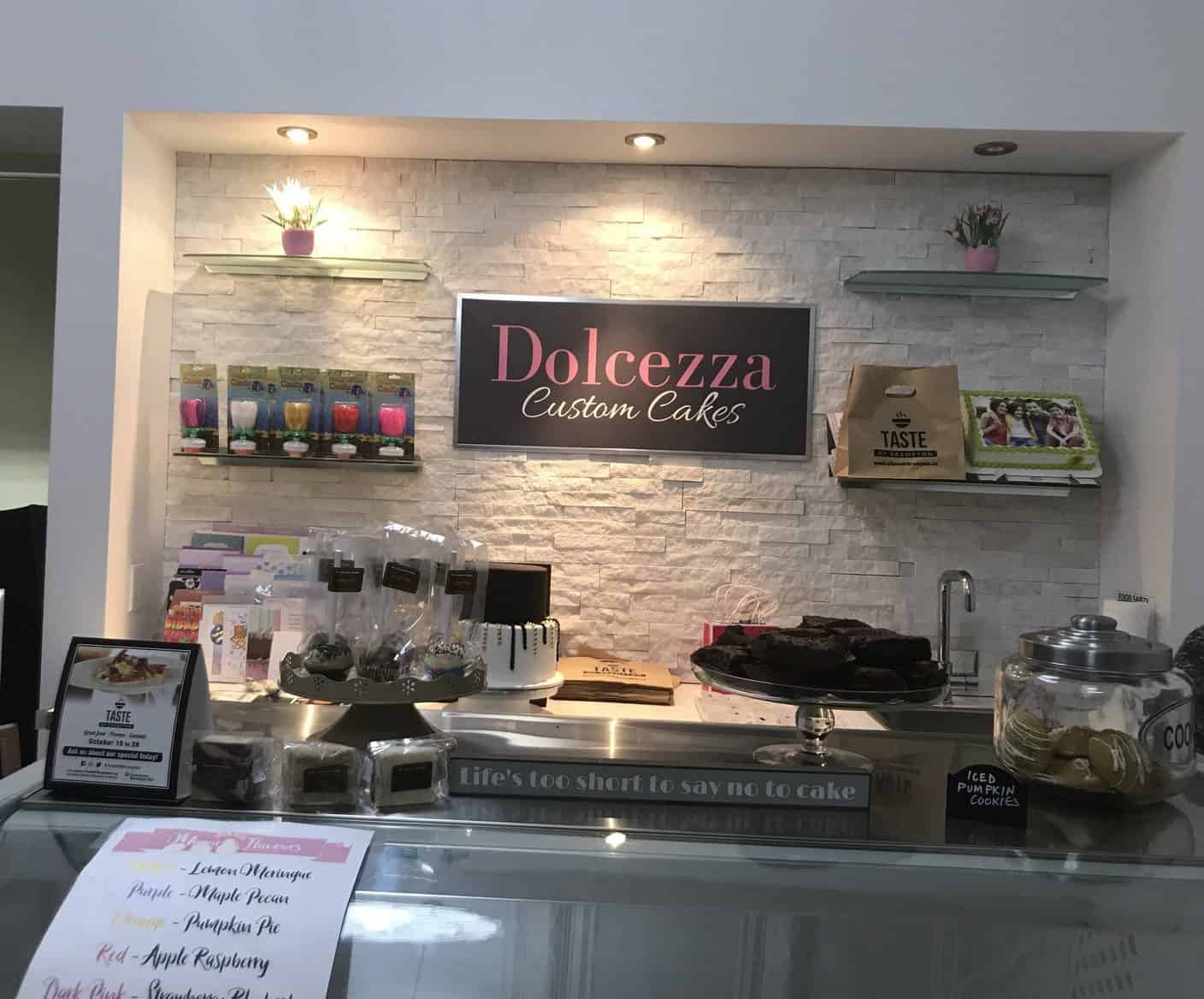 After dinner at Fanzorelli's, and our walk around Downtown Brampton I was on the hunt for a sweet treat and Dolcezza did not disappoint. I had the hardest time deciding but ultimately went for the brownie. Best part was because of Taste of Brampton promos it was Buy 1, Get 1 free so I got to take home a pumpkin cookie as well which I had with my tea the next morning.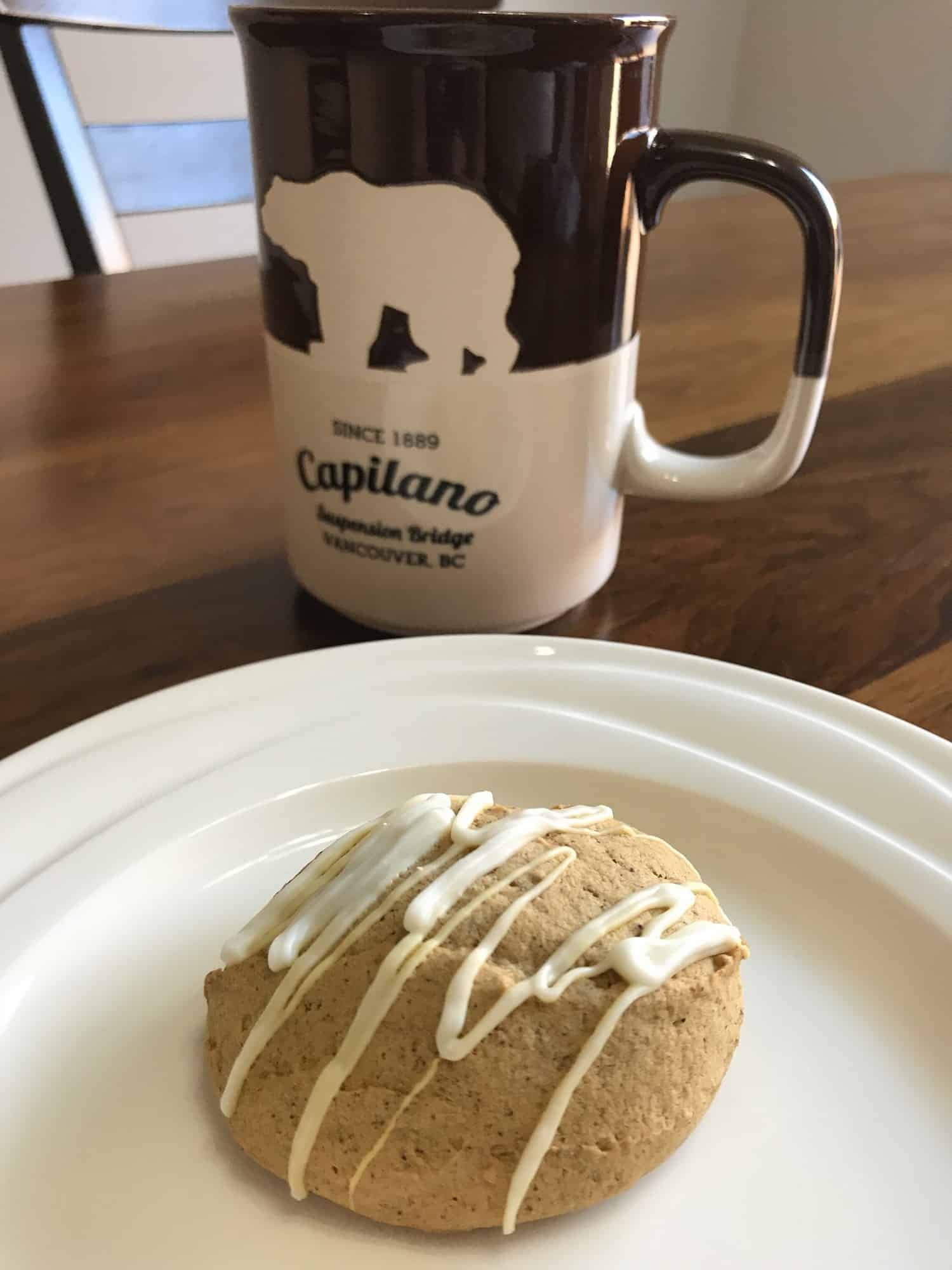 Can you help make this article better?
If you have noticed an error, have additional information or would like to share a comment you can:
E-mail us at info@thexploringfamily.com
Find us on Facebook: The Exploring Family
Find us on Instagram: @The.Exploring.Family
Disclosure: This post was brought to you by the Taste Of Brampton. All opinions are strictly are own.