I believe starting kids in Recreation Programs when they are young is important as it helps build social skills, provides exercise opportunities and allows kids to build positive new relationships with kids and instructors. Parent and Tot Programs in Brampton and Mississauga are created to allow parents to socialize and interact with their busy toddler in a fun way.
Parent and Tot programs are a great way for parents to connect with their toddler or preschooler through fun activities including: sports, dance, music, swimming, gymnastics and much more. There are lots of fun toddler activities to do in Brampton and Mississauga with young children as there are lots of different program opportunities.
Many of these programs also run in neighbouring cities creating lots of fun things to do in Mississauga as well making Peel Region a great place to raise young children. Now toddlers are super busy and always on the move getting into things so why not make this a positive experience and encourage their curiosity, wonder and exploration through fun classes for toddlers. I decided to focus on Parent and Tot Programs in Brampton and Mississauga for Children Under 3 Years Old, although some programs go up to 5 years old.
Registered Parent and Tot Programs and Drop Ins
Now Spring and Summer are a great time to start your child off in a Registered Toddler Programs as with the warm weather there are more opportunities to explore outdoor activities.
There are two types of Parent and Tot Programs offered in both Brampton and Mississauga: Registered and Drop In.
Registered programs are normally 8-10 weeks long and are at the same time each week, while drop in programs offer some more flexibility to their scheduling as you don't have to commit to each week. Many of the programs that I have listed below also have a link to a full review as I believe it's important to get a parent's perspective on what the programs really offer and what to expect.
Erin and Thumper have worked hard to try out as many programs as they can to experience new things and offer insight to local parents.
Registered Toddler Classes in Brampton and Mississauga: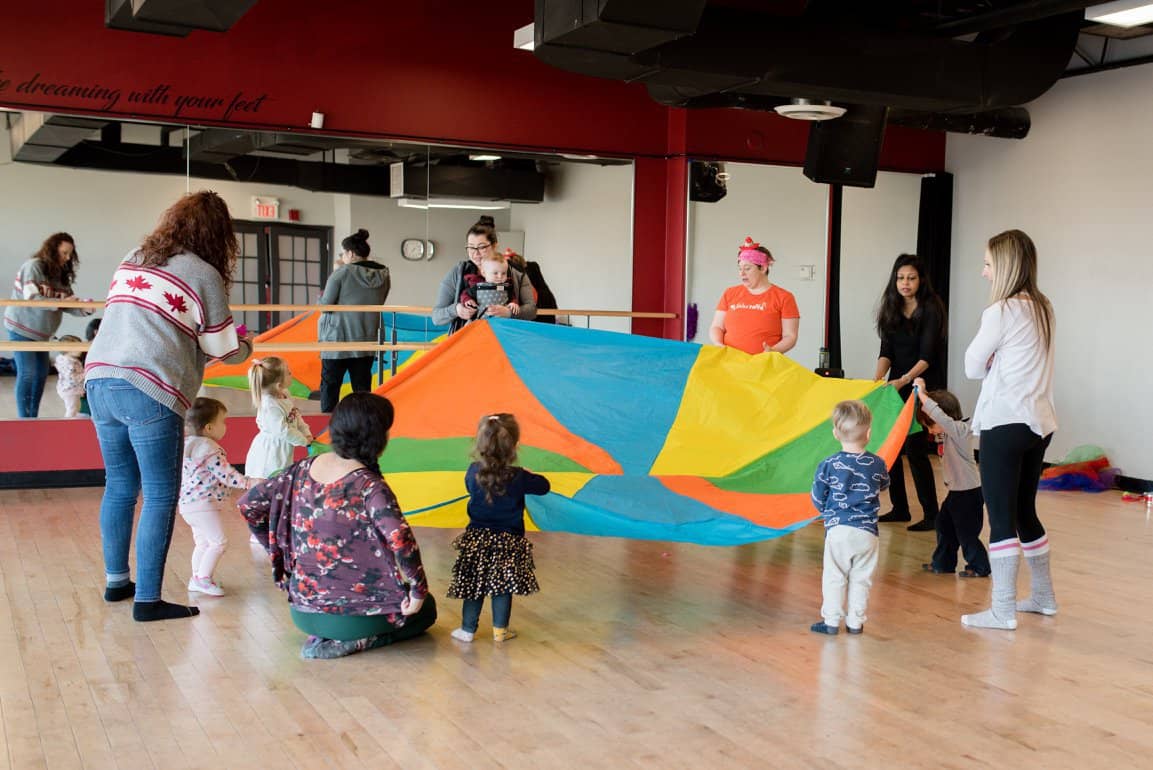 Salsa tots is a parent and tot dance program that exposes children to latin music including Salsa, Cha Cha, and Merengue. This program is for children aged 18 months to 5 years old and require parents to dance and have fun with their toddler.
Through Salsa Tots Brampton and Salsa Tots Mississauga your toddler with be exposed to latin music, latin cultures, and social norms. Salsa tots offers music, movement, dance, and exposure to spanish which are all great elements to stimulate and engage your toddler's growth and development. This is an awesome parent and tot dance class option.
Ages: 18 months to 5 years
Class Length: 45 minutes
Checkout our Full Review of Salsa Babies Brampton and Salsa Babies Mississauga.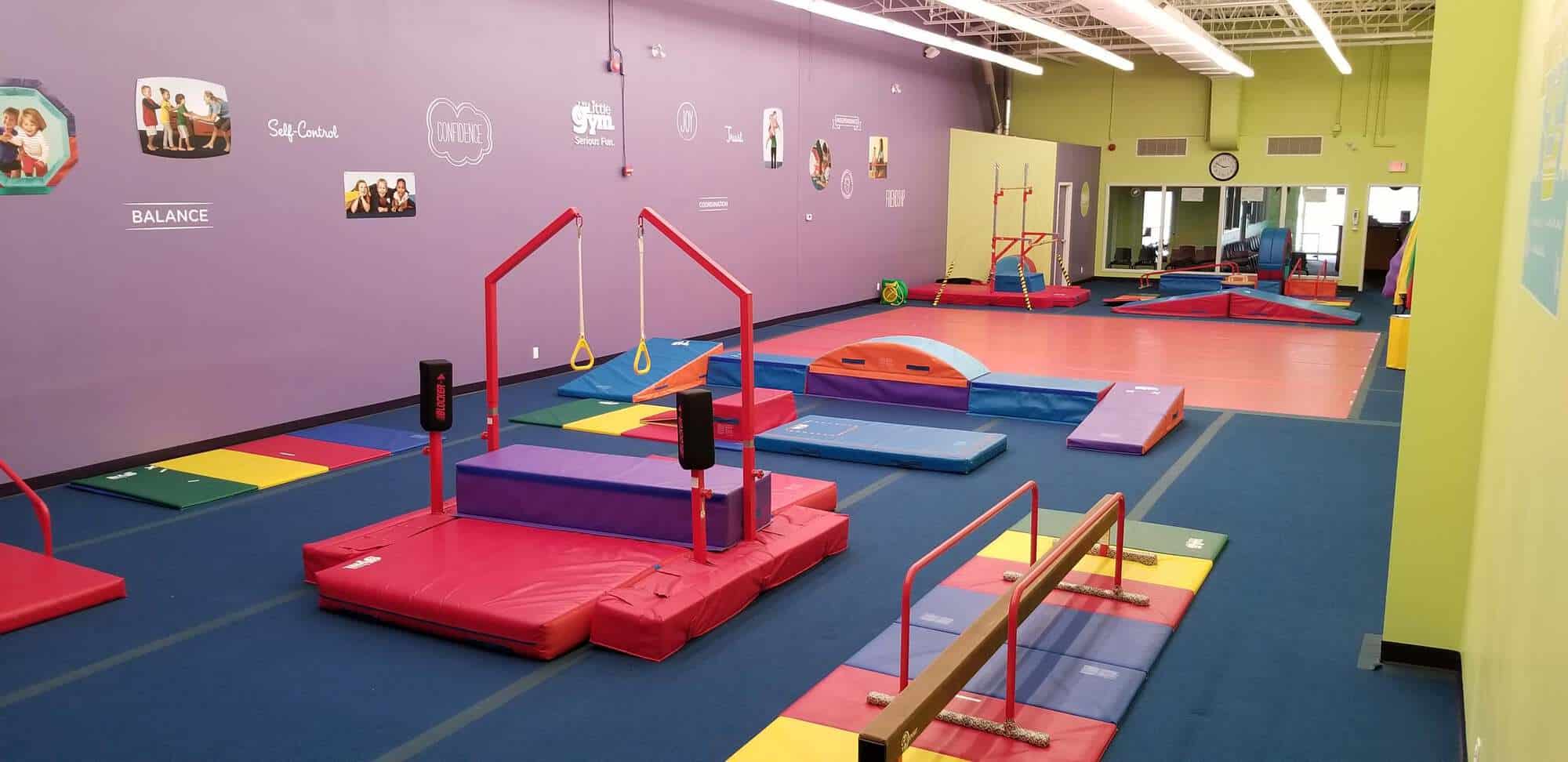 Little Gym – CLOSED IN 2020, HOWEVER LITTLE GYM OF OAKVILLE IS STILL OPEN
Little Gym provides both physical and mental development benefits for all children involved in their programming, as kids make new friends, build self confidence, and learn new skills all in a super fun and supportive environment that promotes participation. Little Gym offers a safe and inspiring space for kids to burn their energy, develop skills, and build confidence through the variety of classes offered.

Ages: 4 months to 3 years
Class Length:45 minutes
Checkout our Full Review of the Little Gym.
Sportball is a Parent and Tot program that exposes children and caregivers to sports through physical movement and social exploration through creative motor games, songs, rhymes, stories, bubble time and more. These forty-five minute classes introduce children to a different sport each week and allow parents to guide their little ones at a pace and level that is comfortable for them.
On top of being a great bonding exercise, these classes can lay the foundation for a shared life-long love of movement and sport. Parents to guide their Pre-schoolers at a pace and level that is comfortable for them.
Ages: 16 months to 12 years
Class Length:45 minutes
Check out our Full Review of Sportball Brampton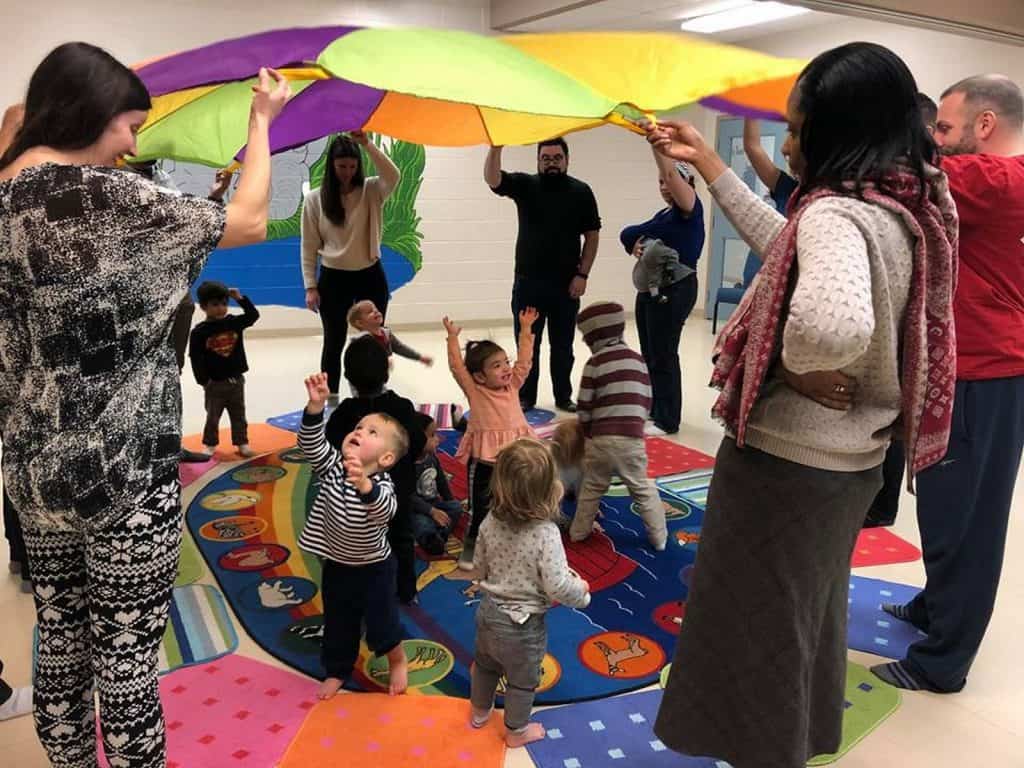 Music Together Mixed Age Music Class creates a family style learning environment as parents can attend class with multiple children as the class is geared to toddlers and babies all at the same time. Instructors offer extensions and modifications to meet the different learning needs of each age group. The whole family is welcome to sing, move, listen, watch and explore music and instruments at their own age appropriate pace.
Music Together provides music education for parents and children through adult participation, playful activities, songs, and fun movements. Music Together music classes for kids program is 45 minutes of fun music time that encourages bonding, and making new friends.
Ages: 0-5 years
Wee Wigglers
Wee Wigglers Brampton is a baby program that is a mix of dance, music and exercise all combined together for one great class.
Ages: 6 months to 5 years
Checkout our Full Review of Wee Wigglers Classes in Brampton.
Little Kickers Brampton Parent and Tot: Children are introduced to the basics of soccer (dribbling, striking, goal scoring etc.) in a play-oriented yet structured format, using child-friendly but realistic soccer equipment. Each child is given the opportunity to work within their ability level but taught in a group environment. Classes also provide a fantastic opportunity for you to assist in your child's early education, helping them develop physically as well as improving cognitive and social skills.(Parent participation required).
Classes involve a number of games that require parents to put on their running shoes and get actively involved in the session. However, some games are specifically targeted at developing independence. These transition games mean children as young as two will be able to play independently of their parent or guardian.
Age: 1 ½ years to 2 ½ years
Class Length: 45 minutes



Making Waves Brampton Parent and Tot/ Making Waves Mississauga Parent and Tot
Making Waves offers two Levels of Parent and Tot: (Ages 2 months – 23 months)
Making Waves Parent and Tot Level #1: This first level is for the children to begin to learn breath control, buoyancy and balance in the water. Some skills the children will learn in this level are holding their breath when going under water, back floats, and roll-overs. At Making Waves we believe that roll-overs are a Lifesaving skill.
Making Waves Parent and Tot Level #2: begins to introduce your child to propulsion, how to move through the water. You will begin to see your child become more comfortable going under water and working towards greater independence. Your child will learn to blow bubbles and be introduced to kicking. Songs and games are also incorporated in this level to practice both new and old skills.
Checkout our Full Review of Making Waves Swimming Lessons.

For times of Activities for toddlers, see Brampton Parks and Recreation guide (Sports Section) here. Brampton Parks and Rec offers multiple options of toddler programs including sports, dance, and creative programming.
GYMNASTICS PARENT AND TOT: An introduction to gymnastics designed to develop agility, balance, coordination and fine motor skills.
SPLASH PARENT AND TOT 1: Babies will learn to enter the water, get ready to have their face wet and float on their front and back with assistance.
CREATIVE PLAY AND CRAFTS PARENT AND TOT: Enjoy creative play and crafts while socializing and interacting with other parents and children. Participate in circle time, songs, finger play and lots of fun with your child. Adult participation is required.
FAMILY TIES PARENT AND TOT: Through this program, preschool participants will gain the confidence to become independent as parents/guardians gradually transition out of the program. Preschooler's activities include crafts, songs, themes, finger plays, creative circle times and stories. Participants will be prepared through a series of techniques and activities that will allow them to become comfortable with peer-to-peer socialization and independent play.
PLAY AND SPLASH PARENT AND TOT: This program offers preschool participants and their parents the opportunity of equal parts active play and swimming. Participants will spend 45 minutes in the gym and 45 minutes in the pool.
TODDLERS GYM PARENT AND TOT: Participate in an action-packed program designed to develop flexibility, co-ordination and agility through active games, songs and creative movement in a gym setting.
TINY DANCERS PARENT AND CHILD: This introductory dance program emphasizes fun and creative movement within a dance environment. Children will learn basic steps in a variety of dance disciplines such as ballet and jazz. Parents/guardians will gradually transition out of the class during the session, allowing the child to become more prepared for on-their-own classes. (Non-Recital)
There are lots of Mississauga Activities for Toddlers through Mississauga Parks and Recreation.
Swim For Life Parent And Tot 1/2/3: Spend quality time with your child while you both have fun and learn and socialize. Through structured in water interaction between parent and child, we stress the importance of play in developing positive attitudes and skills.
Little Artists: Get ready to get messy as we discover the fun of crafts, painting, songs and play. Children will enjoy creating a variety of art projects. This program is designed for caregivers and children to socialize together.
Smorgasports: You and your child will explore a variety of sports equipment, games and circle activities. Both structured and free play will be presented daily.
Monkeynastix: This preschool program is delivered by Monkeynastix in co-operation with the City of Mississauga. Enjoy a fun packed lesson with your little one with a variety of safe activities and music! Striving to develop children's balance, eye hand/foot co-ordination, body awareness and gross motor skills, each lesson begins with a warm up where 1-2 year olds participate in a fun Babynastix song, stretching positions, locomotion followed by a fine motor activity. Children then follow a circuit with our specialized equipment focusing on a specific skill.
Musical Medley for Munchkins:
Children and parents explore music through song, movement and instruments. Develop listening skills, rhythmic awareness and enjoy popular sing-a-longs.
Movers and Shakers: For children who love to move. This class emphasizes exploration, expression and imagination. Your child will develop body awareness, musicality, balance and co-ordination in a co-operative and encouraging environment.
Creative Kids: Do you have two young ones at home and want to bring them to the same art program? If so, this program is for you. You and your children will work through art activity stations and enjoy songs you are sure to sing all the way home.
Brampton Drops In Toddler Programs/ Mississauga Drop In Toddler Programs
Brampton Library offers multiple different programs for toddlers to encourage the 5 Basic Skills of Literacy: Talk, Sing, Read, Write and Play. The Brampton Library offers parents an opportunity to interact with their toddlers through literacy activities and offers ideas to encourage literacy at home. Brampton Library Toddler Programs are geared for kids aged 18 months to 3 Years old and they focus on teaching sounds, letters and rhyming. Toddler programs offered are: Movers and Shakers, and Toddler Move in Groove. For a full list of Locations and Drop In Times – Click HERE!
1) Movers and Shakers – Let's get moving! Toddlers and their grownups are invited to join us for our special Toddler Time. We'll read, sing, and play while we learn. Please register at the Library. Each time you attend Movers and Shakers, you'll earn a stamp towards a FREE book to take home! You must attend 10 Mover and Shaker Sessions in order to get a FREE book. This program is for babies aged 18 months to 3 years old.
2) Toddler Move and Groove – Parents and children participate in gross motor and play activity, circle time; supporting motor, social and language skills.
To learn more about the programs check out our Review of Brampton Children's Library Programs.
Mississauga Library
Mississauga Library offers multiple different programs for toddlers to encourage the 5 Basic Skills of Literacy: Talk, Sing, Read, Write and Play. The Mississauga Library offers parents an opportunity to interact with their toddlers through literacy activities and offers ideas to encourage literacy at home. Brampton Library Toddler Programs are geared for kids aged 18 months to 3 Years old and they focus on teaching sounds, letters and rhyming. To checkout the program times click HERE.
Wee Ones Story Time: Sing, clap, bounce, tickle, laugh and read together with your wee ones! It's never too early to introduce your child to books and reading. Ages Birth-36 months. 6 weeks. 45 min
Stay and Play: Playing is an important early literacy activity that helps children put thoughts into words. We welcome you and your child to "stay & play" after storytime!
Toddler Story Time: This program features shared stories, silly songs, dancing, interactive rhymes and lots of fun for children with a parent or caregiver. Ages 18-36 months. 6 weeks. 45 min.
All Early ON programs are run by a Registered Early Childhood Educator and offer programs for children ages 0-6 years old that promote parent and child interaction. The programs consist of open play time, exploration of new materials, songs and stories to promote language development, and opportunities to interact with peers and develop social and emotional skills. These are great places to connect with other families in your community.
Toddler Programs include: Toddler Time, Shake, Rattle and Roll and Family Time. For a full list of Locations and Drop In Times – Click HERE!
Shake, Rattle and Roll 0-18 months: Children develop coordination, language, music and movement skills.
Toddler Time 12–24months: Parents and toddlers participate in gross motor and play activities, ending with songs and rhymes.
Family Time 0-6years: Engage in play activities to support children's social, emotional and learning development, including Songs & Stories
Bridgeway Family Centre Brampton and Mississauga
Bridgeway Family centre provides children with a healthy start by offering them programs to help them learn, grow and develop while also offering support to parents. Bridgeway Family Centre Brampton and Mississauga have various locations that offer the following programs for Toddlers. For a full list of Locations and Drop In Times – Click HERE!
Babies on the Move 9-18 months: For crawling, creeping, walking and running babies. You and your baby will enjoy singing songs and rhymes, exploring new sensory experiences and working on new developmental skills together. This program will provide an opportunity for adults to connect with others.
Toddler Time 18 months to 3 years: This interactive program involves songs, story and creative time for toddlers to enjoy with each other and their parents/caregivers.
Ready, Set, Go 1-2 Years: This program is a transitional program between Infant Mother Goose / Babies on the Move and Toddler Time. It offers a song circle, a short story and creative activities that introduce young toddlers and their adults to opportunities to explore craft supplies.
Tales and Tunes: Children and adults will learn a variety of interactive songs and rhymes in this busy and active circle time program
The Story Garden at Sheridan Centre
Bring your babies, toddlers and preschoolers for stories, songs, and rhymes. A special time for parents, grandparents or caregivers and their little ones, held every Tuesday and Thursday in The Story Garden from 10-11am. Sign-in from 10-10:15. The circle time is 30 minutes (10:15-10:45), and families are welcome to stay after for Duplo, puzzles, and play.
"A Toonie a Trip!" (suggested donation per family)
We are lucky in the Region of Peel that there are so many activities for toddlers and parents to enjoy and spend quality time together while building skills at the same time.
You may also be interested in: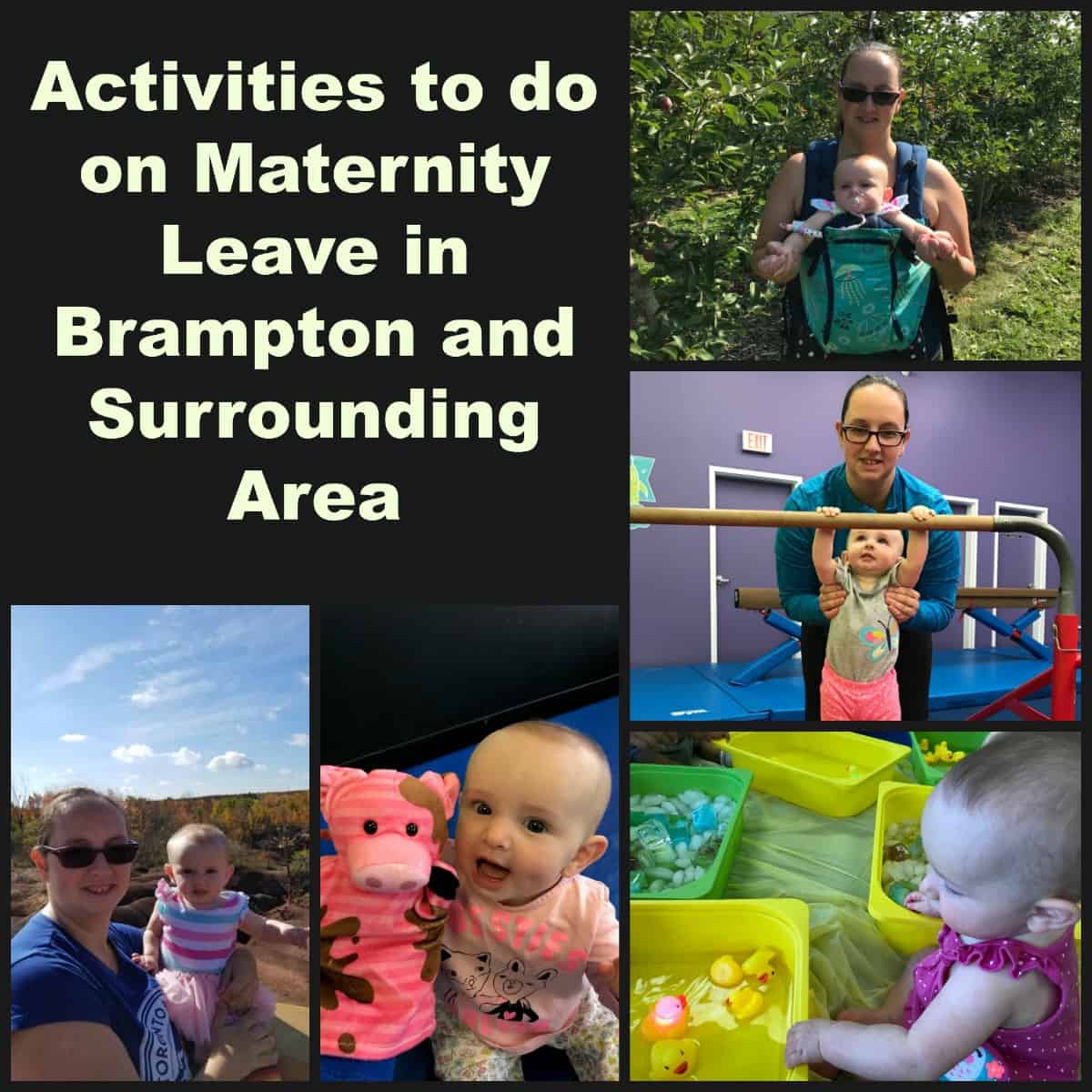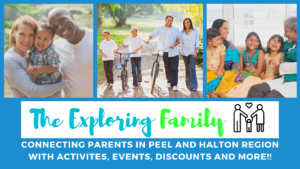 Can you help make this article better?
If you have noticed an error, have additional information or would like to share a comment you can:
E-mail us at info@thexploringfamily.com
Find us on Facebook: The Exploring Family
Find us on Instagram: @The.Exploring.Family