The Fall season is in full swing and Apple Picking in Brampton and surrounding area and Apple Picking in Milton and Halton will soon be wrapping up and moving onto Pumpkin Picking Season in Mississauga, Brampton, Caledon, Georgetown and Milton. Pumpkin Patches offer the perfect scenery to view yellow, orange, and red foilage while enjoying sweater weather and everything Pumpkin. Pumpkin Picking is definetly an annual tradition for many families.
October is known officially as PSL season for Pumpkin Spice Lattes that became a popular drink years ago, however the moment the calendar turns to October everyone goes pumpkin crazy! Families begin to decorate for fall and the autumn harvest with potted mums, straw bales, and they almost always want cute white and orange pumpkins to add to their front door decorations. So why not enjoy a day as a a family and head to a quaint farm and do some local pumpkin picking with the kids.
With Kate located in Brampton and Erin in Georgetown, we both visit a Pumpkin Patch near Mississauga, and sometimes even make a whole day of it and visit a local petting zoo, or even a local farm that has lots of fall activities for the kids. Local farms often have a harvest festival with activities such as pick your own apples and pumpkins, food trucks, tractor rides and much more to keep the whole family busy!
Now since we live in the Greater Toronto Area, we are lucky and have access to multiple pumpkin farm within Peel and Halton Region so they are all a short drive away making them the perfect place to spend a fall weekend. The following locations are local pumpkin patches that are close to Mississauga and Brampton. A pumpkin patch definitely has a festive atmosphere when you are getting ready for Halloween or Thanksgiving.
Check out our guide to Fall Activities including Things to do on Thanksgiving, or fun Halloween Events near Mississauga!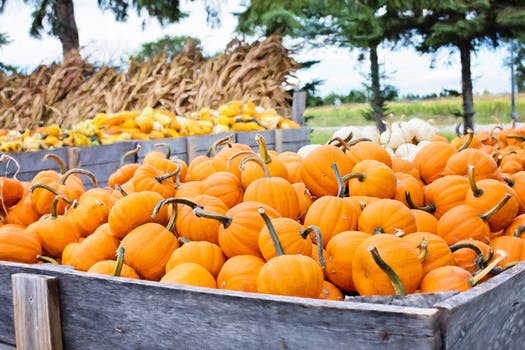 Why go Pumpkin Picking?
Families enjoy fun activities like pumpkin picking for a variety of reasons: outdoor fun, to collect pumpkins for pumpkin carving, fall decor or even to use in some fun fall baking with pumpkin recipes. A typical pumpkin patch visit in the fall includes wagon rides, fresh produce from the market, corn mazes, hay bales for jumping and lots of outdoor farm fun!
Whether you go out trick or treating or not, pumpkins are the most common fall decoration for front porches for Thanksgiving and Halloween. Pumpkin Picking is a great family activity, and you can even come home and do some pumpkin decorating as a family.
When is the Best Time to go Pumpkin Picking? How long is the Pumpkin Picking Season in Ontario?
In Ontario, pumpkin picking is super popular as soon as the month turns to October with the best time of year for picking happening between Thanksgiving and Halloween. Most people use pumpkins for their fall porch decorations so it only makes sense that they would want fresh pumpkins to use. Pumpkin season lasts from Late September to Early November and at Ontario pumpkin patches you can find a variety of shapes, sizes, and colours of gourds and pumpkins including the really cool white pumpkins that can be used for weddings.
The best part is you can use them uncarved as Thanksgiving decorations and then later in the month of October you can paint the pumpkins or carve them as jack-o-laterns for Halloween.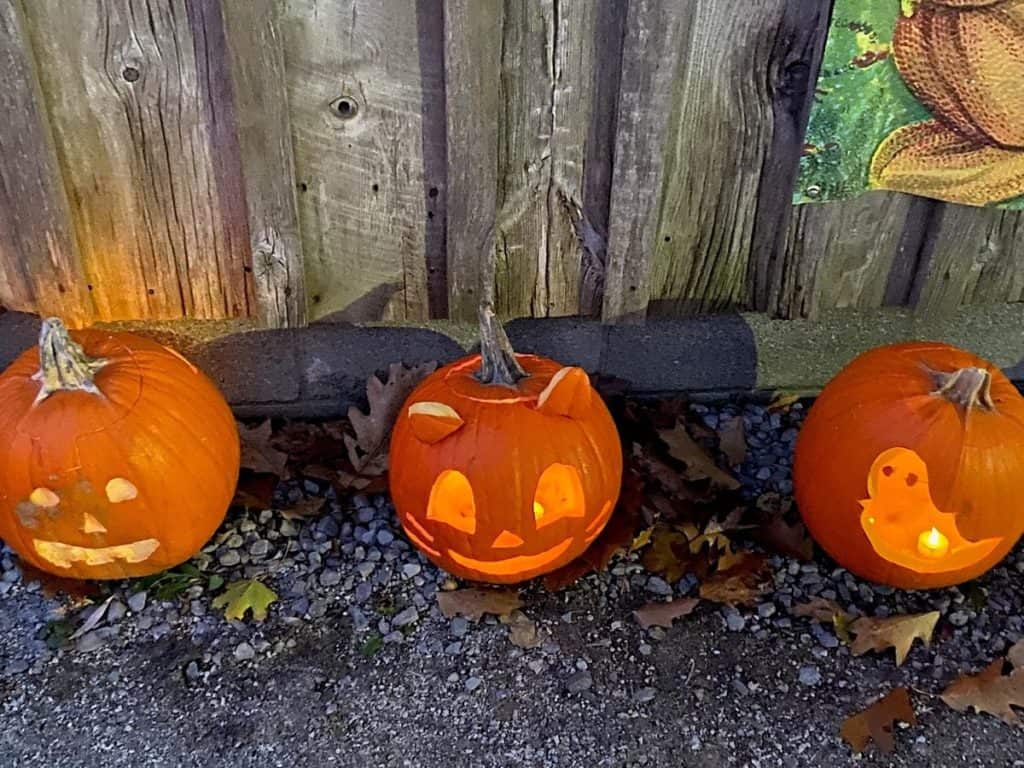 Where can you go Pumpkin Picking in Mississauga?
Mississauga is a sprawling urban community so it no longer has any local farms, but is surrounded by many rural farm fields in Peel and Halton region including Georgetown, and Caledon that are still home to local agricultural farms that also have farm market so you can pick up local Ontario produce including fresh fruits and vegetables, and my favourite pumpkin donuts if you visit Downey's.
The good news is that you can easily access a handful of farms within a 30 minute drive of Mississauga.
Map of Pumpkin Patches Near Us:
Here are some great pumpkin patches near Mississauga:
Here are some great pumpkin patches near Mississauga:
Albion Orchards (Caledon)

Sweet Peas Pumpkin Fest (Laurel)

Dixie Orchards (Inglewood)

Downey's Farm (Caledon)

Big R Apple Farms (Brampton)

Hutchinson Farm (Burlington)

Stonehaven Farm (Burlington)

The Apple Orchard (Hamilton)

Soup to Go (Waterdown)

Dyment's Farm (Dundas)

Hanes Pumpkin Patch (Dundas)

Lindley's Farm (Ancaster)

Springridge Farm (Milton)

Andrew Scenic Acres (Milton)



Pumpkin Patches and Pumpkin Picking in Caledon, Brampton and Orangeville Area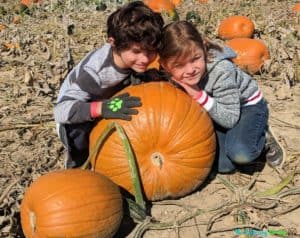 Brampton, Caledon and Orangeville all have farms that have awesome autumn vibes, with pumpkin picking and some even have apple picking too! These farms all have a u-pick pumpkin patch and offer other family friendly fall activities.
Dixie Orchards (Inglewood)
14309 Dixie Rd, Inglewood – Caledon – Dixie Orchards requires reservations to visit the farm. The "Farm Pass" is $4.42/person and it gives you access to the whole farm excluding the sunflower fields. This includes the corn maze, straw jump, animals, pumpkin patch and wagon rides. Pumpkin picking usually begins the third week of September.
This farm provides a small wagon that you can use to help transport pumpkins from the field to your car and they have a variety of gourds and pumpkins that you can select.
Albion Orchards (Caledon)
14800 Innis Lake Road, Caledon – Albion Orchards offers a place to do pick your own pumpkin picking, but does not extra activities like some of the other pumpkin patches. Open Tuesday to Sunday.
They do also have a farm market that is open Tuesday to Saturday and sells pies, baked goods, apple cider and much more!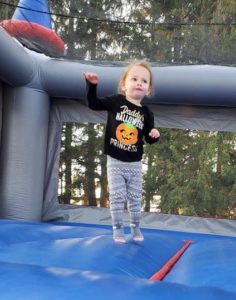 Sweet Peas Pumpkin Fest (Laurel)
333329 7th Line, Amaranth, Ontario – Sweat Peas is a small family farm that my husband checked out last year for pumpkin picking with our daughter and loved it! Running from September 17th to October 31st, 2022. Activities include: Corn Maze, Wagon Ride, Straw Jump, Tree Slide, Kiddie Zone, Barnyard Animals, Barnyard Basketball, Tetherball, Music Wall, Bouncy Castle, Teeter Totters, Swings, Tire/Sand Play area. Monster Truck Rides available on Weekends Only at an additional cost.
Saturday & Sunday and Thanksgiving Monday – 9:30 am to 5 pm, Must purchase online tickets
Weekday visits 9:30 am to 5 pm – tickets available at the gate only (cash or etransfer)
Can you make it out of the corn maze…. enjoy the cover of darkness as creatures come out to roam the corn maze. $15.00 per person ,Admission does not include a free pumpkin. Not recommended for young children, 12 and under must be accompanied by an adult.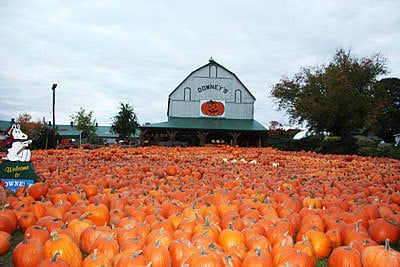 Downey's Farm (Caledon)
13707 Heart Lake Road, Caledon, ON – Downey's Farm is a popular Brampton attraction which offers pick your own pumpkins. You can find all the other activities that Downey's Farm has to offer in the Ultimate Guide to Downey's Farm. Downey's farm has all of their pumpkins pre-picked and located close to the parking lot for easy transportation by wagon. If you are looking for fall decorations ornamental corn, corn stalks, white pumpkins, gourds, orange pumpkins, hay bales and much more!
Downey's Pumpkin fest 2022 runs from Sept 17- October 31st and includes: wagon rides, Boo Barn (haunted house), live entertainment and puppets on weekends, animal farm, straw jump, 8-acre corn maze, duck races, hop it horses, trike track, jumping pillows and much more! New in 2022 they have added an awesome low ropes area for the kids.
Downey's also offers adult fun as you can taste test many of their fruit wines and hard ciders.
The admission ticket must be bought in advance online and is $21.99 on weekends and $17.99 on week days
Pumpkin Patches and Pumpkin Picking in Milton Area
Springridge Farm
7256 Bell School Line Milton, ON – Springridge Farm offers pumpkin picking and so much more as they are open daily from 9-5pm offering a full day of family fun. Activities in the farm yard fun include: spider web climber, tube slides, NEW &  IMPROVED giant sandbox, straw play, goat mountain, escarpment lookout, farm animals, antique tractors, singing chicken show, pedal tractors & farm hoppers, tractor drawn wagon ride and even big red Adirondack chairs for parents to sit and rela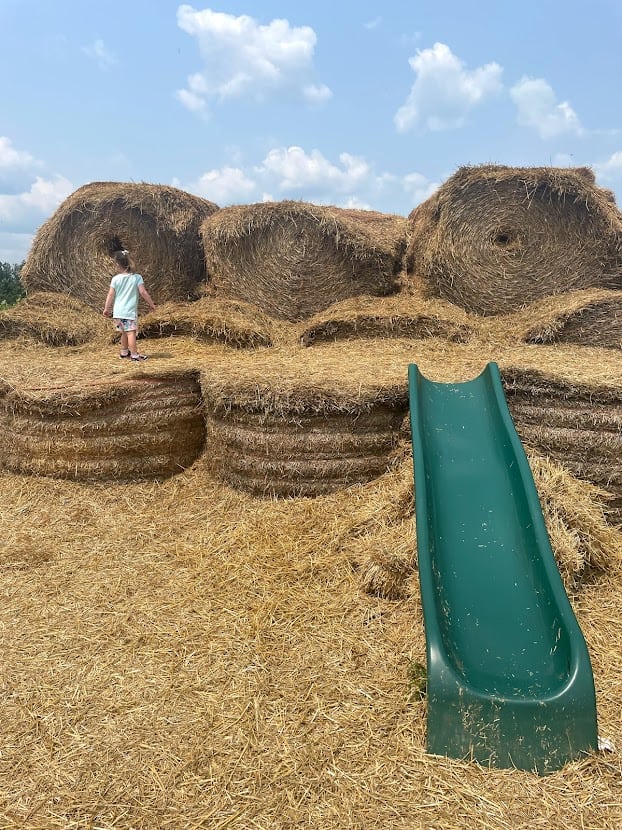 Andrew Scenic Acres
9365 10 Side Road, Milton, ON  – Andrew Scenic Acres is our favorite farm as it is the closest to us and we have a season's pass this year. We have enjoyed a full picking season of strawberries, blueberries, raspberries, and even wildflowers and can't wait to visit for Pumpkin Season. Andrew's Farm offers pumpkin picking, wagon rides, hay climbing area, playgrounds, animals to visit and much more.
Pumpkin Patches in Burlington, and Waterdown
If your looking to make more of a daytrip and visit some farms a little further away you can also check out:
Hutchinson Farm (Burlington):
6202 Walkers Line, Burlington – Hutchinson Farms offers pumpkin picking for FREE to ensure visiting a family farm in accessible to all families, as Hutchinson farms believe visiting a farm and pumpkin picking is a wonderful family memory. Since they offer FREE entry they do not offer Agricultural entertainment like other farms but they do have a pumpkin gallery of exotic pumpkins from around the world.
Pumpkins, squash, gourds are grown on this family farm and cost different prices.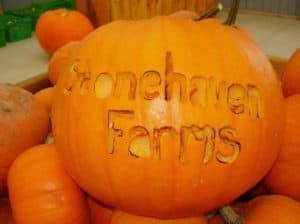 Stonehaven Farm (Burlington)
7388 Guelph Line, Campbellville, L0P 1B0 – Stonehaven invites you and your family to spend a day in the country air and enjoy their family farm. In addition to pumpkin picking you can enjoy the following fun the Fall Fun package which Includes the giant corn maze (game to play within), Strawhaven strawbale area and unlimited continuous "Just for Fun" wagon ride.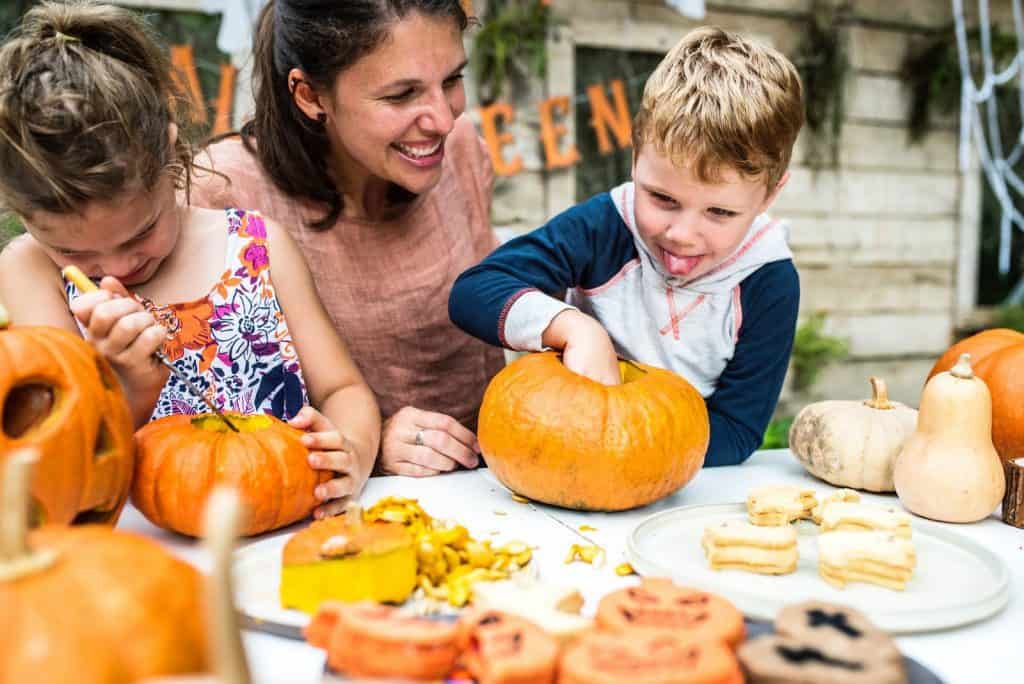 The Apple Orchard
1668 Hwy 6, Hamilton, ON L8N 2Z7 – Features sunflower fields, pumpkin and squash picking as well as apple picking. Enjoy the day by visiting animals, playing in the corn sensory bin, taking a wagon ride, visiting a corn maze or walking on of the trails. The Apple Orchard also sells roasted corn, and seasonal drinks like apple cider.
Checkout some of our great Halloween Content Including:
What's your favourite place to go Pumpkin Picking? Know if a secret gem we should know about? Let us Know!
Want to stay in the know with all things local? Don't forget to join our locally focus Facebook group: Parents Resource