The Fall season is in full swing and Apple Picking in Brampton and surronding area and Apple Picking in Milton and Halton will soon be wrapping up and moving onto Pumpkin Picking Season in Mississauga, Brampton, Caledon, Georgetown and Milton. Pumpkin Patches offer the perfect scenery to view yellow, orange, and red foilage while enjoying sweater weather and everything Pumpkin. Checkout some of our Pumpkin Recipes including: Pumpkin Chocolate Chip Cookies, Mini Pumpkin Pies, Pumpkin Pancakes and tons more Perfect Pumpkin Recipes for Thanksgiving or Halloween. Grab a warm beverage, pack up the kids and head out to a pumpkin patch to pick your own pumpkins.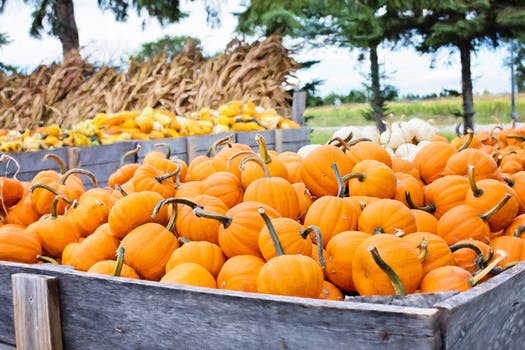 Whether you go out trick or treating or not, pumpkins are the most common fall decoration for front porches for Thanksgiving and Halloween. Pumpkign Picking is a great family activity, and you can even come home and do some pumpkin decorating as a family. The following locations are local pumpkin patches that are close to Mississauga and Brampton, so they are only a short drive away. A pumpkin patch definitely has a more festive atmosphere when you are gettign ready for Halloween.
Checkout some of our great Halloween Content Including:
Map of Pumpkin Patches Near Us:
Here are some great pumpkin patches near Mississauga:
Albion Orchards (Caledon)

Sweet Peas Pumpkin Fest (Laurel)

Dixie Orchards (Inglewood)

Downey's Farm (Caledon)

Big R Apple Farms (Brampton)

Hutchinson Farm (Burlington)

Stonehaven Farm (Burlington)

Soup to Go (Waterdown)

Dyment's Farm (Dundas)

Hanes Pumpkin Patch (Dundas)

Lindley's Farm (Ancaster)

Springridge Farm (Milton)

Andrew Scenic Acres (Milton)



Pumpkin Patches and Pumpkin Picking in Caledon, Brampton and Orangeville Area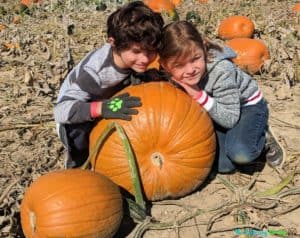 Dixie Orchards (Inglewood)
14309 Dixie Rd, Inglewood – Caledon – Dixie Orchards requires reservations to visit the farm. The "Farm Pass" is $4.42/person and it gives you access to the whole farm excluding the sunflower fields. This includes the corn maze, straw jump, animals, pumpkin patch and wagon rides. Pumpkin picking ususally begins the third week of September
🎟️ Cost: $4.42 Farm pass plus cost of fruit or vegatables picked
Albion Orchards (Caledon)
14800 Innis Lake Road, Caledon – Albion Orchards offers a place to do pick your own pumpkin picking, but does not extra activities like some of the other pumpkin patches.
🎟️ Cost: 2021 TBA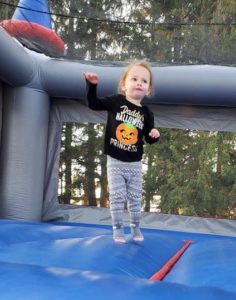 Sweet Peas Pumpkin Fest (Laurel)
333329 7th Line, Amaranth, Ontario – Sweat Peas is a small family farm that my husband checked out last year for pumpkin picking with our daughter and loved it! Activities include: Corn Maze, Wagon Ride, Straw Jump, Tree Slide, Kiddie Zone, Barnyard Animals, Bouncy Castle, Teeter Totters, Swings, Tire/Sand Play area. Weekday visits 9am to 6pm (Tuesday to Friday) – tickets available at the door only (cash or etransfer) and Weekday Wagon Rides: 11:30 a.m., 1:30 p.m., 3:30 p.m.
PUMPKINFEST WEEKEND DATES (Reservation Required) – 4 time slots to choose from each day: 9 am – 11am, 11:15 am – 1:15pm, 1:30 pm – 3:30 pm, 3:45 pm – 5:45 pm.
🎟️ Cost: $10.00 ($8.85 + $1.15 HST) per person , 23 months and under are free. BONUS: All Pumpkin Fest activities included in your admission, including 2 free pumpkins per family.
BONUS FUN:
OCT 29TH AND 30TH – 2 NIGHTS ONLY
Can you make it out of the corn maze…. enjoy the cover of darkness as creatures come out to roam the corn maze. $15.00 per person,Admission does not include a free pumpkin. Not recommended for young children, 12 and under must be accompanied by an adult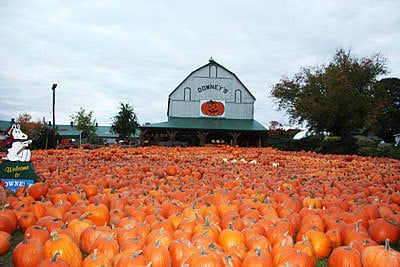 Downey's Farm (Caledon)
13707 Heart Lake Road, Caledon, ON – Downey's Farm is a popular Brampton attraction which offers pick your own pumpkins. You can find all the other activities that Downey's Farm has to offer in the Ultimate Guide to Downey's Farm. Downey's Pumpkin fest 2021 includes: wagon rides, Boo Barn (haunted house), live entertainment and puppets on weekends, straw jump, 8 Acre corn maze, duck races, hop it horses, trike track, jumping pillows and much more!
🎟️ Cost: $15
Pumpkin Patches and Pumpkin Picking in Milton Area
Springridge Farm

7256 Bell School Line Milton, ON – Springridge Farm offers pumpkin picking and so much more as they are open daily from 9-5pm offering a full day of family fun. Activities in the farm yard fun include: spider web climber, tube slides, NEW & IMPROVED giant sandbox, straw play, goat mountain, escarpment lookout, farm animals, antique tractors, singing chicken show, pedal tractors & farm hoppers, tractor drawn wagon ride and even big red Adirondack chairs for parents to sit and relax.
Wagon Ride Times: Weekdays: 10:30, 11:30, 12:30, 1:30, 2:30, 3:30 and 4:30 and Weekends: Continually 10:00 to 4:30
🎟️ Cost: $12 +HST weekends and holidays or save by visiting Monday to Friday $9 +HST weekdays. Admission to Fun Farm Yard is per person, ages 2-92.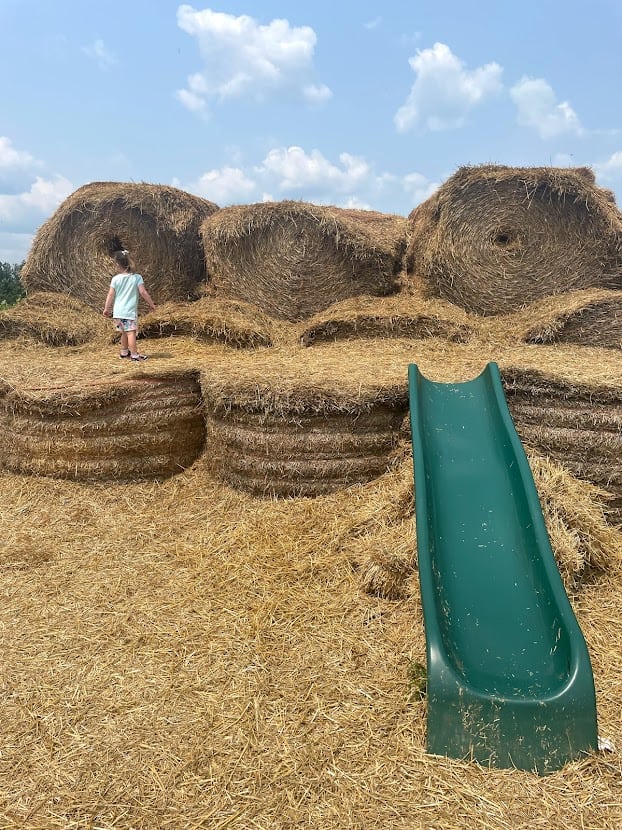 Andrew Scenic Acres
9365 10 Side Road, Milton, ON – Andrew Scenic Acres is our favourite farm as it is the closest to us and we have a season's pass this year. We have enjoyed a full picking season of strawberries, blueberries, raspberries, and even wildflowers and can't wait to visit for Pumpkin Season. Andrew's Farm offers pumpkin picking, wagon rides, hay climbing area, playgrounds, animals to visit and much more.
🎟️ Cost: Daily: $12/person
Pumpkin Patches in Burlington, and Waterdown
If your looking to make more of a daytrip and visit some farms a little further away you can also check out:
Hutchinson Farm (Burlington):
6202 Walkers Line, Burlington – Hutchinson Farms offers pumpkin picking for FREE to ensure visiting a family farm in accesible to all families, as Hutchinson farms believe visiting a farm and pumpkin picking is a wonderful family memory. Since they offer FREE entry they do not offer Agritural entertainment like other farms but they do have a pumpkin gallery of exotic pumpkins from around the world.
Pumpkins, squash, gourds are grown on this family farm and cost different prices. Prices from 2020: Mini Pumpkins: We just count these, 5 for $6 Regular Jack-o'-lanterns: $1.29 per kilo ($1.60 each for the smallest, up to $18 for whopping 35-40 pounders) Exotic Pumpkins: $1.49 per kilo Atlantic Giants: $0.84 per kilo. Large ones are measured to estimate their weight. Sorry, no biggies in 2020, but we have grown them in the past up to 3-4 hundred pounds.
🎟️ Cost: FREE ENTRY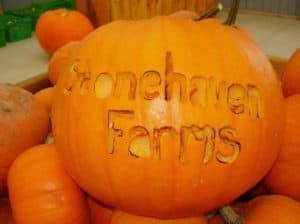 Stonehaven Farm (Burlington)
7388 Guelph Line, Campbellville, L0P 1B0 – Stonehaven invites you and your family to spend a day in the country air and enjoy their family farm. In addition to pumpkin picking you can enjoy the following fun the Fall Fun package which Includes the giant corn maze (game to play within), Strawhaven strawbale area and unlimited continuous "Just for Fun" wagon ride. Open weekends starting Sept 18th plus Thanksgiving Monday 10am -5pm with last PYO entry at 4:30.
🎟️ Cost: $6/person age 2 and up.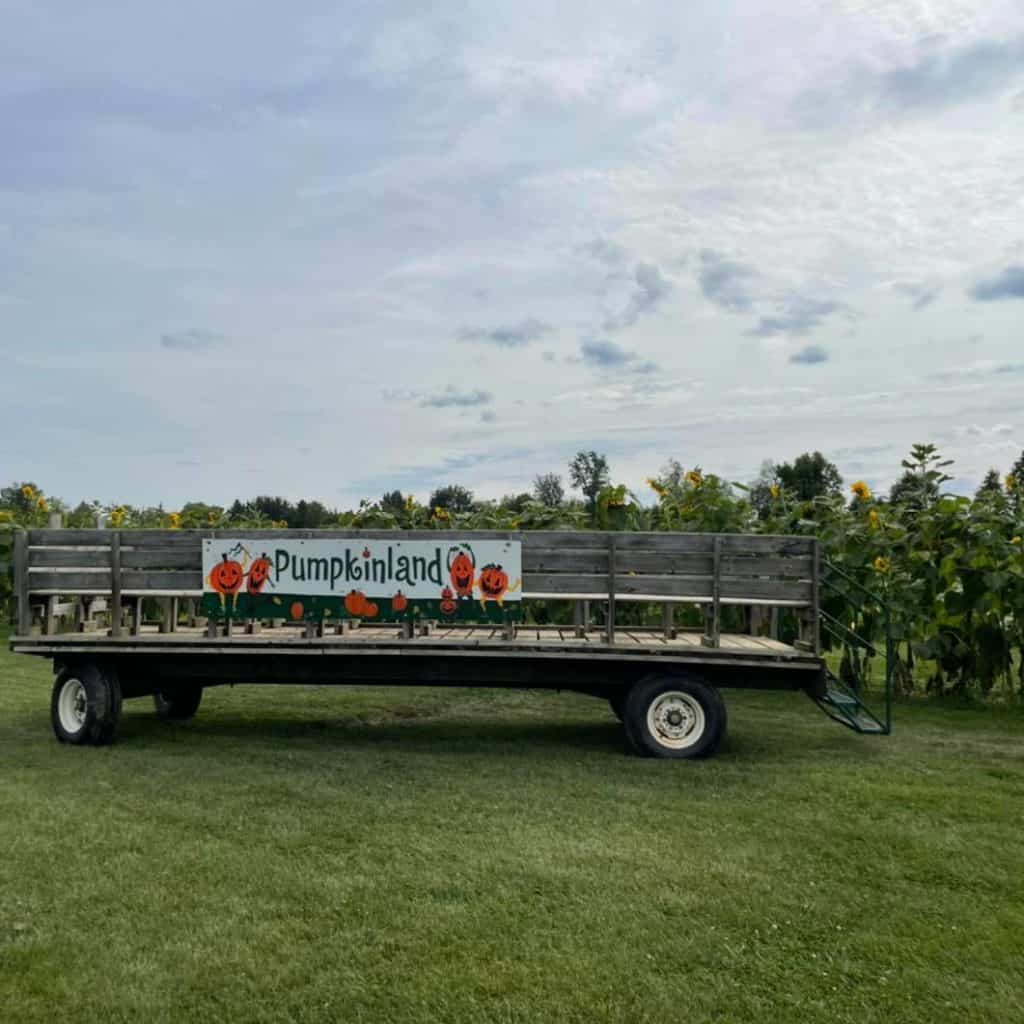 Soup to Go
573 Parkside Drive Waterdown, Ontario L8B 0G7 – Soup to Go also offer FREE entry into their Pumpkin Patch and no registration needed and offer a huge selection of both u-pick and ready picked pumpkins. Open Thursdays – Mondays (weather permitting). 9-4 (closed tues/wed). The Farmyard Experience includes games, corn maze, fire pits, sunflower lookout, pedal-karts, farm animals, swings, jumping straw, gigantic sandboxes, dirt mountain with slide, monkey bars, and more!
🎟️ Cost: Farmyard Experience (includes hst): $8.50pp for a 2 hour experience (timed wristbands in effect), Pumpkin Patch is FREE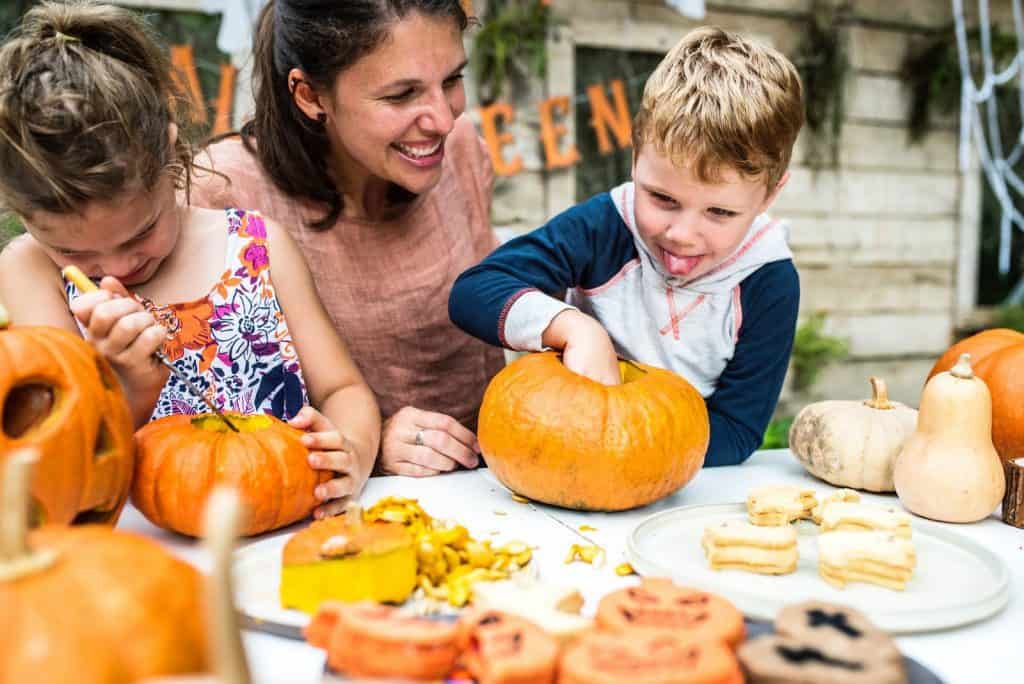 What's your favourite place to go Pumpkin Picking? Know if a secret gem we should know about? Let us Know!