The cool weather has begun, the kids are back to school and the leaves have started changing colors… we all know that means that fall is upon us. Now around Peel Region and Halton Region you can find many ways and places to celebrate Thanksgiving and Halloween. Come outside and enjoy the fall activities in Brampton, Mississauga and Halton that your family can enjoy! Don't forget to checkout Fall Fun for Under One and Halloween Ideas for Babies. Checkout our Full Calendar.
Fall Activities in Brampton, Mississauga, Georgetown and Caledon to Celebrate Thanksgiving
Apple Picking
Fall means back to school, sweater weather, changing of the leaves and APPLES! Apple picking is a fun outdoor activity that the whole family can enjoy. Heading out to pick your own apples is an annual fall tradition for many families. There are many great Apple Farms and farm markets in Brampton and Mississauga where you can pick your own apples, or pick up fresh baked goodies that are just too good to pass up. Apple picking doesn't requiring driving long distances as we have many orchards close to home, and no special equipment needed. Checkout our Guides to Apple Picking: Apple Picking in Brampton, Mississauga, and Caledon or Apple Picking in Milton and Halton Hills. Apple orchards also make the perfect spot for some awesome fall photos with the kids.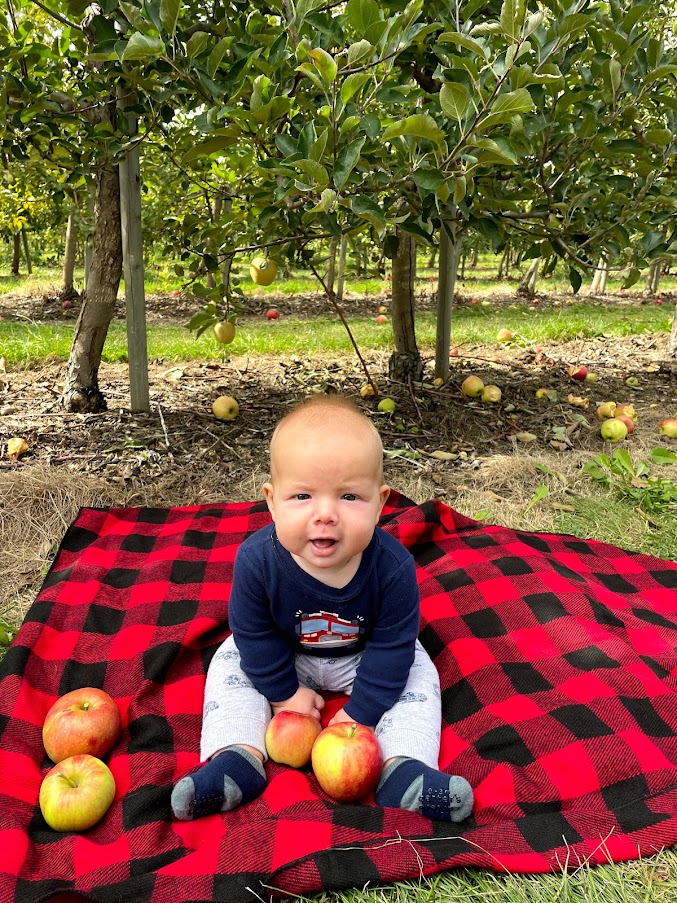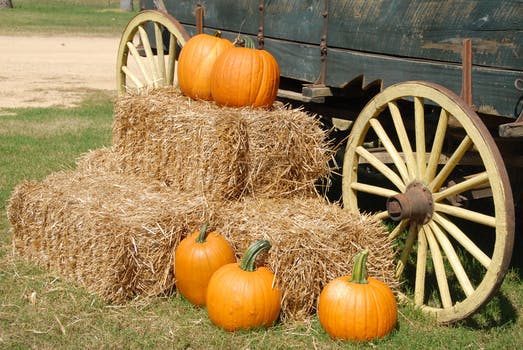 Pumpkin Picking:
Whether you go out trick or treating or not, pumpkins are the most common fall decoration for front porches for Thanksgiving and Halloween. Pumpkign Picking is a great family activity, and you can even come home and do some pumpkin decorating as a family. The following locations are local pumpkin patches that are close to Mississauga and Brampton, so they are only a short drive away. A pumpkin patch definitely has a more festive atmosphere when you are gettign ready for Halloween. Checkout our Guide to finding the Best Pumpkin Patch in the Greater Toronto Area.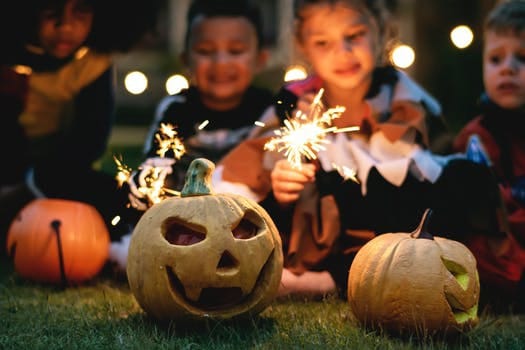 Halloween Activities in Brampton, Mississauga and Caledon
Halloween Movie Night In
Have a Movie Night In and Check out our Family Halloween Movies Guide – There is nothing better on a cool Fall night to curl up under a blanket and enjoy one of the Best Family Halloween Movies from the comfort of your own home. We have created the ultimate list of Halloween movies available in Canada, because no one wants to be disappointed to find out that it is only available south of the boarder. Nope here you will find the Halloween Movies For Kids available on Netflix Canada, Amazon Prime Canada and Disney+ Canada!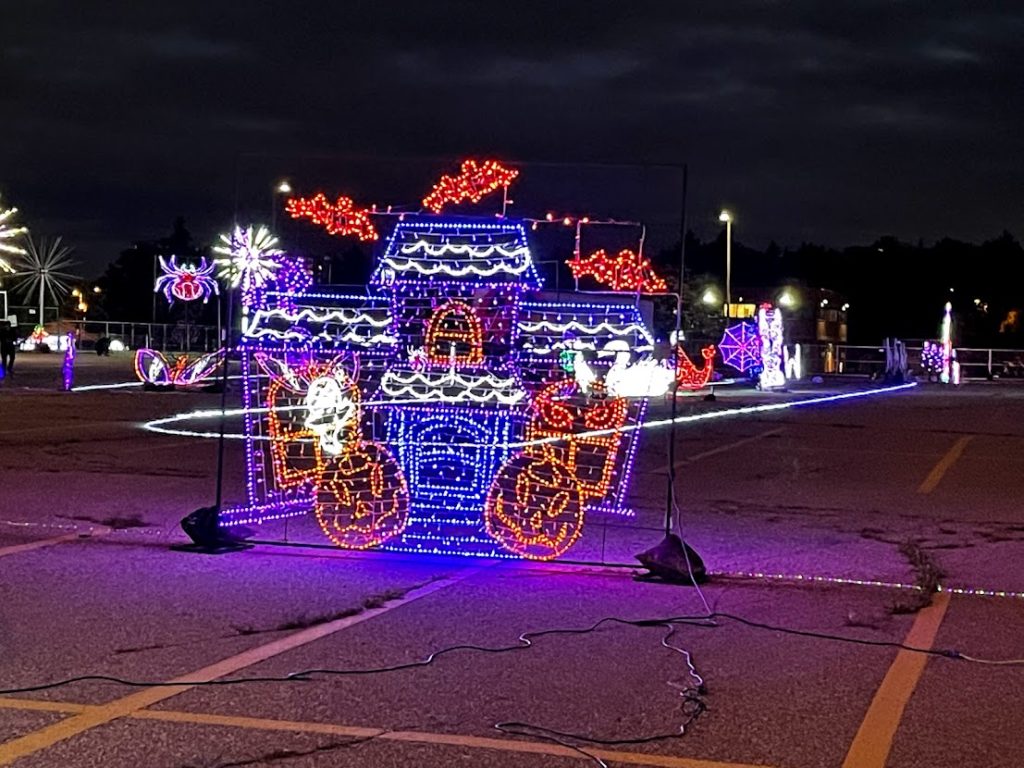 Halloween Drive Thru Events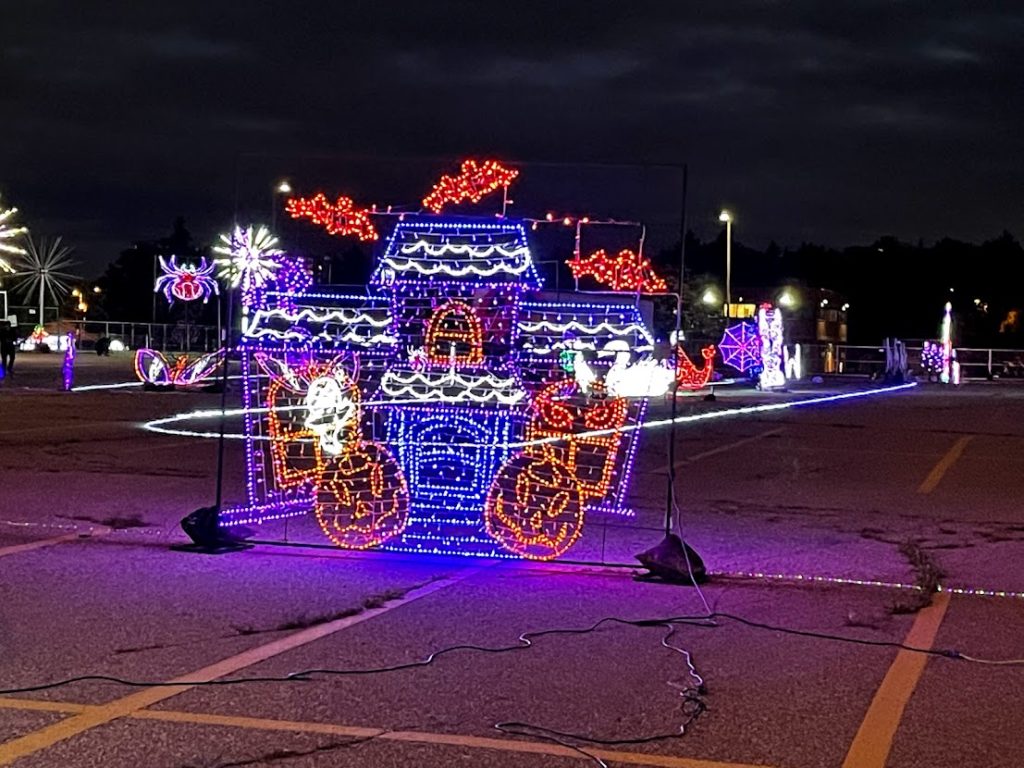 As the weather changes and gets cooler, parents are looking for different ways to keep the kids entertained, you should consider checking out a Drive Thru Holiday Light Show that is sure to keep the kids excited about the holidays. These amazing light shows have created fun holiday activities that allow you to socially distance and keep each other safe. Checkout our Full list of Holiday Drive Thru Events!
Halloween Pottery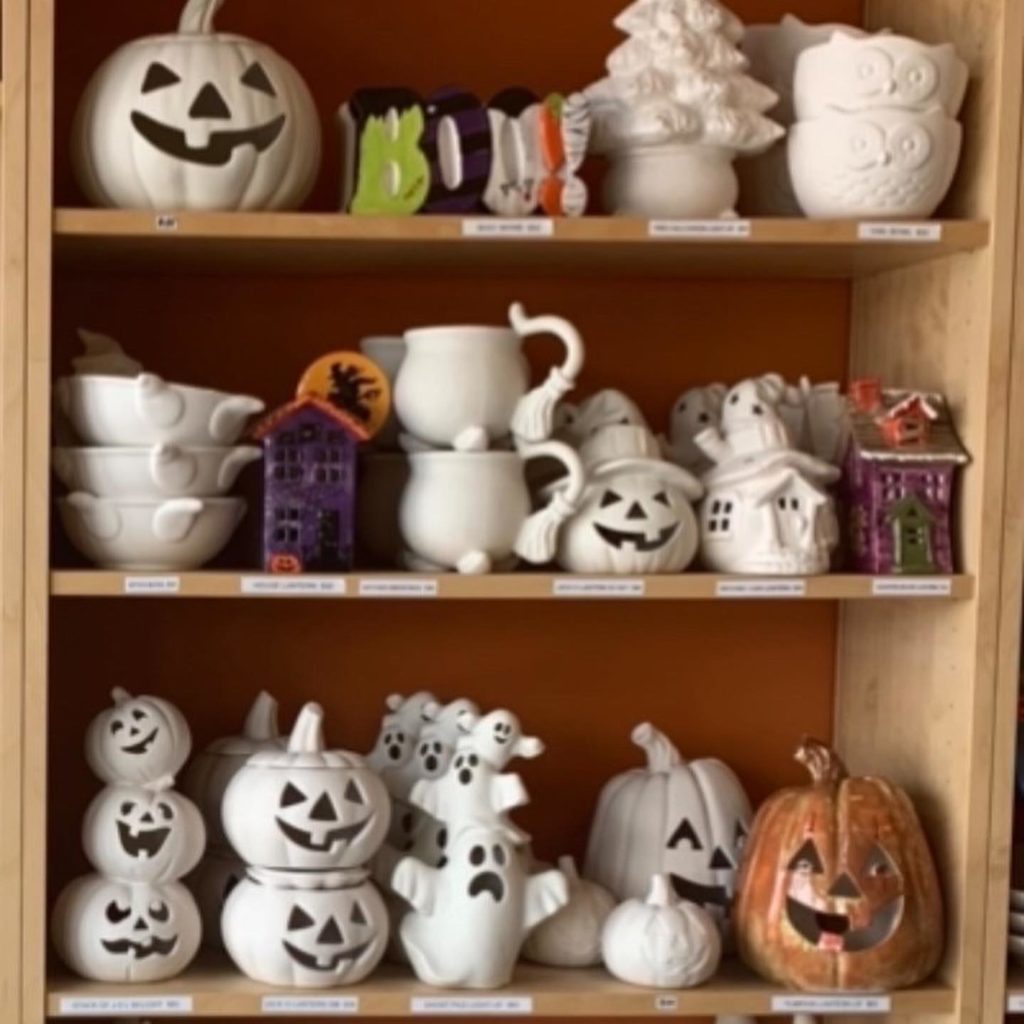 Love Hallowe'en? So do we!
Check out our New Halloween Pieces and other Fall Favourites…
Enjoy some At-Home painting fun or plan a little get together with the ghouls. It's never too early to Get your Spook on!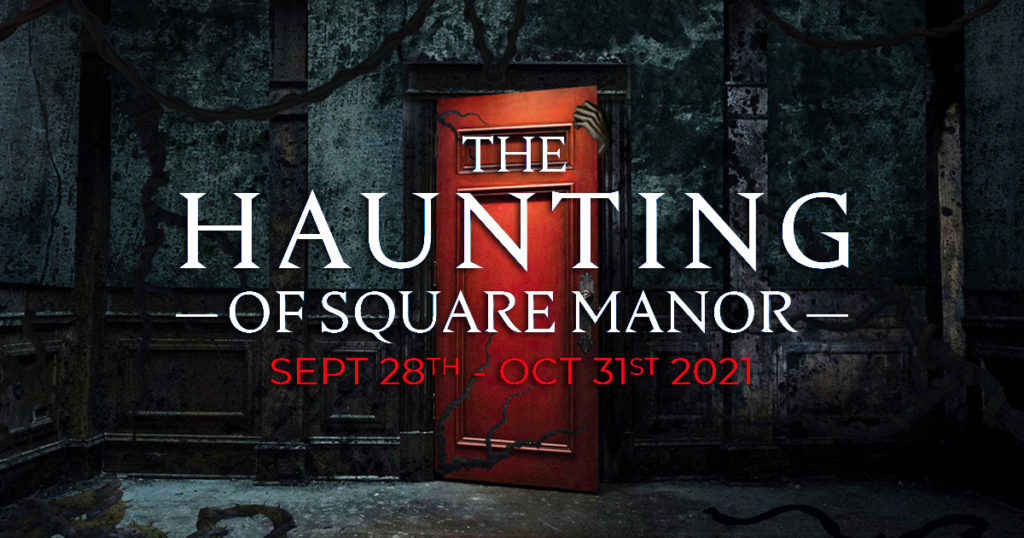 Haunted House – The Haunting of Square Manor on 28 Sep 2021 – 31 Oct 2021 1:00 pm – 9:00 pm at Square One. The Kids Show runs from 4-6PM
The Haunting Of Square Manor is presented by Jestr Events. We invite you to journey through our immersive Halloween adventure. Meet our horrifying characters from our Undying Zombies to our Creepy Clowns, you don't know what to expect right around the corner. We invite you to journey through our series of magnificent Halloween set ups. See our horrifying sets while keeping 6 ft apart! From our Graveyard to our Cabin, you don't know what to expect right around the corner.
This all-new walk-through experience brings your wildest nightmares to life! Travel through the horrific Square Manor house and expect tons of scares along the way. Expect all kinds of creatures from zombies to ghouls and even a cabin in the woods!
To keep guests and staff safe, it is a touch-free and socially distanced experience. Guests are required to wear masks at all times and sanitize before entering the event. We're excited to invite you and your loved ones to the terrifying journey through Square Manor!
The Haunting will take place at the Parking Lot 5 Level C at Square One Shopping Centre. (Near the old theatre by Entrance 4/Holt Renfrew). We invite you to enjoy our safe, scary & socially distanced experience!

Halloween Scavenger Hunt

We are happy to announce that the Spooktacular Scavenger Hunt is back for 2021! Participants will be able to download a map and hunt for spooky decals hidden throughout the Village. Submit your completed map for your chance to win 1 of 50 Halloween treat baskets!
Keep your eye on our website for more spooky details to come!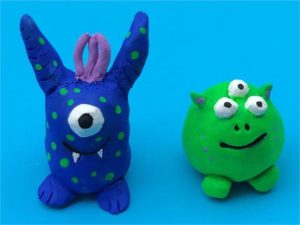 Monster Making Kits from PAMA –
Explore art, culture and history from home with easy, fun-filled activities. Sculpt and paint your own mini monsters to get in the Halloween spirit! Register for a kit that includes instructions, interesting facts from the PAMA collection and all the materials you need to create a Halloween-inspired project.
This kit includes:
PAMA is currently closed to visitors. The front desk will be available for kit pick-ups only. Kits can be picked up at the PAMA Art Gallery Access Peel Desk located at 9 Wellington St. E, between 9:00 a.m. and 4:15 p.m. Monday – Friday (weekdays) from October 12 to 29.
Recommended for ages 6+.
Quantities are limited, so reserve your kit now! Kit sales close on October 29. Public: $6.00, Member: $5.00. 1 kit per registration. Click here to register.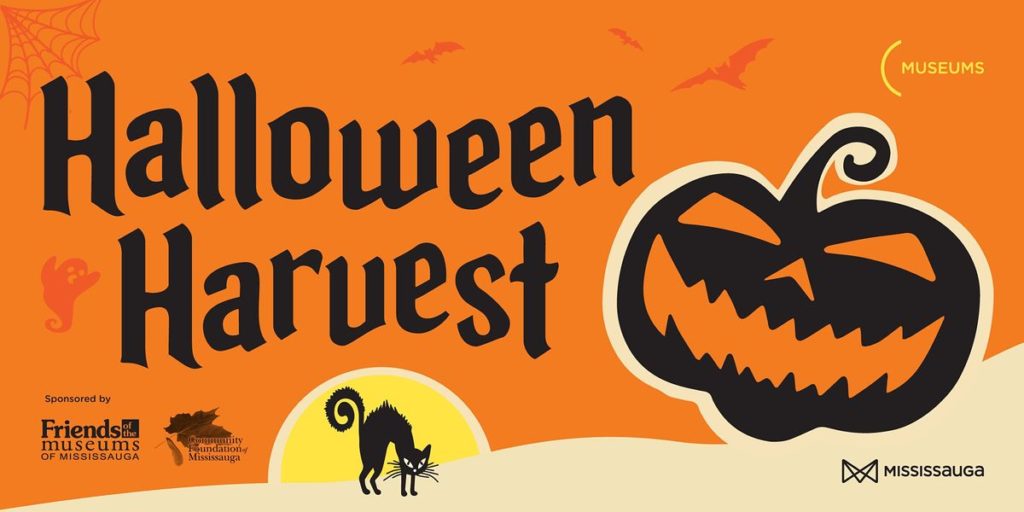 Happy Halloween Decorations on October 16, 2021 – 10:00am to 12:00 pm & 2:00pm to 4:00pm at Benares Historic House
Workshop fee – $14
Once upon a time Halloween decorations were all hand-made! Join us as we take a page from the past and make three handmade Halloween decorations adapted for each age group; a pumpkin lantern, Halloween garland and Halloween cracker inspired by a 1900's Halloween and enjoy some Halloween games from the past.
Register Here to Join in the Fun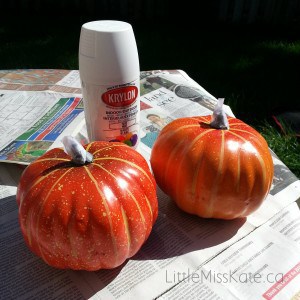 Spooky Halloween Decorations on October 23, 2021 – 10:00am to 12:00 pm & 2:00pm to 4:00pm at Benares Historic House
Workshop fee – $14
Halloween has its origins as a harvest festival. Join us as we use some harvest items to craft some spooky and spine-chilling Halloween decorations adapted for each age group; including a pinecone spider, leaf monster garland and acorn monsters eyes and enjoy some Halloween games from the past.
Register Here to Join in the Fun
Halloween Harvest on October 30, 2021 & October 31, 2021 – 12:00pm to 4:00pm at Bradley Museum
Halloween is a holiday based on ancient harvest customs but did you know its most familiar traditions like trick- or-treating were created in the last hundred years? Put on your costume and join us at Bradley Museum where you'll participate in old fashioned Halloween and harvest traditions.
Groups will travel around the site visiting activity stations where you'll enjoy heritage demonstrations, physically distanced games and warm apple cider. Bring a non-perishable food donation for the food bank!
Parking for the event is available on Orr Rd. Accessible parking is available on site.
Halloween Hunt GooseChase on October 1, 2021 to November 1, 2021 at Bradley Museum
Search the Bradley Museum site for halloween tricks and treats to learn about how Halloween traditions came to be. All participants will be entered into a draw to win a $100 Visa pre-paid Card!
Play on GooseChase Game Code: LKM6PL or download the Halloween Hunt Clue Sheet.
Click here to review complete rules and regulations.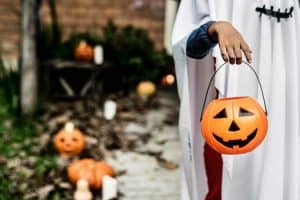 Park Your Pumpkin on November 1, 2021 – 6:00pm to 8:00pm at Bradley Museum Free Admission
Drop your pumpkin off for a last hurrah! Wander our pumpkin lit path while enjoying spooky music. Complete a scavenger hunt and get a special prize.
Halloween Activities in Georgetown and Milton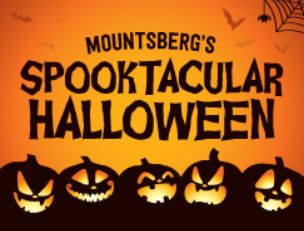 Mountsberg Evening Halloween Spooktacular from October 8th – 31st 4:30 pm – 8:00 pm at Mountsberg Conservation Area (Reservation Required)
Come dressed in your halloween costumers and navigate a spooky, light Night Walk thru the forest, while the experience is family friendly and has no "jump scares" it is recommended for 5 and up due to the dark areas. Register to enjoy a ghostly wagon ride through the deep dark forest (extra fee), checkout the haunted barn, and special apperances by the Mountsberg snakes and owls, enjoy a bonfire, visit the farm animal barn yard and natural playground. Don't forget to complete the scavengar hunt for a tasty treat.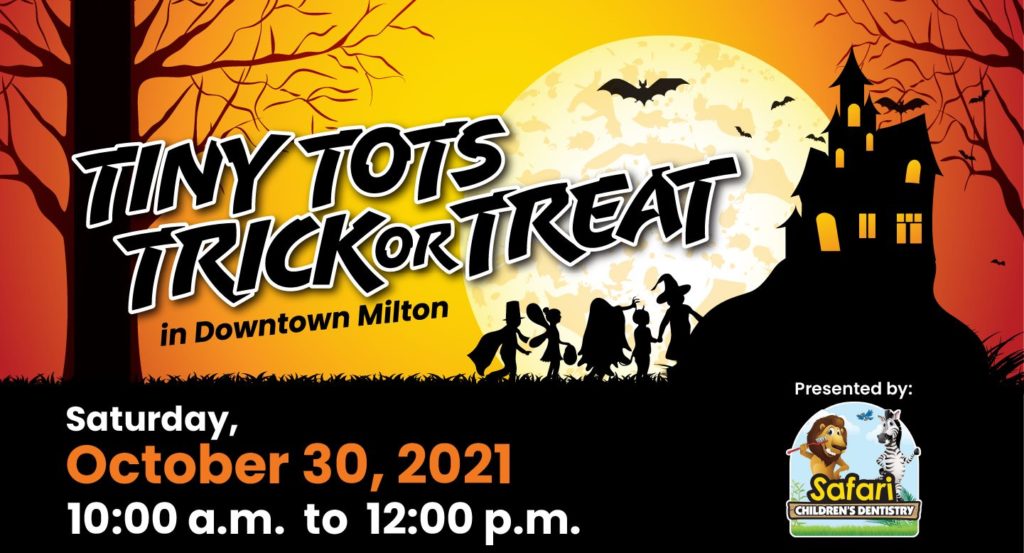 Tiny Tots Trick or Treat in Downtown Milton, presented by Safari Children's Dentistry, is happening on Saturday, October 30 from 10:00 a.m. until 12:00 p.m. Kids and families are invited to dress up in their costumes, collect goodies and participate in fun activities downtown. Main Street will be closed between James St. and Martin St. to accommodate participants. This event will be outdoors, and public health rules related to social distancing and mask wearing will be in effect.
Articles that may be of interest:
Thanksgiving Ideas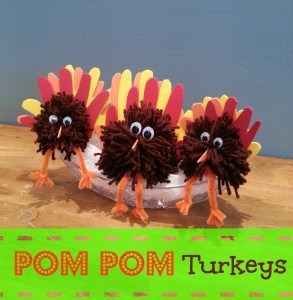 Halloween Costumes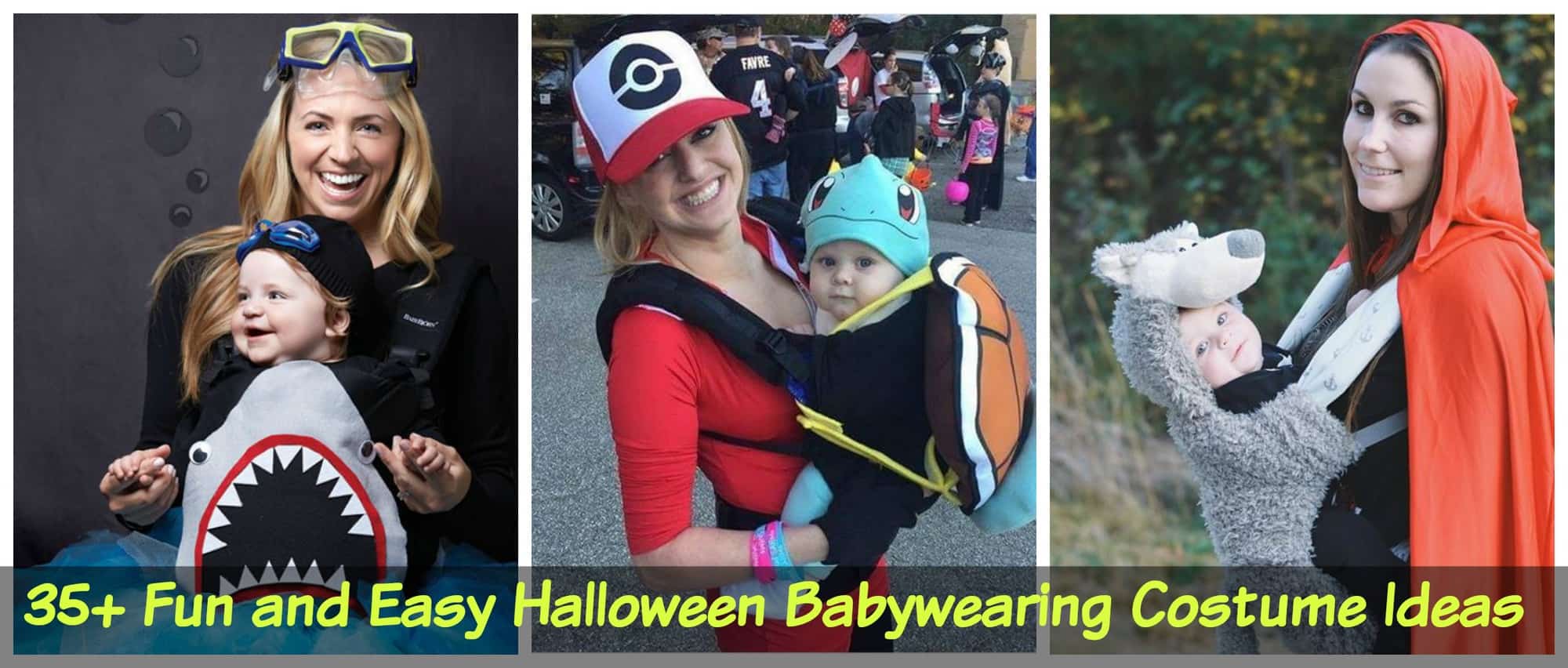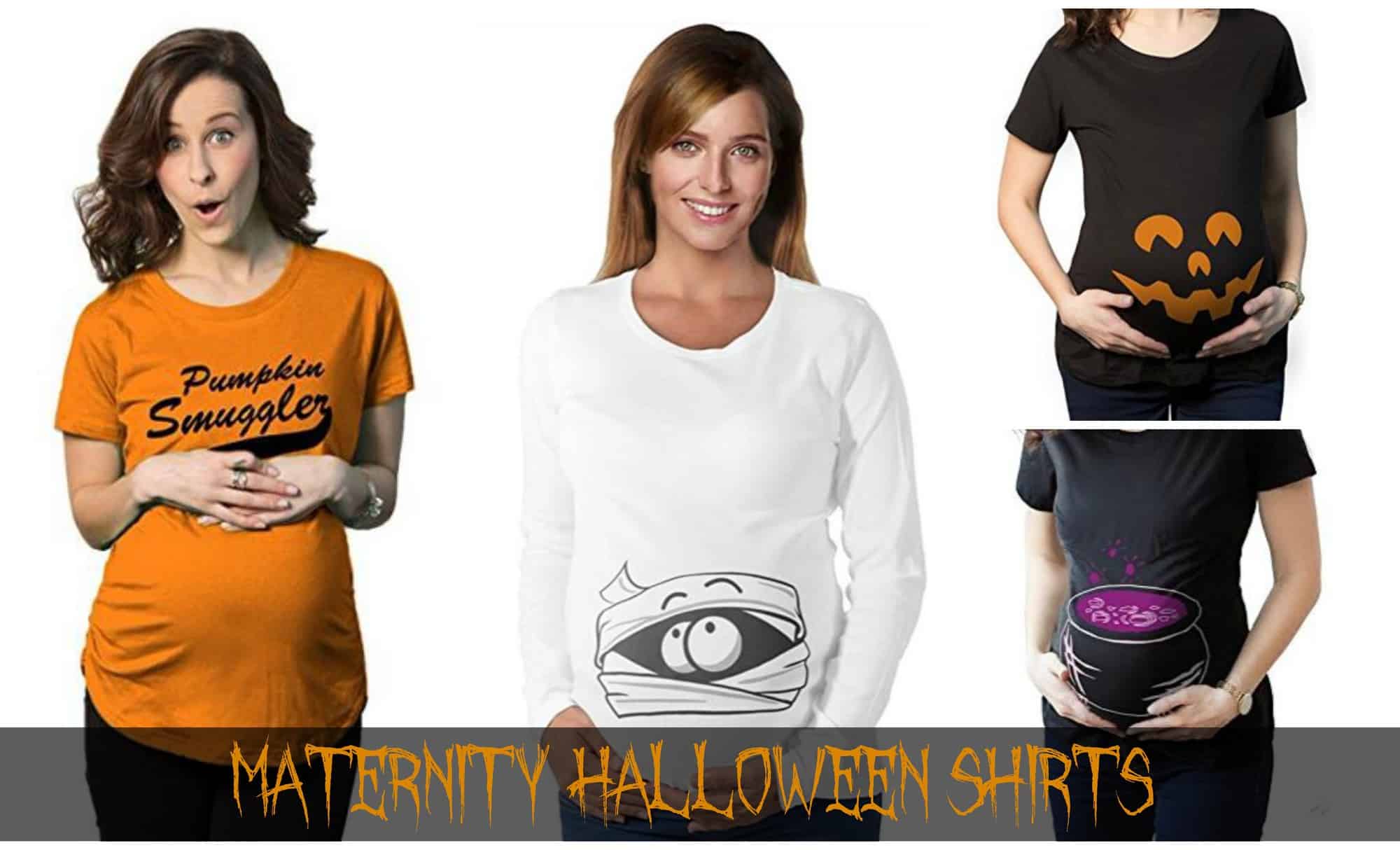 Halloween Recipes/Decorations/Games
Make sure you don't miss any of the best Events, Activities and Places in the Peel Region by joining Peel Parents Resource on Facebook!
Can you help make this article better?
If you have noticed an error, have additional information or would like to share a comment you can:
E-mail us at info@thexploringfamily.com
Find us on Facebook: The Exploring Family
Find us on Instagram: @The.Exploring.Family