The year 2022 was all about rethinking how we are going to entertain the kids while Pandemic restrictions still exist and this is why I have chosen to focus on local tourism and create a guide to The Best Farms and Petting Zoos in the Greater Toronto Area. We are so lucky in Ontario, that we have a variety of activities and attractions right in our own backyard that we often take for granted and don't visit so I am declaring 2023 as the Year to Discover Ontario for all the beauty it has to offer to families.
Pigs, Chickens and Ponies are just some of the animals you will find in Petting Zoos located across the Greater Toronto Area. The GTA offers many different unique places to view animals including farms, petting zoos, wildlife centres, and zoos. While the Toronto Zoo is one of our favourite daytrips from Mississauga and Brampton area, I wanted to share some of the unique places you can visit animals.
The Best Petting Zoos and Farms to Visit in the Greater Toronto Area
Farms and Petting Zoos are opening up and provide a perfect opportunity to visit a farm with the kids and allow them to explore the outdoors and learn more about agriculture in Ontario. Farms offer a variety of activities including pick your own fruit picking, mazes, feeding farm animals, natural playgrounds, tractor rides and much more that allow you are your family to truly explore and enjoy the "Good things that grow in Ontario".
The best part of visiting local farms and petting zoos is that there is entertainment for those young and old and the fresh country air guarantees a good sleep after a day exploring. This list gives a great variety of places where kids can meet animals other than the traditional Toronto Zoo.
Start building memories as you visit these family friendly farms located in the Greater Toronto Area, taking a break from city life to enjoy farm life including agriculture, animals and farm fresh foods with your kids.
The Best Animal Farms to Visit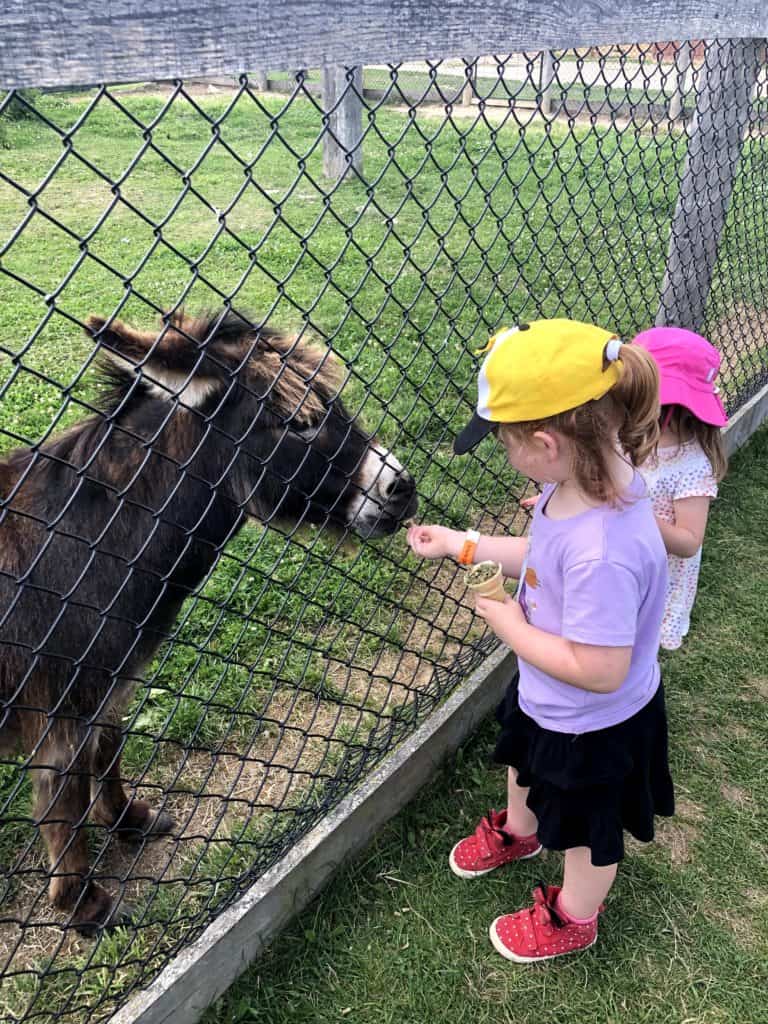 Things to do: Enjoy a day exploring Downey's farm as there is lots to do including: fruit picking, farm yard play area (including slides, bouncy castle, zipline, trike track, playground, corn sensory bin and much more. Checkout our review of Downey's Farm. Don't forget to stop by the Farm Market and take home a sweet bakery treat (pumpkin donuts) are my favourite, or fresh fruits and veggies.
Don't forget to visit in the fall for Apple Picking, check out our full guide on the Best Places to go Apple Picking or The Best Places to go Strawberry Picking.
Trip Planning:
Located at 13682 HEART LAKE RD CALEDON, ON L7C 2J5, (905) 838-2990
Hours: Open daily, 9am-5pm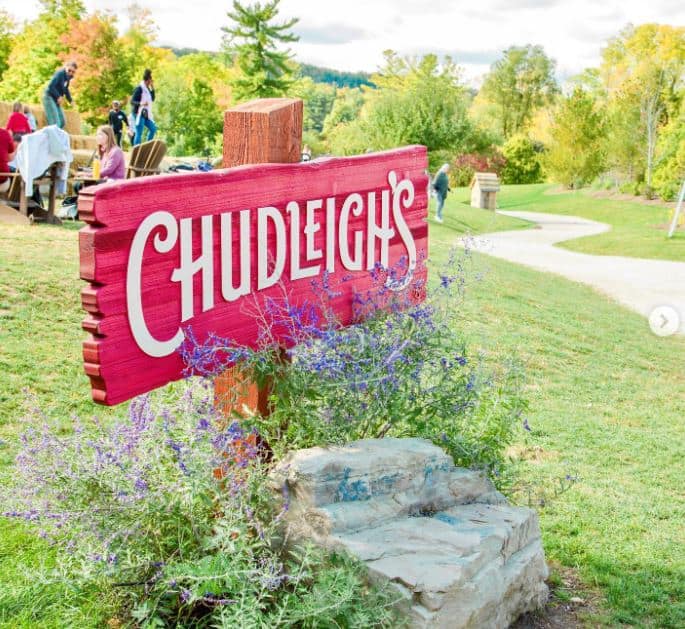 Things to do: You can plan a memorable day at Chudleigh's farm with this kids and enjoy a variety of activities including: the natural play area that includes four huge slides, a tower and hay bale jumps, a farm animal area, a scenic tractor ride, and a natural trail just waiting to be explored.
Don't forget to visit in the fall for Apple Picking, check out our full guide on the Best Places to go Apple Picking in Halton or Our Guide to the Best Farms in Milton.
Trip Planning:
Located at 9528 Hwy 25, Halton Hills. Phone: (905) 878-9547
Hours: Open daily, July – October
3. Andrew Scenic Areas

Things to do: Enjoy a day at the farm by exploring the walking trails, wagon-rides, playground, animal corral, straw mountain climb, miniature straw maze, corn walk and great photo opportunities year-round. Don't forget to bring home a pie from the Andrew Scenic Acres Farm Store! Throughout the season you are able to harvest your own strawberries, blueberries, raspberries, flowers, pumpkins and apples. 
Trip Planning:
Located at 9365 10 Side Road Milton, ON (905) 878-5807
Hours: Weekdays 10-5pm, Weekends 10-6pm, Opening May 15th
4. Bronte Creek
Things to do: Spend a day outdoors and enjoy five great hiking trails that showcase the natural beauty of Bronte Creek, view a historic Spruce Lane Farmhouse, and spend some time feeding animals at the Children's farm area.
The historic barn is over 150 years old and has been transformed into an awesome children's playground offering areas to jump, climb, explore and have fun. The Nature centre offers kids the opportunity to view live species and insects and learn more about their habitats in Bronte Creek.
Trip Planning:
Located 1219 Burloak Drive Oakville, Ontario L6M 4J7
Hours: 8-6pm, Open Year Round
5. Far Enough Farm
Things to do: This unique petting zoo is free to visit and is located on Toronto Island and is part of Centre Island Amusement Park. This unique petting farm is located just minutes from Toronto's bustling downtown core and provides  visitors the opportunity to interact up close and with over 40 different species of farmyard animals and exotic birds. Farmers are also available to answer questions that the kids may have. You can even find out the animals names ahead of time and learn about all the Animals you will see at Far Enough Farm. 
Trip Planning:
Located at 9 Queens Quay W, Toronto, ON M5J 2H3 – Opening May 7th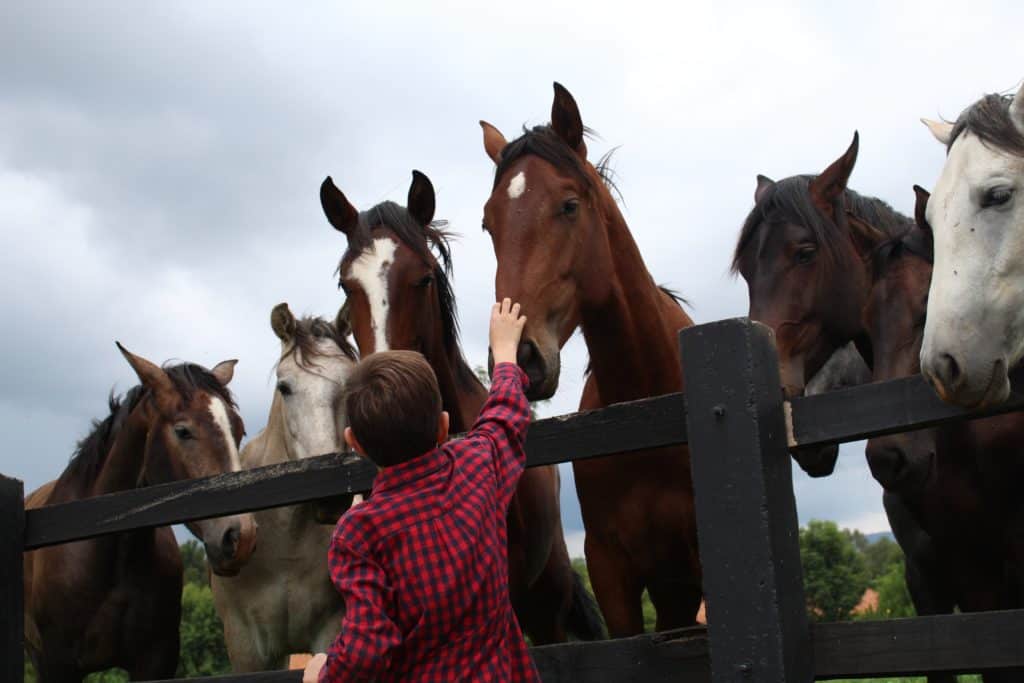 6. Happily Ever Esther – Campbellville

Things to do: Happily Ever Esther Farm Sanctuary is dedicated to rescuing abused, neglected, and abandoned farmed animals by providing a  safe, life-long home for all of the animals. You must be pre-registered on a tour to visit the farm. You will see pigs, cows, goats, horses, donkey, sheep and rabbits.
Trip Planning:
Located: 162-70, Halton Regional Rd 1, Milton, ON
Hours: Select Days for Public
7. Mountsberg
Things to do: At Mountsberg, horses, donkeys, sheep, and goats can be seen in their outside enclosures, weather permitting, until approximately 3pm each day. Visit the Raptor Centre and see many feathered friends like Octavius the Great Horned Owl and Pip the American Kestrel.
The Raptor Centre trail is open and guests can view birds in their outdoor enclosures. Stop by for the Farmers and Friends Talk and greet some of Mountsberg's barnyard friends! Join barn staff to learn about what the animals eat and how we care for them (additional fee).
Stay for the Talons and Tailfeathers presentation and Meet Mountsberg's feathered residents up close. Join staff in the Flyway to learn about the special features of raptors, what they eat, and how we care for them (additional fee). Get up close with slithery creatures in the Slither and Crawl Presentation (additonal fee). For more information about Mountsberg Animal Presentations. Mountsberg also has multiple walking trails that you and your family can enjoy.
Trip Planning:
Located: 2259 Milburough Line Campbellville, ON L0P 1B0
Hours: 9:00 am – 8:00 pm
May – October
8. Dog Tales
Things to do: Dog Tales is a world-renowned dog rescue and horse sanctuary set on an incredible 50 acres of green fields, rolling hills, and wooded areas.
Trip Planning:
Located: 1405 19th Sideroad, King City, Ontario
Hours: Check Website for Open House Dates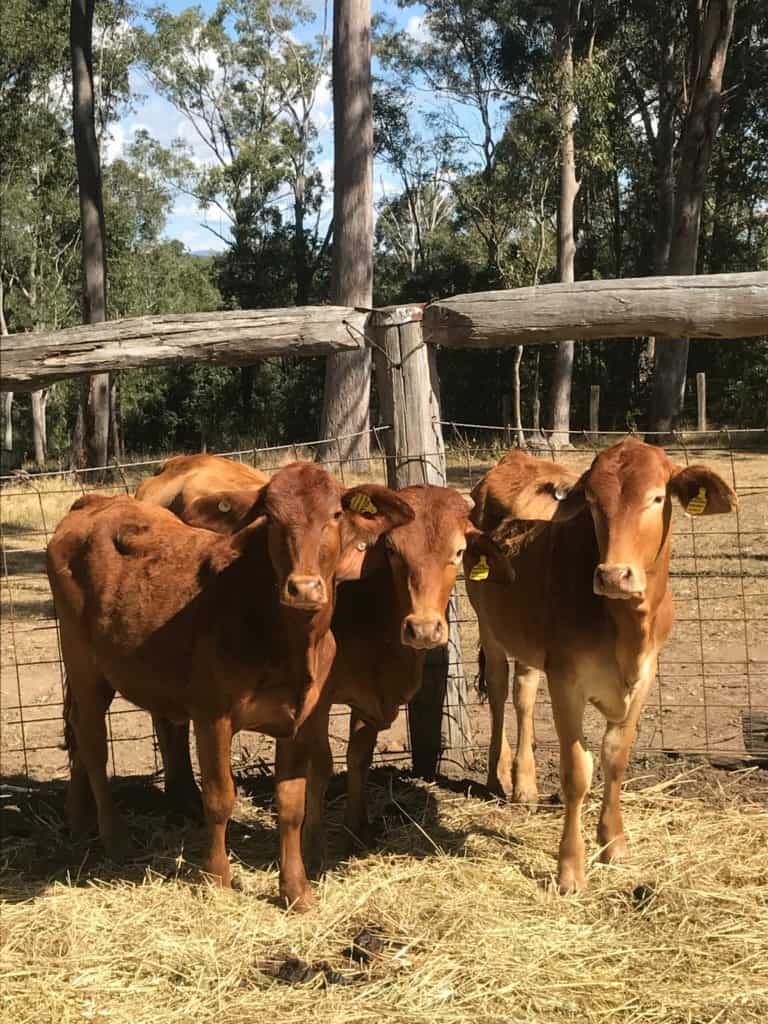 8. Riverdale Farm
Things to do: Riverdale farm is a working farming located on 7.5 acres running year round. Visiting the farm wil allow you to experience farm life, visit the livestock (cows, pigs, sheep, goats and chickens) and experience the year-round handwork and craft programs in The Meeting House.
Don't forget to visit the gardens that features flower, vegetables and herbs, surrounded by wooded areas and ponds. Riverdale Park West is adjacent to the Farm, and is a lovely picnic spot in the summer, with plenty of shade and a wading pool. There are over 3km of trails to explore, and daily farm demonstrations, where the farmer presents a different animal to visitors in the Lower Francey Barn.
Trip Planning:
Located at 201 Winchester St, Toronto, ON M4X 1B8
Hours: 9-5pm
9.Donkey Sanctuary
Things to do: At the Donkey Sanctuary you can visit donkeys up close in the paddocks, visit the barnyard donkeys or checkout the mules. Plan you visit for 11am or 1pm to learn all about the history of the Sanctuary and about our animals during our Donkey Talks.
Please note the important changes to the Open Day format this summer. There are two slots available each day. Space is limited to 200 people per slot. Tickets are only available to be purchased online on Eventbrite, and there will be no tickets available for purchase at the Sanctuary.

Trip Planning:
Located: 6981 CONC. 4, PUSLINCH ON N0B2J0
Hours: Open Days are Mondays and Fridays.
Please note that ticket sales for open days will be available starting Friday April 7, 2023. 
Things to do: At High Park Zoo you can visit sheep, bison, capybara, emu, llama, mouflon sheep, peacocks, reindeer, cattle and yaks! High Park Zoo is FREE to the public, although donations are appreciated. Donation boxes are located throughout the Zoo.
There is a one-way loop in place and you can only enter via the north gate (near the Grenadier Restaurant).
Trip Planning:
Located: High Park Zoo is located on Deer Pen Road within High Park in Toronto, Ontario, Canada. High Park is located at 1873 Bloor St W, Toronto, ON M6R 2Z3.
Hours: Open every day from 7:00 am to dusk.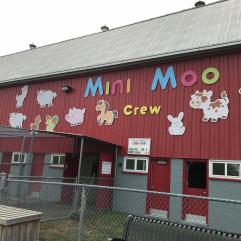 Things to do: Visit the Chinguacousy Park Mini Moo Farm, which is home to goats, sheep, ponies, donkeys, peafowl, rabbits and pigs. Pony rides, and petting zoo are great summer activities and are available normally for a small cost. Checkout our full guide to a Daytrip at Chinguacousy Park.
Trip Planning:
Located at 9050 Bramalea Rd, Brampton, ON L6S 6G7
12. Ovino Farm
Things to do: Ovino farm is offering free farm tours of the largest dairy sheep farm in Canada. Visit the barn, learn about sheep, pet the lambs and sample some sheep milk. No reservations needed. 
Trip Planning:
Located at 7323 25 Side Rd, Acton, ON L7J 2M1
Hours: Saturday and Sunday 9am-12pm

13. Triple C Farm
Things to do: Triple C farm offers a petting farm, goat yoga, yoga with alpacas, alpaca walks, horseback rides and much more! Visits to the petting farm are by appointment only – walk-ins will not be accepted. Each visit is 60 minutes long. 
To secure your booking, a $15 (plus HST) non-refundable booking fee is required.
This is a separate booking fee, and is not included as part of the contribution for your farm visit, which is $5 per person.
Trip Planning:
Located at 500 Carluke Road West, Ancaster, Ontario L9G 3L1
Hours: Monday – Tuesday 9-5pm, Thursday – Sunday 9-5pm

What's your favourite place to visit animals other than the Zoo? Know of somewhere we missed but should include… let us know!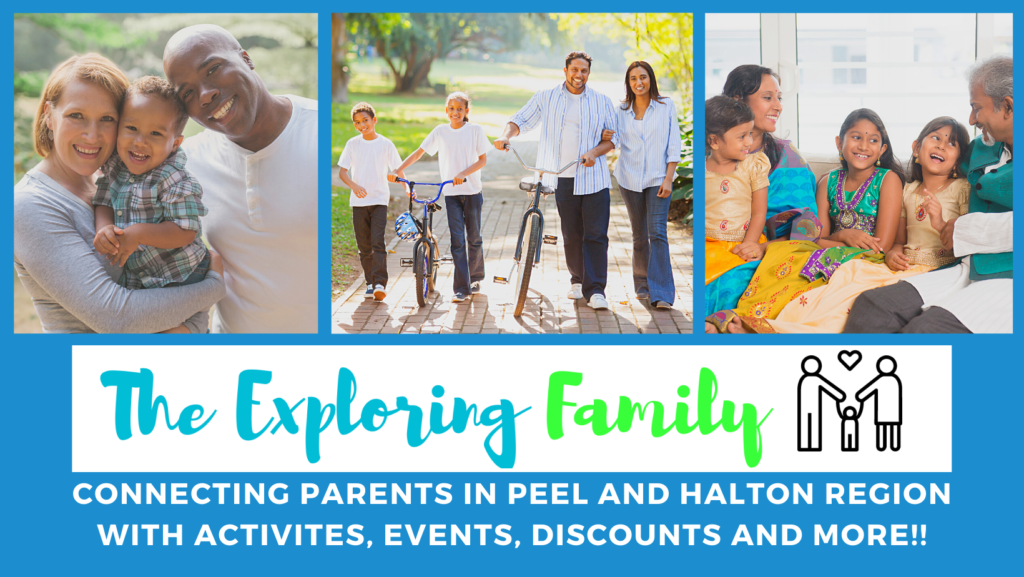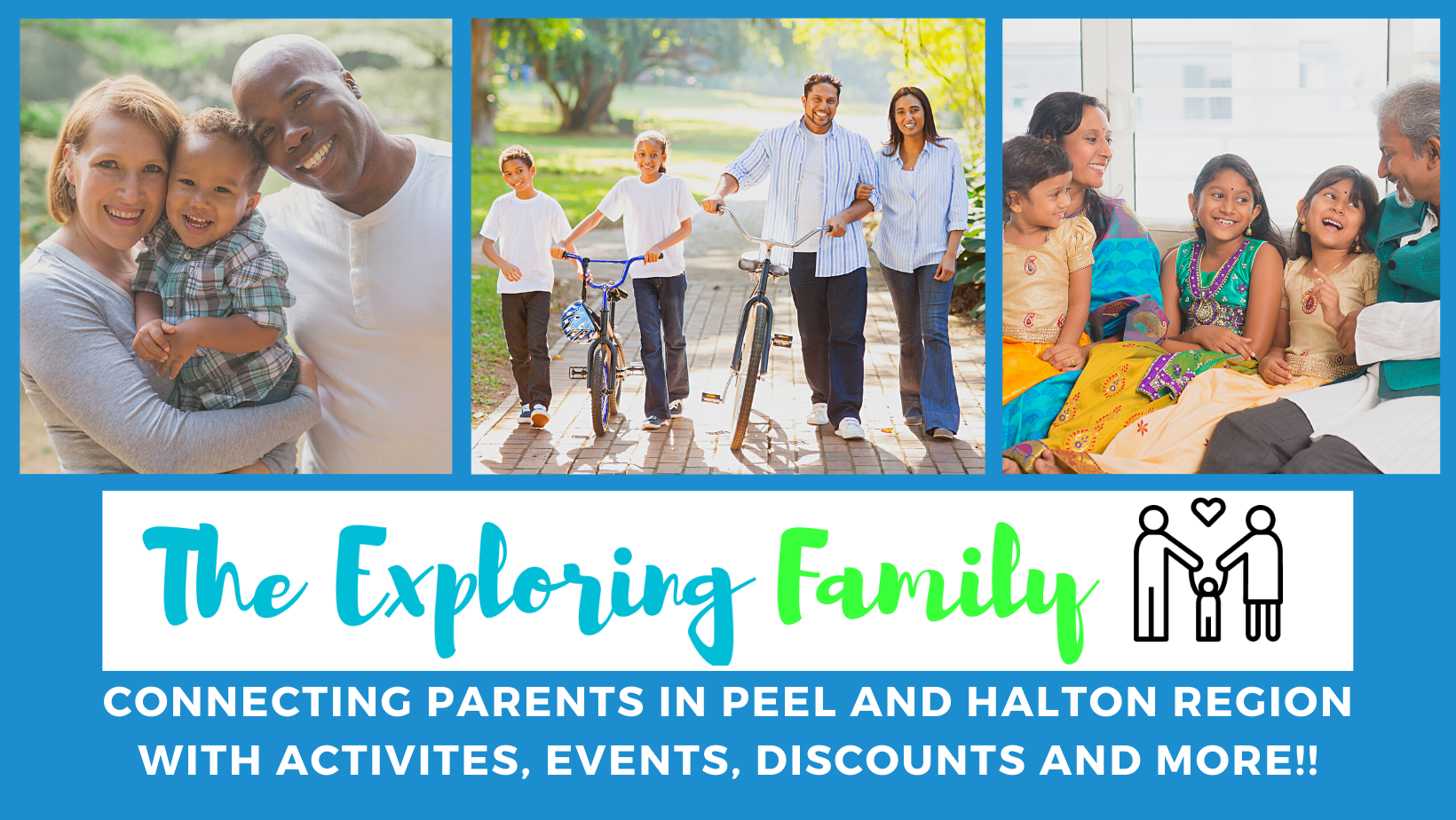 Can you help make this article better?
If you have noticed an error, have additional information or would like to share a comment you can:
E-mail us at info@thexploringfamily.com
Find us on Facebook: The Exploring Family
Find us on Instagram: @The.Exploring.Family