Ontario is a beautiful province to discover and explore with your kids. Ontario Provincial Parks are the Best Ontario Campgrounds for Families to camp for so many reasons. Now in Ontario we are lucky to have over 340 Provincial parks, each offering different things and geared to different interests.
Finding the perfect Ontario Park for a family camping trip takes a little bit of research so we have created a list of parks that have the best accommodations, and activities for families. The following are some of our favourite family friendly campgrounds that we have personally stayed at with young kids and why we like them.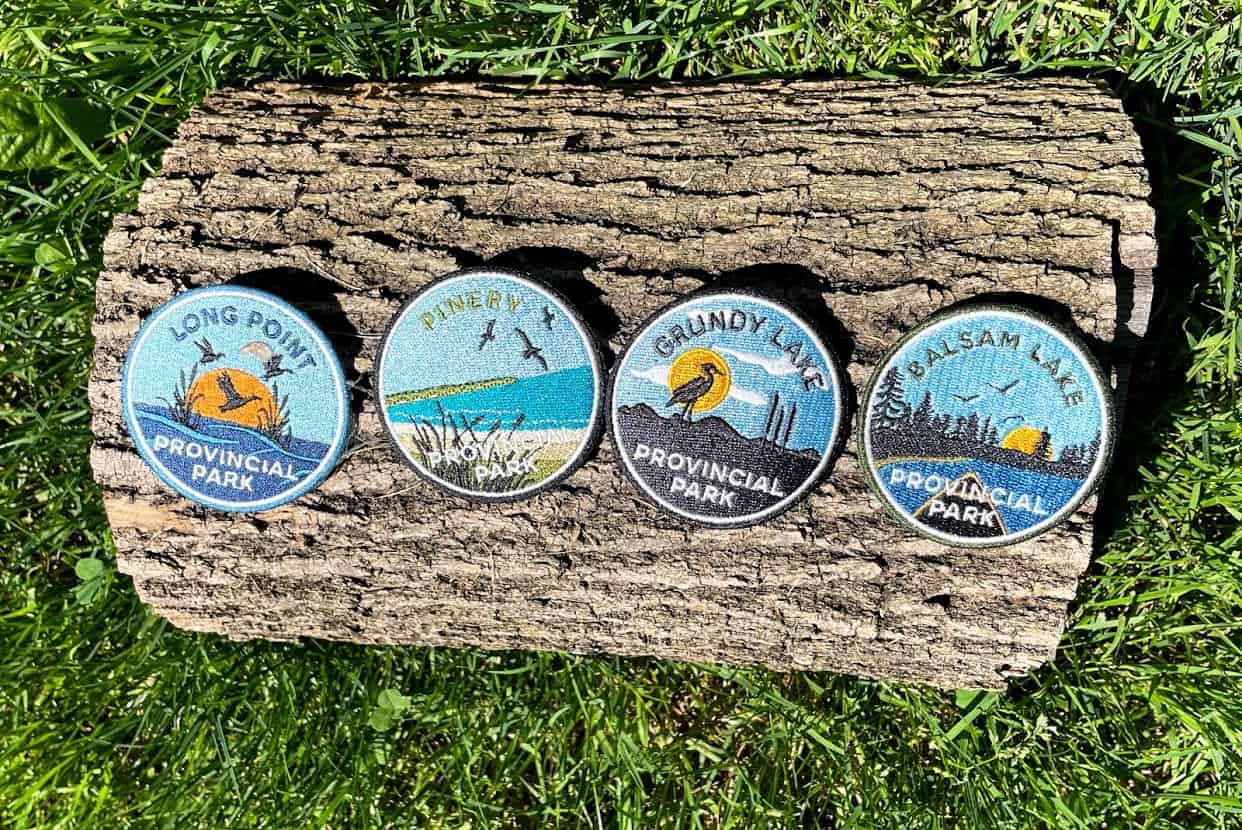 Day Use Reservations in Ontario Parks
Ontario Parks is expanding the Advanced Daily Vehicle Permit Service
Advance day use reservations will be available at 33 parks this summer. This service allows visitors to guarantee a day-use spot up to 5 days ahead of their trip. Permits can be obtained online using our reservation service.
Building on last year's offering at 17 provincial parks, visitors will be able to reserve day use permits at an additional 16 provincial parks starting on May 16 for arrivals on May 20.
Ontario Park visitors loved this service last year. Expanding it to additional parks now gives visitors even more opportunities to book a stress-free visit to a provincial park and spend more time in nature.
Advanced Daily Vehicle Permits are the only way to guarantee a spot at many of the most popular parks in the province, so Ontario Parks is recommending all visitors secure advance reservations for all day use visits at participating parks.
The Best Ontario Parks for Families
Silent Lake

Balsam Lake

Pinery Provincial Park

Grundy Lake Provincial Park

Long Point

Macgregor Point Provincial Park

Port Burwell
The Best Ontario Campgrounds for Families
The Best Ontario Campgrounds for Families can be booked up to 5 months in advance using the Provincial Park Registration System. Camping spaces, especially yurts and cabins book up very quickly so its important to book in advance to avoid missing out on your preferred date.
We always set an alarm in our phone for 5 months prior to when we want to camp, and normally start discussing dates in January. This doesn't mean you can't still book a camp site for this summer if you haven't booked yet it just may be more difficult. Can't find a site? Then take a daytrip to one of the Best Beaches in the GTA.
The best Ontario Campgrounds for families are ones that offer lots of activities to keep the kids busy such as biking, canoeing, kayaking, paddle boarding, playgrounds, a sandy beach, and easy hiking or interpretive trails. A campground should feel relaxing and an escape from the hustle and busy lifestyle at home.
I am sharing my recommendations for the best campgrounds for families who want to get away from the city and enjoy the outdoors. Ontario parks has many accommodation options including: camping in a tent, a Yurt or RV camping. It's up to your family and your comfort requirements.
The Best Campgrounds in Ontario for Families with Kids
Let's take a look at the best Provincial parks in Ontario that are perfect for families. The following are all provincial park campgrounds that I have personally stayed at and enjoyed with my family. My daughter is three so we have taken a couple trips, and we even collect a patch from each park.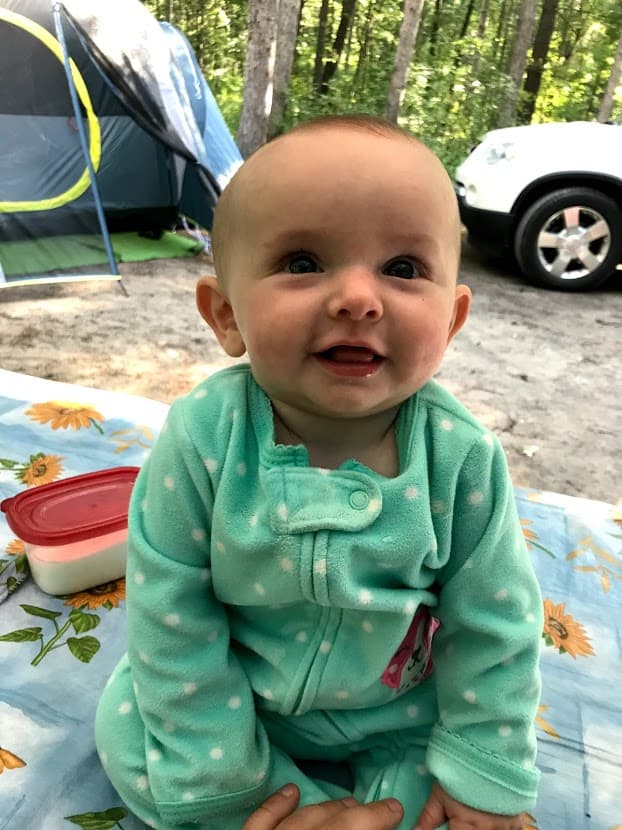 Pinery: Is a beautiful park with 10km of sandy beaches on Lake Huron, and is a great place to view lots of wildlife including over 300 species of birds which you can see while hiking one of their many trails. The Pinery Provincial park is located in Grand Bend, Ontario and is ranked by National Geographic as among the "Top 10 Best Sunsets in the World"! Pinery offers lots of outdoor activities as you can enjoy 10 nature trails, a 14 km bike trail.
You can rent a canoe, hydro bike, paddleboat, paddleboard or a single or double kayak to explore the Old Ausable Channel – a provincially significant wetland. I really enjoy renting water equipment at Pinery as the Old Aussable Channel is flat and has minimal ripples making it easy to navigate as well as a great spot for kids to learn things like paddle boarding. The Pinery also has one of my favorite dog beaches as its basically a big doggie pool party so if you have a dog this is the perfect place. There are also excellent beaches that dogs are not allowed. My only negative to Pinery is that the beach is quite a drive from the camp sites, not within walking distance.
The Pinery also has a Indoor Discovery Centre which was a great option for us to keep the kids busy when it started to rain. Pinery Campground also has a great park store if you forget something at home and is definitely the most elaborate park store of all the campgrounds I have stayed at over the years. If you are feeling hungry you can check out the Ice Cream Shop or Snack Bar for many food options if you don't want to cook yourself. We often grab breakfast on our last morning so we don't have to clean and cook.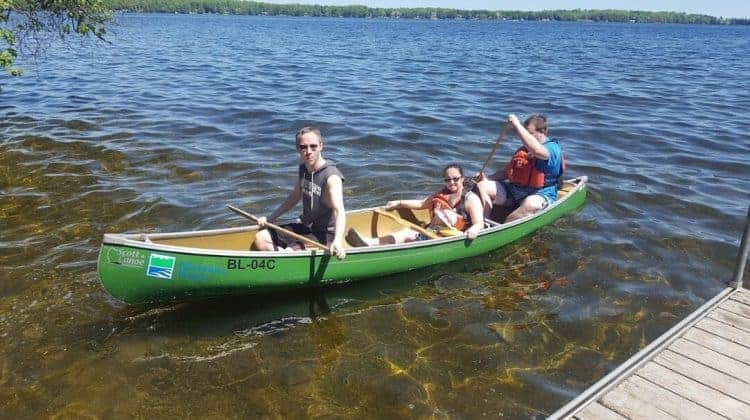 is a family and pet friendly Ontario Provincial Park that offers a variety of activities for the whole family to enjoy, and the best part is that you are getting the kids OUTSIDE! Balsam Lake is located near beautiful Coboconk in South-Central Ontario along the Trent-Severn Waterway.
Now at Balsam Lake we have stayed in both a cabin and have camped in a tent. Checkout our full review of the amazing Balsam Lake Cabin. We love Balsam Lake as it has a great beach that is sandy and easy for kids to enter and to play along the shoreline. Balsam lake offers great fishing for Walleye, Muskellunge, Large and Small Mouth Bass, and also has canoe, kayak, and paddleboat rentals.
While the park doesn't have any dedicated biking routes there are lots of campground roads and over 10 km of local cottage roads to ride freely. Balsam Lake Provincial Park offers the option of a family jaunt, with walking trails or more difficult hike, as there are two different trails to choose from depending on your needs. Both trails allow you to expand your outdoor experience and learn about the history and ecology of the park while enjoying panoramic views. I also like that Balsam Lake has a great Pirate Ship Playground located nearby the beach.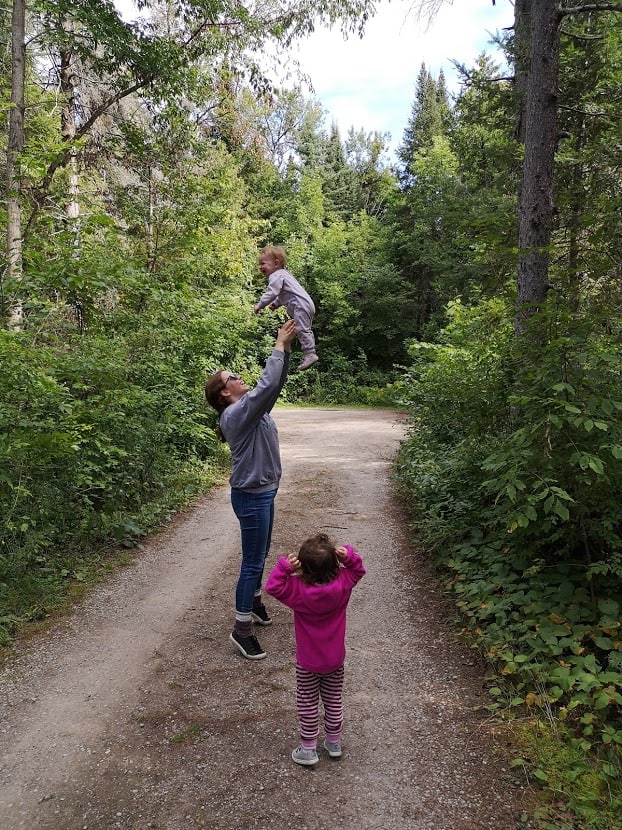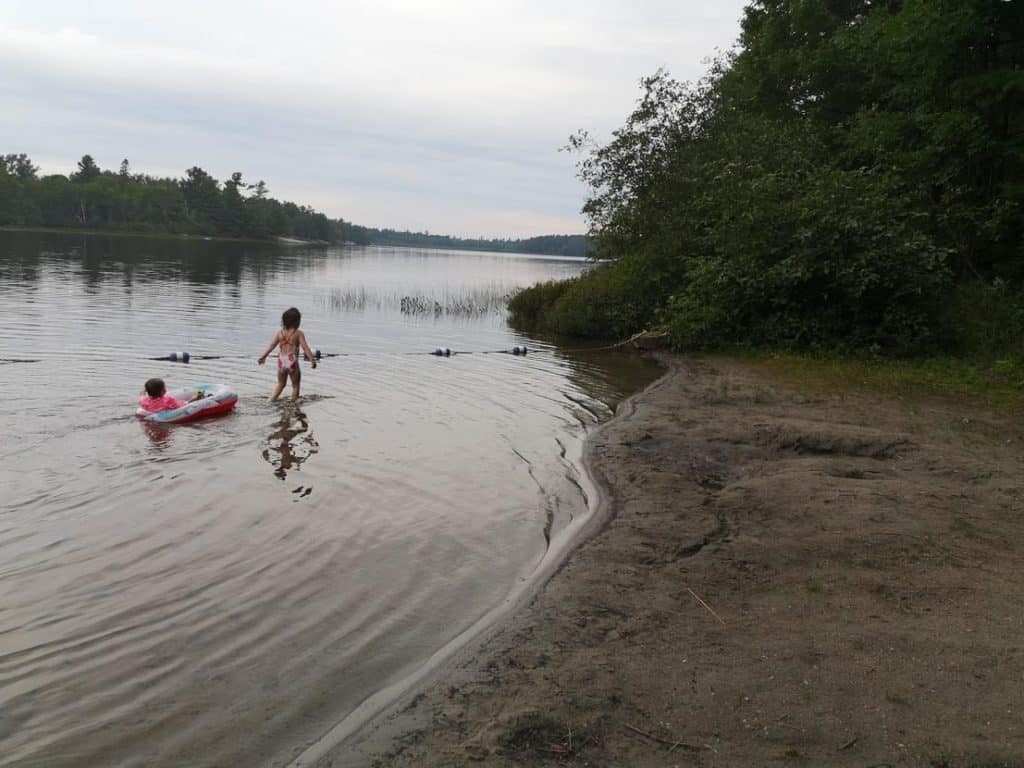 is situated in the Township of Mowat in the Territorial District of Parry Sound. Grundy Lake is very quiet and private and a little less busy that many other campgrounds we have been too which was very appealing with little kids as it was always very quiet in the evening making it easier to get the kids to sleep.
Grundy Lake has activities for all ages: great hiking trails, canoe/kayak rentals nearby and many great beaches with smooth rocky shores which provide excellent swimming. Bring your bikes as there are lots of great areas to ride and enjoy the fresh air and wilderness. There are no official bike trails in the park but the campground roads provide some excellent biking opportunities.
I found this top from The Explorer's Edge "For a bit of adventure try the Pakeshkag Lake Road, which offers a back country feel and wildlife viewing potential as it makes its way to its namesake lake and access point".
My favorite part of Grundy Lake was the great lakes. There are countless inland lakes that offer endless canoeing and kayaking adventures, both girls loved canoeing and sitting with grandpa on the shoreline fishing. Grundy Lake beach is very shallow and is roped off making it perfect for little kids to enjoy as you can see in the photo above it doesn't get very deep before the buoys. There are eight natural sand beaches in the park that you can enjoy in the summer months, but if you are looking for something different there are many rocky shorelines that can be reached by canoe.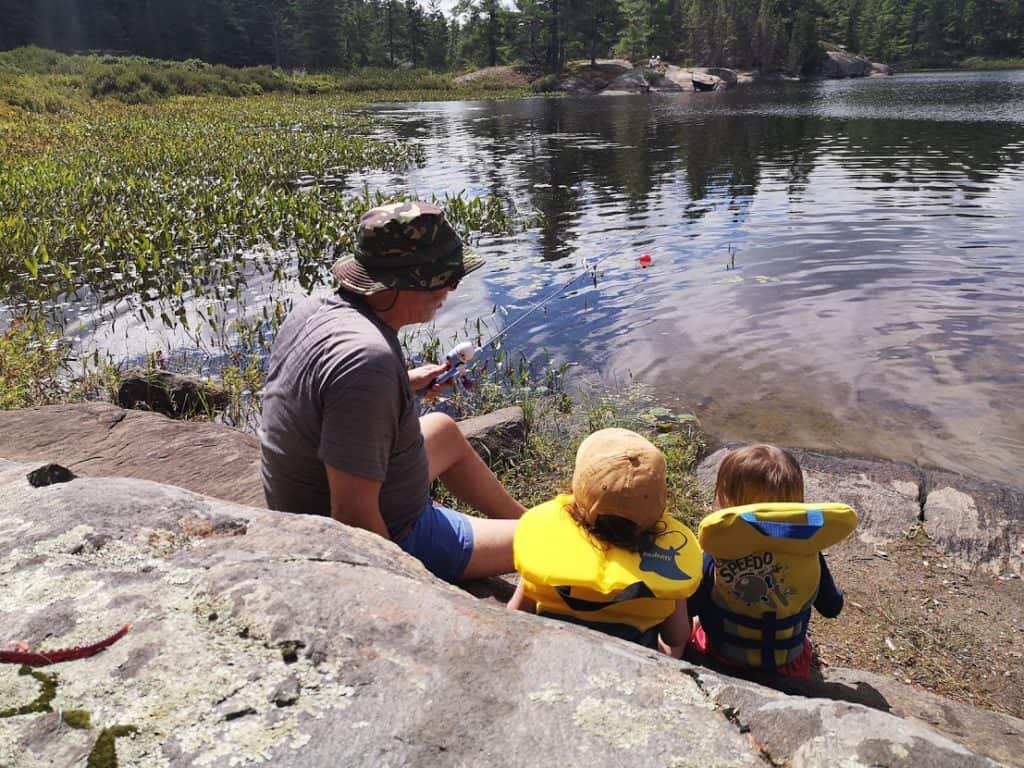 is the fourth oldest provincial park in Ontario and is located on the northwest shore of Lake Erie near Port Rowan, Ontario. Long point camp sites are entirely sand which makes for a very different experience than most campsites which are dirt.
Over 1.5 km sandy beach on the warm waters of Lake Erie, there is excellent fishing and boating opportunities in Long Point Bay. Long Point has a very wide shoreline which is perfect to allow kids lots of space to play in the sand and build sand castles. Make sure you pack a frisbee or ball as there is lots of open area to play sports on the beach.
The shoreline is kid friendly as there are very few rocks or seaweed, with shallow waters making it perfect for the kids to play in. Beautiful Sunsets can be seen on the beach, and I highly recommend you catch one while you're there. The Beach is located very close to the campsites so you can easily go back and forth with a short walk. distance.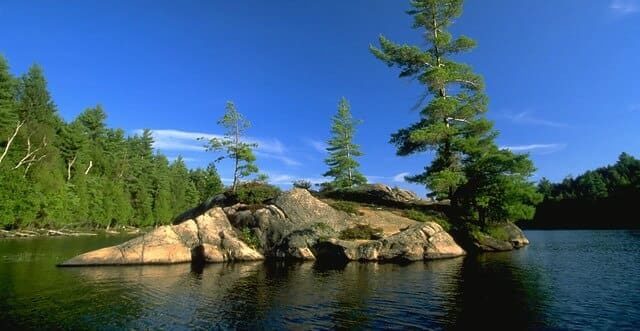 Silent Lake is family friendly Ontario Provincial Park that offers a wide range of activities and several different types of camp sites. Silent Lake Provincial Park is located near beautiful Bancroft, Ontario. Offering a variety of trails with different levels of difficulty, there is lots of Things to do at Silent Lake Provincial Park.
If hiking isn't all you are interested in, don't worry, there are an abundance of other activities that you can participate in at Silent Lake including relaxing on the beach. The Park's lakes are well known for it's exceptional fishing with lots of Bass and Trout. Silent Lake offers amazing camping year round so you can have a great time in the winter months with Winter Camping!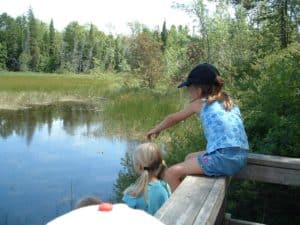 Our friends at Camping with the Coles love checking out campgrounds and wanted to share their favourite Macgregor Point with us. Checkout their full Youtube Review of 2021 Camping in Ontario, as they explored 11 different parks in Ontario. You can also find them on Facebook!
If you're looking for a great family-friendly provincial park and camping experience, you can't go wrong with MacGregor Point. For decades, we've been bringing our family there – it's where we've watched our babies grow into adults! Whether you're camping with friends or family, you'll find lots to do both in the park, and in the surrounding area.
If you book a campsite here, you're likely to have a private site surrounded by wooded areas. If you opt for one of the group campsites, you'll have even more privacy as they're located further into the park than the individual sites, which means fewer people and less vehicle traffic coming through. Our favorite group site consisted of six private sites in a ring around a large fire pit where we'd gather with our friends every night. Nearby was a hiking and biking trail that the kids would often venture down, walkie talkies in hand, and head to the rocky beach where they could scout for frogs and non-venomous snakes.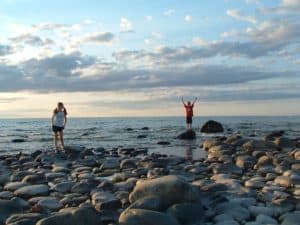 MacGregor point is full of family-friendly hiking and biking trails, dotted with lookouts for a better view of the diverse environment. Then you can stop off at the camp store, grab some ice cream, buy some firewood, and even rent a couple of bikes. You can visit the interactive Visitor Centre and Huron Fringe Shop and join in on the Discovery programs and Nature hikes. Also, if you have kids, they can have fun at the children's play area, and if you have a dog like us, it can have fun at the dog beach. Then the whole family can gather at the beach along Lake Huron at the end of the day for a perfect view of the sunset.
The park's location just south of Port Elgin, Southampton, and Sauble Beach is what brings it to the next level. If you drive just north of MacGregor Point, you can enjoy Port Elgin with its public beach, marina, many shops and Wednesday's outdoor flea market on the beach.
Drive a little more north and you'll be in Southampton, where you can hike out to the lighthouse, browse the local shops, and navigate the huge indoor flea market.
If you drive just a little further north (still only 40 minutes from the park), you can enjoy Sauble Beach, browse more shops and attractions on the strip and even play in the cascades of Sauble Falls.
Alternatively, if you drive a bit south of MacGregor Point, you can check out the beach at Inverhuron Provincial Park too.
All in all, if you're looking for a park with private sites, beautiful sunsets, a diverse ecosystem, lots of trails, and lots of family activities within driving distance, then MacGregor Point is the place for you. It also gets bonus points for being open year round!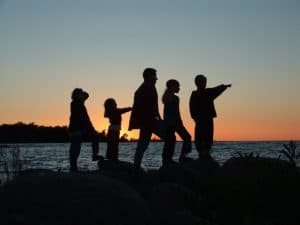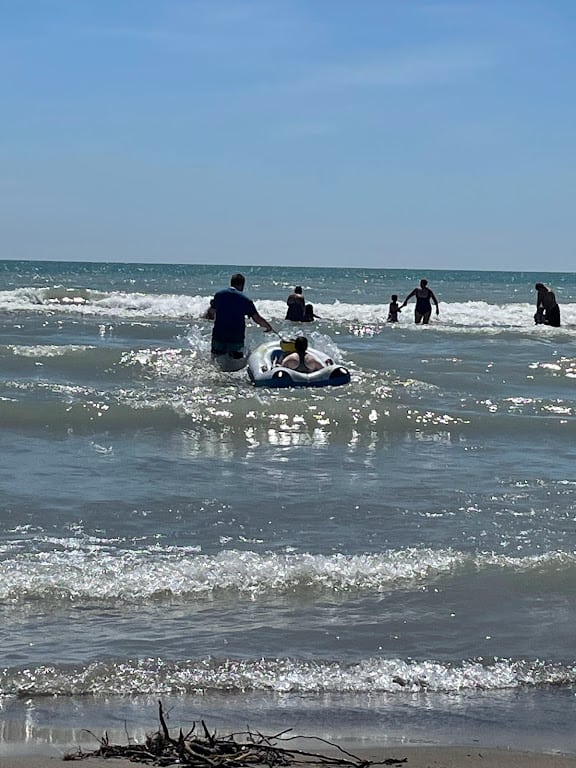 If you are looking for a beautiful family and pet-friendly campground, then I highly recommend checking out Port Burwell Provincial Park. Port Burwell offers a variety of activities for the whole family to enjoy, and the best part is that you are getting the kids OUTSIDE!
 Port Burwell Provincial Park is located in the province of Ontario, Canada. It is situated on the northern shore of Lake Erie, near the town of Port Burwell. The park is approximately 2 hours southwest of Toronto and about 45 minutes southeast of London, Ontario.
There are lots of things to do at Port Burwell as it features 2.5km of sandy shoreline on Lake Erie and has multiple beach areas, including one large on-leash dog beach. 
Port Burwell Provincial Park is a special place where outdoor enthusiasts can immerse themselves in a wide range of activities while enjoying breathtaking views of Lake Erie. From hiking along nature trails to biking through scenic landscapes, there are endless opportunities for outdoor adventures.
Whether you're lounging on the sandy beaches, exploring the historic lighthouse, or engaging in water sports like boating and fishing, you'll be treated to a great view of Lake Erie that will leave you in awe.
With its perfect blend of natural beauty and exciting outdoor activities, Port Burwell Provincial Park is a must-visit destination for those seeking unforgettable experiences in a stunning lakeside setting.
The Best Tips for Camping with a Infant, Baby, Toddler or Preschooler
Now just because you recently had a baby, doesn't mean you can't get outdoors and enjoy some camping. Now my husband, our dog and I love to go camping and normally do about 2-3 trips a year, however when our daughter was first born we were a little intimidated but decided we would commit to one trip that summer with family.
So I have created a list of the Best Tips for Camping with an Infant, Baby or Toddler as I have now done it all and this year will embark on camping with a Preschooler and a Baby…. let the fun begin!
Our first camping trip she was only 6 months and I have to say it was actually the easiest trip we have done with her so far. Every summer in August we do a family camping trip with my husband's siblings and parents and while the first year we only did a weekend we have now extended the trip to about 5 days every summer and have a blast!
Now camping with a baby can be fun just like any other trip, but does require some planning to ensure you have a happy camper! So last summer we packed our car full to the brim, plus a cargo bag on the roof and headed to Pinery Provincial Park. Now we had an amazing weekend minus the pouring rain on Saturday all day long. Through our experience, I have come up with a few tips and a few products that will help you in your first camping trip with kids.
If you are interested in taking on the challenge of tent camping with a baby or toddler, here are some "camping with baby" tips to get you started!
1: Start Small and Stay Local
If this is your first camping adventure with a baby or toddler, I recommend you choose a local campsite and start with a short weekend trip of two nights, as that way if it does not work out as planned its not so difficult to come home. If you set your expectations low it will be easy to succeed, and then you can build up to a longer trip or further away from home once you have had one successful camping trip with a baby trip.
It will just make you frustrated and upset if you are hours away from home and were planning on staying a week and your baby is nothing but uncooperative. On the second year we took our daughter camping at 18 months, she would not sleep in the evening and we woke up flat on the ground as our inflatable mattress had a hole and we were trying to keep our daughter quiet so she didnt wake up her cousin and create a day full of two cranky kids, so be prepared it may not go as planned. If you are flexible and have low expectations to start you will have a great trip.
2: Recruit Help or Extra Friends
We planned a camping weekend with my husband's family including two kids aged 6 months and 2, two aunts, an uncle, and grandparents, this way we figured we had lots of help. By having lots of people it makes it much easier to set up your tent or cook meals as one of the other adults can watch baby for a few minutes, and you don't have to try and juggle baby and other tasks.
3: Bring Your Own Water
Camp sites in Ontario do have a tap for water but often it is under boil restriction meaning that it needs to be boiled first before it is considered saving drinking water. For babies that are formula fed such as my daughter, we purchased 4L jugs of distilled water to make formula so we knew the water was clean and safe. Now not only is this convenient as you don't have to take the time to boil the water, but you can just pour it straight into the bottle.
Distilled water is also very cheap as we paid only 99 cents a jug. You can also buy nursery water if you prefer over distilled water. I learned however you do not want to use just regular bottled water as it has too many minerals for babies. Nursery water is distilled water specifically designed for babies and toddlers, though I find it the same as distilled water but nursery water has a higher price.
4: Bring lots of Bottles to avoid constant washing
This trip we brought 12 bottles with us so we only had to wash bottles once the whole trip as we had enough to get us through 2 whole days which made life easier. I also brought the bottle brush, and two bins from home so that I could use them as sinks to clean the bottles with water I got from the campsite but boiled first get rid of any impurities.
Now on our trip to Vancouver we used Playtex Drop Ins, which are Pre-sterilized liners which offer a GUARANTEED CLEAN BOTTLE every time (excluding nipple and ring). This way you only have to clean the nipples and the ring which are much smaller and easier to clean. Now while we did find this very convenient and much easier to clean in hotel sinks, our daughter hated the nipples so it made drinking a bottle difficult and time consuming.
Another option is Medela offers Quick Clean wipes which offer Quick and easy cleaning and these hygienic wipes are proven safe for cleaning breast pumps, breast shields, and baby feeding and changing accessories.
5: Have a plan for where baby is going to sleep in your tent
For babies: Now for our daughter who is 6 months we just brought her whole pack and play and set it up in our large tent. I have yet to find a better and more compact options for babies who are big enough to roll but also not yet a year old. You also can buy buy mosquito nets that fit over play pens to that you can use them outside if it is to hot in the tent.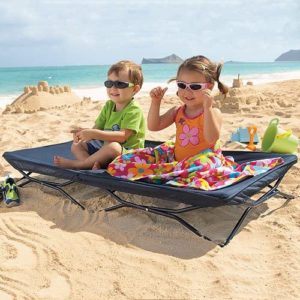 For toddlers: My 2 year old niece used a camping cot specially designed for kids, which she loved and slept well on. Now it folded up fairly small but I have found an option I love even more that I plan to buy for next years trip. The kidco peapod travel bed is a travel bed that is enclosed by a lightweight mesh that promotes air flow and acts as an insect screen if used outside. The peapod only weighs 2.5 pounds and easily folds into a travel size carry on suitcase so its a great size and comes in its own carry bag for easy storage. The other cool thing is that there is a sleep pad attached so nothing else is needed. The Kidco peapod can be used for kids aged 1-3 years old.
6: Keeping Baby Safe from the Sun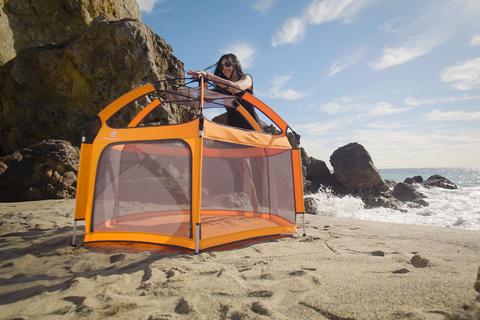 We use our California Beach Co tent everywhere… from pool side, to the beach, to camping, we absolutely love these shelter to provide shade for our young son who will be 4-6 months over the summer so therefore unfortunately is not old enough for sunscreen.
The California Beach Co tent is only 7.2 lbs., and is perfect for use inside or outdoors. It is large enough for multiple kids – 59″ inches wide by 40″ tall from the base to the top of the upper netting and 48″ to the very top, I have personally sat inside it with both of my kids and not felt squished. A UV shade cover is included to block out those harmful sun rays and keep some bugs away.
A compact fold travel bag with a shoulder strap for easy portability and my favorite part is it can be popped up using just one hand and is put up in less than one minute! Now the price tag is a little higher than some simple tents you can buy however this one is durable and will last for years, it actually fits back into the bag unlike every other tent I have ever owned and it is convenient and quick so for all these reasons it is worth every penny to me!
USE CODE EXPLORINGFAM 10 TO SAVE 10% in addition to any sales on the California Beach Co Pop up Tent
As for sunscreen if baby is over 6 months, I personally really love Think Baby sunscreen, as it has an SPF of 50, is free of biologically harmful chemicals as there is no Avobenzone, Oxybenzone, or UV Chemical absorbers. Think baby is zinc oxide based and is highly water resistant.
7: Equipment that makes camping with a baby easier
PORTABLE HIGH CHAIR:

Now my sister in law borrowed the greatest item from her friend, the Phil and Ted lobster chair which is a portable highchair that has a five point harness to ensure baby safety. There are lots of other brands that also offer clip on high chairs that can easily be attached to a picnic table.
The chair comes with a compact fitted carry bad and a food tray that slides on making feeding easy. The chair easily clamps to almost any table. This chair was amazing for feeding both my 6 month old and 2 year old niece and worked great to have my baby sit in while we all played cards as it poured rain.
SEATING AROUND THE CAMPFIRE/CAMPSITE

Now it is easy to just hold baby in your arms but sometimes you need to put them down so this is where the Kidco Activity Centre comes in handy. The foldable seat is portable and light weight and folds to be the same size as a camping chair. The attached floor keeps babies feet clean and the seat has four adjustable heights to grow with baby. The activity centre has nylon loops so you can hook toys to it to keep them a happy camper!
New to the market since my daughter was little is the Fisher Price on the Go Chair which supports YOUR baby in an upright position with a wide, sturdy base and has a large Repositionable canopy protects against the sun's rays (UPF 20); mesh back helps keep your baby comfortable. We have the Sit me Up Chair at home without the canopy that we use all the time in our living room. Summer Infant also has a portable chair but it unfortunately does not have a canopy which I think is super important but depends on your needs.
Buy Now:
Now that I have given you some tips and some amazing products to checkout! Simply as a mom I like and have personally used the products above on multiple occasions and found them useful! All in all though, get out there and have an adventure outside, the fresh air definitely helps babies sleep! These products are not only helpful for camping but for many other travel trips.
Disclosure: Some of the links above are affiliate links which means we do get a small payment if you purchase using our link, however it does not cost you anything extra.
Make sure you don't miss any of the best Events, Activities and Places in the Peel and Halton Region by joining Parents Resource on Facebook!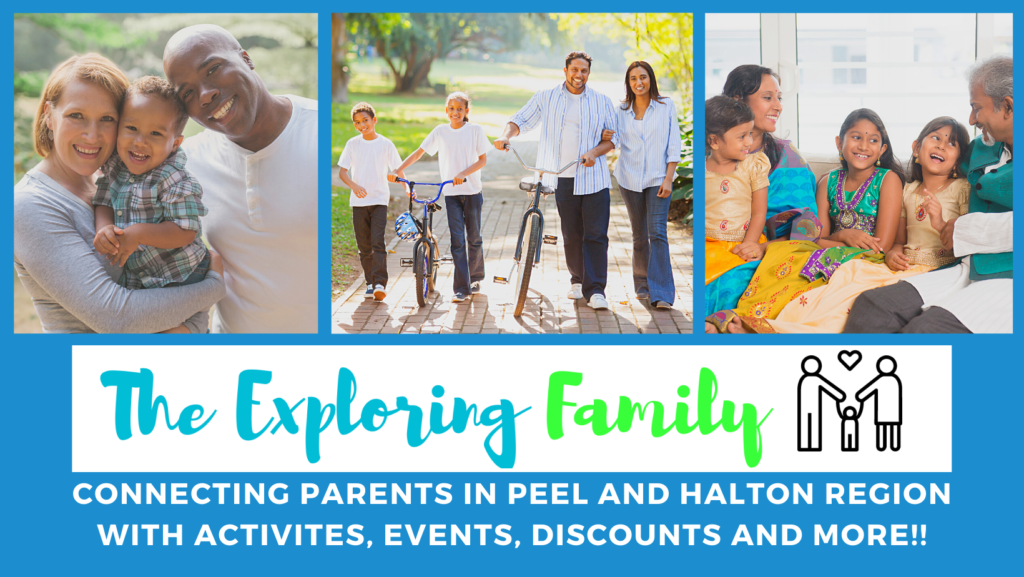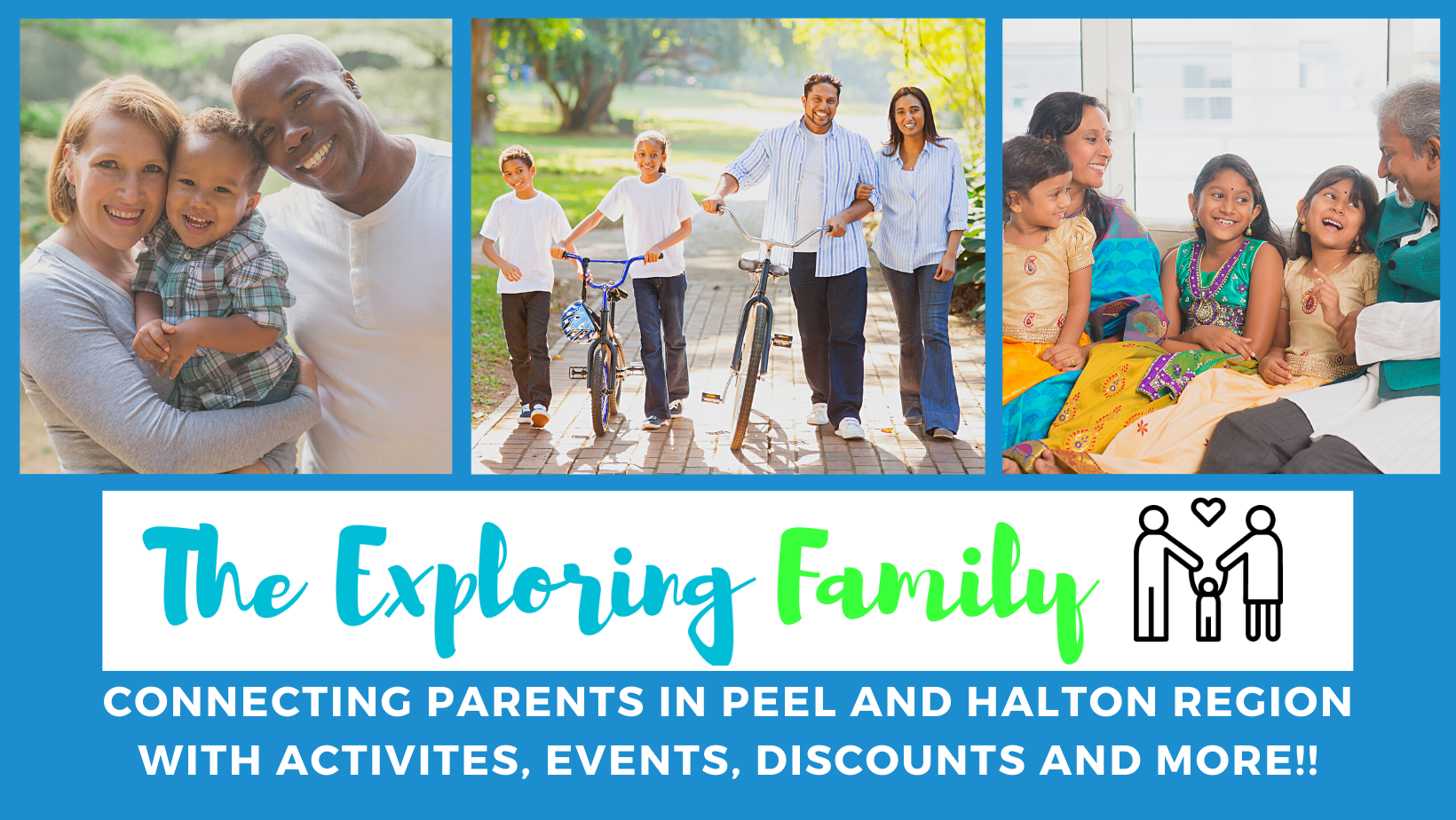 Can you help make this article better?
If you have noticed an error, have additional information or would like to share a comment you can:
E-mail us at info@thexploringfamily.com
Find us on Facebook: The Exploring Family
Find us on Instagram: @The.Exploring.Family