Nervous about taking the kids camping? Silent Lake is family friendly Ontario Provincial Park that offers a wide range of activities and several different types of camp sites. Silent Lake Provincial Park is located near beautiful Bancroft, Ontario. Offering a variety of trails with different levels of difficulty, there is something for everyone. If hiking isn't all you are interested in, don't worry, there are an abundance of other activities that you can participate in at Silent Lake including relaxing on the beach. The Park's lakes are well known for it's exceptional fishing with lots of Bass and Trout. Silent Lake offers amazing camping year round as you can even try out Winter Camping!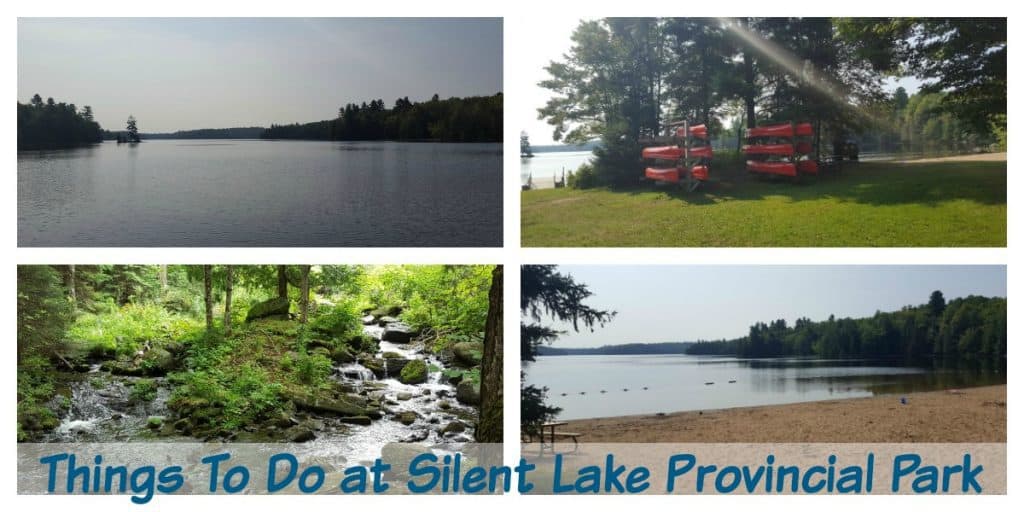 Things to Do at Silent Lake Provincial Park
Silent Lake Provincial Park is approximately 2 hours from Toronto. On our drive to go camping we stopped for lunch in Peterborough, which is also a great place to pick up any last minute groceries or items you may have forgot on the way to the park.
Camping at Silent Lake Provincial Park
There are several different ways to camp at Silent Lake Provincial Park. Taking advantage of any of them is an adventure. Silent Lake Provincial Park offers everything from walk-in camping to roofed accommodations. If you don't want to sleep in a tent then check out the Cabins (new in 2017) or Yurts that are available.
Walk-In Camping
With one loop of walk-in campsites in Granite Ridge Campground and two different loops of walk in camp sites at the Pincer Bay Campground, there are many choices. Campers can park their vehicles in the designated parking lots and walk a short distance with their camping gear to get to their campsite. The walk is never more than 500 meters. This is a great way to take advantage of a semi-wilderness camping experience while still being close to your car if needed.
Car Camping
Located in a forest setting, Silent Lake's two campgrounds at Granite Ridge and Pincer Bay are very good choices for your camping experience. If you are looking for a reservable site, Granite Ridge is a good choice and offers sites with electrical options. Just make sure you book your site quickly as the spots do fill up rather fast.
If you are looking to camp with extended family and friends, there are many double campsites available at Silent Lake. The double campsites can house up to twelve people, share one driveway and a firepit and must be reserved together.
Roofed Accommodations – Cabins and Yurts
More and more Provincial Parks are adding roofed accommodations to their parks. One reason we decided to head to Silent Lake was the for the roofed accommodations, the thought of having 3 kids under 7 years old in a tent was daunting for our first camping trip. Knowing that we would have a place to be dry and comfortable if the weather was not agreeable. For everything you need to know about the Silent Lake Provincial Park Cabins check out our other blog post.
Camp Cabins – Sleeps 5 with 1 queen bed and a double/single bunk bed.

Yurt – Sleeps 6 with two bunk beds.
Silent Lake Provincial Park Activities
Canoeing
Bring your own Canoe or rent one at the park. Canoe and Kayak rentals are available at the park throughout the summer season. Silent Lake is approximately 2.5 km in length, and its motor free (no gas or electric engines). Depending on water levels you can also access Quiet Lake and Soft Lake by completing a short portage. Enjoy a quiet afternoon on the paddling on the lake or do some fishing from your canoe. If you have a paddle board Silent Lake would be an idea place to get out on the water.
Mountain Biking
With two loops of different difficulty, Silent lake truly is a special place to go on a mountain bike adventure. The trail can be accessed easily by the parking area. 1 loop is 19 KM in length and is considered difficult, while the 13 KM loop is considered moderately difficult.
Fishing
There are a variety of fish that call Silent Lake home. Take a relaxing fishing trip and catch some Yellow Perch, Trout, Large and Smallmouth Bass and even sunfish! Just remember to bring a valid fishing license and outdoors card.
Hiking Trails at Silent Lake Provincial Park
Whether you are out for a family jaunt, nature walk or a more difficult hike, you are sure to find the best trail for your needs. With 3 different trails, you will be able to expand upon your outdoor experience and learn more about the history and ecology of the park.
Lakehead Loop Trail – Difficulty: Easy. Time: 30 Mins. Distance: 1.5 km
Bonnie's Pond Trail – Difficulty: Easy. Time: 1.2 Hours. Distance: 3 km
Lakeshore Hiking Trail – Difficulty: Moderate to Difficult. Time: 6 Hours. Distance: 15 km
We completed the Lakehead loop with the kids twice. It was a great little hike that took us about an hour to do with the 3 kids. Roo was 2.5 years old at the time and I wore her in a carrier on my back for the majority of the hike. There was a pretty outlook on the edge of Silent Lake which made for a perfect spot to stop for a snack during our hike. The terrain is mostly forested area and well shaded. When we head back this summer I want to try the Bonnie's Pond Trail!
Learning
Grab a copy of the Ontario Parks Silent Lank Information Guide, a small newspaper packed with helpful information about the park and surrounding area. Kids activity books were also available at the park with games and ideas to keep campers busy during their stay. Check in with the Park office to see when they are offering educational and interactive sessions to let you learn more about the wildlife at Silent Lake Provincial Park.
Swimming
Enjoy a picnic at one of the two Sandy beaches at Silent Lake. The largest beach can be found at the day-use area and has an amazing picnic area with tables and BBQs. Spend time building sand castles and swimming. The day-use beach has a nice gradual slope so the kids can play without it getting too deep quickly. We brought water shoes with us but the beach was nice and sandy and the water didn't have many rocks or weeds.
Visit the Pincer Bay campground to find the other beautiful and sandy beach. Enjoy swimming and sun with your friends and family. Another great idea is to take along some games to keep the kids entertained, checkout the Top 10 Games to Take Camping.
Winter Activities
During the winter season, you can see a whole other side of Silent Lake. You can go Ice fishing, cross country skiing and snowshoeing. There are camp cabins and winter yurts available for those who wish stay overnight.
Boasting over 40 km of beautiful cross-country trails, the terrain is rugged but perfect for family skiing.
Green Loop– Trail Length: 2.5 km. Difficulty: novice-moderate.
Red Loop– Trail Length: 6 km. Difficulty: novice-moderate.
Yellow Loop– Trail Length: 13 km. Difficulty: moderate.
Blue Loop– Trail Length: 19 km. Difficulty: difficult.
Over the winter season, the Bonnie's Pond Hiking trail is used as a Snowshoe trail.
There are so many different fun and exciting experiences to be had at Silent Lake Provincial Park. It doesn't matter the reason or the season, you will always find something fun and amazing to do. Find out more on the campground website.


Interested in a different Ontario Parks adventure? Check out Winter Camping at MacGregor Point Provincial Park!
Pin for Later: