Winter Camping – do those words spark a feeling of adventure and excitement or a feeling of fear? It is normal if it is a little bit of both! But don't let that fear stop you and your family from enjoying all that winter camping in Ontario's Provincial Parks has to offer! There are so many options for Winter Camping in Ontario you are sure to find one that suits your family. Read on to learn more about our winter Glamping Adventure in a MacGregor Point Provincial Park Yurt near Port Elgin in Bruce County, Ontario. Now camping with kids can take some pre-planning so checkout these tips on planning to camp with kids.
Winter Camping in Ontario – Macgregor Provincial Park
When people think of camping they tend to think of summertime – beaches, swimming, hiking, fishing. However winter camping is not limited to only the warm months, there are Ontario Parks across the province that are open all year round and offer a wide variety of fun activities for families. You can check out the full listing of Winter Camping options at Ontario Parks to see where your winter adventure can take you. We had the opportunity to explore MacGregor Point Provincial Park with kids and it was a blast. When it comes to winter camping there are lots of options for accommodations – tents, RVing, and Yurts. We stayed in one of the MacGregor Point Yurts and it was perfect for our needs as a family.

MacGregor Point Provincial Park Yurts
So what is a yurt you ask -it is one of the roofed accommodations that are offered at some Ontario Parks. You can think of it as a tent with thicker walls that stays up all the time. The MacGregor Point Yurts come furnished with 2 bunk beds with a double bed on the bottom and a single bed on top, a table and 4 chairs, a shelving unit and a fireplace. Yep the yurts are heated so after playing outside skating, skiing or hiking you can come back to your warm yurt to relax. And the yurts have electricity – no worrying about trying to light up the yurt you have overhead lights, and outlets for charging devices. Hence the reference to Glamping in Ontario – Yurts make it EASY to camp as a family with young kids. Yurt Camping Ontario is offered in a few provincial parks.
The yurt camp sites also come with a BBQ (propane provided, you do not need to bring your own tanks), covered porch, picnic tables, and fire pit.
The yurt was a comfortable size for our family, we had 2 adults and 2 kids (ages 8 and 6). The boys claimed the top bunks of the beds immediately. There was seating for all of us inside with the table, and if we wanted room to play a game of cards we would move the table and stack the chairs to have a open space to sit on the floor.
The heated comfort station was a short walk away and it included flush toilets, showers, and coin laundry if you need it. During the winter months you can use the comfort stations or the vault toilets however the vault toilets don't have heat and may be a little chilly.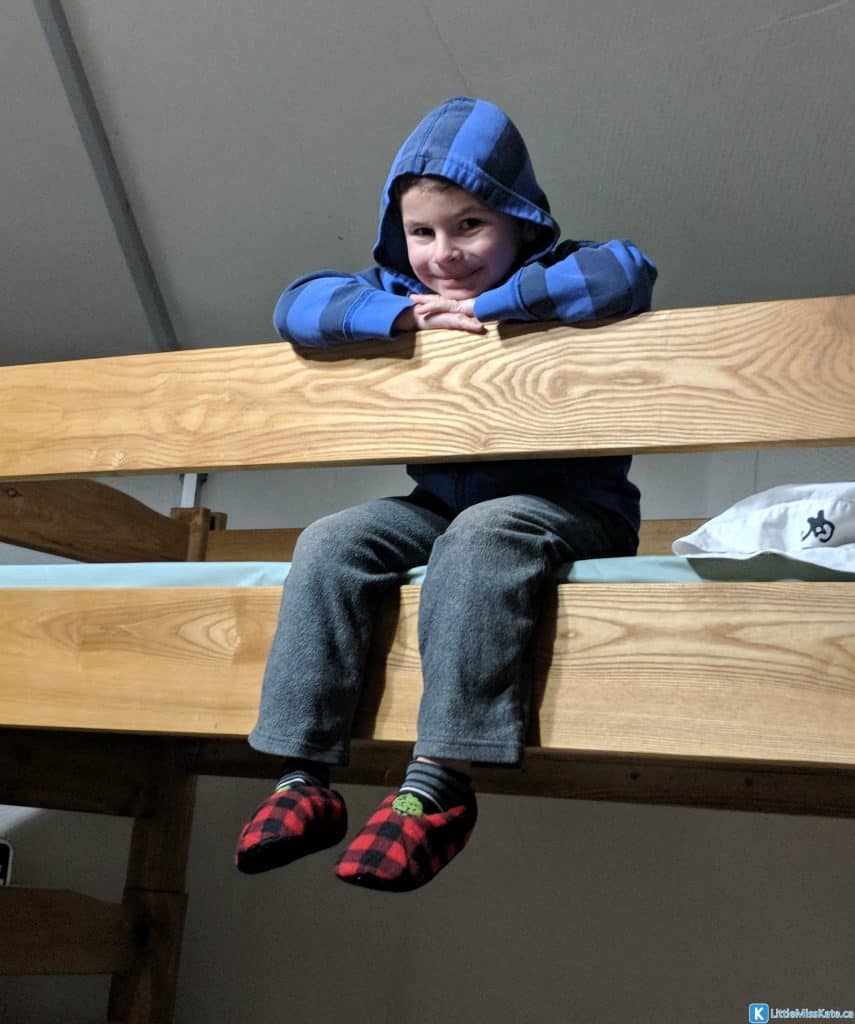 While our focus of this trip was to get outside and spend some time winding down, I did appreciate having electrical outlets to charge our phones, and we did bring an iPad with some Netflix movies downloaded on it. Watching a movie together with Hubby after the kids went to bed was a nice way to end the day.
TIP – While the Yurt has lights the porch does not so in the winter it gets dark early and you will be cooking by headlamp. Bring a rope light to wind around the banister of the yurt to provide nice lighting outside without having to worry about flashlights and headlamps.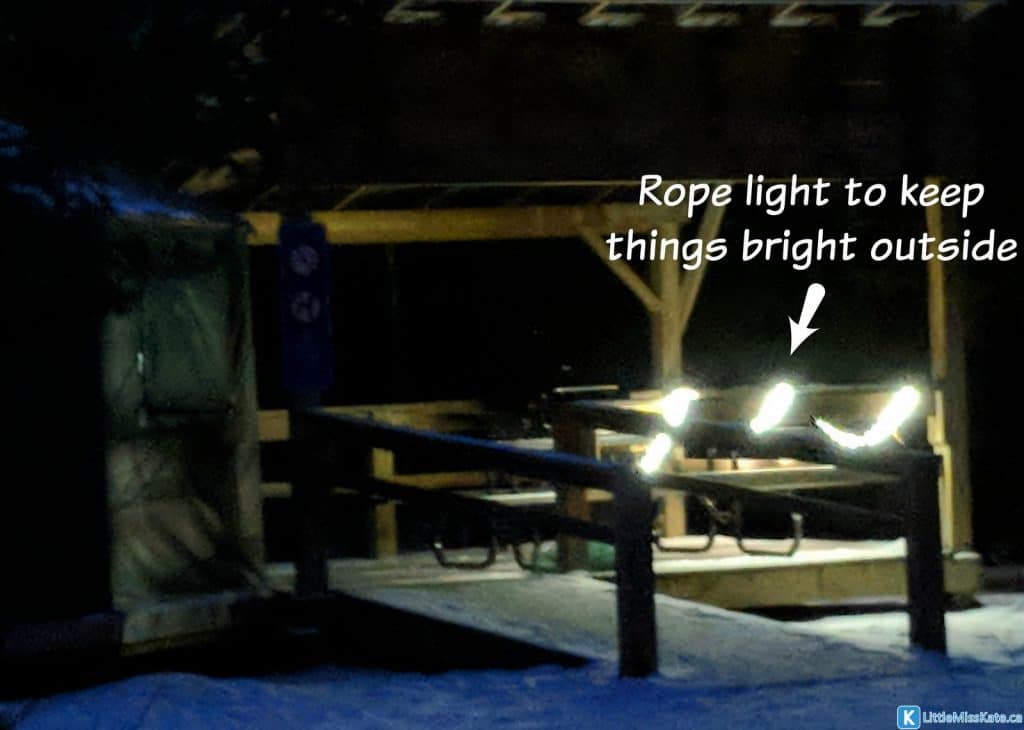 You don't have to stay in a yurt you can bring your RV or even try winter camping in a tent if that is what you love. The glamping experience staying in a yurt suits our family needs and the Ontario Parks yurt Prices are very reasonable. There are several different camp grounds offering yurts for rent at Ontario Parks around the province. However they can book up quickly so if Ontario Yurts are what you are after make sure you are booking well in advance (bookings at Ontario Parks open 5 months in advance). MacGregor Point Provincial Park would also be a great stop if you are reading up to Tobermory on a vacation.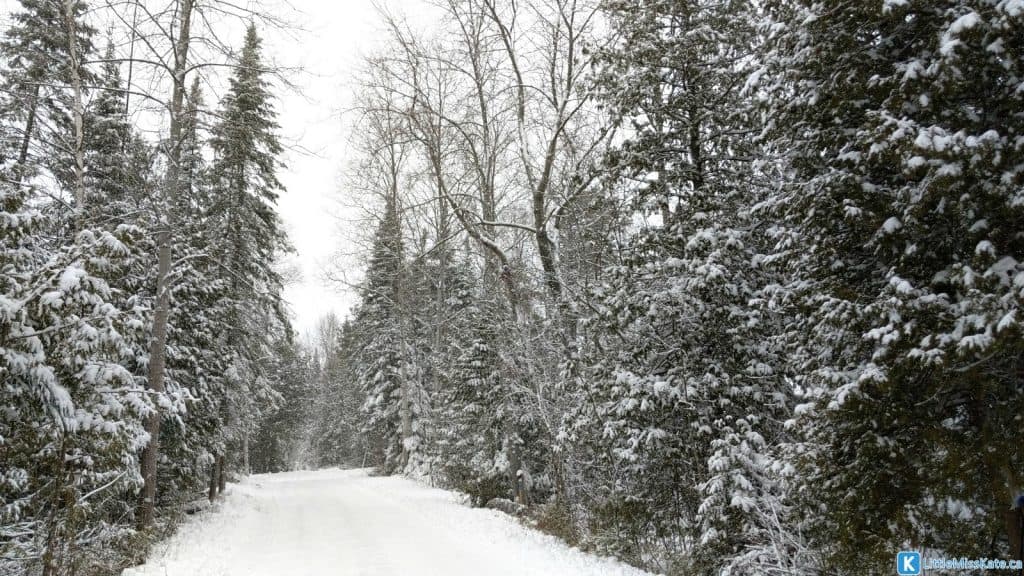 MacGregor Point Provincial Park Winter Camping Ontario – Winter Camping Activities for Kids
Winter Camping at Ontario Parks offers a wide variety of activities, from hiking, snowshoeing, skiing, skating, hockey, fishing and more. Find the activities you think your family will enjoy and then match them with an Ontario Provincial Park that offers them. Our family enjoys hiking and skating, so MacGregor Point was a great match for us. We also tried snowshoeing for the first time which was a hit. Check out the many winter camping activities at MacGregor Point Provincial Park?
MacGregor Point Skating Trail
It is no secret that the boys love to skate, we are at our local hockey rink every weekend. MacGregor Point Provincial Park has a beautiful skating trail that winds through the trees for a unique skating experience like no other. This trail is just over 1km long, during the summer months, it is a road that has campsites around it. In the winter it is transformed to a beautiful skating oasis that is open until 10pm.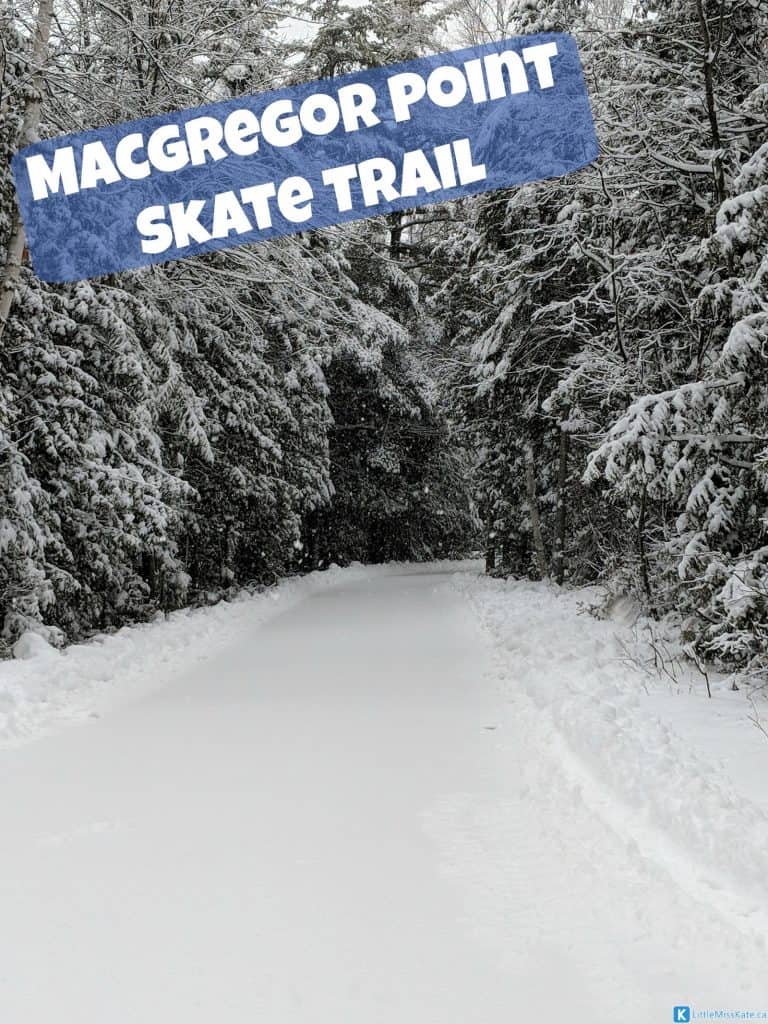 There is a heated Yurt for getting your skates on and off, and a picnic table outside if you need a little rest. They also had a couple of skate aids available (first come first serve) for those who are not strong skaters. I am proud to admit that I used the skate aids to help me get my footing. While the boys are pretty good skaters, I…. well… I can skate but not very well. However I don't let that stop me from taking part in making memories with them. The loop took me about 5-6 minutes to go around, however Monkey…. He could do it in 1 minute 30 seconds.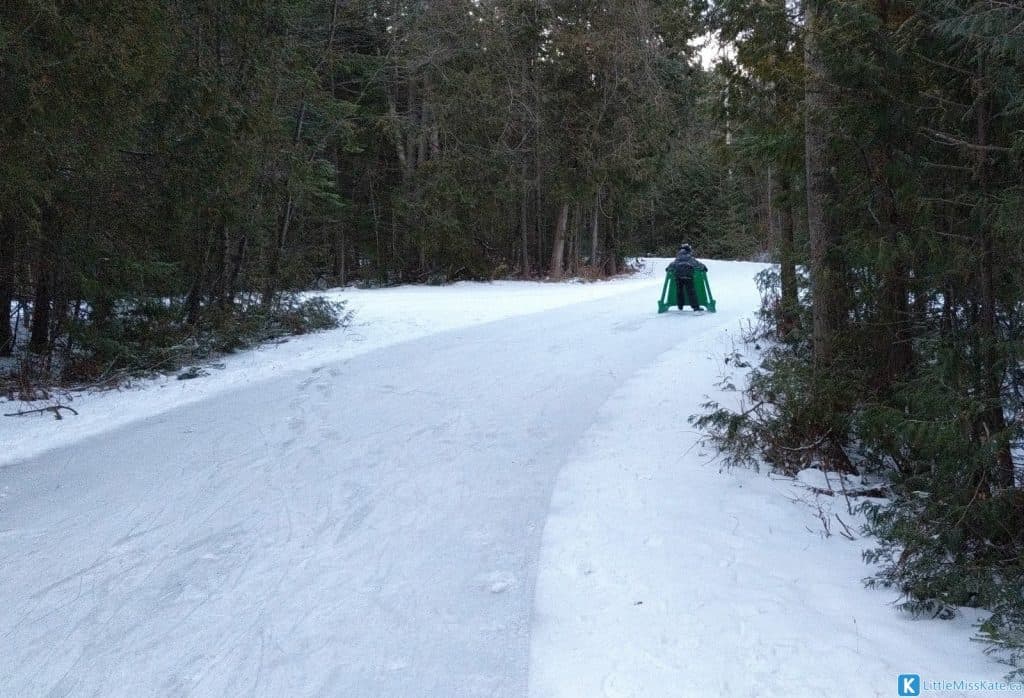 The quality of the ice was good for an outdoor skating trail, and the skate trail was my favourite activity that we did as a family on our winter camping trip.
TIP – Make sure you check out the skate trail during the day AND at night. Skating though the forest at night was one of my favourite moments of the whole trip. The Trail is lit up in the evening and open until 10pm. Bring some glow sticks with you for a little extra colourful light.
MacGregor Point Hockey Rink
Not only does MacGregor Point have a skate trail they also have a large hockey ice pad. Having both of these outdoor skating venues allows skating enthusiasts and casual skaters to have more space and have a dedicated area for hockey. The MacGregor Point Hockey Rink is located near the vistors centre, in an area that would be part of a parking lot in the warmer months. You can drive over from your camp site, or hike over if you are felling up to carrying your gear.
The ice pad was nicely maintained, and there was a shovel onsite if you need to do a little more clearing of the ice. Hockey nets were at each end, but you will need to bring your own sticks and pucks. Now because there are no boards around the rink be prepared for pucks to escape the rink from time to time. The MacGregor Point Ice Pad is also lit up, so you can play until 10pm if you have the energy!
There are vault toilets nearby the rink if needed. You are also close to the start of several hiking trails if you want to play some hockey and then head out for a walk afterwards. Which is exactly what we did during our visit. The boys love their hockey, so it was not surprising to me when I asked them after our trip what their favourite part was they said "Playing hockey Outside".
Snowshoeing at MacGregor Point Provincial Park
MacGregor Point Provincial Park has a dedicated snowshoe trail in the Nipissing Campground. You can also snowshoe on all unplowed campground roads and non-Track set hiking trails. You will need to bring your own snowshoes with you as rentals are not available at MacGregor. We brought 2 pairs of snowshoes and then shared within our family which was perfect for our first try at snowshoeing.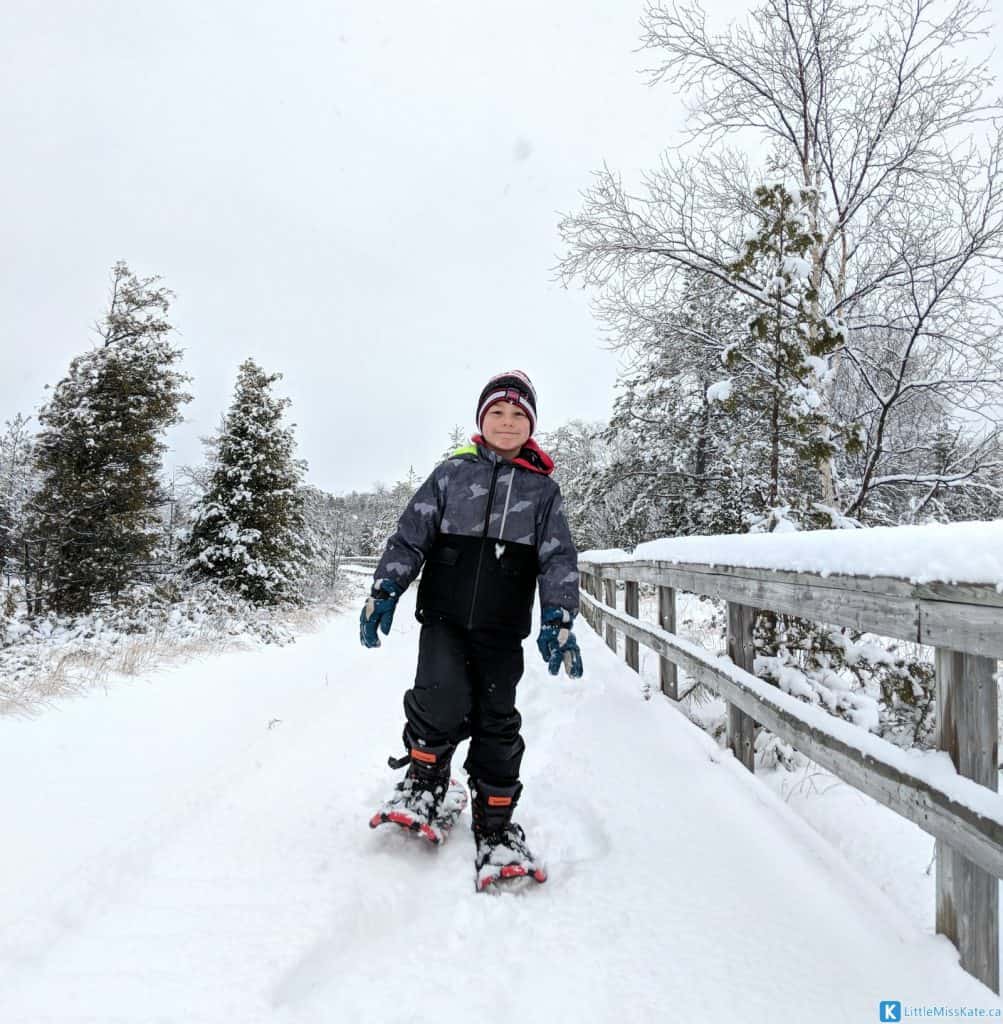 We has a lovely time walking along the trails that follow along the shore of Lake Huron. It was a winter wonderland with stunning views and a great way to get out, explore the wilderness, and be active with the kids.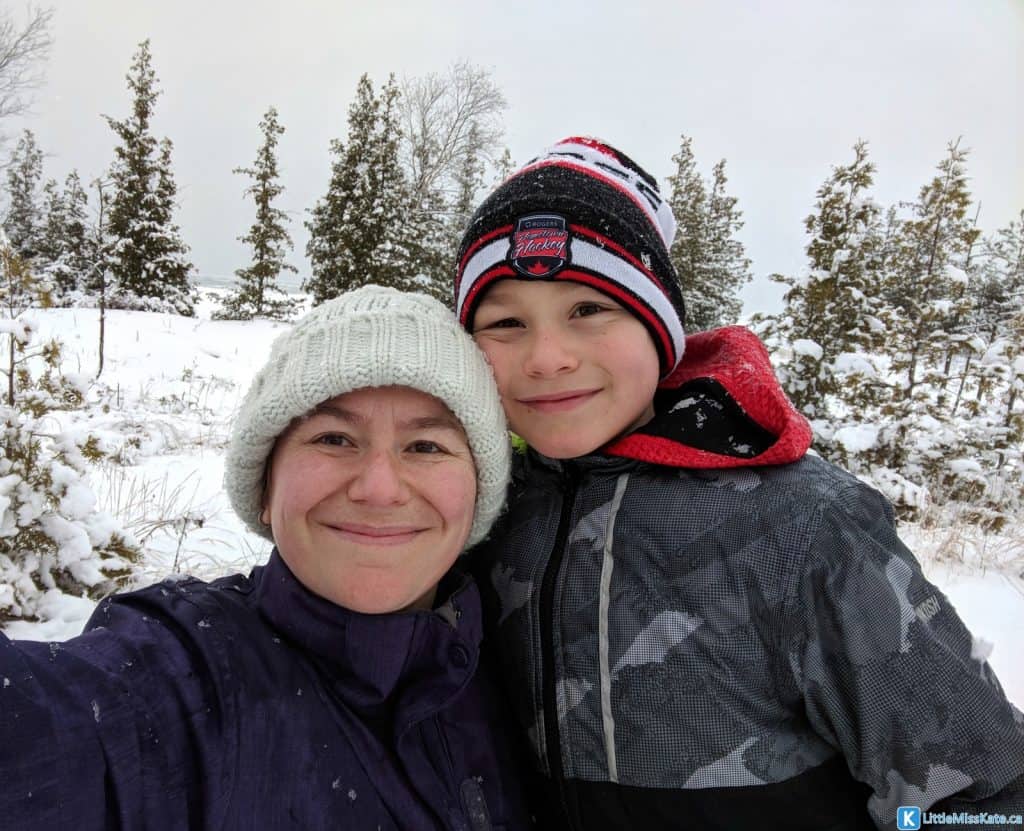 Winter Hikes at MacGregor Point Provincial Park
There are numerous trails throughout MacGregor Point Provinical Park. On our 2 night stay I wish we had more time to explore them all. However were did get a chance to go on a couple of hikes and learned a lot about the wildlife and vegetation in the the park.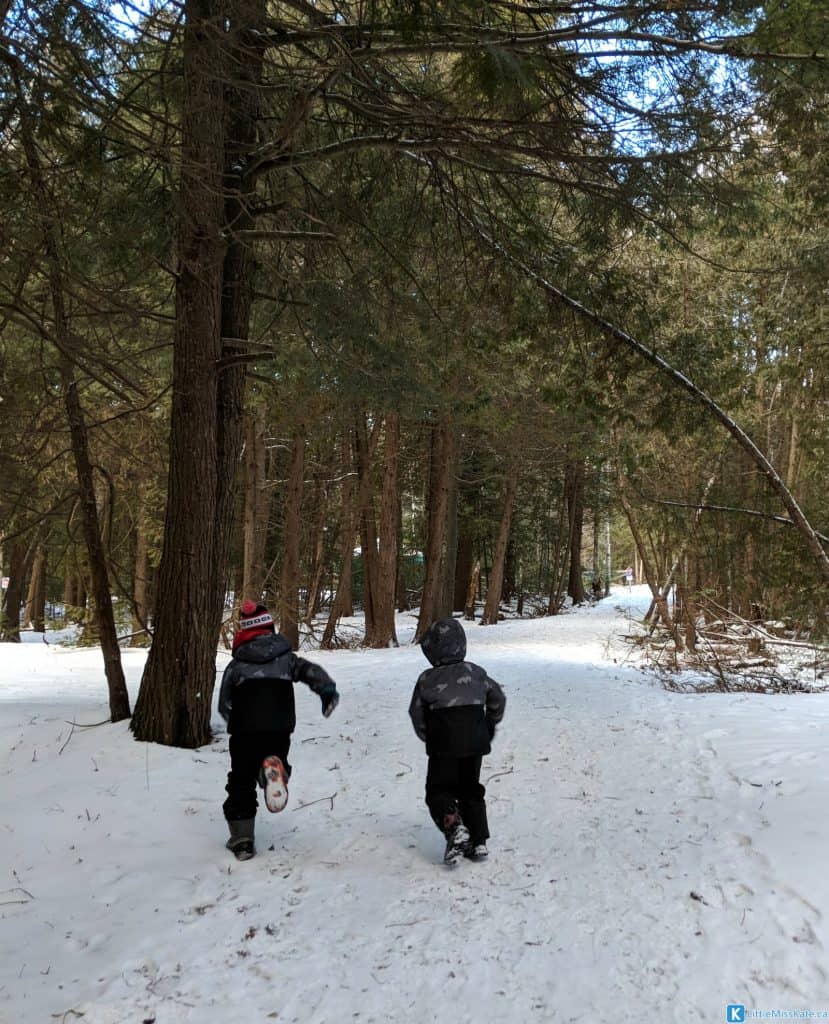 Hiking is not just a summer activity! We layered up and went out on a hike on one of the coldest days of the year. There are several different trails that you can enjoy around the park. We parked at the visitors center/ice pad area and started from there. We were able to enjoy walking along the boardwalks and stop to learn more about the ecosystems at MacGregor. The views from the trails along the shore are nothing short of breathtaking.
We made sure to pack some snacks and drinks to have on hand just in case. And if you are hiking with kids, you need to make a stop at the amazing playground at MacGregor Point. Swings, slides, pirate ship – this playground has it all! The kids had a blast playing even when it was -20oC.
MacGregor Point Cross Country Skiing
We didn't take part in cross country skiing on this trip, there wasn't a deep enough base of snow when we arrived for our stay. When the winter conditions are co-operating MacGregor Point has 11km of groomed cross country skiing trails and many more kilometers of unplowed park roads which are suitable for cross-country skiing. You can choose between the groomed ski trails or finding your own path on your adventure.

The MacGregor Point Snow Report allows you to check to see what the status of the ski trails, skating oval, ice pad and snowshoeing trails are.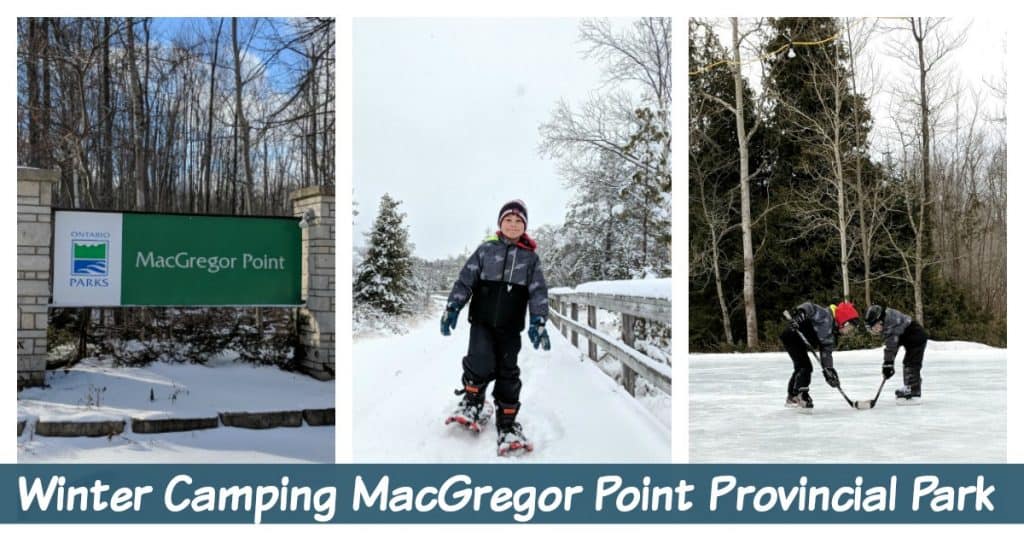 Here are some common questions I have received since we went winter camping at MacGregor Point Provincial Park:
How warm are the Ontario Parks yurts?
Well let me tell you, we had the chance to really test out how warm the yurts could be as we went winter camping during a cold snap where temperatures were -20oC without the windchill. And we were never cold inside the yurt! The fireplace is controlled by a thermostat, so you set the temperature that is comfortable for you and that is it. The yurt has insulated walls to keep in the heat from the gas fireplace. When we were inside the yurt we were very comfortable wearing a sweater, pants and slippers. I only suggest slippers because the floor is a little cooler (and my feet are always cold even at home). The yurt was always comfortable to warm up after being outside, eat our meals, and sleep.
How do you cook when winter camping in a yurt?
You have several options for cooking including a propane BBQ with a side burner that comes with your site (no need to bring propane tanks), fire in the fire pit, or small appliances that plug in that you bring with you (think kettle, slow cooker, waffle maker). We used the BBQ to make most meals, and did we ever eat well! Steak, Potatoes, grilled veggies, Bacon, Toasted bagels, and more all on the BBQ. Don't forget to look up a Smores Recipe for the Fire Pit.
We also brought our waffle maker, as Bear had requested waffles while we were camping. The boxed "just add water" waffle mix worked perfectly to make delicious waffles to go along with our back bacon and regular bacon (because you can never have too much bacon). For one of our lunches we cooked over the open fire to make hot dogs, and of course roast marshmallows.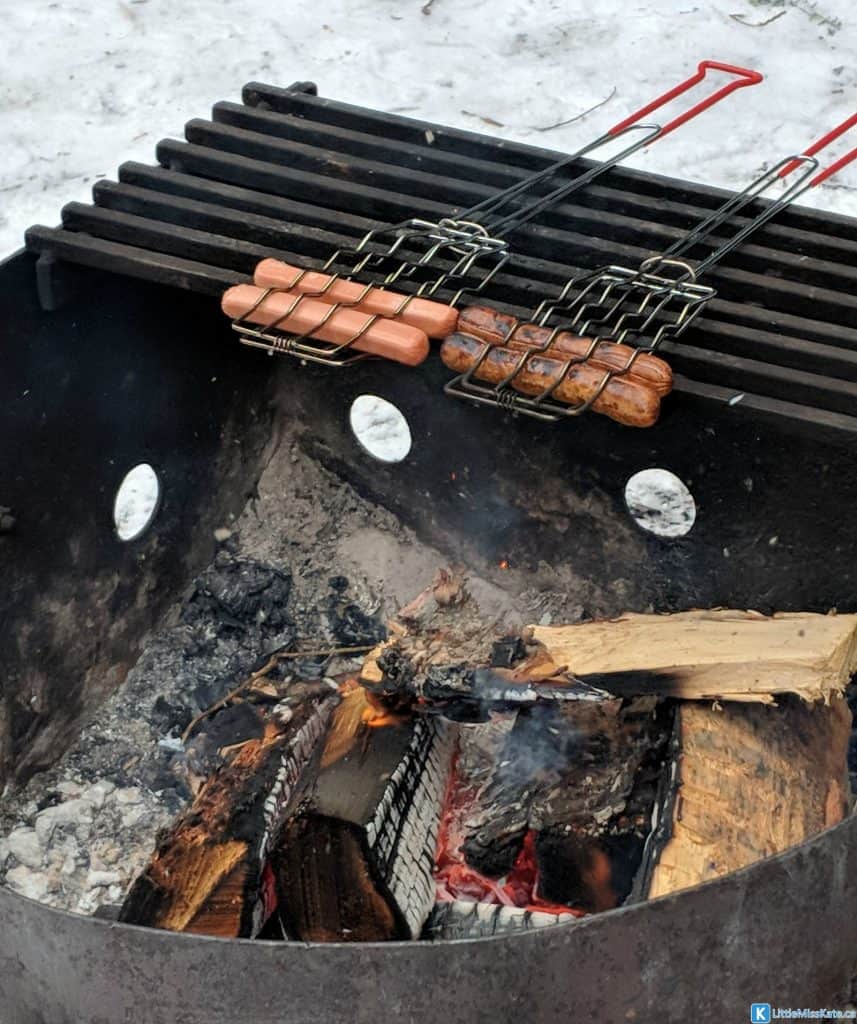 TIP – bring your kettle with you for making instant oatmeal, hot chocolate, and warming water to wash your dishes.
Is camping during winter a good idea? Weren't you bored winter camping?
NO WAY – we were not bored at all, and YES camping during the winter is a great idea! We used the time to slow down, take time to cook meals as a family, and get outside and enjoy all that Ontario has to offer in the winter. Winter activities are more than just snuggling up and keeping warm. I was so excited to get outside with the kids – bundling up in layers getting outside was the best part of the trip. We stayed for 2 nights which was a blast, but I could have easily added on another night to get in some more skating, hockey and snowshoeing. We did bring a couple of electronics so we did have a little down time to watch a movie and sit by the fire and read. I had a great time with the kids and would totally go "glamping" again!
How did you know what activities were available and what trails were the best?
MacGregor Point Provincial Park has a great program call the "Park Host" – these are designated camp sites that have campers staying at the park that are happy to answer any of your questions. They have extensive knowledge about the park, can provide you with a map, or you can even buy firewood if needed. The Park Host that was there during our stay is from Northern Ontario but she comes down to MacGregor Provincial Park to stay for the winter! She was a wealth of information about the park and was happy to answer my questions and the million questions the kids asked her too. By stopping by and knocking on the Park Host's RV door she told us what trails would be the best to try with the kids, and let us know about the playground. If you have any questions about the park during your stay make sure you stop by to the Park Host.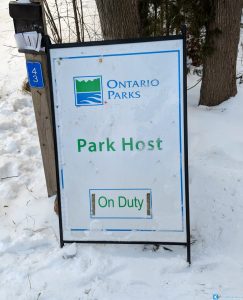 If you have any questions about winter camping with kids or MacGregor Point Provincial Park just ask in the comments below! Want more information about the best family camping in Ontario, check out the Ontario Parks website for details on all of the different options across the province. We have also visited Silent Lake Provincial Park which offers roofed accommodation with cabins. There are so many different options for all seasons you will be sure to find one to fit your family's interests to get outside and explore the outdoors!
Pin it for later – Ontario Winter Camping!
This post was brought to you by Ontario Parks. All opinions are strictly our own.