The warm weather is unfortunately behind us but we still find outselves searching for family entertainment, and with the Winter Weather starting to begin, we will need to think outside of the box how to keep the kids busy, healthy and active this winter. Instead of just hiding indoors all winter at home waiting for the snow to melt and the beach weather to return, strap on your snow boots, put on some gloves, and take advantage of the change of season by creating a Winter Bucket List filled with cold-weather activities and Fun Activities to do When its Cold.
The best part about winter is that many of these activities are very low cost, and time spent outdoors during the winter can actually help build your immune system, get you active and help you gather essential nutrients like Vitamin D. It is important for kids to spend time outside in the winter despite the cold weather which is why we schedule atleast an hour outside a day for Thumper including weekends.Sometimes finding things to do in the cold winter months can be tough which is why I have created a list of Fun Activities for Kids this Winter in Halton Hills and Surrounding Area. I am always looking for new ideas to keep us active, having fun and playing outdoors. I have put together this comprehensive guide of Winter Activities for Kids, some are location specific.
Related: Skating in Mississauga, Skating in Brampton, Tobogonanning in Brampton, or Toboganning in Mississauga, Snow Tubing in Ontario
Fun Winter Activities for Kids in Halton Hills and Surrounding Area
These amazing winter activities are guaranteed to keep your kids and you entertained, learning all active all winter long! These activities have been tried, tested and kid-approved!
Things To Do This Winter In Brampton, Mississauga and Georgetown
1. ✧ Go Ice Skating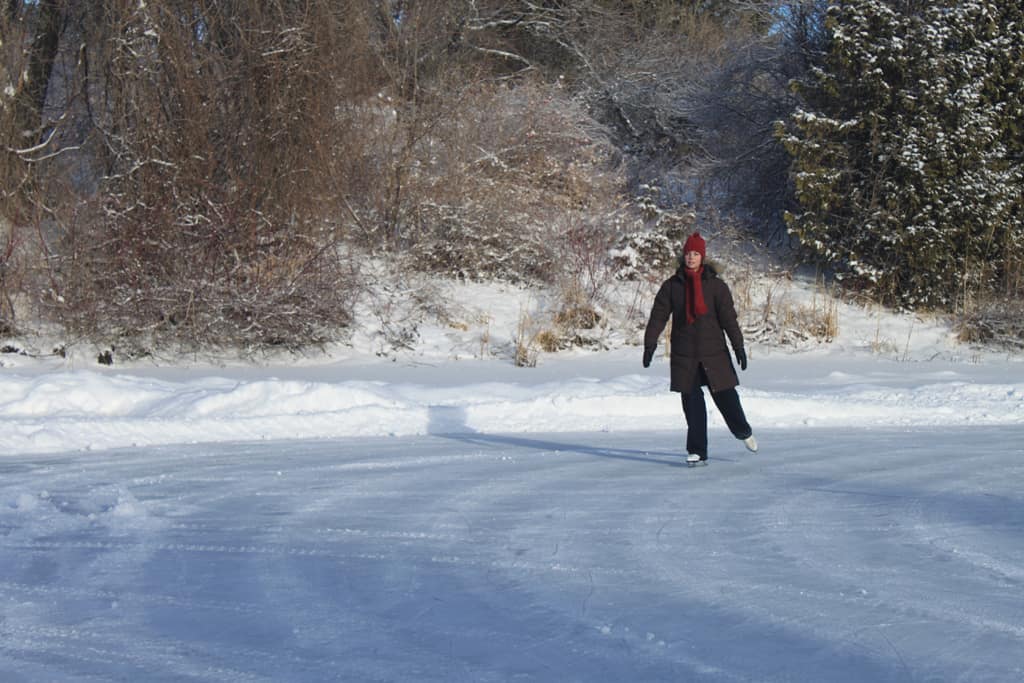 Map of Outdoor Skating Rinks
Ice Skating in HALTON HILLS – GEORGETOWN/ACTON: Outdoor

Ice Skating Rinks



Weather permitting, Town staff will construct and maintain natural outdoor ice rinks at the following locations (subject to change): For Updated Information.

Where possible, the Town will assist neighbourhood volunteer groups in their efforts to establish and maintain natural rinks at other park locations in the community. Interested individuals or groups are invited to contact the Director of Parks and Open Space at 905-873-2601 ext. 2274 for further information.
Outdoor rinks maintained by volunteers
Georgetown
Maple Creek Park

Joseph Gibbons Park
Potential locations for volunteers (contact for more info):
Georgetown
Gellert Community Park

Glen Williams Park

Meadowglen Park

Westbranch Drive Park
Acton
3 Musketears Multi-Purpose Court

Sir Donald Mann Park
Where possible, the Town will assist neighbourhood volunteer groups in their efforts to establish and maintain natural rinks at other park locations in the community. Interested individuals or groups are invited to contact the Manager of Parks and Open Space at 905-873-2601 ext. 2274 for further information.
Terra Cotta Conservation Area Skating in Halton Hills
Wolf Lake offers multiple small skating rinks for your group. Man-made ice rinks are also available around the park by reservation. Seasoned hockey players and beginners alike can play a great Canadian tradition, pond hockey.
Please note some rinks are available for reservation while others are first come first served. Skates are not available for rent. Please bring your own equipment.
Reserve you own skating rink: Terra Cotta Conservation Area Skating Reservations.
OTHER NEARBY LOCATIONS:
---
2. ✧ Go Tubing or Tobaganning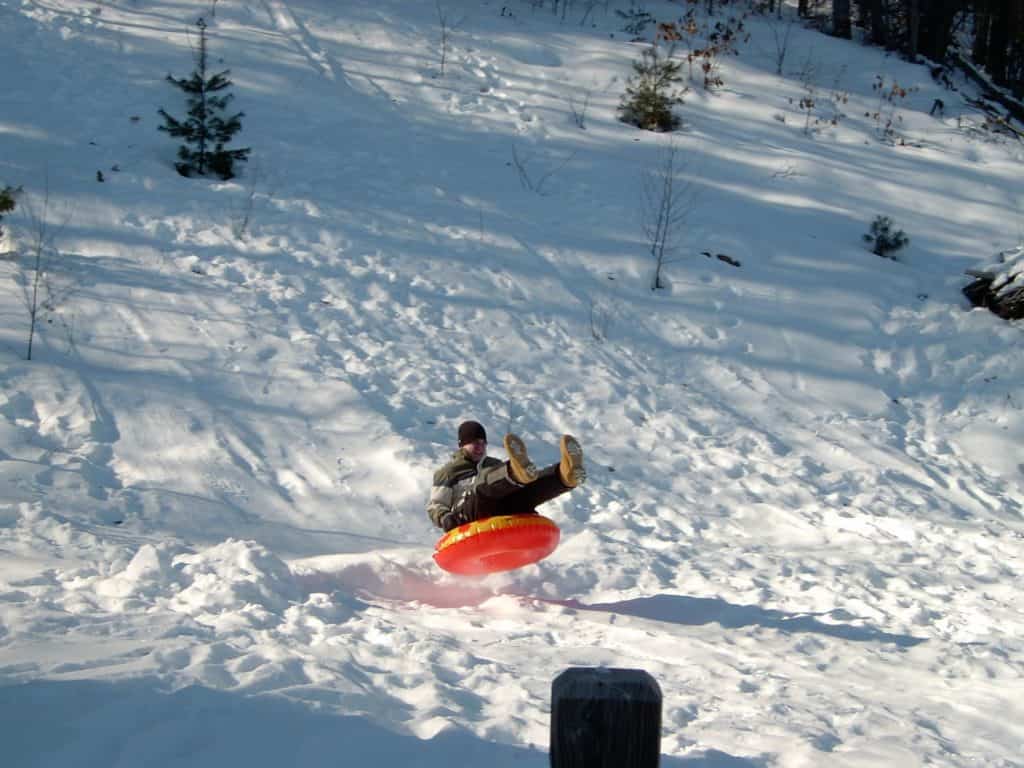 Tobaganning in Georgetown, Halton Hills: (Approved by Town of Halton Hills)
Sir Donald Mann Park, Acton

Cedarvale Park, 181 Main Street South, Georgetown
Tobaganning in Georgetown and Acton: (Parent Recommendations)
Holy Cross Catholic School – 222 Maple Ave, Georgetown (Behind holy cross school on Maple st. They have stairs to go up)

Wallace Street Park – 31 Wallace Street, Acton (There is a good hill at Wallace street park. You can park on Doctor Moore crt and walk over.)
Map of Toboganning Locations
3. ✧ Cross Country Skiing and Snow Shoeing
Cross Country Skiing and Snowshoeing in Halton Region:
Get Outdoors and enjoy tall trees covered in fresh snow and the quiet sound of crunching snow below your feet. You can find Cross Country Skiing in Halton Hills using the trails at Conservation Halton and Credit Valley Conservation parks which are inviting and exciting.
A great way to exercise, cross-country skiing is also a fun way to see Mother Nature in her finest winter dress. Cross-country ski trails are available at Crawford Lake, Hilton Falls, and Mountsberg Conservation Areas. Trails are regularly groomed at Hilton Falls and rentals are also available at this location.
Season: January to early March (availability dependent on weather conditions).
Locations:
Terra Cotta Conservation Area
Address: 14452 Winston Churchill Blvd, Halton Hills, ON L7G 0N9
Hours: 8-5pm
This area now offers 6km of groomed cross-country ski trails suitable for beginners to the more advanced. The trails take you through hardwood bush and past a frozen lake and over varying terrain. Admission fees or membership apply.
Hilton Falls
Address: 4985 Campbellville Road – Milton, ON
Hours: 9:00 am – 7:00 pm October 19 – April 4

Park Enterance Fees: Adult (15-64)$6.50
Senior (65 & over)$5.00
Child (5-14)$5.00
Child (4 & under)Free
Hilton Falls has beautiful trails through escarpment woods and beaver meadows. A highlight of your skiing adventure is the beautiful falls waiting for you. It is stunning in winter! Over 15kms of trails, 3 trails to choose from!
Trails are suitable for all levels of skiers to enjoy. Ski rentals are available for those who want to try it for the first time – * Rentals are available Friday, Saturday, Sunday and Monday ONLY when trail conditions permit.
Type
Rental Fee/3+ hours
Rental Fee/3 Less than 3 hours
Notes
Adult

(ages 15+)

$ 29.00
$ 21.00
15% discount to members
Child

(up to 14 years of age)

$ 19.00
$ 14.00
For Adventurers looking to get the heart rate up, head out and do all 15 km. For those Explorers looking to get a great photo of the falls, head out on the yellow trail.Season: January to early March (availability dependent on weather conditions).

Crawford Lake
Address: 3115 Conservation Road Milton, ON L9T 2X3
Hours: 9:00 am – 7:00 pm October 19 – April 4
Park Enterance Fees: Adult (15-64)$6.50
Senior (65 & over)$5.00
Child (5-14)$5.00
Child (4 & under)Free

Crawford Lake offers cross-country ski trails on escarpment trails through woods and fields. It is also the site of a rare meromictic lake and reconstructed Iroquoian village. The Pine Ridge Trail offers beautiful pine plantations and open fields perfect for wildlife viewing while enjoying this winter wonderland. Although the trails are easy to moderate, they are not groomed so folks are often Adventurers and are willing to break their own trails. Be sure to pack your own skis. Over 5kms of trails, 3 trails to choose from.

Mountsberg
Address: 2259 Milburough Line Campbellville, ON
Hours: 9:00 am – 7:00 pm October 19 – April 4
Park Enterance Fees: Adult (15-64)$6.50
Senior (65 & over)$5.00
Child (5-14)$5.00
Child (4 & under)Free

Cross-country ski trails run along shoreline, through woods and sugar bush, and along the Wildlife Walkway with bison, elk, and birds of prey enclosures. The Lakeshore Lookout Trail follows the shoreline of the Mountsberg Reservoir and features three smaller loops that take the visitor through plantations, wetlands and woodlands.Trails are great for Family Fun folks and beginners, although they are not groomed. Be sure to pack your own skis. Over 14kms of trails, 32 trails to choose from.

Cross Country Skiing in Brampton:
As part of the The City of Brampton Winter Wonderland campaign, they have introduced a cross-country skiing recreational trail and a snowshoeing recreational trail, located at Chinguacousy Park, weather permitting. These recreational trails are available for independent use by residents during regular park operating hours and offer additional opportunities for residents to enjoy the outdoors during the winter months while maintaining safe physical distancing.
Please note that equipment rentals are not available at this time.
The trails can be accessed from the Sandra Hames Centre Parking Lot (Bramalea and Goodwood entrance). Please follow posted signage guidelines and maintain safe physical distancing.
Please check trail status updates here before your visit.​
Locations:
Chinguacousy Park Cross Country Skiing and Snowshoeing Trails​




Hours of Operation: Monday to Sunday, 10 am – 10 pm​
FREE Snowshoe Rentals in Brampton Courtesty of Brampton Library
Seasonal Activity Kits from the Winter Collection are available from January to April from the Brampton Library. Learn else you can get with your Brampton Library Card.
Discover which kits you can borrow below, free with your Brampton Library card. When you find a kit that interests you, click on the link to check availability.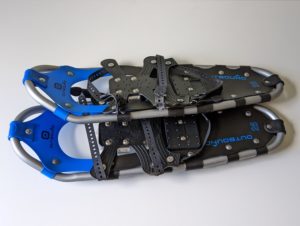 Adult snowshoes – If you're looking for a way to stay in shape even when the snow falls, snowshoeing is an excellent low-impact aerobic exercise that's also beginner friendly. Designed to support 110 to 160 pounds.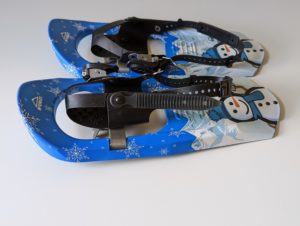 Kids snowshoes – Keep your child active over the winter season with snowshoes! The lightweight plastic frame and tapered design allows for a natural stride, while the easy-to-use ratchet binding means more time playing and less time getting ready. Designed to support 40 to 90 pounds.
---
4. ✧ Go on a Winter Hike
Halton Region:
Brampton:
Peel Region has tons of winter trails to enjoy a scenic hike.
Heartlake Conservation Area – 10818 Heart Lake Rd, Brampton, ON L6Z 0B3
Clairville Conservation Area – 8180 Hwy 50, Brampton, ON L6T 0A6
El Dorado Park – 8520 Creditview Rd, Brampton, ON L6Y 0G4
Professor's Lake – 1660 North Park Drive –

Enjoy a snowy walk around the lake, you will often spot wildlife among the snowy background
Mississauga:
Riverwood Conservation Area – 4300 Riverwood Park Ln, Mississauga –

I would recommend Culham trail which is a scenic route that extends approximately nine miles and breaks away into three different sections. This pathway allows you to connect with the sights and sounds of the forest in the winter.

Rattray Marsh Conservation Area – 180 Lakeshore Rd W, Mississauga – Enjoy a walk along the boardwalk while enjoying the nature of the winter lakefront bog.
5.

✧

Special Winter Evening Activities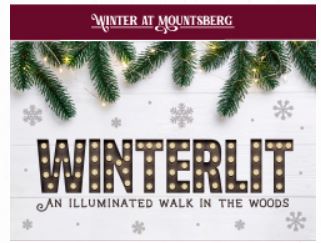 Mountsberg – 2259 Milburough Line, Milton – Winterlit- An illuminated Walk in the WoodsWe're shaking off 2021 and hiking into a brighter 2022 with two illuminated trails! Stroll the Illuminated Sugar Bush Trail and then make your way over to the Winterlit Trail for an experience with a little extra sparkle. The Winterlit Trail features a unique and stunning lighting experience with inspirational art installations along the trail.

Also at Mountsberg, the Illuminated Sugarbush Trail has soft overhead lighting to allow for a beautiful evening stroll through the sugarbush. This year, we are making this enchanting experience bigger and better than ever! We have extended the trails by almost 2 kilometres, added more art installations, and we are introducing Enhanced Evenings at Mountsberg!


Dates: December 26, 2021 – February 20, 2022 (Thursday – Sunday Evenings | 6:00pm – 10:30pm)
*1.5 hour self guided experience, timed reservations
SPECIAL ENHANCHANTED EVENINGS in 2022: New Years Eve, Feb 11-13, Feb 18-20
As if Winterlit isn't dreamy enough, we have selected a few weekends that will make for a perfect and memorable family outing, date night, or catching up with friends. On New Years Eve, Valentines Day Weekend, and Family Day weekend, your you can expect all of the magic of Winterlit plus the following enhancements:

Winterlit Marketplace (Valentines/Family weekend only)*

Local LIVE musical performers (6:30PM-11PM on NYE, 6:30PM-10:30PM all other weekends)

Fire & Ice performers

Strolling entertainers

Karbon Brewery & Winery

Food vendors
Experience a family-friendly outdoor festival as you celebrate the magic of winter with Ice Sculptures, Snow Carvings, illuminated Structures, Life-size Snow Globes, Performers and more with a Light Show synchronized to music! A 1.8km forested trail through Black Creek Pioneer Village will be transformed into a magical winter wonderland. Choose between a walk thru experience or drive thru in the comfort and safety of your car.
6.

✧

Learn to Ski or Snowboard
Mount Chinguacousy offers a bunny hill for skiing and snowboarding in Brampton. This is a great place for kids to learn the basics before tackling bigger ski hills in Ontario like Blue Mountain, or Horse Shoe Valley. If you are looking for a little bit bigger than take a drive to Glen Eden in Milton.
Please Note:
We do our best to ensure the information on The Exploring Family is accurate, however information and events are subject to change.
Want to stay in the know with all things local? Don't forget to join our locally focus Facebook group: Peel Parents Resource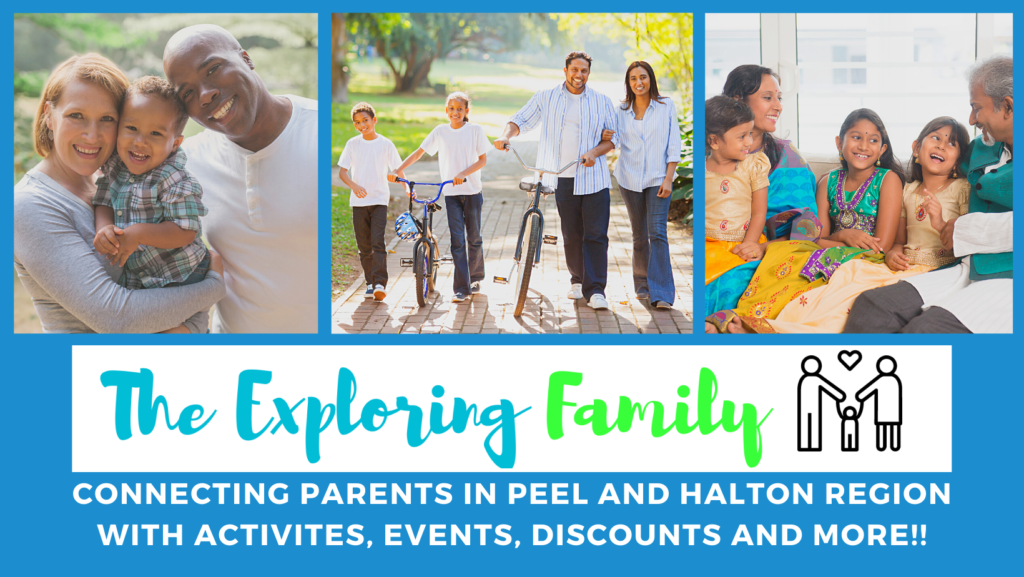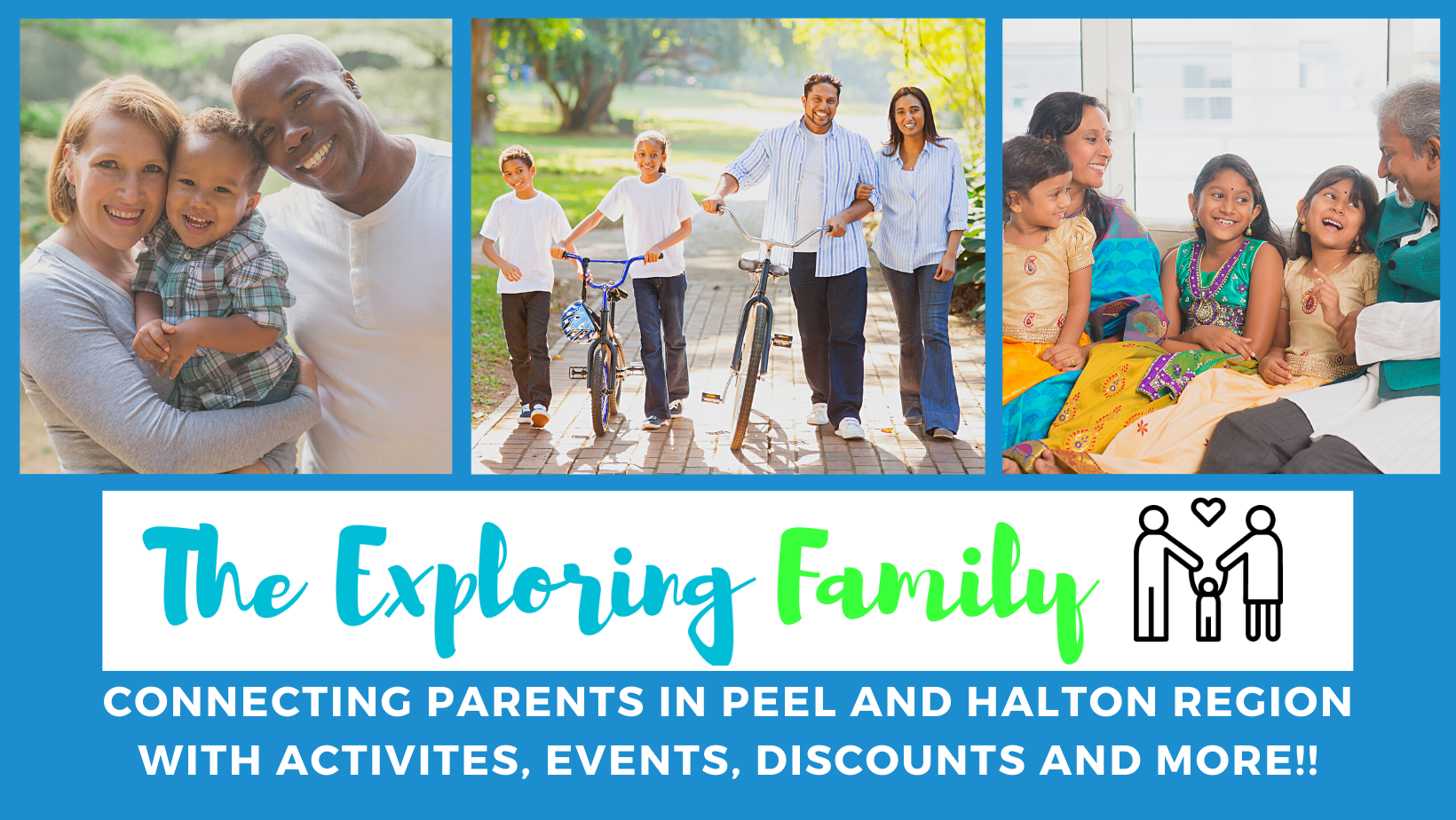 Can you help make this article better?
If you have noticed an error, have additional information or would like to share a comment you can:
E-mail us at info@thexploringfamily.com
Find us on Facebook: The Exploring Family
Find us on Instagram: The.Exploring.Family