It's back to School Season which makes me think about books, learning and libraries so I thought it was the perfect time to write a Guide to Brampton Libraries and explain all the benefits that come with owning a Bramlib card other than just simply taking out books. Brampton library offers a space to read books, use a computer, enjoy a quiet study space, attend Brampton Baby and Toddler Library Programs, participate in a workshop or book club, use a 3D printer, or use a recording studio space.

Guide to Library in Brampton: Table of Contents
Locations of Libraries in Brampton

Brampton Library Hours

What can I use my Brampton Library card for?

Storywalks in Brampton – Combining Outdoor Education and Literacy

1000 Books Before Kindergarten – Promoting Literacy in Young Children (Earn Free Books)
Location of Brampton Libraries and Library Hours:
Brampton is lucky enough to have eight libraries spread out across Brampton, each offering different services to their local neighbourhood communities. 
Chinguacousy (Inside Brampton Civic Centre)
150 Central Park Drive, Brampton, ON L6T 1B4
905-793-4636

Cyril Clark
20 Loafer's Lake Lane, Brampton, ON L6Z 1X9
905 793-4636
Four Corners (Downtown Brampton)
65 Queen Street East, Brampton, ON L6W 3L6
905-793-4636
Gore Meadows
10150 The Gore Road, Brampton, ON L6P 0A6
905-793-4636
100 Commuter Drive, Brampton, ON L7A 0G2
905- 793-4636
South Fletcher's
500 Ray Lawson Blvd, Brampton, ON  L6Y 5B3
905-793-4636
South West Branch
8405 Financial Drive, Brampton, ON
905-793-4636
Springdale
10705 Bramalea Road , Brampton, ON, L6R 0C1
905-793-4636



What are the Brampton Library Hours?
Starting on Tuesday, September 7th, these branches, plus Chinguacousy, Cyril Clark, Four Corners, and Springdale, will be open Monday through Thursday, from 10:00 am until 9:00 pm, and Friday through Sunday, from 10:00 am until 6:00 pm. Our South West Branch Library in the Lionhead Marketplace will be open when the EarlyON centre that shares our space is closed, as noted below. 
As of this Tuesday, September 7, South West Branch Library will be open on Tuesdays and Thursdays from 5:00 pm to 9:00 pm and Wednesdays, Fridays, and Saturdays from 1:00 pm – 5:00 pm. This branch is closed on Sundays and Mondays.

What can I use my Brampton Library card for?
Books: You library card can always be used to take out both fiction and non fiction books. You can either visit a library branch (listed below), or request a library book online for curbside pickup, you can even request a inter-library exchange – meaning if a book is located at a library far from your home they can transfer it to the nearest neighbourhood branch to you which is really convienient. For kids I highly recommend checking out any of the Forest of Reading Winners from 2021 as they offer a collection of Canadian authors.
Access E-Books and E-Audiobooks: Technology is a huge part of our lives and especially with the last year of the pandemic you may not be comfortable picking up physical books yet so why not check out an ebook or audio book using your Brampton library card. You can borrow up to 20 items for 21 days using the cloudLibrary. All of these books can be accessed on a tablet or e-reader.
Book Bundles: Fill out a google form and request a certain theme of books and the library staff will curate a Book Bundle ready for Pick up or you can grab a Grab 'n' Go bag of books for the kids.
DVDS: The Brampton Library has a large selection of physical DVDs that you can borrow and view at home. These include both movies and full tv seasons.
Magazines: Enjoy digital versions of top newspapers and magazines from around the world in over 60 languages.
Stream Movies: Use Kanopy to stream movie and TV including kid friendly content, 30,000 Popular Movies, Documentaries, Indie Flicks, World Cinema, Classic Films, TV Series, and more on your computer or mobile device.
Go Pro Kits: Want to take some live video of your adventures with your family, then borrow a GoPro HERO & HERO5 Session which are small, compact, durable, and easy-to-use cameras for recording high-quality videos and snapping photos on the go. Each GoPro Kit includes a GoPro camera, mounting frame, and various accessories to help you get started.
Launchpads: These are like tablets but are pre-loaded with digital content to help your child discover and learn through educational games and apps. The Launchpas do not require internet and allow kids to read, play, and explore science, math, engineering, critical thinking, creativity, reading and much more. There are lots of options and there are designed for specific age groups: 3-5, 6-8, 8-10, 10+ & Teens.
Ontario Parks Pass: The Ontaro Parks pass allows daily use for one vehicle and all of its passengers in a provincial park in Ontario. The passes can be taken out for up to 1 week at a time. Checkout our favourite parks: Balsam Lake, Macgregor Point, or Silent Lake.
PAMA Pass: Enjoy the museums exhibitions plus adult and children's program as Free Admission passes to the Peel Art Gallery, Museum and Archives (PAMA) are available for loan at Brampton library. Service Update: PAMA is currently closed to the public and PAMA passes are not available to borrow at this time.
TRCA (Toronto Region Conservation Authority) Pass: Free admisson to the parks for one vehicle. Parks include: Albion Hills, Boyd, Bruce's Mill, Glen Haffy, Heart Lake, Petticoat Creek, as well as Black Creek Pioneer Village and Kortright Centre,  Cheltenham Badlands, Island Lake, Ken Whillans, and Terra Cotta Conservation Areas.
Seasonal Activity Kits: Brampton Library is encouraing residents to get outside and be active using a seasonal activity kit which includes everything you need to enjoy an outdoor game or activity. Enjoy easy to play games like Fling a Ring, Spikeball, Golf Target, Snakes and Ladder Giant, Horse Shoes, or Golf Target. These are all great games to play with kids in the local park, your own backyard or even a trip to the beach or camping.
Brain Fuse: Offers online tutoring, homework and writing help to K-12 students to help support their academics.
Tumble Math: Enjoy online storybooks that focus on mathematic concepts.
Storywalks in Brampton – Combining Outdoor Education and Literacy – Until October 1st, 2021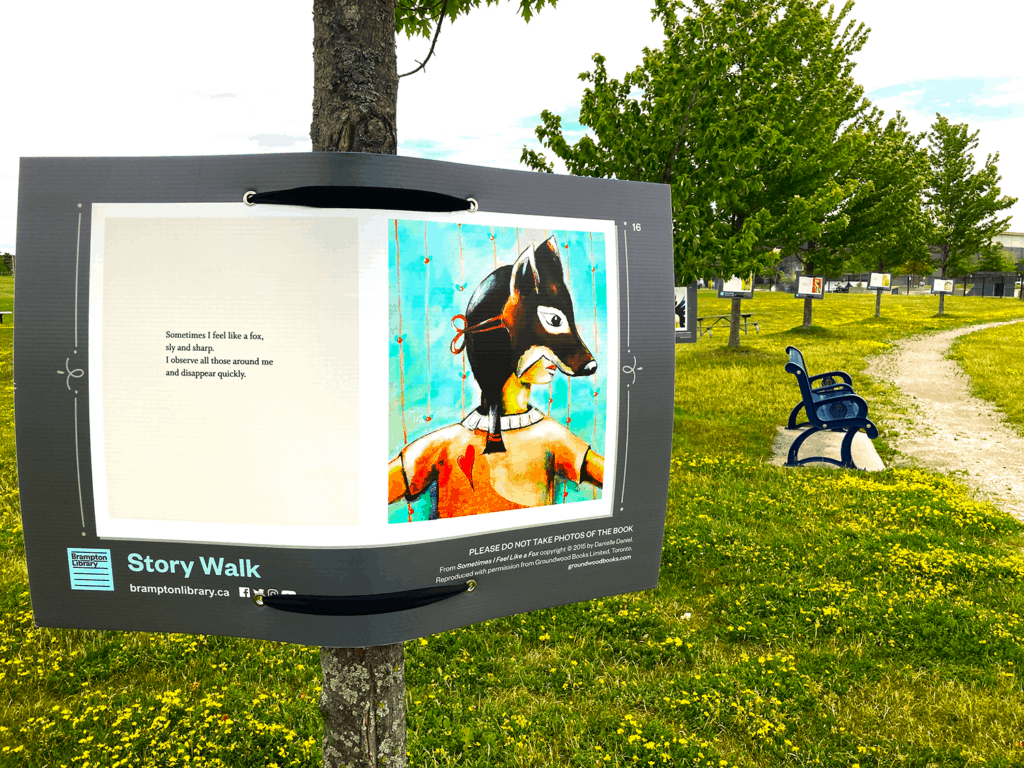 Brampton Library is also encouraging the love of reading for young kids with outdoor exploration by offering Storywalks in different parks. A Storywalk is a way for you to go for a walk as a family and enjoy reading a story at the same time as you enjoy the nature of the parks. This is not a timed event but is always available in the parks until October 1st when it gets to cold and the weather would ruin the Storybook cards.
There are currently Story Walks in the following Parks: Each park listed below links to information about that park including, address, parking information, etc.

Want to Earn FREE Books just for Reading with Your Child?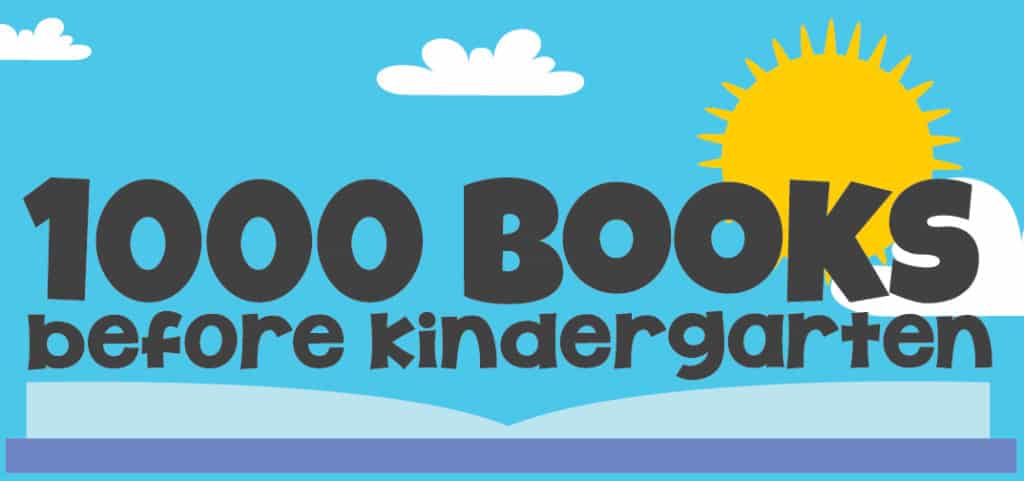 1000 Books Before Kindergarten Challenge is a program run by Brampton Library to promote literacy in young children. Simply share or read a book with your child and colour in a square on the tracking chart, it does not have to be a new book, repeats count towards the 1000 books. The program is self-paced and can take anywhere from a few months to a few years depending on how often you read together.  Reading together provides an opportunity for family bonding and creating lifelong memories and  teaches your child 'how a book works', growing their vocabulary and instilling a love of reading. For more tips on Promoting Reading in Children checkout our post Six Tips to Help Your Child Enjoy Reading. 
Click here to download your tracking sheet now!
For every 250 books that you read, you'll receive a prize! Please email sjones@bramptonlibrary.ca when you reach each 250-book milestone.