Looking for Outdoor Entertainment for you and your baby? Look no further than Heart Lake Conservation Area in Brampton.
Heart Lake Conservation is located at 10818 Heart Lake Rd, just north of Sandalwood, in Brampton, and provides the beauty of nature as your backdrop.
If you are looking for an adventure for kids of all ages, this is the place. Get outdoors and choose your adventure from all that Heart Lake Conservation Area has to offer!
Why Visit Heart Lake Conservation Area
Heart Lake offers hiking, a splash pad, a pool, fishing, and a fitness circuit. This is just one of the 52 Activities you can do on Maternity Leave around Brampton.
Plan a trip to Heart Lake Conservation Area. Heart Lake Park offers hiking trails with varying degrees of difficulty, picnic spots, fishing, water play, and much more!
Given the proximity to the Greater Toronto Area it can get busy at times. There is no overnight camping at this park, it is day use only. There is a gate house that is staffed in the summer, but they do have an pay parking drop box stationed at the entrance to the parking the rest of the year.
Heart Lake Conservation Area – The Ultimate Guide on Things to Do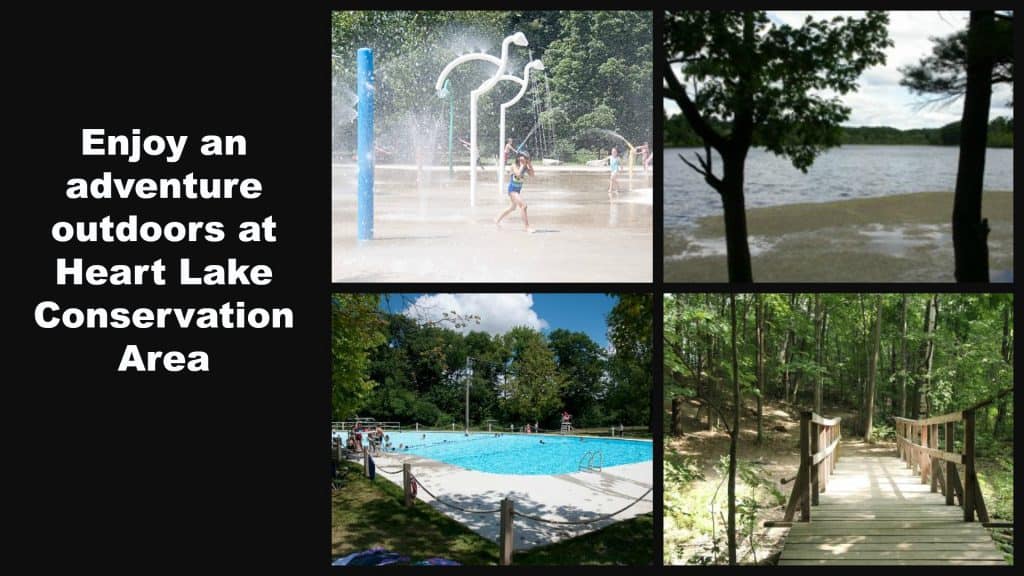 Ultimate Guide Heartlake Conservation Area: Table of Contents
Park Fees for Toronto Conservation Authority Park

Things to do at Heart Lake Conservation Area

How long are the trails at Heart Lake Conservation Area

Picnic Areas at Heartlake Conservation Area
Park Fees for Toronto Conservation Authority Parks:
(ADULTS CAN BE FREE TO IF YOU TAKE OUT THE TRCA PASS FROM ANY BRAMPTON LIBRARY – PLAN AHEAD AS OFTEN THERE ARE WAITLISTS)
Adult (15+)$6.50
Senior (60+)$5.50
Youth (5-14)$3.00
Children (4 and under) with family FREE
Things to do at Heart Lake Conservation Area:
Hiking

Fishing

Picnic

Waterplay at Pool and Splash Pad

Fitness Trail

Treetop Trekking
Splash Pad and Pool at Heart Lake Conservation Park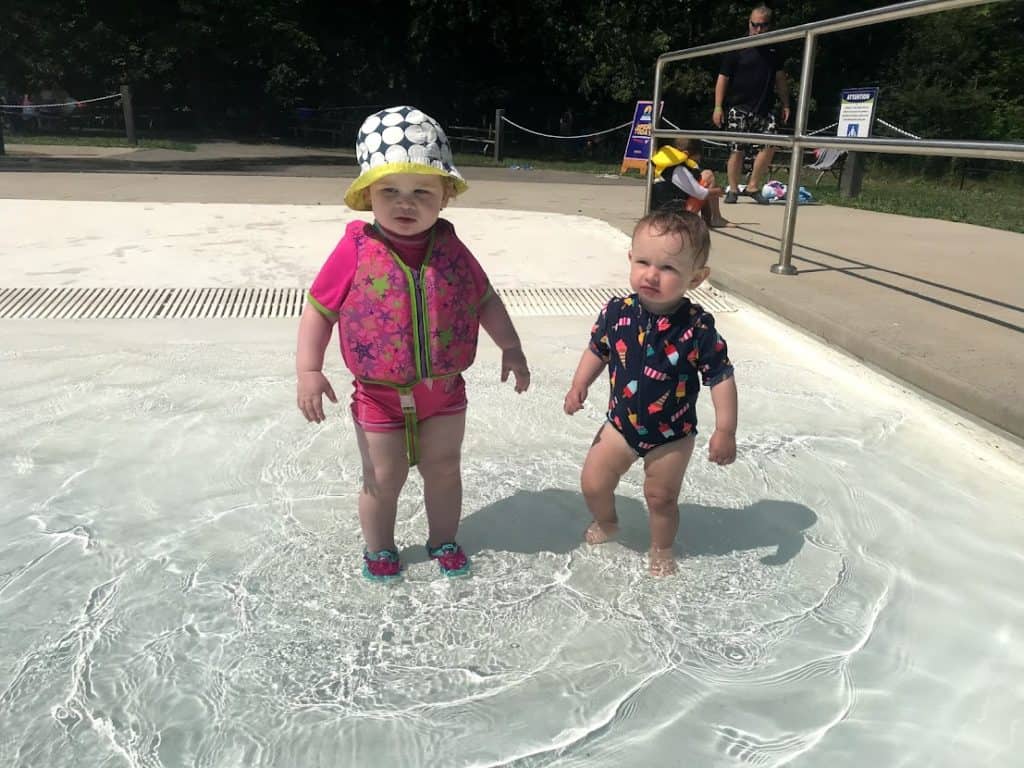 Wild Wetland Splash Pad and Pool offers clean and safe water fun for kids of all ages.
Pool Hours (Weather Permitting)
Admission: Non Members
Admission: Parks Members*

Weekdays: 10 am to 6 pm
Weekends: 10 am to 7 pm

$4.75 Plus Park Admission
Heart Lake offers a fully accessible 840-square-meter swimming pool, that is eight feet deep. My favorite part about this pool is that it is beach-style shoreline entry so you can sit in the water with the baby. It is shallow enough for your little one to sit in at the very beginning of the pool. The water has been a fairly warm temperature when I visited in Late June, and Late August.
There is a bathroom/change room with a changing pad located near the pool making changing very easy.
On the pool deck, there is a large gazebo offering shade and somewhere to sit and eat a picnic lunch. The splash pad is great as it has over 30 wetland-themed water features for children to play in, although I did find the water chilly when I tried it in late June.
Both the pool and splash pad use State-of-the-art water conservation technology to help recycle the water used in the water area. Both the pool and the splash pad are located in natural wilderness surroundings.
Hiking at Heartlake Conservation Area
Hiking in the park offers panoramic views of nature in the urban jungle of Brampton. Curved trails, woodland areas, flowered meadows and a small lake offer peace and tranquility from the hustle and bustle of city life.
Check out a Full Guide to 13 Hikes near Brampton for Kids.
How Long are the Trails at Heartlake Conservation Area:
Heart Lake Conservation area offers over 8km of trails of beautiful nature to explore. Heartlake has three longer trails: Peel trail (green) is 3.8km, Terry Fox trail (yellow) is 3.2 km, and Heart Lake – Esker Trail (pink) which is 2.8km. Followed by two shorter trails Rayner trail (orange), and Connector Trail (purple) which are both less than a km. The Black star represents Trail Head information kiosks which can provide more information on the trails.
I personally have hiked the Heart Lake Esker trail which wraps around the lake offering beautiful views of the water and wildlife living nearby. The trail is mainly flat and has very slight changes in elevation making it very easy to hike with a baby.
Fishing
The Learn to Fish program is a hands-on program that teaches how to fish in Ontario. This is a great opportunity to learn everything you need to know to have a safe and fun fishing experience.
Over two hours children will learn about fishing in Ontario — and might even catch one!
Equipment is provided, and the cost to participate in the program is free; however, the fees to enter the conservation area apply.

Sessions run rain or shine; however, they are subject to cancellation.

Maximum participation per session is 40 people.

Recommended age for participation is 6 years+.

Sessions will run Wednesday to Sunday all summer long, twice daily: 10 am to 12 pm and 1 pm to 3 pm until September 1.

Each session we will accept up to 20 pre-registered spots, with the last 20 available for drop-in.To register check out the Heart Lake Conservation Website.
Fitness Trails

The new fitness trail at Heart Lake Conservation Area features four outdoor fitness stations that offer:
Accessible Fitness Opportunities

Strength Training

Cardio Activities

Enhanced Stretching
Treetop Trekking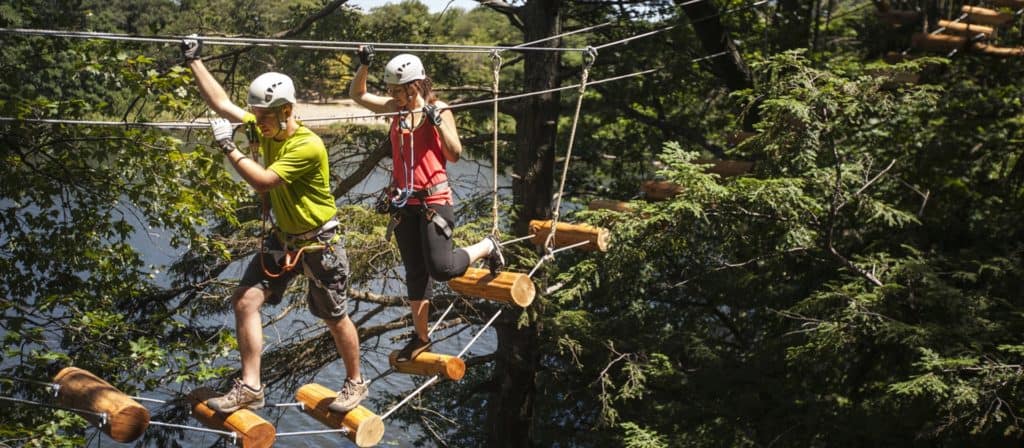 Enjoy the outdoors and get up close with nature while you explore the forest during one of these unforgettable adventures. Treetop Trekking offers different adventures depending on your age and abilities.
Heartake Conservation Area is home to Treetop Trekking and features a Zipline, Aerial Game Trek, Night Trek, GPS Rally, and Observation Course. This Brampton aerial park has over eight courses, 10 ziplines and more than 75 aerial games and includes features such as log bridge, cable traverses, balance logs and tarzan swings.
My husband and I checked out this course back in 2019 with our friend who was a guide there and it was amazingly fun and yet super challenging.
The beginner courses were a blast but as we moved up to harder courses it definitely became challenging for me in terms of strength as well as overcoming my fear of heights and letting go and trusting the harnesses at points as I reached further through the course.
Check out full information about Treetop Trekking Brampton in our Daytrips from Mississauga Guide.
Picnic Areas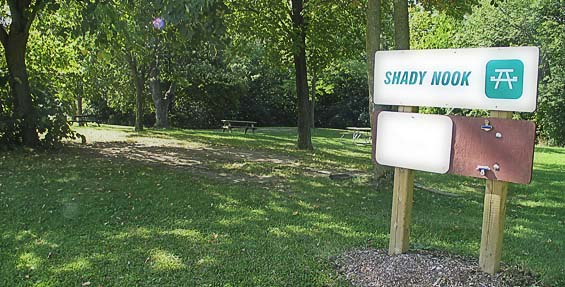 If you are looking to host a bigger family picnic then you can access one of 10 picnic sites throughout Heartlake Conservation Area that can be booked to accommodate small and large groups.
Heartlake Picnic Sites include:
Shady Nook: $240 / capacity 25

Heartlake Birchview: $561/ capacity 100

Heartlake Poplar: $240/ capacity 100
Find a full list of Picnic Spots Here.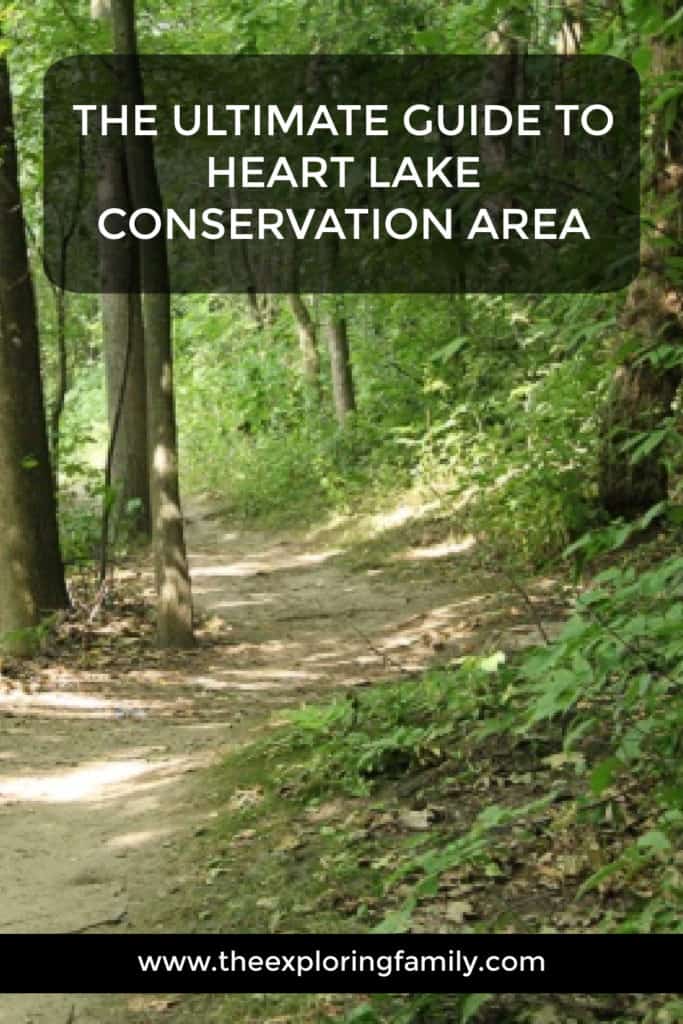 Check out these other Brampton Playgrounds: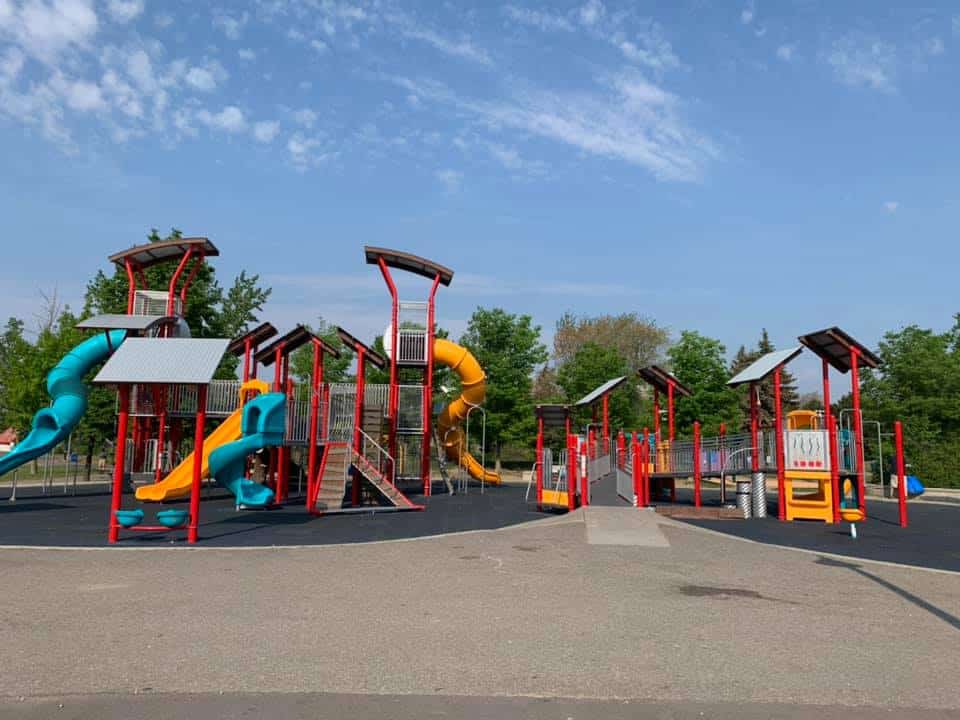 Interested in other Outdoor Adventures then check out:
Fresh Air Fun with Baby – Beyond the Backyard Fence
Interested in things to do with kids in Brampton? Come join our community of Parents: Peel Parents Resource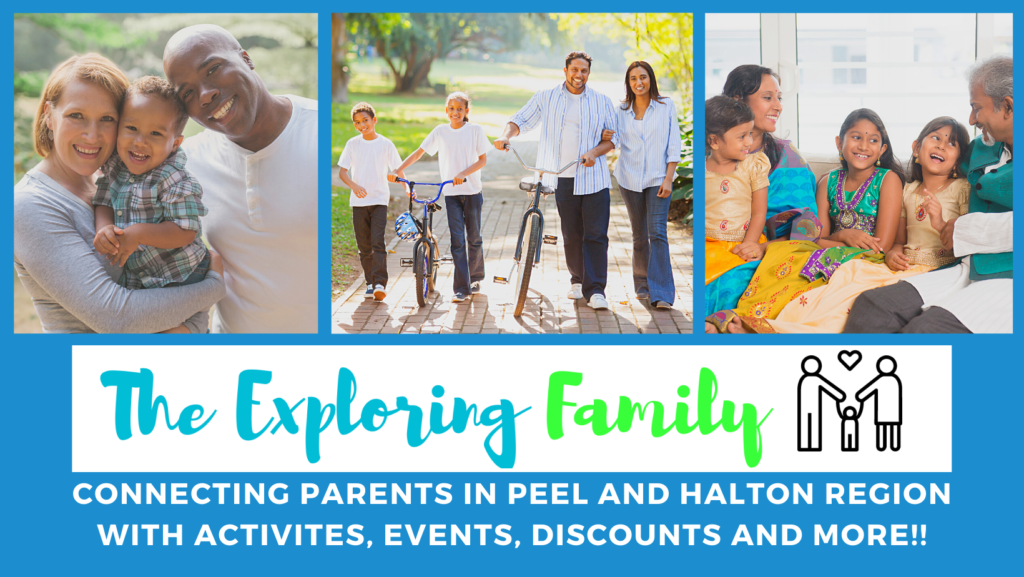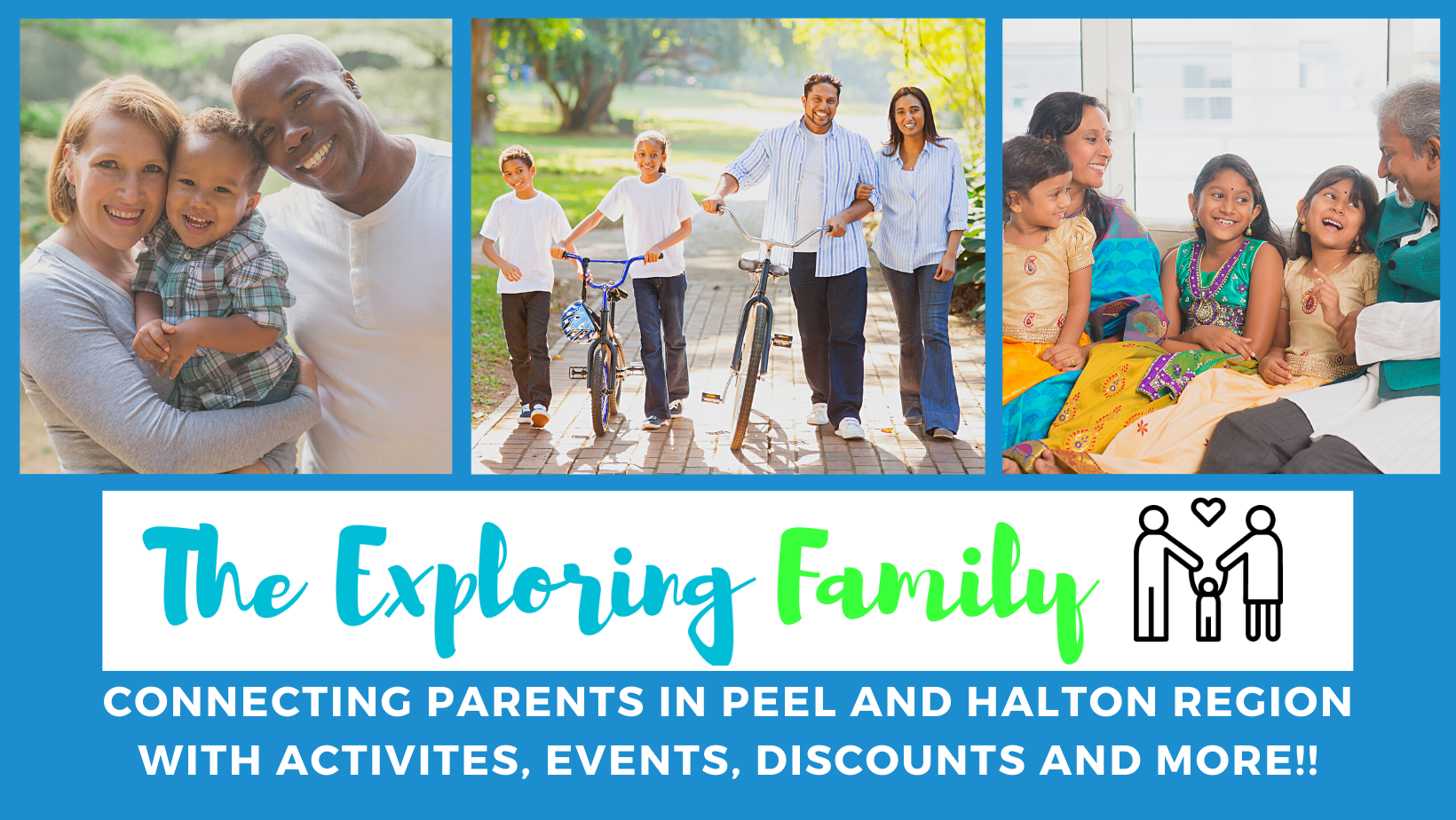 Please Note:
We do our best to ensure the information on The Exploring Family is accurate, however information and events are subject to change.
Can you help make this article better?
If you have noticed an error, have additional information or would like to share a comment you can:
E-mail us at info@thexploringfamily.com
Find us on Facebook: The Exploring Family
Find us on Instagram: The.Exploring.Family