Balsam is a family and pet friendly Ontario Provincial Park that offers a variety of activities for the whole family to enjoy, and the best part is that you are getting the kids OUTSIDE!
Balsam Lake Provincial Park Camping: A Guide To The Balsam Lake Campgrounds
There are lots of things to do at Balsam Lake features a large sandy beach marked with bouys and lots of space to enjoy canoe, kayak and paddle boat rentals. Now Balsam Lake is one of our favourite camping destinations in Ontario, however we also love Silent Lake, MacGregor Point and Algonquin. Looking to explore Balsam Lake Provincial Park for camping or enjoy the sandy beach of Balsam Lake, here is all you need to know about the Best Things to do in Balsam Lake Provincial Park.
Where is Balsam Lake Provincial Park?
Balsam Lake is located near beautiful Coboconk in South-Central Ontario along the Trent-Severn Waterway. Balsam Lake is well known for its exceptional fishing with lots of Walleye, Muskellunge, Large and Small Mouth Bass.


Tips For Visiting Balsam Lake Provincial Park Campground:
Balsam Lake is one of the most popular parks in Ontario, and is one of our favourites along with Silent Lake, Algonquin Park, and MacGregor Point. Now since Balsam Lake Campground is a popular summer destination in the province of Ontario so there are a few tips you should know to make your Balsam Lake camping experience the best it can be.
Book Early: Ontario Parks opens up its campground reservations 5 months prior to your date. Make sure to log on at 7am exactly 5 months prior to the date you wish to book to ensure you get the best selection of camp sites. You can access that here. If you can't get a spot camping at Balsam Lake, you can check out some of the our other favourite campgrounds.


Book Off Season: Many Ontario Campgrounds are the busiest from Canada Day to the Labour Day Weekend when kids are out of school so if you want a quieter experience try booking off season. There is often beautiful campign weather in mid to late June in terms of beach weather and if you want a different experience try camping in the fall.

Things to do at Balsam Lake Provincial Park and Beach



Where can you stay at Balsam Lake Provincal Park? Check out Balsam Lake Accommodations



Balsam Lake has many different options of accommodations, and a variety of different camping site options. So if your up for an adventure then check out their traditional camping options: car camping, group camping, radio free camping, or walk in camping to enjoy the natural beauty of the park.
Or if you are looking for a beginner step to camping with kids check out Balsam Lake's amazing roofed accommodation, that provides a lot of the same comforts as home but you are surrounded by nature. Balsam Lake books up fast so be sure to book ahead of time especially for the summer prime time. Now every Ontario Park has something different to offer, however the facilities, services, accommodation options and things to do make Balsam Lake the perfect destination for families.
Why Camp when you can Glamp? Camping with Children at Balsam Lake Provincial Park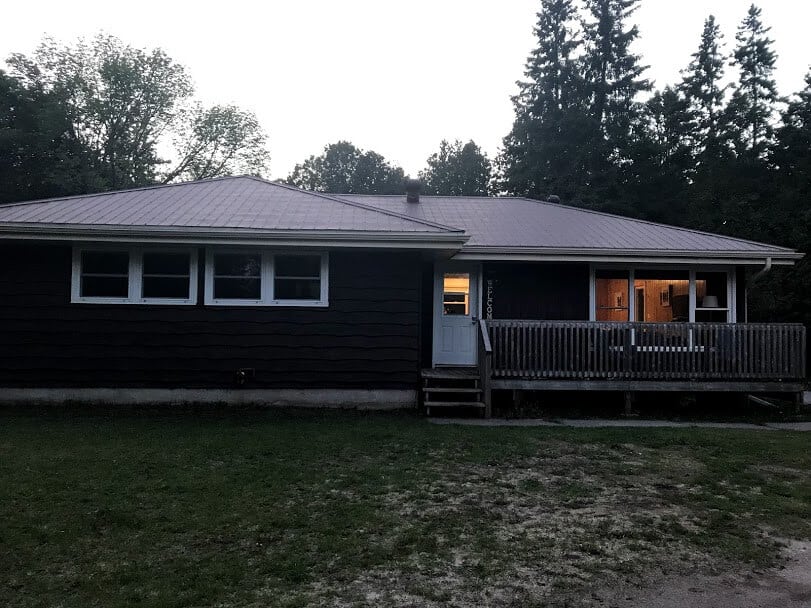 Now when my daughter was born back in 2018, my husband and I asked ourselves what age is too young to camp, and the answer we came up with is that camping can be enjoyed by kids of any age, it's just a different experience. Travelling with kids to camping for the first time can be overwhelming but if you plan ahead and prepare it can be simple.
While we took our daughter tent camping last summer at only 6 months old, we went with lots of family to make it easier. If you don't have the option of family around then staying in a roofed accommodation that provides everything can make it simpler and a great first experience.
Balsam Lake Provincial Park Cottage – Roofed Accommodation
*This post main contain affiliate links. If you click through and make a purchase we get a small percentage
This newly renovated 4 bedroom cottage at Balsam Lake Provincial Park was the perfect place for us to gather with friends to celebrate my birthday. The cottage had a beautiful open concept kitchen and living room which made it simple to keep an eye on our busy toddler while we were able to still enjoy adult time of playing board games at the large kitchen table that easily seats 8. The beauty of staying in the cottage is that you have access to all of the activities available in Balsam Lake Provincial Park but don't need to jam your car full of camping gear.
Bedrooms
The cottage featured four bedrooms: three double beds, and one bunk bed with a double and a twin which would be perfect for the kids to have a sleepover together in one room. The cottage features luxury such as central air and a propane furnace so you can set the cottage to the perfect temperature. The bedrooms also had large closets and a dresser to allow you to put away your clothes if your staying for an extended visit. It is important to note that you need to bring your own bedding and pillows, but that is easier than packing your whole tent.
Bathrooms
The cottage features a full bathroom upstairs that had a full size shower and toilet. In addition in the basement there is a powder room bathroom with two sinks that is perfect if multiple people are trying to get ready in the morning. You need to provide your own shampoo and conditioner, but hand soap and toilet paper are provided. A tip for parents travelling with young children is to bring a bathtub plug as the cottage did not have one so we just gave our daughter a shower with us instead.
Kitchen
The kitchen features a large counter top with bar seating allowing you lots of prep space if cooking a large meal. The kitchen includes all the luxuries of home including: refrigerator, stove, microwave oven, coffee maker, teapot, pots, dishes, pans, cutlery, and plates. The only thing you need to bring is your food and beverages, as everything else you could think of including waffle iron and popcorn maker! One of the more challenging tasks about camping is trying to wash dishes in large buckets, as you need to boil water, and then wash by hand…. So I LOVED that we simply loaded the dishwasher and pressed START!
Living Room
The living room featured a couch, love seat and chair providing ample space for our whole group to gather and hang out together. The cottage does have a television and DVD player but we had fun spending time outdoors and didn't even turn it on the whole weekend. The living room had lots of room for our daughter to play with her toys that we packed from home. When packing toys for kids when you are camping keep it simple as honestly they will be more engaged exploring their new environment. However just in case of a rainy day you want to pack some books or activities to keep the kids busy.
Fun Books for Kids that Feature Nature and Camping
A great book that I would pack with me for older kids is: Forest Club – A Year of Activities, Crafts and Exploring Nature. It is the perfect book to bring along camping as it offers activities to reconnect children to nature and the outdoors. The book features crafts, as well as guide pages about different types of flora and fauna that you would find on one of the many hiking trails located in the park.
For younger kids such as my daughter I packed the Wonder Wheels board books as they were great for my daughter to flip through on her own on for us to read a simple story about camping with the Camper Fun book.
Downstairs:
The downstairs area features a washer and dryer just in case you need it. This area is the entertainment hub of the cottage which is perfect to use in the evening or on a rainy day as it features air hockey, ping pong, and Foosball all ready and waiting for tournaments and competition to begin. Our friends spent a couple hours playing ping pong which was a blast!
Outdoors:
Now we decided to come camping rather then going on a hotel vacation as we love nature and the outdoors and this cottage provides the perfect backyard oasis. There is a large deck with picnic table, umbrella and BBQ which we used for lunch on Saturday and just hung around after eating enjoying the fresh air. The backyard has a large grass area perfect for lawn games like bocce, slam ball, or ladder golf which are all our favorites to pack when camping. The backyard includes a large outdoor fit pit and plastic Muskoka chairs so you can even leave your camping chair at home. In the evenings we loved to have a campfire and cook some of our favourite easy campfire desserts.
Lawn Games Perfect for Camping
Overall we had an amazing weekend celebrating my birthday with friends and the cottage was the perfect solution to travelling with a toddler. We love to have competitions playing different lawn games whenever we camp and the backyard this cottage had to offer was perfect to play. The cottage offered all the amenities of home and saved us so much packing which was perfect, especially for a short weekend trip. We love Balsam Lake and all it has to offer for families so we will be returning in August but will be tent camping with extended family.
What is there to do at Balsam Lake Beach? Things to do at Balsam Lake
Biking
While the park doesn't have any dedicated biking routes there are lots of campground roads and over 10 km of local cottage roads to ride freely. If you didn't bring a bike from home, stop in at the main office to rent a bike.Bike Rentals are $15 for 2 hours or $45 for the day.
Boating
Bring your own Canoe or rent one at the park. Canoe, Kayak, Pedal boats, Paddle board and water hammock rentals are available at the park throughout the summer season, located at the beach. Personal flotation devices (PFDs) of varying sizes are supplied for all rentals. A boat launch and boat trailer parking is available at the canoe launch. Enjoy a quiet afternoon on the water or do some fishing from you boat as Balsam Lake is home to Walleye, Muskellunge, Large and Small Mouth Bass.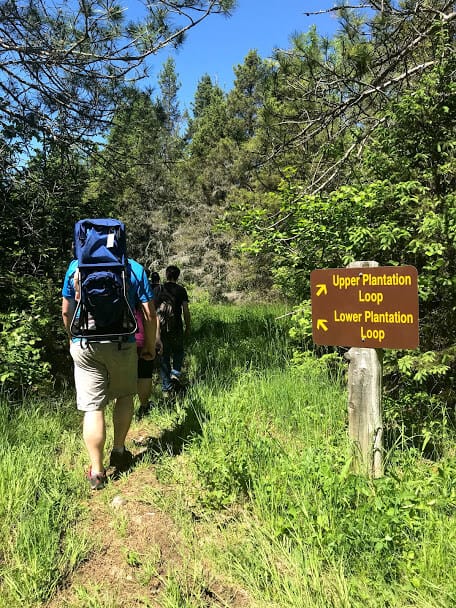 Hiking
Balsam Lake Provincial Park offers the option of a family jaunt, nature walk or more difficult hike, as there are two different trails to choose from depending on your needs. Both trails allow you to expand your outdoor experience and learn about the history and ecology of the park while enjoying panoramic views.
*Tick Awareness – Ticks are prevalent in many areas of Ontario this year and we did encounter some on our hike of the Plantation Trail. The following are tips for Tick Safety especially for young kids*
Check yourself and your kids after spending time outdoors

Stay on the marked paths of the trails

Wear long sleeve shirts, and long pants tucked into your socks

If you find a tick remove it right away, it does not pass on any infections unless it has been attached for 24 hours

Use suitable bug repellent



The Canadian Lyme Disease Foundation has a great Tick Identification Guide.
Lookout Trail – 2.6 km (1.5 hours) walk through eskers and kames formed over 10,000 years ago from the Wisconsin Glacier. Enjoy a panoramic view of the surrounding area.
Plantation Trail – 4.2 km (2 hours) – a moderate forest trek with both natural and pioneer highlights.
Bird Watching
Home to a wide range of birds from hummingbirds, Blue birds, cardinals, Northern orioles, Pleated woodpeckers, hawks, osprey and owls, you are sure to view some unique birds native to the park or Relax to the call of the loon.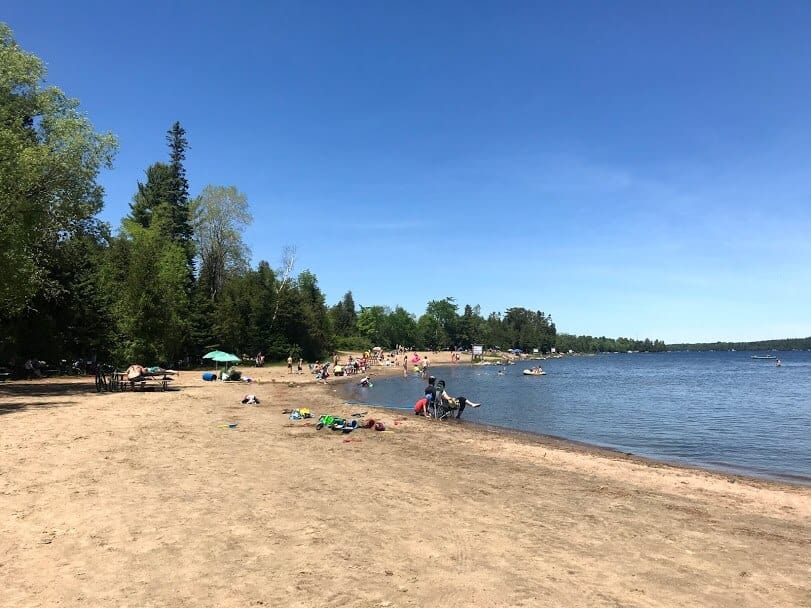 Fishing
Balsam Lake offers the Learn to fish program which teaches you how to fish through hands on methods. The program is two hours and combines practical teaching and an hour of hands on fishing. The learn to fish program teaches kids, teens and adults teaches how to rig, bait and cast a fishing rod, identify and catch local fish species, and how to obtain a fishing licence and follow fishing regulations. The program allows individuals to discover more about fishing in Ontario and fish safely and sustainable. The program provides experienced instructors focused on fish, fun and safety and includes a fishing rod, reel and bait to use during the program. For more information and program times visit ontario.ca/learntofish
Discovery Programs for Kids at Ontario Parks: Ontario Parks Ambassador Program
Balsam Lake strives to teach children and adults about the plants, wildlife and ecology of Balsam Lake in addition to the history of the surrounding areas. Weekly schedules are available at the permit office, activities include:
Amphitheater Presentations: theatrical shows, concerts, slideshows and film nights,
Guided Hikes: Enjoy a hike with a park ranger along the Lakeshore Trail and discover nature up close!
Children's Programs: Fun games, activities and challenges.
Campfire programs: Located on the beach in the evening.
Interpretative Displays: On Weekends throughout the summer check out displays at the nature kiosk and ask a naturalist any questions.
Junior Naturalists Program: Kids are encouraged to join the Junior Naturalists Program by picking up a Naturalist Passport from any of the Natural Heritage Education Programs or from the Permit Office to get started.
Earn stamps on your passport – for each park program you participate in you will receive one stamp, also for each activity sheet you fill out you will earn one stamp. Speak to a Park Naturalist or the Permit Office staff to get your passport stamped, to find out about upcoming park programs or to pick up more activity sheets to work on.

Once you have 3 stamps on your passport you will become a Junior Naturalist Level 1!

For each Level completed you will receive a certificate, a small reward, and a ballot for our end-of-summer prize pack contest.

We now have 8 levels of Junior Naturalist at Balsam Lake Provincial Park, see if you can earn them all!


Swimming
Balsam Lake has a beautiful sandy beach that is sectioned off with buoys, but reminder that there are no lifeguards to make sure to follow water safety guidelines. PFDs are offered FREE through the PARKsmart PFD Lending Program program are available to both adults and children, and can be acquired through a parks staff member. Borrowing a PFD will make your trip more safe and enjoyable!
Facilities at Balsam Lake
Boat Launch: Docking and trailer parking is located near the boat launch. The boat lunch makes it easy to start your canoe ride from the dock.
Laundromat: Four comfort stations located throughout the park offer coin operate laundry facilities.
Park Store: Don't worry if you forget something at home as the small park store carries souvenirs, ice, ice cream, firewood, and many more items you may have forgotten. Groceries are located just outside the park in Coboconk.

Pet Exercise Area: A small area of exercise your dog.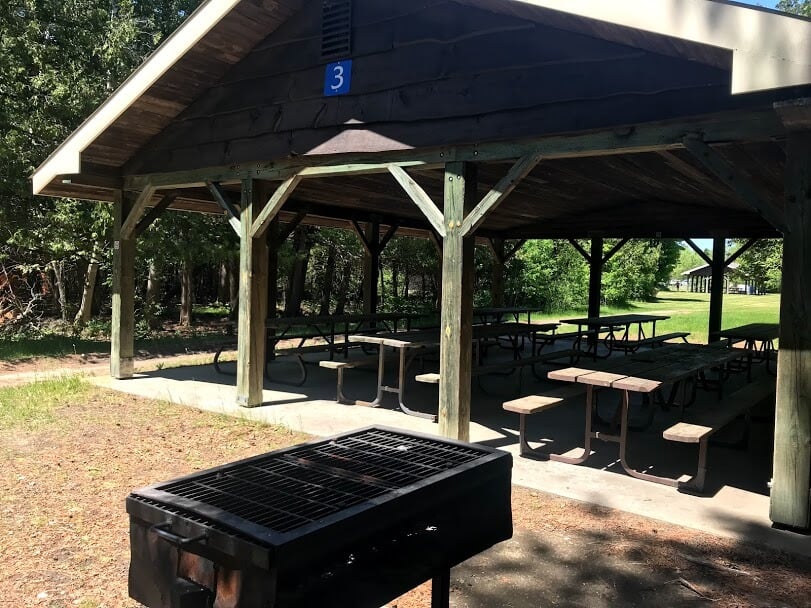 Picnic Shelters: There are three large shelter areas with BBQs that you can use for day use located right near the beach.
Rentals: You can rent a bike from the main gate house and enjoy cycling around the campground or the 10km of nearby cottage roads that are adjacent to the park. Canoe, Kayaks, and Paddleboats can be rented on the beach.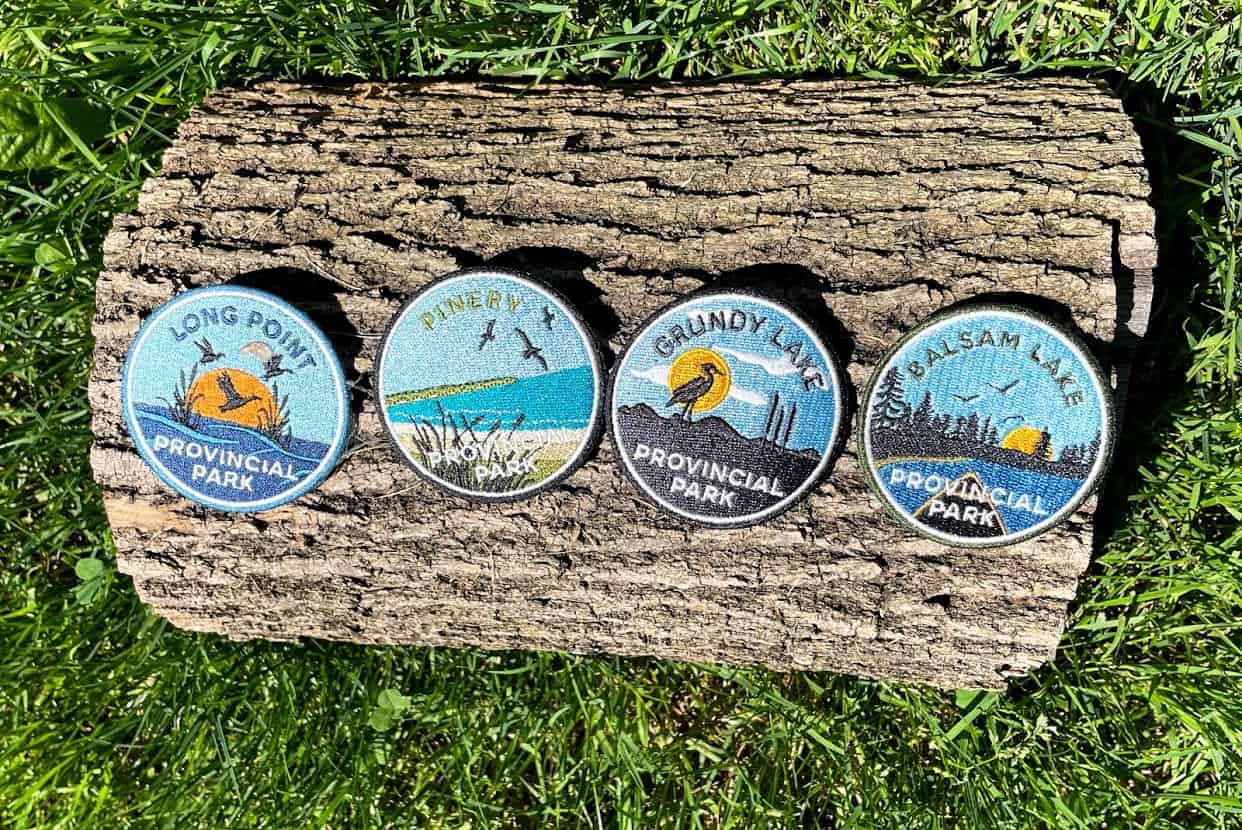 Don't forget to collect a Unique Crest for each Park you visit!
Each park with a retail outlet (84 parks in all) has its own design, reflecting the park's identity.

Camping with Children: Tips and Tricks for Babies and Toddlers
Pack a portable crib for them to sleep in if they are under 2, over 2 I would suggest a toddler cot.
While some areas are stroller friendly, save the space in the trunk and pack a good carrier. For under 1 years old we used the Lillebaby Carrier, and now that she is older we use a Hiking Baby Backpack.
Bring a portable playpen to keep them contained and offer a play space if under 1, or you can also use the Kidco Activity Seat which we used near the campfire last year as she wasn't old enough to sit on her own.
For babies under 6 months, you cannot use bug spray so keep their skin covered with long clothing to avoid bug bites. For those over 6 months you can use OFF Family Bug Spray once per day.
Keep kids in the shade to avoid overheating and use a sun tent while on the beach.
Pack favourite toys such a coloring book, story book, or bubbles.
Bring lots of snacks as fresh air increases hunger and don;t forget normal routines such as meal times and nap times. To make eating easier you can use a Pop n Sit Portable Booster or Clip on Highchair that attaches to the picnic table.
Give older children a flash light of their own for safety.

Identify hazards, campsite boundaries, and clearly explain rules and camp life if they are old enough to understand, if not have plans in place to ensure safety but encourage exploration.




Don't forget to checkout our other camping posts: Easy Campfire Desserts, and Camping Food Ideas!