Algonquin Provincial Park is located in South Eastern Ontario nearby Whitney, ON. This park is known for its beautiful landscape of rocky ridges, lakes, and dense forest. This makes it the perfect environment to enjoy the outdoors. You can engage in adventure activities and view some amazing wildlife all in one visit.
About Algonquin Park
Algonquin Provincial Park offers breathtaking wilderness, fresh air, secluded forests, clear water, and a blanket of stars at night. It offers Canadians an accessible wilderness adventure. You can accomplish many of the Things to do in Algonquin Park during a day trip or even better is to make it a weekend trip.
This beautiful park is 7,630 square kilometers. Boasting forests, lakes, and rivers. It is home to 30 species of mammals, such as bears, deer, moose, and loons.
Why Spring is the Perfect Season to Visit Algonquin Park?
We cannot promise you will see wildlife. However, tons of animals live in the park and you will see them if you look carefully. Check out the wildlife log at the Algonquin Park Visitor Centre.
We did not see any moose as I hoped but we were lucky enough to see a snapping turtle and deer. I was hoping to see a moose in early Spring when we visited. It is quite common to see moose along Highway 60. Moose are attracted to the salt from the winter sanding. The visitor log had over 8 sightings the day we visited.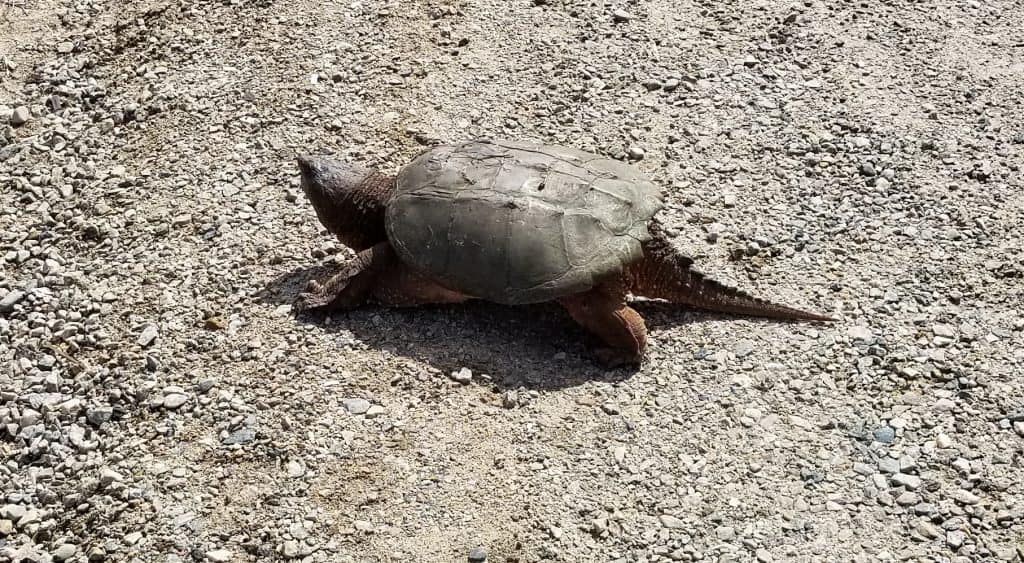 The spring is also a perfect time to enjoy some fishing as May is an excellent time to catch trout. Algonquin Park is well known for the best Brook Trout and Lake Trout fishing in Ontario.
Best Time to Visit Algonquin Park
The Spring offers an excellent time to enjoy one of the many hiking trails. Enjoy before it gets too hot and unbearable in the summer or busy with tourists.
We enjoyed multiple hikes over the weekend. We enjoyed the peace and quiet of nature with no distractions as there were not many other hikers.
Algonquin Park remains very wintry late into the Spring Season due to this Park's higher elevations. Many of the trails we visited still had snow during the first weekend of May. Beaver Lake still had a fair amount of ice despite the sunny skies. Just make sure you pack hiking boots and gear that is appropriate.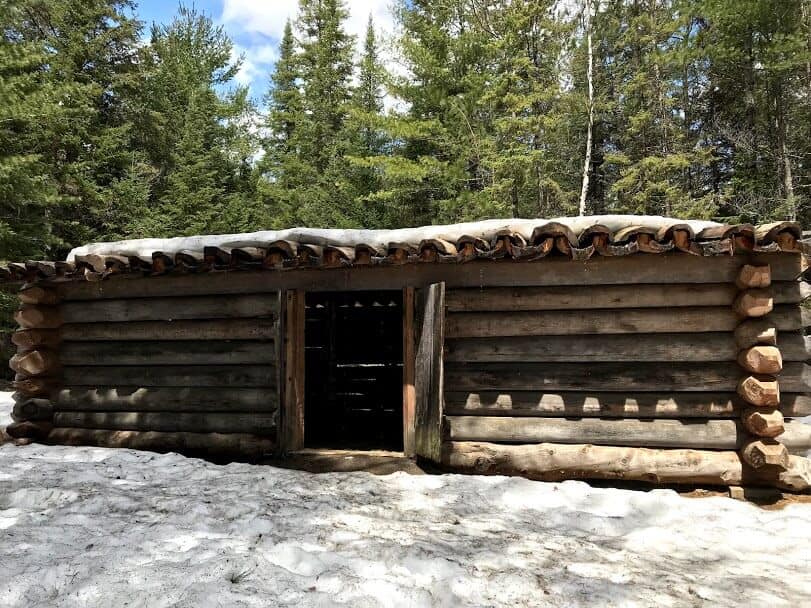 Thing to do in Algonquin Park
Below is a list of Algonquin Park things to do. This list is based on the recent trip my husband and I took in early Spring at the beginning of May.
The Visitor's Centre
The Algonquin Visitor Centre is a perfect place to visit. If it is raining and you need to escape the weather check it out. If you are looking to learn more about the wildlife and history of the park, this is where you do it.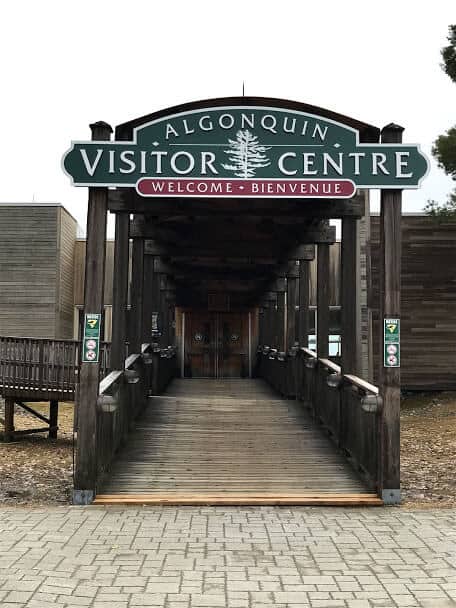 The Visitor Centre is home to many unique exhibits. They teach about the Park's natural and human history, as well as wildlife. There is a log of all the different wildlife sightings. It is cool to see what has been spotted in the park each day. If you're interested in history sit down and watch the theatre presentation. It tells the story of the park and how logging was involved in its history.
Viewing Deck
If you are looking for a spectacular view then check out the viewing deck. Here you can admire a breathtaking panorama of the wild Algonquin landscape.
From the viewing deck, you can see four of the five major habitats of Algonquin park. There are hardwood forests, coniferous forests, spruce bogs, and lakes and rivers. The last final habitat is beaver dams. See them on the Beaver Creek Trail.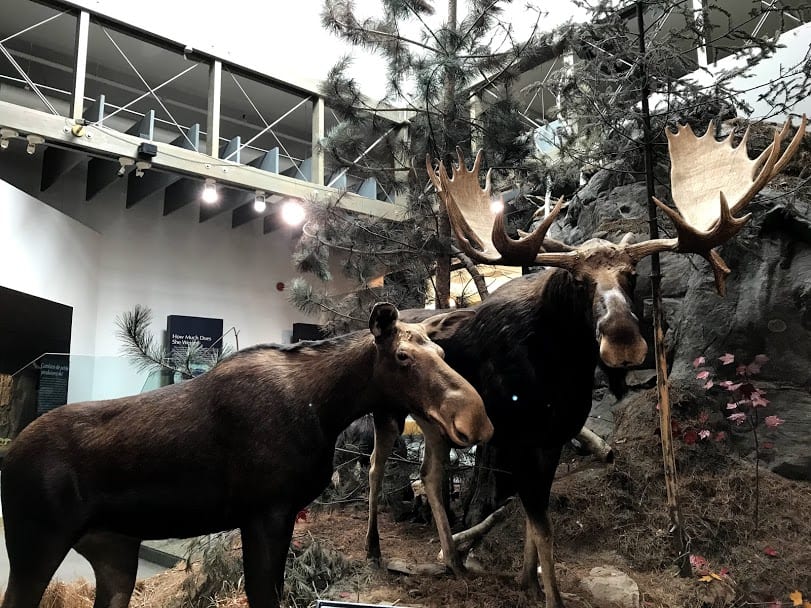 ATV Tours
Enjoy the road less traveled and get out and explore the natural environment that our own backyard in Ontario has to offer. Valley Adventure Tours offer amazing ATV tours that allow you to enjoy the dense forested areas near Algonquin Park and to explore deep into the Madawaska Valley and in and around Barry's Bay.
Valley Adventure Tours give you a whole new view and perspective as you can travel so much further on ATV than hiking and can get really deep into the forested areas and view areas that are not seen by most visitors to the area. ATV tours allow you to experience a natural environment that is rather untouched as its so deep into the wilderness.
We met up with Steve at his place in Barry's Bay on a beautiful sunny Sunday morning and set out on an amazing adventure that was once in a lifetime. The tour was exhilarating, adventurous and super fun as we traveled for about 2 hours by ATV.
The ATV Tour at Algonquin Park
We began our tour with a comprehensive safety orientation as Steve instructed my husband on all the different gears and when to use 4 wheel drive and 2 wheel drive and just overall how to maneuver the ATV in a safe way.
Steve outfitted us with all the proper safety gear including helmets that fit properly and then he outlined the safety features on the ATV such as the mesh side gating. After our safety briefing, we set out to explore and enjoy the natural environment
Steve was a great guide as he knew the area very well and had backup plans in place in case any of the traditional trails had issues. If he required us to take a detour he was prepared as he had pre-checked the route the day before.
Steve went out of his way to ensure we had the best adventure and was an excellent guide. He allowed us to go at our own pace, as he simply acted as a guide to navigate us through the sometimes tricky and tight turns and uphill sections of trails.
Steve allowed us to stop whenever we liked on the tour to take photos, stop and enjoy the scenery, or to have a snack. In the summer you can even stop for some swimming in the remote lakes in the area and have a swimming hole all to yourself.
About our ATV Tour
The ATV tours offers something new and exciting as you get to view the Canadian shield in a way that otherwise would not be possible.
We enjoyed secluded forests, muddy water crossing – some as high as the floor of the ATV so make sure you lift your feet if your the passenger, climbed to the top of the Canadian shield and took in breathtaking views from Toms Lookout.
Tom's Lookout allowed us to see the entire Madawaska Valley from up above and enjoy the beautiful views of spring as all the plants and trees were just beginning to bloom, you could clearly see the differences in the types of trees from up above.
Now every ATV tour offers a different adventure and different experience as you never know what you may see as there is always a chance of spotting local wildlife, including deer, moose, bobcats, owls, eagles, bears, wolves, & many other inhabitants of the Valley.
We were lucky enough to see a deer along our tour which was spectacular and on our way back Steve even pointed out bear claw marks on a tree and explained some other signs of bears.
Safety of ATV Tour
Steve was knowledgeable, professional and experienced as he made following him super easy and stopped to ensure we were always in the right gear and gave us tips and directions on how to conquer some of the difficult terrain.
We stopped at one point in a panic as we thought my husband lost his phone as it was in his pocket, Steve handled the situation like a PRO as he offered to double back and look for it, but first simply lifted the seats of the ATV and luckily found the phone, apparently, this is a common occurrence.
The ride was bumpy and loads of fun – a trip we will never forget and was an awesome way to celebrate our 5th year wedding anniversary as we believe couples who play together, stay together!
My husband and I love experiencing and trying new adventures so ATV tours was the perfect fit to add to our list of adventures together. Steve likes to keep his groups small so that he can get to know his guests as well as truly give them a unique experience.
About Valley Adventure Tours
Valley Adventure Tours offer both a 2HR and 4HR ATV tour option depending on how much time you have and what you want to see and discover.
The ATV's were well maintained and were not your typical ATV but instead were a side by side ATV vehicle that allows one drive and one passenger to sit side by side and enjoy the adventure together.
The ATV tour is perfect for couples and families with children over age 8 years old. Valley Adventure Tours also offers snowmobiling tours is the winter, which I am sure would be amazing and I hope to go back and try out one day!
If you are ready to take an Adventure on the Wild side then Book Valley Adventure Tours.
Hiking in Algonquin Park
Algonquin Park is full of beautiful Interpretive Walking Trails. These trails offer the perfect escape from busy life. They and are easily be done in a full day or half day. This is depending on the length of trail you choose.
The trails are designed to show all the different aspects of Algonquin Park's wildlife, and environment. Each trail has a trail guide booklet.
Trail guide booklets are found at the trailhead in the summer season. If you are hiking in the Spring, Fall or Winter just stop in at the Visitor Centre. You can purchase one for $0.50.
The trails are open year-round and require a Park permit to park in the parking lots. We were lucky to have a park permit for FREE as we stayed at Couple's Resort.
Algonquin Park Hiking
Algonquin Park is home to 17 unique trails to teach about Algonquins human and natural history. Each trail guide contains a map of the trail and numbered locations. You will also find descriptions of the area that correspond with posts on the trails. The posts were easy to find and we enjoyed taking turns reading the descriptions out loud at each post.
We would have loved to do more of the hikes. We hope to return soon but we did have the time to check out 3 of the trails on our weekend exploring Algonquin Park. To learn more about all of the trails in the park check out the Interpretive Walking Trails.
Spruce Bog Trail
This was the perfect trail to start the weekend as it was an easy 1.5km stroll. It is mainly on the boardwalk walking through the marsh. This trail gives you a close up look at northern spruce bogs. You also get to learn all about ecology.
This trail is wheelchair friendly and goes through two different bogs (Sunday Creek and Small Kettle Bog).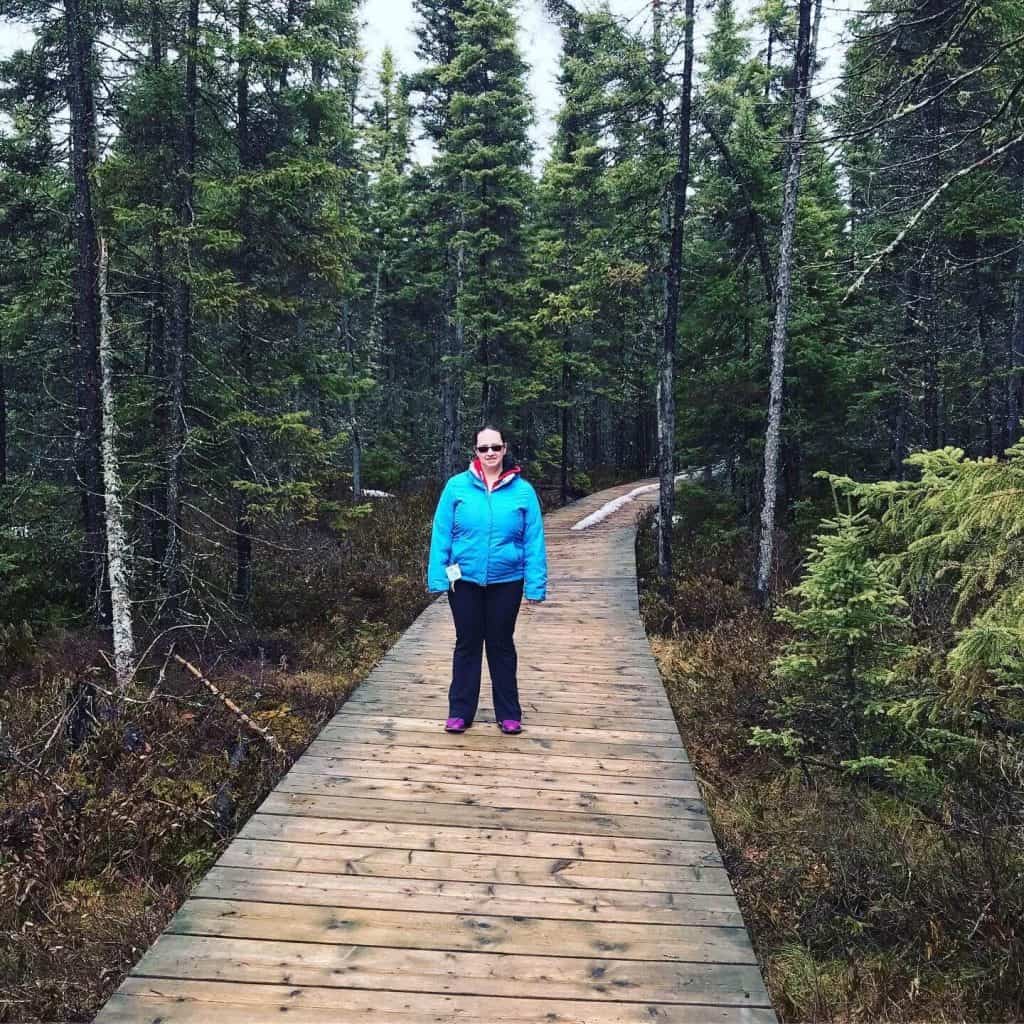 Algonquin Beaver Ecology
This was my favourite trail of the three. We got to see a large beaver dam up close. Which was really neat and the hike also had an amazing view from a lookout point towards the end of the hike. The trail visits a pond and Amikeus Lake which are both created by beavers.
The Beaver pond trail winds through 2 km of Algonquin Park rugged terrain. It allows you to learn all about beavers and how they live and why they do what they do. While there is no guarantee of seeing a beaver during the hike you can learn about the signs of beaver life and how they influence lakes and waterways.
This hike is moderate in difficulty. There are some elevations involved. If you are looking for landscape views and to enjoy nature and wildlife this is the trail for you!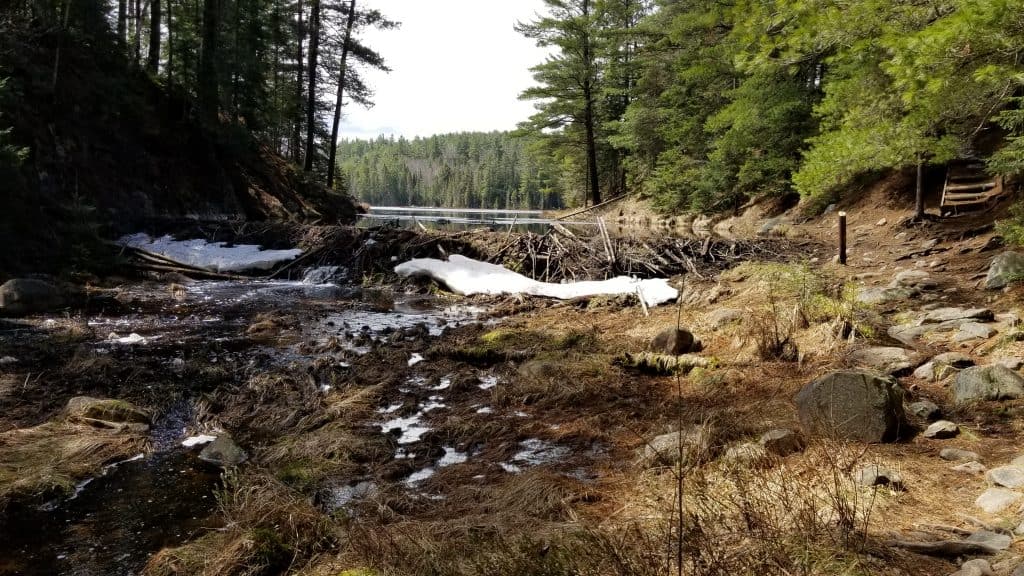 Algonquin Logging Museum Trail
This trail provides a wealth of knowledge and traces the story of logging from the 1830s to the present. The 1.3 km walk recreates what logging camps were like. You also learn about the hard and strenuous process involved with logging back in the early days.
Logging is an important part of the history of Algonquin Park. If you're looking to learn about the history and creation of Algonquin park then I highly recommend this interpretive hiking trail.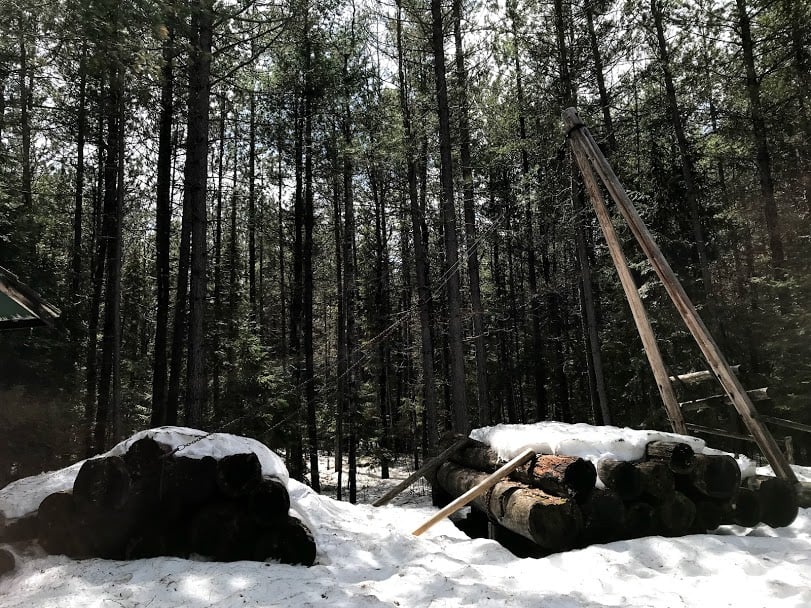 Wildlife Viewing
Traditional animals known for being Canadian live in this park. Moose, beaver, bear, loon, and more can definitely be found in Algonquin Park.
According to Algonquin Outfitters there are about 3500 moose, 2000 black beavers, 272 bird species, 31 species of reptiles, and 7000 species of insects all thriving in the environment of Algonquin Park.
You are likely to see a moose if you visit in the spring. They are attracted to the road salt and come up near Highway #60. Early morning or early evening are the best time to see wildlife. The temperature is cooler so accordingly, there are fewer people moving throughout the park. Animals are more likely to appear.
Viewing Wildlife at Algonquin Park
When driving on Highway #60 look for wildlife. They will come near the road. There are also four lots of cars parked in one area. This often means wildlife has been spotted and people are viewing it. Seeing wildlife in its own environment is just so much more interesting than in a zoo.
With such a large range in diversity of species, it is no wonder that researchers love learning more about the ecology of animals and how they work together. Tourists are drawn to Algonquin park to catch a glimpse of animals in their natural habitat. They can also enjoy the beauty of the natural surroundings.
Fishing
Algonquin Park is known for fishing. It has over 1,500 lakes and 1200 kilometres of streams that allow 54 different species of fish to live within the park. Algonquin is known around the world because it has the finest Brook and Lake Trout.
Spring offers the best time to fish. The lakes in the back country of the park offer great fishing. This is because there are lakes deep in the park that are not over fished.
There are some fishing restrictions including:- No live bait can be used when fishing.
– No Fishing from November to April
– No Fishing within 100 meters of a beaver dam
Recommended Algonquin Park Accommodations
The following hotels near Algonquin Park are excellent hotels that are located near Algonquin Park.
Accommodations for Couples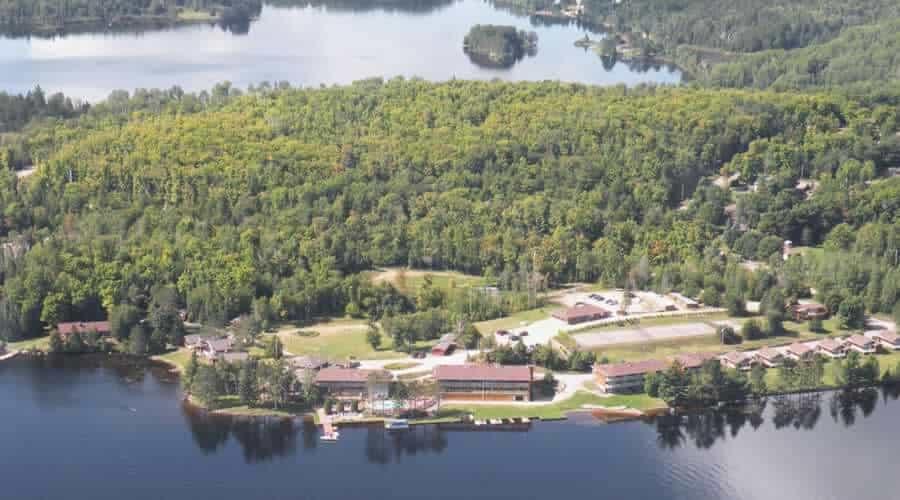 Couples Resort is located in Whitney, ON. It is a short drive from Algonquin Park. Ontario's Couples Resort is located on the shores of Algonquin Park's Galeairy Lake. This lake is mostly in Algonquin Park and the Madawaska River.
Couples Resort is the only ALL INCLUSIVE resort located in Ontario that is designated for COUPLES ONLY!
For more information and a Review check out Our Guide to the Perfect Couples Weekend Getaway in Algonquin Park. Click to Book. There are lots of Weekend Getaways in Ontario to checkout with your partner.
Accommodations for Dog Lovers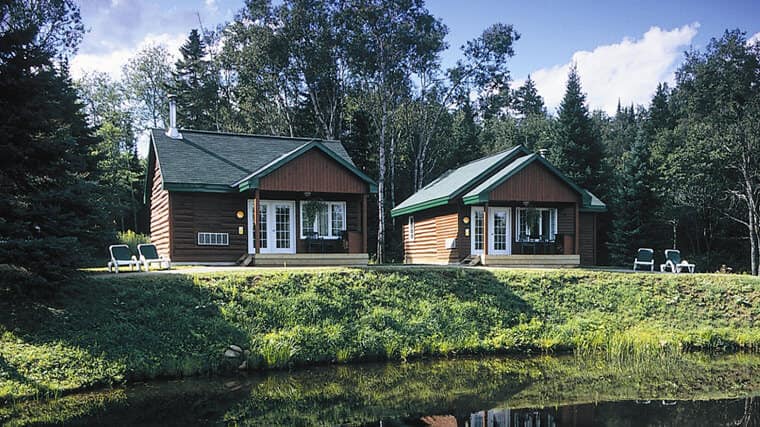 Bring your pooch along on your outdoor adventure in Algonquin Park. I suggest staying at the Adventure Lodge. Adventure Lodge offers pet-friendly accommodations in authentic log cottages and cabins. They also offer inclusive meals. For more information on the Pet Policy. Click to Book.
Accommodations for Families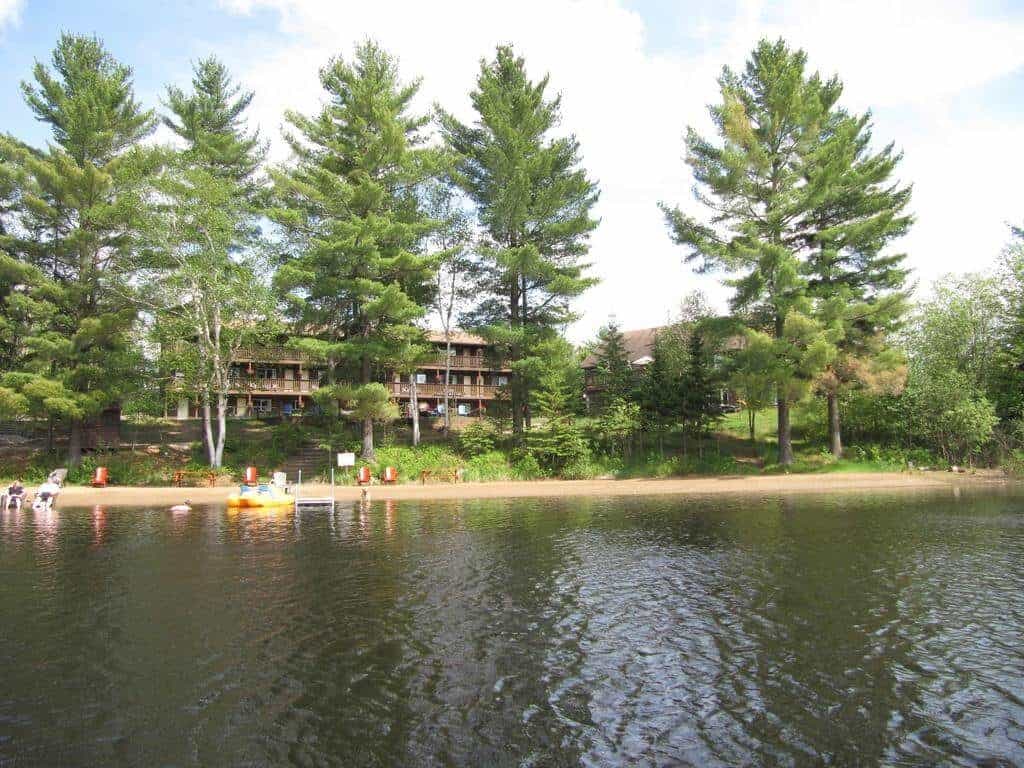 Spring Lake Resort is the best Muskoka Algonquin Park Family Vacation Resort. There are natural wonders and focuses on providing an escape from city life that is family-friendly.
Accommodations for Explorers and Adventurers
Sleep under the stars in one of many camping options that Ontario Parks has to offer in Algonquin Park. The Park offers back-country camping, car camping, walk-in camping, group camping, and roofed accommodation. To see all the different options and to make a reservation: Algonquin Park Camping. Don't forget to checkout to checkout Campfire Foods and Easy Campfire Desserts.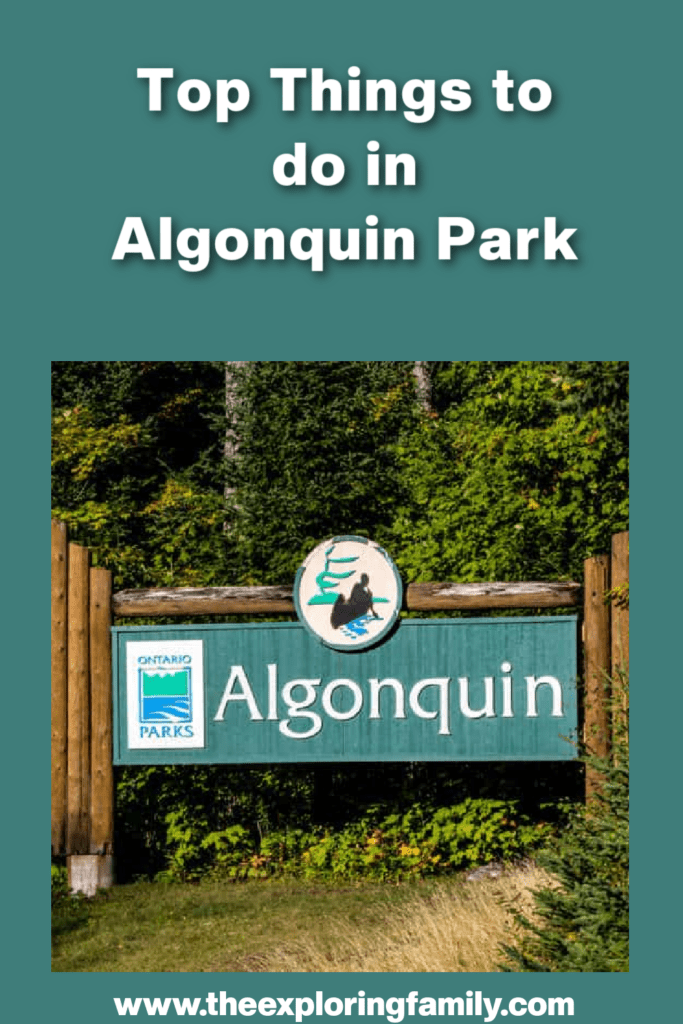 We love exploring new Ontario Parks and Sharing our Adventures. You may also be interested in Things to do at Silent Lake Provincial Park, Winter Camping at MacGregor Point Provincial Park.
Disclosure: This blog was sponsored by Valley Adventures as Steve was kind enough to offer us a free ATV tour in exchange for a review of his tours.