15 Years together, 5 years married… definitely sounds likes an anniversary that should be remembered with an amazing romantic getaway, and this is exactly what my husband and I choose to do. Now we decided months ago that we needed a couples getaway to reconnect, unwind and relax and really just enjoy each other's company. Now since we have a 1 year old, the first step was finding a babysitter and we are super lucky to have incredible grandparents to our daughter that were willing to take her for a whole weekend to give us some time together. We started researching "Weekend Escapes in Ontario, and places to go for anniversary weekend" as were limited to a short weekend trip and were excited to find the Couples Resort in Whitney, Ontario specializes in weekend getaways for Couples ONLY! Couples Resort Ontario is rated #1 in Adult Only All Inclusive resorts​​. Luxury Couples Only Resort that is located just outside the gates of Algonquin Park and features fresh air, wildlife sighting, trails, lakes and much more!  If you're looking for a rustic feel with 5 star amenities and amazing food and gorgeous views then Couples Resort Ontario will check all those boxes.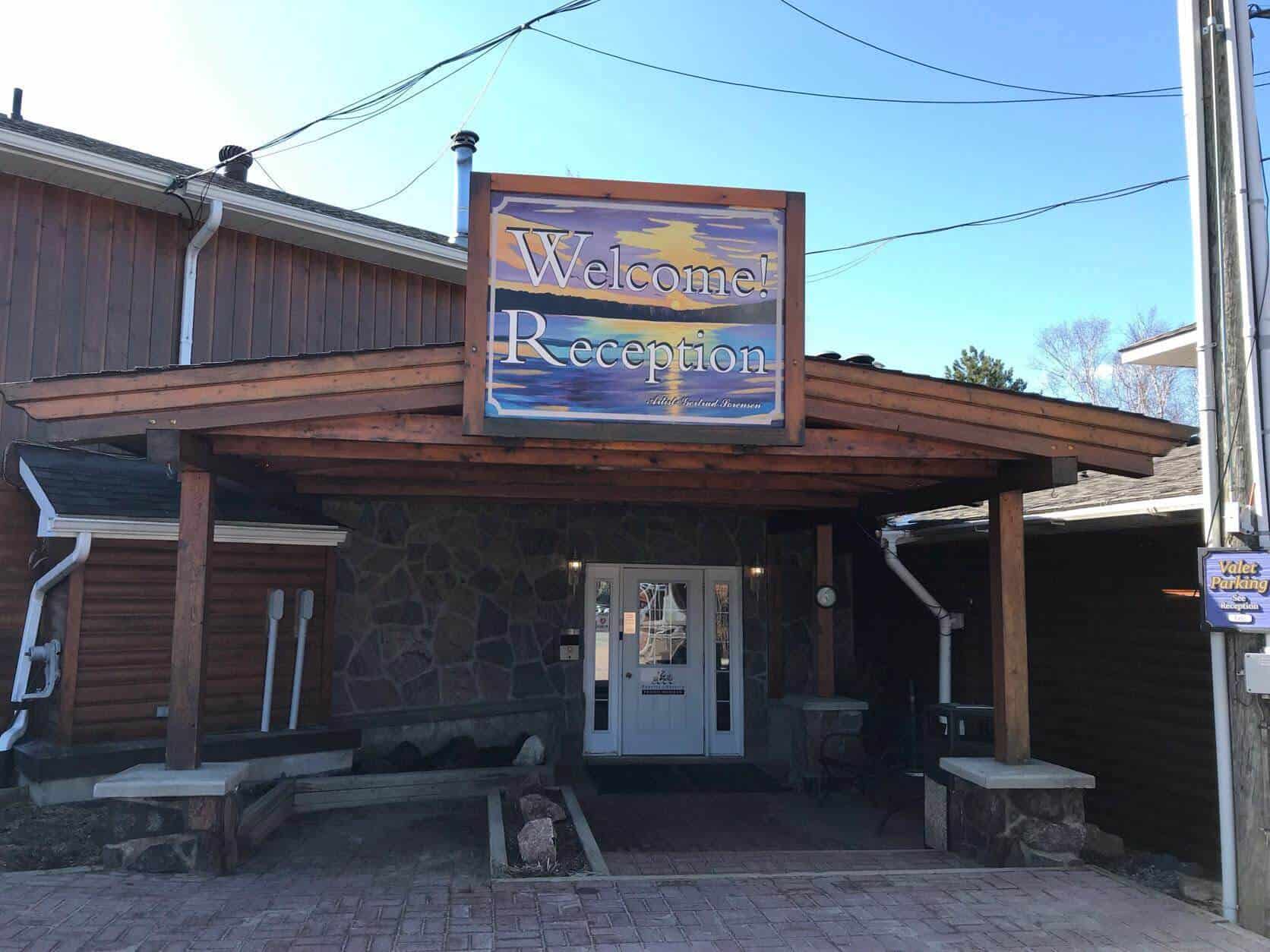 Couples Resort Ontario: Algonquin Park
Couples Resort Ontario is the only All Inclusive resort in Ontario, making it the perfect fit for our 5 year wedding anniversary weekend getaway. Now Couple's Resort is the perfect place to celebrate a birthday, anniversary, honeymoon, babymoon, or just simply escape from the kids!  Couples Resort has a long rich history as the Sorensen family have owned the resort since 1967 and have continued to build and renovate to create the amazing resort it has become today that offers Canada honeymoon packages. The key to their long history and success in Whitney, Ontario is their guest experience that keeps guests returning year after year and remembering all the fond memories they have created while visiting. We overheard multiple couples in the dining room saying this was a repeat visit for them, some as short as a few months ago.
Where is the Couples Resort Algonquin Park Located?
Couples Resort is located about 3.5 hours from Toronto and 3 hours from Ottawa making it the Perfect Destination for Couples in Ontario to reconnect, rekindle and strengthen relationships. Couples Resort is located on the shores of Algonquin Park's Galeairy Lake and near the Madawaska River. Algonquin Park and Couples Resort are the perfect setting to take in the quiet and peaceful sounds of the environment. Algonquin park is home to beautiful landscapes including serene lakes and rivers , fresh air, secluded forests, breathtaking wilderness, history, and adventure.
Reasons that Algonquin Park Couples Resort Ontario is the Best Weekend Getaway For Couples:
In today's society, couples are always on the go whether it be focused on careers, kids or both and it is often easy to let relationships between spouses fall to the side in terms of importance due to busy lifestyles. Couples resort is an oasis and a romantic couples retreat that forces you to put your relationship first and to leave all your worries at home. From the moment you step out of your car and look at the beautiful lake and surroundings, the stresses of everyday life seem to melt away. Couples resort offers many activities and entertainment options that ensure couples enjoy each other's company and relax in the beauty of the resort.
Our Recommendation for a Couples Weekend Idea:
The main reason I think that Couple's Resort is the perfect destination is that you can easily make the weekend into what you want! You can simply spend the weekend unwinding and enjoy a spa weekend with the variety of services offered, you can enjoy multiple sports activities including boating, or lastly you can take in the adventure and beauty of the natural environment by hiking or canoeing. The weekend is yours to discover and reconnect in whichever activity seems most fitting to you and your partner.
What is included in the All Inclusive Stay? What facilities are available?
We had a fantastic 5 Year Anniversary Weekend and appreciated the Outstanding Customer Service and Amazing Facilities that Couples Resort had to offer. The only thing that we would change is to come back again in the Summer to enjoy the awesome water sports that are offered as unfortunately since we visited in Early Spring.
Couples Resort Ontario's goal is Customer Experience and Satisfaction and they delivered nothing short of that during our recent stay. Another important thing to note is along with that excellent customer service, there is NO Tipping allowed as tipping is already included.
Every Guest Receives:
Private Outdoor Hot Top Facing the Gorgeous Lake View

Romantic 5 course Gourmet Dinner

Real Wood Burning Fireplace -> including firewood and firestarter

Indoor Double jacuzzi

Minimum 600 sq ft Lakeview accommodations with patio or balcony

Walk In Showers

King Size Bed

Free Corkage Fee- so bring your own Wine or Champagne

Live Entertainment at Dinner

Gourmet Breakfast in the Dining Room or Breakfast in Bed at No Extra Cost

Algonquin Park Daily Pass for Wildlife Sighting, Trails and Museums

90 minutes of Motor Boat Usage (Seasonal)

Access to Salt Water Pool (Seasonal)

Fitness Gym and Sauna

Recreation Room with Billiards, Darts, ShuffleBoard, and Fooseball

Netflix

Cleanest Tastiest Water in the World from the Algonquin Park Aquifer

Charging for all Tesla and Electric Cars





The Extras:
While almost everything is included in your stay, we want to make you aware of a few charges so you are not surprised when you get your bill.
$20/day Parking

Alcohol and Bar Service




TIP: Bring Your Own Wine as there is no Corkage Fee

Bath and Body Supplies in Room have an additional cost if you choose to use them




TIP: Bring your favorite Bath Salts from Home

Horseback Riding

Boat Rentals in addition to 1.5 hours
Accommodation Choices at Couples Resort Ontario:



We arrived Friday afternoon and were checked in within minutes and ready to explore, and although our room wasn't ready yet the front desk clerk offered as multiple options of how to spend our time, we opted for a hike. When we arrived back at 3pm, we easily moved into our room as we parked right beside the building and unloaded our stuff and then my husband moved the car to nearby parking. We spent our weekend in a 600 sq feet Junior Suite which was perfect for us and was the lowest option offered, you can upgrade to a chalet, master, exotics, villa or chateau. The biggest difference in terms of these rooms is the amount of space. You can see a Full Comparison of Rooms here. To get a better idea of what a Junior Suite offers check out our video below.
https://www.instagram.com/p/BxA02QihThy/
All Rooms Have:
Private Out Door Hot Tubs

Spacious Lakeside View

Walkout Balcony or Deck

King Size Beds

Fibre-Optic Internet – Free WIFI and Free – Netflix

European Shower (2 or more heads)

Wood Burning Fireplace

2 bath robes, Hair Dryer, cosmetic mirror

Keurig Coffee Maker with K-cups and Bar Fridge

2 Chaise Lounge Chairs – Spring, Summer, Fall

2 person Jacuzzi Tub



Food and Dining offered at Couples Resort Ontario
Enjoy 5 star dining in a rustic dining environment overlooking Galeairy Lake with a lovely ambiance of live music that focuses local Canadian much such as the cAbiners which we enjoyed during our Friday night dinner. The cAbiners played some of their own original songs but mostly focused on covers which were very recognizable to most in the dining room making it easy to sing along. We really enjoyed there music, so we downloaded them on Spotify and listened to them in the car the rest of the weekend. I enjoyed that the dining experience allowed us to connect with the Canadian landscape while enjoying Canadian music! If you have read some of my other posts you would know I am a bigger supporter of Canadian pride.
Part of the fun of the dining experience at Couples Resort Ontario is the excuse to dress up and get out of those sweats that we all know moms live in whenever possible as attire for dinner is semi-formal. My husband and I always find it difficult to know exactly what semi-formal dress code really means? From what we observed as long as women were in a dress, skirt, or a nice pair of dress pants and blouse they would easily fit in with the dress code. Most men had either dress shirt and tie or dress shirt and jacket with dress pants so really you can decide what you are comfortable in. I don't dress up often so I love having an excuse to wear a dress and pull out some of my jewelry. Now if you don't feel like dressing up they will also deliver dinner to your room if you pre-order.
Each meal included the choice of 2 appetizers, a main entree and dessert. Don't worry if you fill up on dinner as they will pack up the desserts to go back to your room if you choose! Each night there are a few standard menu options with a few daily specials infused into the regular menu. Don't forget when packing for Couples Resort to pack your own favorite wine as there is no corkage fee, but you can also order from a full menu of local and international wines in addition to cocktails.
Now my husband and I decided to both order menu items that we normally wouldn't try at home and were delighted with all of our choices. The only food option I didn't love was the Watermelon salad which the waitress easily replaced for me with another option since I didn't like my original choice, with no questions asked as the Couples Resort has a strong focus on guest satisfaction. We both loved the flavors, speed of service and quality of food that we received all weekend – it was a high class dining experience!
Now by now I bet you are wondering what we ate! We left every meal pleased with our choices and stuffed!
Dinner #1:
Appetizers: Tandoori Prawns, and Duck Breast Medallion, Citrus Poached Prawns, Red Thai Chicken and Rice Soup
Entree: Smoked Paprika Pork Tenderloin with Potatoes and Baby Carrots, and Rack of Lamb with Potatoes and Carrots
Dessert: Chocolate Cheese Cake and Orange Infused Creme Brulee


Dinner #2:
Appetizers: French Onion Soup and Tandoori Prawns, and Bone In Duck Medallion
Entree:  Risotto Jambalaya with Prawns, and Angus Steak with mashed potatoes and carrots
Dessert: Tia Ma Creme Brulee and White Chocolate Cheesecake


For Breakfast, with both enjoyed our meals so much on Saturday that we each had the same meal twice as we repeated our order on Sunday morning. On Saturday morning we ate in the dining room and I enjoyed Fresh Waffles with Apple and Cherry Compote and a side of hash browns and my husband had a waffle with bacon, and ham. On Sunday morning since we were checking out earlier to go explore and experience our ATV Tour with Valley Adventures we decided to opt for FREE room service and enjoyed our breakfast with a view of the lake and sunny skies! Only thing that could be improved was the room service beverages could have been a little hotter as our tea wasn't quite hot.
Activities to enjoy your Weekend Escape at Couples Resort:
Unlimited activities will keep couples and adventurers active all year long regardless of the weather. While the types of activities offered differ by season, Couples Resort ensures that you will never get bored as there is so much to do that you simply can't do it all in one weekend.
During the Day, you can enjoy hikes around the resort such as the Bear Creek trail, whereas we choose to explore the trails at Algonquin Park using our free pass provided by the resort. Couples Resort also offers complimentary bike rentals and trail maps during the warmer weather, and has great recreation opportunities as you can enjoy a game of basketball or tennis at the courts on the top of the hill. If you are looking for history on the resort and the area then stop in at Gertrud's Art Gallery and Studio – appointment is required.
During the Summer, the lake and dock is full of excitement as the resort offers outdoor patio areas and fire pits overlooking Galeairy Lake so that you can enjoy the view all day long. In the Summer, you can enjoy swimming the salt water pool that views the lake. The dock also has kayaks, canoes, paddle boats, row boats and a motor boat to enjoy the waters. If you like horses they can also easily arrange a horseback riding tour nearby. There is so much to do for all seasons.
We unfortunately timed our visit during the beginning of the spring season so due to weather none of the water activities were available yet. We were happy and busy all day long taking in the trails of Algonquin park! Couples Resort offers many options of entertainment all year long, to checkout activities available each season.
Now if your more interested in relaxation and a spa like experience then you can check out the Spa. The Couples Resort Spa has 6 treatment rooms and will also accommodate in room treatments for some treatments. Services offered include massage, pedicures. Manicures, facials, hot stone therapy, and much more! For a full list of services. The Algonquin Spa also offers access to a cedar sun room with a fantastic view of the Heated Outdoor Salt water pool and Galeairy Lake. Located in the same area if the resort fitness room which includes free weights, benches, bike machines, rowing machine and a treadmill if you are the type that likes to start your day off with a workout. After your workout relax and enjoy the sauna.
During the Evening, we choose to spend our time enjoying the Recreation Room downstairs playing fooseball, darts, billards, shuffleboard and ping pong. Now my husband is almost always victorious so I was super excited when I won darts, and shuffleboard the first evening…. He wasn't quite impressed so requested a rematch the next evening. The Recreation room was a great place to spend some time after dinner or would be a great activity if the weather didn't cooperate with you.
After a day full of activities, every evening we headed back to our room to and soaked in the hot tub under the stars with drinks in hand and just relaxed and enjoyed the moment and each other's company with no cares in the world! The hot tub is cleaned and maintained daily as part of your regular housekeeping visit. Or if you prefer a quiet night in bring a board game with you, checkout our favourite Board Games for Couples.
What Activities are located near Couples Resort?
We choose to start the weekend off by taking advantage of the FREE Algonquin Pass and checking out the easy Board Walk Trail. It was an easy hike, but we were quite surprised by how much snow still remained on the trail. All weekend we found snow even though we visited in May, it was actually interesting to watch the environment change over the weekend as when we arrived Friday there are still a large chunk of ice on the lake and by Sunday after all the warm weather the chunk had been broken down into ice pieces floating down the Lake. We also stopped in at the Algonquin Discovery Center and took in the spectacular view from the look out on the back deck that showcases all of Algonquin park's natural beauty, and also explored the educational exhibits about the park.
To Learn More About the Top 3 Things to do in Algonquin Park and how we spent our weekend exploring.
Our Recommendation: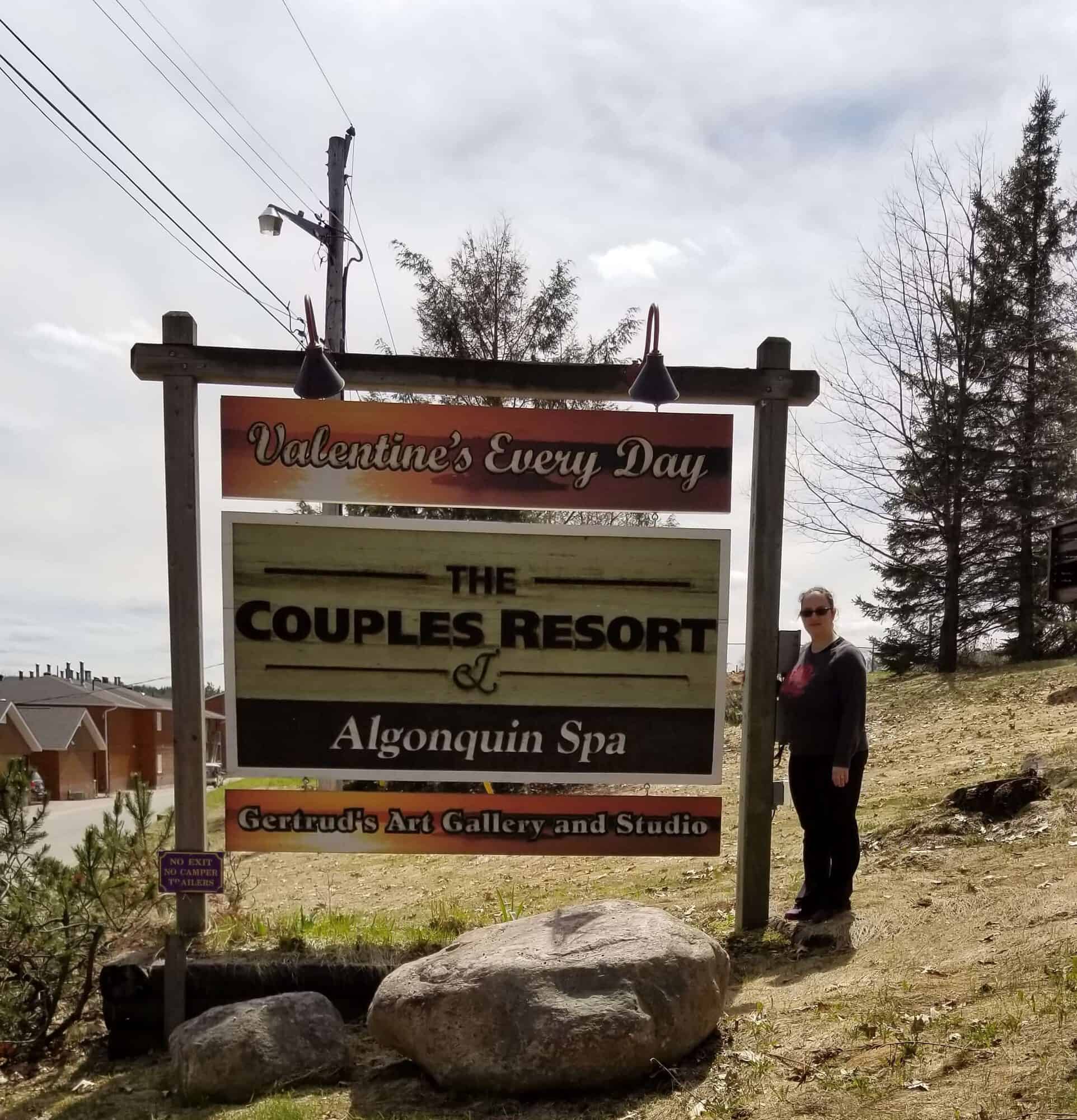 Overall, I would give the Couples Resort a 4.5/5 Stars Rating as honestly I don't believe anywhere is perfect but this was pretty darn close. Couples Resort is the ideal location for any Couples Getaway or special celebration. We relaxed, reconnected and enjoyed our high end customer service, amazing facilities, and fantastic dining. My favorite part was taking in the wildlife and wilderness of the resort as we enjoyed the landscape and even got to see a turtle crossing the road. We look forward to staying there again in the future and highly recommend this destination to any couple young or old.

To learn more about the Couples Resort, visit them online at Couples Resort and on Facebook and Instagram.
Ready to Book? Click Here

Disclosure: This post was sponsored by Couples Resort as we were provided accommodations in exchange for this review, however our opinions remain our own.

You may be interested in:

Top 3 Things to do in Algonquin Park