Canada's winter months are famous for their frigid temperatures, picturesque snowfalls, and a diverse range of winter pastimes that are perfect for Family Winter Vacations in Canada. It's considered one of the most delightful times to experience Canada – The Great White North, thanks to the variety of outdoor adventures available to visitors, such as skiing, snowshoeing, hiking, snowboarding, and tobogganing.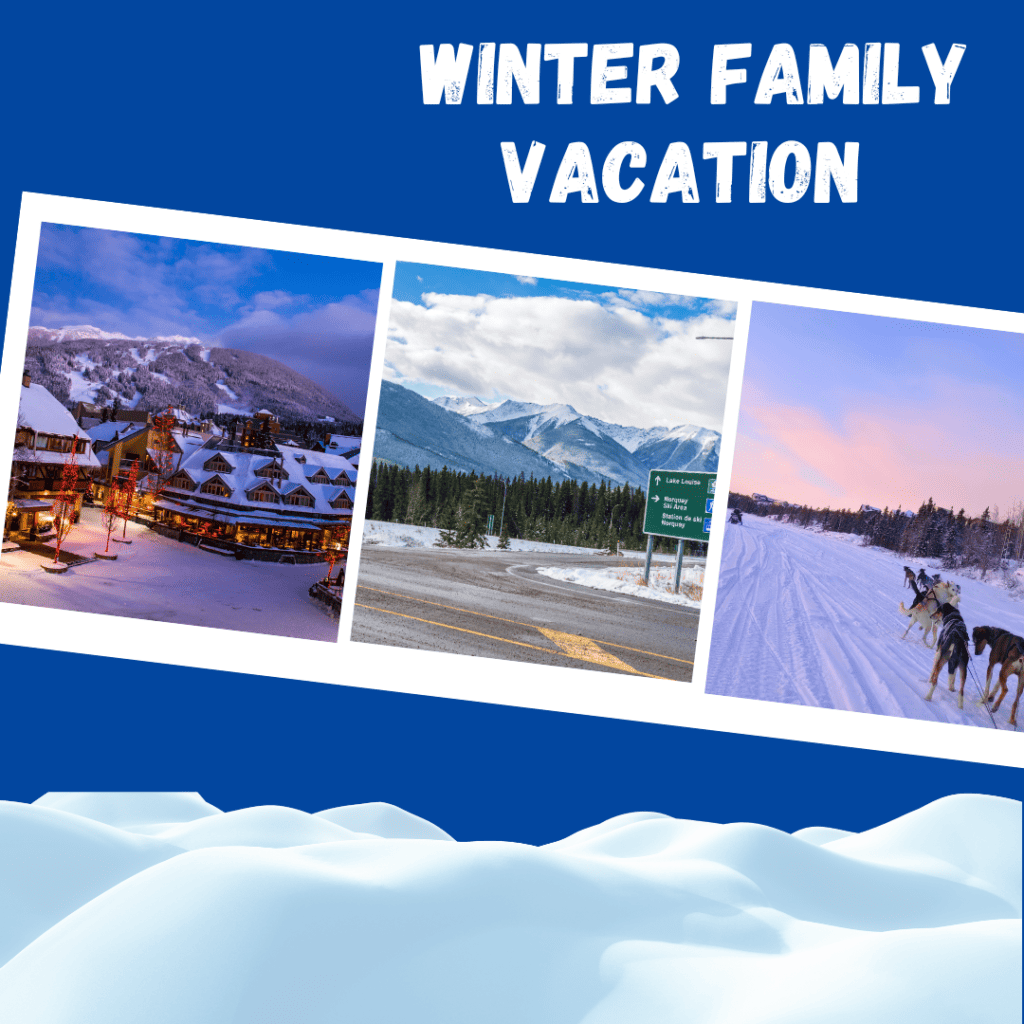 Visiting these Canadian locations in the winter is an opportunity to embrace the cold and enjoy the unique offerings of this northern country during its most enchanting season. Canadian cities and towns go all out with festive decorations and events during the holiday season, making it a special time to visit between mid November to the early New Year, however winter activities are available in most provinces from December through to the end of March. However, it's essential to be prepared for the colder weather and plan accordingly to make the most of your winter visit to Canada.
If you're in search of the Best winter destinations in Canada for a family trip, you've come to the right spot as we can guide you to choosing the perfect family winter vacation.
The Best Family Winter Vacation Spots in Canada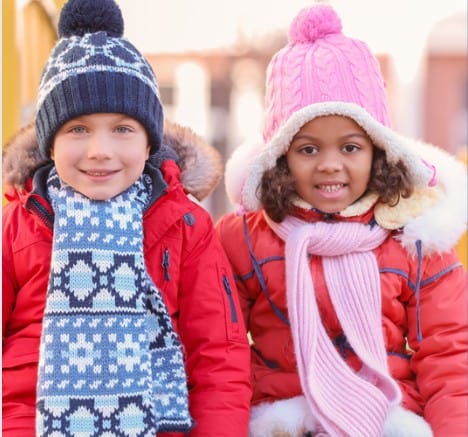 What clothes should I pack for my trip?
Canada experiences a diverse range of winter conditions, from chilly to frigid, depending on your destination within the country. Additionally, snowfall levels differ significantly between the East Coast, which tends to receive more snow, and the West Coast. To ensure your comfort and warmth, make sure to include the following items in your packing list:
Cozy Winter Apparel: Layering is highly recommended.
Insulated Coats
Snow-resistant Pants
Waterproof Boots
Gloves and Beanies
Scarfs or Balaclavas
The Best Places to Visit in the Winter in Canada
Ontario:
Niagara Falls
Collingwood
Ottawa
Quebec:
The Laurentians
Quebec City
Manitoba:
Alberta:
British Columbia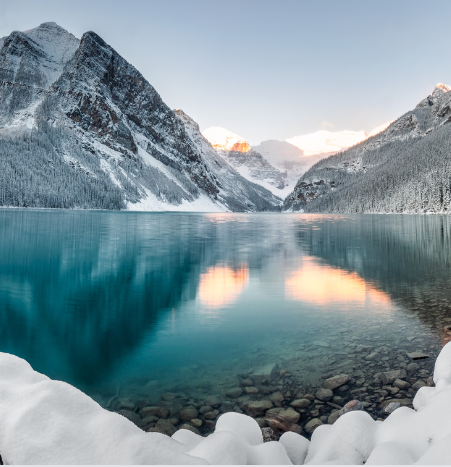 Banff and Lake Louise, Alberta:
Banff and Lake Louise stand out as some of the most exquisite winter scenery you can encounter in Canada. During this season, the region transforms into a captivating winter wonderland adorned with snow-draped mountains, enchanting frosty forests, and frozen lakes that create a serene atmosphere and offer remarkable photo opportunities of the Canadian Rockies.
For winter sports enthusiasts, Banff and Lake Louise are a hub of activity, boasting multiple world-class ski resorts, including Sunshine Village, Lake Louise Ski Resort, and Mt. Norquay, catering to various skill levels in skiing and snowboarding. Feel free to explore our guides on the Best Family Ski Resorts in Canada.
If you prefer savoring the winter landscapes without the thrill of downhill adventures, you can delight in the experience of ice skating on the vast frozen lake, set against the majestic rocky mountains backdrop. Additionally, there's the option to venture into the backcountry with snowshoes, immersing yourself in the wilderness and even catching glimpses of wildlife such as elk, deer, and wolves in their natural habitat.
Lastly, if relaxation is on your agenda, don't miss the opportunity to unwind at Banff Upper Hot Springs, known for its soothing mineral-rich waters. Additionally, if luck is on your side, you might witness the captivating spectacle of the Northern Lights painting the night sky. The hot springs are the perfect place to escape the cold weather but still enjoy the scenery.
Don't Forget too Checkout Banff with Kids or Lake Louise with Kids in the Summer Months as well for an amazing adventure.
Where to Stay:
Luxury -> Fairmont Chateau Lake Louise and Fairmont Banff Springs are iconic luxury choices for a winter retreat and are a great option if you're looking for a cozy cabin feel. It is the best place to see the stunning landscapes, and enjoy world class amenities and exceptional service while being close to Banff National Park.
Kid Friendly -> Brewster Mountain Lodge is a great kid-friendly spot that offers babysitting and complimentary breakfast for the whole family. Banff Rocky Mountain Resort is a family-friendly hotel with 2 spa tubs for families to enjoy.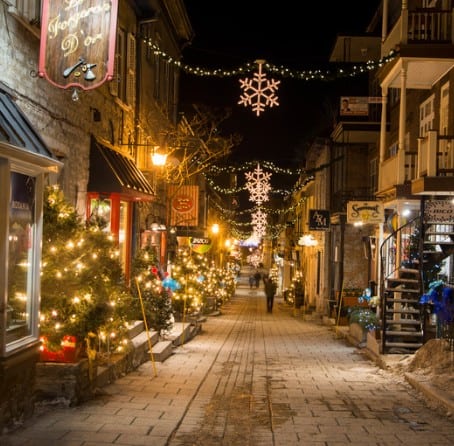 Quebec City, Quebec:
Quebec City presents an enchanting blend of historical allure, winter recreations, and cultural richness that will captivate visitors from all corners of the globe. The Old Quebec, a UNESCO heritage site, exudes a captivating charm with its cobblestone streets and heritage buildings, which take on a magical allure when blanketed in snow.
For those seeking outdoor ice skating, various locations offer this experience, but none are as picturesque as the Plains of Abraham, surrounded by serene snowy landscapes. If downhill skiing or snowboarding is on your agenda, head to Mont-Sainte-Anne or Stoneham for a thrilling experience. Feel free to explore our guides on the Best Family Ski Resorts in Canada.
Should your travel plans align with late January or early February, don't miss the renowned Carnaval de Quebec, one of the world's largest outdoor winter festivals. This historic Quebec tradition transforms the city into a winter wonderland, complete with outdoor activities such as ice skating, snow slides, snow sculpture contests, and ice canoe races on the frozen St. Lawrence River. The International Snow Sculpture Competition draws talented artists from around the world who create intricate and breathtaking snow sculptures.
Be sure to indulge in Quebec sweet treats such as frozen maple taffy (taffy made by pouring hot maple syrup onto snow) or beavertails as well as grab a drink of hot chocolate and enjoy one of the campfires to warm up. Colorful and lively parades featuring imaginative floats, costumed characters, and music wind through the streets of Quebec City, creating a festive atmosphere.
Be sure to meet the carnival's mascot Bonhomme the snowman at the stunning ice palace that acts as the festival's centerpiece. For adventure enthusiasts, a toboggan ride down the famous Dufferin Terrace hill, overlooking the St. Lawrence River, promises exhilaration.
Moreover, you can embark on an unique journey with ice canoeing on the frozen St. Lawrence River. If you seek refuge from the cold, venture indoors and explore cozy cafes, museums, or art galleries. Visitors can explore cultural exhibits and learn about Quebec's history and traditions, including its Indigenous heritage at museums such as Musée de la civilisation.
Quebec is renowned for its traditional cuisine, featuring delectable options like poutine (fries with cheese curds and gravy) and tourtière (meat pie), readily available at local eateries.
Where to Stay:
Luxury -> Fairmont Le Château Frontenac is a historic architectural gem that looks majestic when covered in snow.
Family friendly -> Villages Vacance Valcartier is technically located 20 minutes outside of Quebec City but has the most amazing snow tubing winter playground I have ever experienced and is also home to a fabulous indoor waterpark called Bora Bora.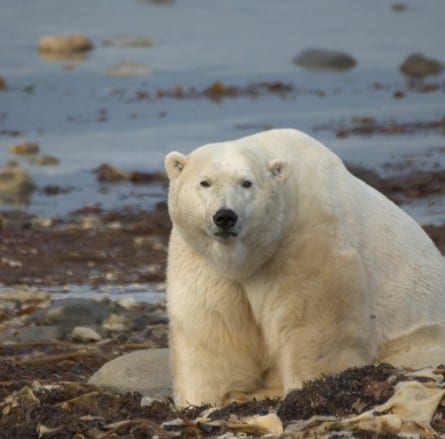 Churchill, Manitoba:
Churchill, Manitoba, holds the esteemed title of being the Polar Bear Capital of the World, offering a one-of-a-kind Arctic adventure. In the winter, you can enjoy excursions and experiences that are exclusive to this region and the broader Arctic. A good reason to visit is to immerse yourself in the local Indigenous culture and heritage through cultural programs and events that provide valuable insights into the region's history.
The clear, dark skies over Churchill create an ideal canvas for witnessing the captivating Northern Lights, also known as the Aurora Borealis. This is a great place to see polar bears up close in their natural environments as you can take a guided tundra buggy tours. While enjoying these unique experiences you may also cross paths with other Arctic wildlife, including arctic foxes, snowy owls, seals, and various unique birds that remain in the region during the winter.
Churchill offers an opportunity to intimately engage with the Arctic environment in Canada's north, which has plenty of fresh snow and cold temperatures during the winter months but offers unique experiences such as embarking on dog sledding adventures through snowy landscapes with a team of huskies or indulging in ice-related activities like ice fishing, skating, or snowmobiling on the frozen lakes.
Where to Stay:
Luxury -> Polar Inn & Suites is situated on the edge of the Arctic near the Hudson Bay in Churchill. Our location is a perfect home base for your many adventures that await you with all the incredible wildlife that is home to this area.
Family friendly -> Nestled alongside the pristine Arctic waters of Hudson Bay, with Canada's Boreal Forest stretching out behind it, you'll find Nanuk Polar Bear Lodge – our most secluded wilderness ecolodge. The rich and varied ecosystem surrounding Nanuk serves as a habitat for an array of wildlife, including polar bears, black bears, wolves, and moose. Be vigilant and watch for these iconic Canadian creatures during your daily excursions from the lodge!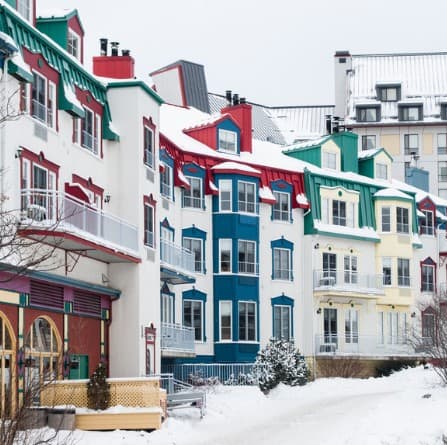 Tremblant, Quebec:
Mont Tremblant is a popular destination in Canada for skiers and snowboarders alike as the snow-capped mountains become one of Canada's busiest winter playgrounds in the winter months. Located in the Laurentian Mountains of Quebec this picturesque alpine village resort has over 100 ski trails with a variety of terrain options for multiple skill levels. If you want to be a ski bunny and simply enjoy the hot chocolate and food at the resort you can take a gondola to the top and meet with your skiing friends.
Mont Tremblant village at the base of the mountain is a highlight of any winter vacation and offers an excellent Apres Ski environment as the village has a quaint European-inspired architectural style that is inviting and even has outdoor fire pits to warm up on a cold winter day. It's lined with boutique shops, restaurants, cafes, and bars, to unwind after a day on the slopes. You can often find bars and restaurants offering live music and entertainment in the evenings. It's an excellent way to relax and socialize with fellow winter sports enthusiasts. Mont Tremblant village also has several spas and wellness centers where you can relax and rejuvenate with massages, hot tubs, and other treatments after a day of physical activity.
You can also enjoy the natural beauty of the Laurentians by enjoying snowshoeing, cross-country skiing, ice skating, and snowmobiling in the area which allows you to enjoy the scenic panoramic views of the surrounding wilderness covered in snow.
Overall, Mont Tremblant in winter is a fantastic destination for winter sports enthusiasts and those looking for a cozy and picturesque winter getaway. Whether you're hitting the slopes, exploring the village, or simply enjoying the winter wonderland, its a great place for families to enjoy this beautiful mountain destination.
Where to Stay:
Luxury -> Hotel Quintessence is a world-class establishment with 30 luxurious suites.
Family friendly -> Tremblant Resort Tremblant's is a beautiful natural playground has endless options for things to do and events to attend all winter long for families of all ages.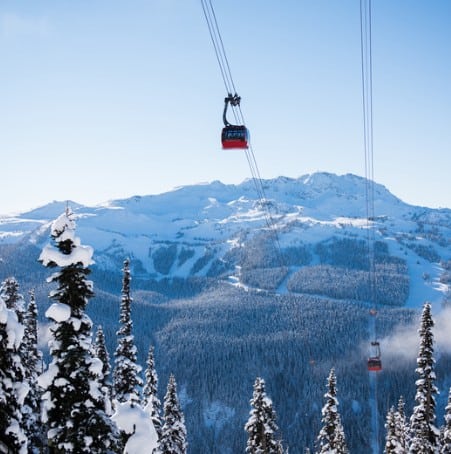 Whistler, British Columbia:
Whistler is a captivating destination for outdoor enthusiasts and winter sports aficionados. Located in British Columbia, Canada, Whistler is celebrated for its stunning alpine landscapes.
Whistler Blackcomb is one of the largest and most famous ski resorts in North America. It offers a vast expanse of terrain, groomed slopes, and challenging alpine bowls for skiers and snowboarders of all skill levels. Feel free to explore our guides on the Best Family Ski Resorts in Canada.
Guests can explore the winter wilderness of Whistler by snowshoeing through the picturesque trails in the snowy forests. The area features numerous cross-country skiing trails, including options for classic and skate skiing, catering to both beginners and experienced skiers.
Adventures can further explore the backcountry terrain surrounded by breathtaking mountain views by taking a snowmobile adventure tour. Visitors have the opportunity to embrace the enchantment of winter by embarking on a horse-drawn sleigh journey through the woods or by lacing up their skates and relishing an outdoor skating rink nestled amidst the backdrop of snow-covered peaks.
For a family-friendly activity, enjoy the exhilaration of snow tubing at Whistler's tubing parks or take a scenic gondola ride to the top of the mountains for views of the surrounding landscapes. If you want to get even higher in the sky then take a scenic helicopter tour or get a bird's-eye view of the stunning winter scenery.
Whistler has a lively vibe and nightlife as they have a vibrant après-ski scene, with a wide range of restaurants, bars, and shops to enjoy. Throughout the winter Whistler also hosts various winter festivals and events, including arts and culture festivals, music concerts, and holiday celebrations.
Many resorts offer relaxation after a day on the slopes with spa treatments and wellness activities available at the many resorts in the area.
Where to Stay:
Luxury -> Fairmont Chateau Whistler combines classic elegance with modern alpine style and full resort facilities. Discover the perfect balance of relaxation and adventure in every season, from poolside lounging to exploring the epic slopes of Whistler Blackcomb.
Family friendly -> Pan Pacific Village is only a short walk to the gondolas and Whistler Kids Snow School. A complimentary breakfast is also included with your stay. They have a salt water outdoor pool, 2 hot tubs, kids robes, games, and lots of baby gear.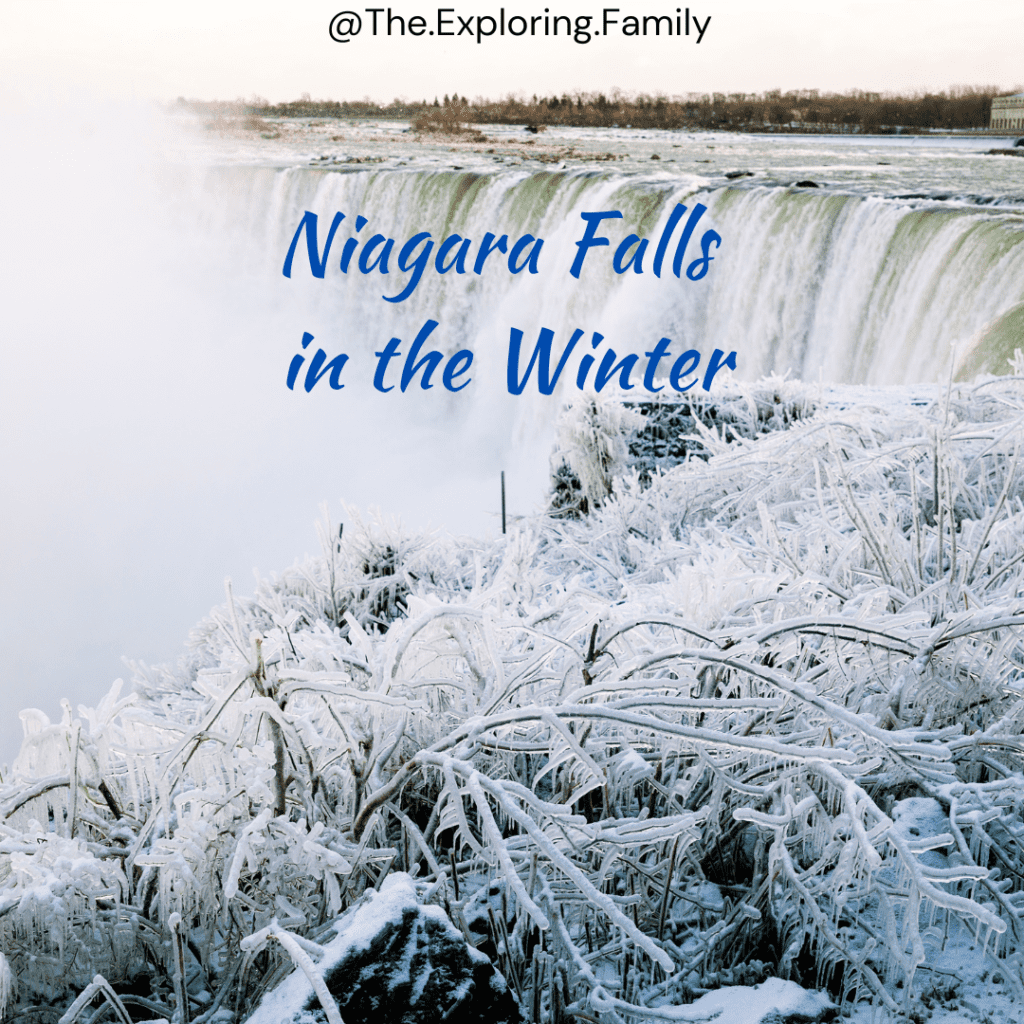 Niagara Falls, Ontario:
For those seeking some winter fun, there are opportunities to go ice skating near the falls, with five outdoor rinks available for use during the winter season. Additionally, a visit to Fireman's Park in the wintertime often reveals children enjoying the thrill of tobogganing down its slopes. Visiting this marvel of nature during the winter months is a delightful experience as the falls and the adjacent region undergo a stunning transformation into a snowy spectacle, all thanks to the chilly temperatures. The falls take on a partially frozen appearance, and as the mercury plunges, the mist crystallizes on the nearby trees and rocks, forming exquisite ice formations. Checkout our guide to visiting Niagara Falls in the Winter.
Niagara Falls presents a mesmerizing sight in the evening as it is beautifully illuminated, creating a breathtaking visual spectacle against the frozen backdrop which has a five-minute display on the hour at 6,7,and 8PM. Niagara Falls is host to the annual Winter Festival of Lights running from November thru to January. This is Canada's largest FREE outdoor display of lights with over a million lights and unique Holiday light displays along the Hot Chocolate Trail.
Where to Stay:
Luxury -> Sheraton Fallsview Niagara has a indoor walkway to Casino Niagara and Fallsview Indoor Waterpark, and moments from Niagara's Iconic Boat Ride and Niagara Parks and a short drive to Niagara Wineries. Fallsview has multiple rooms with waterfall views.
Family friendly -> Great Wolf Lodge offers the best family friendly environment of Niagara as it has a waterpark, and is a themed hotel for kids.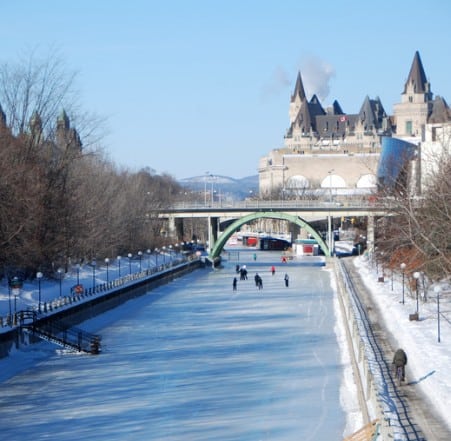 Ottawa, Ontario:
Visiting Ottawa in the winter provides a unique and enchanting experience, with a variety of outdoor and indoor activities to enjoy amidst the city's winter wonderland. Ottawa has a thriving culinary scene, and during the winter, it's a great time to indulge in warm, hearty meals and cozy café experiences. Try traditional Canadian dishes like poutine or tour some of the city's international cuisine offerings. Ottawa has a few winter markets and holiday craft fairs where you can shop for unique gifts, artisanal products, and delicious treats. These markets often pop up in the city's parks and downtown areas.
Parliament Hill is beautifully illuminated during the winter months, creating a magical atmosphere. You can take a walk around the grounds and admire the impressive architecture while enjoying the festive lights and decorations. Skating on the frozen Rideau Canal is a quintessential Ottawa winter activity. The canal winds its way through the heart of the city, and you can rent skates or bring your own to enjoy a scenic and leisurely skate. There are also warming huts along the canal where you can take a break and grab a hot beverage.
Winterlude is a popular winter festival held annually in Ottawa. It typically takes place in February and features a variety of activities, including ice sculpture competitions, ice skating on the Rideau Canal (the world's largest naturally frozen skating rink), and a snow playground for children. The festival celebrates the joys of winter and is a highlight of the season. Ottawa offers numerous opportunities for winter sports enthusiasts. Cross-country skiing and snowshoeing are also popular activities in the Gatineau Park, just across the river in Quebec. You can go downhill skiing or snowboarding at nearby ski resorts like Camp Fortune and Mont Cascades.
Where to Stay:
Luxury -> Fairmont Chateau Laurier is an epic castle of unmatched splendor in the heart of Canada's capital poised between ByWard Market and the Rideau Canal locks. Fairmont Château Laurier is Ottawa's grand icon: a soaring historic château.
Family friendly -> Lord Elgin Hotel has a heated pool and family rooms.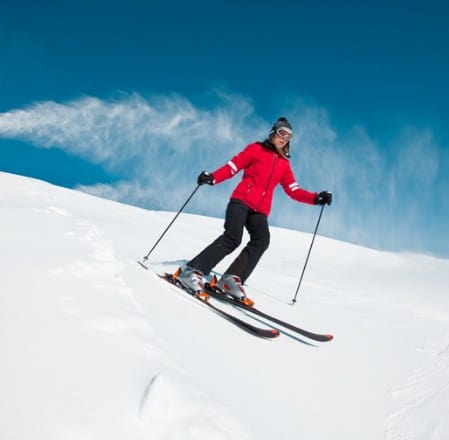 Collingwood, Ontario:
Collingwood is a popular winter weekend getaway for locals in South West Ontario as Collingwood is home to Blue Mountain that offers 42 runs, 16 chairlifts and 3 freestyle terrains for skiers and snowboarders to enjoy. Blue Mountain is very similar to Mont Tremblant and offers a charming little village that has fabulous dining choices, bars and nightlife, as well as shops to explore.  Many local businesses and accommodations create a cozy and welcoming atmosphere during the winter season. You can enjoy warm drinks by the fireplaces of charming cafés and restaurants. Check out more Winter Vacation Ideas in Ontario.
You can enjoy ice skating in Blue Mountain Village on the outdoor skating rink. It's a fun activity for families and couples alike. Or nearby you can find different excursions offering snowshoeing, and snowmobiling. Families will also enjoy visiting The Plunge indoor waterpark that even has a heated outdoor pool that offers the ability to swim indoors and outside among the snow. Blue Mountain also has one of the best snow tubing locations in Ontario.
For those seeking relaxation, head to Scandinavia Spa for a unique yet relaxing spa experience in a natural outdoor setting so you can enjoy the natural beauty and tranquility of the surroundings. Hydrotherapy is a central element of Scandinavian spas. It typically involves a series of hot and cold water treatments. Guests move between hot saunas, steam rooms, or hot tubs and cold plunge pools or even dipping into the river, often accompanied by periods of relaxation in between.
Overall, Blue Mountain Village in winter is a bustling, wintery paradise for outdoor enthusiasts, families, and anyone looking to enjoy the beauty and excitement of the season. Whether you're hitting the slopes or simply soaking in the winter ambiance, it's a memorable destination for a winter getaway.
Where to Stay:
Luxury -> Westin Trillium House is a haven of wellness and comfort in a lively pedestrians-only village offering striking views of the Georgian Bay or Niagara Escarpment. They have a heated outdoor pool that is perfect for swimming in the winter.
Family friendly -> Georgian Bay Hotel is an all season resort surrounded by natural landscapes and has a indoor heated saltwater pool, outdoor heated seasonal pools, on-site spa and restaurant.
Tips for Going on a Winter Getaway in Canada:
Secure Your Lodging in Advance: Highly sought-after winter resorts like ski lodges tend to fill up rapidly.
Immerse Yourself in Local Culture: Canada boasts a rich historical tapestry with numerous opportunities to delve into Indigenous cultures and local traditions that have played a pivotal role in shaping the nation.
Stay Physically Active: Engaging in active winter activities can help distract you from the chilly weather's bite.
Create a Mix of Indoor and Outdoor Activities: While outdoor adventures are a must, plan some indoor escapades like museum visits, art gallery explorations, food stops to provide opportunities for warming up.
Stay Informed About Weather Conditions if Driving: Staying updated on weather forecasts is crucial when driving in winter, and in some provinces, it's mandatory to equip your vehicle with snow tires.