While the snow is falling get out while you can to take part in this fun family activity. No fancy equipment or special skills needed to take part in this wintertime activity. You can make a day trip out of it, or have an overnight getaway depending on how much time you want to spend embracing the outdoors and how far you want to travel.
Here are some of the sensational snow tubing hills in and around the Greater Toronto area so you can start your wintertime adventure.
Where can you find Ontario's longest snow tubing hill?
Horseshoe Valley resort is the perfect place to visit and check out the longest snow tubing hill with this thrill, no skill fun activity of snow tubing. Let the magic carpet whisk you back to the top of the hill so you can enjoy another ride.
The snow tubing park offers five big chutes with two exhilarating drops and they have added an extra 1,200 feet to make it the longest run in Ontario. This winter season, grab snow tubing tickets and enjoy the longest tube runs in Ontario.
How old and how tall do you have to be for snow tubing?
Most of the best hills for snow tubing require children to be four years of age and a minimum height of 42 inches in order to enjoy snow tubing. Younger children under 12 years of age are required to wear a helmet at most of the hills.
Best Snow Tubing Near Me
Mount Chinguacousy – Brampton

Chicopee Tube Park – Kitchener

Ski Snow Valley – Barrie

Horseshoe Resort – Barrie

Blue Mountain – Collingwood

The ROC Tube and Terrain Park – Keswick

Ski Lakeridge – Uxbridge

Glen Eden Tubing Park – Milton – Information Pending for the 2022 Season
Looking for "Snow Tubing Near Me"? This map will help you find a hill close by:
Winter Tubing in Ontario
Mount Chinguacousy Snow Tubing Brampton
Enjoy snow tubing without having to leave the Greater Toronto Area. Located on the ski hill at Chinguacousy Park in Brampton. There is a minimum height requirement of 42″, and a maximum weight of 250lbs for the tube hill. This snow hill is one of the smallest and offers a gentle introduction to snow tubing for younger kids and has an easy to use magic carpet lift.

The Snow Tubing Hill is open, weather permitting, Thursday and Friday evenings and all day Saturday and Sundays. Ticket packs are available for 6, 12 or 18 rides. Visitors are encouraged to bring their own helmets for tubing. Visit the City of Brampton website for full details and costs. The anticipated opening date is mid January for the 2023 Snow Tubing Season.
Chicopee Tube Park Snow Tubing Kitchener
Chicopee Tube Park sells passes for 90 minute time slots for you to enjoy winter tubing fun. Riders must be at least 4 years old and 42″ tall to enjoy this outdoor activity. Don't forget to complete your waiver online before you go, and arrive 15 minutes before your time slot to make sure you can make the most of your visit. This tubing park features 5 tubing lanes for non stop family fun!

The tube park is open Wednesday – Sunday with extended hours over holiday breaks. Visit their website for full details for hours and ticket costs.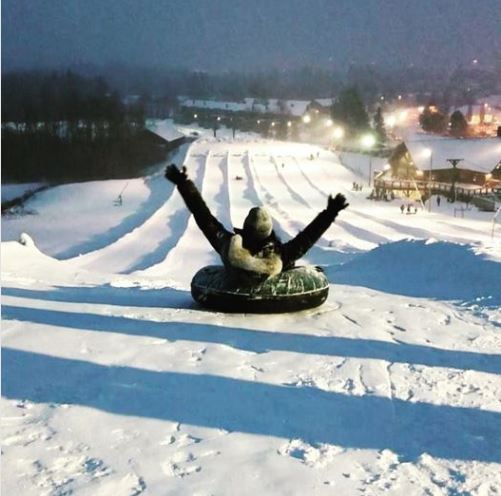 Snow Valley Snow Tubing Barrie
Ski Snow Valley Snow Tubing can be fun for the whole family. All you need is to dress in warm layers, no special equipment required to get out and enjoy Barrie Snow Tubing. Snow Valley offers 3 lifts, and 14 chutes (that are over 10 stories high!).

And for the little ones (children under 42″ inches) there is a Kidz Zone for them to enjoy. All tickets must be purchased prior to arrival, so head on over to their website for times and rates of tubing. Passes are sold for 2 hour blocks, and everyone visiting the tubing hill needs a ticket. Helmet rentals are available if needed.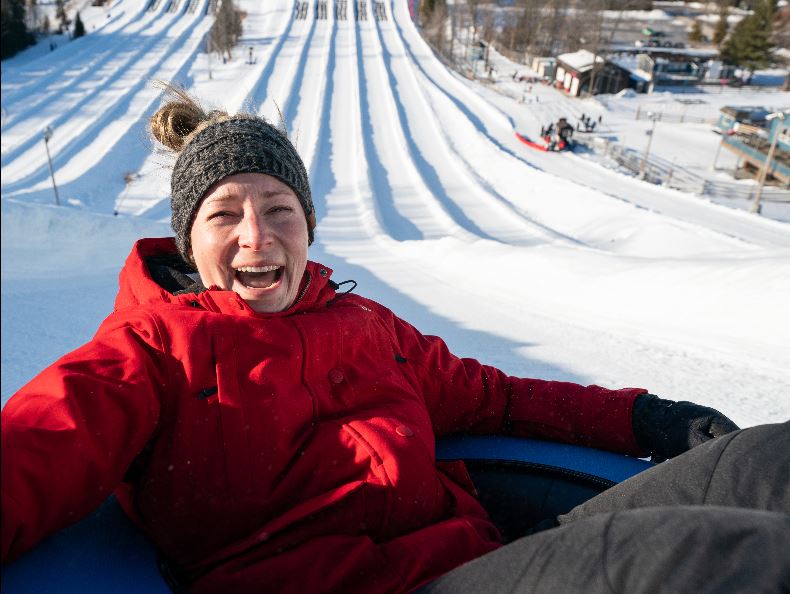 Horseshoe Resort Barrie Snow Tubing
Horseshoe Resort not only offers Barrie snow tubing, but also downhill and cross country skiing, fat biking, skating, snowmobiling and showshoeing. Talk about a one stop shop for winter fun! Snow Tubing passes are available for 2hr blocks Tuesday – Thursday, and 3 hour blocks on weekends/holidays.
For those who just want to watch Horseshoe resort offers an outdoor campfire to help keep you warm, that is located just outside the main on-site ski chalet.

Helmets are recommended and are available to rent if needed. The height requirement to enjoy tubing is 42″ inches.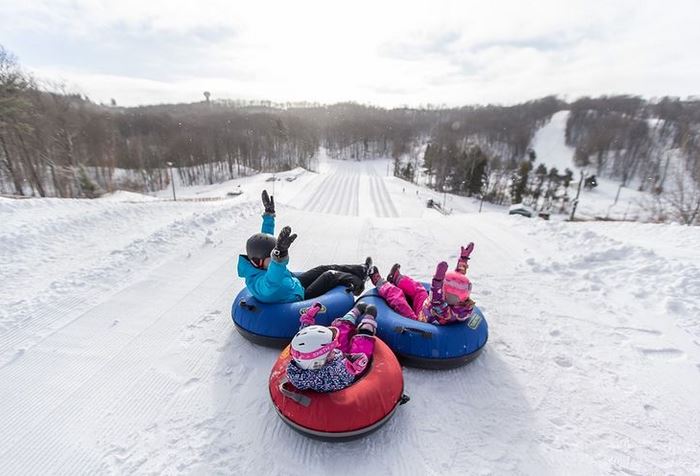 Snow Tubing Blue Mountain
Hike n' Tube is available at Blue Mountain for all age groups. They "Hike" in the title means that you need to walk up the tubing hill with your tube in tow and slllllliiiiiiide back down again in your tube. The benefit to this is that there is no height or age requirement for Blue Mountain Snow tubing, and you will get in your steps for the day that is for sure. Enjoy the fast thrill of rushing down the snow tubing hill for hours of fun, however at Blue Mountain you need to pull your own tube rental back up the hill.

Hike n' Tube tickets are available for 1 hour time slots. Spectators are not allowed in the tube park area. Other wintertime activities available at Blue Mountain include Mountaintop Skating, snowshoeing, fat biking, Ridge runner mountain coaster, and of course skiing.
The ROC Tube and Terrain Park
The ROC Tube and Terrain Park is open 7 days a week for winter tubing fun. Outdoor ice skating and tobogganing are also available, weather permitting, at The ROC. For tubing the minimum height requirement is 40″ inches, and helmet rentals are available on site as well. Passes are available for 2hr time slots for you to zoom down the 4-lane snow tube hills. And then catch a carpet lift back up to do it all again!
They offer seasons passes, and residents of Georgina don't forget you get an extra discount.
Ski Lakeridge Uxbridge
A little farther out of the GTA Ski Lakeridge offers snow tubing passes for 2 hour timeslots. You can reserve your spot online before you go, walk-in tickets are not guaranteed to be available due to capacity limits. Ski Lakeridge also offers Snow Tubing Birthday Parties.
Snow Tubing In Ontario
If you are looking to travel a little further you can also check out snow tubing in Ontario at the following locations:
-> Boler Mountain – London – Minimum height of 42″, helmets are mandatory and are provided. Passes are for a 2 hour visit. Discounts offered on Wednesday night visits.
Now you are ready to pick a winter tubing spot and get out there and enjoy snow tubing with your family! If you are looking for other fun wintertime activities be sure to check out:
-> Skating in Brampton
-> Skating in Mississauga
-> Skating in Georgetown and Halton
-> Tobogganing in Brampton
-> Tobogganing in Mississauga
-> Best Hikes near Brampton
-> Ice Fishing in Ontario
We do our best to ensure the information on The Exploring Family is accurate, however information and events are subject to change.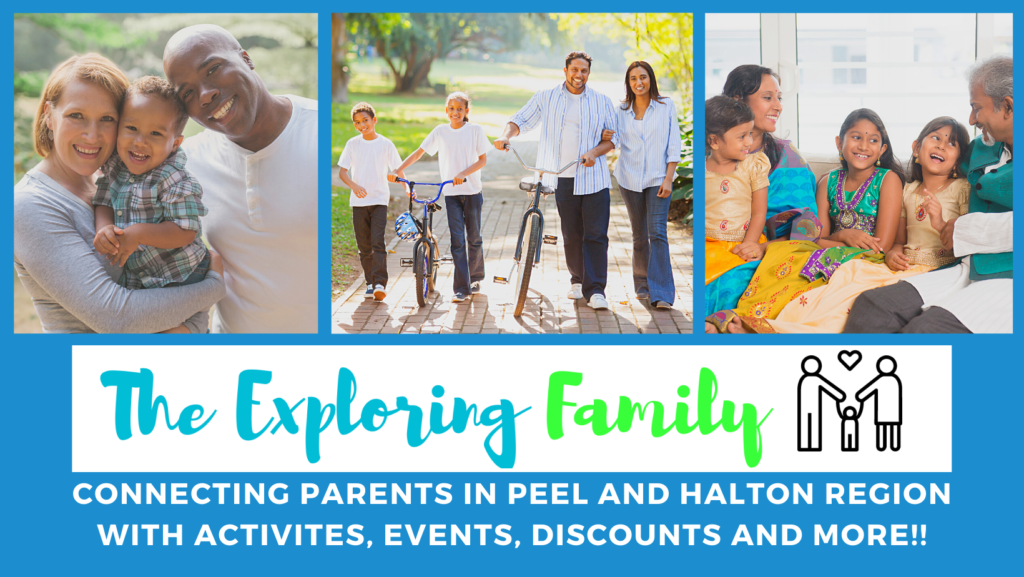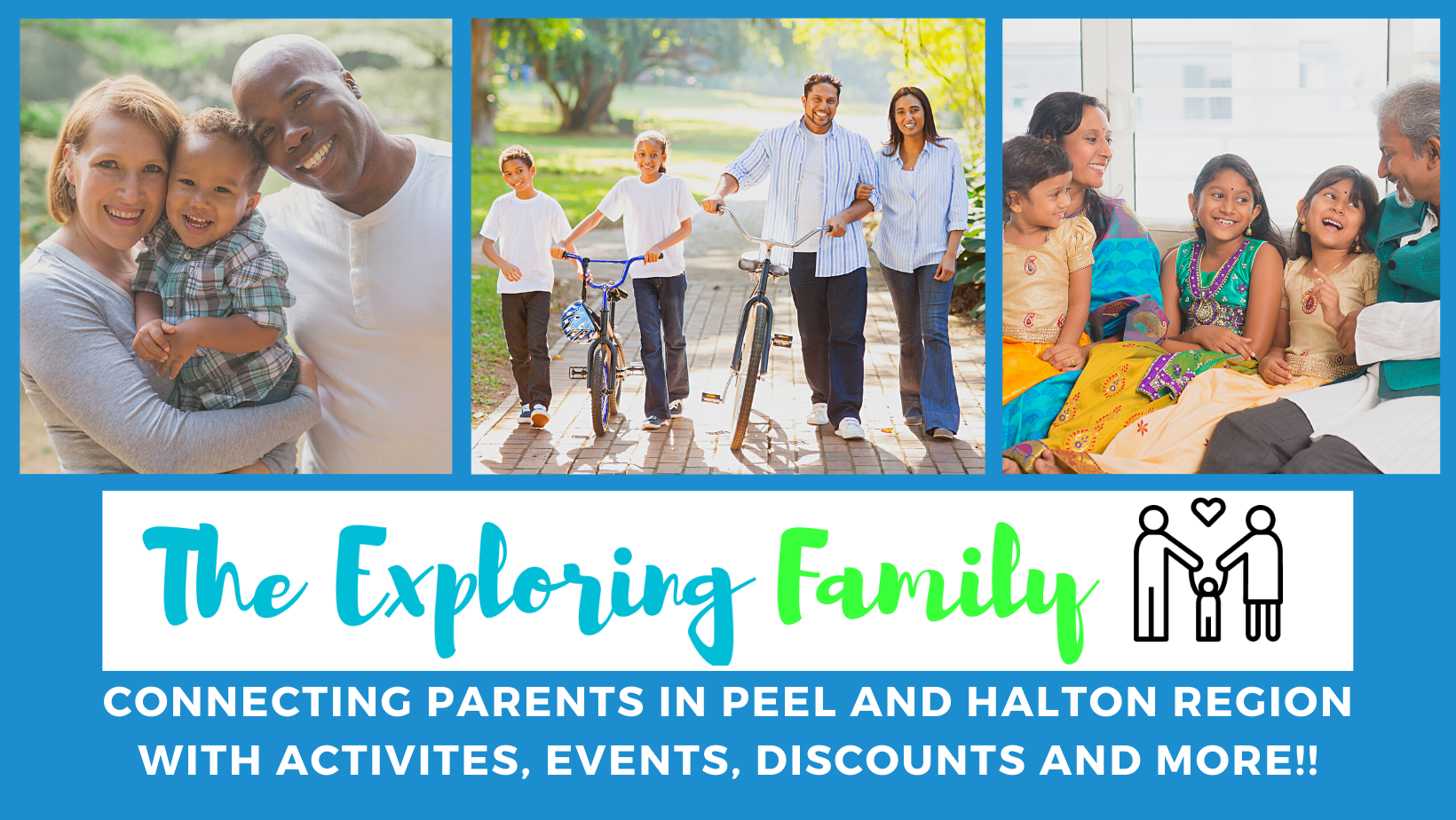 Can you help make this article better?
If you have noticed an error, have additional information or would like to share a comment you can:
E-mail us at info@thexploringfamily.com
Find us on Facebook: The Exploring Family
Find us on Instagram: @The.Exploring.Family