There are several places to go ice fishing in Ontario. If you are looking for great places to enjoy an ice fishing excursion, you are sure to find one near you.
Ice fishing can be an exciting pastime with family and friends. Especially in Ontario. Considering Ontario is home to over 25,000 different lakes, it's not a wonder Ontario fishing is a popular activity.
Winter Fishing Ontario
There are several places across Ontario that are perfect for ice fishing. Click the links to scroll through and find one near you.
Ontario Ice Fishing Rules and Regulations
In order to participate in Ice Fishing in Ontario, you must have a valid Fishing Licence. You must also be prepared to follow the rules. There are size restrictions, possession limits, and more, so check the Recreational Fishing Regulations Summary to ensure you have the right information.
If you are planning on using a fishing hut in Fisheries Management zones 9-12 and 14-20, you must register your ice hut. Your registration number must also be clearly displayed on the outside of your hut. Conditional upon where your hut is located, you must remove your ice hut from the ice by a specified date.
Check the Government of Ontario Website for more information.
How to be Safe on the Ice
When Ice Fishing in Ontario it is important to ensure that you are safe. There are a few ice safety tips to keep in mind to keep your Ontario ice fishing experience a safe one.
Always inform someone of your ice fishing plans as well as your location.
Bring along an Ice Fishing companion.
Always dress in layers to ensure you can stay warm.
Bring along a floatation suit.
Know what to look for to check ice stability. For example, the colour of the ice tells a whole story. Clear blue ice is the strongest. Be careful though because white or opaque ice is a lot weaker. Stay away from honeycombed ice, this signifies weak, thawing ice.
Check ice conditions with other anglers and ice hut operators.
Snowmobiles require at least 8 inches of clear blue eyes to be safely driven on the surface. Light vehicles will require 12 inches or more.
Make sure to bring along the appropriate equipment to ensure optimal safety.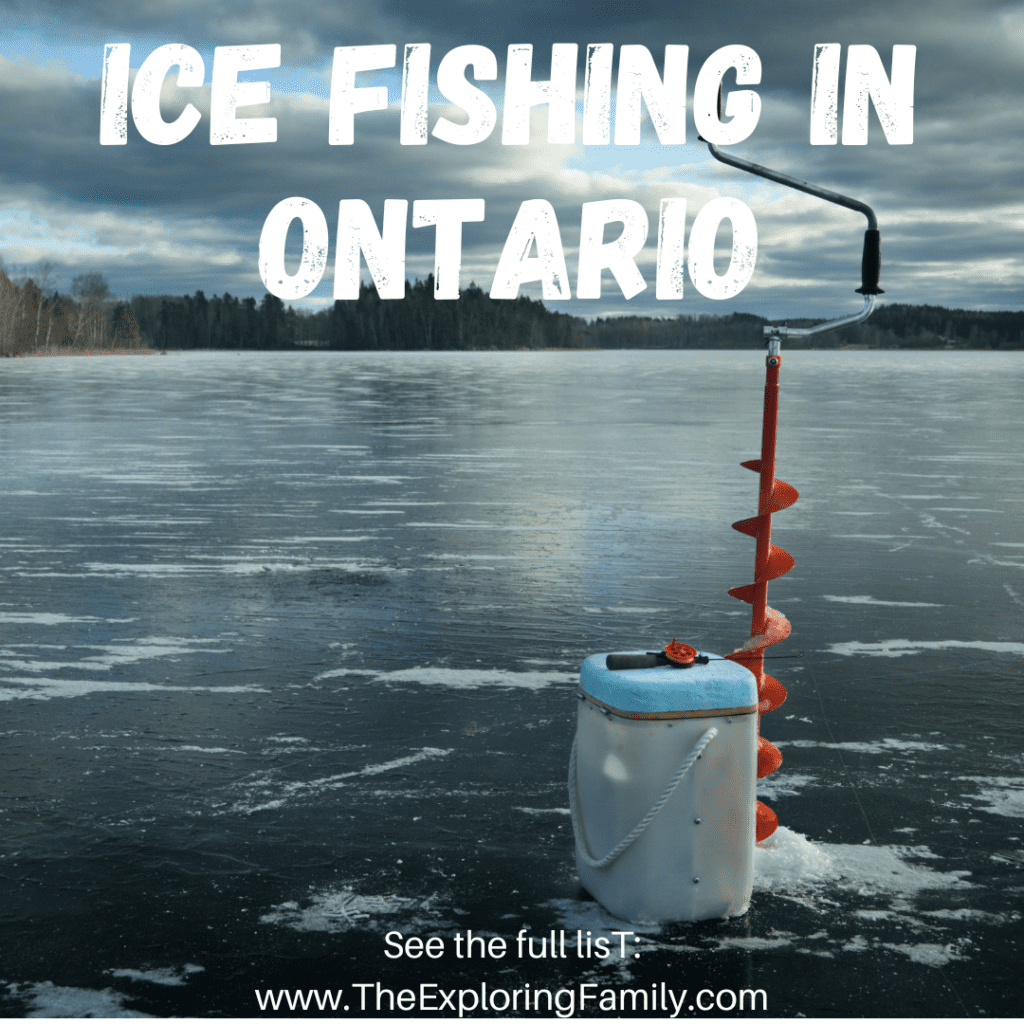 What are the Best Lakes for Ice Fishing in Ontario?
There are so many fantastic lakes to go ice fishing in Ontario. Canada ice fishing is such a fun and exciting way to spend a winter day. There are several ice fishing Ontario packages that you can participate in, making your ice fishing experience a great one.
Lake Simcoe
Located in Southern Ontario between Georgian bay and Lake Ontario, Lake Simcoe is a great Ontario Ice Fishing spot.
There are many different types of fish that can be caught here. From Whitefish to Herring and everything in between, you are sure to catch something fantastic. The Yellow Perch at Lake Simcoe are enormous and plentiful, you are bound to catch one if you head to this location.
If you are looking to rent an Ice Hut, Check out LakeSimcoeOutdoors.
Bay of Quinte
The Bay of Quinte is part of Lake Ontario. Lake Ontario itself is rather large however, the Bay of Quinte region is a highly recommended spot for ice fishing.
Known for being one of the best locations in Ontario to catch walleye and more, the Bay of Quinte is a fantastic ice fishing option. You can also catch pike, bass, and panfish here.
Check out Trenton Bay and Belleville Bay if you are keen on catching Walleye. There are other spots in the region that are great for walleye ice fishing. For example, Hay Bay and Telegraph Narrows also offer up some great options.
Merland Park Resort is a great option when you need some gear, a place to stay, and more.
Lake Scugog
Located just between Lindsay and Port Perry, Lake Scugog is yet another phenomenal choice for ice fishing in Ontario.
There is no shortage of Perch in Lake Scugog, but if you are looking for Black Crappie, this is the destination for you. This is a great starter lake for those beginning their ice fishing adventures.
Wawa Lake
Located in the Algoma District, Wawa Lake is a great place to go. Ice Fishing in Northeastern Ontario is a wonderful experience and Wawa is a great place to enjoy it.
Wawa is home to the Wawa Ice Fishing Derby. You can register to participate. They will be giving away 18 prizes in total. You won't want to miss this exciting event.
If you want to catch trout and pike, this a great place to do it. This region boasts several other amazing lakes for Ice Fishing as well. Check out Mnitowik Lake or Hawk Lake for more fun experiences.
If you are looking to rent an Ice Fishing hut and more, Check out Outlaw Tackle Company.
Rice Lake
Rice lake is located in South-eastern Ontario. Just south of the city of Peterborough, you will find some great ice-fishing opportunities at Rice Lake.
At Rice Lake in the winter, you can catch Perch, Crappie, Blue Gill, and Pumpkin Seed. If you plan on making this a complete adventure, check out some Ice Fishing Ontario Packages at Golden Beach Resort. Here you can opt to participate in exciting multi-day packages.
These Ice Fishing Ontario Packages also include the rental of your own ice hut and to sweeten the pot, the ice hut is heated. They also offer all the tools you will require to make your ice fishing experience a fabulous one.
Ottawa River
Catch Walleye, Perch, Pike, and Crappie from the Ottawa River this winter. This is a fantastic ice fishing experience in Ontario.
Located in Quebec and Ontario, the Ottawa River is a great place to fish. If you are looking to make a whole weekend out of your ice fishing excursion, check out Ottawa River Fishing. They offer weekend rental rates for luxury ice huts.
You will be blown away by how amazing these huts are. They can host up to 6 guests and include indoor holes, satellite tv, and even a kitchen. These huts also include bait, a generator and gas, and pre-drilled holes.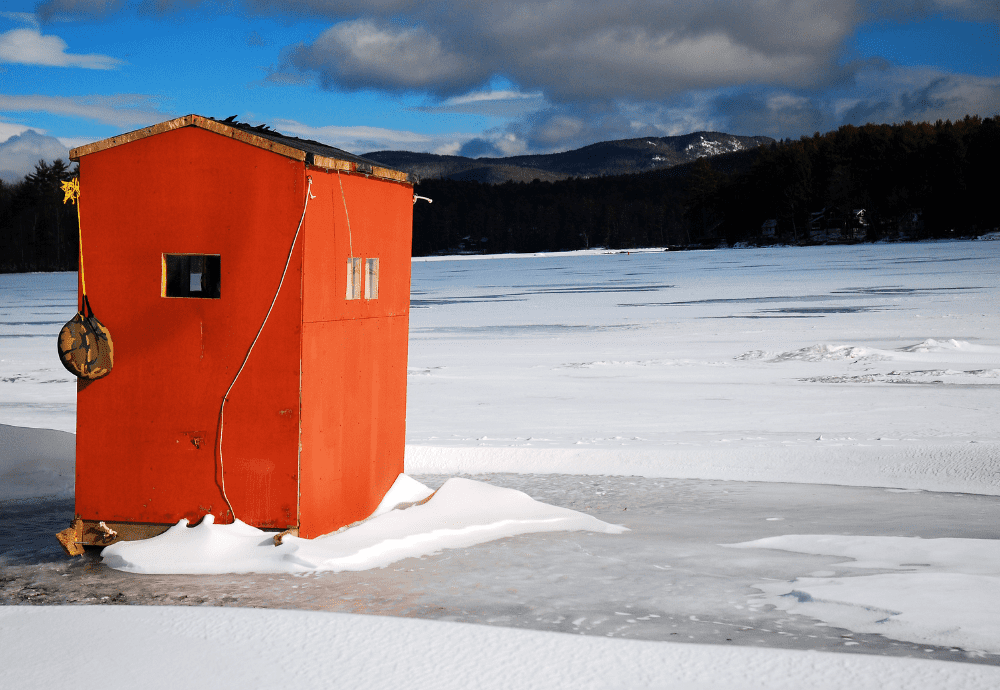 Lake Erie
Lake Erie is the shallowest of the Five Great Lakes, therefore maintaining some of the mildest temperatures. Up to 50% of all the fish in the Great Lakes can be found in Lake Erie.
Lake Erie forms the boundary between Canada and the United States. It a great place to participate in an Ice Fishing excursion. Check out Long Point if you want to catch northern pike and yellow perch.
If you want to make a great day out of, check out Bayside Ice Fishing. They have heated ice huts for your comfort. They also offer firewood for the wood stoves, transportation to the hut, and even some live bait. Once you arrive, they will help you drill your fishing holes and start your fire.
Algoma
Algoma Country is bordered by Lake Huron and Lake Superior. This is a great place for your next ice fishing adventure.
If you want to participate in the full ice fishing experience, check out Wakomata Lake Cottages. They provide several options for ice fishing as well as beautiful lakeside cabins.
Dunlop Lake Lodge is also a fantastic option for an ice-fishing adventure. They offer guided trips on one of the many lakes in the area complete with everything you need to make your day of ice fishing perfect, including a delicious lunch.
Halton Ice Fishing
If you are looking for some fantastic fishing spots in Halton you are in luck. There are many amazing Ice Fishing experiences to be had in and around Halton.
Ontario Parks Ice Fishing
There are several Ontario Parks that offer ice fishing. Just make sure that you obey the regulations and rules set out for the place you choose to ice fish.
There are so many great ice fishing spots Ontario has to offer. In Canada, Ice Fishing is a beautiful experience filled with fun and adventure. Check out the variety of Ice fishing hut rentals Ontario has to offer and take part in the great winter fishing Ontario boasts.