While we love the West Coast, Vancouver and surrounding area is the only city that we have explored with kids so far but Banff is on our bucketlist of places to visit in the next few years, so we reached out to local experts for some advice and tips on travelling in Banff National Park and the Best Things to do in Banff with Kids. Learn more about The Best Places to Travel in Alberta with Kids!
Celine and Dan Brewer are locals to the Canmore area, who share their love for the Rocky Mountains and Banff National Park through their blog Travel Banff Canada. With two kids in tow, they have become experts at finding the best places to visit in the Canadian Rockies and the surrounding area with kids. You can find them on Facebook and Instagram.
When is the Best time to Visit the Top Things in Banff:
From everything that we learned the best time to visit Banff is in the summer months when it is warmer weather. If you visit in July or August, prepare to pack your patience as this is peak season for the Banff area. If you are looking for a quieter visit with fewer people try visiting in the Fall or Spring before peak season.
Planning a trip to Banff with kids can be super fun and easy to do if you use our travel guide to identify the fun things to do in Banff with Kids from hiking to swimming and everything in between as Banff offers lots of outdoor activities. Visiting Alberta is about taking in the beautiful landscape and exploring nature. Banff is a great spot and an amazing Canadian City to visit in Summer!
How do I get to Banff? What is the closest airport to Banff?
The closest airport to Banff is Calgary which is approximately 145km or a 90 minute drive from Calgary International Airport to Banff tourist area. Calgary makes a great starting point for your summer visit to Banff as you can enjoy the road trip between Calgary and Banff.
If you don't have your own car don't worry as Mountain Park Transportation offers many great options for shuttle bus between the two locations as they offer regular service runs daily or private transportation. There are many other transportation companies including Banff Airporter, Brewster Express, Discover Banff Tours, and The Banff Express. During the summer months, On it Regional Transit runs from June to September between Calgary and Banff for just $10.
Things to do in Banff in Summer
This list of things to do in Banff that your kids will love offers a combination of the scenic views that will satisfy any adult while still keeping it interesting for kids. Some of these Banff activities are more active than others, but still doable for the vast majority of travelers. This list includes the popular spots to visit in Banff during the Summer.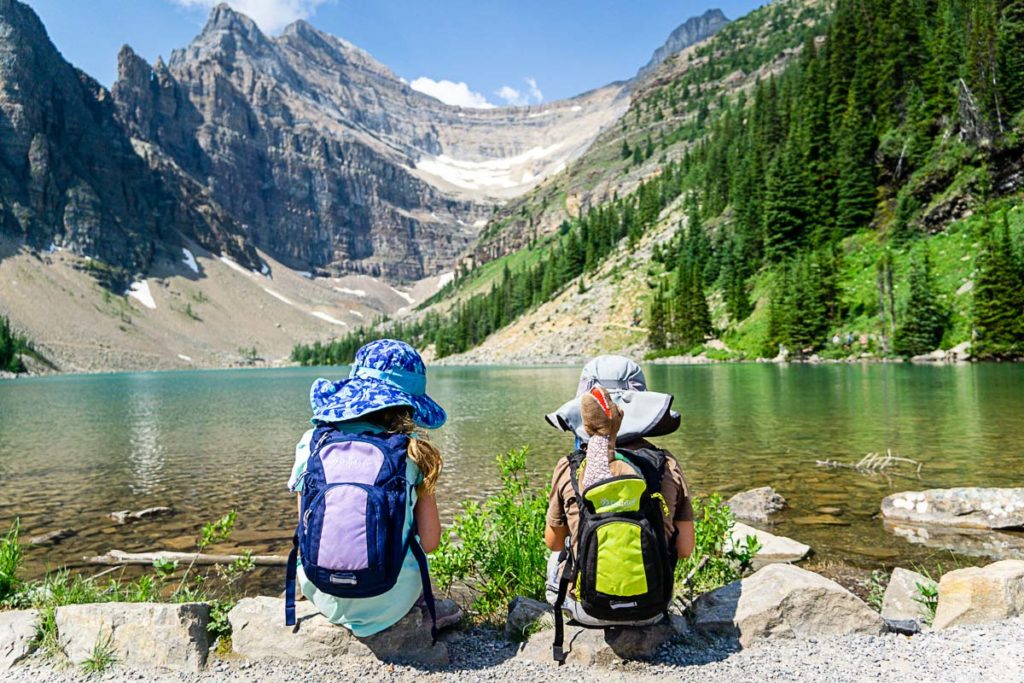 Banff National Park
Banff National Park and the surrounding area is a nature playground for outdoor enthusiasts. It's the type of place where parents can enjoy the incredible landscapes without having to work too hard to keep kids entertained. Kids will naturally find ways to have fun and experience all that Mother Nature has to offer. It's not just about the sweeping landscapes, though far more interesting to adults, but the details and the small things that kids will remember for years to come.
Banff Gondola
The Banff Gondola may be one of the more popular attractions in Banff and for good reason. While the gondola ride itself will be fun for kids, the upper terminal boardwalks offer much more. Once you reach the upper terminal and take in the expansive amazing views over the Banff townsite and the surrounding mountains, take some time to explore.
Kids will love the interactive area inside the upper terminal and you can even take the time for lunch with one of the best views in one of the restaurants. Make sure to leave time to explore the boardwalks. The boardwalks are a flat walk with just a few sets of stairs to contend with, and while the walk is more than worth it for the views alone, it will giving everyone a chance to learn more about the area and enjoy a short walk.
Johnson Lake
Most visitors flock to Lake Louise and Moraine Lake, the two most popular places to visit in Banff. If you have kids, they will enjoy Johnson Lake far more! Though more of a local's area, Johnson Lake still offers some incredible mountain views, a small sandy beach and even a short, but highly enjoyable, hike around the lake.
Johnson Lake is the perfect place to pack a picnic and spend a sunny summer afternoon. A paddle either on a SUP or a kayak is a nice way to enjoy being on the water. There's also the nearby Two Jack Lake and Lake Minnewanka that should not be missed.
Cascade Ponds
Cascade Ponds is one of the best places for a picnic in Banff. Kids will love playing in the grassy areas, taking a small walk around the ponds and throwing some rocks into the water. It's the perfect place to sit back and take in some spectacular views of Mt Rundle and Mt Cascade. If your family is more active, this is also a great place to begin or end your bike ride on the Legacy Trail.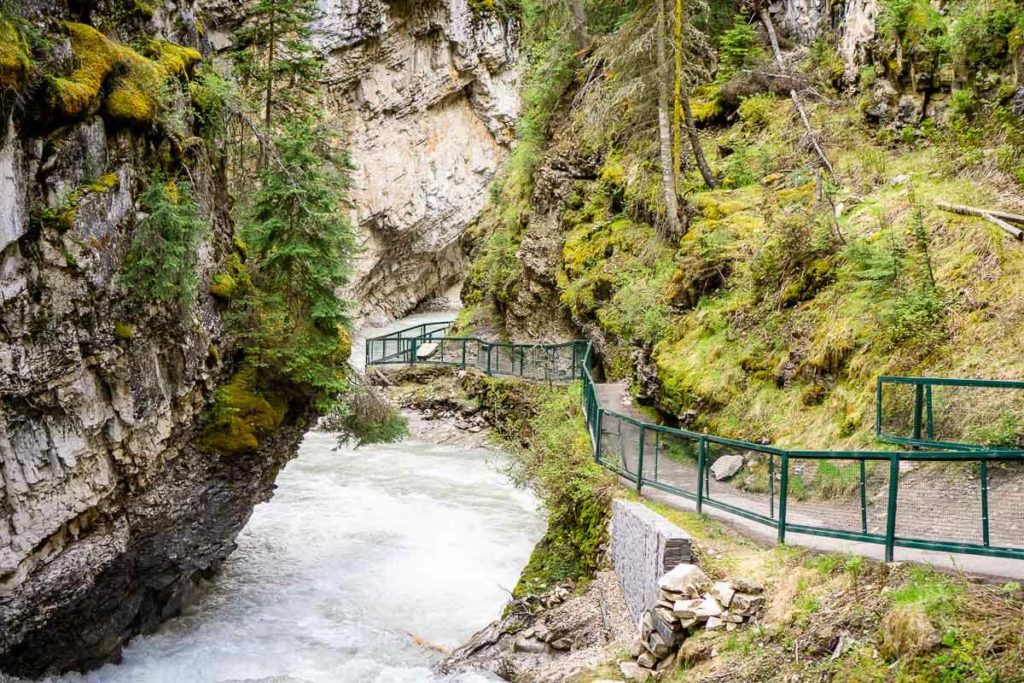 Johnston Canyon
Johnston Canyon is truly one of the highlights of Banff National Park with the crowds prove it. Though it can be extremely busy in the summer, it's still a must to visit. Kids love this short hike that takes hikers across elevated pathways, near raging waterfalls and even into a cave where you're bound to leave a lot wetter than when you entered.
If your schedule allows, visit the popular Johnston Canyon hike early in the morning or later in the afternoon to experience it with less people.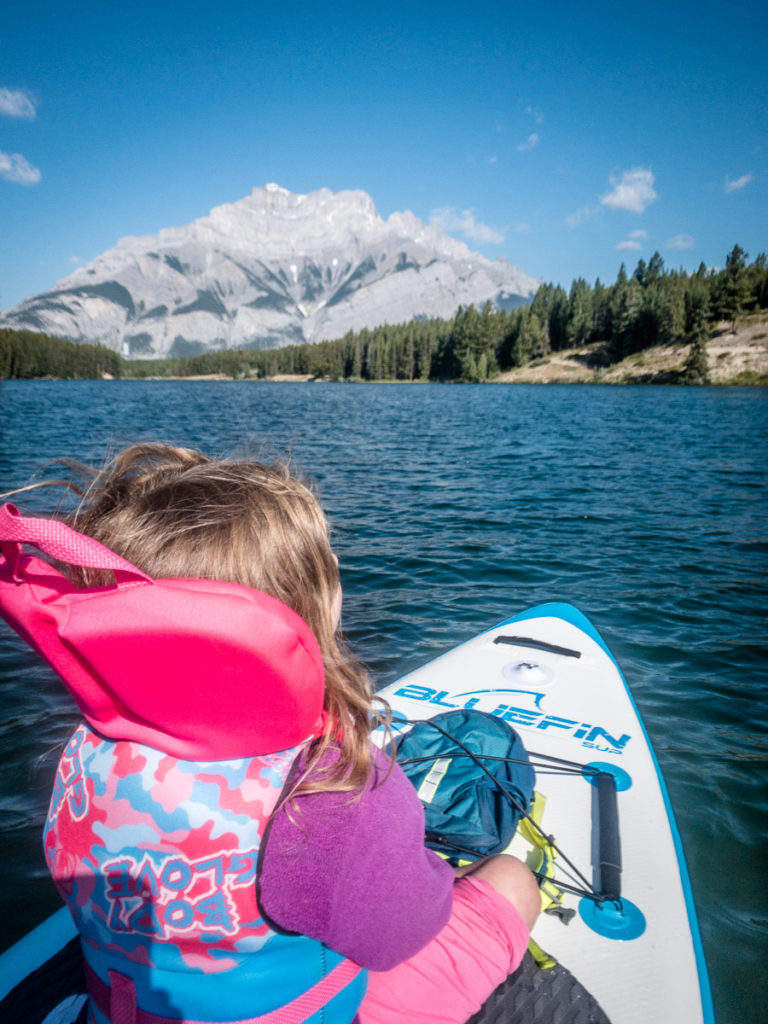 Recommended: Lake Louise with Kids – Checkout our Full Guide
Lake Louise Tea House Hike
Lake Louise is stunning and worth dealing with crowds for a views of this incredible mountain lake with the surrounding mountains. While Lake Louise is enough of an attraction, the nearby Lake Louise tea house will make the trip even more worthwhile.
The hike to the Lake Louise tea house isn't overly long, but it begins with enough of an incline to get anyone's heart racing. Once you reach the tea house, Lake Agnes and the surrounding mountains steal the show! Leave enough time to truly take it all in by having lunch in this amazing scenery. And know that the hike back is mostly all downhill!
Lake Louise Gondola
While the Banff Gondola may be the one that most people flock to, the Lake Louise Gondola is a fun experience for the whole family. The Lake Louise Summer Sightseeing Chair takes visitors over the alpine area with a chance to see grizzly bears in their natural habitat.
At the top there's a fantastic viewpoint, an incredible restaurant with some of the best views and even the opportunity to go further on a hike.
Lower Bankhead
You might not see Lower Bankhead on most lists of what to do in Banff National Park, but if you are traveling with kids then it will be a fun stop for them! Since you are already touring around the Minnewanka Loop visiting the lakes, save some time for this short hike. It's an interesting step back into the mining history of Banff National Park, but kids will love exploring the ruined buildings, an old train, and abandoned coal mining operations from the 1900s.
It is a short 1.1 km walk that is easy for kids to enjoy and explore and only takes about 20 minutes to complete and has many interpretive plaques along the way to provide visitors with information while they enjoy incredible views of the surrounding mountains.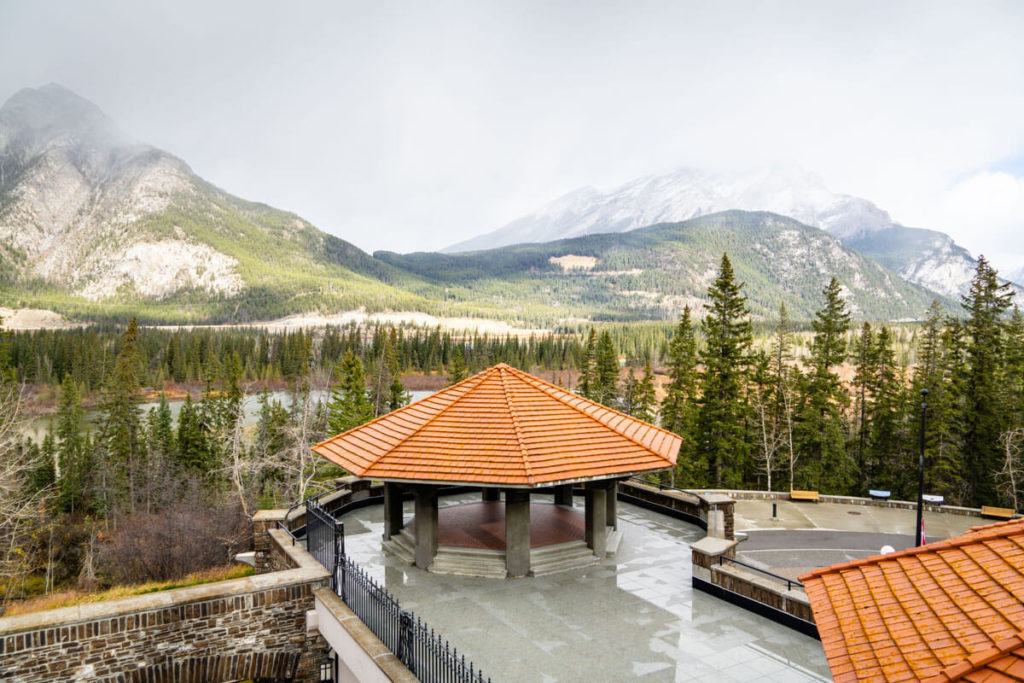 Lake Minnewanka
This beautiful lake is a short distance as it is a 10 minute drive from Banff. The Lake Minnewanka cruise goes around the lake which takes about an hour to explore the 21km long lake that is essential to providing hydroelectric power to the Banff area. Lake Minnewanka is a large glacial lake with an important history as for over 100 years the land was used by indigenous peoples for camping and hunting.
Lake Moraine
The scenery of Moraine Lake seems almost unreal as it offers a great view of mountain peaks, and waterfalls. This turquoise lake is thanks to the glaciers melting during the summer months. Moraine Lake is a glacier fed lake which explains the waters beautiful colour, and the lake is half the size of Lake Louise.
Cave and Basin National Historic Site
The Cave and Basin National Historic Site is the birthplace of Banff National Park and a great place to visit for both adults and kids. Inside you'll find interactive exhibits, while outside the nearby boardwalks offer visitors a chance to learn more about the native species. The stunning rocky mountain scenery is also part of the experience. If there's one thing that kids love, it's a hike or walk with boardwalks and they'll have plenty to explore here at the Cave and Basin. If it's a rainy day, having the interior interactive exhibits will have them interested as well!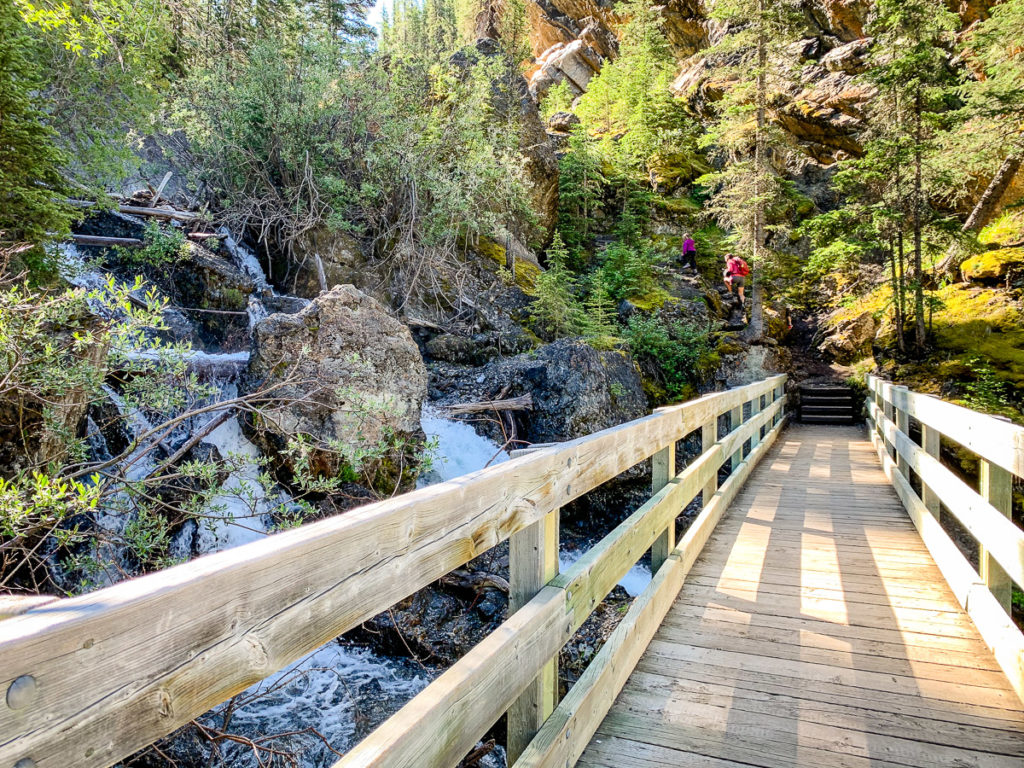 Sundance Canyon
To make a full day of it, a 4 km paved pathway from the Cave and Basin takes you all the way to the Sundance Canyon. While it's a nice walk, kids will enjoy this much more if they can get there by bike. The Sundance Canyon has a short 2km hike at the end that takes hikers through the canyon and back around to the spot where you parked your bikes. The canyon is like a smaller, untouched version of Johnston Canyon with a couple of small steep sections to climb and bridges to cross over the rushing water.
Tunnel Mountain Trail
This is one of the most popular hikes for families, as it can be accessed from Downtown Banff. Tunnel Mountain is the smallest peak in the area as the elevation is only about 300m and at the peak you will find two beautiful red Muskoka chairs to take a break and enjoy the views thanks to Parks Canada. Back in the 1800s the Canadian Pacific Railway had planned to blow through the rockface to create a tunnel however the project was never completed but the summit trail got the name Tunnel Mountain Trail. The trailhead can be found in the Tunnel Mountain parking spot and the entire hike is almost 5km and can take up to two hours with children. The hike offers beautiful scenery and is a good idea for kids as the trail is relatively flat with limited uphill sections.
Important Safety Information: On this trail you will want to carry bear spray, and a bell and stay a safe distance away from wild animals as you may encounter bears, wolves, cougars and mountain goats.
Icefields Parkway
The Icefields Parkway is one more area of Banff National Park that should not be missed. There are plenty of places to stop along the way from Banff to Jasper. It's best to make a full day of the drive along the Icefields Parkway. Along the Icefields Parkway is where you'll find popular attractions like Peyto Lake and the Columbia Icefield.
There are so many things to see and do as a family in Banff National Park. If you are in the area you may also be interested in checking out our guide on Exploring Alberta with Kids and extending your trip beyond Banff.

Now if you are going to be flying then don't forget to check out or tips for dealing with unexpected layovers with kids and tips for packing a carry on for a child. No matter where you end up visiting, relax and have fun making family memories and checking out all the Alberta tourist attractions!
Family Friendly Accomodations in Banff:
Banff has no shortage of places to stay, here are 3 family friendly accommodations in Banff:
Tunnel Mountain Resort: This family friendly hotel is near town while still giving a feel of being in nature. With an indoor pool and an outdoor playground, it will be an ideal place to relax after a day of activities.
Hidden Ridge Resort: Tucked away on the side of Tunnel Mountain, Hidden Ridge Resort is still just minutes from the Banff townsite. Like staying in an apartment, families will have plenty of space and full kitchens allow for some easy self-catering. The Hidden Ridge Resort also has an outdoor pool and playground.
Banff Park Lodge Resort Hotel: For families that like to be in the center of the action, the Banff Park Lodge is within one block from restaurants and shopping. It does back the Bow River, so it still gives that feel of being close to nature. With an indoor pool and hot tub, kids will have plenty of fun at this hotel.