Vancouver is one of the most beautiful cities to visit in the world. Set between the ocean and mountains it is no wonder it was chosen for the 2010 Olympic Winter Games. When traveling with kids in a large city it's hard to know what the best spots are for getting to know the city as well as keeping the kids entertained.
Vancouver is paradise for both parents and kids of all ages as you can enjoy the spectacular views and tourist attractions and enjoy the hustle and bustle of the city. Vancouver is a great city to visit with kids no matter the season! Vancouver offers many different tourist adventures through indoor and outdoor activities.
Whether you are visiting Vancouver with a baby or with older kids you will be able to find some amazing Vancouver based activities to enjoy! Below are some family fun things to do in Vancouver which will keep families interested and entertained.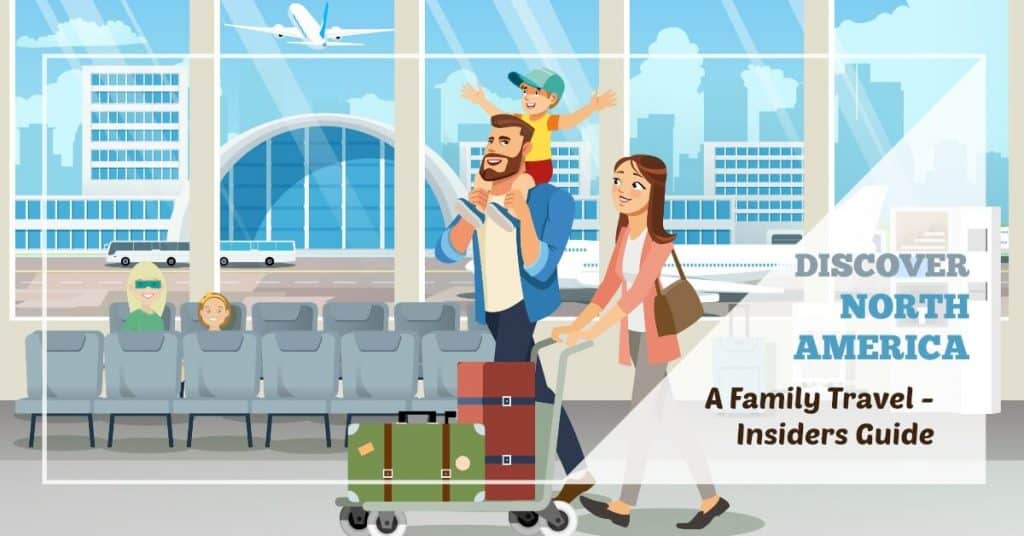 Check out our new Family Travel Series: DISCOVER NORTH AMERICA: A Family Travel Insiders Guide where parents share their travel adventures featuring locations in Canada and the United States and give us tips on what to do with babies, toddlers and kids in places they have experienced themselves.
The Best Time to Visit Vancouver with Kids:
Overall, the best time to visit Vancouver depends on your personal preferences and the activities you enjoy. Here's a breakdown of the seasons and what they offer:
Summer (June to September): This is the peak tourist season in Vancouver. The weather is usually warm and pleasant, making it perfect for outdoor activities like hiking, biking, and exploring parks and beaches. The days are longer, allowing you to make the most of your time. However, be prepared for larger crowds and higher prices during this period.
Fall (October to November): Fall in Vancouver brings cooler temperatures and fewer tourists. The city is known for its stunning fall foliage, especially in Stanley Park. It's a great time for peaceful walks along the seawall, enjoying the beautiful colors, and visiting local attractions with fewer crowds.
Winter (December to February): If you're a fan of winter activities, Vancouver offers nearby ski hills like Grouse and Whistler, where you can enjoy snowboarding and skiing. You can also skate at Robson Square, watch a Vancouver Canucks hockey game, or experience festive light displays during the holiday season. The weather is generally mild but can be rainy, so be prepared with appropriate clothing.
Spring (March to May): Spring in Vancouver brings beautiful blossoms and vibrant gardens throughout the city. Cherry blossoms are particularly popular and create a stunning display. The weather starts to warm up, making it a great time for outdoor activities such as hiking, cycling, and exploring the city's parks.
It's important to note that Vancouver's weather can be unpredictable, so it's a good idea to dress in layers and be prepared for changes throughout the day. Additionally, it's worth checking for any major events or festivals happening during your planned visit, as they can add to the overall experience.
One Day in Vancouver with Kids
In Vancouver and bored with the kids? We have created the ultimate guide of things to do in Vancouver with kids, making sure you get to see all the awesome tourist spots but also keep the kids busy and entertained.
While the coastal area of Vancouver is located in the Lower Mainland area of British Columbia. Family Fun in Vancouver can take place all in the core of downtown Vancouver, so there is no need to travel outside the downtown core.  Summer is a perfect time of year to explore and bask in the best places in Vancouver. If your family is into outdoor adventures, then search no more, this article is for you to never miss a great choice! 
Below is a list of the Best Family Activities in Vancouver. While you could easily spend a week in the downtown core of Vancouver, we only had 2 days as the rest of our trip was spent with family which was the main purpose of our trip. Now if you are not staying right downtown, I highly recommend taking the Sky train as it is fast, clean, affordable and super easy to maneuver your way between locations.
I have included a majority of the places that we choose to visit in our 2 days in Vancouver however I have also included some options that I have not visited but our the perfect fit for a family vacation in Vancouver. Here are some highlights of things to do in Vancouver: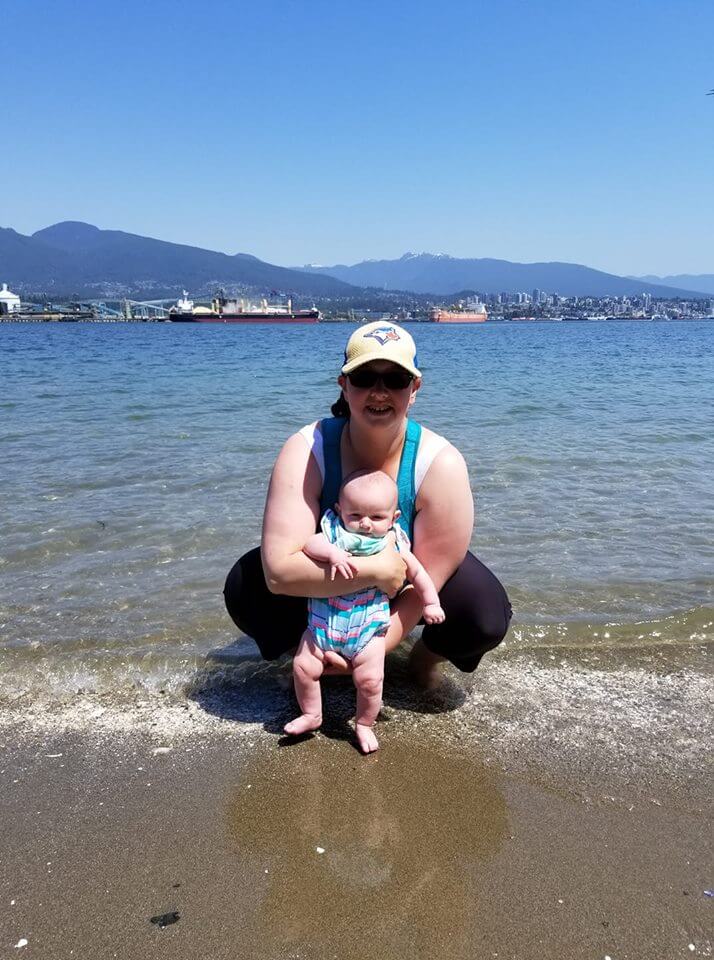 Stanley Park:
Stanley park is a beautiful grass covered park in the middle of the urban architecture of Downtown Vancouver. Enjoy scenic views of the Pacific Ocean, mountains, sky and trees that surround the Stanley Park Sea Wall. Walking or riding you can enjoy kilometres of trails, beaches, local wildlife, and cultural experiences and landmarks. Vancouver is home to the world's largest waterfront path – The Sea Wall is part of the 28 km of path and runs from the Vancouver Convention Centre to Spanish Banks Park. Checkout the full trail here.
Beautiful Nature -> Take a stroll through the park with a stroller and enjoy famous Landmarks:  Lost Lagoon, Siwash Rock, the Hollow Tree, Beaver Lake and Prospect Point. Stunning gardens are located throughout the park for visitors to enjoy or stop by and explore the Totems poles and Aboriginal Art.
Play in the Playgrounds -> Stanley Park has four different playgrounds for kids and families to enjoy, located close to other attractions.
Have a Picnic -> Cut down the expensive cost of eating out on vacation and bring your own lunch and have a picnic. You can either set down a blanket in the grass or sit down at one of the picnic tables throughout the park. A few take out restaurants are available throughout the park.
Make a Splash –> Cool down at the Kids Splash Pad at Lubermen's Arch, or jump in the heated outdoor pool at Second Beach that is perfect for families as it has a sloped entry and gradual depth for kids. Dip your toes in the Pacific Ocean at either Second or Third Beach or stay awhile and take a swim at these life guarded beaches (summer only) that are naturally sandy beaches surrounded by trees and mountains.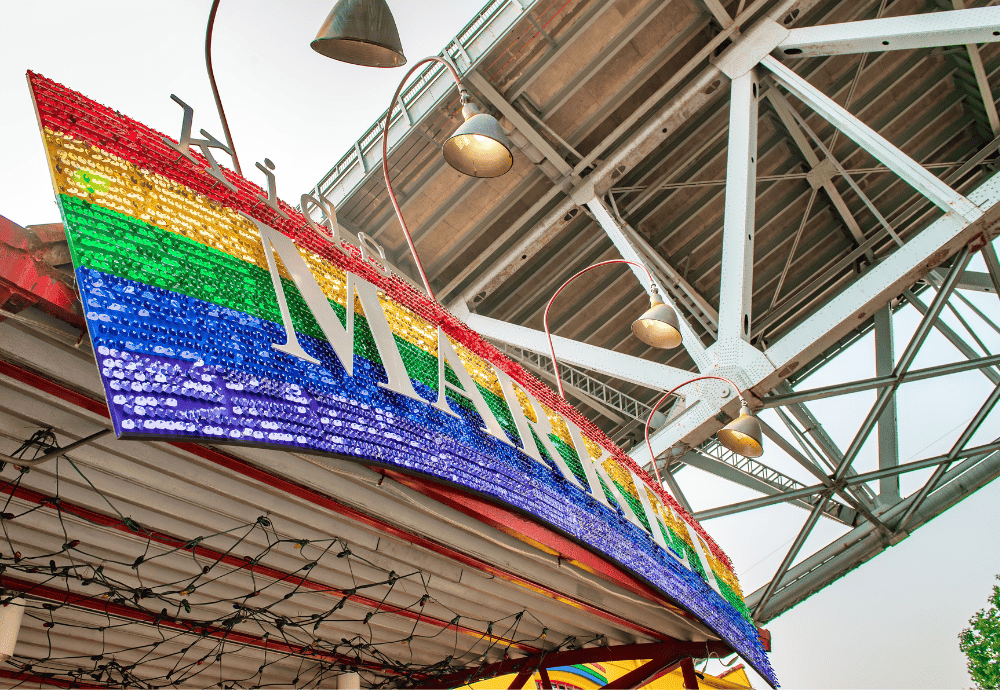 Granville Island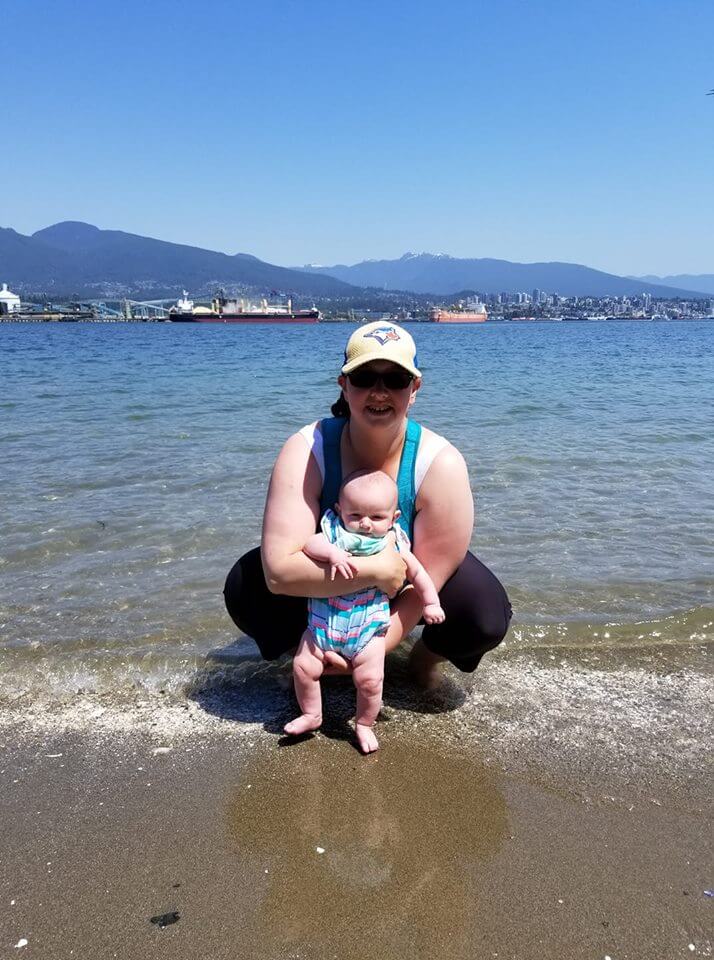 Granville Island
Granville Island is a fabulous place for people of all ages, the busy public market may be hard to manuever with a stroller but not impossible. Once you've gathered you food supplies for the day you can step outside onto the wharf area and watch the boats silently slip by while your kids feed and chase the pigeons. On a warm summer day the kids will like to head over to the playground/waterpark near the community center to cool off and release some energy.
Everything is easily walkable and during a round trip around the edge of the "island" you'll take in birds, seals, kayakers, beautiful sailing boats and a community of houseboats all with a fantastic cityscape background. You'll never have boring hot days since this location is a great spot if your the outdoorsy type of family.
Granville Island also has some great shopping options that you can checkout including a unique toy store for the kids, and Granville Brewery for the parents. Make a plan of your day based on your time constraints using the Granville Island Planner. This is a great place to have so much fun with family and friends!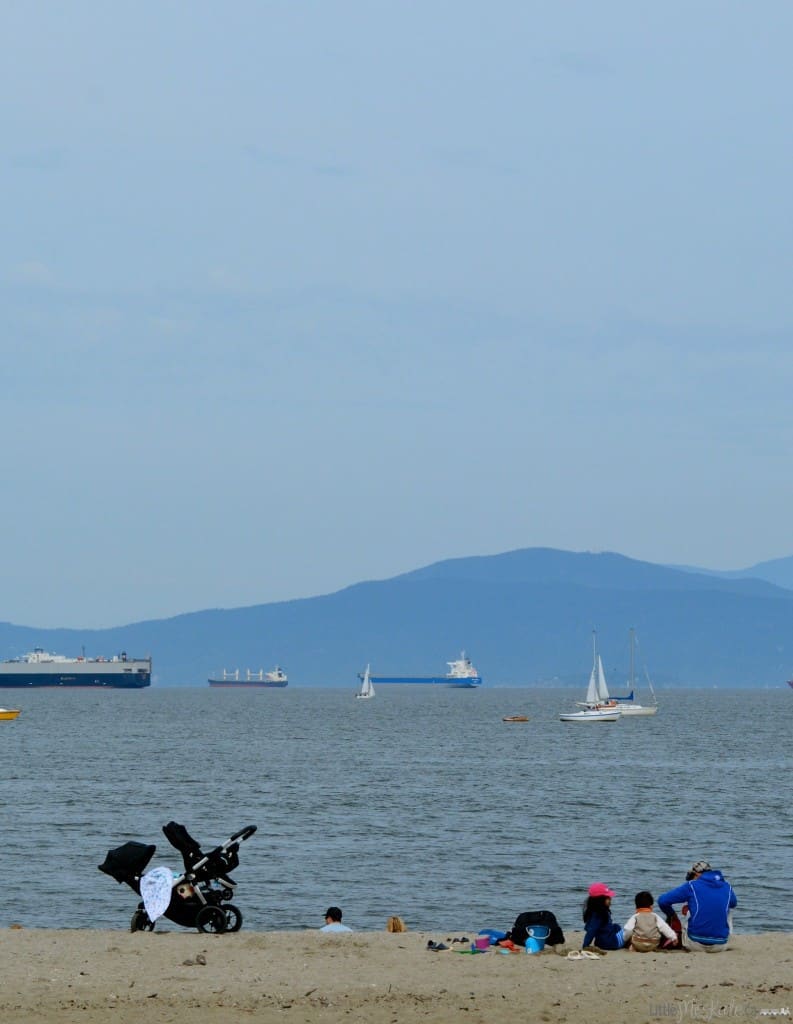 Kitslano Beach
From Stanley Park, you can easily head by foot to Kitsilano Beach (aka Kits Beach). Either walk or bike along the seawall it's easy to negotiate and less than 5km. Once you've reach Kits Beach there's a fabulous, relatively new, playground, basketball courts, beach volleyball or just relax in the sand and play at the water's edge.
The most popular activity is swimming in the Pacific Ocean and enjoying the spectacular view of the mountains and the city landscape in the background. If you don't want to swim you can enjoy building sand castles with the kids in the nice sand. If you don't like swimming in Oceans then you can check out Kitsilano Pool which is the only salt water pool in Vancouver.
A great way to spend the day with kids in Vancouver in a relaxing way. The summer months bring in so much sweat but the cool breeze from this beach will not only help reduce the heat, but will also be an enjoyable way to bond with the kids and loved ones. 
Grouse Mountain
Feel alive as you take in the spectacular views of Vancouver from the top of Grouse Mountain. Grouse mountain offers many different activities to entertain the whole family.
Activities include:
Take the Sea to Sky Gondola over the towering Douglas Fir forest and enjoy views of the mountains, Pacific Ocean, and the Vancouver skyline. Enjoy North America's largest aerial tramway.

Enjoy the adrenaline experience of zip lining over the canyons of Grouse and Dam Mountains.

Take in the Grouse Mountain Lumberjack Show and enjoy watching lumber jack skills: log rolling, 60 foot tree climb, two man ped and raker saws, and axe throwing.

Enjoy Breakfast with the Bears – enjoy watching Coola and Grinder explore their habitat while you learn from the Park Ranger about bears and enjoy your breakfast.

Take a hike up the Grouse Grind – a 2km trail that is entirely uphill.
Now if you have some extra time and a car I highly suggest leaving the Downtown Core of Vancouver and visiting these three great destinations with kids located nearby to Vancouver.
Capilano Suspension Bridge
Capilano is one of the most popular tourist attractions as it has something for everyone in the family to enjoy. Enjoy the Treetop adventure as you cross 7 different bridges through the Douglas Fir forest and can even stop to checkout a tree house in the British Columbia rain forest which is quite a sight to see. Kids can sign up for the Kids Rainforest Explorer program and research along the walk and earn their own Ranger Badge. Enjoy CliffWalk is the newest attraction and allows you to walk along the edge of the cliff over a glass walkway high above the Capilano Canyon.
Walk across the Suspension Bridge over the 450 feet gap above the Capilano River, you can enjoy the breathtaking views. The Capilano Suspension Bridge Park is also brimming with natural beauty overflowing with the lovely smell of trees and plants.
Tip: Pick up your Ranger Program from the Treehouse at the beginning of Treetops Adventure. Once you have collected all your answers return your clipboard to the Treehouse and you will be rewarded with your very own Rainforest Explorer's badge!
Horseshoe Bay
There is lots for the family to do at Horseshoe Bay, starting with a seaside picnic in Horseshoe Bay Park, you can either bring a picnic from home or order takeout from one of the nearby restaurants and enjoy the view of the BC Ferries coming in and out of the dock. Maybe you want to go for a swim and play in the waves that come to shore from the ferries in the designated swimming area. Horseshoe Bay Park also offers an awesome playground for kids of all ages to enjoy. Best of all is just enjoying the landscape and open sea air in the park on a sunny afternoon.
New West Vancouver Trestle Bridge
The New West Vancouver Trestle Bridge is surrounded by tall pine trees and offers a peaceful and tranquil environment. This is a perfect activity to do with kids as it is budget friendly since there is no entrance to visit the bridge and its the perfect stop on the drive between Vancouver and Whistler. The bridge offers amazing views of Vancouver and is a be
Indoor Activities with Kids in Vancouver:
Vancouver weather can be very unpredictable and therefore you will want to have a list of indoor ideas if the weather does not cooperate with your plans.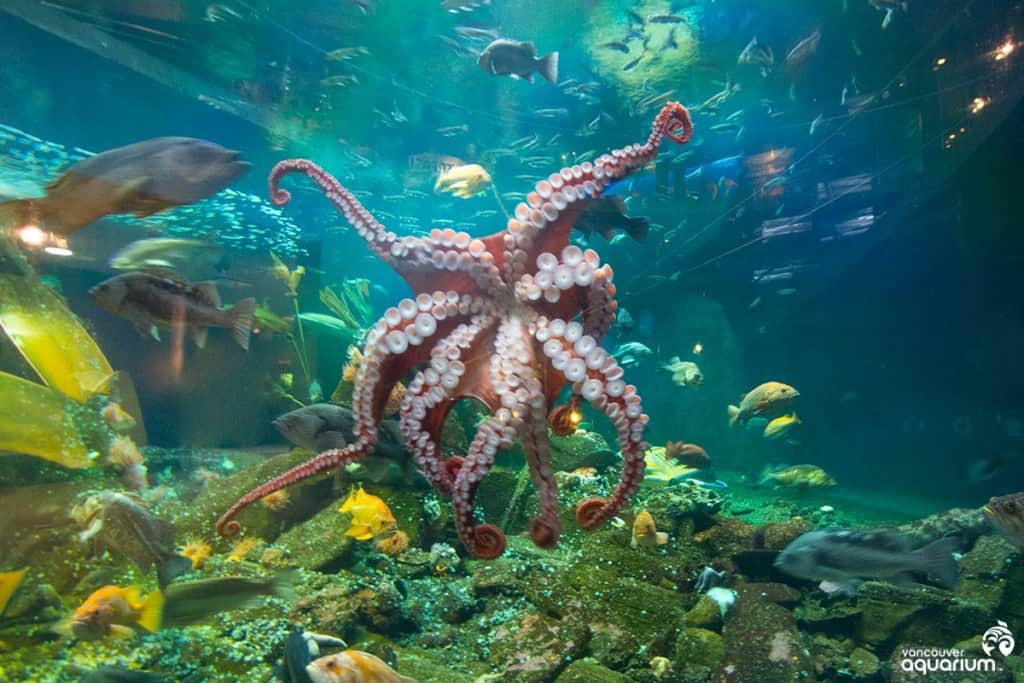 Vancouver Aquarium
The aquarium provides an excellent option for a rainy afternoon outing with kids, offering an immersive educational experience that ignites curiosity about marine life. It boasts interactive touch pools where children can not only observe marine creatures but also have the opportunity to touch them. They have hands-on exhibits so children and little kids can participate and learn while having fun. 
Additionally, there are feeding sessions, storytime sessions, animal encounters, and educational shows that cater to younger kids, enhancing their understanding of aquatic life. Make sure not to overlook the Kids Zone, featuring specially designed games and activities for children. If the weather permits, take advantage of the outdoor areas with scenic views overlooking Stanley Park.
Plan to spend a half-day or more at the Vancouver Aquarium located in Stanley Park. The Vancouver Aquarium offers children a full sensory experience as they can explore, discover and learn about the cute and entrancing animals of our oceans. Vancouver Aquarium has over 30 different exhibits ranging from the Tropics to the Arctic Oceans.
Activities include:
Visit the Touch Pools and let your children get hands on with some cool ocean creatures that are beneath our waters. Kids will learn about anemones, sea stars, and urchins as they explore by touch and learn about their unique features.

Visit the 4D Experience that brings learning to life and allows you to get up-close with the world's strangest and mysterious shark species.

Explore the exhibits and learn more about sea lions, seals, dolphins and otters.

Check out a show and Meet a Penguin, Shark Talk and Feed, Sea Lion and Dolphin Training
Tips:
Also plan to spend a half-day or more at the Vancouver Aquarium located in Stanley Park. It can get quite busy so I recommend trying to go first thing in the morning during the middle of the week if possible. If you find your family there on a weekend just remember to give yourself ample amount of time to enjoy everything it has to offer.

A word of caution the 4D show experience can be too much for children under 5 years who may wind up on your lap for most of the show. We recommend you arrive 15 minutes prior to the show time for the 4D show as spaces are limited.
Granville Island Kids Market
The Kids Market is a vibrant destination filled with an array of shops, including a one-of-a-kind toy store, clothing boutiques, bookstores, and more.
Variety of Shops: The Kids Market is home to a diverse range of shops and stores specifically catered to children. You'll find toy stores, clothing boutiques, bookshops, art and craft supplies, and much more. The shops offer a wide selection of unique and creative products for kids of all ages.
Indoor Play Area: The Kids Market features an indoor play area where children can burn off some energy and engage in active play. This area usually includes climbing structures, slides, tunnels, and other interactive elements to keep kids entertained and occupied.
Interactive Activities: The Kids Market often hosts interactive activities and events for children. These may include arts and crafts workshops, storytelling sessions, puppet shows, face painting, and other hands-on activities. Check the schedule or inquire at the market for the latest events and programs.
When hunger strikes, you can explore the fantastic ice cream shops, candy stores, bakeries, and local restaurants with seaside patios, ensuring a delightful dining experience for the whole family.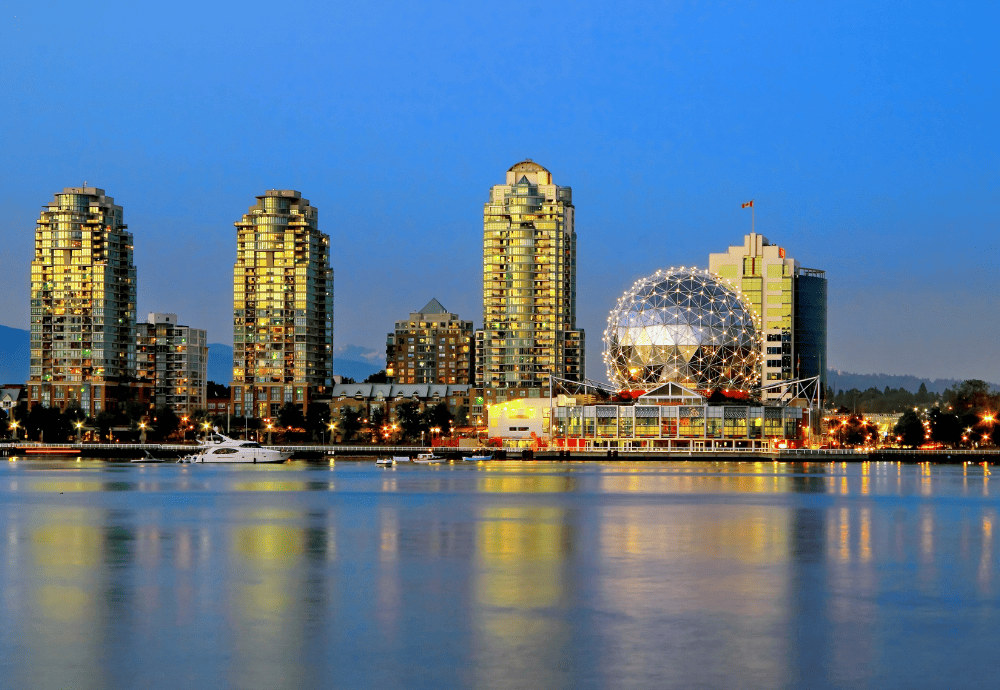 Science World
Science World, a great silver globe at the end of False Creek, can easily be seen from Granville Island.  Plan to spend at least a half a day here and take your time exploring, you can also take in a  a film in the Omnimax theatre, shows run on the hour.  Children will enjoy the play based science activities and live science shows and demonstrations. Interactive exhibits and live entertainment about various topics are also offered here; kids will have something to do in every corner of this place! If you also need assistance with special children or other queries, they have assigned staff member that can help you with questions and concerns.
If you're visiting with young children, be sure to visit the Wonder Gallery, an interactive and engaging play area designed for kids under the age of 6. The Wonder Gallery offers a hands-on experience where children can explore and discover science through seven unique areas: experiment, splash, shine, crawl, climb, and build. It's a fantastic opportunity for little ones to engage their curiosity, learn through play, and have a memorable experience in a fun and educational environment.
Science World is the perfect option even for families with toddlers as they have a specific area called Crawl that is designated for children aged 0-18 months. Children can experience pressing buttons to hover objects in an air stream, things to spin, and mirrors so babies can delight in their own dancing reflection. The Crawl area allows babies to explore different textures and colours in toys and furnishings.
Walking distance from here is the Olympic Village where there are plenty of restaurants to choose from. To make it kid friendly order take out and sit in the promenade in front of Craft while you eat the kids can run and play on the street art close by. It is also worth the short walk to check out the Olympic torch from the 2010 Vancouver Olympics.
Where to Eat with Kids in Vancouver:
Here are some reworded recommendations for the best kid-friendly restaurants in Vancouver:
White Spot: A beloved local chain restaurant in Vancouver known for its family-friendly atmosphere. It offers the famous Pirate Pak meals, which come in a pirate-themed box and include an entree, drink, and dessert from the kids' menu.
Rocky Mountain Flatbread Co: This family-oriented restaurant specializes in gourmet pizzas and flatbreads made with organic ingredients. You can even join the staff on Sunday evenings to roll out the dough and create your very own pizza.
La Casa Gelato: A must-visit destination for gelato lovers, La Casa Gelato offers an astounding selection of over 230 different flavors. It's a perfect place to indulge in a variety of delicious gelato options.
Have you been to Vancouver before? What were your favourite places to visit?
Originally published June 2015, Updated 2023