How to See Vancouver with Young Kids:
Vancouver is one of the most beautiful cities to visit in the world. Set between the ocean and mountains it is no wonder it was chosen for the 2010 Olympic Winter Games. When traveling with kids in a large city it's hard to know what the best spots are for getting to know the city as well as keeping the kids entertained. Vancouver is paradise for both parents and kids of all ages as you can enjoy the spectacular views and tourist attractions and enjoy the hustle and bustle of the city. Vancouver is a great city to visit with kids no matter the season! Vancouver offers many different tourist adventures through indoor and outdoor activities. Whether you are visiting Vancouver with a baby or with older kids you will be able to find some amazing Vancouver based activities to enjoy! Below are some family fun things to do in Vancouver which will keep families interested and entertained.
Check out our new Family Travel Series: DISCOVER NORTH AMERICA: A Family Travel Insiders Guide where parents share their travel adventures featuring locations in Canada and the United States and give us tips on what to do with babies, toddlers and kids in places they have experienced themselves.
Vancouver with Kids
In Vancouver and bored with the kids? We have created the ultimate guide of things to do in Vancouver with kids, making sure you get to see all the awesome tourist spots but also keep the kids busy and entertained. Here are some highlights of things to do in Vancouver BC that both you and your kids can enjoy in 48 hours:
Travelling to Vancouver with a Baby
My husband's entire extended family is located in Vancouver, British Columbia and my cousin was getting married last June so we decided to make a 2 week trip to British Columbia to takes in some sights and visit with family. This was our first family trip travelling with a baby which was quite a new adventure as you need to be prepared and pack so much more when travelling with a baby. Now Thumper was only 4 months old but was an amazing little traveler and slept most of the flight from Toronto to Vancouver which was amazing and made for an easy flight. Based on our travel experience I have three four for travelling with a baby:
1. Pack lots of snacks, formula or breast milk in your carry on as you never know if you may encounter extended layovers or issues causing you to be delayed and or stuck on the plane.

2. Don't weigh yourself down with too many toys as chances are baby won't even play with them but will be entertained by the sights and sounds of the plane and passengers instead.

3. Give yourself extra time to check in: we gave ourselves the standard 2 hours for a domestic flight however felt awfully crunched for time by time we checked in our bag, dropped off the playpen at over-sized baggage, went through security, tagged and handed in our stroller at gate check and finally boarded the plane. We actually ended up running out of time to grab breakfast before boarding the plane.
4. When you book your seats select a window and an aisle as there is a good chance that the middle seat doesn't get booked and you end up with the whole row, and if it does got booked you simply offer to trade seats.
For more tips, Checkout our blog: 7 Tips For Flying With Young Children.
Finally, if you want to pack less you can consider renting baby equipment from Wee Travel which rents cribs, car seats, strollers, high chairs, toys and basically anything you would need to keep baby happy while travelling. Wee Travel rents baby equipment for a reasonable daily price or discounted weekly price and best of all delivers the equipment to you at the Vancouver airport, or to wherever you are staying. While we personally did not use this service, Kate has used a similar service when travelling in Halifax with her youngest. Checkout a review of the Baby Equipment Rental Process.
How to Spend 48 Hours in Vancouver with Kids and checkout all the best Vancouver Activities:
While the coastal area of Vancouver is located in the Lower Mainland area of British Columbia. Family Fun Vancouver can take place all in the core of downtown Vancouver, so there is no need to travel outside the downtown core. How you decide your 48 hours in Downtown Vancouver will all depend on the age of your kids, your families interests and what activities you family normally enjoys.
Below is a list of the Best Family Activities in Vancouver. While you could easily spend a week in the downtown core of Vancouver, we only had 2 days as the rest of our trip was spent with family which was the main purpose of our trip. Now if you are not staying right downtown, I highly recommend taking the Sky train as it is fast, clean, affordable and super easy to maneuver your way between locations. I have included a majority of the places that we choose to visit in our 2 days in Vancouver however I have also included some options that I have not visited but our the perfect fit for a family vacation in Vancouver.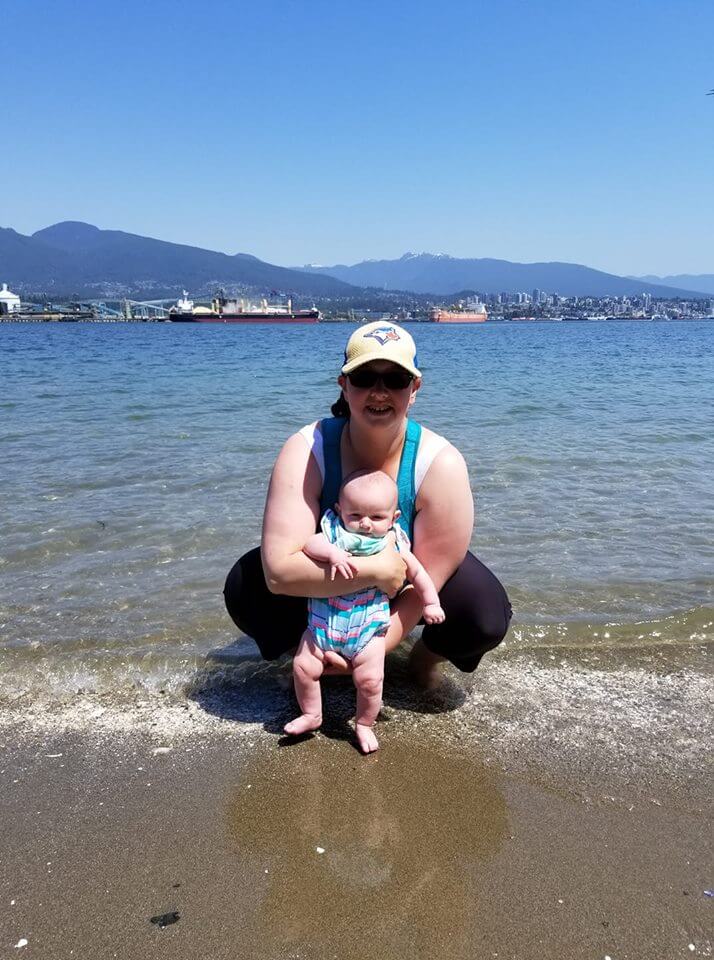 1. Stanley Park – Vancouver's largest and Urban Park located in the heart of the City
Stanley park is a beautiful grass covered park in the middle of the urban architecture of Downtown Vancouver. Enjoy scenic views of the Pacific Ocean, mountains, sky and trees that surround the Stanley Park Sea Wall. Walking or riding you can enjoy kilometres of trails, beaches, local wildlife, and cultural experiences and landmarks. Vancouver is home to the world's largest waterfront path – The Sea Wall is part of the 28 km of path and runs from the Vancouver Convention Centre to Spanish Banks Park. Checkout the full trail here.
Enjoy History and Beautiful Nature -> Take a stroll through the park with a stroller and enjoy famous Landmarks: Lost Lagoon, Siwash Rock, the Hollow Tree, Beaver Lake and Prospect Point. Stunning gardens are located throughout the park for visitors to enjoy or stop by and explore the Totems poles and Aboriginal Art.
Play in the Playgrounds -> Stanley Park has four different playgrounds for kids and families to enjoy, located close to other attractions.
Have a Picnic -> Cut down the expensive cost of eating out on vacation and bring your own lunch and have a picnic. You can either set down a blanket in the grass or sit down at one of the picnic tables throughout the park. A few take out restaurants are available throughout the park.
Make a Splash –> Cool down at the Kids Splash Pad at Lubermen's Arch, or jump in the heated outdoor pool at Second Beach that is perfect for families as it has a sloped entry and gradual depth for kids. Dip your toes in the Pacific Ocean at either Second or Third Beach or stay awhile and take a swim at these life guarded beaches (summer only) that are naturally sandy beaches surrounded by trees and mountains.
Ride the Stanley Park Train -> Passengers can get an up close look at the replica vintage Canadian Pacific Railway Engine and enjoy a 15 minute ride around the park. The train runs daily June to September and then again on Special Holidays times (Christmas Train and Easter Train). Riding the train children will learn about wildlife, Stanley Park History, and trees in the forest. Younger passengers can even earn a Junior Urban Forest Ranger button! Ask for the quiz at the Ticket Booth before you board the train. Listen closely, answer the questions and exchange your quiz for a button at the end of your ride! Note: The train has a special carriage with room for two people in wheelchairs and seats for their companions so it is accessible to all.
2. Vancouver Aquarium

Plan to spend a half-day or more at the Vancouver Aquarium located in Stanley Park. The Vancouver Aquarium offers children a full sensory experience as they can explore, discover and learn about the cute and entrancing animals of our oceans. Vancouver Aquarium has over 30 different exhibits ranging from the Tropics to the Arctic Oceans.
Activities include:
Visit the Touch Pools and let your children get hands on with some cool ocean creatures that are beneath our waters. Kids will learn about anemones, sea stars, and urchins as they explore by touch and learn about their unique features.

Visit the 4D Experience that brings learning to life and allows you to get up-close with the world's strangest and mysterious shark species.

Explore the exhibits and learn more about sea lions, seals, dolphins and otters.

Check out a show and Meet a Penguin, Shark Talk and Feed, Sea Lion and Dolphin Training
Tips:
Also plan to spend a half-day or more at the Vancouver Aquarium located in Stanley Park. It can get quite busy so I recommend trying to go first thing in the morning during the middle of the week if possible. If you find your family there on a weekend just remember to give yourself ample amount of time to enjoy everything it has to offer. A word of caution the 4D show experience can be too much for children under 5 years who may wind up on your lap for most of the show. We recommend you arrive 15 minutes prior to the show time for the 4D show as spaces are limited.

3. Granville Island
Granville Island is a fabulous place for people of all ages, the busy public market may be hard to manuever with a stroller but not impossible. Once you've gathered you food supplies for the day you can step outside onto the wharf area and watch the boats silently slip by while your kids feed and chase the pigeons. On a warm summer day the kids will like to head over to the playground/waterpark near the community center to cool off and release some energy. Everything is easily walkable and during a round trip around the edge of the "island" you'll take in birds, seals, kayakers, beautiful sailing boats and a community of houseboats all with a fantastic cityscape background.
Granville Island also has some great shopping options that you can checkout including a unique toy store for the kids, and Granville Brewery for the parents. Make a plan of your day based on your time constraints using the Granville Island Planner.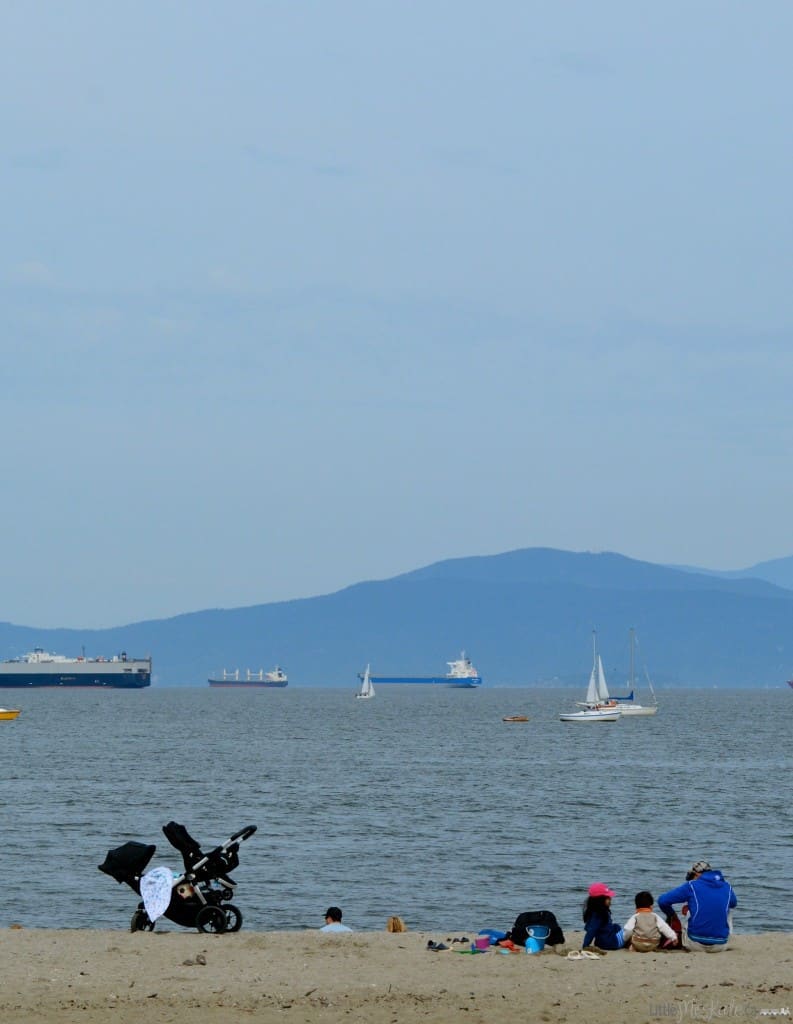 4. Kitsilano Beach
From Stanley Park, you can easily head by foot to Kitsilano Beach (aka Kits Beach). Either walk or bike along the seawall it's easy to negotiate and less than 5km. Once you've reach Kits Beach there's a fabulous, relatively new, playground, basketball courts, beach volleyball or just relax in the sand and play at the water's edge.
The most popular activity is swimming in the Pacific Ocean and enjoying the spectacular view of the mountains and the city landscape in the background. If you don't want to swim you can enjoy building sand castles with the kids in the nice sand. If you don't like swimming in Oceans then you can check out Kitsilano Pool which is the only salt water pool in Vancouver. A great way to spend the day with kids in Vancouver in a relaxing way!
Where to Eat with Kids Near Kitsilano Beach:
Kits Beach has a full restaurant available with a sweeping view of the city but another option close by is the Rocky Mountain Flatbread Company. Located just a 5-15min walk away the restaurant, is kid friendly as it has a fresh kids menu and has a built in play kitchen for children to enjoy right next to the tables. This let's mommy and daddy enjoy their dinner together without having to entertain the kids while gobbling down their food before it gets cold. From here you can easily circle back to Granville Island to pick up your car or hop on transit. For a Full review of Rocky Mountain Flatbread Company.

While the above works for a full day of walking around the city it would be remiss to not include Science World as must dos for the Vancouver Area.
5. Science World:
Science World, a great silver globe at the end of False Creek, can easily be seen from Granville Island. Plan to spend at least a half a day here and take your time exploring, you can also take in a a film in the Omnimax theatre (additional $6 fee), shows run on the hour. At Science World you can immerse yourself in the world of the dinosaurs, learn the ins and outs of the human body and much more.
Science World is the perfect option even for families with toddlers as they have a specific area called Crawl that is designated for children aged 0-18 months. Children can experience pressing buttons to hover objects in an air stream, things to spin, and mirrors so babies can delight in their own dancing reflection. The Crawl area allows babies to explore different textures and colours in toys and furnishings.
Walking distance from here is the Olympic Village where there are plenty of restaurants to choose from. To make it kid friendly order take out and sit in the promenade in front of Craft while you eat the kids can run and play on the street art close by. It is also worth the short walk to check out the Olympic torch from the 2010 Vancouver Olympics.
A hidden gem is Kokopelli café on Dunbar it offers great food, excellent granola and a well stocked play area for kids, a nice one to remember on those rainy days on the wet west coast.
Feel alive as you take in the spectacular views of Vancouver from the top of Grouse Mountain. Grouse mountain offers many different activities to entertain the whole family.
Activities include:
Take the Sea to Sky Gondola over the towering Douglas Fir forest and enjoy views of the mountains, Pacific Ocean, and the Vancouver skyline. Enjoy North America's largest aerial tramway.

Enjoy the adrenaline experience of zip lining over the canyons of Grouse and Dam Mountains.

Take in the Grouse Mountain Lumberjack Show and enjoy watching lumber jack skills: log rolling, 60 foot tree climb, two man ped and raker saws, and axe throwing.

Enjoy Breakfast with the Bears – enjoy watching Coola and Grinder explore their habitat while you learn from the Park Ranger about bears and enjoy your breakfast.

Take a hike up the Grouse Grind – a 2km trail that is entirely uphill.
Now if you have some extra time and a car I highly suggest leaving the Downtown Core of Vancouver and visiting these three great destinations with kids located nearby to Vancouver.
Top Attractions for Kids in Vancouver Surrounding Area
1. Capilano Suspension Bridge:
Capilano is one of the most popular tourist attractions as it has something for everyone in the family to enjoy. Enjoy the Treetop adventure as you cross 7 different bridges through the Douglas Fir forest and can even stop to checkout a tree house in the British Columbia rain forest which is quite a sight to see. Kids can sign up for the Kids Rainforest Explorer program and research along the walk and earn their own Ranger Badge. Enjoy CliffWalk is the newest attraction and allows you to walk along the edge of the cliff over a glass walkway high above the Capilano Canyon.
Walk across the Suspension Bridge over the 450 feet gap above the Capilano River, you can enjoy the breathtaking views.
Tip: Pick up your Ranger Program from the Treehouse at the beginning of Treetops Adventure. Once you have collected all your answers return your clipboard to the Treehouse and you will be rewarded with your very own Rainforest Explorer's badge!
2. Horseshoe Bay
There is lots for the family to do at Horseshoe Bay, starting with a seaside picnic in Horseshoe Bay Park, you can either bring a picnic from home or order takeout from one of the nearby restaurants and enjoy the view of the BC Ferries coming in and out of the dock. Maybe you want to go for a swim and play in the waves that come to shore from the ferries in the designated swimming area. Horseshoe Bay Park also offers an awesome playground for kids of all ages to enjoy. Best of all is just enjoying the landscape and open sea air in the park on a sunny afternoon.
3. New West Vancouver Trestle Bridge
The New West Vancouver Trestle Bridge is surrounded by tall pine trees and offers a peaceful and tranquil environment. This is a perfect activity to do with kids as it is budget friendly since there is no enterance to visit the bridge and its the perfect stop on the drive between Vancouver and Whistler. The bridge offers amazing views of Vancouver and is a beautiful walking trail to enjoy with the kids.
How to Spend 48 Hours in Vancouver with Kids – Pin it for Later
Have you been to Vancouver before? What were your favourite places to visit?
Originally published June 2015