Viamede Resort has history, charm and beauty as it is located on the pristine waters of Stoney Lake and makes for the perfect Spring/Summer Getaway Location. Viamede and adjoining Mount Julian have been landmarks of Stoney Lake since 1885. The Viamede property is 165 acres of wilderness adventure just waiting to be explored. The property features 9km of trails, indoor and outdoor pools, children's playground, beach, gardens, disc golf course, and much more. Viamede resort is even home to a working farm, where they raise their own livestock and grow vegetables. The gem of the property is the boat dock that leads you to beautiful and clear Stoney Lake that offers swimming, fishing and boating opportunities. Viamede motto is based on three words "YOUR PERSONAL VACATION" meaning enjoy your time however you like with no hassles, no resort fees, and no tips! The price you pay is clear and simple with no confusions or added costs.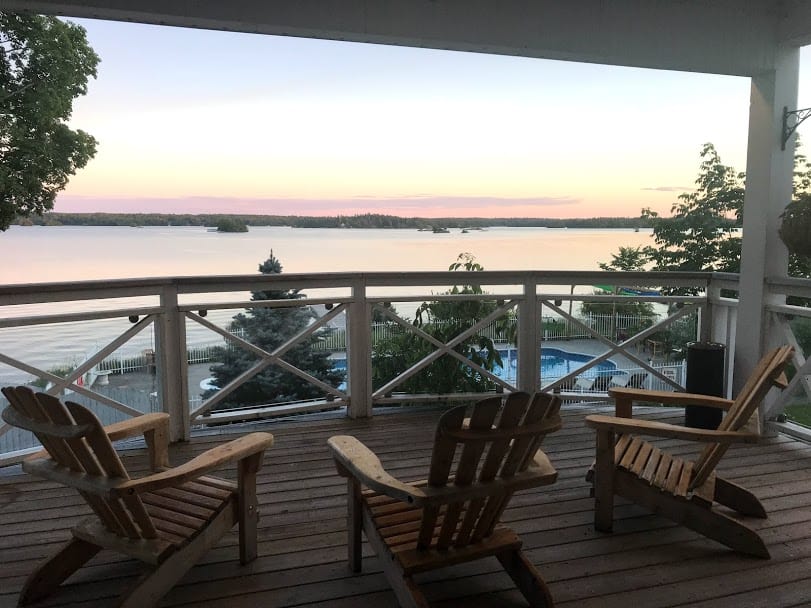 My husband and I promised ourselves when we had kids that it would not stop us from travelling and exploring the world. While we have shifted our travel to a little more local rather than international, Ontario provides many beautiful destinations and landscapes to explore and vacation as a family with our toddler daughter. For a family seeking tranquility, fun and outdoor exploration Viamede is the perfect escape from the hustle and bustle of city life. We arrived around 8PM on a Friday nights and were greeted to a beautiful sunset over the water while we enjoyed ice cream cookie desserts.
Where is Viamede Located?
Viamede is located two hours North East of Toronto located in Woodview, Ontario and offers picturesque views of Stoney Lake. Located just 35 minutes from Peterborough, Viamede is apart of the Kawarthas.
Travelling with Kids to Viamede Resort
Now if you have ever traveled with a baby or a toddler you will now that it requires a lot of planning and can be quite exhausting to find activities to keep toddlers engaged and allow the parents to have fun at the same time. Viamede resort was the perfect Ontario Family Vacation that we were looking for and offered many amenities to make travelling with a toddler easy! Viamede is the ideal setting to explore the outdoors and enjoy the varying resort accommodations.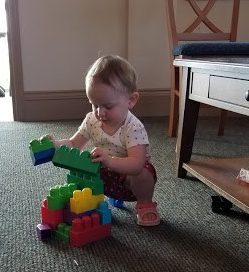 Ontario Family Vacation: Viamede had families in mind and made it easier to travel with a toddler by having kids DVDs, and kids books in the main hallway bookshelf. Our daughter Thumper happily found toys to play with in the dinning room while waiting for any meal. In the dinning room, high chairs were easily found and every meal offered a kids meal option. Viamede also had varying sizes of life jackets available for kids at both the pool and the beach area. The resort also has a full playground located in the sand of Stoney Lake right beside the beach area.
Pet Friendly Accommodations at Viamede Resort
Viamede is also a dog friendly resort with is rare and often hard to find a location that the whole family including those with paws can enjoy. Viamede resort staff couldn't imaging getting away without their four legged friends and believe you shouldn't have to either so all of the cottages are pet friendly and having dogs is no extra cost. Instantly as you enter the resort lobby you will see golden retriever memorabilia, a bowl of dog treats or may even meet the two dog mascots. I loved in our room that all of the shampoo, conditioner and body wash had a doggy theme.
"Dogs are welcome in this hotel. We never had a dog who smoked in bed and lit the sheets on fire, we never had a dog who stole the sheets or complained that another travelling companion was too loud. We never had a dog get too drunk and break the furniture … so if your dog can vouch for you your welcome to stay at Viamede Resort".
Viamede Resort offers all the amenities you would need with a dog as there is a fenced in dog park, 9km of trails to hike, and doggies are welcome to swim at the beach. Owner Ben would love to pamper your pooch so with a little advance notice doggy beds, treats, dog bags, leashes and food dishes can be provided. Now no worries if you don't have a dog of your own as dog walking own of the resorts dogs can be easily arranged.
It should be noted that the main and hilltop rooms are pet free if that is your preference as Viamede understands not everyone loves dogs as much as owner Ben does.
Viamede Resort offers the Comforts of Home
Viamede made you feel right at "home" as it is not like typical resorts as it is a completely open door policy, meaning even you need something feel free to just grab it, for example they had a fridge behind the bar so I just grabbed milk when I needed it for our toddler daughter. Viamede Pantry is open access allowing you so simply take wine glasses, mugs or glasses back to your room as needed without asking. The Pantry is available at all hours and has complimentary coffee, tea, and hot chocolate available if you are looking for a warm drink. Viamede does not believe in
Viamede likes to skip the formalities so if you want sports equipment to borrow like a soccer ball or frisbee just grab it from the front desk, no sign out needed. Want to take out a paddleboard, canoe or kayak, you will find everything you need at the beach and if they are available you are welcome to just take and use with no rental fees, no waivers, no deposits, and no hassles.
Viamede's Commitment to Nature
I would describe Viamede as a rustic resort and cottages as its not trying to be a 4 star Marriott, they instead offer an accommodation for those who love nature, the outdoors and activities at the lake. I would describe Viamede Resort as a quant family friendly resort that feels like a friend's cottage. The resort is far from perfect as there are some small maintenance issues, pathways aren't perfect and sometimes the wildlife escape through the open door policy into the main building. Viamede's goal is to provide exceptional customer service and help you create memories.
Viamede's owner Ben is committed to nature and therefore does not use chemicals on the lawns, or overcut the lawns. While this may appear to guests as unkept it is instead allowing the wildlife and plants of the area to survive and thrive in their natural environment and as such Ben has seen a return of more bugs, salamanders, tree frogs, bees and much more! Ben's goal is not only to preserve and protect the land around Viamede but to also leave the smallest ecological footprint possible.
The Accommodation Options at Viamede Resort
Guests have options in terms of accommodations as you can choose to stay in a traditional hotel room or in a dog friendly cottage at the water's edge. Viamede guests have a range of accommodation options from a king sized bed to 3 bedroom cottages. Viamede likes to keep things simple to rates are based on room type and season of the year.
Hotel Accommodation: All accommodations are comfortable but are definitely rustic as they are far from perfect. The main lodge and hill top rooms have varying configurations from king, queen to two doubles. Bathrooms range from air jetted tub to walk in shower and most rooms feature a fireplace of some kind. Hotel rooms include a coffee maker and a mini fridge.
We stayed in one of the hotel rooms which worked well for our family of three. The hotel room had two double beds, a mini fridge, a small fireplace, and sitting area with two chairs and a table, in addition there was a patio deck with two chairs and a table that overlooked the lake. The bathroom had a nice spacious bathtub/shower combo. The deck on our patio could use some small maintenance as it was looking a little worn and the screen door needed to be replaced however neither of this issues affected our stay. In the evenings after our daughter went to bed we enjoyed playing our new favourite 2 player travel board game of Ticket to Ride New York. We love the original version of the game so we were excited to take the new travel version with us on our weekend getaway to try during the evening downtime.
Ticket to Ride is a race to complete Tourist Attractions and Destination tickets in New York to earn the most points. This simple Ticket to Ride gameplay appeals to both beginners and seasoned players alike and is perfect for couples to play and is even simple enough to play with kids. Learn the game in 3 minutes, play it for hours! Enjoy the New York Ticket to Ride state of mind!
Cottage Accommodations: Cottages range from a 1 bedroom king size bed to 3 bedroom options for the whole family with queens or doubles. Cottages include one or two fill bathrooms depending on size and a kitchen with refrigerator, coffee maker, microwave, toaster oven and BBQ. Cottages include a seating area or living room and select cottages have a fireplace. The best part of the cottages in the private decks overlooking the lake.
The Food and Drinks at Viamede Resort
Viamede Resort is home to 3 wonderful restaurant options: 1885, Mount Julian and the Boat House. Viamede believes that the best foods are grown locally and thus ingredients are sourced from as close at the onsite farm to the nearby farmers market.
Mount Julian:
Housed in the original Inn at Mount Julian. The restaurant offers fine dinning featuring local ingredients from the Viamede property in addition to local farm partners. Visit the restaurant for a 5,7,or 9 course fine dinning experience that features forest/farm to table dinning. Mount Julian only offers dinning for Adults.
Open on Saturdays only by reservation from Labour Day to Canada Day. Victoria Day to Canada Day Monday to Sunday by reservation only.
**During the Summer, Viamede Resort offers a Kid's Club and Kid's Pizza Night for kids 6-13 years old that features games, outdoor play, a movie and fun to allow parents to have a break and enjoy fine dinning on their own. During this time kids will create their own pizza and watch an age appropriate movie. **
The Boat House:
This restaurant offers casual dockside dining in the summer and is only open from Canada Day to Labour Day. The restaurant is open from 11:00am -9:00pm. The Boat House is located to the west of the Outdoor Pool right on the Water. The restaurant features local Ontario meats, produce and fish.
Our Review: We did not get to try the Boat house as we visited in Late June before it was open for the Summer!
1885: The place to be… offering fireside couches, board games, darts, fooseball, ping pong, toys for the kids and an assortment of complementary beverages. This space is open 24/7 to guests to allow them to enjoy the variety of games.
The main dining room throughout the fall, winter and spring. A nutritious and delicious breakfast of bacon, eggs, sausages, home fries, waffles, cereal and muffins is available in the 1885 dinning room from 8:30am – 10:30am. Breakfast is included for all guests in their regular room rate.
Lunch and Dinner can also be purchased in 1885 off their menu which included salmon, chicken, sandwiches such as pulled pork, pasta dishes and dessert. It is important to note that dining room is only open 11:00am -1:00pm for lunch and 5:00-9:00pm for dinner during Fall, Winter and Spring. Unfortunately, the times of meals are not listed very clearly so it is important to take note of them as we didn't realize and were left finding food outside of the resort as there was no food being served between 1:00pm and 5:00pm on the resort.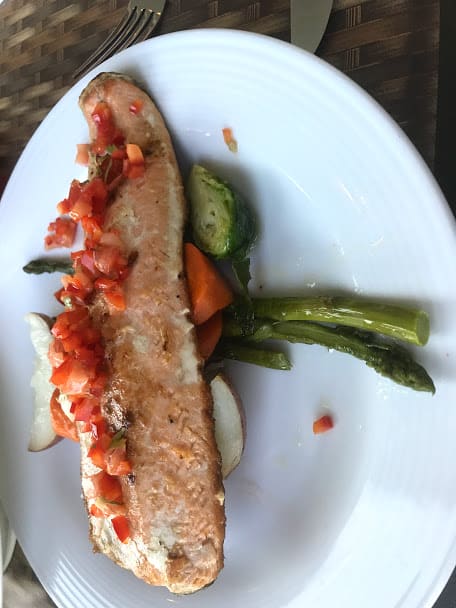 Our Review: We enjoyed their buffet breakfast and my favourite part was the make your own waffle bar as it reminded me of my university days. Both days the breakfast was fresh, hot and the trays were always full. I enjoyed a local Ontario tomato pasta for lunch with tasty chorizo and fresh produce of roasted peppers, mushrooms and onions while my husband enjoyed Perch fish and chips with fries. The staff were great about offering options for our daughter and provided us with a kids menu. For dinner my husband enjoyed Citrus Crusted Rainbow Trout baked and seasoned with fresh herbs and I enjoyed Hunter Chicken which was a seared chicken breast braised in mushrooms, tomatoes, tarragon and cream. We both enjoyed our meals and especially enjoyed that many of the ingredients were local and farm fresh. We found that the staff were also very friendly and helpful with ensuring we had everything we needed including a high chair for our daughter.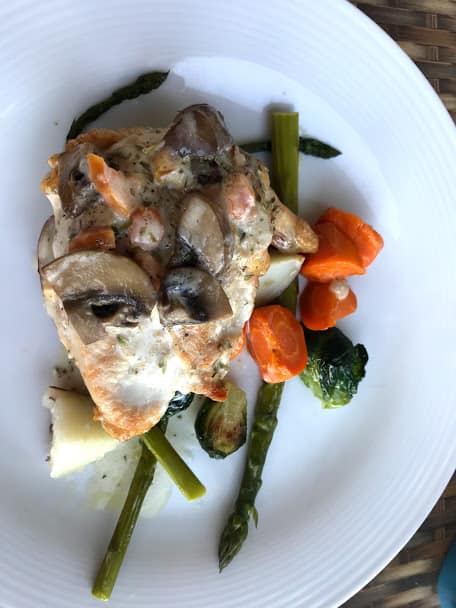 Things to do with Kids at Viamede Resort
Viamede Resort is home to over 9km as in 2016, Viamede partnered with the Kawartha Land Trust to expand the network of trails through and around the property.
The 9 kilometres of trails are arranged into 3 major loops – the blue trails (3.5 km), yellow (2km), and red (3.5km), and are open to hikers, cross country skiiers, snowshoers, dogs and people. The trails include Canadian Shield, limestone formations (The Chute), wetlands and a beaver dam.
Whether you have a young toddler like us or an older child who can play along then you can enjoy Frisbee Golf. Now with a toddler, I highly recommend bringing a hiking back pack baby carrier with you as then your baby or toddler can take a nap while you play… while challenging it was definetly still do able to play, we just didn't play as many holes. The Peterborough Disc Golf Club built and maintains a challenging disc golf course on the Viamede property running through forest trails.
Visit the Playground by the Beach
Located on the sandy shores of Stoney Lake is a full playground that offers entertainment for kids of all ages. I love that the playground was near the beach so we could enjoy the scenery of the lake. My daughter loved that the big slide landed her into a huge pile of sand. My only complaint is that the playground sand could use some attention as weeds were starting to grow.
Even though we visited in late June we were brave enough and jumped in the lake for a swim and found it was a very comfortable temperature. You can either enter the lake slowly by walking in by the shoreline or take the plunge and jump off the dock. There is also a water trampoline and water climbing wall located a short swim away from the shoreline that would be a hit with older kids.
Viamede has both an indoor and outdoor pool on the property. We found the outdoor pool was strangely colder than the lake so we spent most of our time in the indoor pool. I really enjoyed that the indoor pool had a small section that was actually outside so you could enjoy the heated pool and the sunshine while looking at the lake or if you wanted some shade you could easily swim back through the adjoining piece to the indoor pool.
Viamede has a full working farm that is just a short walk away and makes for some entertainment especially for young toddlers like my daughter who was calling every animal a "duck". We visited with the cute piglets, turkeys, and ducks and she enjoyed the visit as we made the accompanying animal sounds. If you want more animal and farm knowledge there are daily tours of the farm.
Paddle along the Lake by Canoe or Kayak
Located on the shoreline are various canoes, kayaks and paddleboards that any guest can use to explore and enjoy Stoney Lake.
In 1885, there are lost of board games to borrow and play or you can enjoy a large scale scrabble game. If board games aren't your thing then enjoy a game of fooseball, darts or ping pong with your kids depending on their age.
If you are travelling with children old enough to bike, then I highly recommend using the assortment of bikes and helmets that are located across from the chapel, ready for any guest to use. There are lots of pathways along the resort to ride, and in addition there are some nearby cottage roads if you want to go for a longer ride.
Take out a Boat and Enjoy Some Fishing
If you are feeling adventurous you can rent a boat and take a cruise around the islands located in Stoney Lake and enjoy some fishing. If you are looking for a guided tour join Ben the manager at 6AM every morning for some fishing on the lake.
How to Book the Ultimate Family Vacation at Viamede Resort
Viamede Resort Booking
595 Mt Julian Viamede Road, 705-654-3344
Rates are very reasonable and can be found here. All accommodations include the following:
What's included:
Viamede's signature breakfast

Access to all resort activities
Our full recreation program

Free parking and Wifi

All service charges, resort fees, marketing fees, and other charges are included in your room rate. Just add the tax.
SAVE FOR LATER