Feel like you live with a bunch of Monkeys??? Well why not take them to go visit some actual monkeys and many other animals at African Lion Safari. Great news for 2023 as they will be opening May 6th for another Wild Season. African Lion Safari has made some changes to the ticketing prices.
Kate has visited multiple times over the years. Erin and Thumper had season's passes back in 2019 and we had a great summer visiting 4 different times, she can't wait to repeat with Thumper who is now 4 and Squeaker who will be about 16 months this summer! Kate and Erin would highly recommend a visit to African Lions Safari, or if your looking to see animals at a smaller scale checkout our Guide to the Best Farms and Petting Zoos in Ontario.
WHAT IS AFRICAN LION SAFARI?
African Lion Safari is a park of 750 acres, that over 250 animals and 1000 exotic birds call home in their habitat of bush, grassland and forest where they can interact naturally like in the wild, and mized species roam and interact together creating a sight to see. African Lion Safari is dedicated to the conservation of declining wildlife species and is a drive through Wildlife Park. They also offer many animal shows, playrounds for kids, splash pad/water play opportunities, a small train and boat ride. For a full description of attractions, scroll down below.
WHERE IS AFRICAN LION SAFARI LOCATED?
African Lion Safari is located 1386 Cooper Rd, Cambridge, ON N1R 5S2.
WHAT ARE THE HOURS OF OPERATION FOR AFRICAN LION SAFARI?
African Lion Safari operates the Game Reserve Driving Path and Ticket Booth from MONDAY – FRIDAY : 10:00 AM – 4:00 PM , SATURDAY – SUNDAY : 10:00 AM – 5:00 PM during the Summer Season. Check here for updated times for Spring and Fall.

The walking paths (including "Nature Boy" Scenic Railway, "African Queen" Boat Cruise, Misumu Bay Wetplay and Venture Playground are open until 5:30PM during the week and 7:00Pm on Weekends during the Summer Season.
WHAT ATTRACTIONS ARE AVAILABLE FOR 2023 AT AFRICAN LION SAFARI?
Game Reserves –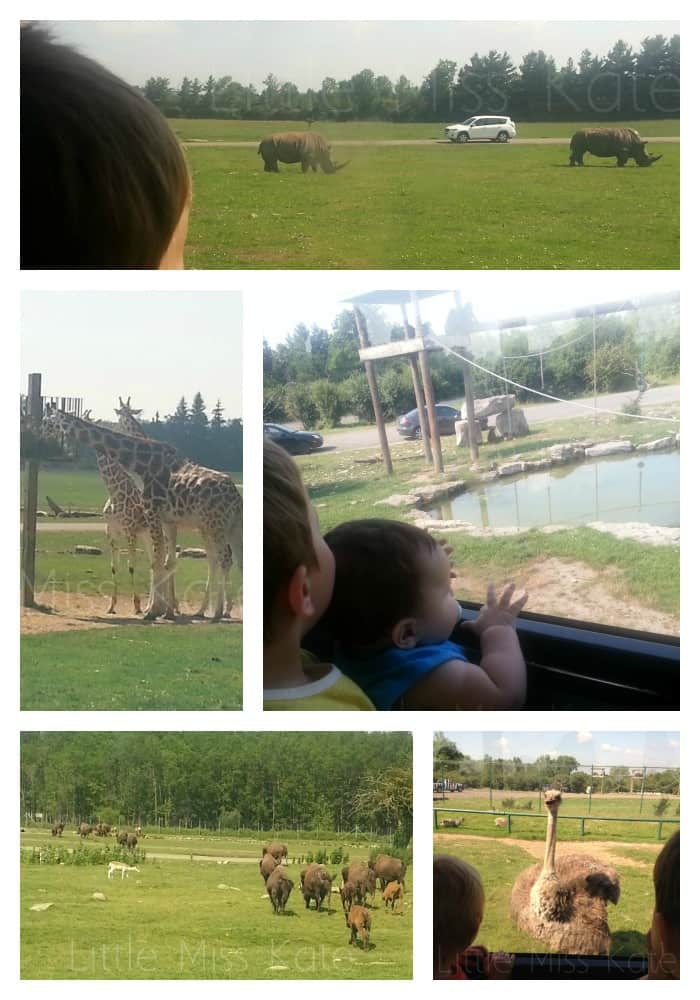 Offering visitors the choice of taking their own car or taking the bus to drive through 9 kilometres of trail, through 7 large Game Reserves featuring Nairobi Sanctuary, Simba Lion Country, Timbavati Lion Country, Wankie Bushland Trail, Rocky Ridge Veldt, Australasia and The Americas, giving visitors an upclose views of wild animals in their natural surroundings.
Kate visited on one of the hottest days of the summer and enjoyed the air conditioned bus tour through the game reserves.  I would highly recommend taking the bus tour, not only is it a comfortable ride where the kids can move from side to side to see the animals, but you also get to learn about the animals from the African Lion Safari Staff.  Our guide pointed out animals that I would have never spotted on my own and was able to tell us about the personalities and relationships of all of the different species.
Both the boys had a great time on the Safari tour and loved watching the animals roam and play. Plus if you take the bus there is no risk of damage to your vehicle from a curious monkey or migrating buffalo! My favourite animals on the safari were the Rhinoceros' munching away on their breakfast and the baby monkey who was playing and chasing its mother around.
Nature Boy Scenic Railway
Enjoy a 15 minute ride aboard The Nature Boy Scenic railway that takes you around the park to enjoy exotic species from around the world, as you explore 16 hectare of reserve on a replica 1863 C.P. Huntington St
African Queen Boat Tour
Jump aboard a short boat ride as your tour around Safari Lake and enjoy as your captain guide points out unique primates including White-handed gibbon, Ring-tailed lemur, Black-handed Spider monkeys and Robust Black Spider monkey.
Animal Shows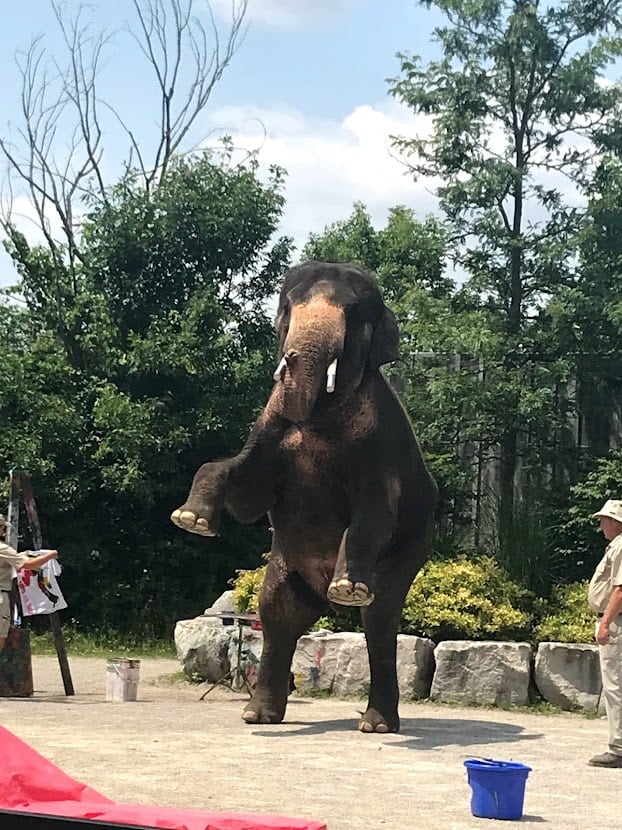 Offering many live shows including: Parrot Paradise and Birds of Prey. Pending update on 2022 shows if Elephant Shows will return. While you are visiting African Lion Safari you can catch bird and animal shows that run several times a day.  It is an amazing sight to watch the Indian Elephants march in line down to the lake for a swim.  They are so graceful and playful in the water.  The Elephant swim was definitely a highlight of the day.
Venture Playground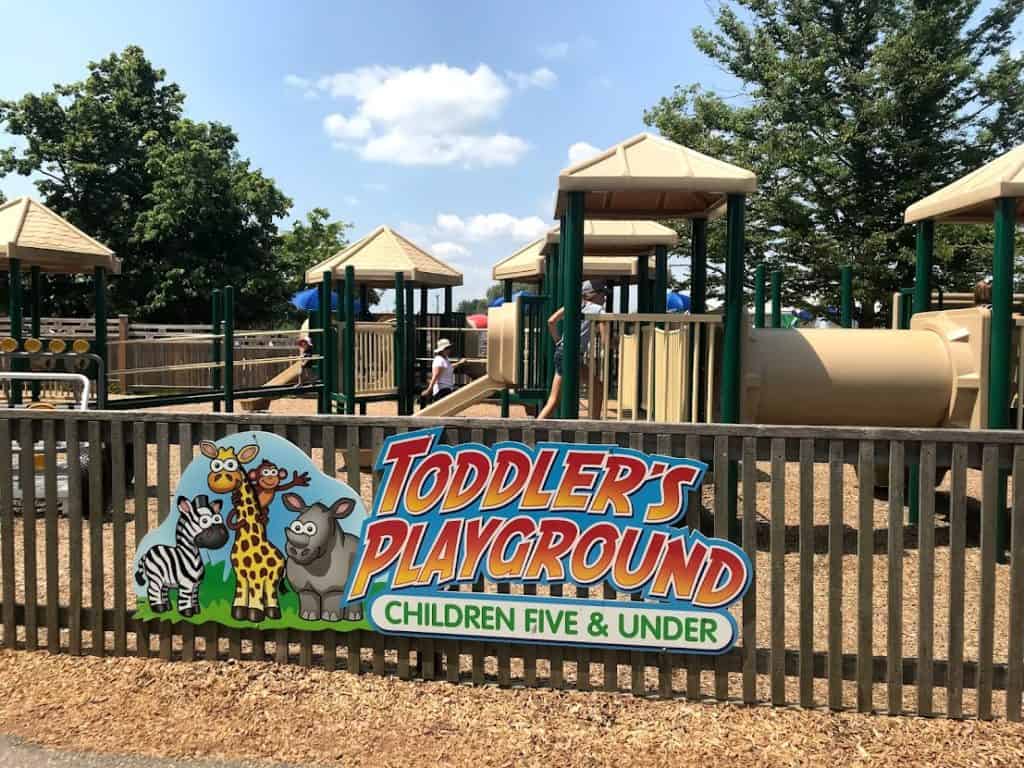 African Lion Safari offer two different playgrounds: Safari Venture and Toddler Playground. Height restrictions apply.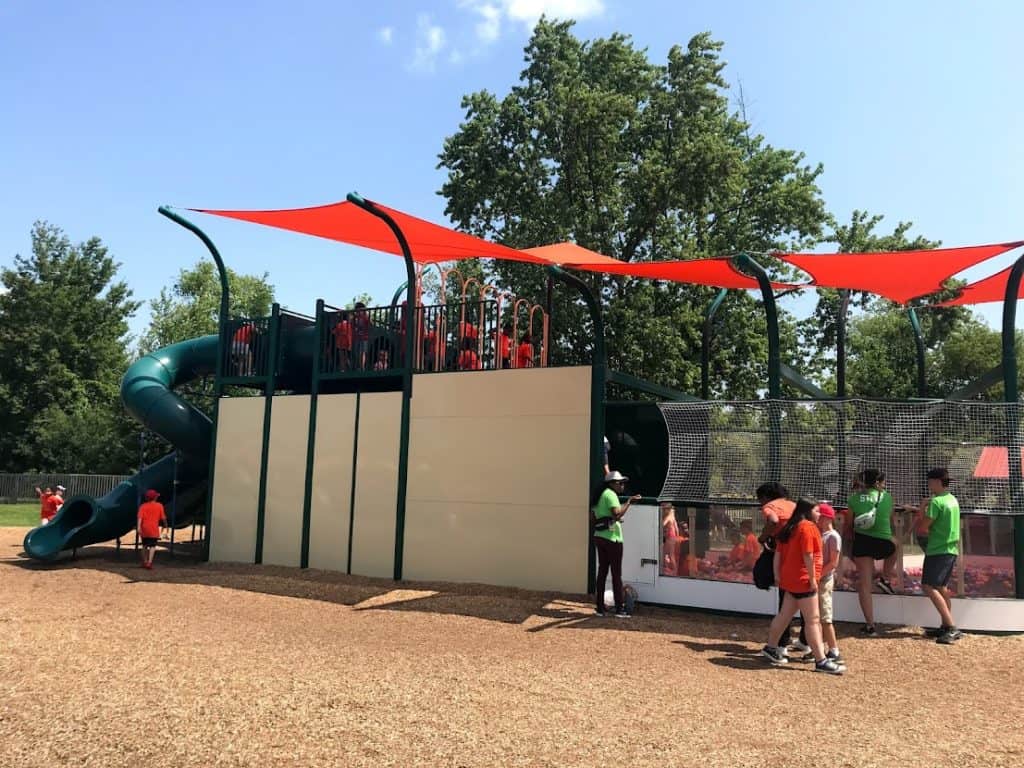 Misumu Bay Waterpark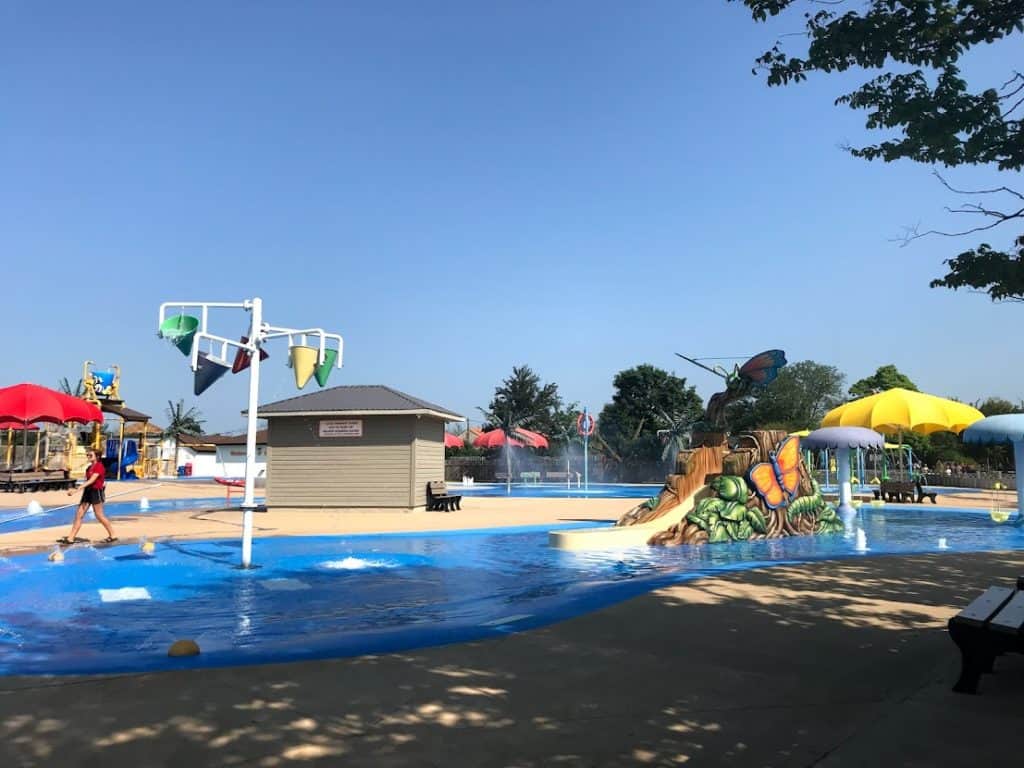 Cool off after a hot day on Safari in Misumu Bay! Stroll through Sprinklers, Spouts, Spray Buckets and Stream Jets in the interactive waterplay area. Trek under Rain Trees and Tumble Buckets in the main waterplayground, or enjoy one of the many slides. To enjoy the slides and Tumble buckets you must be 38 inches tall. For toddlers they have a bouncy swing and a small toddler slide as well as a shallow splash pool.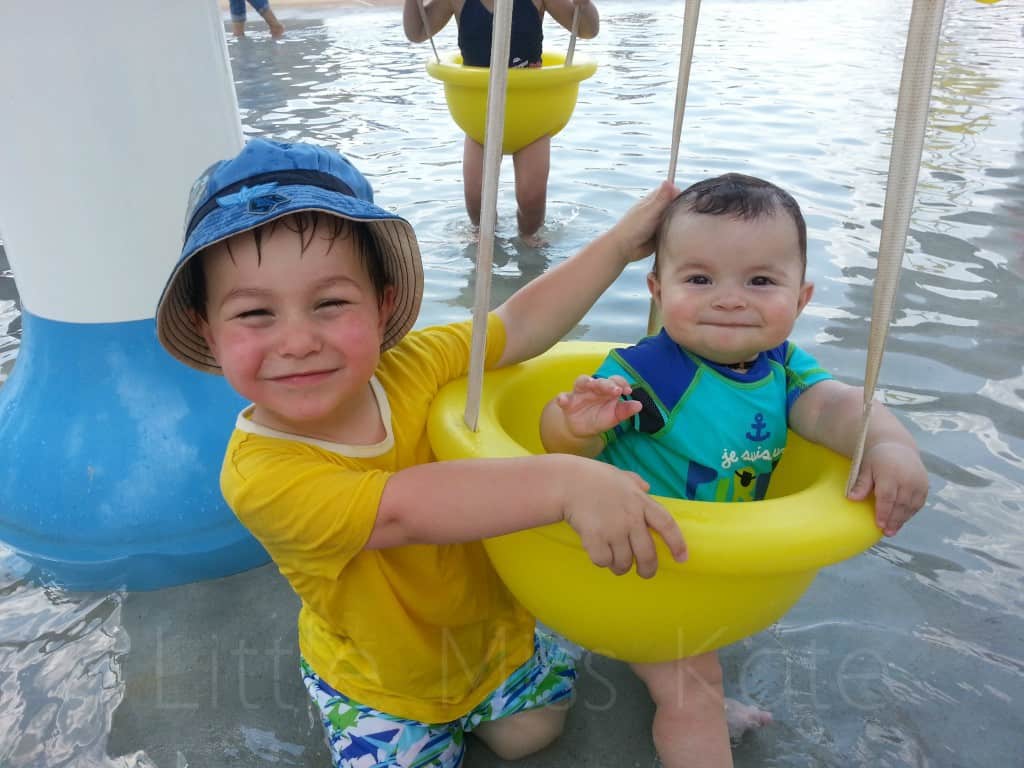 The day Kate visited African Lion Safari it was over 35oC so a trip to Misumu Bay Splash area was a welcome relief from the heat. This expansive water park has areas for older and younger children. Little Bear had so much fun in the bouncy seats in the toddler area while Monkey played on the slide close by.
When Erin visited in 2019, Thumper loved the slide in the toddler area and it was the perfect size that at about 18 months old she could climb the stairs and slide on her own while Erin waited at the bottom.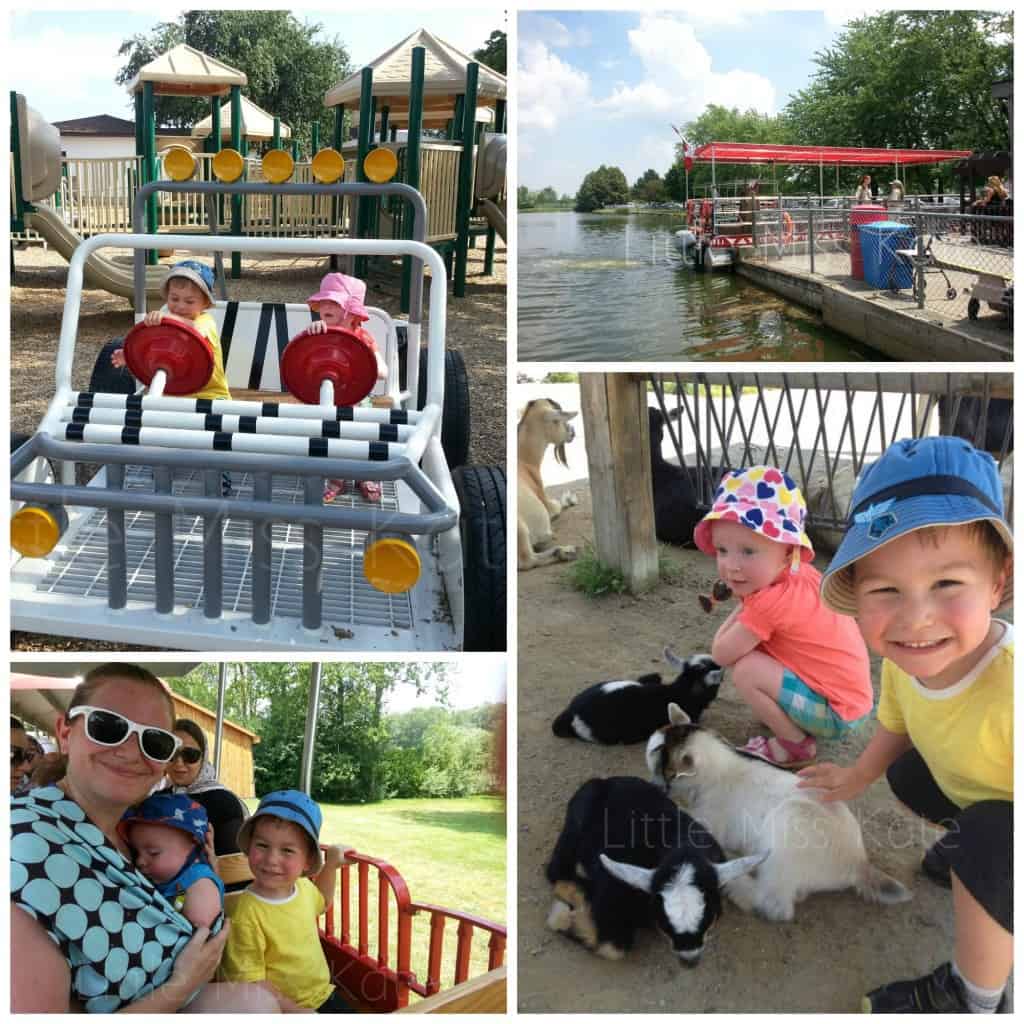 THINGS WE LOVE ABOUT AFRICAN LION SAFARI:
One thing Kate and Erin both loved about African Lion Safari on their visits is that the grounds of the park are not that big, you could walk to the far end of the park in about 10 minutes.  This is perfect as you can leave a picnic lunch, extra drinks, swim gear, stroller etc in the car and just pop back to get it whenever you need them without having a long trek to get back to the parking lot.
But don't let that short walk to the car make you think that there is not much to do at African Lion Safari, because that is FAR from the truth! Take a short boat cruise around Water Safari Lake to explore the islands and the creatures that live on them. Or a train ride on the scenic railway to get a chance to spot turtles and many other species of animals including deer. The train was a huge hit and we rode the rails 3 times during our visit.
Tip: Pack a Picnic Lunch and find a spot by the Elephant Swim Pond and plan your lunch for a time where there is an Elephant Swim, it was a blast to enjoy the outdoors, eat lunch and watch animals in their natural habitat.
AFRICAN LION SAFARI ADMISSION PRICES FOR 2023
ONLINE AFRICIAN LION ADMISSION PRICES:
| | | |
| --- | --- | --- |
| | SPRING (MAY 6-19) AND FALL (SEPT 5 – OCT 8) | SUMMER (MAY 20-SEPT 4) |
| ADULT (13 Years+) | $36.95 | $42.95 |
| CHILD (3-12 Years) | $23.95 | $29.95 |
| 2 YEARS AND UNDER | FREE | FREE |
2023 GATE AFRICIAN LION ADMISSION PRICES:
| | | |
| --- | --- | --- |
| | SPRING (MAY 6-19) AND FALL (SEPT 5 – OCT 8) | SUMMER (MAY 20-SEPT 4) |
| ADULT (13 Years+) | $41.95 | $48.95 |
| CHILD (3-12 Years) | $28.95 | $35.95 |
| 2 YEARS AND UNDER | FREE | FREE |
AFRICAN LION SAFARI SEASON PASS PRICES FOR 2023
| | |
| --- | --- |
| EARLY BIRD RATE PLUS APPLICABLE TAXES AND FEES | REGULAR RATE PLUS APPLICABLE TAXES AND FEES |
| available until March 31st | as of April 1st |
| ADULT (13-59 YEARS): $104.95 | ADULT (13-59 YEARS): $114.95 |
| | |
| CHILD (3-12 YEARS): $94.95 | CHILD (3-12 YEARS): $104.95 |
Children who are turning 3 years of age on or before June 30, 2023 require a child's Season Passport, photo ID may be required when issuing passports.
IS AN AFRICAN LION SAFARI SEASON PASS WORTH IT?
I found that the African Lion Safari Season Pass was a great deal for my family in 2019! If you have kids who love animals, and waterplay then this park is a GREAT VALUE for you! Like most season passes, you have to visit just 3x to make back your money as based on 2022 rates, it would cost an adult $82 plus tax for 2 visits or $96-106 (depending on when season pass was purchased) making the third visit basically free. The season pass offers you unlimited admission from May until October, I make it a plan to visit atleast once a month in June-August to ensure I get my value and any other visits are a BONUS!
OFFERS SEPERATE AREAS FOR KIDS UNDER 6 – I really enjoyed that this park was the perfect size and took a good amount of time but not the whole day to explore making it perfect for a daytrip with a toddler. I love that they offer a seperate toddler playground and toddler waterplay area which make this park a great investment especially for those families with kids under the age of 6 years old. Misumu Bay Wetplay is worth a full day visit on it's own as this is by far my favourite Waterpark in the Greater Toronto Area.
DISCOUNTS:
-> 20% off food and non-alcoholic beverages at all on-site food service locations (excluding vending carts)
-> 20% off gift shop merchandise at all on-site Safari Gift Shops (excluding batteries or sale items)
-> Discounts to select off-season events, hosted by our onsite catering company, Classic Catering
-> Special promotions exclusively for Season Passport holders
We always have such a fun day at the park I can't wait to go back this summer to do it all again!  You can find all the details you need to plan your own wild adventure on their website and be sure to check out their pinterest page to see photos of all of the amazing animals at the park. 
If you enjoyed our guide to African Lion Safari checkout our guide to The Best Day Trips from Mississauga.
Have Fun and Go Wild!
African Lion Safari and Accesibility
African Lion safari is wheelchair accessible and is an inclusive environment, wheelchairs can be rented for $5
The Easter Seals Access 2 Card Program is accepted at African Lion Safari to allow an individual with a disability and one support person a 25% discount at the gate.